Buried treasure
Submerged for aeons in the peat bogs of New Zealand's north, swamp kauri is one of the world's most valuable and exquisite timbers, and an unparalleled resource for global climate science. But as exports boomed and wetlands were ruined in the rush for the logs, the swamps have become an ideological battleground. What is the future of this ancient taonga?
For tens of thousands of years, they lay under the earth, from the Waikato to Cape Reinga: gigantic trees toppled in their prime, embalmed in the peat bogs of the north, silent and still.
Now, though, they are rising to the surface. Brown-black trenches score the fields of Northland, and diggers reach into their resting places, pulling the logs from their holes like a molar from a mouth. Some of these trees last stretched for the sun before humans built cities or domesticated animals or developed writing—yet as they emerge, still-green leaves remain stuck to their bark, as fresh as anything you'd find on the forest floor. Such is the preservative power of an anaerobic peat bog.
This is New Zealand's third kauri bonanza: first the forests were felled, then the gum was dug up. What's left is the swamp kauri, or ancient kauri, or sub-fossil kauri, depending on who you ask. And depending on who you ask, it's a taonga, a precious and wonderful timber, a unique scientific resource and globally-significant record of climate change, a source of employment, the focus of illegal activity and the agent of destruction of Northland's rare and vanishing wetlands.
What is certain is that large amounts of it have been leaving the country, in exchange for large amounts of money, labelled as 'tabletops' and 'temple poles' to exploit loopholes in the law.
The industry started in the 1980s, grew steadily through the 1990s and 2000s, then exploded. In the first few years of this decade, exports totalling around 300 cubic metres a year were reported to the Ministry for Primary Industries (MPI). That soared to 2457 cubic metres in 2013 and 3636 cubic metres in 2014. Wood went to the United States, Italy, Korea, but mainly to China, reportedly selling for up to $10,000 per cubic metre. Kauri-extracting and -exporting companies popped up like mushrooms, amassing huge stockpiles, and Chinese agents roamed the north, offering farmers cash in exchange for the right to prospect on their land.
"Swamp kauri is one of the most expensive timbers in the world, and trucks have been bringing this stuff out day and night down State Highway 1 and State Highway 10 for years," says Dean Baigent-Mercer, Northland conservation advocate for Forest & Bird.
"The resource is being taken from one of the poorest communities in the country—at one time we worked out up to $200 million worth per year was being extracted—and yet you can't see that 200 million dollars of anything has gone into Kaitaia. So where's the money gone? Who really won out of the rush?"
Over the past year, a court case, a crackdown and a crash in demand have changed the landscape of swamp-kauri extraction in the north. MPI is tightening its processes. Many companies—including the aptly named Swamp Cowboys—have gone bankrupt. Those that are left say they're following the rules. But is enough being done to protect this limited and valuable resource, and the environments where it's found? Should we prioritise wetlands, or jobs? And how much do we have left?
[Chapter Break]
Everyone in the north said that if you want to know about swamp kauri, you need to visit Nelson Parker. At his yard and showroom on the side of State Highway 12 north of Dargaville, you can see the whole process, from swamp to sale: the gigantic machinery he uses to extract the kauri; vast piles of stumps and logs; hundreds—maybe thousands—of cut slabs, the largest seven metres long and 15 centimetres thick; the kilns where wood is slowly dried; the workshops where it's sanded and sculpted; the showroom stuffed with bowls and platters and tables and clocks.
Kauri is in Parker's blood. He grew up in Tutamoe on the edge of the Waipoua Forest, the son of an axeman. His father, Tom, felled kauri with a cross-cutting partner on Great Barrier Island in the late 1930s, and in the 1950s became a champion woodchopper.
Nelson followed in his footsteps. In 1993, he competed in the finals of the 15-Inch Standing Block at the Royal Easter Show in Sydney—considered the Wimbledon of woodchopping. He won the world title by nine seconds. In a grainy online video of the event you can see him do it—third in a line of white-clad axe-wielding men, powerful shoulders sending the top of the block flying, nonchalantly waiting with hands on hips for his competitors to catch up.
It was around the same time that he got into the swamp-kauri business.
He wasn't the first to think of it—that was the late Dave Stewart from the Far North, who started digging up kauri in the early 1980s, and developed the well-known Ancient Kauri Kingdom, an extraction, milling and manufacturing company in Awanui.
Parker wasn't far behind, though, and fell into it almost by accident. In 1991, he'd been bringing out some fallen kauri from Tutamoe—roots and tops left behind years ago when the area had been logged—and a neighbour spotted the timber piling up in his yard.
"He rings me up and says, 'You want a kauri log? I've got one in my paddock,'" recalls Parker.
"I said, 'How big is it?' And he says I could ride my horse across it! I said, yeah right, cos he's a bit of a storyteller, but I went out there and they'd dug a drain and hit this log, and only part of it was showing. Back then, we only had a little nine-tonne 'dozer and an eight-tonne digger, and we scratched away, and this thing ended up being a gun-barrel log 22 metres long."
Parker found a guy in Auckland who wanted to buy the timber, gave some money to the farmer, and that's how it started. He got out of macrocarpa and pine and devoted himself to swamp kauri, making it up as he went along, learning the wood's particularities by trial and error. "We never learnt this anywhere else except through the school of hard knocks. But when you see a finished piece of swamp kauri done properly, there's nothing quite like it."
Parker says the timber from the younger logs (up to around 6000 years old) isn't dissimilar to wood from a standing tree. But the 45,000-year-old timber has to be treated differently or it will break down and split. He developed specialised drying techniques, installed kilns and a dehumidifier, built an industry.
"We've paid huge amounts in royalties to farmers over the years. Then you've got your cartage contractors, your digging contractors, then the five fellas plus myself working here, and it adds up to hundreds of thousands of dollars that has gone into Northland."
In 2010, global interest in swamp kauri soared. Wealthy businessmen in a booming China wanted the world's most ancient wood to enrich their boardrooms. Europeans and Americans wanted it, too. New companies appeared on the scene, and many of them came to Parker for advice.
"It just shot up. Oravida and New Zealand Forests Ltd were two of the major log buyers and they would employ all these contractors," he says. "There was a gold-rush mentality.
"We were geared up for what happened, we were doing it anyway. We just put the throttle further to the floor," he says. "But of course when you get a lot of money floating around, you start getting all sorts coming into the game, and it got into a bit of disrepute."
Farmers weren't getting their promised royalties, one operator was repeatedly caught digging in the protected Kaimaumau swamp (see sidebar) and environmentalists started complaining that other native wetlands were being destroyed in the rush to get the logs. Huge slabs of timber started to turn up for sale on overseas websites—and it wasn't clear how they had been allowed to leave the country. Parker maintains he plays by the rules, that he has too much at stake to mess it up—though even he has been accused of damaging a wetland—but says at that time, compliance was down to the operator.
"Everyone in the game knew they couldn't police it. Because you basically had one MPI agent who was supposed to look after this huge growth—he was stretched to the limit and people knew that."
[Chapter Break]
In gumboots, stubbies and a black beanie, farmer Kevin Matthews stands on the shores of Lake Ngatu, a dune lake a few kilometres back from Ninety Mile Beach. A wintry wind rattles the fringing kuta, a spiky endemic sedge prized by Māori for weaving. "There are native fish in there, there are bitterns, there are dabchicks and fernbirds, and there's a small colony of a rare orchid species," Matthews says. "The more you look, the more you find."
A self-taught botanist and wetland expert, Matthews says it's the native orchids that really get him. "Orchids have a special place in the world—they're like a rare jewel." He's even found some that haven't been scientifically described yet. "I like the challenge of still being able to find something hidden away in our tiny remnants, and it gives me great joy to know they're still there."
As a boy, he learnt to swim in Lake Ngatu; now, half a century later, with other locals in the Bushland Trust, he's trying to ensure that today's kids can do the same, and protect the lake and its wildlife from an array of threats. For years, he's been clearing weeds, planting trees, organising school field trips. But when the swamp-kauri rush started and the diggers charged into privately owned paddocks and swamps just a stone's throw from the lake, it seemed like all that work would be undone overnight.
[sidebar-1]
Matthews says Ngatu and other nearby lakes "can't afford any more straws on their back. And if you start interfering with their water flows, it's a big no-no."
Matthews believes that the peat disturbance caused by swamp-kauri digging has altered the amount and quality of the water in Lake Ngatu. "Brown algae are appearing earlier in the summer, and we know that the water level in the lake is lower than in other corresponding lakes in the area," he says.
"You can't go digging eight metres down in a wetland next to a sensitive water body like this and expect everything to be the same. It's like cutting its veins."
Without detailed research, it's difficult to prove the kauri extraction is to blame for the changes in Lake Ngatu. But for Matthews, that's the whole point. He argues that the councils and the government have allowed swamp kauri to be hauled out of sensitive areas across the Far North without any independent attempts to investigate the long-term effects on the ecology and hydrology of one of New Zealand's rarest environments.
"There are certainly irreversible impacts—the problem is we don't know exactly what those are. And once it's done, it's done," he says. "There needs to be a greater understanding about deep mining of ancient kauri before it happens."
So much has been lost already. A 2014 Landcare study found that just 7.7 per cent of Northland's original wetland habitat remains. Gumdiggers and early farmers destroyed much of it—but swamp-kauri mining has been part of the problem too, Matthews says.
"It was rip, shit and bust. Some years, I was seeing wetlands disappearing weekly in the summer."
Disappearing with them were his precious orchids. In 2012, he went for a reccy to a site on private land that he knew was a stronghold for Thelymitra "Ahipara",  a rare native sun-orchid, planning to take the NZ Native Orchid Group there on a field trip. "I just about cried," he says. The place had been "obliterated", dug up for its buried kauri.
Frustrated, Matthews joined the Northland Environmental Protection Society, a small but passionate group determined to protect the region's last remaining native swamps from the kauri diggers—and hassle the various branches of government into doing a better job of protecting them.
[Chapter Break]
This is how the process is supposed to work. The Northland Regional Council is responsible for controlling the extraction of swamp kauri. Under its Regional Soil and Water Plan, operators need to apply for a resource consent if they want to extract it from an indigenous wetland; on all other land, it's a permitted activity.
Once the timber comes out, it can be milled only if the operator applies to MPI for a milling statement. To get this, they must show the timber has been salvaged from a site that is not "indigenous forest land", including wetlands, unless the "natural values of that land will be maintained" after the extraction.
Finally, the export of swamp kauri is regulated under the Forests Act 1949. Only roots, stumps (with a small part of the trunk attached, equivalent to the tree's diameter at ground level), and "finished products" can be legally exported. This is meant to ensure that rare native timber provides jobs for Kiwis, with the 'value-added' work happening here.
The councils and MPI insist that this process works, and that they have always policed the trade effectively, even during the boom. But since swamp kauri hit the headlines a few years ago, they have introduced extra controls.
On the extraction side, the regional council says it has stopped work at swamp-kauri sites at least six times because of damage to indigenous wetlands. The operators involved were given warnings and had to do remedial work to mitigate the damage done.
After a series of incidents in 2011 and 2012, the regional council says it is now "very proactive" in monitoring swamp-kauri extraction—conducting aerial surveys to look out for wetland disturbance, and working closely with operators in the Far North to assess sites before works are undertaken.
It says most extractors now confine their operations to areas outside indigenous wetlands to avoid the need to obtain a resource consent, and there have been "no major incidents involving swamp-kauri extraction in indigenous wetlands for more than three years".
On the export side, MPI says it's increased oversight by boosting the number of forestry officers in Whangarei from one to two, working with Customs to check up on swamp-kauri exporters, and improving export documentation.
In July last year, it also introduced two new voluntary measures, one encouraging excavators to notify MPI before beginning a dig, and the other inviting exporters to inform the ministry when they plan to send out a finished product made of swamp kauri. MPI says it now inspects all such consignments before export.
Nelson Parker agrees the rules are tighter now—and says that's a good thing. He thinks MPI has the balance right. "If anything, it's easier, because you've cut out all the guesswork."
[Chapter Break]
The changes don't go nearly far enough for Northland Environmental Protection Society chairperson Fiona Furrell. Like fellow society member Matthews, Furrell is a farmer, and her passion for wetlands and their wildlife led her down the swamp-kauri rabbit hole—official information requests, hours poring over Google Earth, ultimately a high-profile court battle.
According to Furrell, governance of the industry is still "riddled with loopholes".
She's concerned about the possibility of 'grooming' wetlands for purposes of swamp-kauri extraction—gradually turning them into pasture over two or three years, so that when authorities visit, they are persuaded the site is not an indigenous wetland. Then there's 'dumping': collecting logs at an illegal location and moving them to a legitimate site with a milling statement. "How do they know how many logs came out of those holes? There's no way of knowing. It relies entirely on the honesty of the operators."
Furrell is also furious that most of those found responsible for wetland destruction have received little more than a slap on the wrist. In one example in 2012, relatives of former Cabinet minister Shane Jones were caught digging for swamp kauri in an indigenous wetland on their Far North property. The regional council did stop work at the site, and the logs were left on the side of State Highway 1. Records obtained under the Official Information Act show Jones then asked MPI for approval to mill the logs, but the ministry turned him down. The Jones family then told MPI the logs would be 'sold or donated' for carving purposes, but it's not clear where they are now, and Jones wouldn't respond to questions from New Zealand Geographic.
MPI says it has no control over logs that are not milled, but Furrell believes the Jones logs should have been impounded, and the landowners made an example of. "There were no fines! So you can break the law, destroy something, and make money from it, and there are no serious repercussions? That's not right."
For strategic reasons,  environmental protection society members have so far focused their activity on the export side of the process, reasoning that if they could reduce the amount of swamp kauri getting out of the country, they might have a chance to ease the pressure on wetlands.
So this small group of greenies decided to take on MPI, Customs and the Ministry for Culture and Heritage in the High Court. The case was heard as a judicial review in July this year, and basically tested whether the right process was followed with regard to swamp-kauri exports.
Furrell is unequivocal. "The loophole in the law is so huge, you could drive several container ships through it—and they are," she says. "It's a massive scam."
The society's legal team argued that the vast majority of swamp-kauri 'finished products' that are exported resemble slabs of wood or barely modified whole logs. Calling these "tabletops" and "temple poles" is merely a way for exporters to get around the Forests Act and sneak raw timber out of the country, they argue, and MPI's interpretation of what constitutes a "finished product" is allowing them to do it.
"If you wanted to buy a table, would you go to Harvey Norman, or Carter Holt?" Furrell says. "At the moment, what we're sending out is what a timber merchant would send out—planks which have been through a planer—and that's classed as finished."
And though all stumps and roots must be checked by MPI before export approval is given, there's no requirement for shipments of finished products to be inspected, or labelled as swamp kauri. MPI's new system of voluntary reporting is not a solution either, says Furrell: "You're asking people who may not be honest to voluntarily supply what could be an illegal export? Why would you report it?"
[sidebar-2]
The society argues that although the Forests Act is clear that a finished product must be "ready to be installed without any further working or modification", in practice, that line is ambiguous. Emails released under the Official Information Act clearly show some exporters pushing the boundaries with MPI, testing the minimum modification they could get away with before an item would be considered 'finished'.
Furrell searched overseas websites and found examples of swamp kauri being advertised as raw timber. An American company, Ancientwood, still lists a '40-foot Ancient Kauri slab' for sale. Photographs of the minimally sanded board are helpfully labelled, calling it "rough-cut" and "still wet from the New Zealand peat bogs" and highlighting how it could be "cleaned up".
That's hardly "ready to be installed", Furrell says, and at more than 12 metres, it's far too long to have legally come from a stump.
But MPI maintains it has administered the Forests Act correctly and with integrity. It argues that some overseas customers legitimately want 'rustic' rough-sawn tables with no legs. It says it assesses potential exports case by case, and has rejected considerable numbers of them.
MPI says when the Ancientwood 40-foot kauri slab was exported in 2009, the exporter provided images of similarly rough slabs being used in art galleries in Italy. The ministry says that based on the information available at the time, its approval was appropriate.
As we went to press, the judge in the High Court judicial review was still deliberating. But whatever he decides, the environmental protection society has arguably already had a significant influence on public opinion and policy.
This story is not as simple as a battle between environment and industry, though. Leaving all swamp kauri in the ground would be New Zealand's loss, and not just for economic reasons. These ancient trees also happen to store within them critical scientific information, found almost nowhere else, that promises to shed light on the fluctuations of past climates and the timing of key events in human prehistory, and may even help us to prepare for the future.
[Chapter Break]
Out on the endless mudflats near Auckland International Airport, the dead-low tide reveals long lines of soft salty wood, the clear outlines of huge trees just breaking through the cockle-strewn surface. What were once giants of the forest now hold pools of water, reflecting low-flying planes in a stormy spring sky. From down here, the sea seems to recede all the way to the Manukau Heads in the far distance.
"The thought is that this represents an ancient kauri forest that existed around 200,000 years ago," says NIWA climate scientist Andrew Lorrey, as he squelches through the mud in his gumboots. "You can see the massive proportions of the trees that you're looking at here—this was a magnificent forest back in the day." Scientists like Lorrey call these trees "sub-fossil" kauri, because they are still wood, and haven't turned to stone.
Lorrey points out a dozen trees, arrayed in different directions like a handful of dropped chopsticks. The layout of the logs tells scientists something about how such deposits take place, he says. "Our evidence suggests that the leading candidate for knocking down forests is strong winds rather than something like a meteorite impact or a tsunami."
And if a wind-blown kauri tree happened to fall into a peat bog (and these were a common part of Northland's ecology, before humans drained so many of them), its chances of preservation were good. Its immense weight would have sent the trunk sinking down into the soft peat soil, and the anaerobic bog environment would have prevented the wood's decay.
In the northern hemisphere, many of the temperate forests and peat bogs were destroyed as ice sheets ploughed across the land during the last glacial maximum, between 26,000 and 19,000 years ago. Down here, even at the climate's coldest, the glaciers didn't touch the winterless north—one reason so much buried kauri survives in New Zealand. For scientists, that wood is a mine of information.
Kauri trees can live a very long time—a millennium or even two—and each one of those years is recorded in the wood in the form of annual growth rings. By measuring this barcode of wide and narrow rings, representing good and bad growing years, Lorrey and other scientists can discover something about the climate during a tree's life. Trees that grew at the same time will have similar ring patterns, so if the researchers can gather enough samples, it's possible to obtain high-resolution, annual records of environmental change.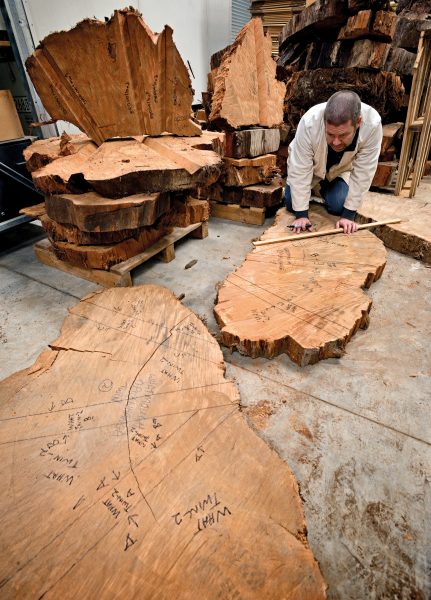 Scientists can measure the chemistry of each ring, too, which tells them about the humidity and vapour pressure that year. And for the more recent sub-fossil kauri, they can also pinpoint the exact calendar date a particular tree ring was formed. That's because New Zealand scientists—in particular dendrochronologists Gretel Boswijk and Anthony Fowler from the University of Auckland—have assembled what's called a 'tree-ring chronology', using three kinds of kauri records.
If you know what year a long-lived modern tree died, you can count back through the rings until it was a sapling, and find out the year it sprouted. By matching the overlapping ring patterns with those from slightly older trees, you can extend the tree ring record back further again, and so on. Boswijk and colleagues have taken cores from living trees dating back to 1269. They have also sampled historical timber from 19th-century buildings and archaeological sites, which stretched the chronology back to 911—early enough to cross over with the youngest swamp kauri. They now have a continuous sequence of tree rings extending out to 2488 BC—a span of four and a half thousand years.
They've put together older sequences, too, but at the moment those are 'floating' in time, because they haven't found the trees needed to link them in an unbroken chain to the present. "It's like doing a big jigsaw puzzle but without seeing the picture on the box," Boswijk says. "And collecting it is a lottery because we don't know where it's going to fit in time until we examine it."
Why is this so important? We've been recording instrumental information about New Zealand's climate only since the mid 1800s, Lorrey says. "Is 150 years worth of knowledge sufficient to tell you the range of variations related to that phenomenon? It's a good start, but we'd like to know more. And so the tree rings, these natural archives, allow us to reconstruct environmental history."
Even more exciting, he says, is that the kauri appears to be 'listening' to an important regional climate pattern here in the Pacific Ocean. Fowler discovered that the growth of kauri is very responsive to the El Niño Southern Oscillation. Lorrey says that opens up the possibility of using swamp-kauri rings to track the patterns of El Niño and La Niña for thousands of years, providing an insight into how they may affect us in the future.
Out beyond the end of the tree-ring chronology, scientists use radiocarbon dating to establish the approximate age of sub-fossil kauri. They've found logs dating from 900 AD back to 13,000 years ago, but between then and 26,000 years ago, there is a large and intriguing gap. Pollen records show there were kauri in New Zealand at this time, but no specimens have yet been found.
[sidebar-3]
Scientists aren't sure why—that was during the last glacial maximum, and possibly the preservation conditions weren't as good at that time, or the forests were much smaller. Sea levels were at least 120 metres lower than they are today, so perhaps the kauri were all growing out on the continental shelf, and are now covered in water.
Around 26,000 years ago, the swamp kauri appears again, scattered through the millennia all the way out to the limits of radiocarbon dating at 60,000 years. That is an immensely valuable resource, according to Alan Hogg, a radiocarbon dating specialist at the University of Waikato: "There are literally no other places in the world that have wood of this amount, this quality and this age."
And it doesn't tell us only about the climate, he says—swamp kauri can also be used to make radiocarbon dating itself more accurate, potentially helping to unravel mysteries about key events in human history (see sidebar), from the demise of the Neanderthals to the dates of Aboriginal rock art.
[Chapter Break]
In a nondescript Auckland warehouse, Andrew Lorrey stores his treasures: stacked-up chunks of ancient timber that make up NIWA's kauri archive.
He sees himself as a steward, taking care of a precious resource. And he's fizzing about the possibilities, if he just had the access, the time and the resources to collect enough samples.
"If we had a good shot at it, I believe we could develop a continuous record of kauri tree rings from 28,000 years ago all the way to 60,000 years ago, and for human prehistory that's very exciting.
"During the time these kauri were growing, there were up to four species of hominin walking around our planet. We know there were wildly oscillating climate variations at that time, changes in ice sheets, changes in sea level—and we are the only ones that made it out of that period.
"So a key question for me is, how important was climate variability to this story, to our survival? The more we understand how those things are interconnected, the more we can forearm ourselves and prepare for future changes."
To cover 30,000 years of prehistory, Lorrey and his colleagues need to find an overlapping set of trees that were alive during every one of those years. That's a lot of wood samples. And at the moment, the only way to get them is to partner with kauri extractors.
Lorrey and Jonathan Palmer of the University of New South Wales' Climate Change Research Centre both work closely with Nelson Parker, among others. Parker saves Palmer a 'biscuit'—a 15-centimetre disc sliced from the trunk—from a handful of logs at each place he digs. Other times, the researchers cut the biscuits themselves as the trees come out of the ground. In return, they offer information about the wood that can add value to the products.
"There's a beautiful symbiosis between the commercial reality and the scientific field," Palmer says. "I can't raise hundreds of thousands of dollars to get 40 logs out of the ground—I have to work with a miller."
Is there a contradiction, though, between collecting material that can help us answer some important big-picture environmental questions, while relying on an industry that, in some cases, has damaged the local environment? "No one in science wants to see indigenous wetlands damaged to extract this stuff. It's not worth it," Lorrey says. "That would never ever be acceptable."
The NIWA team accepts donations of swamp kauri on the understanding it was extracted and acquired legally. Lorrey believes the vast majority of the sites he's been to "were turned into pasture long ago", but there haven't been any detailed studies published into where swamp kauri is found and how much may be left—until now.
At the beginning of this year, MPI—in response to the Auditor-General's recommendations after the environmental protection society asked her to look into the trade—commissioned NIWA to do just that: to assess the spatial extent and volume of the buried swamp kauri in Northland.
"We're trying to apply statistical relationships between the soil type, the geomorphology and the previous timber yield from sites that are alike, and we're extrapolating it across Northland," Lorrey says. "The hope is that it will help in the management of the resource going ahead."
In a second MPI-funded study, Lorrey, Boswijk, Palmer, Hogg and the University of NSW's Chris Turney are preparing a report on the scientific value of the swamp kauri, while a group of other researchers are assessing its cultural and heritage value. Ideally, Lorrey says, extractors would register each site and willingly provide a sufficient number of samples for scientific purposes.
In the meantime, though, kauri keeps leaving the ground and leaving the country. It's something that concerns all the scientists. "This is one of the great sources for historical climate information, and New Zealand is sitting in the driver's seat," says Palmer. "But if it happens too fast, this great resource is gone, it's evaporated."
Lorrey says his biggest fear is not being able to keep up. "I'm wary that I'm on watch, and I don't want to be the guy that lets something priceless slip through my fingers," he says. "European and American agencies are investing huge amounts of money in recovering ice-core archives because of what they can tell us about global climate variability and change. People are scrambling to collect them right now as the ice sheets melt.
"We have an obligation to treat this as a unique opportunity for global science. This stuff we have here is the equivalent of the Greenland and Antarctic ice cores—it could be the gold standard—and what's our investment in it? I'm driving around in my Subaru chucking it in the back when I can."
[Chapter Break]
For the scientists—and the environmentalists and bureaucrats—2016 has brought a temporary reprieve. According to MPI, reported swamp-kauri exports for the first two quarters of this year are down 80 per cent from the highs of the previous three years. It's not clear whether that is a result of overseas economic factors, the court case and the negative publicity, or swamp kauri simply falling out of fashion, but operators say demand has definitely crashed.
Extraction seems to have slowed, too. Oravida and NZ Forests Ltd are sitting on huge stockpiles of wood. From a peak of 13 operators in the Kaitaia area during the boom, just one is currently digging—although that activity may pick up again when the ground dries out in the summer.
Nelson Parker is one of the few who are still buying logs. "Last year, we had one of our best years ever and we moved a lot of wood, and you've got to replace that. I know the tap can turn on just as it turns off. And my motto is if you haven't got it, you can't sell it."
No one knows whether the slowdown is a blip or a trend, but this could be the perfect time to improve how we manage this rare and irreplaceable resource to ensure some survives—maybe not for the next 60,000 years, but at least for the next generation. "It's an incredible part of our natural history," says Lorrey, "and we need to do our best to honour it and to put it in a special place of respect—it really does deserve that."