Our new future
There's no going back. New Zealand has been irreversibly changed since COVID-19 first arrived here in February. How will this end?
February 26 was the highest point of summer, and travellers stepping out of the international terminal at Auckland Airport were dazzled by the glare. Two of the people who arrived home that day unwittingly carried a hitchhiker: an invisible kina-shaped particle that was multiplying secretly in their cells.
One of the two, a woman in her 60s, wasn't feeling well when she landed. In fact, she'd been wearing a mask on her flights from Tehran to Auckland. Her family were so worried about her health that they took her to the hospital that same day.
The other, a woman in her 30s, woke up the next morning feeling off colour. She put it down to her long flights home from the top of Italy's boot.
Epidemics start slowly. Humans are like islands, and viruses can't swim very well. But, getting onto human hands is easy, and humans are always touching things.
Virus particles slip into the tubes of our bodies: noses, throats, lungs. There, they move into our cells, take over the machinery, and start giving orders.
As February turned to March, people got sick here and there. We were asked to keep our distance from each other but, really, we didn't know how to do that. Café tables, supermarket aisles, footpaths and friendly greetings are not made with the idea of maintaining two metres of empty space around you—like a giant, invisible lifejacket. Anyway, things didn't seem that serious, so we we carried on going to weddings, to pubs, to the A&P show.
It was a surprise when, on March 17, the government instructed all New Zealanders travelling overseas to return home immediately—a request that had never before been made. Over the following days, the doors between countries started to close. Rumours spread about a nationwide lockdown, and pet adoptions from the SPCA tripled. As the future looked wobblier by the day, people compensated by stocking up on things familiar and dependable: flour, pasta, rice, tinned tomatoes, toilet paper.
Over the space of five days, the number of new cases in New Zealand climbed from 14 people to 85. Iwi in the Far North, the central North Island and on the East Coast thought of the mass graves following the 1918 influenza epidemic, and set up roadblocks at the edges of their land.
When a national lockdown was announced, starting at 11.59pm on March 25, it was almost a relief. We joked, nervously: Should we stay up until midnight? Is this something you count down to?
[chapter-break]
Mornings change. No children leave home for school. No jobs await half of New Zealand's workforce. There are no more Saturday sports, book clubs, birthday parties, dance classes, daycare facilities, Friday prayers or funerals. There are just the four walls that hold us all in.
New Zealanders with money to spare buy only what they need: food, medicine, fuel. We queue outside supermarkets as though they are nightclubs.
A new kind of silence settles over the country. The air clears. Seismometers, usually shaken by traffic, fall still. Birds, which prefer the quiet, venture further into cities.
Fatigue descends on the nation, and people report vivid dreams. Others struggle to find sleep. The sudden change weighs on us all, and our minds fumble, swinging around to our new reality with the lumbering slowness of a cruise ship.
Daily life settles into tedium for the wealthy, and a state of high-intensity panic for everyone else. Parents wonder how they are meant to look after their children and work from home. They can't even get takeaways. Demand for food parcels doubles in Auckland, quadruples in Wellington, and increases ninefold in Palmerston North.
Our hair grows too long. Over Easter, there are no road deaths.
Subsequent epidemics take hold, secret ones. Staying home is only safe for some. A rising tide of loneliness overwhelms the elderly, who don't know how to Zoom. The newly unemployed, their identities connected to jobs that have evaporated, fall into depression. Those who still have work find their hours squeezed or their pay reduced. A sense of precarity seeps into spaces previously assumed to be stable. If airline pilots are out of a job, where does that leave the rest of us?
As the weeks pass, and new cases eventually dwindle to five a day, the rules containing us within our homes start to seem a bit silly, the whole thing overblown. Now, there are only eight people in hospital, and 370 people who have COVID-19, which is 0.008 per cent of the population. Every day, the number of people who have recovered eclipses the number of people newly infected.
But New Zealand isn't out of trouble. We've simply wound the clock back to the virus's arrival, when there were just a few cases blooming here and there. No other country has gone back in time as far as we have, or has a better shot at eliminating the virus, and the rest of the world is watching us to see if we'll succeed. It's as though we've flipped back to page one of a choose-your-own adventure.
Today, there are only three possible endings to this story: another outbreak, containment, or elimination. The first one is terrible. The last one is pretty good, all things considered. None of them are guaranteed.
I. SECOND OUTBREAK
Another outbreak would go something like this: A forestry worker on the East Coast gets into the skidder after an infected colleague, and picks up invisible viral particles from the gearshift. On the way home, he gets groceries from the supermarket. It's busy because it's a Thursday; people received their welfare payments last night. On his way home, he drops off milk and bread to his kuia. A week later, he starts getting a sore throat, but he doesn't think much of it. Then it gets worse. He's not sure what to do, because he's a long drive from the nearest doctor, and he's not about to miss work after two months of sitting around. Forestry shut down earlier than other industries, way back in January, when China stopped importing softwood logs from New Zealand.
When he finally does get tested, and news breaks of an infection in the Tairāwhiti district health board area, community leaders are not told where in the region the case is located, so they can't put any of the East Coast towns on lockdown or test residents widely.
The forestry worker infects two people at the supermarket, his kuia, and all her friends.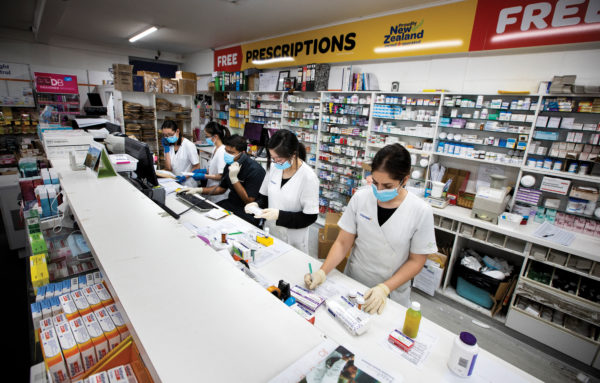 This isn't the only way it could happen. Let's say a young teacher at a school in Grey Lynn in Auckland has it, too, but she doesn't ever feel the virus's presence, and she's a bit lazy about washing her hands. She leaves a smudge of viral particles on the door to the staffroom. Her colleague picks some up, and they stay on his fingers until he rubs his tired eyes on the drive home. His house is pretty crammed, because his in-laws and their kids are staying. They used to take tourists fly-fishing in Taupō, but now they're out of work, and couldn't pay the rent on their place any more.
A few days later, his wife is consoling a friend who's doing it tough and, even though they're sitting on opposite ends of a park bench, the virus coasts across the air between them. The friend, a caregiver at a rest home, is crying, and she inhales the particles with every deep sob. By the time this man's wife falls ill, the caregiver has already done three shifts, and it's another three before a contact tracer gets in touch to tell her she's at risk. Her phone is broken, and her teenage daughter forgets to pass on the message.
[chapter-break]
There are two aspects to controlling an epidemic: testing people to figure out who is carrying the virus, and finding everyone they've been in contact with. You have to do both as quickly as possible.
Our new hypothetical outbreak would cast our social faultlines into clear relief. Essential workers have a higher risk of infection due to their exposure to others, and many of these people are on New Zealand's lowest possible wage. When infected, people living in deprived circumstances are more likely to become seriously ill, because they're more likely to have pre-existing health conditions or to live in cold, mouldy houses, which make respiratory illnesses worse.
"I think it says a lot about our societies that infectious disease tends to carry the most burden for poorer communities, for indigenous communities," says Shaun Hendy, who directs the national research centre Te Pūnaha Matatini.
If this outbreak reached a Māori community, the results would be devastating. Modelling by Te Pūnaha Matatini shows that the fatality rate for Māori could be more than twice that of Pākehā.
And it's not only the elderly who would be affected. Perhaps we'd lose a teenager who was recovering from cancer, and a middle-aged man with damaged lungs from the bronchiectasis he had as a kid. Maybe people would bristle at being returned to Alert Level 4, so they might not obey the lockdown rules as assiduously. Cases would sputter along. Our hospitals might not be overwhelmed, but they'd be busy.
Say two nurses get sick—one's wearing full protective gear, but the other hasn't been given it. They're both in their late 20s. No pre-existing conditions. It's only when one of them dies that we start taking things seriously again.
[chapter-break]
The possibility of a second wave can't be ignored. Recently, the virus resurged in Singapore and Hong Kong, possibly due to cases not being identified—just as happened in our forestry-worker scenario.
"Even though we're looking at the daily case count coming down, maybe there's part of the country where we've just missed an outbreak," says Hendy, who has been modelling COVID-19's impact on New Zealand since the beginning of March. "We're actually getting more and more confident that that's not the case, but it's still a possibility that there could be cases of community spread that aren't being noticed."
Another outbreak would likely return New Zealand to lockdown, which would be a death sentence for many businesses. About a third of normal economic activity can't happen under Alert Level 4, estimates Westpac chief economist Dominick Stephens. "Only two thirds of normal jobs that people do and money that people make is actually being done and being made," he says.
At the moment, the government is providing financial support to businesses in the hope this will tide them over and allow them to reopen.
"They don't want to see perfectly viable businesses going under," says Stephens. "They don't want to see good matches between employers and employees going to waste. If you separate people from their jobs, they can become disassociated from the labour market altogether, their skills can become obsolete, or they can just become ostracised—that would cause long-term scarring in their life."
Unemployment, which under Treasury's worst-care scenario would reach 26 per cent, doesn't affect all people or all areas of the country equally.
"The unemployed tend to be young, they tend to be more from minority groups, and you tend to see certain regions really hit hard with unemployment—like Northland, Gisborne," says Stephens.
[sidebar-1]
Main streets would be a mix of shuttered shops and empty cafés. Teenagers and university graduates would have trouble finding jobs. For some families, unemployment would become inertia, a way of life.
Eventually, people might start talking about herd immunity. Surely this could be the silver lining to so much pain? Surely we're just getting to freedom the hard way? To keep a virus contained, at least 60 to 80 per cent of a population needs to be resistant to it. But, by the time this hypothetical outbreak is brought to heel, our immunity level would be about the same as Italy's was in April: five per cent.
II. CONTAINMENT
Let's say, instead, that the number of new cases dwindles right down to two or three a day. Sometimes zero, but then another one pops up.
The virus is still sneaking around, and we're only able to keep it under control by watching it closely. This involves an uneasy truce between privacy and safety. Millions of people download a smartphone app that keeps track of nearby phones, meaning that if someone tests positive, then all phones that had been nearby are automatically notified. This works well at limiting the spread of the virus—among middle-class city dwellers. In rural areas, the Ministry of Health notifies district health boards and iwi leaders as soon as a case is found, allowing targeted action.
A single new infection can shut down the lives of dozens of people. We roll our eyes when a friend is stuck in quarantine because they were unlucky enough to catch the same bus as someone with COVID-19.
We still don't gather in large groups for weddings or funerals, but at least we've figured out a way to hold tangihanga safely. Kaumātua and kuia create new protocols for greetings that don't involve touching. It's a bit awkward, and you feel a lot of whakamā when you forget, but it slowly catches on.
Work projects kick into gear around the country: roads, cycleways, train lines, pest eradications, riparian planting.
People who work in vanished industries start to look at their options. Universities are offering more courses online, and the government sponsors programmes to help unemployed people retrain. There's a new focus on adaptability. "I think flexibility is going to be key, and I mean flexibility in two ways," says Massey University demographer Paul Spoonley. "One is locational flexibility: How willing are people to go to the region or town or city where the jobs are? And, by the way, those jobs might well be in Auckland. And secondly, it's: How flexible will people be in terms of doing a completely different job?"
In our attempts to contain the virus, New Zealand will limp along, in and out of lockdown, until a vaccine or a treatment for COVID-19 is developed. We will spare ourselves a full-blown outbreak, but suffer death by a thousand cuts.
III. ELIMINATION
Our four walls really start to chafe, especially as the winter rain discourages us from going outside. There are no new cases of COVID-19 for a week. We hold our breath and turn on the radio at 1pm, hoping for another total of zero. Two weeks.
We emerge into a different New Zealand, like a landscape transformed by a flood. Familiar, yet altered.
People prefer to get their groceries delivered. We've become so used to online shopping and we're still so nervous in crowds that some stores decide not to reopen in real life, and become online-only. One in five of the country's restaurants, cafés and bars is gone. In Queenstown, the losses are the heaviest, but it's much easier to find a house to rent than it was before. There are no cruise ships.
"During big disruptions like this, trends that were already in place tend to get accelerated," says Stephens.
Over time, the number of people working from home decreases. It seems we like each other's company more than we hate commuting. "People have been puzzled about why workers haven't been doing more of their work remotely, and the answer is because we're incredibly social beings," says Spoonley. "Four out of five of us work in the service economy. The service economy is about people."
The effects of stress and grief from this time take longer to emerge. Mental health services see a surge in demand long after life has returned to normal. And it does get pretty close to "normal".
People start to forget about physical distancing. The first time you shake someone's hand, you dart into the bathroom as soon as you can and wash your hands vigorously. But soon you're letting your kids play on playgrounds. You have friends over for dinner. You think about flying to Wellington to visit family.
New Zealand becomes an ark with five million people aboard, physically distanced from the rest of the world.
Everyone arriving in the country is quarantined—we still haven't learned how to tell when someone is immune, and we still don't have a vaccine or a treatment. But our moat keeps us protected from the virus, safe as flightless birds on a predator-free island.
[chapter-break]
As this issue of New Zealand Geographic went to press, experts were optimistic that Aotearoa was on the elimination path. "We've got cases down to a handful now, and most of them can be linked to known cases, so we really seem to have headed off this community transmission," says Hendy. "Now we're in a position where we might actually be able to eliminate the virus from New Zealand.
"That's what makes things unique here, and it's why our decision-making might look quite different to decision-making overseas, and I think it will mean we can come out of lockdown earlier than those overseas countries. It also means that we may be able to come out of it once and not have to go back. A lot of countries, the best they can aim for is containment."
The next set of models that Hendy and his team at Te Pūnaha Matatini are creating will attempt to determine how much particular activities increase the risk of the virus spreading. "It's a network-based model, where you have some information about schools and how many people go to schools, and how that links households, and how that's linked to employers. So we can answer questions like, 'Should schools go back? Or should just primary schools go back?'"
These models will include input from economists and social scientists, says Hendy. "They're not only more complicated models, but we're going to have to draw on more domains of knowledge."
[chapter-break]
For some people, their memories of lockdown will be painful, like a bruise: they'll think of rude customers at the supermarket, of shouting at the kids when they didn't mean to, of the loss of a business built gradually over the course of a decade. Others will look back on it differently: as a still, quiet pool, as a time when life was—and they'd feel guilty saying so—a little bit easier.
"Does COVID-19 give people a chance to appreciate much, much smaller things?" wonders Sam Perkins, chief risk officer at BNZ. "And if it does, how does it reshape how we tackle all the big problems?"
Can we spread the calm, perhaps, more equally? We rolled out support for the underprivileged, immediately; we moved to remote working, immediately; we fixed some of our health system's archaic technology, immediately. The people I spoke to for this story were at pains to emphasise that large-scale, utopic change would not be taking place as a result of the pandemic—not automatically, at least. If this moment of fracture allow us to reimagine things afresh, it's up to us to see those shifts happen, before the gravitational pull of normality returns us to our orbit.
"All these things that were seemingly impossible are in fact completely possible," says Perkins. "We haven't just cared about them as much until now."
Additional reporting by Dave Hansford and Ben Stanley.