Everything everywhere all at once
Pandemic. Climate chaos. A cost-of-living crisis, houses laughably far out of reach, beaches too dirty to swim at—it's exhausting being an adult in 2023. How do our teens manage?
When the flood came, 18-year-old Seilala Muagututia was at church. The family van made a bow wave on the slow drive home across South Auckland. The lights of other cars stretched long and eerie in the knee-high water. People waded along footpaths, filming, stopping every now and then to look around and marvel.
The family were staying at the Auckland Airport Motel while builders patched leaky ceilings at their home in Papatoetoe. Inside their unit, the water was clear and completely still—no rushing rivers of sediment—so even when it rose past ankle height, it looked like someone had polished the carpet. The family waded from room to room in Fila slides and bare feet. With the power still on, they decided it was too dangerous to sleep inside. They gathered up duvets and pillows and sloshed back out.
They laughed a lot that night. In a relative's truck, Seilala and her younger sister Joyce filmed some TikToks and an Instagram Live, and went to sleep. Nearby, in the family van, 12-year-old Sunshine sat in a back seat, silently running through TikTok dance movements. Fourteen-year-old Tahim was in shotgun, giving thumbs-up and hamming for the camera. In the driver's seat, her mother filmed her kids, and quietly prayed. "Please heavenly father, protect us…"
[Chapter Break]
It's one week after the floods, the first Friday in February. The prefects of Seilala's old stomping ground, Papatoetoe High School, are ushering a new crop of Year 9s into their first assembly. Or maybe drafting sheep. "New students take their seats," says Ayla Brocke, pointing the new kids at lines of chairs. "Parents head upstairs." She heads off a stray. "Up here, sir, families upstairs."
Thumbs up. Blowy kisses. Shame, Mum!
A teacher gently nudges a girl filing past.
"Excited?"
A tiny smile, a duck of the head. These kids are nervous as. New Roman sandals dig into heels; the school hall smells of Lynx and V and wet hair.
Lately, the start of the school year has not been kind to Papatoetoe High. In 2021, when the country was still keeping COVID-19 at bay, an outbreak at the school sent Auckland into a snap three-day level-three lockdown. It was international news. Kids from other schools dubbed the school "COVID high". Seilala was just starting Year 12 at the time. She and her friends brazened it out. "Another week of holiday for us!" But underneath, "it was kind of embarrassing".
After that jolt came a few months of relative normality. Then one Friday in August, kids across Auckland went home from school and didn't go back for two months. This lockdown wasn't like the first one, where Seilala had been pretty happy kicking back at home.
"There's four of us and we didn't have enough laptops, so we had to take turns… My schoolwork, it just wasn't getting done." She went back to school in the middle of November and remembers it as a race to scoop up NCEA credits. "We had to rush all our work… It wasn't, you know, putting 100 per cent into your work, but just putting in what you can." She passed, but doesn't feel like she earned it. And throughout the lockdown years, she was spooked by the changes at school. Mask on all the time, or you were off to see the dean. Scanning in at the gate.
The summer holidays felt like a reset. Across Auckland, kids went back to school hoping. Surely this year would be more normal.
A few days in, Papatoetoe High was hit again. A senior student, who did not know they had COVID-19 and was not symptomatic, took their mask off to eat a free lunch inside. Boom, 20 families in isolation.
One year later, COVID-19 is everywhere; we barely flinch at the numbers. But we still can't hold the world steady. The teens at today's welcome assembly, like their peers across the country, are growing up in a new normal, one defined by disruption and uncertainty.
This cohort's first day at school was pushed back a couple of days because of the floods. As it stands, some of the senior leadership team are away with COVID-19. Not ideal. But at least these kids get to officially start school before the cyclone hits. Two days later, Cyclone Gabrielle is gathering force in the Pacific. Emergency alerts screech from the kids' phones. Schools all over Auckland are shut the following Monday and Tuesday. Welcome to high school.
What a time to be a teenager.
[Chapter Break]
If 18-year-old Hawaikii Papuni Bristow isn't out of bed by 5.30am, his brother-in-law comes and gets him up. They're on the road by 6, working on trucks, contracted by Auckland Council to pick up the couches and carpets and clothes and toys that people carried out of their homes after the floods. They've done eight weeks of this work and thought they were finished, but have just been given another list of addresses to clean up. It's a job—and Hawaikii appreciates that—but it's also a protracted tour of the strange, shambolic world he and his peers will inherit. That's our mess he's chucking on the trucks.
They've done the North Shore, West Auckland, out south; "everyone got affected by the floods", he says. "It's pretty sad. Some of the houses are totalled."
Hawaikii lives with a sister, Jashana, in Mount Roskill. They came through the weather okay. At another sister's place in South Auckland, "they have a garage out the back, that's where my teenage nephews sleep, and their whole garage got flooded". The water got the carpets, the washing machine. Wasn't that bad though, he adds.
We heard that a lot during this project. While adults are still reeling from COVID-19 and the cyclone and the latest report from the United Nations' Intergovernmental Panel on Climate Change (IPCC) and the fact inflation has hooned off at not-seen-since-1989 speeds, very often when we ask the teens about these things the response is: No biggie. Not too bothered. Not as bad as lots of people.
It's reductive to call this resilience. And it feels pollyannaish to see it as purely a good thing. What's happening is our teens are adapting. They're being forced to shift their baselines.  Sometimes, considering what they're adapting to, that just seems desperately sad.
Hawaikii still has "a bit of a cough" months after he was sick. He shrugs it off. "Not too serious."
Lockdown for him, though, "was a pretty big kick in the arse".
"Not seeing my bros for ages, that was the hardest thing. Mighta got six weeks in, me and my bros started sneaking out, just meeting up, going to the basketball courts, going to the fields playing kicks, just catching up with each other…" At one point his kura had a snap three-day lockdown when COVID-19 was detected. Hawaikii couldn't bear it. He spent the second night at a mate's place. "He messaged me two days later, during second period. I felt pretty sick myself… I just rode it out for the rest of the day, then took a test the next morning, and yeah, it was positive, eh."
A couple of days later, he could barely get out of bed—and lots of kids at kura were sick.
Hawaikii nearly bailed on school altogether because of COVID-19. Finding it impossibly hard to learn at home, he wanted to go straight into working. "But I did go back, and it was probably one of the best decisions of my life."
At Papatoetoe, Seilala stayed in school, too, technically. She came back for her last year ready to own it. The loudest in her group of girls, a natural leader, and devoted to her Mormon faith, her Samoan studies and her family, she had ideas about training as an early childhood teacher, or maybe becoming a lawyer "to fight for our people".
As Omicron got stuck in and teachers fell sick, the pragmatics of running a school became almost impossible. Staff were teaching subjects they weren't used to, or juggling two classes at once. At one stage the school staggered attendance: "Mondays just Year 9, Tuesday only Year 10s… It was really weird. You just walk around, hardly anyone… barely any teachers, barely any students."
Seilala's attendance had always been patchy, and as 2022 wore on, it got worse. She never skipped Samoan class, but everything else started to feel optional. Deadlines for applying for teaching courses and university slipped past.
This March, she started working nights at McDonald's in Manukau. Week nights, 6pm to 2am. Her mum drives to pick her up, then Seilala sleeps until 4pm most days, "then I go eat, get ready, go back to work". Half her pay goes to family in Samoa and half goes to help out with the groceries at home, or treats and outings for her siblings. Seilala doesn't complain about the work but she misses her friends. She is floored by how much her life has changed.
Her goal now is to go on a mission trip for her church—these are 20 months long, and sometimes overseas—and maybe go back to studying after that. She was the president of her church's young womens' classes and on top of school, has completed four years of faith-based learning: four days a week, with a 6am start. She talks excitedly about getting the call for her mission, although she is yet to send in the application papers.
She feels like COVID-19 stole two years of high school from her. She's also kicking herself.
"I feel like, if I had just focused more on school, worked from home for real for real, then maybe I wouldn't be here. Maybe I would have gone to uni, done my studies and done what I really wanted, you know."
In Ashburton, 16-year-old Will Rollinson drives our reporter past Ashburton College, which is closed for the school holidays. He feels bitter, too. "COVID ruined school life," he says. When students came back after the first lockdown, "nothing was the same. Friendships and everything were different."
Hockey is a big part of Will's life and that went out the window, as well. Exchanges and tournaments were canned, and some of those only roll around every five years. There is a sense of injustice, he says. "All the others in years above us, they all got to have their fair go and their fun."
Actually getting COVID-19 now is not something he worries about. "If I get it, I get it. If I don't, I don't. It doesn't really faze me. It just happens. I've got no choice over it."
[Chapter Break]
Humming along underneath these shocks—the floods, the cyclone, the pandemic—is a more relentless stressor: inflation. Or the cost of living. Or housing unaffordability. They all amount to much the same thing in the end, and that's more families having less money.
At its most base, for many teens that means going hungry. About one in six of the young people entering their teens this year are what we call "food insecure". In these families, paying for food is a stress and a stretch, it's instant noodles on the table more often than fresh veg, and a financial blip like a car repair or vet bill can mean a few weeks of hunger.
When University of Auckland public health nutritionist Sarah Gerritsen saw the images coming out of Hawke's Bay and other flooded food-producing regions like Pukekohe, it was these families she thought of. Fresh fruit and vegetables, already inflating in price day by day, washed even further out of reach.
Gerritsen feels for the mothers—they tend to be in charge of the food shopping, budget and cooking, which when there's not enough money can be "a huge stress". Mothers will also often try to shield the family, feeding everyone else first. Gerritsen has known mums to get by on food their toddler has thrown on the floor.
But it's the young people she worries about most. They will pick up on the extra pressure their parents are under, of course. But more than that: even a short time of food insecurity during childhood or adolescence can prime a child for problems.
"Your body reacts so that it will then take on as much food as it can when it has the opportunity, and it's very difficult to know when you're full, to be able to self-regulate. A lot of research has shown that internationally." Eating disorders often emerge during adolescence and pre-adolescence. So easy access to healthy food, as well as developing a good relationship with it—not worrying about it, eating when it's there, knowing when to stop: "It's critical. I can't stress that enough."
In the past 10 years, Gerritsen says, we've also come to understand how food influences mental health more generally. "And I think we see this play out in teenagers a lot. It's really difficult for them to concentrate when they're not getting the sustenance they need from healthy food."
Often, when we talk about food and kids, we focus on swottish metrics like school attendance, attention spans and test scores. But the link between growing brains and nutrition goes deeper than that. Happiness, Gerritsen points out, is fundamentally connected to what we eat.
[Chapter Break]
"I like destroying stuff, I like to smash stuff," says Ceejay Attenborough, a 16-year-old from Ngāruawāhia. She's talking about her big love: speedway. "It's fun and an adrenaline rush… you're allowed to drive full-force and not get told off for it."
For Ceejay's family speedway is more than just a yahoo. In many ways their lives, and hers, are knitted into it. Her mum, Tina, calls the speedway community their "other family". She and Phil met at the Kihikihi race track and have been married 37 years. They bought Ceejay's older brother Ethan a mini stock car to keep him out of trouble as a teen and Ceejay has been racing the smaller cars, too, since she was 12. Saturdays she races or practises, and Sunday is wash-the-car day. Her bedroom is plastered in posters of drivers and cars. Ceejay's boyfriend Rhys has just got into driving. Ask her how she feels about her body—she's wonderfully tall—and she brings it back to  speedway: "As a driver it's a disadvantage because my legs grew longer than my torso so I have to sit on a cushion." Same when she talks about her overbite. She's been told that correcting it would require surgery to break and reset her jaw when she turns 18. "It would mean I couldn't race for ages and I'm not taking a season off, unless my car is broken."
The other thing about speedway is that it's expensive, and in choosing it the Attenboroughs must make cuts elsewhere. It's normal, in their family, to eat soft food. Phil needs dental treatment the family cannot afford. He'd happily eat potatoes at every meal, but inflation has recently hoisted those out of reach, too—spuds are 48 per cent more expensive than this time last year, according to Statistics New Zealand.
"I refuse to pay $25 for 10 kilos of potatoes," says Tina, who does all the meal planning and cooking. She's been subbing in pasta instead. But food is up 12 per cent across the board. That's the biggest jump since 1989. So for the Attenboroughs, as in many families across Aotearoa, there are a multitude of small workarounds in play. Instead of subscribing to the magazine NZ Dirt Track Racing, the Attenboroughs pick it up at the supermarket each month—saves on postage. Their weekly $20 pack of fish and chips is no longer the norm.
Ceejay has set up pots and polystyrene boxes on the deck and managed to coax proper crops—lettuce, tomatoes, beetroot, broccoli—out of those infernal Little Garden sets from New World. She's pleased her gardening makes it cheaper for mum. She's also very happy that she gets a free hot lunch at school each day. Meatloaf and mashed potatoes, butter chicken, mini pizzas: "good food that I like eating," she says, tucking into a chicken burger she's brought home from school.
So far, serendipity—and community—are on the Attenboroughs' side. The summer storms scared Ceejay and washed out a lot of speedway meets, but downed trees meant an influx of free firewood. Tina is grateful to have a friend with chooks. She's also hugely relieved to have a freezer filled with red meat. (Ethan is an exterior plasterer; the half-beast is a gift from his boss.)
This family were on a tight budget before the cost of living really took off. But they've never missed a payment on their mortgage—even with interest rates ticking up—and after 30 years they're close to paying it off entirely. "We keep on keeping on," Tina says. They make speedway work because life is not a spreadsheet, and because they're allowed to choose joy. There are cuts and strategies at work here, too. Ethan's been paying his own way ever since he got a job. Most of Ceejay's weekly $5 pocket money goes towards her ambulance fees at the track. It helps that Phil is a mechanic, and that his employer is a speedway sponsor, which means they can use his fuel card to travel to events. The rising cost of fuel is very much on Ceejay's radar: it's partly why, despite her love of driving, she has no plans to get her licence.
[Chapter Break]
When I was growing up I used to climb the she-oaks in the shelter belts on our orchard and imagine I could see the curve of the Earth. There was an assumption that over the teenaged horizon there waited an abundant, stable life, the sort of existence that American journalist David Wallace-Wells memorably called, in a climate change essay, "creamily frictionless".
Do you remember, I say to youth health specialist Terry Fleming, that sense that the future was going to be about growth? "Yes! Yes. I remember that feeling, too… Do you remember having kind of a sense of progress, that things were getting better?"
Adults need to retire the idea that adolescence in 2023 feels like that, Fleming says.
"The future feels a lot less certain and [less] confident now, doesn't it? Not to dismiss that for some young people it was always risky, but that's more common now, to feel that the future is quite uncertain and fragile." Sometimes she wonders how a child is expected to grow up with realistic hope.
Fleming spent her early career as a social worker, focusing on youth mental health in South Auckland. She's now an associate professor in population health at Te Herenga Waka / Victoria University of Wellington and co-leads Youth19, a longterm research project focused on teenagers. In two decades, they've completed four comprehensive rounds of data collection. When the 2012 results landed, Fleming says, the rates of teen drinking, smoking and substance use had dropped so hard and fast she thought there must be a mistake. Then she had a call from someone running another major study. "They're going, 'Oh my gosh, we can't believe our stats, are they right?' And then, of course, it emerged that this was really quite a global trend."
Seven years later, in the next round of data collection, it was the mental health statistics going haywire. "It was this extraordinary worsening of mental health," Fleming says. "And this was 2019, so this is before blimmin' COVID, right?" Nearly a quarter of the high school students surveyed reported "significant depressive symptoms". Twenty per cent had seriously considered suicide in the previous year. Māori and Pasifika kids were hurting the most. "An appalling piece of data," Fleming calls it. Four years on, she still sounds astonished.
"Overall, this is an almost doubling of distress reported by young people. In seven years. And this is not a small survey; it's 7700 young people and it's a random selection of schools and then a random selection of people from the school rolls, so you can be pretty confident about that."
Again they checked and re-checked the numbers, again they were eventually mirrored internationally. Resist the temptation to pin the problem to a single cause, Fleming urges. Instead consider the adolescent ecosystem: COVID-19, climate anxiety, the ludicrous cost of petrol and eggs and houses and rent. Think about the time suck and the pressure of social media, and the squeeze that goes on family life when parents are in precarious or piecemeal work.
Also consider that teenagers have "inbuilt bullshit detectors" and will see straight through a parent trying to conceal their own stress. Then there's the most basic: the number of high school kids who say their parents often or always worry about not having enough money for food has steadily ticked up, too, and hit 12.5 per cent in this survey four years ago. "Potentially a perfect storm," Fleming says, "and then the smartphone means you can be exposed to these things 24/7."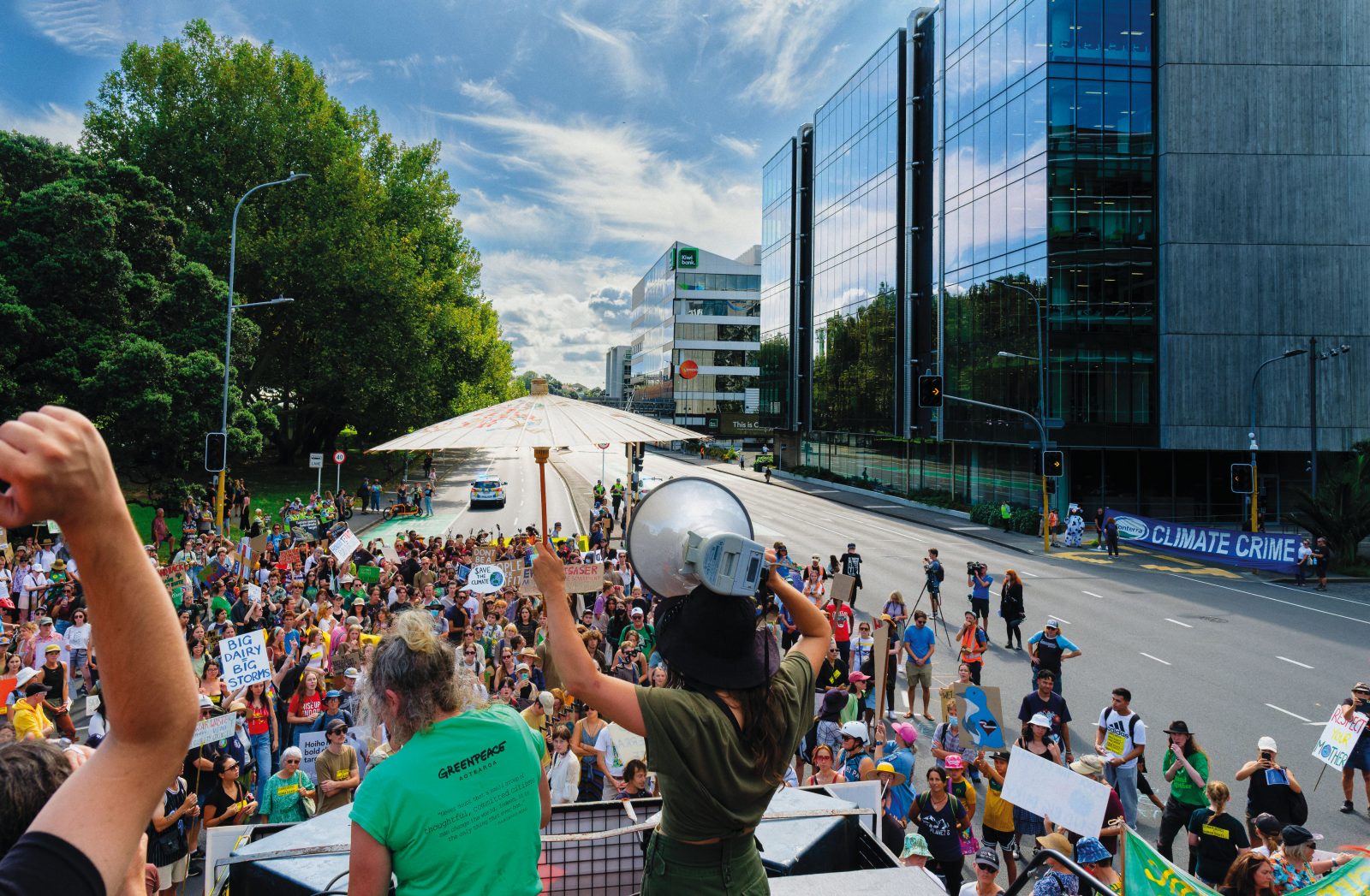 How do we protect our teenagers, and the children coming up behind them? As well as making sure they're fed, and warm, and housed—which, for many, remains a wishlist rather than a given—it's "all the good human family things", Fleming says. Kids need to feel loved, and to feel like they belong. They need clear expectations and structure. And they need time with you: cooking dinner together, listening to music, going out and doing stuff as a family. Remember to have fun with your kids, she says, even as they get past the point of needing you round the clock. "When they hit difficult times, you will be really glad for every part of the relationship you've got."
The project's next data collection will likely be in 2025. Fleming predicts it will show a polarisation. Some kids doing "fine and well", managing to buffer everything this world is throwing at them. "An awful lot suffering somewhat. And then the most vulnerable actually having been quite hurt, I think."
Along with the core questions the researchers always ask, the next round of data collection will go deeper on social media and digital connectivity. There will also be an increased focus on what gives people hope.
[Chapter Break]
Youth climate march day, mid-afternoon in central Auckland. My god it's hot. The sun wallops the footpaths, the roads, thumps off the glass of the H&M building.
A group of 13-year-old girls stand quietly near the edge of the crowd. With their parents' permission, they've ducked out early from Western Springs College. Their signs are written in biro, on pages torn from school books.
Protesting, they tell me, is not so much a release as a reprieve. "I just feel like I did something," says Angela Basma, who marched often in her home country, Lebanon, as well as for Black Lives Matter and Free Palestine. During a march, "I get a feeling like I don't have to be guilty any more, about not doing anything".
For these girls climate change is a constant. It's on their social media, on their minds. "It's given me a lot of anxiety worrying about how it's going to end up for us," says Katja Skulic. "If nothing changes there's going to be no future for us." The TikTok algorithm has taken to feeding her thin ice and starving polar bears. Worry spikes into her at random moments. At an abortion rights march she lost her voice yelling. Today feels more subdued, but it still eases the guilt. "I feel like I'm doing something, like I'm actually putting in a contribution."
"Mummy," says my boy. "Is that sign true?" An older woman is standing directly in front of him, holding a sign that says People under 35 will die of climate change. She yells at teenagers wandering past: "We're marching for you! For your futures!" We find a new spot to sit, and some guy starts burbling at us about the apocalypse. Can't be stopped, god's will, etcetera.
This is a march for young people. It's also a really hard place for them to be.
Nearby, 13-year-old Parneet waits on a bench. She's wearing an Avondale College uniform and holding a sign that looks like a panel from a science project. It's a printout of IPCC graphs. Every increment of global temperature matters, it warns.
Today, Parneet is reassured to see that other people care about climate change the way she does. But then again: "We only saw one other person on the train who was going, and I didn't see anyone else from my school."
Parneet is here with her mum, who has been vegan for years. Her dad, who drives trucks for Fonterra, has been less convinced about climate change, or the need to act. Despite that, they've recently sent money to family in Punjab, India, where wheat and vegetable crops were hammered by the heatwave last March, and by falling groundwater levels. The money went towards a solar-powered irrigation pump—electricity has been erratic during the hot season. Parts of India are now bracing for another heatwave.
But climate change is hurting Parneet right here at home, too: her kitten managed to get outside during heavy rains after the cyclone. They found her dead in a bush.
At the time, Parneet's mum was in Kaitaia, caring for her father, who had just been discharged from hospital. They lost power and phone coverage for a few days, but managed to get the water supply back on by using a generator. Parneet, like the Papatoetoe teens, was starting high school in the middle of all this. But she's already bracing for worse—her mother has told her that their home, which has been okay so far, will be at risk of flooding when the sea rises another two metres. The weight of it: When.
Two years ago, researchers set out to investigate climate anxiety in children and young people globally. They surveyed 10,000 young people in 10 countries—Australia, Brazil, Finland, France, India, Nigeria, Philippines, Portugal, the UK and the US. The results are summarised in the table at left. The paper, published in the Lancet Planetary Health, includes this extraordinary conclusion: "As a research team, we were disturbed by the scale of emotional and psychological effects of climate change upon the children of the world, and the number who reported feeling hopeless and frightened about the future of humanity. We wish that these results had not been quite so devastating."
[Chapter Break]
Four years ago Vidthia Beaglehole was in her first year at Wellington High School and walked to the youth climate march with her friends. She ended up with a loudspeaker, a 14-year-old leading chants, and remembers coming home on a high—the protests had a crackling energy to them that year. It felt like change. She turned on the TV expecting to see images of her generation finally being heard. Instead, she saw the mosque attack. The news had broken just as the marchers reached the Beehive. She'd had no idea.
At 17, Vidthia, by nature a calm and rational person, is scared. She keeps up with the science; she understands just how uncertain the world is. I think we're talking about the future here, but she pulls me up: "We're already facing that grim [reality]. You know, we're already in that."
Guilt gnaws at Vidthia. Every time she does what she calls "my part"—protesting over abortion rights, setting up a collection point for a food bank, running a fundraiser for Ukraine—she feels better. But if she buys a Powerade: "It's just like big guilt, knowing that that's a plastic bottle." Food waste bothers her; she's started to really focus on using leftovers rather than buying something new. She's been driving a lot—she just got her restricted licence. But she berates herself over emissions. She's been carpooling as much as she can, offering rides to friends. She has a packed schedule: coaching volleyball, waka ama, volunteering for Rotary, running errands for her grandma. She can't not drive. She feels bad about it. This is not a feeling that comes and goes.
"I know it sounds silly, but if we're walking, if I step over a piece of litter, it's like I have to pick it up. I feel guilty otherwise, or I feel bad karma." She laughs at herself, but she's also dead serious. "I feel like the world is watching, the Earth is watching. I have to do my part."
Vidthia can't fathom the way older generations seem so insulated from this feeling—and how they can continue to make decisions that seem so selfish. Not just about climate, either. She's concerned about the potential for harm in artifical intelligence. And she was particularly thrown in March, when new prime minister Chris Hipkins threw hate speech legislation covering religion on what was quickly dubbed a "policy bonfire". "That was really sad for me," Vidthia says. After the mosque attack, and the amount of hate speech she's personally experienced as a Sri Lankan New Zealander, "I saw that as a step backwards. It feels like our safety is not being valued."
It's "the lack of control, lack of agency" that she finds hardest, and most disheartening. Sixteen-year-olds absolutely should have the right to vote in general elections, she argued in a recent health class at school. (A policy about that, too, went on the bonfire.) What's left is making good decisions in her own life, direct confrontation—she told off younger students at school for littering—and protest. But "sometimes it feels like when you protest, you're not really being heard. You see the Green MPs out speaking and supporting you, but not many others."
A Chinese-born teacher at Vidthia's school recently talked about China's former one-child policy, and how governments can put restrictions on the population in order to bring about a common good. It got Vidthia thinking about norms and how they change. They've changed a lot in her short life. So will it still be normal, when she's older, to even be able to decide how many children she has? She's been thinking, too, about how maybe, maybe, the world will be okay for her children. But what about theirs?
"I spoke to some of my friends about it recently. The conversation was, like, we don't know. We don't know—and that's scary."
It's hard to go through the world like this. To grow up like this. Everyone's mental health has become worse recently, Vidthia says.
Her school attendance, and that of her friends, has suffered: they see little meaning in notching up top marks, scholarships, a job, when the whole world is shifting beneath them. "Really, what does it matter, because of how everything feels like it's going to turn out?"
But something else has changed for Vidthia in the last few years. She's developed a real faith in her convictions. She talks as if this just sprouted overnight, out of nowhere, but any parent knows this is about a lifetime of love and hope and listening and shoring-up. It's also about the extraordinary capacity we all have to cope—and to change. You might call it growing up.
"Something's happened," says Vidthia. "I'm way more confident in myself and my values and beliefs, and I do know that I'll act true to them… And that makes me feel like I can survive, you know? I have the confidence to not be quiet."
[Chapter Break]
The march swirls to a halt. My boy and I duck off the road and eat muesli bars in the cool of the Victoria Park plane trees. Their trunks thrust from the earth like giant hands, holding leaves the size of your head. They stood sentinel when the park flooded a month ago. Today they cast a blessed shade. A woman leaves the march and settles down beside us to breastfeed. An older couple come to lean on a branch. But most of the protestors stay in the sun, on the concrete, shouting and sweating and hoping.
Is anyone listening? It doesn't feel like it. A fortnight after the march, and just after Hipkins' policy bonfire, the IPCC releases a new report. Sample headlines: "World on 'thin ice' as UN climate report gives stark warning"—AP News. "Act now or it's too late"—The Guardian. "Alarming UN report on climate too rosy, many say"—The New York Times. Another week rolls by and the Ministry for Business, Innovation and Employment invites companies to apply for permits to explore for oil and gas in the seabed around Taranaki. The government announces it has granted a new exploration permit to Greymouth Petroleum.
Under the big old plane trees on this sunny afternoon I look at my boy, and tell myself for the thousandth time not to dwell on what the world will feel like for him at 10, 15, 20. It's too much. For today he's tired, and we're done.
Cutting through the park, we discover that on the other side of that wall of trees you can hardly hear the protest. In this parallel universe it's all cicadas, the smell of sausages on a barbecue, and the nostalgic tock of a cricket game. A beautiful, simple, summer day.