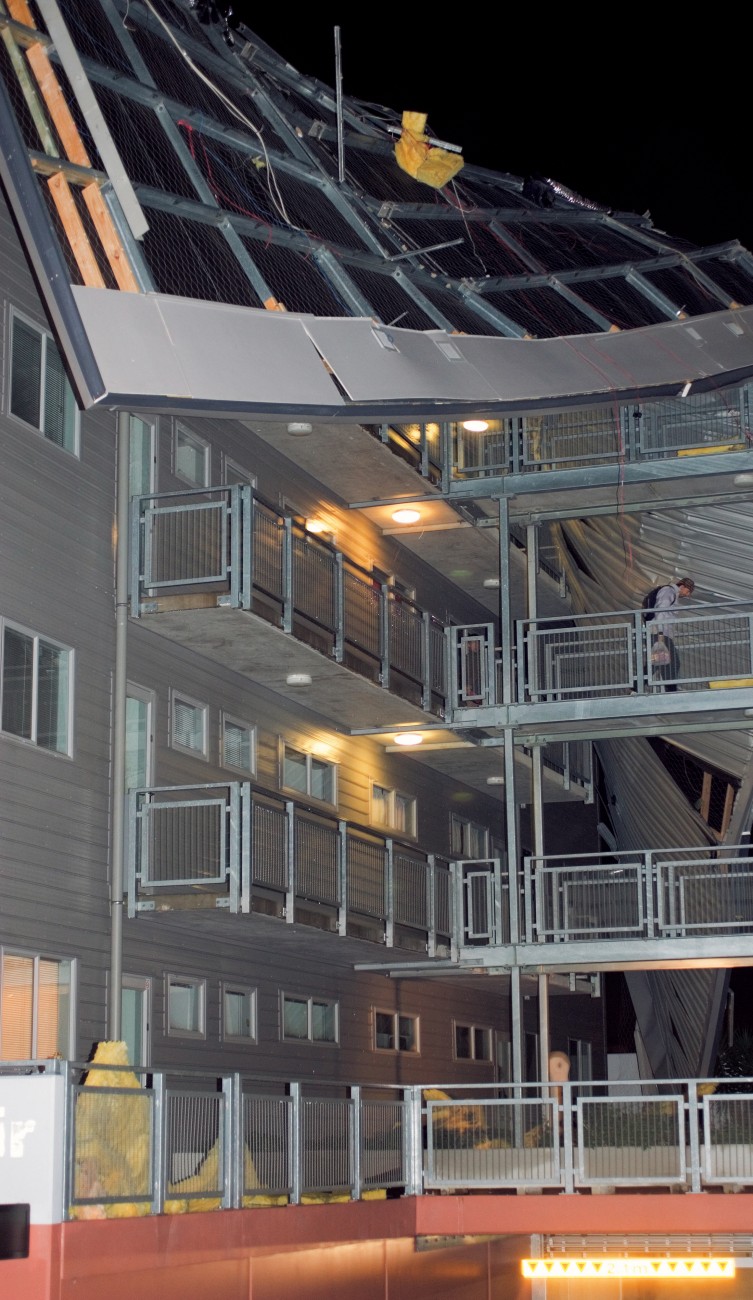 NZ Herald
Before Northland had fully recov­ered from the exceptional rains of March the exceptional rains of July arrived. More than 100 mm fell in less than 24 hours over a large part of Northland and in places more than 200 mm arrived. Kaeo, for example, had 272 mm and Puhipuhi 216 mm, while Whangarei Airport had 194 mm. Heavy rain also fell over Auckland and the Coromandel Peninsula. Extensive flooding oc­curred in Northland, including some houses just repaired after being dam­aged in the March floods. A number of roads were cut by slips and a bridge washed out at Kirikopuni east of Dargaville.
The easterly winds were much stronger than during the March storm and damage was extensive across Northland, Auckland and the Coromandel Peninsula. Trees and power lines came down in many places, cutting power to thousands of homes. In Auckland, the harbour bridge was closed to all traffic for a time and a number of ferry sailings were cancelled, forcing some pas­sengers to sleep the night on board.
The roof peeled off a central city apartment block in Symonds Street, and, near Thames, the roof was torn from a new gymnasium. A group of school pupils had fortunately left the building a short time before, when it had begun shaking and groaning. A number of yachts and boats were driven onto beaches and some were wrecked on rocks.
In Tutukaka Harbour, Noel Kelly fought a losing battle to save his ferro-cement yacht, throwing out a second anchor and turning on the yacht's engine to try to sail into three metre waves driven by wind gusting to nearly 200 km/h. Mr Kelly was eventually forced to jump into the water, from where he was rescued by a coastguard boat, just as his yacht smashed on the rocks. Mr Kelly, a manufacturing jeweller, who had been living on his yacht, estimated his losses at close to $200,000, as his insurance had lapsed. To add insult to injury, the spare set of clothing he salvaged as he abandoned his yacht was stolen from a drier in the Tutukaka Marina an hour or so later.
Meanwhile, as the storm bat­tered the top of the North Island, a ridge of high pressure covered the South Island, ushering in a se­quence of heavy frosts that covered trees in rime ice and eventually cre­ated 25 cm thick ice on the Idaburn dam so that a curling tournament or bonspiel could be held for the first time in six years.
For Northland, a second hun­dred-year flood in just months raises the question, what is going on? Statistically, such a thing could be a coincidence, but it is more likely that there is some common cause afoot in the atmosphere. More frequent heavy rain events have long been predicted as a consequence of global warming, based on the simple physics that warmer air is capable of holder a greater amount of water vapour and therefore of unleashing a greater amount of rain.
Among climatologists grappling with the expected consequences of global warming, there is a school of thought that much of the anomalous weather around the world is driven from the tropics because that is where the greatest energy exchanges occur. Sunlight is most intense in the tropics; hence the greatest amount of water is evaporated from the oceans there. As this air rises, it cools by expansion causing some of the water vapour to condense, thereby releas­ing heat into the air.
This year the monsoon rains over Asia have been much heavier than normal. Consequently, the release of heat into the air by condensing water has been greater than normal. When air is heated it expands and at high levels in the atmosphere, significant amounts of this air spill over the equator into the Southern Hemisphere. As this air moves fur­ther south, towards the Tasman Sea, the spinning of the Earth causes it to accelerate, forming the high level wind maximum known as the sub-tropical jet stream where wind speeds can exceed 200 km/h. The stronger the jet-stream, the greater its ability to help intensify the anti­cyclones and depressions that cause the weather down on the Earth's surface where we live.
So, hotter temperatures and heavier rain over Asia can increase the frequency and intensity of storms affecting New Zealand and beyond.
The World Meteorological Or­ganisation has found that extreme weather events have become more frequent world-wide over the last 50 years. This seems to have been particularly noticeable this year. In the last few months record break­ing heavy rains have brought major flooding to places as far apart as Texas, China, India, Switzerland and England, as well as New Zealand.
Recordings of rainfall over Eng­land and Wales go all the way back to 1766, and the period May to July of this year has been the wettest on record with 406 mm of rain, break­ing the previous record of 349 mm in 1789. Nine lives have been lost and the total damage bill estimated at US$6 billion.
After heavy rain in June over the north and east of England, several Church of England bishops blamed the flooding on a decline in moral standards, although not particularly the moral standards of the people whose houses were flooded. How­ever, The Sun newspaper speculated that the flooding may have been caused by excessive playing of pop singer Rihanna's hit song Umbrella, which topped the charts during the nine weeks of bad weather.
Meanwhile, in southern England, the Wessex branch of the Pagan Federation was exhorting its mem­bers to pray for rain. They had taken offence at a large portrait of Homer Simpson holding a donut aloft that had been painted in biodegradable paint on a field next to the famous Giant of Cern Abbas in Dorset—an ancient figure carved into the chalk underlying the grass. Their prayers were followed by heavy rain over southern and western England which caused extensive flooding that lasted for days.
Paradoxically, with all the water lying around, water fit for human consumption was hard to find as pumping stations were inundated and sewerage contaminated sup­plies. Water companies stationed portable tanks in urban areas and promised to fill them several times a day but were unable to keep up with demand, leaving the spectacle of English families wandering the streets carrying plastic containers looking for water. A black market developed as some people took more than their share and tried to sell it. Some neighbourhoods organised a 24 hour guard over their tanks and instituted rationing, inking the backs of peoples hands as they filled their containers.
Happily, there are growing signs that the juggernaut of Western Civilisation is beginning to respond
to concerns about global warming and halt the rush towards ecological disaster. In Rome, the Vatican
is attempting to become the first carbon-neutral state by planting forests in Hungary to offset its carbon
production, and the Institute of Rural Studies at the University of Wales has announced preliminary research
results showing that feeding garlic to cows can reduce their methane emissions by half!