Set in stone
Elaborately, painstakingly rendered upon solid rock, early Maori rock art was scribed into sandstone, scratched under granite overhangs, and painted in red kokowai and charcoal to point to food sources, record genealogy or confer tapu upon sites that served as both shelter and canvas for the first New Zealanders. But the drawings and etchings are susceptible to gradual environmental decay and the enthusiasm of those who visit to admire them. Despite enduring for centuries, these messages from another age are gradually fading from view.
He's flat on his back beneath a massive outcrop of rock in a leaf-green gully in South Canterbury.
The aesthetics, says rock art researcher Gerard O'Regan, are stunning.
"Not just in terms of the positioning or the sheer scale but also in terms of the window it allows us into the imagination of the old people, the tipuna. There's something deeply experiential in that."
There are eight of us, tilting our heads back in a shallow cave not far from the small town of Pleasant Point. Above us are three huge taniwha, spread-clawed and wide-bellied, tails looped and circled around one another, held within a panoply of organic forms—human figures, manaia, bird­like creatures, shapes too abstract, or too dim, to be prop­erly identified—a huge fresco of sinewy bodies and charcoal limbs emerging out of the rock as our eyes become accus­tomed to the mottled lines.
It is breath-taking, more than a little eerie, an echo from a past that suddenly seems more recent, more living, than ever before.
This is limestone country, a landscape rucked and buck­led by wind, rain and river into bizarre patterns of shelf and shelter. For around 800 years, these outcrops served as both shelter and canvas for generations of Maori pass­ing through or stopping over, hunting, fishing, feasting. Maybe performing rituals. Maybe marking ancestral lines of whakapapa. Within a 2 km radius of the taniwha images there are 48 such sites, a scattered anthology of drawings, paintings, graffiti and, less commonly in this part of the country, carvings. More than 580 sites have been recorded across the South Island, extending on to harder surfaces of schist, sandstone, greywacke and marble.
Together they form a chronicle of mythical bird-men, taniwha, dogs, lizards, birds, sharks, seals, moa, sailing ships, horses and, most commonly, people: paddling a waka, poling a raft, holding a spear or simply being there, hollow-bodied and stick legged, caught in an expression of motion or mysticism. They range from single motifs to murals 20 m in length. Some subjects are easily identifiable, others abstract chevrons and circles or the sinuous lines of mythi­cal creatures of land and sea. Some appear as palimpsests, drawings over sketch-like scratchings, paintings over dry pigment, red kokowai over black charcoal, black over red. Some stand in solitary watchfulness, others as beacons, pointers to food, shelter or, perhaps, burial.
Appear, seem, perhaps—these are the words we use with ka tuhituhi o nehera, Maori rock art, the pictographs (drawings and paintings) and petroglyphs (carvings and in­cisings) that give a tantalisingly incomplete insight into this country's earliest human history right up to, and including, the first encounters with Europeans.
Unlike portable artefacts—the tools, pendants, weapons and containers held in museums or private collections­ these ancient markings provide a unique vision of the people who walked the complex web of trails through the valleys and plains of Te Wai Pounamu since the arrival of the first canoe some 1000 years ago. They speak of a close physical, social and cultural relationship with the natural environment, of the charting of kai, the mapping of terri­tory, even the earliest encounters with a new land and, later, new waves of migration. Drawn, carved or painted, they are regarded by some as permanent symbols of boundary,natural resources or whakapapa, to be read by those that may follow months, years, maybe generations later. Seem­ingly hidden under boulders or in tiny crevices, they are interpreted by others as signs of wahi tapu—warnings to unwelcome visitors, restrictions on unwanted activity or greetings to those allowed, through whakapapa or social status, to visit.
"You might have what looks like a very simplistic version of a figure but it has incredible depth of meaningand interpretation to the people living with it."
At his home in Christchurch, Ngai Tahu kaumatua Trevor Howse speaks cryptically. Some stories, he suggests, await the right time, the right audience.
"But rock art is a taonga. It will take its place as part of the footprint of the land. It's about taking history back as far as we can go, with integrity and with mana. But at this point it is treated largely as an oddity. We need to do some­thing about that. Its image needs to be changed."
It's an image beset by questions. Who, why, when, even what? The most common response is: We don't know. With the arrival of new peoples, the privatisation of land and the erection of fences, the trails were abandoned. Oral accounts were left unheeded. The stories ended.
Today, an estimated 30,000 visitors stop each year to gaze at the long reptilian forms, the birds, tiki and horses at the Takiroa rock art site in the Waitaki Valley, but much of this extraordinary trove of art and culture here and else­where in the country has been neglected. Many sites are in disrepair, many have vanished altogether.
"If people knew about it—its heritage, its cultural signifi­cance—we wouldn't have the problems we have," says Aman­da Symon, curator for the Ngai Tahu Maori Rock Art Trust. "Think of the kiwi—it's our icon, we all love it and everyone knows it's under threat. If people had the same level of aware­ness of rock art that they have of the kiwi or the southern rata, our job would be done. But this is a historic problem. Rock art is difficult to study—we can excavate remains in shelter floors, we can measure, we can record, but it's still an enigma. In the study of archaeology, it's all about remains in the ground or built heritage, and in terms of art history, rock art's not well known. They're the two major professions that contribute to the production of cultural values, but rock art falls through the cracks of both."
Symon prefers to be out in the field, discussing the draw­ings, monitoring them, spending time with them. This morning she's in her office in Timaru, home to the planned Maori Rock Art Centre, a one-stop shop for information, research and low-impact guided tours due to open this year.Its brief is to convey the importance of this huge corpus of work, to preserve it, to care for it, and to expose some of the myths that continue to cluster around it.
For many years, these fading inscriptions were dis­missed as doodles, "time-filling scribbles of storm-stayed travellers", wrote archaeologist Roger Duff—far less inter­esting, and certainly less valuable, than the more familiar, so-called "classic" art forms such as woodcarving, tuku­tuku and moko.
In 1877, Julius von Haast, then director of the Can­terbury Museum, suggested the motifs at Weka Pass in Waipara were the work of shipwrecked Tamilese sailors, so similar were they to the script on a Tamil bell found near Whangarei in the late 1830s. Even today, the uncertainty surrounding these images are used to support wild fantasies of pre-Maori occupation, be it by Celts, Phoenicians, the Chinese or—yes—aliens.
One of the first to recognise the sophistication of these images was Dutch artist Theo Schoon. In 1946, he began recording rock art sites in Canterbury and Otago, compil­ing a catalogue of what he believed to be the work of artist-priests practising ancient shamanistic rituals—"frozen mu­sic," he wrote in the Listener, "in which the very soul of the mythopoetic Polynesian has been crystallized".
But his interest came at a cost. To make the images stand out, he often drew over them with black or red crayon (al­though he was not the first to touch up rock art motifs, he was almost certainly the last). He also wrote his own name close to some rock drawings in what may have been an act of homage to those who had gone before but which is now considered a brazen intrusion.
Like many before him, Schoon was also selective in the images he chose to copy. He ignored, for example, the fine inter-connecting lines looping through and around sepa­rate forms, and details such as the distinctive crest feathers of the Haast eagle, the pouakai—persuasive testimony that the image was drawn from observation.
Just as Schoon isolated images for the purposes of re­cording, so particular motifs were enlisted for the rising tide of mid-century nationalism. Throughout the 1950s and '60s, rock art motifs adorned Sanitarium Marmite jars, tea towels, postage stamps, Weet-Bix cards and, thanks to writer and artist A.R.D. Fairburn, furnishing fabric. Like the samples held in museums and the tracings exhibited in white-walled galleries, these motifs were presented as sin­gular icons divorced from the natural landscape of which they were so much a part.
Thirteen years after Schoon, artist Tony Fomison began recording sites in a meticulous undertaking visible today though his many sketches, field books and life-size china-graph tracings. Convinced that, in pre-European times at least, Maori art was "too sacred for casual use", he was the first to compile a chronology of styles and the first to con­sider rock art in terms of waves of migration and encounters with a new and utterly foreign land.
"Place yourself in a waka that washes up on a beach in New Zealand," says Canterbury Museum curator of an­thropology Roger Fyfe. "There's nothing in the preceding 3000 years of exploration that could prepare you for what was in New Zealand. Its size, its climate, its snow-capped mountains and vast braided rivers. Giving artistic expres­sion was a way of making sense of it. Then add to that the stories of ancestors. Rock art didn't come out of the air, but it became uniquely Maori."
According to visiting French anthropologist and rock art researcher Yann-Pierre Montelle, New Zealand rock art fits a paradigm applied to rock art across the globe, a paradigm beginning with a coastline, a settlement, a growing popula­tion and the search for new resources.
"A rock shelter will be found and, in a very prosaic way, it will be marked for future return. It's a way of stamping a place, of saying, 'We passed this way, something's good here, it's worth our returning.'"
The shelter is then lost. Either the resources are no longer available, the land was not adequately marked or there is a change in population. There is a loss of "cognitive mapping" and either no one returns or a new population will use the shelter, often integrating existing forms into new designs as strategic alliances are forged between iwi or hapu.
In the final stage of Montelle's paradigm the basic re­quirements for food, shelter, an edge (tools or weapons) and medicine have been met; the site's original economic im­portance no longer plays such a pivotal role.
"So the rock art site is integrated into a mythogenetic structure—a myth kicks in. This is when the complexity of the site is going to reach its apex, when you are going to see very sophisticated assemblages of motifs. A site that was socio-economically strategic turns into a place loaded for ritualistic reasons."
Distracted scribbles? Art for art's sake? Quotidian roadsigns? Some argue that, from the very first fingerprint or brushstroke, these markings are embedded in rituals, notions of tapu and the specific wisdom of the tohunga or other figures of authority.
"The early Maori saw the landscape as alive, full of spir­its, so why would we assume that they'd have this casual regard for limestone rock shelters?" says Gerard O'Regan, member of the Ngai Tahu Maori Rock Art Trust and the New Zealand Historic Places Trust Maori Heritage Coun­cil. "If you think what else might be happening around rock art, like feasting, dancing, singing, hunting, making tools, then you start to view the art in quite a different way."
The use of red pigment, or kokowai, supports this the­ory. Found either as seams of volcanic rock or deposits of hematite (or other iron oxides), and either in powdered form or baked then ground into a powder, kokowai was long as­sociated with concepts of mana, tapu and mauri. Kokowai was used to keep bad spirits away, paint faces, and colour human bones and other tapu objects. It was traded, fought over, carried from place to place.
The shelters themselves suggest varying purposes. Some are capacious, showing evidence of frequent and re­curring use—sleeping, eating, cooking—as well as draw­ing. Some imply a more singular use—near Duntroon, a lone figure squats on the ceiling of a shallow cave, a huge three-fingered hand pointing expressively towards the coast. Others comprise small figures no bigger than a tiny woodcarving.
In an ancient railway house above the great sweep of the North Otago coastline, Brian Allingham, one of the found­ers of the South Island Maori Rock Art Project established in the early 1990s to record, research and monitor rock art sites in the South Island, rifles through the result of several decades of rock art research.
The more isolated sites, he explains, may have been places that only tohunga could use, with concealed symbols serving as territorial barriers to unwelcome visitors (inci­dences of travellers abandoning a promising shelter after seeing the inscriptions on the walls have been recorded).
"If you knew the password, the required acknowledge­ment to enter such a site, then nothing was going to hap­pen. If you didn't know, then maybe you were in danger of breaching some tapu. In those days, tapu and noa [bless­ings] had to be followed. That was the cement that held that society together."
But which society?
Trying to ascribe particular motifs or colours to one of the many groups—Hawea, Rapuwai, Waitaha, Ngati Mamoe, Ngai Tahu—that walked these trails is fraught with difficulties. What we can assume, says Symon, is that rock art came with the first Polynesian travellers who arrived on these islands with a suite of material culture. These practices were then adapted to the new surroundings and the resources available here.
And how long ago?
Montelle is hoping the analysis of the pigment itself will help answer this question, but dating rock art is notoriously difficult. Neither charcoal nor kokowai can be placed on a timeline—carbon dating charcoal can tell you when a tree died, but not when it was burned, while iron oxides resist such analysis because they are non-organic.
The tiny remnants of weka oil, shark liver oil and vegeta­ble gum, added to the pigment to make, as ethnologist Herries Beattie was told in the early 1900s, "an ink that would stand forever", are often eroded by microbacteria, leaving them equally resistant to accurate dating.
The occasional discovery of painting tools—grinding stones, painting implements and kokowai containers—on the shelter floor can give an approximate date through the analysis of artefacts found close by, but even then Maori rock art's relatively recent history makes dating an inexact science. A 200-year margin of error is not an issue when dating a 10,000-year-old drawing, but for pigment applied in the past few hundred years, such leeway could render any findings irrelevant.
However, the clearest indication of age is found in at least some of the motifs.
Extinct species such as the giant eagle or moa—both of which disappeared around 1500—suggest either the artist saw this creature or was reasonably close in time to someone who had. Although the presence of moa bones on shelter floors and drawings of moa on the walls has been used to support the theory that rock art was done during moa-hunting expeditions and that, after the moa had been rendered extinct, it went into remission until Europeans arrived, this theory remains unproven.
Extinct species such as the giant eagle or moa—both of which disappeared around 1500—suggest either the artist saw this creature or was reasonably close in time to someone who had. Although the presence of moa bones on shelter floors and drawings of moa on the walls has been used to support the theory that rock art was done during moa-hunting expeditions and that, after the moa had been rendered extinct, it went into remission until Europeans arrived, this theory remains unproven.
At the other end of the rock art era, post-European im­ages clearly indicate certain time spans—while sailing ships could date back to Tasman's voyage, horses, horse riders and churches suggest the early settler period, while personal names and greetings, often written in the copperplate script taught by missionaries, clearly date from the 1820s to 1840s. But the actual interpretation of such motifs is fraught with cultural assumptions.
"The recognition of two-dimensional depictions is in­teresting," says Michael Trotter, co-author with Beverley McCulloch of the most comprehensive book on Maori rock art, Prehistoric Rock Art in New Zealand. "We could be looking at whole narratives and have no idea what we are looking at. We might say, 'Figures dancing', but this is something we can't assume. Take a sailing ship—it could be an illustrative tool by someone who had seen it, or it could be a drawing undertaken in a sacred place to bring that ship under the power or influence of the atua [ancestral spirit] associated with that site."
Pointing to a series of traditional Maori motifs, Alling­ham describes the complex, often subliminal imagery in­tegrated into the designs—human forms or hei-tiki incor­porating bird or reptilian imagery, subtle evocations of the figure of the manaia, interwoven symbols of light and dark­ness, life and death, the natural world and the spiritual—all loaded into seemingly uncomplicated forms.
"Look at the symbol for Shell petrol company. Most people would know what it means—you don't need to put 'Shell Petroleum' underneath. You could say, what a simple design, but look at all the technology, wealth, politics and power that is behind that symbol. I apply a similar notion to rock art. You might have what looks like a very simplistic version of a figure but it has incredible depth of meaning and interpretation to the people living with it."
Such motifs, says Howse, are best described as isolated windows in time—snapshots of specific ancestry and mi­grational shifts born out of marriage, war, succession and cultivation, boundaries for whanau and hapu.
On the phone from Temuka, Mandy Home, former man­ager of Arowhenua Marae, says that any appreciation of rock art begins in the experience of the natural environment.
"I look at where they are in the context of the landscape and think, what are they trying to say? Why is it there in that place? It's not, ooh, I know what this symbol means— it's about looking at the whole picture."
A picture that was, she says, constantly being added to in an ongoing conversation across time and place.
"I write my bit, you write your bit and my cousin will write his piece. It's like a newsletter."
A marker of whakapapa?
"Yes, and of stories we'll never know. The link has been lost, the korero has been lost. People say, 'What does that mean?' They want an instant answer or they're looking at it in an artistic or scientific way. It's the wrong headspace. Some spaces you feel the specialness of it. Other places you walk and say, 'Yes, this was a food stop.' I can't explain it— it's just something you know inside yourself."
Even without the stories, the relationship of rock art to the landscape—the very reason, perhaps, why it has been undervalued for so long—is central to its appreciation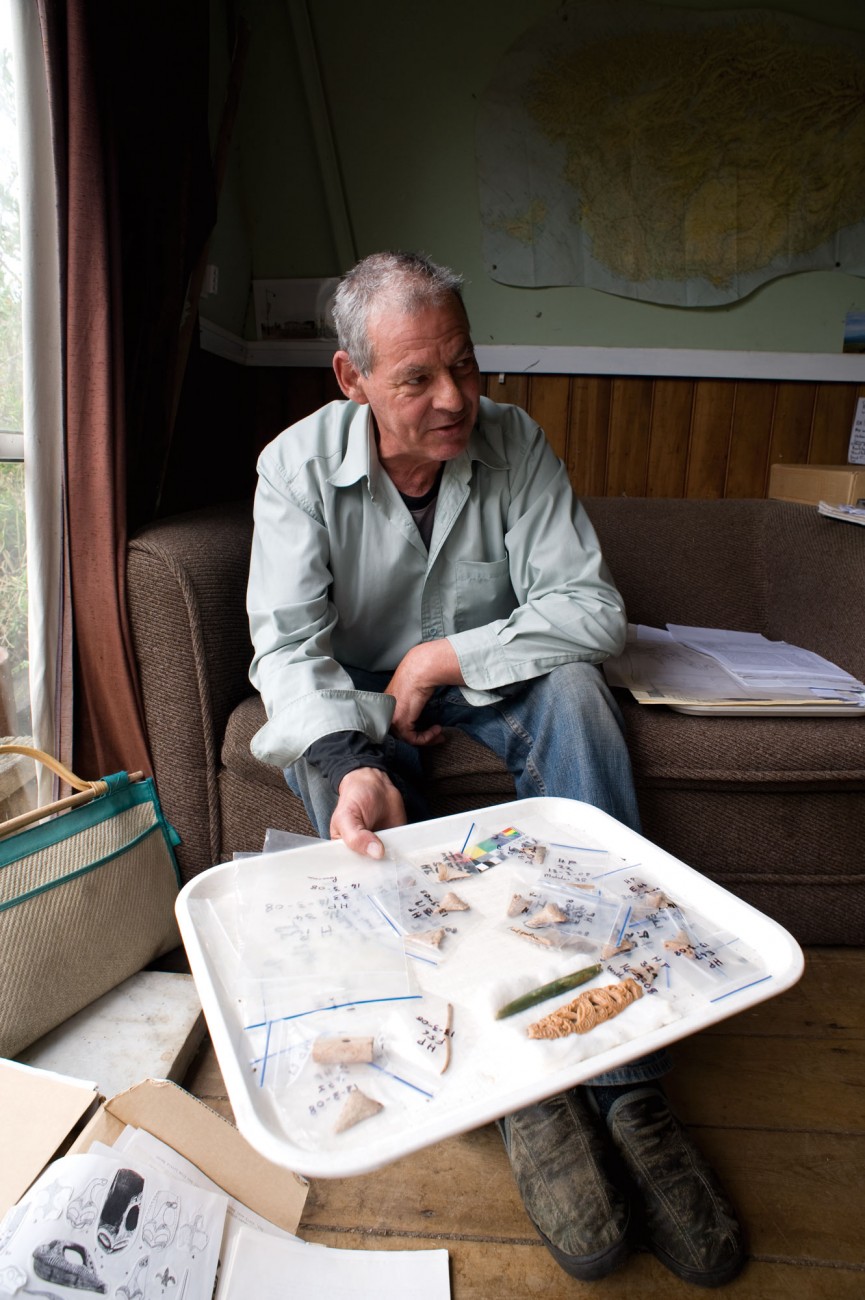 "It's a whole area of Maori culture that needs to be acknowledged," says Te Kenehi Teira, Maori heritage man­ager at the New Zealand Historic Places Trust. "It's not fair to say every rock art site is associated with a tohunga [as commentators from Schoon on have suggested]. But it is fair to say that they are of major importance to Maori peo­ple because they were put there by their ancestors."
[Chapter Break]
"Look.look anywhere. We're being watched."
Historical and site research consultant Perry Fletcher stands before a vast wall of rock in Te Kakaho, just west of Taupo, a significant site dating back to the very early stages of inland exploration. First one, then two, then a whole frieze of rudimentary faces, pecked out of hard stone, stretch across the base of the outcrop and swarm up a natural pillar.
Further up the hill, overlooking a small valley and prominent pa site, a deep shelter rimmed with black pig­ment bares traces of similar markings. It was, says Fletcher, the final resting place for the last tohunga that lived in this area.
The place is clearly tapu, the pigmented perimeter suggesting, says Fletcher, a portal to the spirit world.
Rock art in New Zealand is generally associated with the limestone shelters of the South Island, but already the New Zealand Archaeological Association lists 140 rock art sites in the North Island, most in the central plateau region, and 33 petroglyphs (as well as the highly endangered dendro­glyphs, or tree carvings) on the Chatham Islands/Rekohu. While urban sprawl and land development have taken a greater toll in the North Island, Fletcher believes there are many more yet to be discovered. "Farmers could well be going past them every day without a second glance. It wouldn't surprise me to find we have as many sites up here as they have down south," he says.
There are differences. The North Island has more carv­ings, the South Island more drawings. Abstract motifs dominate in the North, more figurative forms in the South.
And there are regional variations. In Tokoroa and Ro­torua, drawings and carvings of waka are common—the best known being the vivid armada drawn in red on the edge of Lake Tarawera—while in Taranaki, the spiral, cir­cles and other "classic" Maori motifs predominate.
Around Lake Taupo's northern bays, shelter after shelter, accessible only by canoe, is marked with dots and dashes of red kokowai. Many of these markings, says Teira, are for wahi tapu reasons, signifying sites used for burials or de­manding restricted entry or special care.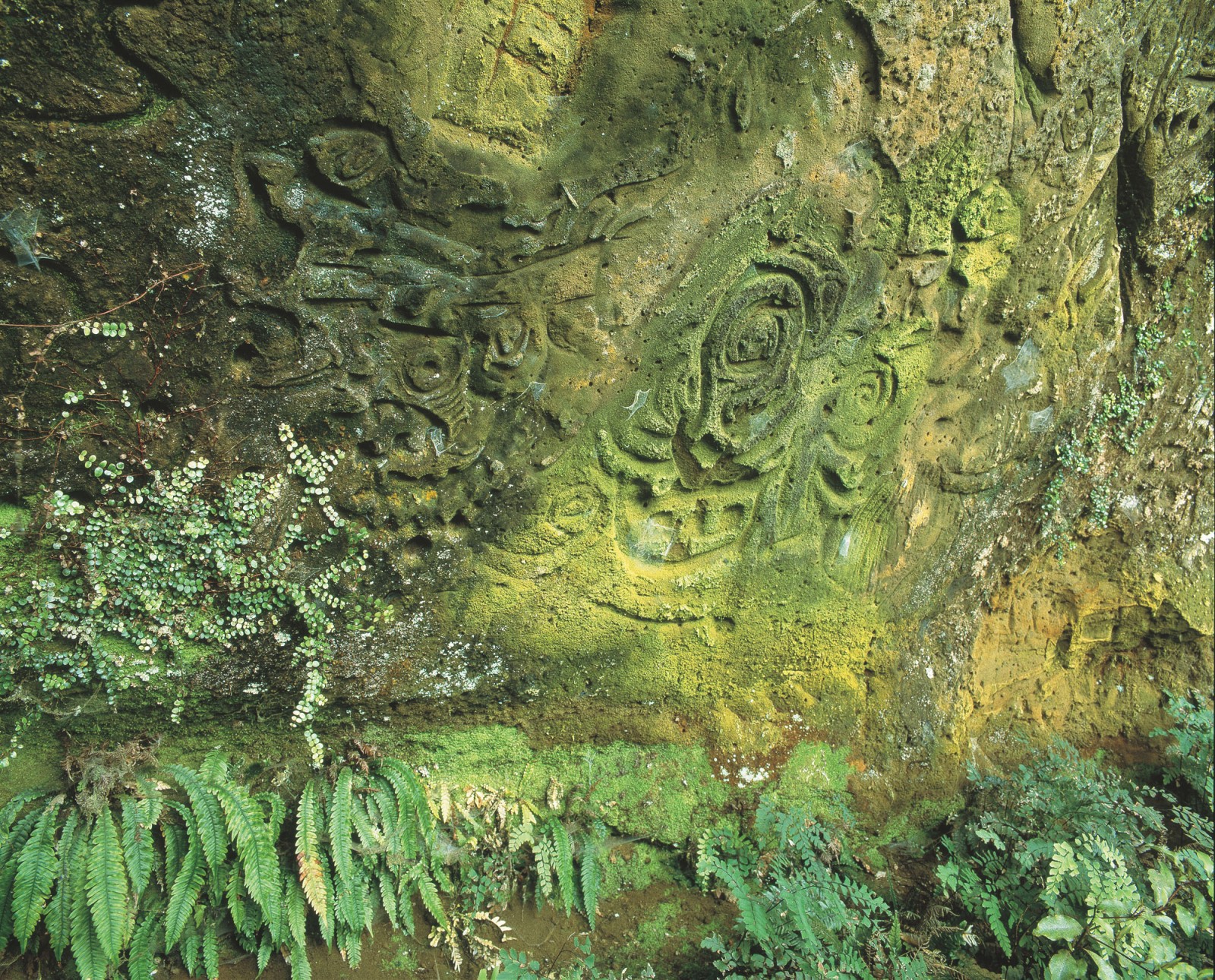 Other sites were used for habitation, others as bound­ary markers, others again, it is suggested, as whare wanan­ga, places of learning. In Tokoroa, a rock wall is covered with canoes and small dots matching the constellations of the night sky.
Again, says Allingham, it's about whakapapa, "the jour­neys of Maori ancestors and the waka that binds them".
As more sites are recorded, the idea that rock art was separate from, or earlier than, other forms of Maori expres­sion is being proved wrong. Motifs and designs on the walls of shelters around the country run parallel, says Teira, with those seen in woodcarving, tukutuku, weaving and moko. "There isn't anything that you can find in the rock art that you can't find in other forms; it's just that in other areas it becomes more stylistic."
Research is also revealing that Cook Strait was little barrier to stylistic influence. According to Allingham, ar­tefacts found in Cape Reinga and Stewart Island/Rakiura show a similarity that will connect not only rock drawings and carvings in the North and South Islands but also art forms in Polynesia.
Comparisons have been made between Polynesian mo­tifs and the crocodile-like taniwha and turtle images found in New Zealand—expressions, perhaps, of an ancestral memory relating to previous places, previous times. At Canterbury Museum, Fyfe points to the whale motif on a Tongan club from a culture 400 years and 10,000 kilome­tres distant that bears a remarkable resemblance to images of whales found in Maori rock art.
[Chapter Break]
At a rock art site in North Otago, "Supergroove" is scrawled in blaring blue painted letters. Throughout the country, shelters have been graffitied, vandalised, ran­sacked, eroded and corroded. While earthquakes, erup­tions, floods, extremes in temperature, dust, vibration and vegetation have all dealt often-devastating blows to rock shelters, causing flaking and loss of pigment in what may have been thousands of sites around the country, human ac­tivity—and curiosity—has also been massively destructive. Pictographs and petroglyphs have been lost to quarrying, roading and dam constructions (although the progressive damming of the Waitaki and the Waikato rivers did prompt some of the earliest recordings of rock art) or put under threat by forestry ventures, agriculture and tourism.
Drawings have been cut out or blasted off the walls with explosives (usually resulting in a pile of unsalvageable fragments). Stock have rubbed their flanks against them and gnawed at the limestone that supports them. While some sites are protected by metal grilles, elsewhere people touch them, sit on them, lean bags against them, carve their names into them, park farm equipment in them, and sketch around them with chalk. Just this year, a German tour­ist posted photographs online of her successful attempt to climb behind a metal barrier protecting an ancient rock art site, squeezing past a rock drawing on the way.
As the demand for irrigation increases, water build-up, especially in the porous limestone rock, puts the thin ve­neer of pigment at further risk of exfoliation. In Otago, a redirected water course runs close to a 60-metre limestone outcrop, once covered in drawings. The only indication of this work now, says Allingham, is a series of two-centimetre patches of old patina. "The rest is potato-chipped."
In the South Island, 95 per cent of rock art sites are on private land, one of the reasons, according to Symon, for their survival to date. Visitor access is limited, large-scale development is unlikely and landowners, she says, tend to value rock art sites found on their properties.
As others will if the drawings and carvings are acknowl­edged and valued.
"People will get passionate about it only if they are in­formed," says rock art conservator Nick Tupara. "A lot of people don't know about it, or know about it only through a Marmite jar. In terms of conservation, people think of our beautiful alps and the bush and the lakes—perhaps we haven't helped ourselves by not giving it more attention."
And attention, says Montelle, is needed now, before na­ture takes its inevitable course.
"No matter what angle you take, this art is gone. It might take thousands of years, it might take hundreds, it might take decades—but it's gone."
Already initiatives are being taken that will retain the memory of these images. Digital, eventually 3D, recordings will ensure an enduring record of these pictographs and petroglyphs, while contemporary artists continue to keep the images alive through their work.
In the meantime, as long as many of these shelters are accessible (i-SITE offices and, in the South Island, the Ngai Tahu Maori Rock Art Trust have information on the location of rock art sites), the experience of standing before these ancient frescos, of looking into the rock and out to the landscape, is a remarkable opportunity.
"It's not about that 'ah-ha' moment of discovering the footprint of a T-Rex," says O'Regan. "It's about taking the time to question, to let your imagination go, to think about what the old people were doing at that place, at that time."