All the fun of the gypsy fair
The gypsies themselves—lifestyle roamers rather than genuine Roma—relish the variety and unpredictability of life on the move.
There's Summer Madness on this Bowen-town road I'm walking. Holidaymakers' vehicles compete for parking places; parents shout at their kids to mind the traffic. In the distance a car alarm bleats incessantly, the owner "gone fishing." I stroll into the Gypsy Fair, and, within a single step, a spell is cast. Ornately painted trucks and buses border the grass "streets"—Petticoat Lane, Crystal Corner, Mystical Avenue—like banks of wildflowers. Under coloured awnings, visitors wan­der among handcraft stalls tended by women in flowing dresses and dangling jewellery. Smoke wafts from the black­smith's forge, carried on the breeze with the jangle of wind chimes sculpted from recycled forks and spoons. There is magic in the air.
Children are everywhere: perching patiently to have their portrait sketched; admiring new hair wraps and painted finger­nails; locked in gladiatorial combat on an inflatable mat. A pony ride elicits smiles of de­light. An invisible web of child­hood joy seems to bind the space the Gypsy Fair inhabits.
Visitors congregate round the Village Green, where, at half-hourly intervals, entertain­ers execute a variety of acts with the aplomb of professional circus performers. First up are the Fire Devils. Matt Morris, sporting tasselled sheepskin leathers and a biker's head of hair, looks as if he's just walked off the set of a Mad Max movie. He conducts the show with cracks of his 4 m-long whips, three in each hand. The devils enter one by one, each brandishing fire. Two boys toss flaming brands. A third whirls a fire staff, while a fourth twirls blazing poi. The ac­companying soundtrack, with its pounding rhythm, might be the prelude to a stampede of orcs.
Nearby, Geoff Brunker is mesmerising a crowd of silent onlookers with a different brand of fire magic. He turns a rod of mol­ten glass, the consistency of golden syrup, at exactly 60 revolutions a minute—an exer­cise in control that took him 12 years and a lot of failures to perfect.
On the green, another group forms up—the Univer­sally Unique Uniformed Unicyclists in Unison. With pa­nache beyond his years, the youngest showman, Jahl, a mere seven years old, cycles to the café bus and bears a cappuccino to master of ceremonies Ralph Bennett. Now the Gypsy Dancers appear. To the strains of fiddle and guitar they swish their dresses and describe graceful movements with their arms. When they have finished, dancer Jill Romain returns to her silverware and jewellery stall, and her husband, Rob, opens New Zealand's only mouse circus. There are shrieks of excitement as nearly 200 mice set wheels racing and scamper through wire tunnels. After the show, those who wish may hold a mouse for as long as they please.
Elsewhere, tired shoulders soak up therapeutic massage, inquisitive souls learn the secrets of the Tarot, and a tattoo receives its finishing touch. Mini-bikes race and the merry-go-round turns. It's another busy day for New Zealand's roving bazaar.
[Chapter Break]
Jill And Rob Romain set up the Gypsy Fair in 1991 as a means of show­ing off the many stunningly decorated house-trucks and house-buses in New Zealand, and a way for their self-employed owners to sell their wares. Setting out with 10 fellow motor-homers, they embarked on a 10-week tour of the North Island, setting up their stalls each week­end at a fresh location.
The Romains were no strangers to an itinerant lifestyle. Originally from the United Kingdom, they both took professional jobs in West Africa 30 years ago, but a military coup forced them to flee. They escaped through the Sahara Desert in a Land Rover with their six­-month-old baby. The travel bug in those parts must have been biting, for they were soon driving around Central America in a house-bus, and plan­ning to roam the world.
With a family that grew to seven—two "home­grown" children, three adopted and two fostered—they drove, by stages and over several years, through Europe, Turkey, the Middle East, the Indian subcontinent, Southeast Asia and Aus­tralia. Finally, in 1990, they reached New Zea­land, and stayed.
While the Romains' own travels have been curtailed, their travelling fair has taken off. "Never in my wildest dreams did I envisage it would be like this," says Jill. "We now have to limit the number of vehicles to 45 on what has become a 38-week tour of the country."
Today the fair is held at over 35 destinations throughout the North and South Islands. Arriving at a designated site around midday Friday, the traders have until the following morning to set up their stalls, secure their awnings and lay out their goods.
By 9 A.M. Saturday, as visitors begin to swarm, the musical entertainers are tuning up, cappuccinos are frothing and the glassblower's flame is alight. Towards 5 P.M. covers appear over the awnings. If the fair is due to move the following day, gear and stock must be stowed in the Tardis-like vehicles.
With the crowds gone, young performers practise their routines or walk their dogs. The café hums as the older folk catch up on each other's day. Sometimes the whole travelling community congregates outside around a fire. Built in a cut-out drum and hung from a rail, it leaves no scorch-marks on the ground—in keeping with the fair's low-impact philosophy. The Fire Devils and their mates hone their skills with poi, staffs and sticks. Fire breathing is de rigueur.
[Chapter Break]
Such a Smooth routine is the result of care­ful planning—since 2001 in the hands of Jim "Chappie" Banks. Chappie joined the Gypsy Fair in its pioneering days, in 1993. He and his wife, Venus, run the hot chips and burger bar on the Village Green. A third-generation itinerant (his grandfather used to run a merry-go-round and food stalls at A&P shows), Chappie was correspondence schooled and lived under canvas while doing the circuit with his parents. Before flipping burgers he ran the dodgems.
Chappie plans the Gypsy Fair's itinerary 12 months in advance. Ground access, lease fees and logistics are negotiated with individual councils, and portable toilets hired at each destination. Gypsy Fair members pay a levy to cover running costs.
To join the fair, a house-trucker must ply a trade that won't compete with anyone else's. Not only does this ensure a diversity of goods on offer, it also ensures all families have an equal chance of making sales. Such is the success of the venture that more than 20 traders are on the waiting list.
"There's a real sense of community," says Chappie. "Everyone works together as a family." As with all families, though, members occasion­ally don't see eye to eye. Chappie plays the role of mediator, but says heated situations are usually confined to the fire show. "If you've got a prob­lem, there's always someone to talk to."
To keep the show on the road, Chappie says he has to be firm but fair: "We're running a profes­sional outfit and need to act accordingly." A de­gree of image-packaging is inevitable—the public expect to see bearded, wizard-like characters, jew­ellery-festooned gypsy women, and fortune­tellers, astrologists and artists—and they're not disappointed. But the sense of rustic reverie evoked by the murals on the buses and trucks remains the dominant mood of the Gypsy Fair.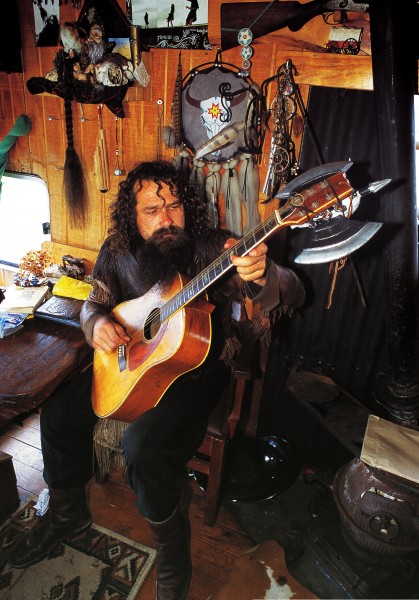 The talent Jypsy Jude brings to the decoration of her home, a 1982 Bedford J2 bus named Black Beauty, also provides her with a source of income. Sketching 10-minute pencil portraits is her trade. So that her subjects hold a steady gaze, she asks them to look over her left shoulder at Stanley the Spider, fastened to his web on the bottom win­dow of the folding door of her bus.
Her speedy renderings are characteristic of the fair, for traders recognise most children have only a short attention span, and earning time is lim­ited. Brian Magic, for his part, has the data for his astrology charts preprogrammed into his PC.
"I'm an electronic gypsy," he says with a smile. But his motley outfit satisfies public expectations. "People expect an astrologer to look like one and not be dressed in over­alls and gumboots." Or like a computer geek.
Brian concedes that although the Gypsy Fair must be professional in what it does, it must be careful not to become "plastic." Johnnie Cairns, "JC," in charge of the mini-bikes, makes the same point: "Even though we're quite polished, we still retain that rough-diamond feel."
A whiff of charcoal smoke and the chink of hammer on anvil confirms this is no artificial environment. James Covington's forge is as real as they come. A fitter and turner by trade, Covington has always dreamed of running a mobile blacksmith's.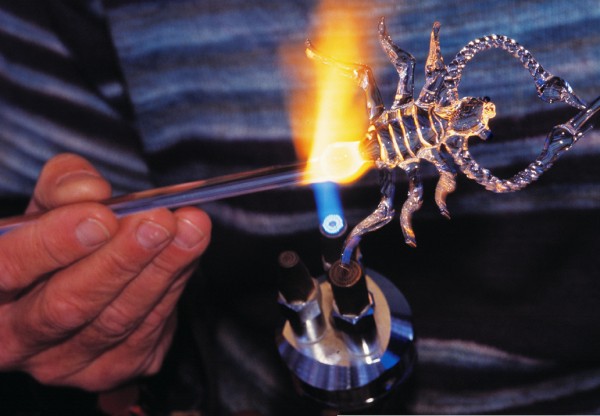 To enter the workshop at the rear of his 11 m-long 1971 Bedford truck is to step into the past. From overloaded hooks on every wall dangle spanners, files, hand-drills and other "irreplaceable stuff." The place is strewn with steel scrap. Three hand grinders and a turn-of-the-century drill press are clamped to shelves crammed with tins and boxes of screws, nuts, bolts and metal detritus. Hand tools have been lovingly restored, and many more await similar attention.
"People off-load their junk on me, because they know one day I'll find a use for it and give it back some life," he says, showing me a 1945 hand-drill, proud its gearing now works as freely as the day it was made. "The recycling of old stuff fits with the self-sufficiency concept that is part of many house-truckers' lifestyles," he says.
A 12 V fan powered by a solar panel works the bellows for his forge, but that is his only concession to modern technology. There would be few house trucks in the Gypsy Fair that do not contain at least a handful of Covington's drawer handles, fashioned from recycled spanners. His hooks, too, adorn many a ceiling, for optimal use of space is a must in such a snug environment. And should the wind ever threaten anyone's awning, the blacksmith can always knock out a few sturdy pegs. During the four months the Gypsy Fair isn't travelling, some traders park up on land they own, others visit friends or family. They use the time to replenish their stock for the next season. For some, such as Sherab (for whom low-impact living extends to the use of a single name), this means a trip overseas to meet suppliers in developing countries.
Sherab and her family spend two months each year in Indonesia, buying handcrafts and commissioning clothing designs. They live in a bamboo-thatch hut near rice pad dies, and in the 11 years they have been returning to the same village, the children have witnessed sacred cremations, ridden water buffalo and learnt to speak Bahasa Indonesia. Sherab is proud of the fact she is able to help During the travelling season, LeeAnne paints plaques and people's nails. Like her fellow traders, she seizes what­ever opportunities come her way.
"We should all aspire to do as many things as possible in life," is Rob Romain's philosophy. His original trade was that of mechanic, while Jill was a teacher. The previous jobs of Gypsy Fair members include policeman, paramedic, accountant, farrier, midwife, nurse, professional footballer, panel beater, auto electrician, masseuse, security guard, sign-writer and engineer. "If you need something done, there's usually a member with the expertise to help out," says Rob.
As well as their stall and mouse circus, the Romains, like other Gypsy Fair traders, hold open home. The Romany, their two-storey, three-bedroom, two-lounge mobile pad, is the Buckingham Palace of house-trucks. The kitchen has an oven, the bathroom a tub; there's a washing machine, a tumble dryer, an office and a top-floor balcony for sundowners.
The lavish interior décor features richly coloured cur­tains, wallpaper and throw-overs. The tongue-and-groove panelling and rimu cupboards are beau­tifully aged, and there isn't a scrap of plastic or Formica in sight. Intricate lead lights swing open on brass catches. There's even a brick-lined fireplace with potbelly.
"To build a house-truck, it helps to be a jack of all trades," says Phil Wight, who, with his wife, Allison, bought a 1979 Dodge 10­ tonne flat-deck truck. With the help of friends, they took a from-the-bottom­up approach to building a steel-framed, shadow-clad plywood home on wheels, increasing the truck's tare weight to 12.5 t.
Fridge, washing machine, PC, TV, water heater and lights are powered by a set of four 6 V batteries charged by two 80 W solar panels, each the size of a pillow and mounted on the roof. The truck also carries a back-up generator. A 500 l water tank provides showers for nine days, and the Wights empty their 560 l grey-water tank into public dumpsites.
Walls, floor and roof are insulated with polystyrene, and the interior is lined with new red beech tongue-and­groove and recycled rimu from the old Hamilton library bus. Their potbelly Phil first warmed to when it kept him from freezing on winter-night picket duty during the Juken Nissho mill strike in Kaitaia in 1997.
Four years' hard work and $65,000 dollars later, the Wights took up life on the road and joined the Gypsy Fair. The exterior of Roamin' Snail has since been decorated by Jypsy Jude.
As for her own Black Beauty, Jypsy Jude first saw her parked on the curb. "The canvas was brought to me," she exclaims with a gleeful smile. Every panel is painted with a riot of flowers—compensation for the lack of a garden. "I'd always wanted to paint on black because of the way it emphasises colour," she says. Not unlike her own striking attire—a pleated black skirt, bright-pink top and black velvet waistcoat with Jacobean embroidery are set off by a fine mesh sash threaded with gold tinsel. Copper bangles and bracelets encase her forearms, and gem-studded neck­laces jingle soothingly with her frequent gesticulations.
Stepping over Sheba, her 17-year-old black cat, and mounting the steps is like entering Aladdin's cave. Every conceivable space contains an object that commands at­tention. The wrought-iron driver's seat resembles a bar­ber's chair from the early 1900s. On the dashboard are seven carved clay heads, each the size of a tennis ball. Their expressions are all different—one smiling, one shy, one with his tongue out. "My ex-husbands," she quips.
She opens the door of an 1896 wind-up, hand-held telephone with a detachable earpiece and music box. To the tune of "Roll out the Barrel," she removes two small sherry glasses, which she fills from a glass decanter. "I have a nose for these sorts of treasures," she says. "You can go into the op shops, second-hand stores and dumps and find all this crunchy and interesting stuff.
"Don't be deceived by the clutter," she adds. "In such a confined space everything has a place. It has to, or it hits you on the back of the head when you put on the brakes." Jypsy Jude uses her painting talent as a form of barter. Most trucks and buses in the fair feature her work, or that of any of her five children, who are all artists too. Her largest canvas is the 10 m trailer behind the house-truck of Graeme and Margaret Voice, purveyors of fairy dolls and jewellery fashioned from recycled cutlery. The vast mural she has created tells a story. On one side, a mother waves to her departing children from the front of a fairy-tale cottage. Passing a black stump (which disguises the door), the children see a dream in the distance and wander the countryside in a gypsy caravan. On the other side, having ridden through the setting sun, the children meet up with other caravans and hold a fair under the moonlight. There is dancing, stilt walking, poi twirling, and storytelling round a fire. Elves, goblins, fairies, pixies, butterflies and toadstools, mostly the work of Jypsy Jude's daughter, Heidi, add extra color and interest.
Ask a house-trucker if their home is finished and typically you'll receive a look of astonishment. The house-trucker's lifestyle is transient. Change is a constant. Homes are never finished. "They are kinetic sculptures," says Terry (Tez) Moran, who runs the café from the back of his house-bus. If a home is ever complete, it is usually sold and a new one found.
A brief peruse of the "Wheel Estate" notice board offers plenty of opportunity for investment. For "Two-bedroom cottage, suitable first-time buyer" read "Bedford J2, small, fast and reliable." For "Spacious family home with character" read "1957 Bedford DX, 10 metres, two sleeping lofts, rimu lined, very cosy."
[Chapter Break]
There are as many reasons for living on the road as people doing it. "When the kids left home, so did we," says Geoff Brunker's wife, Leonie. "We haven't looked back. We love our lifestyle and we love our life." As she walks over to her toddling grandchild she is a picture of contentment.
Geoff says the Gypsy Fair is their retirement, although, as he proudly points out, "I'll keep on working until the day I die." Since they joined five years ago, his health has improved and the word "stress" is now absent from his vocabulary.
Brian Magic's stress levels have also fallen since he took to the road five years ago, with a commensurate improvement in vital­ity. "I've always been a wanderer, so after I got laid off a second time I decided not to sit at home. Being laid off defeats some people, but meeting fresh faces and experiencing new places gives me a purpose.
He and his wife, Wendy, discussed living in a house-truck when they were first married. Now, 10 years and four children later, they have made the change, and are prepared to work at anything to sustain their new lifestyle. Caleb, eight, is one of the unicyclists, and Israel, six, is a dab hand with fire poi.
"The way we live teaches the children that money doesn't grow on trees and educates them about how much things cost," says Wendy. "They grow into the responsibility of dealing with money and develop a healthy work ethic."
The children of Gypsy Fair families also de­velop a markedly practical approach to the world around them, reckons Tez Moran. For his own part, Tez finds life on the road blessedly free of the chores of suburban domesticity. "I don't have to worry about mowing lawns, clipping hedges and all that stuff," he says.
Many of his co-travellers share a similar sense of liberation. After just four months with the Gypsy Fair, accompanied by her two Dobermans, Gypsy and Max, Sue McGregor cannot envisage living in a house again: "It would be claustropho­bic," she declares.
JC took 18 months to adjust to waking up in a different place every morning, to the sense of being adrift. Before he knew of the hidden val­leys, clear streams and unspoiled beaches of New Zealand, finding a place to park for the night could be unnerving. "But having lived the magic for a while, I now see houses as stuck-in-the-mud creations."
Under the gentle dome of his panelled ceiling, JC's flowing white hair reflects the warm glow of candlelight from the mounted candelabras. His cat, Possum, which he rescued from the bush, jumps off his lap as he moves to the stately coal range. This, he acknowledges, is the life and soul of his truck in winter. He relishes parking up at a deserted beach in the cold and wet, lighting the fire and enjoying the day.
"I've always been a rolling stone and drawn to nature," he continues, and goes on to cite what he considers the outstanding positives of life on the road: minimalist material needs, the celebra­tion of alternative energy (he, too, has solar pan­els on his roof) and low-impact living.
For Maria Chisholm and Dave MacFarlane, adverse personal circumstances underlie their choice of lifestyle. Their son, Tizane, was born with gastroschesis, a life-threatening abdominal defect. Uncertain how long he was going to live, they took to the road so he could experience as many places and people as possible.
They carry cell phones, and are vigilant about staying within range. Should Tizane fall ill, they have an 0800 number for summoning a helicopter within the half-hour.
LeeAnne Scott admits that limited personal space in house-bus or house-truck can cause of family friction. She has four children, aged between one and 13. The older three, Hayleigh (13), Letitia (11) and Georgia (7), used to sleep in a small one-room trailer. There was plenty of arguing in what was affectionately termed the pig pen: Georgia would lie awake reading at night with the light on; Hayleigh would get annoyed when Letitia had friends round.
Recently, LeeAnne bought a 4.5 m trailer and parti­tioned it into three compartments. One is painted bubblegum pink, another lime green and the third celes­tial blue. Each has a two-piece stable door with knocker and, inside, a bunk, under which is a school desk with lid, a chair, a beanbag and a chest for storing possessions. Dia­mond-lattice lead lights open onto planter boxes with Crystal Rain soil. Each girl has a key and is responsible for her own space. Not surprisingly, the sisters appreciate the freedom their new rooms give them to do their own thing without encroaching on one another.
For three years LeeAnne home-schooled her children, designing projects about the destinations the fair took them to. They are now disciplined enough to study through the Correspondence School, receiving their work by mail and completing it in their own time, with their mother taking on a more supervisory role.
During the 2001 off-season, when the children lived with their father and at­tended the local school, Letitia says she was teased for being a gypsy kid and having a pierced nose, and the school made her remove her navel ring.
By the time she left for the road once more, she had grown bored. "In two hours of home school we fit in more work than a whole day at school, because we don't waste so much time listening to teachers."
Academically, Letitia was the equal of her counterparts, but she was the only child in her class who had traveled the length of New Zealand, from Cape Reinga to Bluff, and her social skills were noted as superior to those of her classmates.
From an early age, all the children in the fair are helped to develop a skill for one of the acts. The choice is theirs and an older child takes on the role of tutor. Practising and then performing in public gives the children a sense of achievement. Donations are collected from the audience in the cones used to demarcate the ring, the lesson being learnt early that financial reward comes from commitment to "work."
[Chapter Break]
An itinerant lifestyle has traditionally been a passport to social marginal­isation. Centuries of cultural prejudice in Europe have left the word "gypsy" laden with unfavourable connotations. The crea­tive energy of the Gypsy Fair is an antidote to this negative baggage, say its members. By celebrating the advantages of a nomadic lifestyle, the fair helps dispel some of the long-held antipathetic as­sumptions concerning travelling peoples.
In many parts of the world, it is no longer possible to lead an itinerant existence. In the United Kingdom, trav­elling as a lifestyle choice has been effectively criminalised. Europe generally is too crowded for life on the road to be feasible. New Zealand, with its open spaces and scattered population, can still accommodate house-truckers, and re­mains one of the few developed countries where it is possible to live on the road relatively unhindered by laws and prejudice. While some traditional park-up spots in the North Island are being closed, many others remain open, and the South Island still abounds with memorable sites to call home for a night or two.
Jill Romain sees New Zealand's itinerant-friendly nature as an expression of the country's general tolerance to diversity and "can do" approach to life: "People with different ideas are still given the space they need to realise their potential"—including those who choose to live on the road. She considers this national characteristic a legacy of the settlers, both Maori and Pakeha, who pulled up their roots to go in search of new pastures.
Most New Zealanders, and many of the tourists who come to our shores, savour the opportunity to make an unhurried exploration of the country's open spaces. Whether in a motor-home or house-truck, by car or mountain bike, on horseback or on foot, they relish the sense of freedom it brings. Perhaps there is something of the nomad in us all.
Yet the majority of us soon return to our sedentary ways and the jobs that will pay for our next trip. What is the Gyspy Fair if not an enviable accommodation between the need to work and this universal wanderlust?