Ignorance is no alibi
New Zealand-born photojournalist Robin Hammond does not turn away from human suffering, but bears it witness. His images of rape in the aftermath of civil war in the Democratic Republic of Congo, industrial injustice in Lesotho, and  mental health across northern Africa have created global concern, and demand that we do not turn away either.
In a ramshackle shanty in Akwa Ibom on the Niger Delta, 10-year-old Mary Sudnad quietly, matter-of-factly, gives her story. Her youngest brother had died, and a local pastor told her mother it was because Mary was a witch. "Three men came to my house," she told Observer Foreign Editor Tracy McVeigh. "My mother left the house. They beat me." Her father lay watching.
The next day, her mother forced poisonous berries down her throat, warning that if the berries didn't kill her, Mary would suffer a barbed-wire hanging. Then her mother threw boiling water and caustic soda over her head and body, and her father dumped her screaming in a field. Lapsing in and out of consciousness, Mary lingered near her family house, but was ignored. Finally, she limped off into the bush. She was then seven years old. "My mother doesn't love me," she told McVeigh, and a tear rolls down her blistered face.
Robin Hammond got that shot, and it haunts him to this day. Assignments like that one—about the abuse, abandonment and murder of young children branded witches by evangelical preachers in Nigeria—are his stock in trade. Where there is suffering, or injustice, where people cannot find their voice or a sympathetic ear, Robin Hammond sees a job to be done.
Hammond has never packed down with the media scrum. He covers instead the stories and issues others put on the spike: the repression and violence of Mugabe's regime in Zimbabwe; institutionalised rape as a weapon of war in the Democratic Republic of Congo (DRC); the plight of the islanders on Tuvalu, disappearing under the rising seas. Most recently, he spent months documenting the awful plight of the mentally ill in sub-Saharan Africa.
[sidebar-1]
"Even now, it's really hard to talk about Mary's story," says Hammond. Nonetheless, he's grateful for an interview because, he says; "Sometimes, being forced to articulate the things I've seen helps me clarify in my head what it's all about, and reminds me why I began in the first place."
That beginning was largely down to a single work, by W. Eugene Smith, about the people of Minamata, a small Japanese fishing village being poisoned by mercury dumped into the sea by the Chisso chemical company. Smith (who was badly beaten by Chisso thugs) spent several years documenting the lives of the villagers, and the illnesses and congenital birth defects which the poisoning inflicted. Smith's photo essay was instrumental in publicising, halting and securing compensation for Chisso's abuses. When Hammond picked up that book in 1999, a spark ignited a luminous career.
He quit his insurance clerk's job and took a two-year diploma course in photography at what was then Wellington Polytechnic (now Massey University) in New Zealand. "I was looking for something I could find meaning in," he recalls, "but at the time, I didn't know how photography could possibly provide that." Then he read Minamata. "Smith used his work to give those people a voice. I went from not really knowing what photography was, or what I wanted to do with it, to being very clear about what I wanted my career to be about."
That meant leaving his homeland: "I'd love to live in New Zealand. All my family are there, and I really miss them, but it's a long way away from the work. I have to do my job from here." At the moment, 'here' is Paris, but Hammond spent the previous three years living in South Africa to be closer to the sort of stories that, he says, sometimes hit him hardest once he returned home: "I always thought I was pretty good at managing the emotional stress, that I had effective coping mechanisms, but the longer I do it, the harder it gets. The stories are dreadful, and sometimes when I'm sitting in front of my computer weeks later, looking through the work, it hits me then just how sad the situation is."
One vision keeps on coming back. In 2010, he travelled to the civil war torn DRC, where militia on one side or another have raped some half a million women and children. NGO Doctors Without Borders says more than half of all rape cases on its files worldwide were committed in the DRC. "I was in Goma," says Hammond, "to document some of those victims, and the first woman I was taken to meet—22-year-old Basemae Maombi—had no eyes. She had recognised the man raping her, and had spoken his name, so he dug out her eyes with a spoon. It was horrendous." For the first few minutes, he was too stunned even to lift his camera, but then the professional kicked in: "I had to start thinking about where the light was coming from, how I was going to best photograph this woman."
Hammond was grateful that the insulation his camera offered gave him just enough emotional space to concentrate, "because I really want to represent these people well, to do the best job I can journalistically and photographically."
Which isn't to say he can simply shut out the sadness and anger he often feels. Rather, he somehow has to channel those responses—bring them to bear—so that they lend power to his work without letting them distort or confuse it.
That's even tougher these days, because his modus operandi has changed: "I no longer do short assignments, where I parachute in, cover an issue and then leave, heading back to my comfortable home." Now he might spend weeks or months among his subjects. He's already spent two years in South Sudan, Congo, Uganda, Nigeria and Somalia, shooting pictures for his mental health project. "The work I'm doing now has much more depth. But the last couple of countries I visited I really struggled. I knew that I had to step away from it for a while, because it was overwhelmingly depressing."
Many readers and editors feel the same way. "Compassion fatigue" is a term coined to describe the emotional phenomenon where we simply couldn't care more—we're now inured to the imploring ads on TV—and it's just one of the things Hammond is battling against. "The mental health story; nobody would ever, ever commission that. It's the sort of thing I have to do off my own bat, and then submit it and hope that people will realise the value once they've seen the photographs."
And they did: represented by Panos Pictures since 2007, Hammond has been published in a raft of prestigious international newspapers and magazines such as National Geographic, Time, The Sunday Times Magazine, Marie Claire, and Polka magazine. Along the way, he's picked up four Amnesty International awards for Human Rights journalism.
In 2011, he won the Carmignac Gestion Photojournalism Award, which funded his work in Zimbabwe. This year, he won a FotoEvidence award, which meant he could get his mental health work published in a book, titled Condemned. Closing a virtuous circle—and opening another—Condemned won the 2013 W. Eugene Smith Memorial Fund grant in humanistic photography.
But all this effort was supposed to change other peoples' lives, not his own. In the end, has he made any difference? Hammond fields a tough question with grace: "I'm a campaigning photographer, but the hardest part is knowing that the people in my photographs are still there," he says. "I remember a nine-year-old boy with mental health issues in a detention camp in Somalia, and it occurred to me at the time that maybe it would have been a better thing to do, to simply pick him up and run out of the building with him."
But he has an abiding faith in enlightenment.
"My job is to remove the alibi of ignorance," he says. "I still have this belief that people are not going to do anything about something they don't know about. So by creating awareness, hopefully you can make people care, and then act. What I do as a photojournalist is try to make a connection between people who will never meet. If I do that job well, hopefully people will feel like they should be doing something. In effect, they become campaigners themselves."
And he knows that can happen. In 2010, he met and photographed Maombi Elizabeth, a Congolese woman who had endured more than most people could bear. As she'd lain in a tent with her four-year-old daughter and her husband, three soldiers tore it open. Her husband fled, and she never saw him again. The men seized Maombi and placed a gun to her daughter's head. They took turns raping Maombi until she lost consciousness. On their way out, the soldiers set the place alight. Neighbours saved Maombi, but could do nothing for her daughter. Her body is now an angry mangle of burn tissue.
"We published that story in Marie Claire," recalls Hammond, "and a young woman who'd read it sent me a significant amount of money, which allowed me to go back to the Congo. Maombi was homeless. She had no education, and couldn't even do manual labour because of the extent of her injuries. So we were able to set her up in a small business and really change her life and those of her surviving children."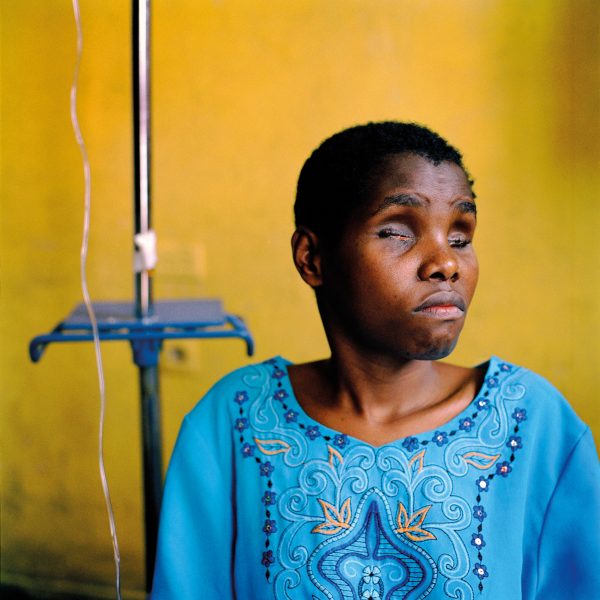 Unfortunately, human suffering is greater than any donation. "The sad thing," says Hammond, "is that when I met her the second time, she was carrying another baby. I knew her husband had left her, so I assumed she'd remarried, but she told me that somebody had raped her again."
Change may not come tomorrow, nor next year, but the prospect alone keeps him going. His work in Zimbabwe—where people still cling to hope of deliverance even though Robert Mugabe has choked the nation in a vice-like grip of ruin and thuggery for more than three decades—is testament to his determination. In 2011, he was arrested (for the second time) as he tried to photograph Zimbabwean refugees crossing the Limpopo River into South Africa. He was held for four weeks in a 5-by-10-metre cell with 37 other inmates, sleeping on a concrete floor, under blankets infested with lice. Two hundred and fifty men shared a single toilet and were fed weevil-infested slop. Eventually, Hammond was deported.
But when dictators shut you down, you know you're making a difference. "The world is made up of individuals," says Hammond, "and maybe the way to change the world is to change one individual at a time."
His working life has so far been a riot of insights, but one keeps on echoing.
"I feel like we can be a very uncaring race of people. I passionately feel that we shouldn't care less about people simply because they have a different skin colour, or they speak a different language, or they live far away from us, or worship a different God. But what I see, unfortunately, time and again, is that we do care less about people who are not like us."
By closing that physical and emotional distance, by putting that imprisoned, wretched child "on your coffee table," says Hammond, he hopes we'll wake into action. "That's my job, as I see it."