The Sound of the Sea
The scattering of holdings in the Marlborough Sounds support a community connected and defined by the sea. Matt Philp follows the salt water roads.
His brother James once found a skeleton in land above the beach. It had been buried for a vigil, seated, knees pulled up to its chest and positioned to face the sea. Imagine it: centuries in the ground, and as intent on the water in death as in life.
Joe Heberley Jnr is driving me to the top of the family property on Arapawa Island, last farm in the Queen Charlotte Sound. I've come because this is land's end, isolated even by the standards of the Marlborough Sounds, where so many bays are boat access only, and so it seemed like a perfect place to start asking the question: What's life like when you are linked to the world by water? And there's a second question driving this trip. Like most, I've only ever experienced the sounds fleetingly, as a picture-postcard view from the ferry. I'm curious to know how the people who live here feel about it.
But right now, I'm more nervous than curious. Okukari farm is steep country. The road is narrow. And Joe has brought his gun and has at least one eye out for pigs. Strangely, though, the higher we get, the easier it becomes to ignore the dizzying drops into which imagination might project a tumbling Yamaha.
A salt-laced wind freshens and the view opens to Cook Strait, a ferry, a nearing fishing trawler, two silvered incisions cut in the black-blue skin of water. East is Cape Campbell/Te Karaka, white flanks sharp against the sky. Below is Tory Channel, and on the far side of the Sound, an old whale-spotting station.
For the Heberleys, studying the sea is a reflex, like breathing, and has been for generations. Joe's father, Joe Heberley Snr, was a whaler. His grandfather Charlie, who with wife Ruby farmed Okukari from 1945, nearly drowned in Tory Channel manning the gun on a chaser. Joe and James, who live with their families on the farm along with their parents, fish commercially, going after groper and shark in the strait, crayfish towards Cape Campbell. Their twin aluminium 50-footers lie below us anchored in the lee of Okukari's northern shore.
Cook Strait can change in moments. "You have to respect it," Joe says. But some don't, and being at the edge of the strait means the Heberleys are often called in for rescues. Most vivid in Joe's memory is the night the Soviet cruise ship the Mikhail Lermontov sank in February 1986.
He points out Port Gore from the top of the farm. It was a foul night with a raging offshore wind and they were the first boat to arrive, to a chaotic scene, water thick with oil and heaving with suitcases. Passengers, most of them elderly Australians, were coming off the stricken liner in lifeboats, which were being abandoned at the beach to float out to sea.
"Nobody knew if there was anyone in them or not. And when the boat finally sank, you wouldn't have known if it still had 1000 people on it," he says.
It was a haunting thing, to see a 20,000-tonne cruise ship go down. "As it leaned over, all the deck chairs slid off the deck and came piling down into the sea. The water fell out of the swimming pool. It was unbelievable—something so big. And the noise coming up out of the water…"
Joe was 19 at the time.
[Chapter Break]
The Marlborough Sounds are defined by the body of water that lies just beyond. Cook Strait is about ordeal—perilous seas, reefs, a place where mythic giant octopuses might lurk. The sounds, by contrast, are refuge. Maori migrating from the North Island would rest here after the arduous crossing, feasting on the abundant seafood and birdlife before heading south.
They thought of the sounds—which comprise a relatively small area as the crow flies but total one fifth of New Zealand's coastline—as being the delicately carved prow of the gods' great canoe, shattered and partly submerged. They referenced the totara, too, its hundreds of branches.
It took brute geological force to fashion something so intricate. The sounds are a series of drowned river valleys, created at the end of the last Ice Age when the sea rose 130 metres and the land downfaulted. Sailing through them, you are sailing among ridges and rockpeaks, carving a wake through a cloudbelt.
Queen Charlotte, Kenepuru and Pelorus—all three have distinct histories and personalities, even down to the movement of water. In fact, nowhere else in New Zealand has such a strong and varied tidal flow.
In Craig Potton's book The Story of Marlborough Sounds Maritime Park, this phenomenon is explained as an effect of three separate currents "combining with strong winds, out-of-phase tidal flows and the eccentric topography of Cook Strait and the Sounds". Within Pelorus, the largest of the sounds, the water is "almost a law unto itself", taking an average of 21 days to travel the entire length of the sound.
Much of the time the sounds are benign. As we motored up from Picton on Joe Jnr's fishing boat earlier that morning, Queen Charlotte Sound had been almost pond-like. Fork-tailed terns skimmed the surface and a becalmed yacht rose on our wake, halyard clanking against the mast.
Out at this end of Arapawa Island, however, you can usually be sure of some wind. The southerly piles sand up the beach, the northerly rips through the garden, and there are days when the smart thing to do is to stay close to the house. One Christmas Day, the woolshed roof nearly lifted off. By the time the Heberley boys had it secured, they found they couldn't get back against the wind.
Joe Jnr's wife, Joy Heberley, was raised on Queen Charlotte Sound, but at Dryden Bay, towards Endeavour Inlet on the more populous western side of the sound. "If I've ever been scared out here it was during those big storms," she says. "You think, 'What if the house blows away?'"
We're sitting at the kitchen table after dinner—fish, but it could just as easily have been mutton. The Heberleys have worked both sea and land since Charlie's day. If farming was down, fishing and whaling would carry them through, and vice versa. When the men were at sea it was the Heberley women—Ruby, then Heather and now Joy, a cheerful, pragmatic woman—who kept the farm ticking along.
Whatever the weather, Joy frets when Joe is at sea. "He's not silly and he doesn't take risks, but you always worry, especially when they have to punch through the water to get back."
Like Joe, Joy grew up around boats. Dryden Bay is boat access only, and her father was a fisherman. When she and Joe started dating, they would meet in Picton. "We grew up together, really. The Heberleys were
fishermen, my family were fishermen. All of us kids went to Correspondence School camps together."
It's quiet outside. The night out here falls quickly and with it—at least on this particular evening—so does the wind. And when it dies you hear nothing. No cars or other traffic noise, nothing from the neighbours, the nearest of whom live at the next bay.
It's another level of remoteness from what Joy knew growing up, but she's had it easier than her mother-in-law Heather, who arrived as a 20-year-old bride from Auckland to a house without electricity or telephone. Yet even with satellite internet, twice-weekly visits from the mailboat and a fast boat, living this far out still requires a healthy sense of self-reliance. Like her own mother, Joy has had to school her kids, years of correspondence lessons at this very kitchen table.
"That's been the hardest thing about living here," she says of educating the girls, both of whom are now in their 20s and have left home. "It was such a big responsibility, and you never knew whether you were doing it well enough."
The next morning, Joe Jnr takes me to see his parents' place a couple of hundred metres up the farm road. They're overseas, but walking through the house, I get a strong impression of what they're like, their sense of family and of connection to the sounds and the sea.
One wall is lined with portraits of ancestors, including Worser Heberley, who arrived in New Zealand in 1825 and for whom Worser Bay in Wellington is named. He was another man of the sea, fishing at 11, whaling at 16. Everywhere you turn you see pictures of Heberley boats, and above a doorway hangs a flensing knife and a still lethal-looking harpoon.
Born too late for the hunt, Joe Jnr grew up on stories of whaling. If he feels any sense of having missed out, he keeps it well hidden. He enjoys the farming, never questioned carrying it on, even as so many other sounds farmers gave up and let their land return to gorse and scrub. "It's been passed down through the family; it's just what you do," he says. "Apart from anything else, it would be a shame not to do it because we've already put half our lives into working this land."
But farming is duty. It's working the sea that he loves. "When you're fishing, you're in control of your destiny. I wouldn't change that for anything."
[Chapter Break]
It's freshening the next morning when I catch the mailboat back down Tory Channel and across to the western side of Queen Charlotte, to drop mail to the lodges and permanent residences scattered around the Bay of Many Coves and Endeavour Inlet. At each jetty there's invariably some cheerful banter between the landowner and skipper as they exchange mailbags, and I'm reminded of what I'd heard the previous day from a woman who'd also hitched a ride on Joe's boat. Margaret Matheson, a former "bachie" who moved permanently to the sounds from Christchurch several years ago, stressed the strength of neighbourly ties among the bays. She'd once lived in Golden Bay, another isolated setting. "It's far more accepting here," she says.
With the last of the mail delivered at Resolution Bay, we head north to drop a party of trampers at Ship Cove, start of the Queen Charlotte Track. It's a place I've always wanted to visit, not for the track but because the "snug little cove" was reputedly James Cook's favourite anchorage in New Zealand.
It was also the scene of one of his keenest disappointments. In 1770, Cook had left England with orders to find Terres Australes Incognita, the southern continent that, hypothetically, kept the world in balance. But from the top of Arapawa Island he'd spied Cook Strait and immediately recognised that far from being part of some great southern land, New Zealand wasn't even a single land mass.
Closing on Ship Cove, I get talking to skipper Jason Wells. It turns out Wells, an ex-fisherman who spent several years skippering boats in the subantarctic islands, is a huge Cook enthusiast.
"I've been to most of the places Cook went, including Fiordland, and I am in awe of the guy. Where he took his ships, we go now with directional sounders because we know there are rocks everywhere. He went sailing in to those places with a 400-tonne square-rigged sailing ship. And you know what? We're still essentially using his charts today."
Wells is a robust-looking guy who began skippering after injuring his neck working on the Manapouri second tailrace tunnel project. He ferried scientists down to the subantarctic, and later helmed a Stewart Island ferry on Foveaux Strait until suffering a second accident, this time to his lower back. He came back to the sounds, where he spent his youth, to enjoy the calmer water.
"I knew I didn't ever want to get off the sea, so this was the next best thing. And as Plan Bs go it's not bad. I mean, look at my office: it self-cleans and is different every day."
Wells is about as local as they come. His father was born in Havelock, his mother in Canvastown, and his ancestry is Ngati Kuia. "As far as we know we have the longest-standing residency of any tribe in the top of the south, predominantly through Pelorus Sound. So I have a lot of passion for this place."
The sounds waters are incredibly rich, he tells me. You can see that in the great masses of Macrocystis pyrifera, or bladder kelp—"the fastest-growing plant on the planet", capable of growing more than a metre a day. Less obvious are the aggregations of plankton pouring in from Cook Strait, although sometimes in summer the sounds' waters get stained blood red by swarming krill. (Maori call Tory Channel "kura-te-au", or "red current", referring to the story of Kupe killing the giant octopus Te Wheke there.)
But with all that abundance comes a responsibility to manage the resource.
The Marlborough District Council's long-term plan for the region identifies three key challenges: fresh water allocation, growth on the plains and in the sounds, and the occupation of coastal space. The last is a reference to demands from aquaculture for more water space, and to allocation disputes and fears that the sounds are being degraded. Complaints are aired perennially, for example, that Pelorus, home of the green-lipped mussel industry, is heavily over-farmed, to the detriment of species such as the dusky dolphin.
Wells repeats what others have already told me about how the Marlborough Sounds have changed, that there are more boats and baches and generally more demands being made on the environment here. A blue cod fishing ban is in place, he notes. "There are still scallops, still plenty of kina. You get butterfish, wild salmon, kahawai, snapper, gurnard and kingfish," he says. "But it's nowhere near as much as I remember."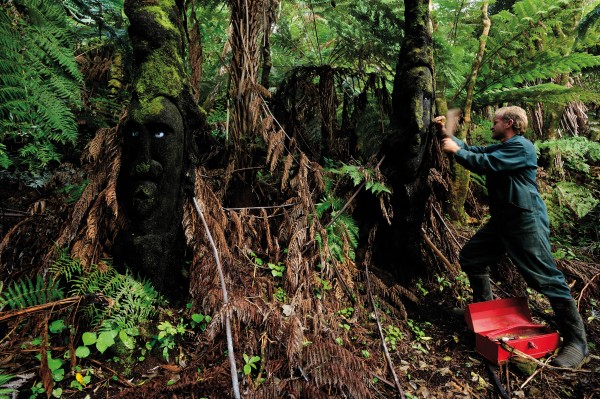 Over-fishing is just another chapter in the rampant development of the sounds. From the water, it becomes obvious just how much of the hill and island country was farmland, abandoned now for the most part to gorse and regenerating bush. Wells, like many others I met, particularly regrets how forestry was able to colonise so many prominent sites. Isolated blocks are no longer economic to harvest, but in other areas clear-cutting has scarred the hill faces. Wilding pines are a blight almost everywhere, although a community-led three-year poisoning programme is starting to make inroads in the worst-affected areas. From the water, you can measure the progress in ranks of greying spars above regenerating bush.
Wells' father was a forestry worker. "If my dad was still alive, we'd be arguing about this. I hate the pines. There's a place for them but this isn't it. Not when you know how beautiful this area once was."
At Ship Cove I get a glimpse of his lost sounds, a landscape of virgin forest as Cook would have seen it. On either side of the trail to a nearby waterfall the bush presses in, damply pungent and tangled with creeper vine, so dense that the rain that swept in as we arrived barely penetrates.
Cook visited Ship Cove on all three New Zealand voyages, the last of which was depicted by expedition artist John Webber. As an insight into what the crew of the Resolution experienced, Ship Cove, Queen Charlotte Sound has its limits. Painted by Webber in his London studio years after returning to England, it was guided more by contemporary European principles of composition than realism. The light is northern, the forest has too much of the tamed English wood about it. Even so, there is a sense of a historical moment playing out, Maori coming ashore to trade, blue-shirted sailors in the background lolling beside an astronomy tent. Already there is a casualness to the interplay, familiarity. The world has already changed.
[Chapter Break]
"Look out there. Just look. It's gorgeous."
Shayne Olsen throws a burly arm in the direction of the water. We're up on the bush trails behind Lochmara, Olsen's lodge and wildlife recovery centre at Lochmara Bay, last stop on the western side of Queen Charlotte before you head back across to Picton Harbour.
I've decided to spend a day at Lochmara because I've been told that Olsen is a passionate and well-informed campaigner for the sounds' environment. He's certainly got his facts straight in this case: it really is an especially beautiful day on Queen Charlotte Sound.
Olsen, 48 and with a face that speaks of years working outdoors, grew up in this region. His grandfather had a boat and every holiday he'd be out there, helping with the catch. In his youth, he went fishing and paua diving, spending 17 years working the top half of the South Island, from the Clarence River around to Cook Strait and D'Urville Island and on to Kahurangi.
"It was called Area Seven, our area, and we covered it constantly," he says. "But I started to see the change."
You could hear that "but" coming.
Olsen's observations of the sounds region follow the same pattern: he draws your attention to its beauty, only to underscore how much it is under threat.
A NIWA survey of Queen Charlotte in 2007 found a 57 per cent decline in juvenile blue cod stocks during the previous three years, prompting a fishing ban that is likely to hold until 2012. Paua stocks, once abundant in the sounds, have also been hit hard, with commercial divers reporting beds stripped clean by poachers.
Olsen says over-fishing is also to blame. "Every year you'd see the amount coming off the coastline and wonder where the hell you'd find the same amount the next season. I'd go to industry meetings and the view was always, 'If it's not broken, why bother fixing it?'
"People have started to manage it now, and it's getting better, but I wouldn't say the problem has been solved."
On land, several species have been adversely affected by rapid development of the sounds, says Olsen. By the time he arrived at Lochmara Bay, weka numbers were in sharp decline due to predation by dogs.
"I know what the sounds were like 40 years ago. I see them now and wonder, 'What will my kids and grandkids experience in another 30 years?'"
He speaks with the conviction of the convert. Olsen was, by his own admission, a typical hunter-gatherer as a young man, without much sense of the impact of his industry. "But over time, I started to see that the amount of fishing going on just wasn't sustainable. I got out because I could see the writing on the wall."
He built his lodge, then founded the Marlborough Sounds Wildlife Recovery Centre to protect the region's most at-risk birds and animals. Walking around the 4.45-hectare property, I see injured bellbirds and wood pigeons that have been brought here to be nursed back to health. Olsen also runs recovery programmes for the weka, blue penguin and rare Marlborough green gecko.
But the centrepiece at Lochmara is a breeding programme for kakariki. In a large twin-caged aviary behind the accommodation wing, I find one of Olsen's staff, Blake Hurford, hand feeding some of the 24-strong flock of yellow-crowned kakariki.
During the past seven years, Lochmara-bred birds have been sent as far away as the Waikato to repopulate stocks, although most are bred for release onto the predator-free islands of the Marlborough Sounds.
Olsen's mission doesn't stop at rehabilitating birds. He has thrown himself behind the Marlborough Sounds Restoration Trust and its mission to eradicate the plague of wilding pines, which on some headlands are overtaking natives as the dominant plant species. He is a staunch advocate for a brake on aquaculture. Fin fish farming, he argues, could be particularly destructive to areas that aren't well flushed.
The Marlborough Sounds might look like a national park, he remarks, but it isn't one. "There are a lot of grey areas here. It makes it vulnerable to being exploited."
We've wandered into a whimsical part of the property. A rickety-looking wooden ladder is leaned up against a clay bank, with a sign that reads, "Corporate ladder: please don't climb". Further up the trail, we encounter the Ponga People, a copse of ponga trees with their trunks carved into faces like Easter Island moai. Olsen has produced at least 60, using a hatchet to chip away at the fibrous bottom part of the trunk and using paua shells for eyes. Clearly, the earnest guardian of the sounds has his lighter moments.
I ask him whether tourism isn't also capable of undermining the sounds' environment, and how he reconciles that. "Turnstile tourism can have a negative effect," he concedes. "It's a short season and you have to maximise it. But I do think that most tourism businesses in the sounds realise that people come here for this," he says, gesturing again towards that view of the sea.
[Chapter Break]
Hope for the Marlborough marine environment comes from afar. American expat Mike Radon spent his youth diving for abalone on the California coast, but all the while he dreamed of one day building a paua hatchery. Things started to fall into place in 1994, when he and his New Zealand wife, Antonia, bought a 360-hectare island farm from the Peranos, the famous sounds whaling family.
Arriving at Whekenui on Arapawa Island, in a bay neighbouring the Heberley farm, you see immediately why they fell in love with the place. Throw a stone and you hit a deserted beach. Throw one from there and you're into Tory Channel.
Island farming doesn't get more picturesque, but picturesque doesn't pay the bills. When it became obvious that they needed to find other ways of making a living, Radon took out a hammer and built his hatchery, with the aim of supplying baby paua to divers hoping to reseed depleted beds. He's also harvesting pearls, a more speculative venture. "It may turn out to be nothing or it could be a very big deal," he says, with the wild enthusiasm of a gold prospector.
Inside the hatchery, water pours from tipping buckets, circulates around us in endless loops of hose, drips on our heads, covers the floor. It's like conducting an interview in a shower. As he talks, Radon is in constant motion, checking lines and pumps and peering into the bath-like tanks where the juvenile paua collect in clumps.
Paua gills require consistent water movement and regular feeding, he explains. There have been a number of near-disasters. "It's highly labour-intensive. We've got six pumps going all the time. We've got redundancy built in and backup generators."
The problems tend to come in the middle of the night and in foul weather. "I came down one night after the alarm went off. It was about two in the morning and there was no water coming into the tanks. The waves were breaking over the wharf and there was no water coming into the pumps. We've learned over the years to make things more robust and we're getting fewer failures, but you can't really insure this kind of thing."
For all the apparent precariousness of the enterprise, Radon, who built his first commercial diving boat at the age of 15, comes across as singularly capable. The hatchery is built around several of his clever MacGyverisms. The twin rows of staggered tipping buckets, for example, which are now standard practice in the industry, came about after he observed that paua liked a lot of water movement. Puzzling over how to create waves in a tank, he was inspired by the kiddy pool at Hanmer Springs. His paua now grow 30 per cent faster than when he first started.
Fortuitously, he's also built his hatchery in New Zealand's best spot for growing paua. It's those strong currents of cold, nutrient-rich Cook Strait water flowing in to the warmer Tory Channel that are responsible.
Radon's baby paua are in hot demand. After several years of experimental forays, paua quota holders are now systematically reseeding beds in the sounds and around Cook Strait, taking fingernail-sized juvenile paua clumped on adult shells and depositing them by hand around rocks in the best spots. Survival rates are averaging 38 per cent, which means it's still a punt, but probably one worth taking.
Radon says it's felt like they've turned a corner recently. As well as local divers, he has contracts to supply others in the Chathams and Kaikoura. "After years of pouring money in, and nothing back, this is finally turning over a dollar for us," he says.
Time will tell if there's a payback for the sounds.
[Chapter Break]
Back on the boat to Picton, we pass the old Perano whaling station at Fishing Bay, a relic of another industry, recently restored and reopened to the public.
Whaling framed the earliest European history of this region and established families like the Heberleys on holdings where they remain today—generations raised on Arapawa and the slender stretch of water that connects it to the mainland.
Long after Charlie Heberley retired to Nelson, he kept coming back. There'd always be an excuse—help was needed with the shearing or fencing—but the truth is he couldn't quite leave the place, says Joe Jnr.
Just above the beach on the Heberley farm, not far from where that skeleton was unearthed, the family built a stone seat where you can gaze out to Tory Channel. It's topped with one of Charlie's harpoons and inscribed with the dates 1945–1979, when Charlie and Ruby lived here. "They gave us all their love," it reads.
But not quite, you think. Not all. They kept some love back for this place.