Dearth in the Bay of Plenty
Between the Bay of Plenty, the Urewearas and the central North Island lies Murupara, a town that lives and dies by timber. To the east rises the steep face of the beech-clad Ikawhenua Range, to the north, west and south, hundreds of thousands of hectares of pine plantations. Here a stacker, which can grab 40 tonnes of logs at a time, loads rail wagons in the Murupara log yard.
Shadowy hoodies hunch in silhouette behind the cracked windscreen of a car that tails me along Dun Road into Kaingaroa Village, where a second car of equal menace joins in. The chances of speeding clear of this intimidating pair in my aged Pajero are as good as those of a guinea pig out-sprinting a stoat. Besides, where would I go? The nearest police station is miles away, in Murupara. So I slow down, hoping they'll pass me, but they slow down too, and when I turn into a side street they follow. Ahead, a barbed-wire fence bars access to a disused industrial estate. To the left is a house with a rusty rood, and on the right looms a black concrete water tower. A cul-de-sac—shit!
I had arrived in the area curious to know if my im­pression of wild frontier towns populated by gangs and with bored hoodlums loitering on wide streets to prey on the unwary had any truth to it.
Litter, lichen and weeds covered the asphalt in the car park of Kaingaroa Village's commercial centre. A dairy and Heshrv's Supermarket remained open but the butchery and petrol station had closed. I opted for the dairy, which carried a sign in the window warning horse owners of dire consequences if they kept their steeds in the village.
After ordering a meat pie and a cup of tea I asked the cheer­ful owner about the town. She motioned towards a big, scary-looking fella, who beckoned with a tattooed hand. I joined him at his table. His large mobile face embodied the fierceness of carvings atop poepoe poles on marae all over the country. But his ready grin spoke of a sunnier side. This was Pita Tori Biddle, one of four workers employed by the village adminis­tration to keep the infrastructure running.
He was concerned about vandalism and that a fifth of the village's 175 houses were unoccupied, attracting shady char­acters who stayed two months then moved on to avoid debt collectors. That morning he had been repairing crumbling drains and worrying about the state of the town water supply.
When he wasn't up to his neck in muck, Pita wrestled with the larger issues, such as how to pay for the water-sup­ply refurbishment, for, in addition to being an employee, he was an elected trustee of Kaingaroa Village Trust Inc. When I raised an eyebrow at this his face cracked into a glorious grin: "I know, I might be a kaumatua in this town but I'll never be chairman of the trust because I'm its employee."
He lamented that the village lay outside the jurisdiction of the three neighbouring regional councils, and talked of attempts to form a papakainga, or shire, instead of which an incorporated society had eventuated. Before we parted, Pita alluded to a vexatious shortage in that part of the Bay of Plenty, whereby locals were forbidden to forage for firewood in the timber plantations surrounding the town.
It wasn't long after lunch that I found myself up a cul-de-sac under the deadpan stares of gangsters in yellow bandannas. I stood before the still-seated driver of the lead car with the false confidence of a condemned man. He didn't smile or return my greeting, just: "What you doing, bro?" Searching frantically for an explanation for the daft act of turning into the dead end, I blurted out something about photographing the water tower, indicating Pita's suppurat­ing green slimy nemesis looming over us. A look of doubt and derision crossed the face of my inquisitor, but he listened as I explained that if the tank failed, their community could dry up and vanish. He couldn't care less, nor could his mute companions, but it was a different story when I offered to photograph them. Out of the cars they tumbled, all smiles, to sprawl over the bonnet in a flash, turning their staunch glares and hand gestures on and off as if by switch.
Their yellow bandannas identified them as members of the Tribesmen Motorcycle Club, which, they explained, had friendly relations in the town with Black Power (whose members wore blue bandannas), despite reports in 2006 of a gang brawl outside the school. For fun these boys raced their cars on dirt tracks in the forest and around the village, which accounted for the lines of boulders I'd seen in front of properties, placed there by owners to protect their lawns. Sometimes they would range further afield to mix it with boy racers in the cities, or to local destinations like Murupara or Minginui, where the red-bandanned Mongrel Mob live with their bulldogs.
Satisfied that I posed no threat, they gave me an address for delivery of the photographs, taught me their handshake and departed, leaving me to squelch over the waterlogged lawn and photograph their leaking water tower.
New Zealand forestry took off in the Depression years, and by 1936 150,000 ha of the Kaingaroa plain had been planted, mostly in radiata, Corsican and ponderosa pine and Douglas fir. By the 1950s the trees were ready for harvest, bringing a desperate need for forest-worker housing. The little settlement of Kaingaroa Village, where the New Zealand Forest Service had its headquarters, was extended, as was the native-forest logging town of Minginui. Murupara was built from scratch to service the operations of Kaingaroa Logging Company (KLC), a subsidiary of Tasman Pulp and Paper. State houses were built on grids of curved streets, crescents and cul-de-sacs and liberally planted with ornamentals such as oak, elm and walnut. The trees thrived, giving the villages a park-like air, but the houses didn't fare so well.
As I toured Kaingaroa Forest on foot with my camera, a concerned local suggested I park my car on her lawn to prevent louts breaking into it. I photographed Broughton Poutawa and his sister, Charmaine Reihana, who informed me, as if discussing the weather, that the puppy they were playing with was a result of a stray dog servicing their bitch through the wire mesh of her cage.
North of the village, the smallest golf club in the Bay of Plenty, with just 19 members, offered drinks at the Dothistroma Bar. On asking if Dothistroma was a new dance or golf swing, I was told it was a pine-needle blight.
Kaingaroa Village has only a single public-access road, and I had to backtrack along this before turning east towards Murupara on State Highway 38. This isolated stretch of road slices through deep cuttings in the pumice deposited by the central North Island's numerous volcanoes, while towering pines form a gloomy canyon that seems to stretch on for­ever.
Murupara nestles at the confluence of the Rangitaiki and Whirinaki Rivers, at the southern end of the Galatea basin, 90 km south-west of Whakatane. It is flanked to the west by 430,000 ha of plantation forest, while the breathtaking black wall of the beech-clad Ikawhenua Range of Te Urewera rises to the east.
At Flaxy Lodge Motel a photo brag-board of fishermen with trophy trout reminded me why I had embarked on this journey—to fish the famed Rangitaiki and Whirinaki. But first I needed dinner, and motel owner Arna van der Linden sent me off to the Services and Citizens' Club.
Formerly an RSA, the club had decided to accept general membership, but it retained its honour board and a quaint display of armaments, including a PIAT rocket launcher. Bowling mats had been rolled out by the time I finished my meal, and a couple of hard cases called Mike and Dennis press-ganged me into joining Noel Morrison, principal of Rangitahi College, and his colleagues to play them.
It was the mismatch of the century as Mike and Dennis, having spent too much of their lives in establishments such as the club, placed their bowls with surgical accuracy, while the teachers and I sprayed bowls all over the hall. Over a beer, our opponents learned of my interest in trout fishing, which brought on a tirade against Genesis Energy for chronically lowering the level of their beloved Lake Waikaremoana, making it hard for trout to enter spawning streams and im­possible to launch boats. Dropping me off at the motel in his shiny Pajero with heated leather seats, Mike pitied me my clapped-out model and offered a bed if I ever returned.
Next morning a gnarly pig farmer collecting slops behind the shops invited me to visit Rangitahi Marae, one of four in Murupara. There I met the kaumatua of Ngati Manawa, the alert looking Bill Bird, who welcomed me to his lunch table. He was entertaining a TV producer, and the two harangued each other in fluent Maori. Murupara, with a population of 1900, boasts four thriving kohanga reo and one struggling kindergarten.
[Chapter Break]
Returning to Murupara a couple of months later I stayed with Mike (surname Macdonald) and his wife Marguerite east of the town. Mike turned out to be an affable multi-tasker, simultaneously drinking a beer, smoking a cigarette, cooking dinner, watch­ing the news, feeding the dogs, sending emails, working on a spreadsheet, telling me about his trucking business, phoning drivers and warning, "There's bowls at the club on Tuesday, be there!"
The sound of chainsaws in the eastern hills the next morning drew me to Selwyn Takahi, owner of Tamatanga Logging Ltd. His was one of the last remaining manual-ex­traction forestry gangs left in Murupara, and was working land owned by Ngati Manawa that he described as "hauler country, too steep for mechanical extraction". Most of his 22 workers were from the iwi and belonged to Rangitahi Ma­rae. By "mechanical extraction" he was referring to a diabolical contraption, hefted about on the hydraulic arm of a digger, that felled, de-limbed and trimmed whole trees in a single fluid motion, the finished logs being squirted onto a pile ready for transport. A traditional gang of eight workers with chainsaws and a hauler could fell, de-limb, trim and stack 300 t of logs a day, compared with the 2000 t processed daily by a six-man mechanical-extraction team producing tree-length logs. Thus many proud and skilled forestry workers lost their jobs.
High unemployment, and the re­lated problems of poverty, alcohol and drug abuse and violence, weren't helped by a drop in the forest harvest from 3M t three years ago to 1.7M t last year. Evidence of attempts to deal with unemployment was everywhere in the community.
The station manager of Radio Rangitahi 88.3 ERFM, Georgie Jacobs, put out a call for people to work the grave­yard shift in a Te Puke kiwifruit packing shed, and in no time reported that enough workers had registered to fill a daily bus from Murupara. Georgie wasn't at the station, in Murupara's Civic Square, when I called, but 12-year-old Te Akauroa Miki was reading the community notices. He explained the station was sponsored by the Christian Brothers, founded by Irish­man Edmund Rice, hence the "ER" in the station's name.
Nearby was Te Kotahinga drop-in centre, run by the Maori Women's Welfare League, which dispensed tea and biscuits, friendship, advice, and money raised through koha, Lotto grants, raffles and the sale of clothing. There I met Ora An­derson, a voluble mother of 12, who said they lent money the "Maori way", with no paperwork, mainly for power or food.
"Lots of power has been cut off here because of poverty. The power price is too high and the benefit too low, and our people are missing out." She admitted that some of the money the centre gave was spent on booze and drugs. "But we trust them in the hope that they will learn trust."
She had little time for parents who chased a good time and left their kids to look after themselves. Neither was she im­pressed by many of today's children, who she considered lazy and watched too much TV. I believed her when she said, "I brought up my kids hard."
Outside I approached Rosita Herewini and Jessie Howden chatting beside one of the town's numerous coloured murals. They were Jehovah's Witnesses and told me the story of how they had astonished the locals by building their Kingdom Hall in four days, with the help of brothers from all over New Zealand. They handed me a copy of Watchtower and invited me to a meeting on Tuesday night.
Aha, I thought as I drove to see Mike in the Murupara log yard, I might not have to play bowls after all. When I found his modest office I discovered he was the managing director of SMARTT Transport (Specialised Murupara Rotorua and Taupo Trucking) and a director of its parent company, Forest Distribution Ltd, a logging-transport management group that carried 6M t of logs a year and had an annual turnover of about $60 million. Between phone calls he informed me that he was still trying to arrange a trip in a logging truck for me. In the meantime, perhaps I might like to visit his neighbour, Lakeland Helicopters.
Next door I wandered through wide-open gates into a com­pound lined with well-used trucks, hoppers and tanks surrounded by dilapidated-looking weatherboard buildings, but there wasn't a helicopter in sight. The first person I met was Tony Bradley, Murupara-born son of company founder Peter Bradley. With long red hair, two–weeks' stubble and scruffy clothes, he seemed to mean it when he said, like so many oth­ers from thereabouts, that he didn't want any publicity but was happy to show me around.
To me, a former aircraft-engineering apprentice and au­thor of New Zealand Aircraft Illustrated, the place looked like heaven. Tony led me through dim hangars where the carcass­es of familiar machines hung high on the walls and queued in dark recesses. Yes, he said, they were all Bell UH-1H Iroquois ex-US Air Force choppers that had been parked up at Davis­Monthan Airfield in Arizona. The company had purchased 31 of them, and so far had sold 12 and restored three at the Murupara workshops.
Two of the "Hueys" had just returned from dropping 1080 bait in Westland, but with 430,000 ha of pine plantation on the doorstep there was plenty of spraying and fire-fighting work nearby. The company manufactured its own 1.5 t bait­ing hoppers that doubled as monsoon buckets.
"As we fly so much over the plantations we see most fires first. They can be caused by hauler cables, collapsed bearings and truck breakdowns," Tony told me. And with three Hueys they could drop 60,000 litres of water an hour.
He outlined the mind-boggling complexity of his opera­tion, with a litany of variables to take into account to ensure safe and economic spraying. Precise wind speed; tempera­ture and humidity limits; geographic information systems, or GIS, for determining topographic profiles and plotting flight paths; the right airspeed for the prevailing conditions; chemical mixing; variable application rates—to name but a few. A single spray job required more than half a million dol­lars' worth of ancillary equipment in addition to the cost of the chopper and pilot.
Tony's parents, Peter and Jeanette, had started the com­pany in 1978. As a mad-keen hunter, Peter had made more money bringing deer carcasses out on his back or on horse­back than working as a plumber in Murupara. When recov­ery on foot had become too arduous, he'd purchased a Hugh­es 300 helicopter, followed by a string of bigger machines, so that by the time the live-capture/carcass-recovery boom had collapsed in 1985, he'd become the owner of five 500Ds.
With sons Tony and Stephen in the business, the family had branched into processing plants in Murupara and Dunedin, and for 13 years produced both feral and farmed veni­son. Then the bottom had fallen out of the deer business, and they'd closed the plants in 2005. That was when they'd lucked onto the idea of purchasing Hueys.
While I was there a restored Bell Jet Ranger 206 was trucked in from the paint shop in its fresh new livery, ready for Tony's team of five engineers, headed by Keith Brown, to fit the important bits like the engine, boom, rotors and seats. Referring to the Iroquois, Keith said: "We're just a vintage-aviation restoration business. The Hueys are old trucks that we break right down and build up again." The old technol­ogy suited the conditions they had to deal with, he said; for example, abrasive pumice dust could be expelled from the non-Teflon bearings with a grease gun.
[Chapter Break]
Back in Civic Square I visited Whakatane District Council's Murupara Service Centre and Library, festooned with the colourful output of a pre­schoolers' holiday programme. Customer-serv­ices supervisor Fran Payne was not amused when asked what programmes she ran for the Tribesmen.
Outside I introduced myself to a trio of youths who might have benefited from a library summer programme. They showed off shiny Black Power patches on new T-shirts under hoodie jackets and said I could photograph them for $20 each. I declined.
Their hangout was near the mirror-glass offices of Net­work Murupara, just opened and reeking of paint and new carpet. Administration officer Ani Reti explained to me the community goals of revitalising the town, establishing a sports academy and developing local tourism and commerce. She also mentioned the wish for an international airport and fibreboard and biofuels plants.
"Murupara Dreaming" was the slogan adopted by the com­munity when galvanised into action by a visit from econom­ic-development minister Jim Anderton in 2004. The tightly researched 36-page Murupara Community Report 2006 was produced with the help of a plethora of government depart­ments, and Network Murupara was established to implement its goals.
Tourist attractions they would promote include pig shoot­ing, deer stalking and trout fishing. My ebullient hostess and keen fisher, Marguerite Macdonald, invited me to fish the Rangitaiki River, but alas, the outing had to be postponed be­cause my trip in a logging truck had been approved.
Oggi Glynn rumbled into the log yard in his Western Star behemoth to collect me en route to Kawerau. It took me two attempts to scramble up the sheer wall of the monster, de­spite its steps and handles. When I finally reached the giddy height of the cab, there seemed hardly room for a squirrel let alone its nuts. I squeezed in with my camera gear, pushed the plugs Oggi proffered into my ears, and emitted an involuntary "Yeehaa!" as the juggernaut accelerated north.
We drove on the Sixty Million Dollar Highway, a private paved logging road linking the southern Kaingaroa forests with Taupo, Murupara and Kawerau, built because trucks the size of Oggi's are prohibited from using the state highways. To pass each other safely, drivers employ radio-telephone pro­tocols on a par with those used by air-traffic controllers. The public aren't welcome, as a truck could swat a private car off the road and the truck driver remain oblivious of the fact.
As we cruised along at the height of a low-flying aircraft Oggi told me how he loved working in the bush: "It's so serene; there's no hustle or Joe public ducking around you."
He'd been born in Murupara and worked as a fitter and turner at the KLC workshop, now part occupied by Lakeland Helicopters. But as his daughters were growing up the family had seemed always to be travelling to events out of town, and so they moved to Taupo.
It was there that Oggi had picked up our load of logs, which seemed to be attracting one-liners over the RT from other drivers. Mystified, I asked what was so wrong with it that it drew such gibes? Oggi laughed: "They're just envious. It's dense, high-quality, domestic saw logs that pay well." Even the driver of the Kawerau log-yard loader chipped in: "Don't open the door, the cream'll flow out."
The weighbridge informed us we had 100 t "bouncing right behind ya chuff", as the Peter Cape song goes. That was on top of the 31-t tare weight of the truck.
We dropped a trailer unit to grind our way up Savage Road to a high skid to pick up a load of pulp logs. Here Oggi instructed me in the art of throwing wire strops to secure the load. The technique is to swing the chain like a skipping rope before releasing it so it sails into the sky and clatters down the other side to be secured. My attempts saw the chain get stuck among the top logs, and the loader driver had to retrieve it.
Back in Kawerau we dropped off 44.9 t and collected 89 t for delivery to a sawmill in Taupo. On the way south I checked the diesel consumption on a dinky little dial on the dash that monitored the six-cylinder 15-litre Caterpillar engine: 96 li­tres/hr, or 0.3km/litre.
Oggi dropped me in Murupara just in time for me to meet up with Rosita Herewini. She introduced me to Brother Patrick Wharerau, who told me proudly that more than 200 people had attended the dedication of the Kingdom Hall. All the 32 people at the meeting were encouraged to speak, in­cluding the children. Rosita whispered across her little son into my ear: "We serve Jehovah as best we can, and visiting is a big part of our work. We're taught how to deal with people who are hostile to our visiting and our teaching."
She then addressed the meeting: "Women should be in subjugation to their husbands, and their husbands should exercise headship in a loving way, imitating Christ. When they do not abuse or abdicate their headship, it is a delight for the wife and children to be in subjugation. The wife's role is that of helper or complement."
Rosita told me she was sad that her husband wasn't a be­liever. Nor was she too pleased that her brother had joined the Mongrel Mob, though she took a wry pride in his achieving senior respected status. This love-hate attitude to the gangs was widespread, owing to the fact that in many families there was someone who wore a patch, or aspired to do so.
Not, however, in the family of stroppy Judy Ammunsen, mother of six and president of the Murupara Services and Cit­izens Club, who had introduced netball into chartered clubs in New Zealand in 1974. She had just cleaned up against Mike Macdonald on the bowling mat by the time I wandered across the road from the hall.
"Hell no! None of my kids are in gangs," was her amazing claim, considering she had 17 grandchildren and two great-grandchildren and was herself one of 15 children from the Merriman family of Galatea.
[Chapter Break]
A propensity to produce large families on the Galatea plain couldn't be blamed on the soil. After the WWII, the returned servicemen who cleared blocks on the plains for farming battled so-called bush sickness in their stock for years, until the cause, cobalt deficiency, was discovered.
Marguerite's father had been balloted a Galatea block, and she talked fondly of a wild childhood spent climbing in the Ikawhenua Range, clandestinely swimming in the Horoman­ga River and trout fishing. It wasn't a wealthy farming district, at least not until the recent dairy boom, which allowed her brother to sell the property for a fabulous sum to a Korean ostrich farmer.
On Wednesday my suggestion of fishing got the thumbs down as it was sausage day at the local butchery, part-owned by the same Dennis (Smith) who, with Mike, had thrashed me at bowls at the club, and who had been a butcher in Murupara for 40 years. When I got there Marguerite was up to her el­bows in a sloppy, pink gloop of mince and seasoned binder. Only after she had achieved a consistent mix did butcher Bev­an Smith squirt it into animal-intestine casings with pressure from a hydraulic bladder. Then Dave Storey, who had taken time off from his job at Lakeland Helicopters to help, cleverly plaited the long snakes into interlinked sets of three sausages.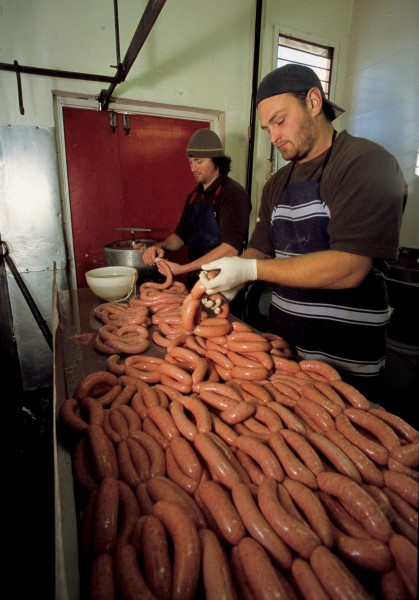 After 11 years in the family business, Bevan had become disillusioned with the town. "Murupara is past it; there are too many useless bastards around here who don't want to help themselves."
Listening to local gossip over a sausage at smoko, I pricked up my ears at a rumour that the Tribesmen were planning to open their new pad at the weekend and that gang members were coming from all over the North Island. When I asked how I could attend the opening, the butchers thought I'd fall­en off my rocker. I argued the gang was a bona fide part of the community and deserved to be in an article on Murupara.
And so I presented myself at the pad in Puriri Crescent, hoping to speak with a man called Eeai. It was like a formal approach to a marae, in that I made my request to a minion on the street, where I waited while he conferred with the higher-ups inside. After what seemed an age I was summoned to the aluminium ranch sliders, asked to remove my shoes and ush­ered into a large, freshly painted room with a new kitchen and chrome stools at the rear.
Two frightening-looking men, one with battered features and skeleton tattoos on his face, greeted me without introducing themselves or leaving their deep leather armchairs. I stood, awkwardly explaining why I was keen to photograph the opening of their pad. They listened in silence and, when I'd finished, gave no indication as to whether it would be OK or not, while I continued standing gawkily, wondering what to do next.
It seemed they weren't going to boot me out, so I helped myself to an armchair and tentatively asked their names. The senior of the two stabbed a tattooed finger at the surface of a long low table where the number 13 had been carved into the wood. This number also featured on the pair's patch skull graphic. It took longer than I care to admit for me to deduce that, when viewed upside down, 13 read EI, and that I was in­deed in the company of this founding member of the Tribes­men. His sidekick was called Jed.
In response to a question about the pad, EI became positively loquacious. He referred to the community concern over the anti-social and criminal behaviour of youths in the town. "The pad will give them somewhere to hang out. It will keep them off the streets. That's what the people want, isn't it? It's a good thing we're doing."
He had nothing but derision for the government, saying it gave them zip for the taxes he resented being asked to pay. The conversation meandered onto the subject of drugs, at which point EI said he had applied for a government licence to use marijuana for medical purposes. He raised his leg to reveal a deformed ankle, the result of an accident in which a car had rammed his foot into the engine of his motorcycle. It caused him chronic pain and marijuana gave relief.
While we chatted, there was a buzz of activity outside as preparations were made for the opening. Women moved about briskly, pulling weeds, planning catering and arranging beds for visitors at Tipapa Marae. The blokes were erecting a sturdy framework for an awning over the back yard, given the likelihood of rain, and little kids swarmed about, getting in the way. A raised garden with pongas and pond was going in by the back door, and another plot was being planted in the front yard.
I departed with EI and Jed's guarded approval but felt uneasy, thinking that nothing was as straightforward as it seemed. The two men had every right to be suspicious of me, for that week newspaper headlines had announced "Tougher rules to smash gangs", and EI and Jed had no way of knowing I wasn't a government stooge.
Filling up with petrol at a local service station, I remarked to a friendly Peter Gubb that I had been to the pad, and he went ballistic. While living in Puriri Crescent, he'd been bur­gled and had personally intercepted a prospect carrying off his laptop. Since then he'd moved. Changing the subject, I commented on the large number of 9 kg gas bottles lined up on the floor of the shop, and Peter said his record was 45 cyl­inders filled in a day. They were for gas heaters, and he reiter­ated Pita Biddle's lament that locals weren't allowed to gather firewood in the forest.
For light relief I pointed my car towards Whirinaki For­est Park, 55,000 ha of native forest between the exotic pine plantations of southern Kaingaroa to the west and the great wilderness of Te Urewera National Park to the east. If fol­lowed far enough this dirt road would lead the hardy motorist to Lake Waikaremoana.
I turned south-west at Te Whaiti and jumped on the brakes at the sight of the dazzling white Ngati Whare Marae shim­mering in the sun. This was built in 1884 by the prophet-war­rior Te Kooti, who had been pursued by government troops into Te Urewera some years earlier for taking guerrilla action against land confiscation. He erected it, after being pardoned, in honour of Ngati Whare, who had harboured him.
Local kaumatua Andy Kohiti told me that the white repre­sented purity and was the colour of Te Kooti's horse. The red trim was the blood of Christ, while the unusual "upside-down fella" on the poepoe pole was prising apart the sky father and the earth mother.
Across from the marae was Te Whaiti Kohanga Reo, led by Hui Hui, Andy's wife, with the help of their son, Anaru. But Andy despaired of the children learning Maori: "It's bloody hopeless; as soon as they go home their parents speak Pakeha."
Bypassing Minginui I plunged into the magnificent Whiri­naki Forest, which conservationists fought to save from Forest Service loggers in 1984. Happily the greenies had won, and after half an hour's brisk walk I approached Arahaki Lagoon and its much-photographed centuries-old kahikateas. What I found was an eerily prehistoric paddock of grass. So low was the water I could wander out between shallow pools, leaving footprints in the hoof-pocked mud, to gaze in silent awe at the circle of giant trees. The longer I stayed the smaller I felt, and it was a humble fellow indeed who returned to his car.
The light was fading when I drove between white river-boulder terraces into Minginui. A herd of horses cantered wildly on the commonage, and I cursed the low light as I tried to photograph their crazy antics.
Sinead Johnson drove alongside and asked if I wanted to see her horses. She was with her mother and half-sister, and we bumped in convoy behind houses in need of a lick of paint to park beside a derelict truck next to her horse paddock.
"The horses are the only good thing around here—and four-wheel driving," said unemployed Sinead.
A cheeky boy called Papanui Sorenson joined us, jumping in front of the camera to give the Mongrel Mob salute. Sinead said the two of them had used to catch semi-wild horses in the town and ride them bareback. But now she was 17 and pregnant, and her boyfriend, horse wrangler Daniel MacMil­lan, didn't want her to ride. She explained a line of white hair round the neck of one of the horses as the result of its first owner attempting to strangle it after it had tried to kill two people. "Big Boy is now a beautifully natured horse." Another horse, Spook, had survived being shot in the nose by local louts with a stolen rifle.
Back in Murupara I visited Sergeant Rob Hutchins, who said he would rather be drifting down the Rangitaiki River with a fishing rod than chasing criminals. He had been in Murupara for 12 years, half of them as sergeant, and loved the area. His station provided the first search-and-rescue response for overdue trampers and tourists, and attended ac­cidental shootings during the roar, when large numbers of hunters entered the bush. In the last year he had recorded the fewest ever break-ins to tourists' cars at road ends, but referred to affluent Galatea as the supermarket where youths "went shopping" for vehicles.
Calling the gangs "reds" or "yellows", he said it was the young associates, or prospects, who caused most trouble. "Youth crime is a problem, with under-17s committing thefts and damage in the town centre and burglaries in the resi­dential areas." He had just returned from the Rotorua Youth Court, where four offenders had been prosecuted for theft, burglary and stabbing a police dog.
"Local gang members treat us very well, and we go to sen­ior members to ask for their help." He mentioned a baseball-bat raid by the yellows on a Mongrel Mob house in Minginui more than six years before, but he hadn't heard of any raids in recent years.
A zero-tolerance stand against domestic violence was hav­ing a "huge impact", he said. And while P—methamphetamine—was still present, there was much less than before the community had taken a tough line in 2003 and declared Mu­rupara a P-free zone.
Thirty years earlier the police had been rumoured to have inadvertently top-dressed the Kaingaroa forest with cannabis seed, to the glee of the pot-smoking flower-power generation. When asked about this, Rob said he hadn't been around then, but they no longer hauled bundles of cannabis plants from the forest by helicopter. Instead, remote plots were destroyed with sprays and more accessible ones removed by ground teams.
"Cannabis operations are our bread and butter, and we con­stantly patrol the forest for suspicious activity." The growers were mostly locals, and the police knew of scores of plots un­der cultivation. Just before the plants reached maturity, they were raided. "We always leave identification that it was us, the police, that raided their plots," said Rob. This was to allay sus­picion between rival growers and prevent reprisal attacks.
[Chapter Break]
Drug abuse and unemployment were high priori­ties for the idealistic Jacob Te Kurapa, who, as lo­cal ward member, had stood in 2001 for Whaka­tane District Council and won. Back then, the cheerful 31-year-old human dynamo from Kaingaroa Forest had thought he could change the world. But, now campaign­ing for re-election in 2007, he admitted with charming self-deprecation that the opposite had happened.
He explained that the community's slide from prosperity had begun in the mid-1980s, when the government had first corporatised and then privatised forestry, essentially saying to the community, "You're on your own now." The banks, the post office and the Forest Service closed their offices in the town, along with New Zealand Railways, the New Zealand Electricity Department, the Bay of Plenty Electric Power Board and other government agencies. The loss of jobs, when added to shrinking opportunities in the bush, put tremendous pressure on families.
With big families all of the available money went on food, and when they could no longer feed themselves adequately, they turned to alternative sources of income, such as drug dealing and other forms of crime, said Jacob. Unemployment became inter-generational when children, and then grand­children, saw relatives without jobs as the norm. There was no money to travel and exploit opportunities elsewhere, such as offered by further education, and thus to break the cycle.
Local businesses suffered, too, when these families ac­cepted no-deposit, expensive credit from mobile shops such as The Good Guys and Red Truck. "They come here and suck our people in," said Jacob in disgust. Next came the repossession agents, to seize goods and appliances from fami­lies who had defaulted on payments.
Another way to acquire goodies was theft, and in a name-­and-shame exercise several young hoodies who persistently shoplifted had trespass orders taken out against them, pro­hibiting them from entering any business premises in the central business district.
"Five years ago two houses operating meth labs were busted in Murupara," Jacob told me. "With 10 kids playing around those labs, I was not impressed." And so he con­vinced the government to declare the town a Community Action on Youth and Drugs site, and was appointed CAYAD coordinator responsible for creating alternatives to drug and alcohol abuse. He instigated events such as talent quests and combined church services and sports events, making any child welcome, but prospects were asked to leave their col­ours elsewhere.
At the time of my visit, a military-cadet service was be­ing planned for Murupara's youth with help from the New Zealand Army. The "Commanding Officer", disk jockey Georgie Jacobs, was to receive officer training at Waiouru Military Camp in November 2007.
Jacob confirmed my observation that the women of Mu­rupara were the "power behind the throne". He shared of­fices with five strong-willed women who ran Te Ika Whenua Hauora Inc.'s mental-health services and Well Child Programme, provided within a Maori kaupapa framework. One of the mental-health workers, soft-spoken Mary Olsen, said the Maori ways were slipping away and being replaced by Pakeha values. "Our kids are spending more time in the courts than on the marae."
Over a cup of tea she described the now familiar vicious cycle of poverty, with its roots in unemployment, leading to low self-esteem, drug and alcohol abuse, crime, violence, de­pression and mental-health problems. We were interrupted by one of her colleagues delivering a verbal belting to some­one on the phone in language so strong I wondered if the saviour needed saving.
I'd had enough of tough love and departed to explore the irony of these timber-town folk being prohibited from gath­ering firewood. Perry Messent had been caught red-handed, and this big gentle man invited me out of the rain into his modest home to hear the story.
He had driven 49 km high into the forest to collect dry Douglas fir from six-month-old slash piles. He waxed lyri­cal about the quiet solitude of the spot and the beautiful view it enjoyed, so different from the Murupara log yard, where he worked as night security. His purpose had been to deliver firewood free of charge to elderly Murupara resi­dents. He had cut and split the logs and stacked the wood in his ute when a Timberlands employee took his registration number and told him he shouldn't be there. Two weeks later he received a letter from Mark Bentley, general manager of Independent Security Consultants Ltd, on behalf of Tim­berlands:
It has been reported to me that on the 21st of June you were caught within Kaingaroa Forest with a load of firewood without a permit. Access to Kaingaroa Forest is by permit only and the theft of firewood is regarded as a serious matter. I have however been authorised not to refer the matter to the police if payment for the firewood is received. I have therefore enclosed an invoice for $250.00 +GST and require payment by the 20th of July 2007 otherwise further action will be taken.
The irony of the situation was not lost on his friends, who, according to Perry, protested to Timberlands: "That big fat fella is in charge of securing your logs, and he could take all your logs from the log yard." Perry confirmed this, saying: "I could get as much wood as I like down there as I'm there by myself all night." He also pointed out: "They don't issue firewood permits, even to their own workmen".
Exasperated, he finished up: "Why doesn't Timberlands push it all into a pile on the skids and say to everyone 'Help yourself'?" This, according to Mike Macdonald, had been tried. In the days when Fletcher Challenge owned the forest it was possible freely to retrieve firewood. But such generosity was abused by people who didn't confine themselves to reject wood but also cut biscuits from logs in the stockpiles or even took whole logs. Others used contractors' equip­ment and stole diesel and batteries. Firewood merchants muscled into ar­eas opened only to homeowners, and marijuana growers became a problem once public access to the plantations was granted.
Mike surmised that under the Health and Safety Act the current owners, Harvard Management Com­pany (the university's investment arm), might reason that they would be liable for injuries suffered by anyone in the forest without safety equipment. Hence the universal ban on access.
The outcome of Perry's case was that Timberlands relented. Further­more, the company said that if Perry phoned with the names of his intend­ed recipients, it wouldn't object to his collecting firewood for them. He wasn't issued with a permit, though.
[Chapter Break]
Saturday arrived, and instead of going fishing I joined the Tribesmen at midday. They had lit a huge iron furnace in the backyard for heating, and since my previous visit had installed dozens of tables and chairs, filled the pie warmer, stocked the bar and set out tea-and coffee-making gear. EI, resplendent in new duds with pristine golden embroidery shining in the watery sun, looked like a general in charge of an army. A monster silver-grey Harley lurked like a crouching panther amid an array of big motorcycles on the lawn. Their owners, standing about in gang regalia, were wary of my presence, and I gave ample no­tice before taking a photograph to enable them to hoist their bandannas over their faces and look staunch.
The "TMC" embroidered on their patches obviously stood for "Tribesmen Motorcycle Club", while the "FTW" was spelled out as "F*** the World". But the ubiquitous "TFFT" had me stumped, though my guess was something like "Tribesmen Forever Forever Together". One man wore a hat announcing "Tribesmen MC 2007 25th anniversary".
A parade of visitors came, were greeted heartily and van­ished. By mid-afternoon nothing formal had happened, and when Jed returned on his Harley I lined him up with some henchmen for a formal shot in front of the pad. Two minutes later an unidentified biker astride the grey monster stopped in the driveway, planted both feet on the ground and wound up the throttle. A burnout! It took everyone by surprise. An astounding cacophony ensued as he took the stationery machine up through the gears. The bros came round from the back yard to witness the virtuoso performance as the "rider" swung the rear of the machine in a gentle arc to the sound of a roaring crescendo. For more than a minute white smoke billowed, stone chips flew and hot rubber rained onto Jed's beautifully polished Harley behind. And then bang! He popped the tyre!
Out of the silence came the scolding voice of the next-door neighbour: "I don't mind you boys riding up and down the road, but don't make that noise!" This was a hopping mad Margaret Cook, who later told me she didn't mind loud music, as she had been a party girl herself once, but that the din of the burnout had got to her.
She knew most of the gang members. "They're just family to us. We've worked in the bush together, and they bring us kai." She said they had told her on Tuesday about the rage and offered to put up her ill husband, Peter, in a motel for the night. She had declined, but regretted not going to the motel herself because she was a light sleeper.
The rage finally started after dark, when the Tribesmen arrived en masse from a 21st party across town. A karakia was performed, the ribbon was cut, the band played and the leather-clad revellers partied all night. The pad was truly opened. There were no rumbles or arrests, and requests from neighbours that the merry-makers keep bottles on their own side of the fence were respected.
Before leaving town I had to have a beer at the Murupara Hotel, once fabled as the toughest watering hole in the country, a place where it was dangerous to be a Pakeha. Stories spread by students doing holiday jobs in the bush told of frequent fights, sawdust on the floor and beer crates for seats. When carpet was laid it was doused so frequently in beer and other fluids that it solidified and was cleaned with a lino polisher.
I resisted the winking lights of row on row of gaming machines, survived a beer with Rangi, the meanest looking grapple driver on Earth, and heard the story, stolen by legendary bushman and yarn-spinner Barry Crump, about Nuki Radford chainsawing the door out of his house and ordering his wife to cook dinner for his drunken mates. I bought a raffle ticket for a meat pack from Dennis's butchery and hongied with Bill Bird, chairman of Te Runanga o Ngati Manawa. The only threat I felt was in liking the place so much I might stay on. It was time to go, but I'll be back—they say there's trout there somewhere.