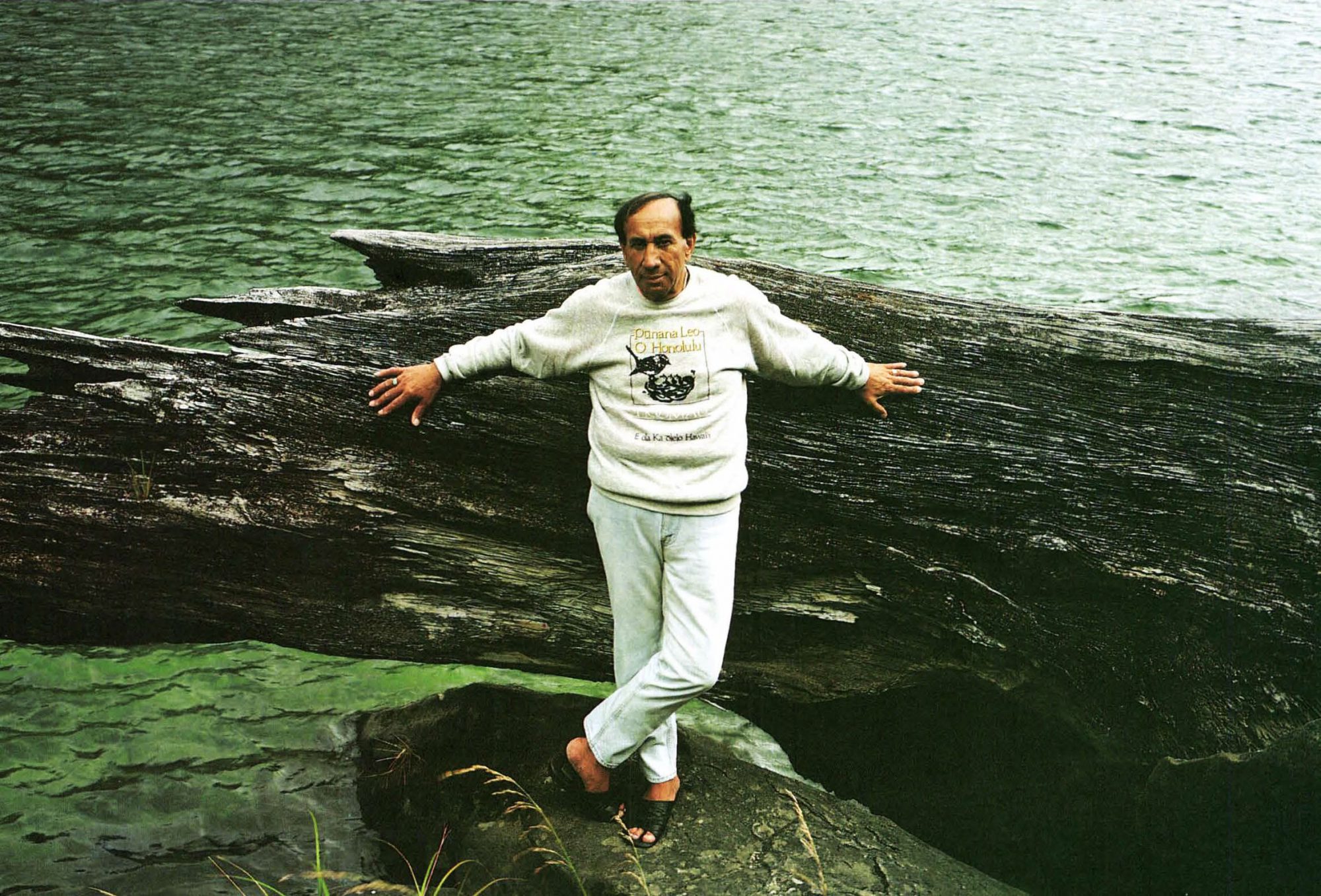 The clue to identity
A traveller through Northland who takes a wrong turn at Moerewa could stumble on Matawaia, and the verdict might be: this is a place God forgot to finish.
There are no shops, just a school, a marae and a few dozen houses dotted around the valley. The corrugated metal roads are bounded by bracken fern and teatree. Creeks run into acres of swamp.
This is my home base, my turangawaewae.
Life takes me all over the place, but in Matawaia I know who I am. It is the place from which my canoe was launched on life's rocky road; it is the stump to which I will tie that canoe at journey's end.
In life it is the ground on which I stand, in death it becomes to ukaipo, the breast that nurtures me at night.
In this essay Professor Timoti Karetu, chairman of the Maori Language Commission, describes his experience of turangawaewae.
Turangawaewae,in its strictest application, refers to those places to which one has alle­giance and a 'right to stand'. In a wider sense, it embraces a person's identity as a Maori — culturally, lin­guistically and emotionally.
Tawhiao, the second Maori king, declared his allegiance in the follow­ing words:
Ko Arekahanara toku haona kaha Ko Kernureti toku oko horoi
Ko Ngaruawahia toku turanga­waewae
(Alexandra (Pirongial is my horn of strength,Cambridge my wash bowl Ngaruawahia the place to which my right is inalienable)
This statement has become a prov­erb within Maoridom, but its signifi­cance is unapparent to those not familiar with the history of the tribes of Waikato.
Waikato, unjustly accused of pos­ing a threat to the city of Auckland, and for daring to be free and unfet­tered, had over a million acres of its land confiscated by the government of the day.
The struggles of the Waikato people for some form of compensa­tion, or for the return of their land, continue to the present day. Te Puea, Tawhiao's grand-daughter, was in the vanguard of this movement. It was she who realised Tawhiao's dream of making Ngaruawahia his footstool, thereby restoring to Waikato that piece of land which, by their own definition, was essential to their identity and to which their right is now, indeed, inalienable.
Turangawaewae, the marae at Ngaruawahia, has emerged as New Zealand's most famous and most visited marae. It stands as a legacy to the sheer determination and forti­tude of one woman and her people. This is turangawaewae by one defi­nition.
Traditionally, a person had tura­ngawaewae because of the cutting of the umbilical cord and the burying of the placenta in a certain place. Added to that was the concept of ahi ka, the need to keep one's fires burning. This meant that to have rights to a certain territory one had to be in residence — that is, have one's fires constantly lit — for at least three generations. If one were absent from that area for at least three generations then one's fires were said to be extinguished, and all one's rights to that land were forfeit. The Maori term for this was ahi matao, literally, extinguished fire.
More pertinent and, in the final analysis, the only way one can have turangawaewae in the sense of the right to claim affiliation to a certain place or marae is through whaka­papa, genealogical links.
With the majority of the Maori world living far away from their tribal areas because of economic necessity, there are now three to four genera­tions of Maori who are highly urban­ised and who, in many cases, are unaware or ignorant of their tribal origins. There are others, of course, who have made a conscious decision to ignore this aspect of their back­ground and to opt for a lifestyle where tribal affiliation makes no demand.
Today the ahi ka stipulation can be met by honouring one's tribal ob­ligations; that is, being seen at the more important rites of passage of the tribe. In this way one is seen to care because one's "face is seen", an extremely important aspect of being Maori. Being there is all that is neces­sary, one need not say anything. However, not to be seen over a long period of time is tantamount to ahi matao, the extinguished fire, and could be interpreted as an attitude of not caring.
Those who suffer the brunt of ahi matao accusations tend to be the urbanised young who, through no fault of their own, have no idea of how to behave in a Maori setting, let alone what their affiliation might be to a certain marae. This is the genera­tion that is striving so hard to sustain the Maori ethos, for they are aware,more so than their rural counterparts, of what they lack and of what they so desperately want.
It can be traumatic for the urban­ised Maori to find his turanga­waewae, and, upon doing so, to rec­oncile himself to it and to be ac­cepted by those who have not left the area but who have kept the fires burning.
Some Maori people experience little difficulty in reconciling tribal obligations with urban or employ­ment ones. They are fortunate, for they adjust easily to both situations and find no incompatibility between the two environments. Such people know their turangawaewae, and what its codes of behaviour, etiquette and expectations are.
For many others this is not the case. These people — usually young city-dwellers — do not know what or where their turangawaewae is. Con­sequently, they have been called iho ngaro, the people without a base, without roots.
Add to these urbanised Maori those who have been adopted by non-Maori parents and whose lifestyle is therefore non-Maori. Many of these children look Maori and are identi­fied as such by their peers, but that is where their Maoriness ends. Some, who have never had to consider what they are, are now forced to face their Maoriness for the first time. This can be painful for the individual con­cerned, and no less so for the adop­tive parents.
I am a whangai, a child adopted in the Maori way. My mum and dad were really my grand uncle and aunt, my dad being the older brother of my natural maternal grandfather. From the age of two months I was taken by them and raised to adulthood. How­ever, inherent in my upbringing was the knowledge of who my natural parents were. There was no traumatic revelation when I reached my teens, as happens in some cultures.
It is the practice in Maori society to whangai children. The reasons are many: perhaps the natural parents have too large a family and so to ease their burden one of the relatives will raise one or more of the children; perhaps some relatives of the natural parents are unable to have children of their own, so they are given some to whangai; perhaps the natural mother was too young to raise the child herself, so relatives assume the responsibility.
It is unusual, however, for the child not to be informed from the outset about its natural parents. Whangai children are encouraged to know their natural families, but the bonds developed between the child and the whangai parents are strong, and it is rare for a whangai child to want to return to its natural family. To be a whangai is to be wanted, and therefore to be indulged! Who would want to give up that treatment?
Whangai children have many turangawaewae. In my case, through my dad I have turangawaewae in Waikaremoana and Waimarama; through my mum, in Waikaremoana and Ruatahuna; through my natural mother, tribal links to Kahungunu and Raukawa; through my natural father, Te Aitanga-a-Mahaki, in Gisborne. Despite all these turangawaewae, I emotionally relate only to Waikaremoana, Ruatahuna and Waimarama, because they were the areas with which I was familiar when I was growing up and to which I return when family matters necessi­tate.
Completely surrounded by ver­dant, virgin native forest stretching as far as the eye can see is the sea of rippling waters, Waikaremoana, abode of Haumapuhia, domain of Tuhoe.
Haumapuhia, for her disobedience in not fetching water when ordered by her father to do so, was pushed by him into the well until she eventu­ally drowned. However, because of her cries, he gave her until daybreak to find her way to the sea, and in that way she would survive.
Wherever she attempted to find an escape, water pursued her. As a consequence of ther thrashing about and the water's pursuit, Lake Wai­karemoana was formed.
Her bid to reach the sea was un­successful, and at the first rays of the sun she was turned to stone. She can now be seen in the Waikaretaheke River, to the south of the lake and east of the marae of Waimako, home of Te Whanau Pani, a hapu of Tahoe.
Meimei Erueti, one of this tribe's last surviving kaumatua, was a gra­cious, unassuming, but very know­ledgeable man who was regarded as one of the repositories of the lore of the area. In 1974 he was asked to help correct some of the names on a map of Lake Waikaremoana. He was the last living elder to have actually lived in one of the tribal settlements, Te Puna, on the western side of the lake, prior to the people being per­manently relocated to those areas which they occupy at present.
I was the youngest of the group selected by the elders to accompany him on this very emotional journey. Meimei would recite names of prom­ontories, inlets, hills and other natu­ral features of the lake as we recorded. For him it was very emotional; we would reach certain spots and his tears would begin to flow. Then he would chant, the chants being, in most cases, laments as he remem­bered events that prompted that par­ticular area's being given that name.
Over a period of days we slowly covered the lake, and, with Te Kapua, another kaumatua, to prompt and cajole, we were able to obtain the information required.
I look back on that time and on those two kaumatua, Meimei and Te Kapua, with both pride and sadness: pride because they considered me worthy of inclusion in that memo­rable tour of the lake, and sadness because their wisdom and experi­ence is no longer available to me. Yet at times I can still hear their voices speaking as though brought to me on the many winds which buffet Wai­karemoana.
I learnt from that trip the impor­tance of turangawaewae, our inal­ienable right to that area, and a fuller appreciation of my identity as Tuhoe,with all the attendant trials and tribu­lations suffered by my ancestors in their endeavours to maintain their turangawaewae in the area.
Tuhoe is one of the smaller tribes,inhabiting one of the more remote areas of the North Island: from Lake Waikaremoana in the south to Kuta­rere and Waiotahi in the north, with our sacred mountain, Maunga­pohatu, located to the south-east of Ruatahuna, the cradle of the tribe.
Despite the remoteness of the area and the minimal food sources com­pared with those of other tribes, the people of Tuhoe eked out an exis­tence, and the tribe was probably one of the last to emerge from its territo­ries to join the main flow of Aotea­roa.
In some ways Tuhoe's isolation was to its advantage, because it meant that its language and customs sur­vived a few decades longer than they did elsewhere. Within Tuhoe my generation is the last Maori-speaking one in the sense that Maori was the first language learnt and the domi­nant language of the community.
The ravages of state education and time have seen a marked change in both the retention of language and the observance of custom over the past three decades. The language loss has been rapid, and if the pace is not decelerated, a few decades more may see its total loss, not only among my tribe but among all the tribes of Aotea­roa.
For me, language is an intrinsic part of my turangawaewae. It is an essential element of all that I hold dear — the rites of passage of Mao­ridom will pale into insignificance and ignominy without it. Further­more, these rites will become more and more inaccessible to the major­ity of the Maori population as the language continues to decline.
Courses of action have been taken and, in their own way, they are caus­ing a very slight ripple in the sea of language loss. What would cause greater waves, or a tsunami, even, in this very pacific ocean would be a total commitment to the idea that language is fundamental to our ethos, to our turangawaewae. It is who we are.
Parallels can be drawn between those seeking their physical turanga­waewae and those seeking their lin­guistic one. Many people of Maori descent who, hitherto, have had minimal exposure to the language, or who might have found no value in its retention earlier in their lives, are now wanting to learn it and thereby to obtain the key to a whole world of song, metaphor, proverb, rhetoric and history. Without the language this world remains unattainable and remote.
As middle-age is approached, those without this aspect of their turangawaewae begin to want to acquire it or to regain it, for they are soon to assume, and want to assume, the role of kaumatua in their own tribes. To fulfil this important role they must have the language. With­out it, their credibility is nil in the eyes of their own people. Further­more, the language expected of kau­matua has to be of a level well above that of everyday conversation.
Just as the statement by her grand­father, Tawhiao, inspired Te Puea to regain that area of land from where he had drunk at a well, despite the privations and prejudices that had to be faced, so too are many Maori in­spired to find, sustain and maintain their own turangawaewae. This is no mean feat in a world where one is constantly assailed by the English language and by western technology and modes of thought.
In Maori terms, I could claim turangawaewae in Ireland, Scotland, England and Italy because of genea­logical ties, but the urge to do so is nil. It is no reflection on those coun­tries, but a difference in attitude — I am strongly conditioned by the physical, cultural and social envi­ronment in which I grew up and I make no apology for that.
It is this strong conditioning which, in fact, is my turangawaewae. It gives me my strength of identity This strength emanated, initially, from my mum and dad, then from the close-knit community of the marae of Waimako in Waikaremoana, then, as I grew older, by all the elders who took me under their wing and extended my knowledge of the Maori world and life in general.
I am reminded of a saying of my people which is, "Hokia ki nga maunga kia purea koe e nga hau a Tawhiri-matea" (Return to the moun­tains and there be purified by the winds of Tawhiri-matea). In essence, what this is saying is, know who you are first, before presuming to know who others are. To me, this is a dic­tum to know what my turanga­waewae is, first and foremost, and to know what my obligations are in that regard before assuming anything else.
So, I am Maori with some Pakeha antecedents and strong affiliations to the marae of Waimako and Kuha in Waikaremoana, to the tribe of Tuhoe in particular and to Kahungunu, Te Aitanga-a-Mahaki and Raukawa in general.
This background makes me what I am; this is my turangawaewae.