Takahe – the bird that came back from the dead
When Dr Walter Mantell formally described a large, attractively-plumaged new species of rail in 1851 from only the second specimen captured, he wrote: "It is unlikely that any further living specimens will be found." Indeed, only two further individuals were taken last century, and the bird was officially considered extinct for 50 years—until an Invercargill GP filmed birds in Fiordland in 1948. Yet despite 50 years of careful management since, the species is probably scarcer now than when it was rediscovered.
On the Fourth Floor of Dunedin's Otago Museum, above the display of ships and ocean voyages, lies a sombre animal mausoleum—a gallery of extinction. Here, arranged with the methodical tidiness of a cemetery, is a record of evolution's casualties: a menagerie of the dead and the has-beens, whose insular world changed faster than they could follow.
One cabinet, lit in film noir style, preserves the memory of 11 moa, their skeletons wired together from bones discovered in caves and swamps. Another glass cage houses a Tasmanian wolf—ivory-yellow of coat, banded brown across the hindquarters, its rat-like tail an anachronism for a creature that could otherwise pass for a streetwise but famished mongrel. What is most striking is its stance: the back arched, the ears flattened, the mouth locked in the freeze-framed snarl of a cornered animal. There is despair in this pose, the do-or-die abandon of a species making its last stand.
Elsewhere in this Madame Tussaud's hall of faunal fame lie the less con­spicuous and the less renowned—creatures that lacked teeth and claws, or a size that earned them notoriety. Each has a black-lettered epitaph explaining the time and circumstances of death. The thumb-sized bush wren: "Slipped away quietly in 1972." New Zealand quail: "Died in 1869." The South Island thrush, last seen in 1902. Huia, with its crescent-moon beak and faded orange wattles: died December 28, 1907. South Island kokako: missing, presumed dead. The tiny Stephens Island wren, Auckland Islands merganser, New Zealand little bittern, Chatham Islands rail—all defunct. There are a few vacant lots, too.
Between the laughing owl display and a cabinet with five glass-eyed kakapo, a circular window frames a painted backdrop of snowcapped Fiordland moun­tains. The foreground is of dry tussock, clipped and trampled into a rudimentary nest which shelters a single egg, off-white and splotched with mauve and brown. Near the egg stands a large bird, its head raised attentively, eyeing the visitor not with fear but with gawkish curiosity. Its feathers look dusty and without sheen, its beak dabbed with red paint to hide a century of fading. The bird is a takahe, the largest rail in the world. A flightless grazer the size of a small turkey, it was once the most prized exhibit of this mournful collection. Until—to borrow Mark Twain's celebrated comment—it was found that the rumours of its death had been "greatly exaggerated."
The first recorded European encounter with takahe was in 1849, when a gang of Dusky Bay sealers found and followed the trail of a large and unknown bird. When pursued by their dogs, the bird ". . . ran with great speed, and upon being captured uttered loud screams, and fought and struggled violently." Three or four days later they roasted and ate the bird, declaring it delicious.
Walter Mantell, who two years earlier found the first takahe bones in Taranaki, happened across the feast and secured the skin. Stuffed, mounted and captioned Notornis mantelli, this first specimen of takahe was shipped to the British Museum in London.
From Maori on Secretary Island in Doubtful Sound, Mantell received in 1851 a second takahe skin. It, too, ended up in the British Museum, displayed next to the dodo. A third bird, caught by a rabbiter's dog on the eastern side of Lake Te Anau in 1879, was sold to the Dresden Museum, and was displayed there until Allied bombing reduced the building to ruins during World War II. On August 7, 1898, on the shore of Te Anau's Middle Fiord, a dog named Rough caught another takahe. Contrary to its name, the hound must have been surpris­ingly gentle, for this fourth specimen, purchased by the government for £250 and displayed in the Otago Museum, was the best preserved of all four.
Although hunters, surveyors and other wilderness gadabouts reported further takahe sightings—one boat crew chased a bird "the size of a goose, with blue-green feathers and the speed of a racehorse;" other correspondents referred to "giant pukakis which were good eating on tussock-tops," or "funny swampies that could not fly" but were "all but drumsticks"—for 50 years no one brought back a takahe, dead or alive. The Otago Museum takahe, the same one that eyes you through the porthole today, was thought to be the last of its kind.
Invercargill doctor and amateur naturalist Geoffrey Orbell was not convinced. In November 1948, he mounted an expedition to the remote Murchison Mountains in Fiordland. The news of what he found there stirred up the ornithological world and made headlines across the globe. A relict bird, like an incarnation of a dodo, came back from the dead.
[Chapter break]
When you're About to meet Geoffrey Orbell for the first time it's impossible not to let your imagination run ahead a little and conjure up fanciful visions of the man whose name has become synonymous with takahe. As I drive to Cromwell across the open Central Otago highlands and past orderly stands of autumn poplars losing the last of their saffron plumage, I picture an old man living in the capsule of his memories and past glory, his teeth still clenched on the pipe on which he marked the length of the takahe's footprint, back in 1948. I can hear the sewing-machine chatter of an antique film projector, its beam piercing a dark room full of pipe smoke—and on the wall shaky images of takahe, recorded witll a hand-held movie camera, bringing back to life the bird that was supposed to be extinct.
"Supposed to be extinct" was exactly the phrase Susan Orbell used when she showed her son a picture of the takahe published in a 1911 Christmas issue of the Otago Witness. At the time, Geoffrey didn't know what "extinct" meant, but the seed of a lifelong fascination was planted. As he grew older, his interest in rare birds deepened. Was takahe really gone? If so, what of the old Fiordland hunter who always carried a "golden bullet" should he come across the bird? "It might be worth four or five hundred pounds," the hunter had said. And what of the rumours and campfire tales, of footprints on beaches and in the snow?
Over the years, Orbell plotted them all out on a map of Fiordland, and he discovered a pattern: all of the captures and sightings had occurred below the bushline, and in years of heavy snowfall. No one had searched for takahe on the tussocky tops, and that is where, he deduced, the bird might still be hiding.
In April 1948, Orbell made a hunting sortie into the Murchisons with two friends, Rex Watson and Neil McCrostie. He discovered a lake that would later bear his name. He shot a stag nearby, and was dozing off in the snowgrass when he heard the call of a bird he could not identify. It sounded as if someone were whistling across the top of an empty .303 cartridge.
On the sandy beach below, he saw a trail of footprints weaving in and out of the water. He marked their length on the stem of his pipe. The footprints—as big as those of a white heron—had one unusual feature: the hallux (the big toe) was bent inwards, just like the toe of the bird in the Otago Museum. There was no longer any doubt in Orbell's mind. "Here you are, boys," he said to his friends. "We've found him!"
Scientists were sceptical, and so, on November 20, Orbell and his mates were back at the lake, equipped with a camera and 30 yards of rabbiting net which Orbell had borrowed from one of his patients. "We returned to where we had found the tracks on our last trip," Orbell related. "Suddenly … a large blue-green bird stepped out from amongst the snow tussock. No more than 20 metres away from us stood a living Notornis. My first reaction was to think how small it was. It didn't stand much higher than a pukeko. However, it was heavier and more sturdily built … with shorter, stronger legs."
After running out a roll of film, they netted the birds—by now there were two—and leg-roped them to a stick planted into the beach. When the birds settled—"just like farm hens," Orbell recalled—more photographs were taken. Then the takahe were set free, at which point they rushed off into the tussock.
[Chapter Break]
DOC" Orbell is a big man with wide shoulders and a voice that seems a little loud and harsh until you notice his hearing aid. His Chihuahua mps at my heels as he leads me to a sunny, glassed-in veranda and sits me down next to a fruiting lemon tree."Good thing you got me when you did," he says. "I'll be away in Australia for the next couple of months." Asensible thing to do with the winter upon us, I agree. Will he be visiting his family? That too, he says, but mainly it will be a 4WD expedition around the northern Queensland national parks.
Geoffrey Orbell is 90. The pipe has gone—he gave up smoking 40 years ago—and, apart from a few metres of footage in his son-in-law's possession, he doesn't know what has become of his takahe film. When I ask about the events of 1948, he seems tired of launching into another repetitive recollection, and hands me a printed account. "It's all in there," he says.
I wonder if he feels typecast—branded for life with just one of his achievements. That would be unfortunate, because there is much more to Doc Orbell than takahe.
He put himself through medical school by trapping rabbits. "If you got 30 or 40 skins a week, you were into good money," he tells me. In 1952, he surveyed and mapped what must have been the last chunk of true it wilderness in the country: the Murchison Mountains, takahe country PLORED.' We did the eastern side and a Canterbury crowd did the west. When we put the two maps together there was no room for the Chester Burn; we had an overlap of two miles." Only later, a coastal survey carried out by the crew of Lachlan showed the South Island to be two miles wider than previously thought.
For 12 years, during the red deer plague in Fiordland, Orbell was a govern­ment hunter. He was shooting so much that frequently his ears bled from the noise of rifle fire.
He has been a boatbuilder and a Scout leader, and he has visited 61 countries. The manuscripts recounting his adventures—written as a family record—could fill a large suitcase. "I've had a busy life," he says, nodding at the stack.
He may have tired of takahe, but you only need to tickle his curiosity—to hint at a mystery or point at a remote place on a map—and the young Geoffrey who was once obsessed with a supposedly extinct bird, and with the wilderness at large, comes forward to meet you.
"You see, Captain Cook named things after what he saw there," he tells me, warming to a new topic. "Cormorant Cove after a cormorant, Duck Cove after a duck, Dusky Sound after dusk, Woodhen Cove after a welca. But what about Goose Cove? There were no geese in New Zealand by then. I've been to this place—Five Fingers Peninsula, near Resolution Island. I reckon a small bush moa in tall grass could, from a distance, look just like a goose."
This thought leads him to some impromptu research and . . . a disappoint­ment. It turns out that Cook named the cove after the last of the geese that he had brought from England and released in Dusky Sound. Orbell is unfazed. There is adventure in such homework, in sifting through records and folklore, disentan­gling facts from rumours, finding a goal for another expedition. Once in a while you may take on a myth and prove it true.
"If only I wasyounger, I'd still love to have another good look around there anyway," he smiles.
And I'm sure he'd carry a net. Just in case.
[Chapter Break]
The storm struck just after sundown, driving sheets of sleet and snow, and buffeting my tent. It was impossible to sleep for the noise of fabric flapping like a torn sail, and indeed, around 2 A.M. there was a sound of ripping nylon as the ties gave in to the wind. I spent the rest of the night holding down my flimsy abode, arms bracing the walloping poles. A few metres away, photographer Rod Morris slept soundly, a pair of earplugs separating him from the noise of the storm, his tent pegged down with multiple ties, like Gulliver's head.
I had underestimated the weather, and the place. In hindsight, I could see why a four-bunk Department of Conservation but we had visited earlier was anchored down with finger-thick steel cables. I should have taken a clue from the amount of communications equipment we had lugged in with us. As well as a telemetric receiver to radio-track takahe, we had a satellite emergency beacon, a mountain radio and a hand-held walkie-talkie to call in the helicopter.
But as long as the storm lasted, no one would heed our call. Camped atop an exposed grassy knoll, on the lip of a glacial cirque that dropped down to McKenzie Burn, we were the only two people within the 500 square kilome­tres of the winter-bound Murchison Mountains. No more than a few hundred metres away, according to the receiver, somewhere under a small overhang or inside a rocky crevice, a family of three takahe were roosting, weathering the same storm, huddled for warmth among the tussocks glazed with ice.
The Murchisons, designated a special area off limits to the public since the rediscovery of the birds, stand on the western side of Lake Te Anau like a tall fortress—back against the spine of the Main Divide, three flanks guarded by deep fiords. From the air they resem­ble an archipelago of bald islands rising from the rainforest: snow-white against dark green, serrated contours chiselled by ice-age glaciers, their rock faces and couloirs never scaled by climbers.
There is a "lost world" feeling to this place, and not just because its topogra­phy echoes the shapes of tepuis, the Venezuelan "islands in time" that inspired Arthur Conan Doyle's classic. Hidden among the spires and ridges are extensive grasslands, Shangri Las that provide shelter for vanishing species.
Kakapo were once plentiful here, waddling along their network of tracks, and bone evidence indicates that this could have been one of the last hold-outs of the bush moa. Towards the end of the 18th century, the remnants of the hunted Hawea—a subtribe of the Ngati Mamoe who chose exile rather than submis­sion—found shelter in the limestone bluffs above Lake Orbell, then known as Te Wai-o-pani. From their eyries, they had Lake Te Anau in clear view, and must have kept a vigilant lookout for the waka of the pursuing Ngai Tahu. But they could not live on pride alone, and so they, too, dispersed and disappeared. All that remains is an old archaeological dig and the legend of the Lost Tribe.
The storm lasted for another day and night, and I moved into Morris's tent, for both shelter and company. For him this trip was an emotional return. Al­though today, as a natural history film producer, he roams the world from one exotic location to another, by his own admission he'd rather make a film about New Zealand's unknown zoological treasures than glamour megafauna for the masses: short-tailed bats rather than Komodo dragons. The problem is, no one will finance a film about a mouse with wings, but the Indonesian reptiles had him nominated for an Emmy Award.
It was in the Murchisons that, in 1972, Morris started his professional career as a trainee with the former Wildlife Service. As the storm raged outside, he related some of his early encounters with Notornis.
At the beginning, takahe used to be completely unafraid. All the surveying and research was done on foot, and the inquisitive birds would come and investigate the visitors, then graze quietly nearby, feeding chicks just a few metres away, unbothered, undisturbed.
But they learnt quickly. Contact with humans usually meant the trauma of repeated capture, weighing, measuring and banding—the stock-in­trade of population ecology. Tape-recorded calls of another takahe, which used to trigger the territorial instincts of resident birds and attract them unfail­ingly, began to have just the opposite effect. They fled as if the earth were on fire. Morris recalled how he once found an almost fully grown chick submerged in a mountain stream, waiting for the intruder to leave. For 30 seconds it didn't come up for air.
Today, even such unorthodox evasion tactics would not work. In many of the families there is a bird which carries a miniature radio transmitter. They can run, but they cannot hide. A helicopter-mounted receiver can find them with pinpoint accuracy.
I had already seen this bird sleuthing in operation, and its intrusiveness had left me feeling ambivalent about this research. En route to our camp, we accom­panied two takahe-recovery scientists on their annual winter headcount. The pilot flew his machine with surgical precision, finding one family after another, and from high above you could see the birds scurry­ing for cover.
But for science, locating them was not enough. Each bird had to be identified individually by the "rugby socks" colour scheme of its leg bands and wing tags. As the helicopter herded the takahe uphill—the rotor blades almost weed-whacking the tips of cliff-side bushes—the researchers strained their eyes to record the colour codes and dutifully tick them off on their clipboards.
"Green over white, yellow over metal," I heard them chatter on the intercom. "That's Geronimo!" Tick. "Green over metal, red over . . . can't quite see. Is it black? Yeah, it's black. That's Aurora." Tick.
Scientists are surely dedicated to their work, I thought, watching from the back seat, but what did takahe—acutely aware of aerial predators such as falcons and black-backed gulls—make of this red-and-white monster chasing them up bluffs, roaring like an avalanche and blowing a hurricane? Had the mission to save the birds become more important than the birds themselves? Was this type of research really necessary?
"Unfortunately, it is," Jane Maxwell, one of the scientists aboard, told me later. "We try to keep disturbance and handling to a minimum, but we must check up on individual birds and on our progress in helping them. What if the captive-reared birds we release don't pair up and breed? VVhat if they can't feed properly, and don't survive the winter? There is no other practical way of finding out. Sure, it's intrusive, but so is extinction. Which would you choose?"
Maxwell is a bush-wise young biologist with many voluntary stints on other endangered species to her credit. She spends up to four weeks at a time in the Murchisons, tracking the birds on foot. In her spare time she kayaks the Fiordland coast. In winter. But back in the chopper I knew none of that, and so I continued to ruminate on the narcissistic nature of science. "OK, let's move on to the next one!" came the voice again.
And so we did. Bird after bird, cirque after cirque, valley after valley, ad nauseam. Which was exactly my other problem: as the helicopter flitted and darted like a hunting dragonfly—roller coasting over ridges, cork-screwing out of tight slides, going backwards and sideways—I was losing the battle against motion sickness Finally, I had to reach for one of the plastic zip-lock bags, placed conveniently within everyone's reach. Containers for lost pride.
[Chapter Break]
The morning after the storm dawned clear and cold, revealing a fairytale landscape muffled by fresh snow. The door of our frozen tent unzipped like the tab on a can of sar­dines, and outside the waterfalls were silent, turned into cascades of ice. Across a frozen tarn cut the trail of a stoat, and the takahe's antiphonal calls amplified and echoed in the granite amphitheatre.
On such a day, the takahe don't seem to quite belong here, their raucous tropical colours oddly out of place in the alpine bleakness. Other birds appear much more at home. From the air I had seen the purposeful beeline tracks of a brown kiwi, cutting across steep snowfields and following exposed ridges, its claws doubling for crampons, its beak stabbing the snow like an ice-axe. Common, too, is the kea—"an exceedingly brainy parrot locked in a body that offers limited means of expression," as a Dunedin neurologist once told me. These mountain clowns are truly at ease here, taking time out from the business of survival to frolic in the snow, rolling about like a pair of puppies, or to examine the colourful gear of human visitors with a systematic curiosity that, given different circumstances, could pass for scientific zeal.
Takahe do none of that. Once settled on a territory, they do not travel great distances, nor do they take much interest in anything unless it's a threat. They just feed—all day, every day, pulling out tillers of tussock, clipping off the juicy stems and leaving the cuttings in tidy ikebana-like arrangements reminiscent of Andy Goldsworthy's environmental art. In 1974, zoologist Brian Reid deter­mined that a takahe can produce a one-centimetre-diameter "cable" of fibrous droppings eight metres long each day. Examine a segment of this cable and you will understand why the birds generate so much excreta. The droppings look like fresh green cigars (Morris told me that wildlife trainees used to dry and smoke them), composed of tussock that has just been put through the long mincer of a takahe's gut and emerged largely undigested. The problem is, there is little nourishment in even the juiciest of these tough mountain grasses. And so, driven by insatiable hunger, the birds feed as if there were no tomorrow.
Not only is their main food of poor nutritional quality, but takahe have had to compete for it with much larger and more mobile browsers. The introduced red deer has stripped large swathes of Fiordland of its native vegetation. In the 1940s, red deer started spreading across the land like bushfire, with a similar impact on the forest and alpine flora. Fortunately for the plants, the price paid for venison was good, and so the infestation soon turned into a kind of game-meat gold rush. There followed a Wild West era of hunters prowling the moun­tains for weeks on end, coming across deer herds and shooting until their weapons were too hot to touch. Then, with the advent of helicopters and deer farming, attention turned to live capture, with men leaping out of choppers to bulldog fully grown hinds to the ground—a job so inherently dangerous that the life expectancy of a deer wrestler was estimated at about three years.
By the mid-1970s, the deer population was finally brought under control. But for takahe it was almost too late. Tussock is slow to recover from heavy browsing—up to 20 years, suggests a recent study—and without food the takahe population began to collapse. By the early 1980s, there were just over 100 takahe left.
There can be little doubt that without the major conservation effort that followed there would not be a wild takahe in Fiordland today. The valleys were topdressed to speed up the recovery of the tussock, and eggs were shuffled between nests to ensure that each pair would bring up a chick, but both actions had little tangible effect. The real breakthrough came with the establishment of Burwood Bush Rearing Unit near Te Anau—a takahe "factory" stocked with surplus eggs collected in the wild.
On the inside, the unit resembles a small maternity ward, though you wear sterilised white gumboots instead of slippers. Oven-size incubators hum reassuringly, papier-mfiché "mother" takahe hang above heat-pad nests, their brooding calls played from tape record­ers, and the young are fed with a takahe puppet—a blue glove with a red wooden beak. The chicks almost never see the puppeteers.
Freshly hatched chicks are initially placed with one of six pairs of resident birds for a period of two weeks, the birds' own offspring being removed. The parents don't seem to notice the substitution, and may take a succession of these infant impostors. At about two weeks of age, all the chicks are brought into the brooding unit to be reared by the puppets. When they are seven to nine weeks old, they are switched to pelleted food and moved outside to an 80-hectare enclosure which looks like a free-range poultry farm with an electric fence and a mustelid trapline around its perimeter.
There the adult birds "teach" the youngsters how to be wild takahe. Crucial to future survival are lessons on digging up fern rhizomes, a winter staple of which the novitiates seem to have no innate knowledge. Sometime in October, almost a year after the eggs are collected, the juveniles are released back into the wild—back to stringy tussocks and cold winters. From then on their life will be a continuous test of survival. It is a test that, thanks to the remarkable efforts of the Burwood Bush personnel, the young takahe have latterly been managing to pass rather successfully. Their survival rate—up to 60 per cent—matches that of birds raised in the wild, though it depends on where they are released.
In the mid-1980s, the number of Murchison birds was on the increase, and wildlife managers thought it prudent to found another population. They looked long and hard, and in the end decided on the Stuart Mountains—similar in topography, just north and across the Middle Fiord from the Murchisons. Between 1987 and 1992, 58 captive-reared takahe were released into the Stuarts. Almost all of them vanished.
"An odd pair may still be there, but over all it was a failure, a gamble that didn't pay off," says Dave Crouchley, manager of the Department of Conserva­tion's Takahe Recovery Programme. "We desperately needed an alternative site, and the Stuarts looked ideal. But something wasn't quite right for the birds, and we still don't know what."
The Stuart site was abandoned, and since 1992 takahe have been released into the Murchisons again. By the end of 1998, the number of new arrivals will have totalled 86 birds—enough to give a tremendous boost to the population were it not for a string of unusually heavy winters in the early 1990s.
The winters here can indeed be fierce. The gorge leading to Lake Orbell sprouts tree-trunk icicles along its walls, the lake itself freezes solid and DoC staff wear heavily insulated Antarctic surplus boots. Along the southern shore there is an even more telling example: a band of mountain beech killed by frost when the lowest recorded temperature hit: minus 23°C.
The truth is, in the Murchisons takahe haven't lived very well. Despite almost two decades of intensive efforts, despite eggs and chicks shuttled by helicopters, despite weeks and months spent in the field by dedicated and enthusiastic DoC staff, the last summer headcount revealed just 104 birds. That's no more birds than during the dire days of the early 1980s when the alarm bells were first rung.
[Chapter Break]
Just how, in an evolutionary sense, did the takahe find itself in such strife? To understand, we need to first look at the takahe's closest relative, the pukeko. Charlie Douglas, the legen­dary West Coast explorer, described the pukeko thus: "It can fly, walk, dive and swim, but can do none of them tolerably well. It flies with a contorted jerky motion, but only for a short distance, alighting on any tree handy, and staggering among the branches as if intoxicated. It walks as if troubled with corns, and in running it often stumbles. When swimming it looks like a domestic fowl tumbled in a water butt and wanted some kind friend to rescue it. Its diving is still more absurd . . . it goes down, with a disordered splutter of legs and wings, coming up at once with jerk like a cork."
Despite its ungainly predisposition, the pukeko proved to be a most successful coloniser. At the turn of the century, Douglas wrote: "The swamp hen . . . appears to be one of the few birds that increase with civilisation. In some parts of Otago and Southland they were becoming a nuisance and a price was put on their heads."
At first glance, the difference between the two birds is obvious: pukeko can fly, takahe cannot. Pukeko are omnivores, takahe, except for the first two weeks, when the chicks are fed insects, are predominantly herbivores (though this may be more out of necessity than choice). Pukeko can live in large groups with the intricate hierarchy of a wolf pack, build communal nests which can contain up to 25 eggs, and mob a predatory intruder when threatened. Takahe appear to pair for life, usually lay only two eggs a year, and in the wild barely manage to bring up even a single chick.
"Takahe evolved from a pukeko-like bird, and being able to watch the two co­exist has been a unique opportunity," Steve Trewick, an Otago University zoologist, tells me. "You're looking at precursor and descendant living side by side." But what makes this duo even more interesting is the fact that the gauche precursor, which could audition as a new Disney character, is omnipresent—almost a pest—while the stoically noble, more evolved takahe is one of the rarest birds in the world.
The jester and the aristocrat. Did the latter take a wrong turn in the race for survival? If islands are indeed Nature's laboratories, is the takahe an experiment gone astray—an avian offshoot that has branched so far from the evolutionary main trunk that it is now collapsing under its own weight?
Apparently not. Given an island habitat, evolutionary latitude and (crucially) a lack of ground-based predators, swamp hens such as pukeko will evolve into the likes of takahe time and time again.
There were once takahe-like birds on the islands of Mauritius and Reunion, as well as on Lord Howe Island, east of Australia. There was also a bird almost identical to the takahe in New Caledonia.
As for our own takahe, there were, in fact, two distinct species, one from the North Island and one from the South. Maori called them moho and takahe respectively. Moho, the larger of the two and now known only from the subfossil remains, was shaped more like a pukeko: taller, flightless and not as bulky as its South Island counterpart. Given evolutionary time, it would almost certainly have become heavier and more takahe-like. It never got the chance.
In the autumn of 1894, a surveyor named Morgan Carkeek, working in the north Ruahine Range, caught and brought down such a bird. He took it to the home of one Roderick McDonald of Horowhenua, where local Maori identified it as a mahoau. The arrival of the bird was such an event that it brought in a pilgrimage of Ngati Muaupoko elders. There is no record of the bird's immediate fate, but its skin and feathers were kept in the homestead for many years. No moho was ever seen again.
Another difference between moho and takahe has recently come to light, thanks to DNA analysis conducted by Trewick. The two birds were genetically quite divergent—more so, for example, than moho and today's pukeko, which are genetically very close. What Trewick postulates is that moho and takahe did not diverge from a common ancestor once the land-bridge connecting the North and South Island had submerged in the wake of an ice-age meltdown. Rather, that moho and pukeko had a common ancestor in Australia, while the takahe, which is genetically closer to South African swamphens than it is to either moho or pukeko, traces its lineage back to a different ancestor—perhaps one which flew here from South Africa. In other words, on neighbouring islands, but independ­ently from each other, two separate waves of swamphen migration took the same evolutionary path to become a bird we today label as takahe.
"Evolution shows us that if something happens once, it can happen again, and the parallel evolution of the two takahe is not an isolated incident," Trewick says. "Take the Rodrigues and Reunion solitaires, from the Mascarene Islands, east of Madagascar. Like moho and takahe, they were thought to be the same bird, but in fact they evolved independently from a similar ancestor, a pigeon. Closer to home we have the case of the giant coot—one on the mainland, the other in the Chathams."
The evolutionary path taken by both moho and takahe, towards flightlessness and large size (gigantism), has been the one favoured by numerous birds on isolated islands where mammalian predators were absent: moa, kiwi and kakapo, the elephantbird of Madagascar, dodo and solitaire of the Mascarenes, giant owl of Cuba and ostrich-like mihirung of Australia, to name just a few (see New Zealand Geographic, Issue 37.)
But giving up your wings is a risky venture—a one-way road with not enough room to turn around. No bird has ever evolved the other way, changing its mind, as it were, and regaining its ability to fly. When humans arrived in New Zealand, letting loose such a pandemonium of pets and vermin that the avian Eden became awash with bloodthirsty predators, for birds like takahe the road to flightlessness suddenly turned into an evolutionary cul-de-sac.
[sidebar-1]
Birds which find themselves in this predicament are termed "ecologically naive." Having never encountered mammalian predators such as rats or mustelids, they don't know how to react when one comes along. During a 1913 trip to Big South Cape Island, off Stewart Island, naturalist Herbert Guthrie-Smith reported that the nearly flightless Stewart Island snipe was so unafraid it could be stroked as it brooded its eggs. Fifteen years earlier, Charlie Douglas had noted concerning kakapo: "Although so formidably looking, [it] appears to have little idea as to how to defend itself against dogs, ferrets or men. . . . If the bird only knew its powers, it wouldn't fall such an easy prey [to] stoats and ferrets. One grasp of his powerful claws would crush either of those animals, but he has no idea of attack or defence."
Add to this naivete the fact that some predators—half-feral mongrels and stray cats, well-fed but perhaps bored, feeling the "once-we-were-hunters" genetic itch—go on hunting sprees, killing not for food but for sport, and the plight of the flightless becomes even more extreme. Some years ago, a pair of Barrytown farm dogs killed 80 earthbound juveniles of the burrow-nesting Westland black petrel—probably most, if not all, of one subcolony's chicks. In 1987, a feral Alsatian mauled some 500 northern brown kiwi before finally meeting a bullet. This level of annihilation could endanger even populations which are relatively stable; for a species balancing on the brink of extinction, it could be the final push.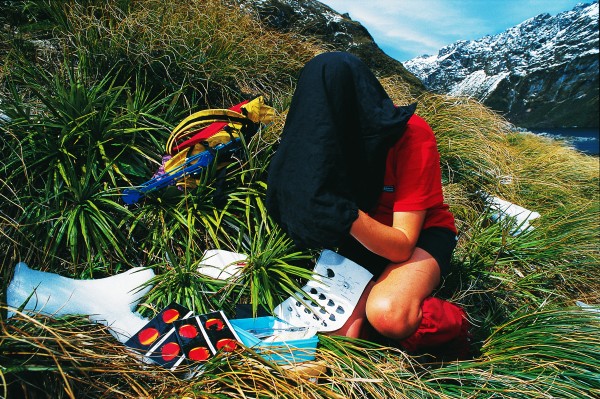 Flightless birds are up against formidable foes. Take the stoat, for example. Agile and ferocious, it can swim over a kilometre, can hunt eels if it chooses, and is a prolific breeder. Within its home range of 100-200 ha it is a top-of-the-food­chain killing machine.
A hunter once told me how he came across a stoat while duck shooting: "I gave 'im a 12-gauge charge at close range, no more than eight metres. It rolled 'im ass over kettle, like a rag, but 'e got up and started running away. So I gave 'im the other barrel. It rolled 'im again. And still, with all that lead in 'im, he got up and ran. I thought, 'Man! This thing deserves to live!' They're bulletproof, indestructible."
Clever, too. The national average for stoat trapping is one kill for every 200 trap-nights. Geoffrey Orbell remembers how, during a fishing trip to the Eglinton Valley, a freshly caught trout was hung on a horizontal wire stretched between two trees. Some time later, the fishermen saw their quarry swinging widely but in an odd slow-beat rhythm. Then they saw the stoat: climbing up a tree, leaping across to grab a flying bite from the fish, dropping to the ground, climbing up the tree. Again and again.
Wildlife film-maker Peter Hayden recalls: "Once we were filming scientists radio-tracking stoat, and we had one of the critters tranquillised and fitted with a radio transmitter. The tranquilliser was wearing off and the stoat began to wake up. Its legs were still numbed, so it couldn't run away or even stand, but it reared up like a cobra and gave us a most evil look, a look of hatred that made you cringe. Then it just slithered away, like a snake, dragging its limp feet. In all my days of working with animals, it was the creepiest thing I've seen."
It seems an apt metaphor, because for most of our native birds the arrival of such a serpent has meant expulsion from an avian paradise, a slow but irrevoca­ble banishment towards extinction.
With its habitat disappearing and predators encroaching, the takahe—a bird of forest margins, never numerous but once reasonably widespread—began to live an increasingly marginal existence. It found a temporary refuge in the lost world of the Murchison Mountains—ranges that look more suited to a mountain goat than a bulky flightless bird. When you watch them blundering around in deep snow, or when you see the hardy mountain beeches that died of frost, it makes you think that, perhaps like the moa and the kakapo, and like the Hawea people, takahe found themselves in this harsh and inaccessible terrain because they had nowhere else to go.
[Chapter Break]
On the island of Tiritiri Matangi, off the end of Auckland's Whangaparaoa Peninsula, takahe prowl the edges of refor­ested pastures as unafraid and indifferent as a domestic fowl. I see my first bird, a female namedll, on a ridge near the lighthouse. In Maori, Tiritiri Matangi roughly translates as "buffeted by the wind," and, grazing near the island's highest point, JJ looks appropriately ruffled. Its feet are red, as if eternally cold, and it walks with a slow robotic strut, yanking out grass shoots the way a gardener might strain to pull out an oversized parsnip, sometimes almost falling over backwards.
Unlike the Murchisons, Tiritiri Matangi—one of the 47 islands in the Hauraki Gulf Maritime Park—is an open sanctuary, meaning that anyone can visit. From 1854 on, the 220 ha island was a sheep farm and, except for a few inaccessible gullies and the rocky coastal strip, it was razed of its forest and turned into one big paddock. But in 1984, the tide turned. A nursery was estab­lished, annually producing 20,000 saplings from seeds gathered on the island, and, in an extraordinary voluntary effort, some 200,000 trees have been planted: flax and cabbage, pohutukawa and karo, taraire, kohekohe and puriri. Rats were exterminated and small streams dammed to create pond habitats.
Then, into the regenerating and predator-free forest, birds were released—refugees from the mainland and transplants from other island sanctuaries: saddlebacks and brown teals, whiteheads and red-crowned parakeet, five pairs of little spotted kiwi and several takahe.
Piece by piece, a sketchy replica of a prehistoric ecosystem was recreated. Today, walking through the Tiritiri forest is like stepping back in time. Within minutes of turning down a gravel track I see my first-ever saddleback, preening on a coprosma bush. Another one lands on a storm-soused branch above my head and showers me with droplets of rain. I see three kokako feeding on houpara leaves, holding them with their feet parrot-fashion, balancing on gangly legs that are ringed with coloured bangles. I am told that the kokako nearest me, banded red, yellow and green, has been nicknamed Bob Marley. The trio make up exactly a half of the island's population.
"We are not a zoo, although some people refer to us as such," says Barbara Walter, the island's custodian, as we sit on the hill under the lighthouse, watching container ships plying the gulf. "Here the birds are free, in their natural habitat, and it is the visitors who are confined to tracks and boardwalks." Tiritiri Matangi is more of an island garden, a living museum, with visitors as voluntary housekeepers and the sea for a security guard.
Such an environment allows an opportunity to study the birds on a day-to-day basis—a luxury that is almost impossible in the wilds of the Murchisons, where every trip is an expedition. As a result, new insights into the birds' behaviour and habits have been gleaned. For example takahe were always thought to be vegetarians, but on Tiritiri the details of their diet have been precisely determined. It turns out that although the great bulk of their diet is grass, clover and seeds, the birds spend 6 per cent of their time foraging for invertebrates. They have been seen pursuing sandhoppers on the beach, looking under small logs in streams for aquatic insects, digging for worms in the bush, snapping up craneflies and cicadas from around the bases of cabbage trees and other shrubs—one even broke off a small branch to get a cicada that was out of reach.
The birds' carnivorous appetites have sometimes caused consternation. "We had a Forest and Bird group here," Walter recalls. "You should have seen their faces when we came across a takahe gobbling a fantail, a wing on either side of its beak, tail spread like a hand of cards!"
Nor are the birds as placid as had been imagined. Come breeding season and takahe turn fiercely territorial, fighting out border disputes by locking their crab-pincer beaks on to the opponent's cheek and yanking hard as if trying to pull each other's heads off. A three-kilogram bird can exert a 10 kg pull, and so the injuries are frequent and often serious. On occasions, Barbara Walter and her husband Ray have acted as paramedics.
One morning, after hearing the dawn chorus performing at full volume, I join Ray on the daily patrol, bouncing along the network of maintenance trails spanning the island on the back of a quad bike. Ray, an ex-lighthouse keeper with a white Papa Hemingway beard, has lived on Tiritiri for the past 18 years, and conditioned the birds to show up for a headcount every morning. Their appearance is rewarded with a handful of pellets, and the handout also attracts other opportunists: a mob of pukeko follow the bike, running fast, flapping their wings for an extra boost of speed.
We don't see many takahe. Ray suspects that due to a mild winter they have already started nesting. In any case, Tiritiri research indicates that the bird's preferred habitat is neither open grassland nor bush, but areas where shrubs and grassland form a mosaic, and where birds can easily duck out of sight under a bush. Perhaps hawks are a natural predator.
Back at the ranger station, we come across the "lighthouse gang," a family of three takahe that took possession of a territory that includes all of the island's buildings. They like the attention of the visitors, and even more so the food pellets that come with it. But I am the only visitor here today, and I'm not offering fast food, so they fend for themselves, scratching about the lawn, yanking out roots.
I watch one bird pull out a particularly juicy morsel, which, after the recent rain, must seem too soiled for immediate consumption. Instead, the bird carries it to a large tray-shaped bath and dunks it in the water, shaking vigor­ously, the way you'd wash a lettuce. It regards the titbit studiously at leg's length, and, dissatisfied, washes it again before eating it.
Although at first glance Tiritiri seems to be paradise regained, the arith­metic of extinction is deceptive. Ray explains. They have 20 takahe on the island, but only four breeding pairs. Of those four, one produces consistently infertile eggs. Another pair, awkward as they are, break their eggs while swapping the nesting duties. The other two pairs produce, say, three chicks. One is snatched by a gang of pukeko, another one by an eel, the third dies of an infection. The net growth of the seemingly healthy population is zero.
"Such mortality is perhaps perfectly natural, and not higher than in any other species," he says, "But if you have so preciously few birds that you know them all by name, the death of any single one of them is a major loss."
Before leaving the island I treat myself to a CD of native birdsong and make a mental note to use it with a timer as a morning wake-up call. Like island sanctuaries, it is a substitute for the real thing. On my last evening I again sit under the lighthouse, watching clouds lit by a nearly full moon sail across the sky. Somewhere in the forest a little spotted kiwi shrieks. The light flashes every 15seconds, scanning the horizon like the arm of a clock, count­ing out time, beaconing safety.
[Chapter Break]
The establishment of takahe populations on offshore islands was a gamble, just like the Stuart Mountains experi­ment, says Dave Crouchley, but, luckily, this one paid off well. There are now some 50 birds protected in this genetical safety cache on Mana, Maud, Kapiti and Tiritiri. The success of the island project has led to speculation that perhaps the birds should not be released into the Murchisons at all.
"Let's face it. Takahe are basically just big pukeko. They like the sorts of place pukeko like, except they can cope with tougher conditions. That's why they manage to survive in the Murchisons," says Steve Trewick. "But if we are to provide the best possible habitat and conditions for them, I don't think is to be found in Fiordland.
"There is this great ideologically correct emphasis on preserving them in their natural habitat. But just how 'natural' is any habitat today? We've brought in possums and rats, stoats and weasels, deer and weeds—we've modified the land. Now we expect a vulnerable bird on the verge of extinction to live in a habitat where almost nothing else can! I'd rather see them in safari parks or on islands—even as tame birds—than as moth-eaten museum specimens."
He may be right. The island population is growing, albeit slowly, while the Murchison one hangs in limbo. All told, there are fewer than 200 birds, and they all require continuous intensive care. Crouchley puts it soberly: "You can argue whether Fiordland is an ideal habitat for them, or whether the islands are better. I believe the birds can survive well in both places. But the fact remains that the Murchisons contain our only wild population, and we have to keep it as long as we can. For now, our aim is to breed up enough birds so that we have the problem of where to put them." Extinction after all, is a numbers game.
The Otago Museum mausoleum is by no means complete. What of New Zealand's giant penguin, a bird which stood tall enough to look you eye-to­eye and was almost twice as heavy as a featherweight boxer? What of the false-toothed pelican, with a five-metre wingspan? The flightless goose and duck and adzebill, Eyles' harrier, and the world's largest eagle, the Harpagornis?
We don't miss them much because, like the Quetzakoatlus—a giant pterosaur, a model of which hangs in the museum's foyer like a scaled-down jetfighter—they belong to the distant past. It is much harder to accept the disappearance of contemporary species, plentiful in recent memory, numerous yesterday, now on the edge of the evolutionary abyss.
There are just over 50 kakapo left in the world; each one has a name and a radio transmitter. The entire population of black robins was once down to five. The dawn chorus of tui and bellbirds that woke Geoffrey Orbell during his Fiordland expeditions is gone, and the bush is silent like the morning after a funeral. The piercing call of a kiwi is still heard in the country's patches of wilderness, but the field staff labouring at their preservation warn that this is nothing to celebrate—that with 95 per cent of the chicks falling to predators within the first three weeks of their life, what we hear could be the final Mayday call of an ageing and moribund population.
Eight more takahe chicks have been released this year into the Murchison Mountains, some of them by Geoffrey Orbell on the 50th anniversary of his rediscovery of the bird. Cartons lined with newspapers were flown in and opened, and the birds scuttled into the tussock, ambassadors of hope return­ing to the homeland they have never seen.
Dave Crouchley tells me that, given a run of not too harsh weather, the birds will be fine. I want to believe him. Neither we nor the Murchisons need the story of another lost tribe.