Red zone
Entire suburbs were 'red-zoned' after the 2011 earthquake in Christchurch. Even now, the fate of these properties and the few residents still wrangling with authorities remains uncertain. Welcome to purgatory.
Blunk was here as was Rowley and Nuff. Their tag names are scrawled across a battered landscape of plywood glazing, derelict garages, jem­mied doors, flagging guttering, weeds, pot­holes and roads that pitch and tilt. This is the red zone, a 630-hectare swathe of resi­dential land cutting through the riverside suburbs of eastern Christchurch and spreading into small beach settlements to the north, parts of Kaiapoi and pockets of the Port Hills. Street names that once described the appeal of these areas now explain their demise: Wetlands Grove, Avonside Drive, River Rd, Estuary Rd, Penguin Place—some 7860 properties on land deemed too damaged, too vulnerable, for "practical and timely repair".
As families leave, the demolition crews arrive. These addresses will simply vanish from the city map.
"Communities have gone or dissipated or split in half," says Evan Smith, a former resident of a red-zoned street, now co-chair of the Avon-Otakaro Network (AvON). "There used to be whole communities of people using this river space: whitebaiters, people biking or walking their dogs. It was a whole social corridor—that is what has been taken away."
Now, he says, it is a scar right through the heart of the east.
"It is quite tough to go down there now and not be upset by it."
After the first earthquake in 2010, dam­aged land was considered repairable, explains Roger Sutton, head of the Canterbury Earthquake Recovery Authority (CERA). "We were going to be able to fix it—build the land up, stop the lateral spread. Then the February quake happened and it was clear that any remedial works were going to be bigger, take longer, and cover a much larger area. And the infrastructure was very badly broken."
A traffic light zoning system was adopted: Green—good to live in; orange­ wait and see; white—assess landslip and rockfall risk; and red, believed to be the worst affected areas where land remedia­tion and rebuilding would not occur in the "short to medium term". Orange- and white-zoned properties have since been zoned red or green.
Sutton says that the criteria for the zon­ing decisions included a range of concerns. "It was that combination of things: the cost, how long it was going to take, and future susceptibility to damage."
Sutton's sixth-floor office looks down on a comparatively sterile central business district. Visitors wander through the pop-up retail centre, take photos of the damaged Anglican cathedral, trail across a new rash of carparks. Red Zone Tours tout the residential red zone as "Three Hours of the Most Amazing Earthquake Sights You Will Ever See", though many residents avoid these dam­aged suburban streets. Just 15 minutes' drive from the central city, they seem too surreal, too appalling, simply too sad.
[Chapter Break]
In a quiet cul-de-sac, at the end of a blue temporary water pipe, Lisa and Richard McGlashon are preparing to leave their red-zoned home. Their house was among the first 5000 properties to be red zoned in June 2011, though it looks remarkably intact. Since then, their neighbours have left, the road and footpaths have deterio­rated and houses have been cleared, leav­ing a treehouse, a row of agapanthus and a marker for a pet's grave as the only remind­ers of the families that once lived here. Lucas, three years old, shows me the cracked patio. He was just three weeks old when the earthquake shattered the drive­way, cut off power and sewerage and cov­ered the lawn with water and liquefacted silt. For him, this embattled landscape is normal. For Lisa, it is unlike anything she has experienced.
She empties the chemical toilet into the collection tank on the roadside, weeds the lane, collects walnuts and self-sown silver beet, and moves outdoor furniture around neighbouring properties so prowlers will think the houses are still occupied. This just five minutes from a bustling mall, a workaday world utterly divorced from burst water mains, Portaloos, fractured foundations—and looters.
"People do break in," says police superintendent Andy McGregor. "They damage things, tag, use empty houses as party houses. There is a small number of arsons but it is not rife."
The main problem, he says, is the increased perception of crime.
From a night-time patrol car the red zone looks even more derelict. Nature has moved in. Rats, possums and family cats turned feral are creeping into the emptying streets. Once carefully tended front gardens now harbour an invasion of fleabane, mallow, dock, convolvulus. In the absence of lawn­mowers and weed-management, says bota­nist Colin Meurk, pest species such as blackberry and ivy are flourishing, as are juvenile forests of birch, yew, sycamore, kar­amu, pittosporum and cabbage trees.
Alley lights pick up broken windows, beer bottles, spray cans and hot-water cyl­inders stripped of copper plumbing—a story of after-dark vandalism, squats, par­ties and residential anxiety.
Across the red zone—even in bordering green-zoned areas—organisations report increasing health issues and isolation, particularly among the elderly and those with disabilities. Shattered roads hamper travel, the local shop has gone, churches, community centres, workingmen's clubs and libraries have been pulled down and bus services have been re-routed. In August, NZ Post stopped postal deliveries to the red zone, citing concerns for its employees arising from unsafe roads and footpaths.
Mothers with pre-schoolers similarly describe loss of social contact and fear of prowlers as well as difficulty negotiating pushchairs over broken or flooded streets. Andrea Hunt's family is one of six left in her Avonside street. Weekends are quiet, her close Plunket group has dispersed, her road is now a "gravel pit".
"It's like a war zone. Every day, you see more houses fenced off—we've had lots of people snooping around."
Every week she takes her two children, Ahlia and Ethan, to the Casa dei Bambini preschool, a small, surprisingly intact hub of activity overlooking the sandbagged banks of the Avon River. In the immediate aftermath of the February 2011 earthquake, the preschool lost one-third of its roll. A further third left over the following year. Still, the preschool stayed open—a sliver of normality for the children and a vital social hub for parents. Now, despite the battered streetscape and the constant movement of the digger in neighbouring properties, the roll is full as families who once lived in the area now travel from as far away as Ohoka, Amberley and Rangiora to re-establish old routines and community links.
"We have put everything into this building," says manager Kathleen Gisho. "We have our own sewerage system, we fix the odd crack."
And they are in no hurry to move. While they are still working through "insurance issues", the building is functional, the children happy.
Increasingly, however, that function­ality—of communities, of streets, of houses—is declining. In a new street close to a wetlands reserve, Dale Racz no longer walks her daughter to school. The road floods, the kerb has all but disappeared, and the traffic, as in most of Christchurch, is heavy. After the earthquakes, her neighbours came together for advice, comfort and regular barbecues—rapidly defrosting freezer food had to be eaten­ but now that over-the-fence support is unravelling. People have left, garages have been trashed, houses have been demolished.
Although Racz's property was not red-zoned until August 2012, she and her partner, Marshall French, were given the same deadline—July 31, 2013—as the first batch of red-zoned property owners to hand over the house keys once they had accepted the Crown offer to buy them out.
"[Prime Minister John] Key said no one would be disadvantaged, but we didn't get nearly enough to buy," says Racz, whose family opted for a self-managed new build. "Property prices were going up and there was nothing to rent, especially with pets. And this house is still liveable!"
A month before their deadline, they were granted an extension, but only after a request from CERA to "elaborate" on the stress they were experiencing.
"We'd be awake at 2am worrying about everything. The kids were getting anxious, cars were being broken into. It used to be so beautiful, and now everything is so derelict."
While young families, the elderly and the sick are vulnerable, the most fragile demographic is middle-aged men "who would never consider being depressed or going to a doctor or a counsellor but who feel the weight of that financial burden", says Leanne Curtis, relationships manager for CanCERN, a network of community group representatives from the earth­quake-affected neighbourhoods. "Those middle-aged men have been the most frightening and fragile group. They don't get help, they just go under."
The problem is a combination of loom­ing deadlines and an overwhelming sense of powerlessness.
"For most of them their house is their biggest asset, yet they've been asked to make decisions without having all the information—they have been asked to invest blind or over-commit in terms of a mortgage."
With the pronouncement of the red zone, affected owners were given two options: sell their land and house to the government for the 2007 rating valuation (RV), or sell only the land to the Crown at 2007 RV and negotiate a price for their house with their insurance company.
Like the liquefacted material that bubbled up into many of these properties, the shades of grey have been quick to appear. Those taking option 1 can contest the 2007 valuation if the total floor area of their building had been increased by more than five per cent or if consented building work had increased the building's foot­print. General redecorating, even com­pletely refurbished kitchens or bathrooms, has no impact on the offered price.
For many, option 2 seems a better choice. If a house is deemed to be a total write-off—75 per cent of properties in the red zone, says Sutton, are rebuilds­ insurance companies will pay the replacement value. But in an extraordinary and apparently legal leap of logic, if the house is later assessed as repairable, insurance companies need pay only the cost of repair, even though the red-zone status renders repairs futile—the house will be demolished in any case.
Some, says Robin Ashton, a lawyer at Community Law Canterbury, got a windfall. "If your three-bedroom 1950s house with a market value $400,000 is a write-off, you could be paid $500,000- $600,000 in addition to the RV for the land to buy something somewhere else."
Others were crushed. Ashton gives the example of a young couple who had bought a house two years before the earthquake. It was only nominally damaged and the RV doesn't even cover the mortgage. Their choices are few: a larger mortgage, a smaller house or a long-term and increasingly expensive rental.
Some homeowners have entered into a long and often expensive process enlisting engineers, lawyers, even the Insurance and Savings Ombudsman, to have their house deemed a rebuild rather than a repair or to argue for a higher insurance payout in order to buy a like-for-like property elsewhere. But even the legal profession finds the laws relating to the earthquake recovery process confusing.
"It is a hodge-podge of quasi-legislative amendments and regulations that result in an ambiguous and confusing frame­work," says Ashton. "Even the advice is sought in desperation—I don't see how people had the opportunity to make their decisions with any quiet, considered thought on the matter."
"That is why I get so angry when CERA says people have taken this opportunity and moved on with their lives," says Curtis. "They've got no idea."
[Chapter Break]
Moved on. It's a recurring phrase. A 2011 Cabinet paper describes the land zoning as a way to allow landowners to "move on and make decisions about their future".
"That is the point of the red-zone offer," Sutton explained in a media release, "to help people start again after the devastating earthquakes."
Some can't wait to go. Kim and Trev King's family are one of only three households left in their red-zoned street.
The road is buckled, houses are tagged, front gardens are covered with dumped rubbish and many of the houses have been burgled. Inside the Kings' home the doors in the kitchen—refurbished just before the earthquakes—don't close, curtain tracks sag. It is a house waiting to be abandoned.
Two years ago, they bought a 10-acre block where they are now building a home and a very different life. "We'll have our own vegetables, our own meat and our own sewerage system and water supply. I don't ever want to be without water or toilets again," says Kim.
For many others, "moving on" is not so easy.
On a grey Sunday afternoon, some 30 people hurry up the drive of an unexciting 2.5-bedroom 1970s house. Soon they will be shuffling through the rooms in stock­inged feet, measuring out imagined furni­ture, talking costs, alterations, repairs. Hopes are high, competition tough. In April 2008, there were 7287 real estate listings in Canterbury. In July 2013, there were 2676. Prices have responded accordingly­ this house, modest as it is, is expected to sell for $200,000 over RV.
Every weekend, artist Grant Takle and his wife, Bronwyn, join scores of other Cantabrians doing the rounds of new open homes in search of an affordable replacement for their large red-zoned home and art studio.
"We're in permanent limbo," says Grant. "We have paid four times to go to auction—agents know us by name. We can't go into a new subdivision because you can't put a studio on it and prices keep going up."
In their kitchen, shelves are piled high with colour-coded folders full of Earthquake Commission and CERA notifications, property reports, builders' plans and correspondence with their insurers—a paper trail of real estate searches and ongoing attempts to be offered a level of compensation commensurate with those not in the red zone.
"We felt we had no option but to accept the government offer without losing more equity," says Takle. "But each institution­ CERA, EQC, insurers—has denied, delayed and deflected and often do not even reply to our communications. We go over and over the same turf. It's very muddy turf."
Says Bronwyn: "People say it was a one-off, an unprecedented emergency, that this is what you have to do, suck it up. But we are going backwards, not forwards­ financially and in our whole way of life. We've lost $80-100,000 from market value. We could have subdivided. We could have rebuilt on this property. We're fighters, and we are trying to be positive, but they are wearing us down.
"The problem is, I love it here."
As with much of the residential red zone, the Takles' property has a winning combination of affordability and proximity to the city, river and beach. Sutton agrees that finding an equivalent for such homes is difficult.
"A lot of these people might live in a run­down house with a great view near a river where they can walk their dog—lifestyle in spades. Something with two ensuites and walk-in wardrobe has very limited appeal."
Even if the budget did stretch to one of the many new subdivisions colonising the surrounding green fields, exchanging a well-established community for a large house behind a tall fence and front-yard garage may not, says Smith, constitute "moving on".
"A lot of people are grateful to be out, but for others, home is very much their turangawaewae, the place where they belong. Many have struggled settling into new communities."
Having left her red-zoned city home for a house in Waikuku Beach, Curtis agrees. "We've been out for 18 months and my daughter hates it. She would rather pitch a tent in Avonside. Our boys still come into town to play rugby—you don't switch your routines that easily. It was the loss of routines that was so traumatic anyway."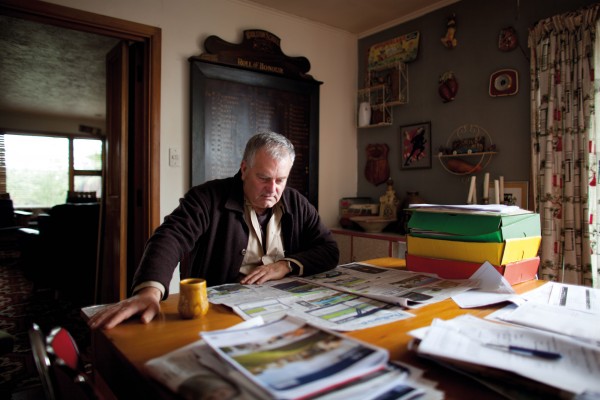 Earlier this year, garden guide and writer Diana Madgin and her husband, Bill Willmott, left their red-zoned neigh­bourhood of 35 years for a new house in the suburb of Heathcote. Now, as the decorators complete the interior, she describes a sense of loneliness and an absence of all that was familiar.
"You turn around for things in your head and they are not there, things that are dear to you or that are part of your stability."
She talks about the large garden they left behind, the chickens, the sound of school children in the morning, potluck dinners with neighbours and the shared care of more vulnerable community members.
"It's the ordinariness of life that held you to a place and profoundly affected your well-being. And no one knew that until it was gone. When a well-knit community which has the well-being of the people in mind is split asunder, it has serious consequences. People belonged here. Belonged—that is such a powerful word."
David Thorns, emeritus professor of sociology at the University of Canterbury, talks of social capital, that collective infrastructure built over time through car pools, shared meals, looking out for each other's children.
"It's that deep sense of belonging to a locality. It is one of the ways we construct who we are, even in a global age. Once destroyed, it is very hard to rebuild."
It is these considerations—social as well as financial—that property owners have had to take into account, often under pressure, often without the information they require to make a considered decision. "People just didn't know what they were grappling with," says Lawrence Roberts, creator of the influential Avonside blog.
Some jumped in quickly, some deliberated. Others simply said no. After all, the Crown offer is just that, an offer. So far 124 red-zoned property owners have declined it.
Such a decision is not for the faint­hearted. CERA's information to red-zoned property owners states that, if the Crown offer is not accepted, insurers may cancel or refuse to renew insurance policies and the council and other utility providers might "reach the view that it is no longer feasible or practical to continue to maintain services to the remaining properties".
The City Environment general manager at the Christchurch City Council, Jane Parfitt, says that, at this stage, the council has not considered the future provision of services to the residential red zone. "Water and waste services are being shut off to properties that are owned by the government and have been vacated," she writes in an email, "but the council continues to provide services to properties where people are living."
But for some the stakes may be higher than that. CERA states that, if it decides to use its power to require owners to sell their property to the Crown, compensation could be "substantially lower" than the current offer. Unlike the Public Works Act, which requires compensation for acquired land to be based on market value before acquisition, the Canterbury Earthquake Recovery Act determines compensation at the date of acquisition. In the Christchurch residential red zone, with its damaged roads and infrastructure, even the emotive name associated with the temporary inner-city red zone, this value has dropped—not as a result of the earthquakes, says red zone "stayer" Ernest Tsao, but as a result of the zoning decision itself.
"Why did it become a grim, sad place? Because the government made it so. The government ghettoised entire neighbour­hoods and it should be held responsible for these problems."
Tsao is spokesman for Quake Outcasts, a 68-strong group of owners of vacant, uninsured and commercial land fighting a Crown offer of 50 per cent of the RV of land only. The Crown made this offer on the grounds that, without insurance, there is no EQC cover, even though vacant land cannot be insured in New Zealand (even if you wanted to) and, as Tsao argues, it is not the fault of property owners that EQC levies are collected through private insurance premiums rather than rates or taxes.
Under this offer Tsao would receive $100,000 for his relatively unscathed uninsured property worth more than $650,000.
"If the government decided a whole street needs to move because it is widening the road, under the Public Works Act it has to pay a fair price. It has nothing to do with insurance. So why is this instance any different? Insurance shouldn't be a factor when the government decides to retire entire suburbs from residential use."
Those interviewed for this story gave dozens of reasons people were not insured at the time of the earthquake: the grandmother whose husband died the year before didn't know there was an insurance premium to be paid; the young couple organising a new insurance package that left a four-day uninsured gap during which the earthquake happened.
Rex Gibson, manager of the Christchurch Migrants Centre Trust, says a high proportion of the city's new migrants (300 refugee families lived in the city's eastern suburbs) were not insured. "Insurance isn't part of where they came from. A lot of migrants have taken a total loss."
On the northern bank of the Waimakariri River mouth, amid the wild beauty of Kairaki Beach, Ann Worthy and Tim Stephenson live in a two-storey house and studio they designed themselves just metres from the coast.
They have contents insurance, business insurance, but no house insurance.
"The insurance is in the design," says Worthy. "We don't have any damage—the house has made it through 12,000 earthquakes without a superficial crack. It's safe, it's warm—why would we feel the need to go somewhere safer? I don't think there is another place that is safer."
When much of the main street was red-zoned in 2011, the couple were offered $64,000 for what would cost an estimated $1.5 million to build.
In a letter to the Christchurch East MP at the time, Lianne Dalziel, Canterbury Earthquake Recovery Minister Gerry Brownlee defended the 50 per cent decision, stating that to offer full compensation for uninsured damage "would be unfair to other Red Zone property owners who have been paying insurance premiums, and create a moral hazard by potentially eroding the incentives to insure in the future".
That argument is "breathtakingly stupid", says lawyer Grant Cameron, who is acting on behalf of Quake Outcasts in a judicial review challenging the 50 per cent payout and the legality of the red zone itself.
"Are you going to look at your $1500 premium that has gone up $500 because of the Christchurch earthquakes and say I'm not going to pay it next year because some time in the next 100,000 years there may be an earthquake of such monumental force that the damage to the land makes it uninhabitable and which may cause the government stepping in to buy my property—and I'll forgo the fire, theft, burglary cover which is a much bigger risk? It's complete fiction."
Owners of vacant land feel similarly outraged.
Red Section Owners Group spokesper­son Andrea Newman and her partner sold their family home a week before the earthquake in preparation for building on their new section on the Port Hills. As red-zoned land, it is now worth only half the RV. Even if they wanted to accept this offer they could not, as zoning decisions on the Port Hills are under review. They can't sell, they can't "move on", and they are still paying rates to the council. It's ironic, says Newman, since the rockfall risk that war­ranted their red-zone status is due to rocks on neighbouring council-owned land.
At the same time, those who had begun building when the earthquake occurred were given 100 per cent of land value, even though full house insurance doesn't kick in until a house is signed off and interim contract works insurance does not include an EQC component.
Roger Sutton says the 50 per cent offer is "pretty good".
"In other natural disasters people on vacant land have got zero for their land when it became worthless. Part of the thinking, too, is that where you live actually counts on where your children go to school, it's where all those links are, so it's more than just a financial thing. A vacant piece of land is a vacant piece of land."
But most vacant section owners, says Newman, were families, investing in their first property or planning for their retire­ment, "not commercial people buying a piece of land and trying to flog it off for profit".
Just over 25 years ago, Lee Osborn and her partner bought a 500-square-metre section next to their house overlooking the Avon-Heathcote estuary, with a goal to build a home for their retirement.
"I did all these extra shifts to pay it off and secure our future. We pay insurance­ we insure our house—but you can't insure bare land."
The Red Section Owners Group has petitioned Parliament for a 100 per cent RV payout for vacant land—a cost to the Crown, says Newman, of an estimated $10 million over and above the $1,384 million it has already spent buying up red-zoned homes.
In the meantime, the High Court hear­ing of the Quake Outcasts case has found that the 50 per cent offer by CERA was not made "according to law" as such payment "will not enable many property owners to make a fresh start".
In his ruling, Justice Graham Panckhurst directed Brownlee as minister and Sutton as CERA chief executive to "reconsider and reach a new decision to purchase the applicants' properties, such decision to be made in accordance with law". The Government immediately announced it would lodge an appeal, which was, at time of writing, due to be heard in Wellington on 23 October.
Should vulnerable land known to be at risk of flood, such as the badly hit Pacific Park development in the suburb of Bexley, ever have been developed in the first place? The 2012 Canterbury Earthquakes Royal Commission report identified weaknesses in council zoning processes, although they were sufficient to meet legislative require­ments of the day. And while liquefaction over large areas of the city was not surprising given the high ground water table and relatively loose soils, the severity and extent of that liquefaction were both unexpected, unprecedented and irregular.
If you look at the red zone case by case, says University of Canterbury civil and nat­ural resources engineer Professor Misko Cubrinovski, you might have 80 per cent of houses that do need to go and 20 per cent that could stay. "But if that 20 per cent is scattered around the red zone, you have to provide services and make a coherent community and that is very difficult."
It would also be two or three times more expensive, he says, to remediate the land if houses and homeowners are still there. "From a flexibility and cost viewpoint, I would say the red zone makes the most sense."
[Chapter Break]
The ground shakes, dust fills the air as a digger picks with a strange delicacy at freshly painted windows, timber joists, sheets of roofing and roughcast walls to expose a bedroom, a hallway arch, a brick chimney. With a loud crashing bite the front of the roof is gouged out, leaving a satellite dish balancing precariously on the remaining iron. Last to go is the garage, an old basketball hoop still attached above the door. Beside it, a clump of daffodils gives a bizarre promise of spring.
Even as legal battles rage in the courts, bulldozers are making their own solemn judgment on the residential landscape. In a badly damaged street in Bexley, it takes just one day to reduce a small villa to a pile of timber and shattered foundations. Already some 2670 red-zone properties have been demolished. The fence goes up, the signs go out, any asbestos—commonly found in linoleum backing and stippled ceilings—is removed, the diggers move in. By tomorrow, the section will be a bare rectangle inside a perimeter of trees.
Today, only the demolition crew, a photographer and journalist witness a family home being turned into rubble. At other times, says Andrew Jamon of demolition contractors Jamon Construction, there is an audience.
"In the initial stages, we had several angry owners. Some cry, some bring us tea and scones—it's like a closure for them. Some people just had to walk out and you see where the ceiling has fallen in over kids' toys—there's sadness everywhere. We've had requests to recover sentimental things, door jambs that have the heights of kids growing up—that's no problem."
More saleable items—double-glazed windows, vanities—are sold on to salvage contractors. Roofing iron is sent to metal recyclers, clean hardfill goes to the Lyttelton Harbour reclamation project. Any reusable weatherboard Jamon gives to Rekindle, a social enterprise working to recycle weatherboards into a range of saleable furniture, toys, ornaments and sculptures in a wide-reaching programme aimed at minimising waste wood, providing training for unemployed or disengaged youth and driving new creative initiatives.
"It's making the most of what you have around you. It's about developing our capacity to salvage more and it's important for homeowners to know out of their loss something constructive is happening."
The bulk of demolition material, however, an average 300 tonnes a day, goes to 'the big pile'—the Burwood Resource Recovery Park owned by Transwaste Canterbury, a joint venture between Transpacific and five Canterbury councils.
But increasingly, many would say belat­edly, houses are avoiding the digger alto­gether. Red-zoned houses that escaped the worst of the damage—around 300 so far­ have been bought from the Crown or insurance companies, braced and trucked out as far afield as Picton, Dunedin, even Arrowtown. Ngai Tahu is considering the relocation of three two-bedroom red-zoned units as part of a pilot plan to provide affordable housing, and under an agreement between Housing NZ and the Department of Corrections, an expected 150 red-zoned homes will be relocated to Rolleston Prison over the next five years to provide training opportunities for inmates and refurbished homes for the state.
After the demolitions and the relocations there will be land. A vast tract of empty land. Just what to do with it will fuel the next great debate. Ask any of the red-zoned community and the answer is almost unanimous: a park, a reserve, somewhere beautiful, somewhere contemplative. Already on each anniversary of the February 22 earthquake, past and present residents gather to place flowers in the Avon River to honour those killed, hurt or displaced.
Sutton won't be drawn into a discussion on the future of the residential red zone. "We first have to work with communities that are still there to help them exit rather than pre-empt what is going to happen," he says. "It is possible the Crown will decide that some of that land has commer­cial use but that is not why we acquired it."
Representatives from community groups, universities and crown research institutes are not waiting for the last red zoner to switch off the light. At an AVON forum in March, participants suggested walking and cycling tracks, an urban forest to bring native birds back to the city, a stormwater-filtering wetland, market gardens, orchards for the picking, floating cafes, a dog park, a rowing facility, a 150-hectare predator-proofed eco­sanctuary and reserves marking traditional Maori food-gathering places.
AVON is proposing an ecological and recreational park stretching 15 kilometres from the edge of the central business district to just below the estuary, a green corridor, says Smith, for wildlife in the river and on the land.
"We want this to be an asset for the whole city. That is what helps well-being; reflecting on what's been but also on hope for the future. We want to make it beautiful for those people who have left, so they have a sense they can belong to it again, so they can come back in the future and say to their grandkids, we used to live here."