Block busters
New Zealand's forests were cleared at a record pace, and from this destruction, a sport arose: who can fell a tree the fastest? Competitive woodchopping transformed the labour of forestry into a community event. Now, 150 years on, a diminishing number of axemen and axewomen chop for top honours at A&P shows around the country.
Over at the gumboot throw, someone has been disqualified for cussing. Yep, everyone knows attendance at the 108th Taihape and District A&P Show is pretty sparse this year, but look, there's still a bit of action under this January sky. The hotdogs are as good as ever. There's a new hobby horse race and a Big Dig for the kids. The bouncy castle is being bounced on. Simon Haitana wins the BlowHard/Trump game, where you use a Stihl leaf blower to blast an orange through a miniature golf-like course. At one point, a sheep escapes from the shearing competition and makes a desperate run for it.
It's livelier still in front of the pavilion at the Taihape War Memorial Park, where tall islands of cloud are stacking up behind the mint-green grandstand, built in 1924. Yep, once upon a time its 625 seats would have been chocka and today, there are just a dozen people, but look—the axemen and women chopping furiously in front of it are working just as hard as ever.
"Okay, axemen, are you all ready? Righto, axemen. Axemen, stand your blocks," calls the starter: words that haven't changed for decades. Then he counts off the starts: "One, two, three…"
It's heat two of the 250-millimetre standing chop, featuring Hayden Rasmussen, Wayne Tasker, Leighton Buchanan, Grump, and Peter Greig. Each man swings into motion at a different mark—after six seconds, or 12, or 20—his handicap determined by his ability. Novices get a head start. Champions have to catch up.
At first, the chopping sounds like a game of tennis, a regular thwack-thwack—then, 36 seconds in, when all the axemen are away, one axe chopping has turned to five, each person settling into his own rhythm, punctuated by the occasional "Go, Leighton!" and "Come on, Wayne!" from the sidelines. The log must be split cleanly in two; if there is a matchstick, a splinter of wood holding the pieces together, it's not a finish.
Their muscles bunch, their bellies shake, their lungs burn. Buchanan's wood is down first, then Tasker's. As the final strikes split the wood, and the two halves fall asunder, the knocks begin to subside until finally, there's one axe left, a single slow drumbeat of steel on poplar.
The next heat gets ready. Axemen fiddle with the loops of rubber inner tube that hold the wood together and stop the blocks from 'slabbing', splitting without being cut all the way through. They chip off patches of bark with an axe, mark the lines of their attack with a crayon. They hiss their breath through their teeth, waiting for the starter to count to their mark.
When the fury is all over, Aiden Strother, who started 23 seconds after the first man, stands still for a minute, huffing. He's won handily. It took barely a dozen of his precision blows to destroy the block of wood, which disintegrated on the stand like so much wet cardboard.
[Chapter Break]
The day before the competition is a hot one. Wayne Tasker, a nut-brown twist of a man, walks around and around in a circle on the empty Domain. He and his son Tom Tasker, an axeman who works in hotel sales on the Gold Coast, are engaged in a slow maypole dance, turning a long, hooked pole to drive a heavy screw into the turf.
Wayne is a mechanic by trade, but 12 years ago decided to go farming, working as a shepherd. Having done physical work his entire life, he has enormous hands, an unusually broad back and shoulders, forearms like old tōtara, and a full head of salt-and-pepper hair above a deeply wrinkled brow. Tom swelters under a straw hat from the local outdoor shop.
The long screw is an anchor that holds the standing dummy that holds the vertical log for the standing chop. Next to these are cradles that hold the horizontal logs for the underhand chop. Together, these events recall the old days of tree-felling, when bushmen would chop a tree down and then stand on it to chop it into lengths. Another event measures prowess at sawing logs through.
Axe competitions developed from the lives of the men who carved housing, fuel, and farmland from New Zealand's thick native bush. The crash of falling timber was the sound of progress, in forests from the far north to the deep south. Now, many of the skills used in building early New Zealand farms have become ritualised in competition: shearing, trailer-backing, jam-making.
Woodchopping has its own code, its own ethics and its own standards of behaviour, according to the cheerful 1983 Australian book Axemen: Stand by Your Logs! by Richard Beckett.
"Sawyers and axemen have never come from the landed gentry, and while they may tolerate upper-class members of various agricultural and show societies within their own local clubs, one has the distinct feeling that they do not like them a great deal. By and large axemen have always been battlers."
The sport hasn't changed in a century, says Wayne. "But look at 500 axemen and you'll see 500 different styles."
He has removed his faded green hat. He rests the head of his sledgehammer on a steel-capped boot, a bit of chewed-up irrigation pipe covering its neck to stop the hickory splintering when other people borrow it and miss.
Wayne belongs to the Marton Junction Axemen's Club, a small group of around 15 regular competitors which runs three chops in the area. It has done well for its size, producing New Zealand representatives in the under-21s, the A Team, the veterans, and the Axe Ferns, the women's national team.
Wayne has been competing for 33 years. "But that's not very long compared to some of them."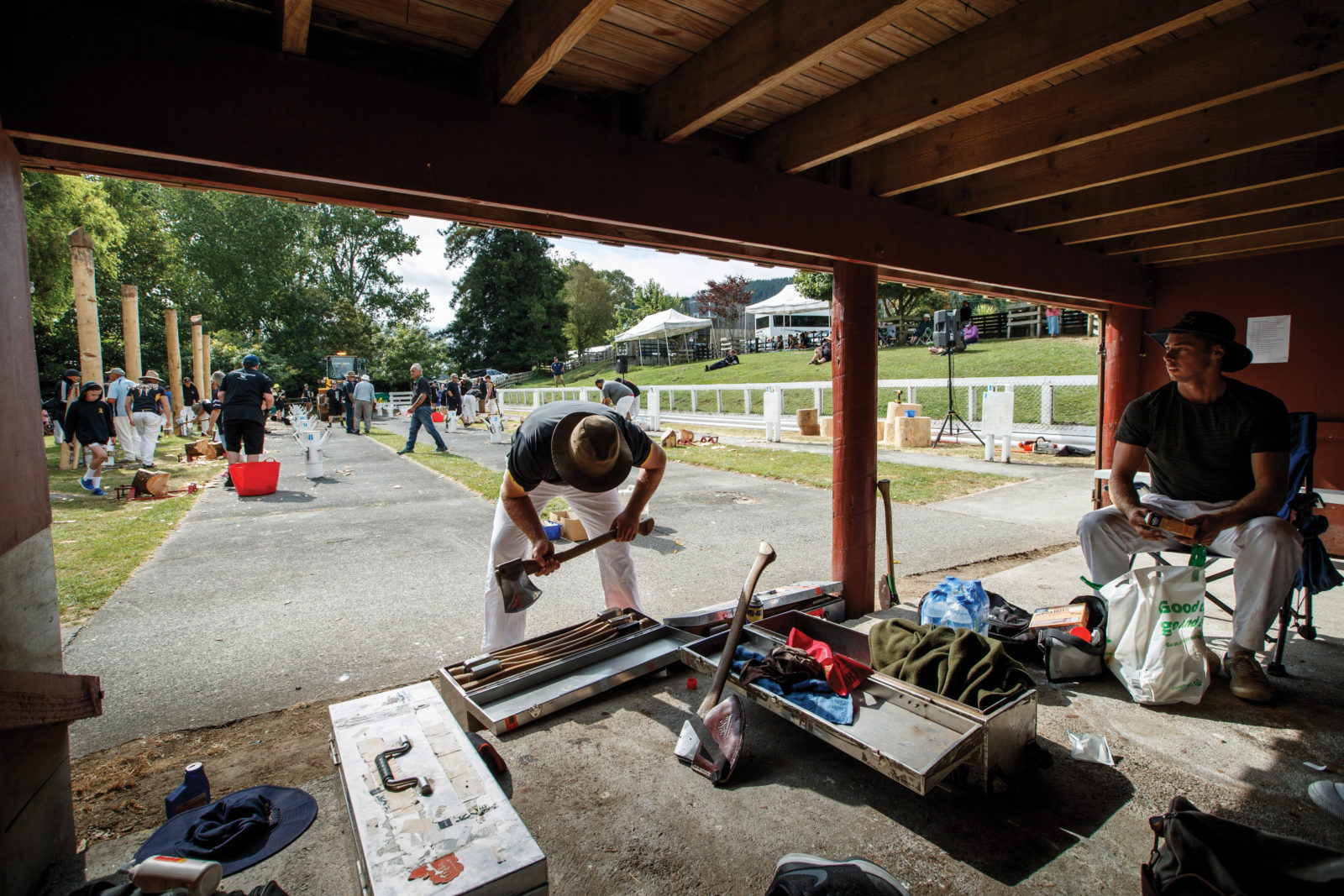 He started in his 30s. He found himself attracted to the sport. "It's in your blood, I think. It was very social in the older days. We'd get together and have a drink, but the drinking laws have squashed it a lot."
Wayne's father, Thomas Tasker, was a well-known Marton personality. He owned Tom's Tavern and frequently sponsored woodchopping events. He chopped competitively, too, though never took it too seriously. (However, he did hold the national coal-shovelling championship title.)
The chopping scene was very competitive for a while, but it's not so much anymore.
"When I started, you could go to a chop every weekend from the beginning of October to the end of April," says Wayne. "It's real sad. When I first started, there were a lot of people and it was really competitive. Now, you get a lot of variation—someone will pop up and clean up the competition, then someone else."
This is the first year there isn't a jigger, an event where axemen chop out alternating holds in a tall post, inserting boards and then standing on them as they work their way up to hack off the top of the post. It's a crowd-pleaser, but there aren't enough competitors to hold an event anymore. Wayne is the only one.
"It's not really worth doing on my own, but it's a shame, really, because I love that part of it."
Wayne and his wife, Trish Tasker, a handicapper who does the bookwork at many central North Island events, used to travel all around New Zealand attending competitions. She sawed, the kids chopped. They competed in the same arena as the best in the world.
"Probably the best part about it. They're right there. You probably couldn't go along to Wimbledon and front up to old Djokovic and say, 'Hey, how are you going? How about a beer?' But the best in the world come to little meetings like this."
The real work of preparing for this competition started weeks beforehand, with the felling of pale-skinned poplar trees on a farmer's land a half-hour drive south of Taihape, in the hills of Mangaweka. Once the trees are felled, they're put through a peeler, a whirling lathe that strips them to an even size for different events: 12-inch, 10-inch, 14-inch. Chopping is such an old sport that it still uses imperial measures.
Leighton Buchanan is giving the Taskers a hand today. He's a good-natured forester in hi-vis with tattoos of a skeleton and a stag, and a glorious curly golden mullet.
Wayne is always keeping an eye out for a set of good trees. He and Buchanan drive into the hills to collect the logs, through a valley studded with poplars growing big and lush. This is classic Rangitikei hill country, where poplars were planted in lines along the hillsides to keep the topsoil in place after the bush was cleared.
Buchanan has been reflecting on his own chopping. Recently, he tried to use too much aggression and found it wasn't working that well. Last year, he won every event. Then he celebrated his 18th birthday and, while he was slicing limes for tequila, the knife slipped, severing a tendon in his hand. A surgeon had to fly down from the Waikato. Now he can't grip the axe handle properly, and he gets massive blisters—the one he shows me now, lifting a hand from the steering wheel, is a craggy patch of red skin the size of a medal. When he competes tomorrow, he'll not only have to tame his aggression and ensure each blow lands intelligently, but will also have to work against the screaming blister and a weakened grip.
He reflects on the birthday that changed it all: "It was a good night, though."
He and Wayne pull out chocks and roll the 112 big logs to the truck. They cut a dozen trees down nearly a month ago, on New Year's Day, pulled them out, tractored them to the flat, backed the peeler in.
Afterwards, they stacked them up and put a cover over them. Sometimes the blocks are wrapped in plastic, like bales of silage, to maintain a consistent internal moisture level.
They used to be buried to keep them fresh, or kept in piles of sawdust, and taken to the showgrounds ahead of time, but there have been a few incidents with rascals—including one year when some kids rolled the blocks all over the Domain and hammered nails into them.
[Chapter Break]
That evening, we repair to the Gretna Hotel for handles, burgers, and steaks. Tomorrow, the show begins. The talk is still of the old days, how the hotel used to be lots of rowdy fun with all the shearers in for a drink. How timbersports competition is dying, how the loyal families are still committed to the cause—but how tough it is to get new young people interested.
Taihape used to have a huge chop but it died in 1964, with people leaving the area and no-one left to take it on.
"So, it just collapses," says Wayne. "That's what's happening in the country now."
It was Wayne who got the club going again around 15 years ago. "For the first two years, that grandstand was chocka. Absolutely chocka. It was unbelievable. But now people aren't supporting the A&P shows like they used to, either. They're going to
die, too."
Once upon a time, New Zealand actually stopped at the weekend. You had to get your groceries from the shop and your cash from the bank and everything else on Friday. Work was done for the week, because you had left the building.
At the weekend, you went to the beach or played sport or coached or volunteered or went on a Sunday drive to see family with a picnic blanket on the parcel shelf, or you gardened and chatted over the fence with the neighbour, or you baked or pottered around the house. Or you could fill the chilly bin and pile the whole family into the car and take off for local woodchopping events. In the 1940s, 50s, and 60s, you only had to travel a couple of miles to get to a chop.
But time has sped up. The competition for our precious few leisure hours is relentless, and tackling the to-do list of weekend tasks feels as futile as threading beads onto a knotless string.
But New Zealand Geographic photographer Richard Robinson, nursing a handle while waiting for his cheeseburger, is a little more optimistic for the future of the sport. He says to Wayne: "I hear woodchopping competitions are getting pretty popular with hipsters?"
Wayne says: "What's a hipster?"
[Chapter Break]
On the morning of the competition, Trish Tasker gets up at 4.30am. She fills the tea and coffee urns, makes scones and sandwiches, bakes the sausage rolls. They're still warm as vans and utes draw up and park in a semicircle around the competition arena.
Not every chop offers food, she says, but it's nice to have a yarn over the scones. It helps build the camaraderie that every axeman and woman, without exception, says is what attracts them to the sport.
She's thickly buttered those scones. She's taped the heats list for today's events on a piece of ply and propped it against the table. Settling behind it, she begins to direct operations.
The competitors, in their regulation whites, unpack pergolas, camp chairs, axe boxes, competition cricket and football boots, chilly bins. They lay out their saws and spray them with CRC and WD40, and stretch club singlets over their powerful bodies.
You might make friends in sport, but in woodchopping, you make friends for generations.
Eight-year-old Ruby Rasmussen from Otaki Axemen's Club is in the ring for the youth and novice event, which includes a couple of grown men. Hayden Rasmussen has cut out the slopes of his daughter's block to get her started. Ruby begins on three seconds, then Josh on 26 and Matthew on 30. She chops with regular, relentless blows, as her dad directs her.
Ruby started competing because she wanted to do something while her dad was chopping at events. Dad's the one who sharpens her axe, but her Poppa Ras, another legend in woodchopping circles, made it for her.
Her dad coaches her at the local training ring after school, and she's learned how to cut her own slopes, how to do the big swing that has to come down between your feet in a straight line with your body as you drive the axe edge into the wood.
"You have to put your feet on the angle you want your axe to go," she says. "The fun part is you get to chop wood."
Her goal for her future in the sport? "Mmmmmm," she says, turning her head and looking off into the far distance, where future glories await. "I would like first place in a woodchopping event." She has, in fact, already won twice.
Her sister Lucy, age seven, will spend much of the day determinedly hewing at her own small block with her own small axe. She's not yet interested in competing, but kids as young as five have been in the ring.
Hayden, their dad, started when he was nine, having attended his father's chops as a toddler. By 1998, the 15-year-old was the youngest competitor in the under-21 New Zealand axemen's team competing in the Australasian championships—his second time in the national squad.
"It's an old heritage sport, using old bush techniques," he says. "You're not mates when you're chopping, but after it, you're friends again. It's like rugby—you go out there to bash everyone up and then have a yarn after."
Reg Davis reckons he'll be one of the oldest cutters in the country now.
"These boys will help me with my log, lift it up for me. With chopping, it's not what you used to be, it's what you are today that counts.
"My kids say, 'Dad, we remember when you started last and finished first.' These days, I start first and I finish last. Well, I turn 80 in October—that's why I'm coming last."
Davis started working in forestry in 1973, when he was in his mid-30s. That's quite a late start for an axeman, but he'd had enough of shearing. He wanted an interesting life, so he didn't stay long at one job. He was one of the first logging-truck drivers for the paper mill near Napier, and joined a forestry working gang.
His partner, Rosalie Syne, took up the sport when she was 60. She's 76 now, her silver hair in tight braids.
"I said to her that when I retired, I wanted to do a sport again, and she said, 'Do you want to do woodchopping again?' At a meeting, she saw lady sawyers and said, 'I can do that'. And away she went. She's very competitive."
She's won a couple of dozen medals. They were both selected in a Classics team to compete in Tasmania, and won all their events there. After 34 years together, they got married last year, on December 1.
"Four years into the relationship, I asked her and got the wrong answer, so I thought I'd hang around for a while," says Davis.
Aiden Strother, 44, is one of the best, a large man with nimble feet and a collection of fine axes he'll nonchalantly heft, inspect and rub as the day wears on. He's filing down his axe handle—last week, it was too thick for him to grip properly. Competing at his level, all those details make a difference.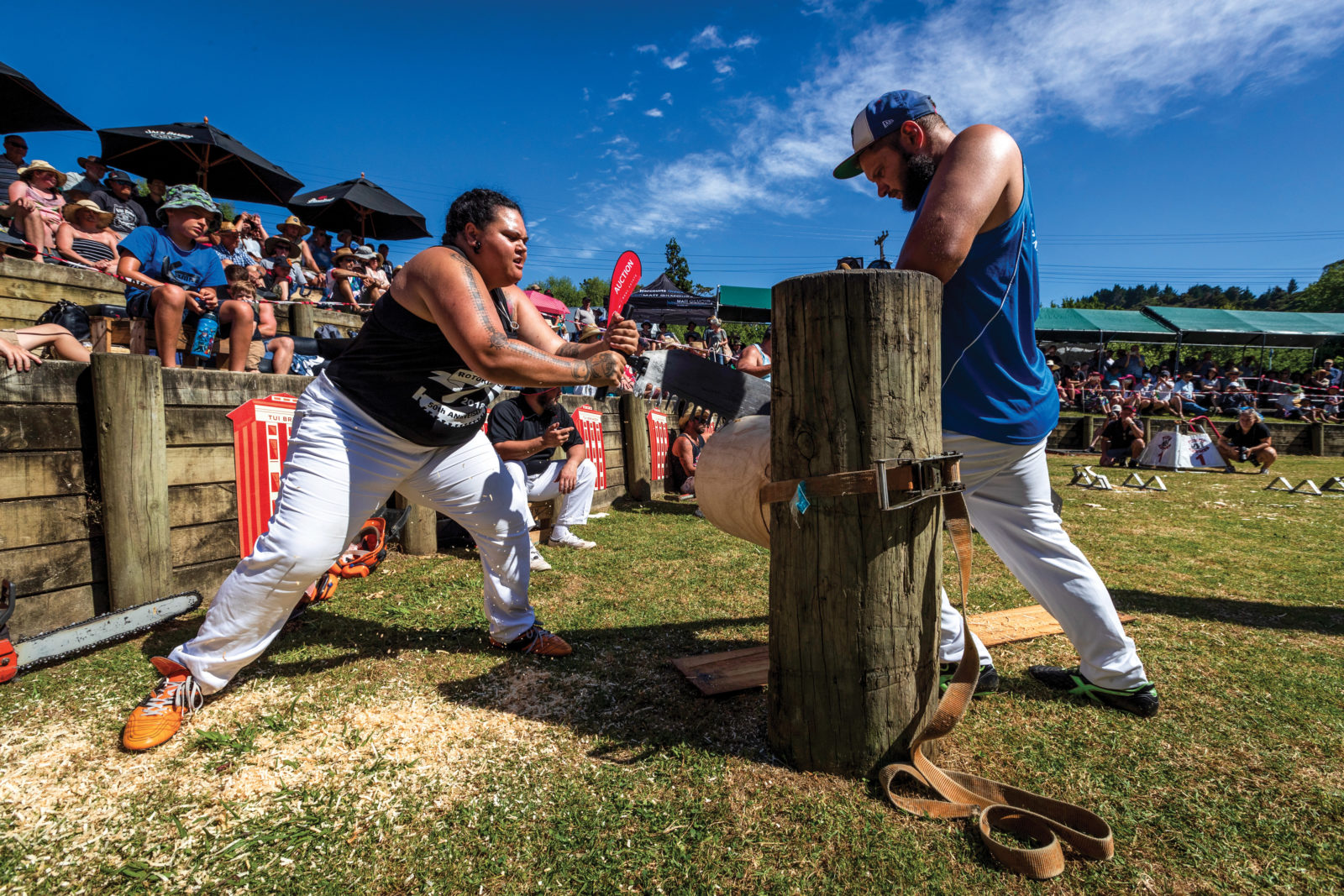 He and his partner, Chelsea Pearson, 28, have decided to loyally stay with the Taihape show this year rather than visit the bigger Rotorua event, which is also happening this weekend.
"If we go over there then these little shows will all disappear," says Strother. "It's best to keep them alive. It's dying, and a lot of axemen are getting discouraged. Though it does seem to be picking up in the States."
Their son, Caiden, at four and a half, will be chopping very soon.
"If you can swing a golf club, you can swing an axe," says Strother.
Chopping is often compared to golf, both practically and philosophically: "It's like one day your driving's good, one day you're putting good," he adds.
"When I first started watching this, I was like, 'What on earth?'" says Pearson. Now, she is an axewoman herself, in the New Zealand women's team. She's using a family axe today—from Uncle Trev, who taught Strother how to chop.
A curtain-maker, she is used to tracking the bite of scissors through fabric, and watches the cut of the saw and the axe head the
same way.
"I let my hands guide where my eyes are going," she says. "I used to feel nervous beforehand but now I'm just stoked—let me at it."
She's been hitting a tyre with a sledgehammer to help her build the formidable strength and endurance needed to do well at a chop.
"But strength is nothing," she says. "It's all technique."
Everyone has seen big strong rugby boys come out and think they can chop, only to falter and stagger as the event grinds on and their block stands alone and resolute.
Kylea Heaton wears a silver axe on a chain around her neck. She and axe sports go back a long way—she competed in sawing before she got married and had kids. This is only her third season chopping and she's captain of the national team.
"They talk about having sawdust in your veins," she says. "I like the camaraderie and the challenge, and it's so family-oriented. You're competing against yourself as much as everyone else, and even if you're coming last, you can still feel you've done your best against your previous time."
Heaton's father has been woodchopping since before she was born, and her nine-year-old daughter picked up an axe just before Christmas. She knew Strother's family when they were children, and the Rasmussens, too. She's here in Taihape this weekend because she likes the softer poplar wood better than the pine in Rotorua.
At New Zealand competitions, it's always poplar or radiata, and it's always cut green. Across the Ditch, it's eucalyptus or gum—harder wood, faster to cut, but you can also break axes because of the knots hidden within it. The steel just snaps if it's too dry.
Axe sports have now expanded into the United States, Canada, and Europe—Romania, Spain, the United Kingdom, France—and plenty of people come to New Zealand to learn and train. In 1989, the greatest axeman New Zealand had ever seen was Sonny Bolstad, who died in a logging accident in 1988. People still reminisce about his son David, who died of a heart attack in 2011 as he was carrying his axe box to his car, half an hour after winning a competition in Waiuku. Once, in the mid-1990s, David Bolstad won a 400-millimetre underhand open chop with a starting mark of 48 seconds.
Jason Wynyard, aka Diesel, is undoubtedly the best today—he's from Kawakawa in the Bay of Islands, affiliated with Ngāti Maniapoto and Ngā Puhi. His father, Pae, himself the son of an axeman who worked in the days when there were no chainsaws, won four world woodchopping titles in the 1960s. The younger Wynyard trained two hours a day in his late teens, and in 1997, he was crowned Champion of Champions at the Sydney Royal Easter Show, the pinnacle of international chopping events. Most woodchoppers reach their peak in their late 30s, but Wynyard was an early bloomer.
Today, he has won more than 100 titles, is a world record holder for the standing chop, and is a member of the New Zealand Order of Merit, a royal honour he received for his services to the sport. His dominance is so total that it's worth noting each year he has won the international Stihl Timbersports Series: 1997, 1998, 1999, 2000, 2002, 2006, 2009, 2010, 2011, 2012, 2014, 2015, 2016 and 2017. (Most of the years he didn't win were taken out by David Bolstad.)
Most axemen say it's pretty even between New Zealand and Australia in terms of ability, but Aussie does have the edge due to population—and due also to the harder wood, which makes them more focused on technique.
There is, of course, disagreement over who invented the sport.
"Two fullas down in Southland had a bet that one could chop a tree down faster than the other," is how the story is told to us by several different people. Australia has a similar yarn.
[Chapter Break]
A racing axe is a sight to behold. As glossy and pampered as a thoroughbred, it is precision-ground and edged with care.
An axe can cost up to $1000 for the head, and you then get the hickory wood handle, with the strength and spring of a baseball bat, made to suit yourself. The large, wobbly saws cost between $2600 and $3000.
You need a selection of axes, because different ones cut different woods differently, even different trees from the same species. Pinus radiata's corky centre means a hard edge can bounce off. Creating file marks across the blade's edge means it sticks into the wood more. The edge is important; too thin and it can get stuck, and milliseconds count in competition. An axe will cut beautifully one day and then not at all on another day because the sun has got on the blocks and dried them out.
The best axes in New Zealand are Tuatahi racing axes, made by the Fawcett family. Tuatahi was founded 30 years ago by Eddie Fawcett, an axeman and son of an axeman. He became a saw doctor in the Wairarapa and sharpened his mates' competition axes with a stone and file, but soon developed a grinder from sheep shears, because normal farm-axe grinding ruins good competition axes. Too much friction means excessive heat, which can change the tempering. Taking too much off an angle reduces its ability to bite the wood. And too much metal stripped off upsets the balance of its swing.
Soon, word spread. Fawcett leased the saw-doctor business and began to focus on axes. People from all over the world began to send him their axes to sharpen, and when they did, he realised many were full of faults in design and manufacturing. He thought he could do better, and began turning out his own models in the early 1980s.
Today, his axes are like fine pieces of jewellery: smooth, finessed, sharp. They are forged rather than cast. Casting involves the steel being poured into a mould, meaning that the hardened axe head has a random crystalline structure, making it liable to break.
With a forged axe head, the heavily hammered steel—hammered into shape at 1000°C, then tempered at 830°C, then dropped into oil or brine—produces a stronger linear grain and a stronger axe. Fawcett uses vanadium steel imported from Europe in blocks.
When such an axe hits hard bits in the wood, it flexes and returns to its original shape, rather than breaking or denting. Brine cools the metal quickly and hardens it, while oil makes it softer, allowing axemen to hand-tune the head on the day of competition.
Once, at the Sydney Royal Easter Show, British sports announcer Henry Blofeld watched a world champion axeman, a New Zealander, miss his toes by millimetres in the underhand chop. Blofeld asked him if woodchoppers ever cut them off.
"Yes, it has happened," the axeman replied.
"Why not a steel toe cap over the boots?" he asked.
The New Zealander replied: "What, and ruin a good axe?"
[Chapter Break]
After two days watching axe sports, I need to heft one myself. Back in Nelson, I call up Nelson-Marlborough Axemen's Centre vice-president Ross Birchfield and he meets me on a farm in Richmond, where a stack of poplar is waiting. He's readied an underhand chop for me, and I slip on metal foot gloves and stand astride the block while he explains the technique. And explains it again. He cuts the slope for me, then tells me how to keep the axe head at the right angle. Top, bottom, bottom, top, chopping clockwise around the wedge he's started off.
I lift the axe above my head, reflexively look at it— "Don't watch the axe!" he calls, alarmed—and bring it down between my toes. After just a few blows, my back begins to ache. I'm no stranger to chopping wood, but this is ridiculous. I can't understand how the competitors are so nimble on the block and so confident in where they place the blade. Birchfield explains the technique again as I chop laboriously on, making a mess, mincing the wood like cold roast chicken. I am terrified I will take off my left forefoot, and my caution is not making for good cutting—I'm hesitating on the downswing, which makes my chops more dangerous. And terribly ineffectual.
"Yep, you're about as good as I thought you'd be," says Birchfield. I turn, sweating, aching, and attack the other side. It takes a very long time to get through the block, but finally, the log shatters, taking me by surprise, and I stumble off the cradle onto the ground. Birchfield laughs, but quickly grabs the axe from me and checks its edge while I stare at the mashed-up wood at my feet in abject shame. It's nothing like the cheddar-like shards left behind by real axemen.
I've realised that there is a lot going on in an axewoman's head when she surveys her block.
When you go up to a block of wood, you learn how to read it. It has soft areas, and by looking down the end grain you can tell. You can see where the chainsaw has fluffed it up. You examine it for a few minutes before your event starts. Some people can read it and some can't.
But the ones who can't aren't worried. I remember one axeman instructing me in his art: "You just go up and chop it in half."