Whales out my window
Slaughtered by the thousand last century, then forgotten, southern right whales have been staging a quiet comeback in New Zealand's subantarctic region. Northwest Bay in Campbell Island is one of the sites where the whales congregate each winter. Here, enduring the island's atrocious weather and utter isolation, Ramari Stewart and a small band of fellow researchers come to learn the ways of these gentle giants. 
Winter in the subantarctic is no Club Med. Screaming gale-force winds beat against your body at up to 240 kilometres an hour and daytime temperatures regularly swoop below zero, creating conditions so chilling and harsh that it is hard to think of anything except mere survival. There is no heated indoor sanctuary to retreat to, no electricity, no warm bed. Only the bitter cold, howling wind, constant dampness—and rats. Fearless rats running rampant through the camp, stealing your food, ceaselessly trying to gnaw their way into your tent while you sleep. Such is the nature of Campbell Is­land, one of the most inhos­pitable places known to man—or in this case, to woman.
For Ramari Stewart and Barbara Todd, this is their re­ality. Twice in the past four years—during the winters of 1995 and 1997—the pair have made Campbell Island, some 600 kilometres south of Bluff, their home. At a time of year when others are thinking of tropical getaways, Stewart, Todd and a support crew have elected to endure Campbell Island's unforgiving environ­ment in order to study one of the world's most enigmatic and vulnerable marine mammals, the south­ern right whale.
As many as 10,000 southern right whales once congregated in the coastal wa­ters around New Zealand to breed—until they were hunted to the point of extinction in the whaling bloodbath of the 19th cen­tury (see sidebar, page 97). Despite the fact that they have been internationally pro­tected since 1934, the whales have been making a painfully slow recovery.* They are now rarely seen around the main is­lands of New Zealand; the whales of Campbell and the nearby Auckland Islands—perhaps 500-800 in total—are all that remain of a once-strong population.
Right whales are listed among the world's "great whales," mammals whose el­ephantine bulk almost defies human com­prehension. The greatest of them all is the blue whale, which can reach 30 metres in length and 150 tonnes in weight—the larg­est creature the Earth has ever known. Right whales come in at second place: al­though adults are only half the length of a blue whale, they can reach 100 tonnes.
At close range, they seem more like sub­marines than mammals Their barrel-like mass, the powerful strokes of their tails, the pneumatic blast of their spouting are as humbling as they are profound. Yet for many years they were regarded, along with humpbacks, sperm whales and the rest, as so much harpoon fodder—swimming supermarkets of baleen and oil.
Like most of the great whales, right whales feed by sieving small crustacea (typically krill and copepods) from the wa­ter using the fringed baleen plates that hang from their upper jaws like a giant curved comb. They do most of their feed­ing during the summer, and typically at higher latitudes. In the northern hemi­sphere, the Atlantic population—the main remnant of the northern right whale (Eubalaena glacialis)—grazes around the Bay of Fundy; southern right whales (Eubalaena australis) are thought to ply the Southern Ocean.
In winter, both species migrate to more temperate waters to mate and give birth. The North Atlantic population moves to Florida and Georgia—a fact that was dis­covered only a decade ago, when coast­guard ships and submarines heading for port started colliding with them. (In fact, ship collisions are the main cause of mor­tality among these whales.)
Southern right whales breed along the coasts of South Africa, Patagonia and South Australia and around Tristan da Cunha, as well as in the New Zealand subantarctic. Research suggests that the whales which use each of these breeding areas are genetically and socially distinct populations.
New Zealand's subantarctic whales make Northwest Bay on Campbell Island and Port Ross at the Auckland Islands their winter headquarters. Because right whales mate and give birth close to shore, these isolated locales have become key sites in the search for answers to the many puzzling questions that surround the sur­vival and future of southern right whales.
Before addressing those questions, though, one might ask what drives people like Todd and Stewart to brave diabolical weather and a harsh environment for the sake of a species once considered doomed.
With both women, the devotion to na­ture runs deep. US-born Barbara Todd grew up on the shores of California, and says some of her earliest memories are of hours spent in the surf watching seals and dolphins swim by.
It was during the 1970s that Todd's in­terest in marine biology, especially whales and dolphins, became a passion. In 1978, she signed on board a marine research ves­sel bound for the Caribbean in search of humpback whales. That experience of con­ducting census counts and photo identifi­cation analysis led her to her next post as a research associate with Orca Survey on San Juan Island in the Pacific Northwest. One of the researchers Todd met while study­ing orca had just returned from Kaikoura with tales of sperm whales that were living in happy abundance just offshore.
Sperm whales typically feed in deep wa­ter, and coastal appearances are rare. Todd recognised the Kaikoura situation as a golden opportunity to study these whales up close, in an environment where daily access was feasible. She came to New Zea­land in 1982, returned the following sea­son and ended up marrying a local fisher­man, Roger Sutherland. The pair went on to found Nature Watch Charters, the country's first whale-watching operation.
In 1988, Todd met Westland-based Ramari Stewart, a nurse and amateur natu­ralist who had a wealth of first-hand obser­vations of right whales gained during a year-long posting at Campbell Island's now defunct meteorological station in 1983.
Stewart says that it took considerable persuasion to get the authorities to allow her to join the meteorological team. They doubted that a woman could cope with the hardships of living in such a lonely, rugged place. Stewart did more than just cope. She spent every spare moment studying, photographing and observing the wildlife, and especially right whales. "But because I was hired primarily as a cook and medic for the base, I was only able to observe whales on a part-time basis," she recalls. "So when I got off Campbell, I made up my mind that next time I went back it would be total focus or nothing. I couldn't bear the days when it was all happening in the bay, with the whales' interactions just starting to get interesting, and I would have to go back and cook dinner. I hated leaving. All winter I slogged back and forth over that ridge from the bay to the base."
Stewart has spent most of her life on, in and around the sea. As a scientific observer for the Ministry of Fisheries, she spent over 1000 sea days on board commercial fishing vessels, monitoring fish catches and recording information about marine mammals. She also conducted a three-year be­havioural study of orca and dolphins in the Bay of Plenty, while recognition of her col­lection and contribution of whale skeletons and rare fish species to the National Mu­seum over a 15-year period saw her made an honorary associate of the museum.
Stewart swam with her first whale when she was 10 years old, and once had a near­-Jonahlike encounter with a feeding right whale. "They're like front-end loaders when they feed," she says, "ploughing back and forth across a patch of sea. Hump­backs, by comparison, tend to take huge gulps of water." She had been watching the whale from a boat, and decided to see what the view was like under water. Don­ning mask and fins, she slipped off the back of the boat as the whale approached.
"When the bubbles cleared, all I could see was a gaping black hole," she says. "It felt like being at the doorway of a room. Then this grapefruit-sized eye came past, inspecting me."
In 1995, seven years after Todd and Stewart's first encounter in Kaikoura, the two met again at a marine mammal confer­ence in Wellington. By this time, Stewart had co-founded the Project Tohora Trust (tohora is the Maori word for the southern right whale), with the aims of photographi­cally identifying the whales at Campbell Island, estimating the population size, ob­serving whale behaviour and developing educational resource materials.
Stewart was planning her first trip back to Campbell since her meteorological days. She would spend a summer and a winter on the island, and her ob­servations of the wildlife would be the subject of a television documentary entitled A Whale Out My Window. She asked Todd if she would be interested in joining her for the winter segment, when the whales were there. Todd jumped at the chance. Two years later the pair, accompanied by a support crew consist­ing of two boat drivers, a cook and a radio techni­cian, returned for a second season.
[Chapter Break]
It takes four days to reach Campbell Is­land from Welling­ton—four days in a pitching ship in grim, grey southern seas. At Northwest Bay the only sign of human habitation is a solitary tin hut, se­curely wired to the ground to resist gales. This but is the only in­door shelter the team will have over the next three months. It has no heating or insulation, and is scarcely large enough to fit six people. It has one small window which faces the bay and provides a bird's eye view of the whales below. All cooking and collation of data is performed inside the hut, while a make­shift garden shed, erected upon arrival, is used to store wet-weather gear, boots, sur­vival suits and a generator that is used for charging radio batteries.
There is no electricity on Campbell Is­land, and therefore no refrigeration—though keeping foodstuffs cold in the subantarctic is hardly a problem. A camp oven provides the team with freshly baked bread, and a yoghurt maker offers a healthy treat. As a daily indulgence for the team, the cook prepares a decadent dessert such as chocolate fruit fondue.
The team sleeps in tents that are con­stantly in danger of invasion by rats trying to chew through the walls when the occu­pants are asleep. To keep the numbers down, traps are set daily, and catch any­thing from four to 10 rats a day. Extreme care has to be taken not to leave any food scraps about that might attract the ver­min—even crumbs that might have col­lected in the dishwashing water.
Aside from the rat problem, there are sea lions to contend with. The big animals are encountered not just on the beach but along paths that run inland. The pups are like plump, lovable labradors, but the older animals—especially young bulls—exhibit dispositions that range from mildly curi­ous to downright pugnacious. It is neces­sary to be armed with a stick at all times as a way of fending them off and maintaining a safe distance.
"Usually you just hold the stick out in front of you and walk around them," says Stewart, "though sometimes they will charge you. I remember the first night we were there. No sooner did I get into my sleeping bag than I heard a sea lion lum­bering through the scrub towards the tent. I had to go out and steer this big thing away. I didn't get much sleep that night."
A walking stick is also useful for prob­ing the terrain ahead when walking across the tussock-covered hills. The island's peaty soil and high rainfall mean that you can never be sure that on your next step you won't break through the surface and sink up to your knees in a quagmire.
Living conditions on the island are primitive. A long-drop toilet is used, while a drum filled with boiled water suffices for the odd shower. The water supply for drinking and cooking is a tarpaulin rigged up like a shallow pool. Water for washing clothes, dishes and personal hygiene is col­lected from a creek and carried in buckets up to the hut, about a kilometre away. Since it is full of tannin and very acidic, it turns everything it comes in contact with a lovely shade of brown—skin included!
Because Northwest Bay is an exposed body of water, boat activity is determined by the weather. A sudden change in wind direction can kick up squalls and a nasty chop, making launching and landing the inflatables a risky proposition on the rocky beach.
"It is not unusual to go from sun to rain to snow to sleet to hail and back to sun again in a single day," says Todd. "Very seldom do we have a sunny day that lasts all day long. On the other hand, the sudden weather changes are in­credibly beautiful to watch."
The daily pro­gramme begins with a census count at 9 A.M., one of two counts made each day to determine how many whales are present in the bay.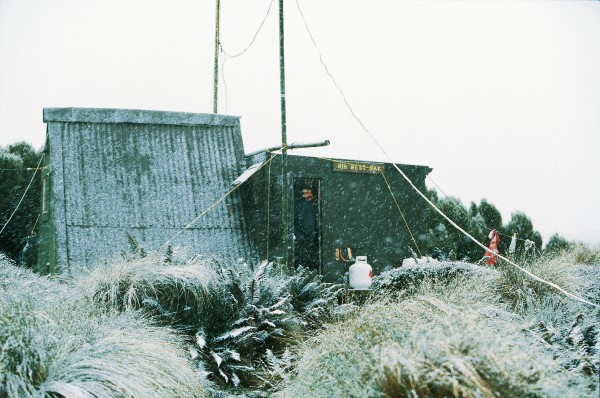 The bay is divided into segments. Each person studies their des­ignated section from a different point on land for approximately 10 minutes. During this process, verbal communication with other team members is critical in order to avoid double counts.
After the census count, the team de­cides whether the number of whales in the bay and the weather warrant a day on the water, for the purpose of gathering photo IDs. (In 1997, only eight out of 79 days on Campbell were calm enough for the boats to be launched.)
For safety, the team always has two boats on the water at once. Todd and Stewart take photographs while the driv­ers manoeuvre the boats to keep a safe distance from the whales. These on-water encounters are the undoubted highlight of the research, because they bring the team into such close contact with its subjects.
Sometimes the contact is almost too close. Curious whales will approach the vessels and pass right underneath them, barely missing the hull with flipper or tail. On occasions, they lie directly beneath the boat, perhaps contemplating the orange midget with the buzzing tail above them.
Such sights typically bring a gasp of wonder to those on board as they, in turn, contemplate the mastery of movement possessed by these sedate giants of the sea.
But there is little time for admiration.
Todd and Stewart are constantly trying to get clear photographs of the callosities (patches of raised, roughened skin colo­nised by barnacles and whale lice) that are located on right whales' heads. The pat­tern of callosities is unique to each whale—Stewart calls it the whale's moko—and ena­bles researchers to distinguish between in­dividuals. Other features such as belly patches, saddle markings, unusual colour pigmentation and obvious nicks and scars are also photographed.
Back in New Zealand, the photographs are compared with those taken by re­searchers in the Auckland Islands to deter­mine the extent of intermingling between the populations. Whether the subantarctic whales are related to the original New Zea­land mainland population is unknown.
The team also makes detailed observa­tions of whale behaviour and interaction. Generally, the whales engage in five types of activity: resting (lying still at the surface or sinking and re-emerging a few feet away), travelling (leaving, entering or mov­ing around the bay), socialising (usually courting and sexual behaviours), aerial dis­plays (such as breaching, lobtailing or spyhopping, performed by a single indi­vidual, perhaps in response to the socially active groups in the bay) and feeding.
"On one very stormy day," says Todd, "we observed a single whale lobtailing con­tinuously over a 40-minute period. The whale did over 100 lobtails, and seemed determined to make his point. Lobtailing is quite amazing because the whale has to literally stand on its head and hold its tail aloft, and then bring it crashing down to the surface of the water, lift it up, and bang it down again. That tail probably weighs half a tonne or more."
The team has to be especially careful when courtship is happening in the bay. In right whales, several males vie for the at­tentions of a single female, who typically resists their advances for many hours, ly­ing on her back at the surface to frustrate their efforts to mate with her. The males cavort around her, jockeying for position. In this aquatic ballet, the males show great gentleness to the female, nuzzling and stroking her with their flippers, while at the same time trying to shoulder their competitors out of the way. As the ritual continues, the level of boisterousness rises, and human observers are advised to keep their distance.
Todd recalls one such incident: "We were in the boat, watching a mildly active group, when they suddenly moved into high gear and serious courtship began to take place. Think about serious courtship for a moment: as you become more in­volved with the activity, you become less aware of your surroundings. Well, this is exactly what appeared to be happening with the whales. One minute they were engaged in heavy activity about 100 metres from our boat, the next minute they changed direction and started moving to­wards us. Imagine sitting in a 3.8-metre inflatable with eight hormonally charged whales approaching you, each one 14 to 15 metres long and weighing 40-plus tonnes. We were preparing to move when the whales altered course again, and we could see that they were going to pass right in front of us. I reached for my camera, but as the whales passed I could only stand there in open-mouthed wonder."
When unfavourable weather keeps the researchers on shore, they observe the whales from two vantage points above the bay. A crude but on one hilltop offers mod­est protection from wind, snow and rain, but at the other location, Limestone Point, a difficult half-hour's walk away, there is no shelter. When conditions deteriorate, the observers are forced to squat amongst the tall tussocks for cover.
[sidebar-1]
Often the whales come very close to shore. Unlike many whale species, which strand in shallow water, right whales seem quite comfortable in the shallows. There are stories of calves resting in the kelp, and Stewart has seen whales cavorting in surf during courtship, kicking up sand with their flippers. "I have seen them lying in water so shallow that their bellies were on the seabed and their blowholes showing above the surface," she says.
The observers remain at their posts for six hours at a stretch. Stinging 50-knot winds coupled with temperatures hovering around freezing are not uncommon The challenge is to stay warm and keep the camera gear dry, while maintaining focus on the task at hand.
Although the constant cold and wet may at times get the better of a person's morale, the isolation does not. "There is so much happening around you because of the vari­ety and abundance of the wildlife that you don't feel alone," says Todd. "We share the island with sea lions, elephant seals, yellow-eyed penguins, albatrosses—and they're just the more obvious ones."
Southern royal albatross chicks are par­ticularly endearing. During winter, with both parents at sea foraging for them, the chicks are alone on their nests. "The hill­sides are dotted with these great downy puffballs. Watching them exercise their wings can be quite comical. Sometimes the wind picks them right up off the ground, and they panic, since they're not quite ready to fly yet. They sort of collapse in mid-air and crash to the ground again."
At 4 P.M., the observers make their way back to the camp. By this time they are often in a state of mild hypothermia, with cramped muscles from standing in one po­sition for so long.
After a reviving hot drink, the task of logging the day's data begins. Then, after a meal and clean-up, the team settles down to an evening of music, literary readings or the weekly Saturday Night Poets Society, in which team members share original verse inspired by their experiences.
"One of the highlights of going to a place like Campbell is the strong friend­ships that develop," says Todd. "You be­come bonded by the intense experiences you are sharing—experiences like shiver­ing naked in zero-degree conditions when you bathe, and then the incredible contrast of pouring a bucket of warm water over your head while quickly reaching for a towel that is the size of a small scarf. Or sitting on a snowy hillside watching an albatross chick patiently awaiting its next meal, and having one of its parents land a couple of metres away from you. How do you convey the impact of such memories to someone who hasn't been there? The only thing you can say is that you feel privileged to have been able to spend time in the company of Campbell Island's true inhabitants."
[Chapter Break]
Until Recently, Campbell Is­land was the main winter destina­tion of the subantarctic right whale stock, but the situation seems to be changing. Port Ross in the Auckland Is­lands now has the larger winter popula­tion, with a maximum of 146 whales counted in a single day in 1997, compared with 28 in Northwest Bay. This year, num­bers at the Auckland Islands were even higher: 165 counted in a single survey.
Last century, a whaling station at the Auckland Islands had to close after three years, having caught only one whale. As recently as World War II, coast watchers spotted few if any whales in the area.
The Auckland Islands whale population is now being studied by Scott Baker and Nathalie Patenaude of Auckland Univer­sity in partnership with the Department of Conservation. These biologists are carry­ing out the same sort of photo ID work as Stewart and Todd are, but are also secur­ing small samples of whale skin for genetic analysis. DNA profiling can give informa­tion on the sex and age of animals and their relatedness to one another and to other populations.
"The Auckland Island congregation seems unusual in that all age and sex classes seem to be present together," says Scott Baker. "There are cows with young calves, courting groups, resting adults and year­lings all in a very small area. In other win­tering grounds there is more segregation, and some groups may not be represented."
Indeed, at Campbell Island the constitu­ency seems to be made up of sub-adult whales. Although calves have been seen at Campbell Island in the past, none have been spotted there by Stewart and Todd's team in the past few years.
Calves are seen regularly at the Auck­land Islands. This year, researchers counted about 30 cow-calf pairs, and were able to confirm for the first time that calv­ing was actually happening in Port Ross. They are also resighting the same whales from year to year.
The patient work of assembling photo IDs of the whales at both islands has started to pay off, too, with four definite matches having been made between the Campbell and Auckland populations, out of a total of 250 catalogued individuals at the Auckland Islands and 38 at Campbell Island. These matches have provided the first proof that whales from the two islands are indeed intermingling, and Patenaude and Baker now regard the subantarctic population as a single genetic stock.
Many ques­tions remain un­answered, how­ever. The whales' migration routes and precise summer  grounds are un­known, and the circumstances which influence the timing of mi­grations are also unclear. For ex­ample, the yearly population peak at Campbell Is­land can vary be­tween June and September. It is also unclear what influences indi­vidual whales to choose Campbell Island or the Auckland Islands as a destination.
Todd and Stewart believe that only by con­sistent, long-term study of the whales can the re­maining ques­tions be answered. They are also commit­ted to championing the cause of the whales through the development of educational resource materials, by giving public lec­tures and presentations at conferences, and by forming an Adopt-A-Whale project. Their hope is to create a greater awareness and understanding of a species that was not only brought to the point of extinction by human hands, but then almost erased from human memory.
Patenaude says the subantarctic right whale population is particularly important because it is much less subject to human interference than are populations living elsewhere. She worries that that situation could change. For how long can collisions be avoided between some of the 200-odd whales to be found in the 20-square-kilo­metre harbour of Port Ross and fishing vessels using the area? Tour operators have already expressed interest in offering whale-watching trips to the subantarctic, and, even if handled sensitively, such ac­tivities could place subtle pressures on the whales' long-term recovery.
Stewart, of the Ngati Awa tribe, feels a cultural responsibility to the whales, too. In Maori tradition, whales were regarded as kaitiaki—guardians—of the oceans, pro­tecting those who voyaged on the high seas. "The day we took up the harpoon," says Stewart, "was the day we broke that special contract. We very nearly lost this whale. Now it's our turn to be the guardian of its future."
Guardianship, when it involves the sort of study being carried out in remote out­posts such as Campbell Island, is clearly not without cost, both personal and mon­etary. Yet Todd and Stewart say it's the high points that stick in their minds, far more than the hardships.
Says Todd: "One snowy mid July night, we marvelled as a full moon rose over the ridge on the east side of the bay. The whales were particularly active that evening, and very noisy. The sound of their breaching bodies, their blows and belches, reverberated around the bay. A fellow team member was sitting on top of the knoll above our tents, and I joined him to listen to the chorus of sounds below. Suddenly, we noticed the water around the bay was lighting up, as if fairies were swooping down and touching the water with their magic wands. There would be a sudden twinkling of lights which would then dis­appear and reappear in another part of the bay. We puzzled over what could be caus­ing the light show, then realised it was the moonlight reflecting off the white callosi­ties on their heads while they were coming to the surface to breathe. There was a brief twinkling just before the whale brought his head out of the water, followed by a loud explosion of sound as the whale ex­pelled the old air and took a new breath. We sat there enchanted until our bodies told us that they would soon become ici­cles. As we lay in our tents that night lis­tening to the sounds in the bay below, I called out, 'Can you still see it?' Yes,' came the reply. 'My mind is full of lights.'
For every hardship that comes with liv­ing in an inhospitable environment, so there comes a contrasting moment of sheer splendour. And this, too, is the nature of the subantarctic.