Treasure Island
Great Mercury was one of the first sites of human habitation in New Zealand. Last year, a radical new public-private partnership sought to rid the island of pests. It was a unique operation, and the results have been astonishing.
Legend suggests that it was the white cliffs of Great Mercury Island that Māori first saw when approaching Aotearoa—magnificent 180-metre-high walls of chalk, incandescent in the rising sun.
That was the moment when things started to go wrong here, ecologically. Māori settled on Great Mercury, beginning the first chapter of human habitation, and inadvertently introduced kiore rats, too, beginning a biological siege that lasted for centuries. Thereafter, events on the Mercury Islands would play out as an alarming precursor to the destruction wrought by humans and pests on the mainland—the fate of New Zealand's environment in miniature.
Ship rats were added to the scourge with the arrival of Europeans, and parts of the island cleared for pasture across the 19th century, adding habitat loss to the litany of ecological ruin.
Today, in one of New Zealand's biggest public–private conservation partnerships, the island's owners are working with the Department of Conservation to put it right.
The relationship promises to be a model for achieving conservation goals in an environment of shrinking funding. However, some difficult questions remain unanswered: Is it possible to rehabilitate such a modified landscape? And, with so few native species left, how will conservationists know which species to restore?
[Chapter Break]
Great Mercury Island is 1872 hectares of plantation forest, farmland, native bush and thick scrub, folded into high peaks and deep valleys and pocked with volcanic caves. It is the largest in the Mercury Group, a cluster of volcanic jewels five nautical miles off the east coast of the Coromandel Peninsula. The smaller islands are managed as nature reserves, and as a result, have benefited from decades of pest management. However, agriculture, private ownership and sheer size have made conservation management of the larger island impossible.
As one of the very earliest sites inhabited by Māori, the island was also among the first of New Zealand's habitats to be affected by kiore rats. For some 700 years, they transformed the island's ecology. By 2000, the rodent problem on Great Mercury was profound, particularly in late summer and autumn. Rats were jumping into beds with the farm manager's children, eating through the wiring in the bathroom and wreaking structural damage on farm buildings. When ink tracking cards were put out around the island to gauge the extent of rodent distribution, every single one came back with rat footprints. DOC described the population as at "plague proportions".
The presence of pests on this huge island represented both a threat and an opportunity in ecological terms—there was a risk that pests on Great Mercury could cross the narrow channels to the smaller islands, but an eradication programme also presented the prospect of having one of the largest pest-free islands in the country just a stone's throw from some of the most precious and vulnerable. It was a tantalising and powerful idea for conservationists, yet to eradicate pests on Great Mercury would require the active support of the island's owners and an audacious programme of aerial applications and subsequent management. It would also be expensive—just shy of $1.5 million—and DOC simply didn't have the funds.
Fortunate, then, that Great Mercury is owned by Sir Michael Fay and David Richwhite, two of the wealthiest individuals in New Zealand. They had the capital, and the motivation also. Together they contributed $750,000 and the use of the island's facilities, boats, even a helicopter. It was a 50/50 deal of a kind that DOC had not contemplated before.
In August last year, cattle and sheep from the farm were shipped off the island and 'the cleaners' moved in—20 DOC staff and technical experts, a dozen people from the island, two helicopters and a little over 40 tonnes of brodifacoum pellets. It was an operation conducted with military efficiency. The choppers used GPS to accurately spread the bait, to avoid missing spots, but also to miss the right spots, such as watercourses and estuaries. Hard-to-reach locations, such as near-shore rock stacks, sea caves and inland caves, were baited by hand—rangers bush-crashing, climbing and crawling to access them.
Meanwhile, Nick Torr and conservation dog handler Gary Bowcock embarked on a mission to rid the island of cats that might have survived the poison drop. (Cats eat the rats, and succumb to secondary poisoning.) Every day, they woke at dawn, set traps and patrolled the island with cat-dog Abby. It took five months' effort to catch the last three.
The team were blessed with unseasonably calm weather. The programme went well, and yet the result remained uncertain—it would take two seasons of constant monitoring, with precisely zero pest sightings, to declare the island officially pest-free.
Traps and tracking tunnels were laid across the island. Then the rangers made arrangements for the final phase of the programme, and held their breath.
[Chapter Break]
It's 6AM, and an elite group of special forces is gathering outside the shearers' quarters, yelping with excitement. Woody, Tike and Moss, Milo and Abby—a stoat-dog, rat-dogs and cat-dogs, respectively—are members of DOC's conservation dogs programme, drafted as pups into one of the most highly trained dog armies in the world.
With a bit of grooming, the border terriers would look the part in a fashionable handbag, but today they answer a higher calling: they are the last line of defence in the eradication, and only they can determine if it has been a success.
DOC's project manager Pete Corson and the dog handlers—Gary Bowcock, Andrew Blanshard, Miriam Ritchie and Brad Windust—huddle around an aerial map. It's riddled with pins and Post-its marking traps and tracks, and annotations such as "Cat prints seen 8/10/2014". They plan their routes for the day, plotting a coverage map that will ultimately paint the island with the pulse of geolocator beacons covering more than 800 kilometres as they criss-cross the island.
Corson fires up the truck and we head for the hills, a cab full of conservationists, a tray full of hounds. Up the switchbacks from the shearers' quarters and into a thick cloak of radiata pine—a forest planted after the great fire of 1981 that burnt 675 hectares of bush to the ground.
This forest is part of what makes the Great Mercury eradication plan so unusual. Native species—particularly kiwi—have been known to thrive beneath a canopy of pines, but an eradication project has never taken place in a pine forest (it creates a challenge for aerial drops of bait), nor has a restoration of native species ever taken place in such a modified forest context. This is new territory for the department, physically, technically and commercially.
Blanshard and his hound Tike leap out at the road junction, check a nearby trap (empty) and disappear down an avenue of pines, en route to the south-easterly corner of the island—Tike zig-zagging left and right as if bouncing off the sides of the road.
Farther south, the pine forest gives way to native bush—ferns, flaxes, mānuka scrub and monumental pōhutukawa—and the 'road' disappears into long grass. We get out of the truck and follow Miriam Ritchie, Woody and Moss down a steep track to the shore. Kākā cackle in the canopy.
We've arrived at low tide in Whaler Bay on the island's southern coast to take advantage of a thin sand bar that connects the twin rock stacks of Motukaha Island with the mainland. The tops are cloaked with dense flax, rimmed by a laurel of pōhutukawa and pocked with holes—small, fresh, deep and damp, the new dwellings of grey-faced petrels, long in exile.
Corson lies on his side, arm in a burrow up to his arm-pit and ear pressed to the earth like he lost his car keys down a drain, plumbing the island for a sign of returning sea birds. There were just two chicks (and, morbidly, a number of skeletons) in these burrows before the eradication efforts. Today, he reckons that there are some 80 chicks on this single rock stack alone. The grey-faced petrels join fluttering shearwaters and diving petrels that have already touched down on the island, a recovery rate that appears to have surprised everyone.
Except Corson. He seems a little less awestruck by the results than others, as if the pieces of the puzzle are simply falling into place. Perhaps because he's been contemplating this puzzle longer than most.
[Chapter Break]
Pete Corson's introduction to the Mercury Islands came with a phone call in 1994. "Pack your bags, you're going to the Mercs." He was shipped off to one of the richest, most precious and sensitive of the Mercury Island group. (The island isn't named here, for biosecurity reasons.) He was there to find the Whitaker's skink and mount a special mission to learn more about the cryptic and carnivorous Mercury Island tusked wētā, discovered by herpetologist Tony Whitaker as recently as 1970. It's one of the rarest invertebrates in the world, known to exist on only one small island.
DOC ranger Rob Chappell removed just three wētā from the island—two female and one male—in 2000. With other entomologists, he succeeded in raising 300 tusked wētā that were subsequently released on six pest-free  islands in the Mercury and Ohinau groups three years later. A good thing too; no more tusked wētā have ever been found on the original island, for reasons that still remain a mystery.
The experience was an alarming demonstration of how fragile and vulnerable small island-based populations can be, and the necessity to ensure neighbouring islands
are pest-free, too. In a way, Corson's involvement with the Mercury Island tusked wētā provided the equal parts of motivation and unease that would promote the eradication project on Great Mercury. It was little surprise, then, when the job landed at his feet.
We sit on a grassy headland above Whaler Bay and watch pied shags feed their chicks in a pōhutukawa tree.
"I want my kids to turn up here with their kids, turn over a log and find a tusked wētā, or have their picnic drowned out by kākāriki and saddlebacks," he says.
But the conservation philosophy underpinning the restoration efforts on Great Mercury is not as simple as dumping back all the critters that used to grace these isles. For a start, no one can be sure exactly what used to be here.
"If we were to bring kiwi back, which one would we bring back?" says Corson. "Were there kiwi here before? Don't know… probably. We know that 8000 years ago, these islands were linked to the mainland, so it might have been the Coromandel brown kiwi. But they're doing well elsewhere."
Better, then, to be more strategic about conservation. "We have little spotted kiwi on one of the Mercury Islands, Kāpiti Island and in the Marlborough Sounds, but the population is still perilous. So we need another big island for the wide-ranging birds. So in species-conservation terms, that may be best. And at an ecological guild level, does it matter which bird fills that role?"
It's a pragmatic view supported by the island's owners.
"Tuatara were here, and they should be here again," says Sir Michael Fay. "But we're not building a zoo. Not here. This is a 100-year game."
[Chapter Break]
Fay has an office over his boatshed in Mercury Cove. Hardwood stairs lead through a lightwell at its heart to a loft space festooned with memorabilia of a busy life.
A model of Australia II, the yacht that won the America's Cup from the United States for the first time in 1983, rests near the window, a reminder of a victory Fay never enjoyed himself. Beside it is KZ1, the 'big boat' that was at the centre of one of his America's Cup campaigns that was lost, not only on the water, but in a New York court room too. The yachting challenges were run concurrently with a busy and often controversial commercial life in merchant banking.
"A business life, merchant banking, it was always going to be a mixed bag. You have days when everything goes well, and days when, you know…" Fay pauses, digesting the memory. "It's like yacht racing," he says, waving his hand at the model of KZ1. "You can put a tonne of money in and it doesn't go as planned. Same thing. Win some, lose some… doesn't stop you trying."
But today's project seems to loom larger than all of that. "Business ventures, the America's Cup, they're exciting at the time, but they come and go," says Fay. "This island has been a constant in my life for more than 40 years… When you find a project that you have a feeling for, it takes a very special place in your mind and heart."
Fay reaches into his drawer and presents a basalt adze, turning it over in his hands. "This was the island's first gift to me," he says. He found it on a cattle track the first day he visited the island, in 1975. "Everywhere I've had a desk it's been with me; since day one," he says. "But it belonged to the island, not to me."
Fay wouldn't be so quixotic as to call it a 'sign', but it was a gift, and somehow it has bound him to this place ever since. As did the ideology of Pat Mizen, the island's former owner, who was with him that day.
"His fascination and his fixation were with the island and its significance to Māori," says Fay. "It was passed on to me in the context of what you shouldn't do—you shouldn't put fencelines across significant sites, or cause erosion on hillsides, or graze cattle in a way that is insensitive to the landscape. You shouldn't allow gorse to grow on a headland or pā site. These things were important to Pat, and they became important to me, too."
Fay and Richwhite developed the island carefully, promoted public access to it, and threw legendary New Year's Eve parties for any of the boaties holed up in Mercury Cove that night. It was there that they built homes for their families, and it was then that they noticed the profound absence of birds.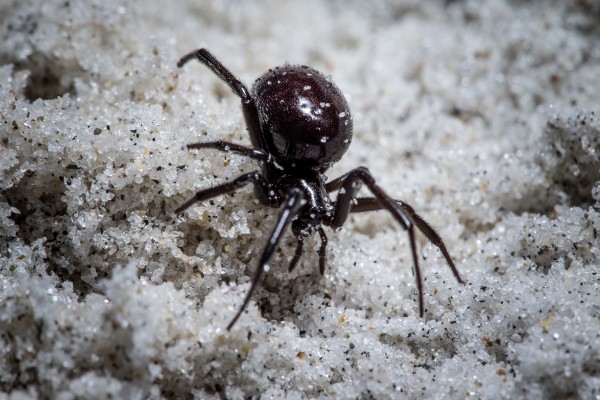 Great Mercury is in fact two islands: an andesite volcano in the north, a rhyolite volcano in the south, the pair connected by an enormous isthmus of sand, called a tombolo in geological parlance. It's an island of two halves in other ways, too. The south has large tracts of remnant bush, and a plantation forest of pine. The north, where the homesteads are located, is a sheep and beef farm covered largely with pasture grasses.
Restoring the island's ecology—and its birds—was promoted over the past 30 years by Richwhite's wife, Libby. Some 600,000 native trees were planted on the barren coasts and gullies in the north, and wetlands fenced off and restored with flaxes and raupō. And yet the dawn chorus remained muted, but for the trill of skylarks over the hills.
"Is there something missing here?" wondered Fay.
"It's the rats, Michael," a friend told him. That was the moment his war began.
[Chapter Break]
Today, one great battle ends, but the war wages on. Corson spreads the annotated aerial map out on a glass table-top and informs Fay that the dogs have just completed a five-day survey of the island without a sign of a rat, mouse, stoat or cat. Great Mercury is technically pest-free.
"Good," says Fay. He could be overjoyed, but he's already moved on to the next agenda item: protecting the island from new incursions.
He leans in, interrogating every detail of the defences. "Baffled mousetraps? What does the mean? Baffle a trap. I don't understand… OK, got to refine the traps. Servicing, how often? … I'm not satisfied, this network needs to be strengthened…"
The pair thrash out the details as if preparing for an armed onslaught. The stakes are high for both parties—the hard and costly work of the past year can be undone with a single incursion.
Despite Great Mercury being far from the mainland, the threat is very real. Every weekend in summer, boaties in hundreds of small craft venture to the island from Matarangi, Opito Bay and Whitianga to picnic on the pristine beaches on the south coast. Hundreds of cruising vessels come from further afield. Any one could harbour a rat or mouse.
Advocacy plays a crucial part, but the back-up plan on Great Mercury is also comprehensive. Tracking tunnels are dotted around the island, with ink-pads to record footprints of invaders, and 298 traps lie in wait. Every trap and tunnel must be checked once a month (twice a month over summer), forever. But over-doing the network is also a problem, warns Corson. "We need to be strategic about how big a network we can service. If it's too hard to service, it won't be serviced."
Fay himself spends much of his summer visiting the island's beaches, striking up conversations with visitors, and advising them of the programme; its successes, challenges and prospects, hoping that an informed public are more likely to assist in its protection.
Now 18 months on from the eradication, the island's ecology is already rebounding. In an eight-day survey conducted in 2012, only one red-crowned kākāriki was recorded; now, one or two are seen every day. Kākā chicks are thriving in surveyed nests this year; previously, not one survived to fledge. Common geckos are becoming common again, a dozen scurrying from an overturned rock where one or two might have been seen before.
There are also more insects. "Everyone's complaining about the number of spiders," says Corson. "It's sort of a quality problem to have… We want the birds back, but they're eating all the olives off the trees."
Bumblebees too, says Fay, are landing in his pool in record numbers. He's awoken by kākā screeching outside his window at 5:15AM—until this month he'd never seen them at this end of the island, now they're "vigorously attacking" the pōhutukawa in front of his house.
"Kiore rats have been a factor for the birds on this island since it was settled by Māori in the 13th century," says Fay. "So last season was the first in more than seven centuries that the birds have had a chance. It's amazing how much the land does when you just take away the limiting factors, when you just give the land a chance. To be part of unlocking this potential has been very rewarding.
"The challenge now is to look ahead. How is this particular piece of land best managed? You can't think in terms of years, or even generations; it's much larger than that."