Southland: A winter journey
Red deer linger in the snow, some grumpily, waiting for Glenary Station's deer manager, Dave Little, to feed out hay. A mean wind whips through the afternoon gloom, at once unpleasant and exhilarating. This is a place of hardship, and of wonder.
As I prepared for my first game of chess in Southland, I took some comfort in the fact that at least one person back inside the house was a nurse. It was cold, it was wet, it was miserable—ideal conditions for a tour of a farmlet in Tuatapere, but lousy for a guy trying to decide on his opening gambit
Earlier that day, I had huddled in my hotel room in Invercargill, poring over strategy books in a last-ditch burst of training for my planned fortnight of chess games in the country's southernmost region. Perhaps it would have been wiser to have studied mud-wrestling.
Sluicing my way along the garden path, I squinted through the rain at dozens of hens, a dog, a rabbit (who may or may not have been called Rover—I can't recall, and the note­pad in my pocket got soaked) and two pigs. "See that one," my host said, his voice rising above the storm, "that pig's called Victor. That one over there, see, his name is Victim."
I would have laughed had it not been for the fact that I needed all my available concentration to keep from tumbling into the ooze. It was my third day in Southland, and I was yet to see blue sky; the heavens to date had been gray-lidded and gruel. As it happened, I could barely see my feet, and, though my guide was probably twice my age, I felt the frailer of the two of us.
We returned indoors. As it turned out, the nurse's ministrations weren't needed. Isabel, a midwife from the nearby hospital, and her husband, John, a Tuatapere pharmacist, were two of the other guests at a meal which also included a local sheep-station owner and a young man convinced that he had invented a world first in outboard motors.
Our hosts, Malcolm and Betty Garrett, were charming, easing the afternoon conversation from the corporatisation of family farms and local body politics to the meaning of rock and roll. Betty, a retired school­teacher, like her husband, even threw in an impromptu lesson in Maori: "Did you know," she asked, "that the word 'Tuatapere' means 'to jump over'—as in a game of check­ers or chess?"
Actually, I hadn't heard so, and was doubtful about the translation. But I was pleased to hear it all the same. I was pleased to have a con­versational opening for my trip's first game, played against Betty on a board etched onto the top of a coffee table. Its pieces were heir­looms from Malcolm's grandfather, she told me, a turn-of-the-century artifact which hadn't been used in ages. That pleased me even more.
Struck, perhaps, by the antiquity of the set, I played a modish open­ing—a stylish (or so I hoped) fianchetto on black. Betty responded with an old-fashioned queen's gambit, and a very loose one at that. By the sixth move, her knight was jammed on the edge of the board, and I readied my queen to advance for a kill. She sighed. "Chess is a nasty game, isn't it?"
As she considered her options, I glanced around the lounge. There was a bookcase containing a few books (a couple of Bibles, a Melvyn Bragg novel, old copies of North & South magazine), a small gallery featuring pictures of children and grandchildren, and, weirdly, a pint-size witch on a broomstick hovering above a fire that glowed Halloween orange. Outside, the rain continued to beat a tattoo on the tin roof while the evening shadows lengthened.
"I'd really forgotten how nasty this game is," Betty continued, grimacing. I nodded sympathetically. Then I nearly jumped out of my skin at the sound of a whinnying horse. From out of nowhere, or so it seemed, the knight I had pinned to the edge of the board had acquired new life, moving into the position of a family check, which forked be­tween my king and queen. Goodbye, bishop!
For the next few minutes, plink, plonk, plink, this matronly lady became a serial killer, trading off my remaining pieces, leaving me beaten, flabbergasted and forlorn—which is to say, in the same kind of condition that a lot of outsiders think Southland is in.
[Chapter-Break]
Everybody said it had been a very cold winter. On the outskirts of Balclutha, where I'd stopped to buy new chess pieces, they'd already thrown some hay over the frozen fields. What was still alive was hidden, cocooned inside farm­houses or deep beneath the level land.
Small wonder, then, that as I continued driving down winding Highway 1, it seemed as if every other vehicle I saw was heading in the other direction; white headlights proceeding northward in a velvet black night, like so many white chess pieces moving across a darkened board. On my passenger seat was a folder of research notes and newspa­per clippings, many of which dealt with what I'd come to think of as Southland's identity problem.
Almost alone among the principal New Zealand regions, Southland suffers from a lack of known person­ality, though this view is not, I was to discover, shared by most of its 100,000-plus inhabitants. Yet for we outsiders it has always drawn some­thing of a blank Think of Auckland and you think at once of South Pacific bustle, a town of gung-ho traders and cowboys. The same applies to Wellington (Parliament, protest marches, bureaucratic manners). The West Coast carries its own immediately recognisable mental furniture: wild food and bad poets, glimmering jade and Keri Hulme. But Southland? Blank out.
Is this fair? Does Southland really possess no singular qualities? After all, it's an economic powerhouse, where fewer than three percent of the country's population generates—through farming, fishing and forestry—more than 19 per cent of the nation's gross domestic product. As a fertile province, it has no equal this side of the Waikato. And the economy isn't just rural: taking advantage of a ready supply of electricity from nearby Lake Manapouri, Comalco operates its huge aluminium smelter at Bluff.
Mountains loom on its western and northern fronts, their peaks slashing through a tranquil roll of farmlets, hamlets and crystalline rivers—the latter rolling their way out to a coastline that, at 3400 km long, represents one-seventh of the nation's shores. Half of this pano­rama "has been painted meticulously by human hand, the other half mesmerisingly by nature," wrote Maurice Shadbolt in The Reader's Digest Guide To New Zealand. "This visually rich region—in some places as soft as a suburban lawn, elsewhere as unkempt as the world in its morning—holds more contrast than any other part of New Zealand."
It is here, too, that some of the last Polynesian explorers laid their paddles to rest some 800 years ago. Elsewhere, in Dusky Sound, Fiordland, stood the country's first European house (not to mention modern New Zealand's first ship­wreck and earliest shipbuilding locale). At one point in history, more British settlers lived here than anywhere else in the country, and for a brief time, during the 1800s, the idea was briefly entertained of constituting the nation's capital city within the region now known as the Catlins. and yet southland remains largely unknown.Long before I packed my bags in Wellington, caught a flight to dunedin and pickup a rental car, I knew that I wanted to discover Southland by way of the chess board. I had no real plan, no precise idea of how this might best be done. It was simply there, a method of exploration and communication.
I had an idea—I still have it, actually—that chess players, even bad ones like myself, have a sense of realism. Something in the game's analytic quality makes self-deception difficult, lending a clarity to one's life, or so my theory has it. Unlike, say, the aspiring novelist, who may go on believing for years that he really is the next Saul Bellow or Paul Auster, despite any and all evidence to the contrary, even the youngest chess player can gauge his talent accurately.
When I was a child, I used to play chess with almost anyone at high school who would take me on. Most of the games I won, though a couple of matches were close; too close, in fact. This depressed me. It meant that my board skills would always remain in a rut. That's what I mean to say. Chess can teach a young person what many of us spend 30 or 40 years avoiding: that wanting to be something doesn't necessarily make it so.
Little matter, though, and less relevance, as the sun's first rays broke over the Catlins. Here, along what must be one of the world's loneliest strips of highway, the only thing to be played was the car stereo.
[Chapter-Break]
I was an hour away from Invercargill, heading along what is known as the Southern Scenic Route. A while earlier there had been Waipapa Point; now I was passing Curio Bay. Silence brooded everywhere.
I couldn't have been happier, not only to be on such an agreeably lonely stretch but to see a fossilised forest exposed on a rocky platform in front of me. Its blackened hard­wood became petrified some 160 million years ago by the volcanic activity that husbanded this corner of Southland
Around this rocky, bush-fringed turquoise coastline (not, alas, to be espied on this occasion) it is possible to see fur seals, yellow-eyed pen­guins and the cheerful Hector's dolphin, one of the world's least abundant sea mammals. Also on display at Tahakopa and Tautuku Bays are some of the region's great living native forests, starting behind the white sand dunes and extending kilometres inland. Walking trails wind through tall podocarps; the same natural paths once used by Maori hunters searching for moa.
For more than 1000 years, human habitation has wrought profound change on the landscape here, as elsewhere in the country. Vast areas of forest, grassland and wetland have vanished. Introduced predators have pushed many native species to the brink of extinction—and beyond.
Today, many species find sweet sanctuary here: kakapo and short-tailed bats on Codfish Island, saddlebacks on Breaksea Island. In addition, the Department of Conservation has adjusted the food chain by eradicating predators on some islands, as well as by transfer­ring animals and supplementing natural food sources to achieve a more hopeful ecological mix.
Six years ago, a discussion took place over the rights of the Maori to hunt declining species such as wood pigeons. Up north, of course, this would have sparked a verbal war of attrition in the media. Here it was resolved with Solomonic wisdom by Ngati Hine leader Kevin Prime. Traditional hunting was fine, he said, providing the Maori used traditional hunting spears. This seemed to end the subject, and the words in the DoC brochure in my glove box now apply cogently to all: "Take only photographs, leave only footprints."
I took the point. I also took a north-west turn, heading to Yorke Bay by way of Niagara Falls, a minuscule hamlet that was probably named by a 19th century American whaler, one of the many foreign nationals to have laid claim to the Waikawa Harbour.
"Did you see them—the falls, I mean?" smiled Alison Yorke, as her wiry husband Bruce looked on mischievously from behind her back.
"Uh, yes," I replied, slamming the car door shut. "They must have been all of 500 mm high."
We laughed, even though the couple had obviously spent a lifetime deflecting such lines. I was happy, too, that they didn't seem to mind the lateness of my arrival at their house—contemporary vacational in style and painted deep green to blend with the surrounding bush. The local estuary spread out before us, its mists swirling and steaming beneath the drizzling sky.
There used to be 30 fishing boats on the estuary as well as a sawmill near the shore. Today, the mill is gone and only a couple of fishing boats remain. The local schools have consolidated. But the farming side of the district has remained stable, though the old tradition of sons buying out their fathers has faded somewhat.
The current population is some­where between 50 and 100, and the greater Waikawa region takes in some 250 inhabitants. "It's a very caring community," Bruce Yorke explained. "It comes from our isolation. We've always been a long way from civilisation—a community with nothing but bush to its back and sea to its front—so to go any­where you've got to pass your neighbours."Alison, Canadian-born, smiled and took out a chess board. Bruce continued speaking as he set up the plastic pieces.
"This is not the sort of place where you can really have a falling out with someone. I mean, sure, there have been the odd times where one neighbour will have some conflict with another, and in those cases one neighbour will eventually move, but it doesn't happen much." He prodded a pawn towards the centre of the board. "We, ah, tolerate one another."
Our game followed the usual opening pattern, followed by two exchanges of pawns that left Bruce keeping a doubled pawn on the side of the board, a position not usually regarded as favourable among chess players. But Bruce had accepted the position quite deliberately, even enthusiastically, and I started fret­ting. When he moved his queen to the centre of the board—alone, unguarded, in violation of all chess conventions—I almost broke into a sweat. He appeared to be following the kind of deeper strategy unknown to common players, a suspicion that appeared to be confirmed when he attempted to offer me the chance to take his queen in exchange for my bishop. Naturally, I declined.
Bruce won the game—handily. And later on, as he packed away the chess pieces, he asked a still handier question. "Why didn't you take the queen when I blundered it?" He chuckled.
[Chapter-Break]
No sooner did I rise in the morning in my hotel room in Invercargill than I felt the day slipping away. There was little light to sink my teeth into, little sense of time unfolding. One afternoon, I drank tea and clucked over the chess board, but it was cold—so cold, in fact, that I quit the room for the warmer confines of the public library, which was renamed in 1993 after the person of former mayor Eve Poole.
When pundits defend Southland from the charge of its being too deeply conservative, mention is often made of the fact that this is the city which voted in as mayor Tim Shadbolt, formerly a staunch anti­establishment activist and failed mayor of West Auckland. But Eve Poole, a three-term mayor who died in office, perhaps offers a better glimpse at the idiosyncratic quirk of regional character that throws up the odd paradox in public life.
She was not only one of the first women in the country to become a mayor, but also an overcultured immigrant, a European Jew fluent in Hebrew, French and German who graduated from Trinity College and had been trained in Habima theatre in Israel (a nation of great chess players, too). While in the Middle East, she met and married a New Zealand soldier, Vernon Poole, who brought her to Southland, where she joined the Invercargill council in 1971. When she died suddenly on Boxing Day, 1992, the region's newspapers offered emotional tributes to the star politician once haughtily described by conservative National Party MP Norman Jones as having brought nothing but "culture and emotion" to Southland.had my own spot of local stardom later the same day when a journalist from a local newspaper interviewed me for an article. When she asked what I thought of the region, I said, without really think­ing, "I love it, and so should you.""Oh, really?" she said. She seemed to have her doubts.
In fact, it was the newspaper reporters here, and their stories, that I was beginning to love the most. A front-page item in the day's edition of the Gore-based Ensign newspaper, for instance, had reported on police concerns following the mysterious beheading of a snowman in the middle of the night. The incident was "probably the work of teenagers with too much time on their hands," the report noted. Inside the paper, and for no good topical reason, an editorial entitled "Go Jump Off The Planet" raved against homosexuals. "Queer communities throughout the world think it's okay to stage stupid parades of poofs prancing around public streets in the almost-rudey­nudey," wheezed the writer, who went on to liken feminists and gays to "rampant dung beetles."As afternoon slipped away, I wandered down the Dickensian alley next to my hotel and found a terrific little restaurant, Bad Minnies.
Bad Minnie, as every Southland schoolchild used to know, was Minnie McCulloch, a 21-year-old widow who arrived in Invercargill in 1868 with two daughters in tow. From the start, she was reticent about her family connections, although in all respects she appeared to be a devout Christian, wholly respectable and silver-spoken. A photograph at the public library shows her in a velvet jacket with a lace collar, and below it a flowing dress with fringed panniers. The face is most surely Calvinist—pursed lips, corrugated eyebrows, straight nose—though hardly that of local history's most notorious murderer.
The story of her homicidal exploits is well known, its facts en route to the pantheon of ghastly trivia. Minnie Dean (she married in 1872) went into business for herself as a baby-farmer, a horrid-sounding business whose name still reeks of the era's Victorian puritanism. For a premium of between £5 and £20, an unwed mother, or her shamed family, could send a child to Minnie Dean, who would provide its accom­modation until suitable foster parents could be found.
Such a system clearly left itself open to exploitation by the unscru­pulous, who would effectively gamble on their wards' short lives in order to maximise their profits. Such was Minnie Dean. More than 100 children passed through her house­hold, which was known as The Larches. While some infants under her care reportedly found homes, others died of supposedly natural causes. But others were definitely murdered, although the ultimate body count remained a secret that went with her to the gallows.
Over a dinner of Bluff oysters, I read the story of her final days in Old Invercargill by the late Monte Holcroft, who wove the tale of bad Minnie's subsequent trial with great suavity. "How many children," he wrote, "suffered at this woman's hands? Were there 10, 20, 30—or even more? It was known that she used laudanum to kill them. But what had she done with the bodies?" These questions, the writer contin­ued, were too oppressive for placid Invercargill to answer, "and men who asked them became angry."
Minnie Dean was sentenced to death. Confident, perhaps, that a country which had never before executed a woman would spare her life, she appealed the sentence. The appeal failed. Even so, the compo­sure with which she had conducted herself during the trial did not falter, not even on the morning of her execution.
"It was a solemn occasion, heavy with dread as a bell tolled and they marched through the yard to the steps of the scaffold," Holcroft wrote. She mounted the steps "more gracefully than many women ascend the steps of a first-class hotel." After briefly protesting her innocence—while I was just swallowing my last cold oyster—she offered a prayer that she be not allowed to suffer. The wish was apparently granted, for she died instantly, aged 47.
Wandering back up the alley, I watched the moon shyly ascending over blackened railway yards. From the window, I saw the fog billowing in from the sea, shrouding even the street lamps. I pulled the curtains and watched on television the consumer rights programme Fair Go, featuring a report damning the Invercargill City Council for send­ing out a two-cent rates bill. The presenter's face looked grave and supercilious. Those damned Invercargillites, he seemed to be saying; there they go again. Tut, tut.
[Chapter-Break]
Such an attitude while I was just swallowing my last cold oyster—she offered a prayer that she be not allowed to suffer. The wish was apparently granted, for she died instantly, aged 47.Wandering back up the alley, I watched the moon shyly ascending over blackened railway yards. From the window, I saw the fog billowing in from the sea, shrouding even the street lamps. I pulled the curtains and watched on television the consumer rights programme Fair Go, featuring a report damning the Invercargill City Council for send­ing out a two-cent rates bill. The presenter's face looked grave and supercilious. Those damned Invercargillites, he seemed to be saying; there they go again. Tut, tut.this opportunity," he twinkled, "to give our esteemed town hall my own categorical assurance that they can send me a two-cent rates demand each and every billing cycle, and Fair Go won't hear a peep out of me."
As it happened, I was booked to meet Fallow the same morning for coffee at the improbably named Zookeeper Cafe."So," he laughed, when we met, "we're not going to argue about Bob Dylan again, are we?" No, we weren't. On my first trip to Southland, in the 1980s, we had spent a quarter-hour cheerfully disagreeing on the merits of, oh, every Dylan album from Slow Train Corning on. He adored Dylan, but I was cooling off on The Greatest Poet In The Known Universe, though I enjoyed his religious recordings. We were both young(ish) rock critics, aspiring newspaper writers, playing our opening gambits in the world of real journalism.
"No," I said, "I wanted to ask you how long it takes to write those reviews. Honestly, it would take me all night."
"Really?" he laughed. "They only take me about the same amount of time that it takes my knee to jerk."
"Have you ever thought of shopping your talents elsewhere? I mean, to Wellington or Auckland, or even to an overseas paper?"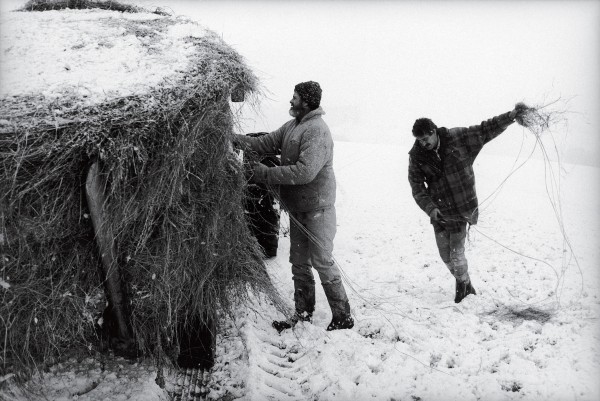 His face grew serious. "No, not really, and I know that's something that might be hard for some other journalists to understand. I like this place; I'm happily a Southland guy, and I'm happily a Southland critic. I mean, yes, there are problems here—we know that—but we know that we don't need outsiders to explain them to us."
"You know what I like," he continued, "I like the feeling of being able to telephone someone up for an interview—and I mean anyone—and saying, 'This is Michael Fallow from the paper. Just 'the paper;' nothing else. And they immediately know what I'm refer­ring to. See, the word 'community' means something here. We live it in Southland, you know."
Our conversation rambled for a few more minutes. We shook hands, made mutual vows to stay in touch, and I was off. I was heading to Crookston. At least, that was the game plan, before the fat flakes began their downward procession.
I stood outside the café and watched the streets turn detergent-white. A woman walked past, sliding along a pavement with two of her children, both smartly wrapped up in gloves and hat. Cars began fishtailing down the street. Right before my eyes, the world's southernmost city, a single, solitary town of 60,000 inhabitants, was being transformed into a dozen snowbound hamlets.
[Chapter-Break]
I won my first games of chess—three of them—in Riverton, a fishing town located 30 km from Invercargill. Its found­ing as a whaling station in 1837 makes it one of the oldest perma­nently settled areas in New Zealand. In pre-European years, Riverton provided a bountiful food source for local Maori. Today, it still provides great food for visitors and its 1800-odd inhabitants, at least for those who choose to eat and play chess at its Country Nostalgia Café.
In Southland terms, Riverton is something of an immigrant's town, which must be at least partly true, given that it is one of the few areas in the region blessed with a growing population. Fully 18 new people settled here in the five years between 1993 and 1998, according to census figures, which doesn't sound like much until one considers that Te Anau, with its bustling tourist industry, lost six per cent of its population during the same period. So why do they come?
"They come because of environ­mentalism," Warwick Guyton, a teacher, told me. "Environmental­ism is strong here, a powerful force. This is a beautiful area, particularly in the light of its high-quality, relatively untouched estuary, and that's not just our opinion, but something that's widely recognised. Take the Estuary Care Group that I'm a member of. It has 50 people, which is pretty impressive when you consider the population."
With support from the Depart­ment of Conservation, the Estuary Care Group was able to purchase a 25 ha block of land which they earmarked as a habitat for whitebait. "There are not many areas for these little guys to live," Guyton ex­plained, "so we're going to give them room to live their adolescent lives. We're all excited about it."
The three people I played against were all relatively recent arrivals: a former Invercargill councillor, Anne Stoddart, a doctor, Stuart McMain, recently arrived from Scotland, and Jackie Anderson, who described herself to me as an organic cow farmer from Hamilton.
For a Wellingtonian, the idea of an organic cow farmer sounded a bit like a gimmick, so I resolved, in the same spirit, to play a gimmicky game, full of sacrificial moves where I would give up as much as possible to achieve the best position. The chessmaster Richard Reti once rose to heights of eloquence in explaining this kind of play. The sacrificial game, he wrote, indicates like no other "that a human mind is behind the game dominating the inanimate pieces, and giving them the breath of life. It affords us the knowledge that behind so many apparently disconnected and seemingly chance happenings in the physical world lies the one great ruling spirit—the law of Nature."
Jackie and her husband Tim gave everything up to come here in 1993. Although the land prices were attractive, the region itself they had only the faintest knowledge of, based on a quick visit a year earlier.
"I remember that trip, how we drove down here one night at about dusk," she told me. "We were driving along the coast, and there was a huge wind blowing. The waves were crashing, branches were being torn off trees, and the gorse was scattering everywhere. We thought, who'd want to live here?" She laughed. "We were down here a year later."
"In some ways," she continued, "we wondered what we'd done by coming here. But I think we're now starting to find the answer, which is that we're joining the progressive rush away from large-stock, high-cost farming. We don't think the way dairy farming is going nation­wide is sustainable. I mean, did you know that cows get stressed out if they're in a herd of more than 200?" No, I said, I didn't. I was also a pawn down, and had lost my castling privilege.
"Well, they do. They get fidgety, they get jumpy feet."
The couple had brought 250 cows with them from Hamilton. All but a few had adjusted to the shift, she said, as I moved in for a check­mate. "As have we. We're going to be here for at least the next 10 years. It's a community which has made us feel incredibly welcome, though I suspect our children have found it harder. Our oldest daughter, in particular, preferred the nightlife. But overall, it's been a sacrifice worth making. The best kind of sacrifice."