The wilderness next door
Within sight but out of mind of thousands of weekday commuters who thunder along Auckland's North Western motorway, Motu Manawa/Pollen Island may be the most overlooked of New Zealand's marine reserves. But among its mangroves, salt marshes and cockle banks thrives a community of modest critters going about their business—an ecological hotspot on the doorstep of the city.
It would be hard to imagine a less-promising site for a nature reserve. Flanked by the industrial zone of Rosebank Peninsula, cut in half by a motorway that carries 100,000 vehi­cles a day, sandwiched between the densely settled suburbs of Te Atatu and Waterview, the wetlands, salt marshes and islands around the mouth of the Whau River seem unlikely sources of ecological inspiration. Yet Motu Manawa/Pollen Island marine and terres­trial reserves have become treasures of natural history and local wilderness.
They are treasures that hide in plain sight. Few of the commuters who make the daily grind along this traffic-clogged section of State Highway 16 would know quite what they're seeing when their gaze lifts from the car in front to the mangrove-flecked mudflats on either side of the causeway. Few would realise that a scrubby sliver of higher ground half a kilometre off­shore, extending two kilometres parallel to the motorway, is a named island with a proud history. Few would know that the peninsula they're passing was once the market garden of Auckland and, before that, the kumara basket of Tamaki Makaurau. As for the island the motorway slices through, they probably wouldn't rec­ognise it to be an island at all.
It's 6.30 pm in early autumn. Westbound from Waterview, the traffic is bumper to bumper, three lanes abreast. Windscreen shades are down as drivers squint into the setting sun. I'm beside them, on a cycle path, outpacing their slow crawl home. I have come here to start a re-acquaintance programme with a part of my backyard that I have neglected for years.
The cycle path narrows where it crosses the Whau River to Te Atatu. Two bikes could pass—just—but I'm happy to hold the railing while a troupe of 10 Lycra-wearing pedallers, out for an evening ride, roll past. There's a breed-recognition cour­tesy among the spoked. "Thanks"… "Gidday"… "Have a good one", they say as they glide by.
Below the bridge, the incoming tide moulds the muddy water into muscular coils. Launches and keelers strain at a line of moorings that stretches south towards the Manukau Harbour. Long before cars, bikes and roads existed, this was the highway Maori took to cross from the east coast to the west. They paddled up the Whau through what is now Avondale and New Lynn, portaging their canoes the last kilometre or so to Green Bay. Portage Road, which runs parallel to the river for much of its length. takes its name from that history. Intercoastal waka journeys are a thing of the past, but even as I watch, a moss-green waka ama slips under the bridge, paddles dipping fast against the current. The West End Rowing Club, which has its clubrooms a short distance upstream, maintains the paddling tradi­tion on this river of memory, its rowers plying the Whau and the two-kilometre stretch of water on Olympic courses with equal aplomb.
The throaty bellow of a two-stroke exhaust rises above the traffic rumble. A go-karter is taking a snort around the track at Rosebank Domain. Originally set aside as an education reserve, then designated a park, the plot of land at the very tip of the peninsula has been a motorsports venue since the 1930s. Karting and motorcycle speedway clubs have their circuits here, much to the vexation of Te Atatuites, whose serenity is shattered when the wind blows from the east.
Performance engines on one side, com­muter engines on the other—there's a lot of internal combustion happening around here. I retrace my route to Waterview, seeking gentler realities. I find one a few metres away, a moment of visual symmetry. There's a spot where the span of the Auckland Harbour Bridge aligns almost perfectly with the distant outline of Rangitoto—the human landscape mapping on to the natural. On this mellow evening, the metalwork of the Big Coathanger glows golden against the dark sobriety of the volcanic cone.
I find another near the Waterview inter­change, where an interchange of another sort is happening. A bridge here provides the only exchange of seawater between the Waitemata and a large expanse of mangroves and mudflats pinched off by the causeway. I'm startled to see grey mullet leaping near the bridge, where the mangrove channels join. I've known that this area was a no-take zone since the marine reserve was gazetted in 1995, but I didn't expect such an obvious advertise­ment of the fact. These fish are big—half a metre, the largest of them, which is almost as big as grey mullet grow. They circle in the muddy water, then fling themselves skyward, catching the sun on their flanks.
Another cyclist pulls out a pocket camera to record the spectacle. "I have to video this because otherwise my friend will never believe me," he says. "I always thought this was dead water."
Dead water it might have been, had not the Royal Forest and Bird Protection Society started lobbying in the early 1980s for a marine reserve to protect the sheltered habi­tats of the upper Waitemata. The current reserve takes in 500 hectares of harbour waters from near Te Atatu Peninsula to Waterview, including the entire area cut off by the motorway. Forest & Bird is now pro­posing that the reserve be extended to include the Te Atatu coastline itself.
It is well known that mangroves and marshes provide nursery areas and vital habitat for a large number of marine crea­tures, including many commercial fish species. A colloquy of cormorants on a nearby mudbank shows no interest in the jumping mullet. Wings outstretched to dry, they seem resigned to a long wait. Some of the banks near them are blanketed with sprouting mangrove propagules—"leaf books", as we used to call them when I was a child—each green lozenge pushing down roots and thrusting up leaves.
Adult mangroves line the cycle path. As dusk comes on, I think of Robert Frost's 'Stopping by Woods on a Snowy Evening', one of his most famous poems. Here I am, stopping by mangroves on an autumn evening, and these woods, like Frost's, are "lovely, dark and deep"—literally deep, now that the tide is coming in. I stand among them and stroke their leathery leaves and smell the sweetness of their tiny flowers. New Zealand's mangroves may not hold a candle to the giants of Ecuador and The Gambia—40 metres tall and straight as a kahikatea—but they're as eco­logically valuable: trapping sediment, driving food chains, storing carbon, buff­ering the land. And they have been as igno­rantly maligned. Now, though, they are starting to receive their due. I try out a few Frostian lines in praise of these salt-water rainforests:
Whose woods these are, I'm glad to know:
They're ours, the peoples—you and me
And so I stand by traffic flow
To watch these woods fill up with sea.
[chapter-break]
There are two ways to get to Motu Manawa: cross the mud at low tide or cross the water at high tide. I take the second option first, launching a kayak from Point Chevalier. A few minutes later, I beach my craft on a bone-white bank of cockle shells. Tiny waves lap at the shells at the waterline, making them tinkle like wind chimes. Not 10 paces away, a stream of traffic roars towards the city at the end of the Easter long weekend. All that lies between me and the streaming cars are cockle shells and a grass verge. White-faced herons and pied shags, sharing the bank with me, seem oblivious.
A few metres away, a Rubik's cube of concrete slabs indicates an experiment in progress. The motorway is slowly sinking into the Waitemata mud, and when high tides combine with low-pressure systems, the road surface floods. The New Zealand Transport Agency is testing a method of wicking water away from the foundations of the road, ahead of a causeway expansion project which will see new vehicle lanes, bus lanes and an expanded cycle path added to the motorway.
I slip on a mask and snorkel and wade into the sea. Visibility is minimal, but probably as good as it gets in this world of mudflats and mangroves. It is full tide, and a spring tide at that. As a result, the mangrove trees are flowering under water. The tide has submerged their bright-green leaves and mustard-yellow flowers. It is a strange sen­sation to swim through a forest canopy.
I warm up back on the shell bank, where the still air is fragrant with mangrove blossom, then climb into my kayak. A few minutes later, I step ashore on Pollen Island, Motu Manawa, 'island of man­groves'. Here are more shellbanks—older, consolidated, turning grey and breaking down into fragments. A metre or so back from high tide, salt marsh plants have established. Another metre, coastal shrubs take over. It is as if nature had decided, on this island that is only 100 metres at its widest point, to compress the succession from one vegetation zone to the next into the minimum space possible.
It's not the botanical pollen that Pollen Island is named for, but a human one. Daniel Pollen was born in Dublin in 1813 and arrived in the Bay of Islands on a whaling ship in January 1840, just in time to witness the signing of the Treaty of Waitangi. He began practising as a doctor in Parnell the following year, and bought land beside the Whau in 1844 to start a brickworks. A decade later, he bought Motu Manawa as a source of lime. An endless source, he probably thought, and he wasn't wrong. Over the next 80 years, billions, perhaps trillions, of cockle shells were shipped from the island to the peninsula and burned to make quicklime, an ingredi­ent in both cement and bricks and there­fore a vital mineral for a growing city.
Pollen contributed more than bricks, mortar and medicine to the young colony. During a long political career, he served as native minister, colonial secretary and, for a seven-month period in the mid-1870s, as the country's ninth premier, while Julius Vogel was overseas. He also edited a news­paper, the New Zealand Times. No one in such public roles escapes criticism, and Pollen attracted his share. Opponents claimed he was a smooth operator ("Soapy Dan", they called him) who dipped a little too freely into the public coffers for his per­sonal enrichment. His political philosophy was said to be encapsulated in the Latin phrase Quieta non movere, which roughly equates to "Don't rock the boat".
Long after Pollen's death in 1896, his island continued to be mined for shell. In 1922, Pollen Island lime came to the rescue during a typhoid outbreak. It was shipped to the Point Chevalier mental asylum (itself largely built from Pollen's bricks) and used to decontaminate freshwater springs on the property.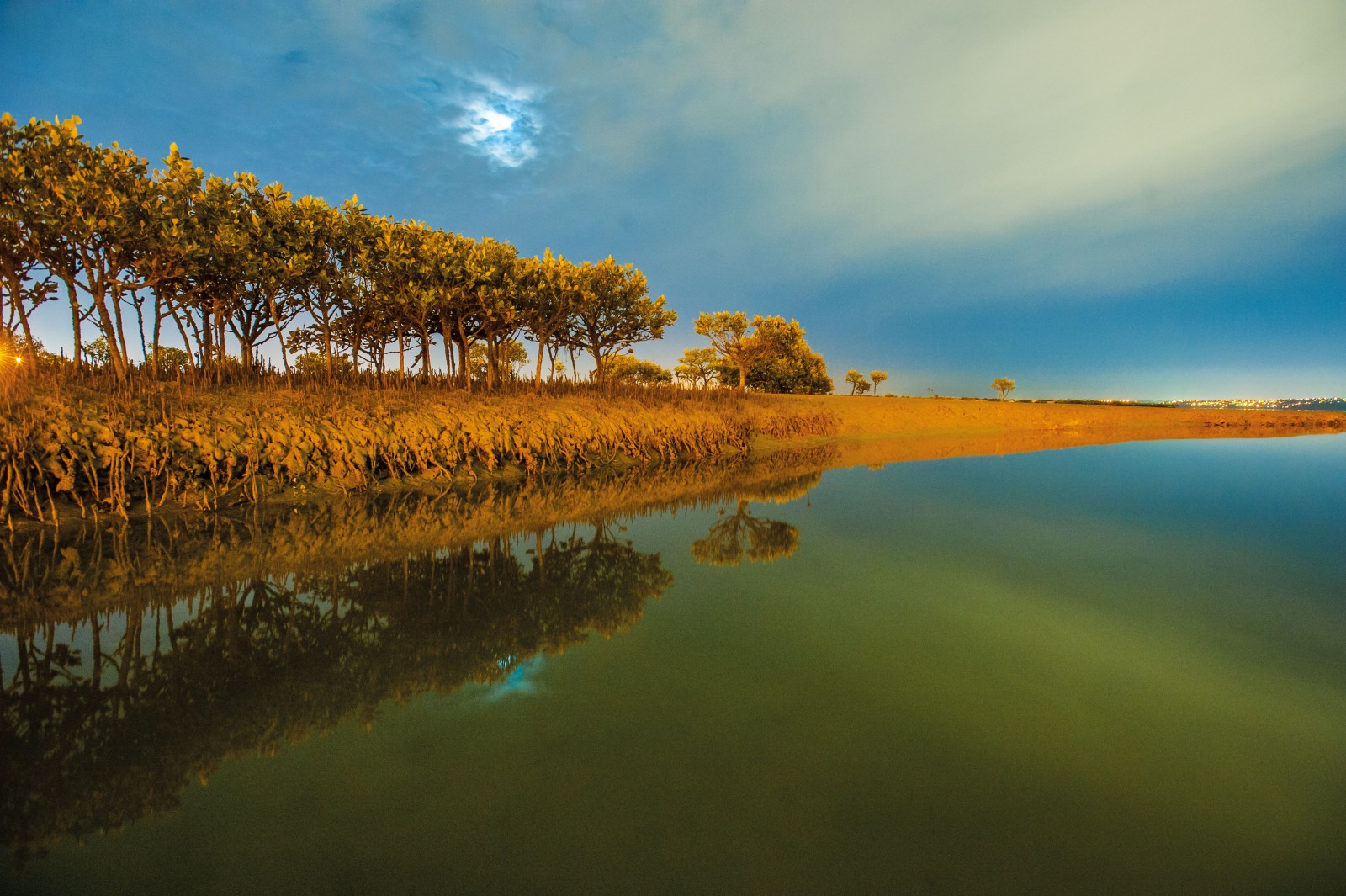 Crunching across the shellbanks, I find it hard to imagine where all those cockles came from, for their removal doesn't seem to have made much of a dent on the island. This part of the Waitemata must support such huge cockle beds that the flow of shells to the island is more or less continuous.
Six hours later, I get an insight into just how extensive those beds are. The slender slip of an island I landed on at high tide is now bloated by two kilometres of mud. From where I'm paddling in the main boating channel between the Whau River and the harbour bridge, the motorway is a distant, insignificant feature: toy cars trav­elling a toy road. Beside me, the mud plain glistens. Small rivulets of surface water pour into the sea. The grey expanse is almost featureless, as if it had just moments before been heaved up by Maui's hook.
On the subject of hooks, Traherne Island—the second island within the marine reserve, the one that is bisected by the motorway—has the Maori name Te Kou, the hook, perhaps because of its bent shape. Te Kou didn't pass into private own­ership until 1894, and passed out of it again 60 years later, when the Ministry of Works acquired it for the motorway. It remains Crown land, but Forest & Bird has begun restoring its ecology.
Traherne/Te Kou is the easier of the two islands to get to. You simply step off the cycle path, push through the stands of flax and you're in. Tracks marked with pink flagging tape lead into the interior of the island, in the direction of the Summit shirt factory and the Rheem hotwater cylinder factory on nearby Rosebank Road.
The flax plants are impres­sive: gleaming leaves three metres long, with the dead flower stalks an extra metre above that. Thickets of Muehlenbeckia, or wire vine, are mobbed by dainty copper butterflies, which sip from the tiny flowers. There are rodent traps dotted about the place, and most of the large wattles have been ring-barked long ago and have toppled. I peel off slabs of crisp, dead bark, looking for Avondale spiders, which like to hide under wattle bark. I do this with some care, because a fully grown social huntsman—as the cel­ebrated arachnid is more properly known—can be a hand's breadth across, and they move fast. Despite living in Avondale, I haven't seen one in years, though they used to be common when I was a child. And though they're an Australian import, I miss them. They were always good for surprise.
[chapter-break]
For the first the centre of it was owned by Ports of Auckland, which leased it to Forest & Bird for a dollar a year. In 2005, ownership of the island was transferred to the Department of Conservation, and it became an open scientific reserve. Forest & Bird remains the island's most ardent environmental guardian, and, half a dozen 10 years of Motu Manawa marine reserve's existence, the island at times a year, when weather and tides are suitable, the organisation offers guided walks there.
So it is that I find myself standing with a dozen other walkers beneath the bridge over the River Whau on a Saturday morning in May, listening to Forest & Bird volunteer Michael Coote giving the first instalment of his Pollen Island history lesson. The story goes back a long way—23 million years, in fact, to the andesitic volcano of which the Waitakere Ranges are a surviv­ing remnant. That volcano erupted on and off for seven million years, Coote informs us, and some of the clays and mudstones we'll encounter during our walk are the ground-up, sea-sorted sediments from that cataclysm.
A cold wind funnelling down the Whau drives us out into the sunshine of the coast. We negotiate a narrow path through vigor­ously growing mangrove and wattle and arrive at a salicornetum. Yes, salicor­netum—like arboretum—but in this case not a collection of trees but a waterlogged meadow of glassworts. The word comes from glasswort's scientific name, Salicornia, and 'glasswort' itself derives from the fact that, centuries ago, these ubiquitous salt marsh plants were burned to make soda ash for glassmaking. Indeed, with the sun behind them, the jointed stalks of this glass-wort glow like red light bulbs. The saltier the soil, the redder they glow.
We cross a narrow channel where the last of the outgoing tide dribbles sluggishly seaward and strike out across the mudflats towards the island, putting distance between ourselves and the motorway, turning our attention to slower traffic.
Mud snails lumber along, carving broad trails in the dust-coloured sediment. The dainty meanderings of mud crabs leave lacy patterns with their needle-tipped legs. A fresh set of banded rail footprints brings out the tracker in Coote.
He tries to deduce their destinations, their reasons for chang­ing direction when they do, and where they might have their haunts—for they are highly secretive birds, and we see not a one.
Rising ground and a change in vegetation signal we're at the island. Mangrove and glasswort give way to sea rush, wire vine and a type of tussock Coote calls 'bugger grass' for its sharp points. There's gentler fare here, too: native spinach and celery, pushing up through drifts of cockle shell.
In no time at all, we're on the seaward edge of the land: a half-metre-high clay bank which is being scoured back by the sea. Until a few years ago, this vulnerable edge was protected by shellbanks—Coote uses the geologist's term cheniers—but a storm in 2010 shifted the banks several metres inland, leaving the land naked and exposed. Change is the only constant in this dynamic place, and scalloped embay­ments along the clay margin are already refilling with shell, seeding new cheniers to buffer the land.
Something golden gleams among the driftwood and sprouting mangroves. The New Zealand mangrove was originally given the scientific name Avicennia resin­ifera—the resin-bearing Avicennia­ because the botanists on the Endeavour reported finding lumps of gum among its roots, and mistakenly assumed the trees had produced it. In fact, the gum had floated there from kauri forests which at one time stood thickly on the banks of the northern harbours where mangroves thrive. Who knows how long this piece­ the size of a small scone—floated around the Waitemata before coming to rest here.
I scuff its weathered surface with a finger­nail and inhale a piny pungency that wafts me back to my grandfather's workshop and its pots of shellac and polishing rags and the honeyed glow of varnished cabinetry.
Most of what floats into the marine reserve lacks the pedigree of kauri gum. A couple of members of the group are filling rubbish bags as they walk.
The rivers that flow into the Waitemata are aquatic con­veyor belts for a city's discards. Drink bottles and tennis balls seem to be the com­monest items. Forest & Bird volunteers have toted hundreds of bags of rubbish off the island, but as long as the rivers flow, the trash will come.
The battle against pests has better odds of success. Of the two islands Forest & Bird monitors, Coote says Pollen Island needs less-intensive trapping. The sticky, gum­boot-sucking mudflats between the motor­way and Pollen Island seem to deter predators, and no doubt the gauntlet of motorway traffic is a barrier to would-be invaders. Just as well. Among the rarities to be found here is the fernbird, or matata, which chirps loudly from thickets of wire vine and salt marsh ribbonwood and makes short darting flights, flaunting long tail feathers which are half the length of its body. In Maori lore, the fernbird is an oracle. Its presence here seems to augur well for the ecological future of this place.
If grasshoppers were auguries, Motu Manawa would have to be considered a Shangri-La. Between salty pools near the high-tide mark, the glassworts are alive with them. Yellow and black, green and brown, these handsome creatures spring from stalk to stalk, occasionally landing on my arms and legs.
As we cluster round a picnic table for a snack, people speak about the surreality of being surrounded by familiar city land­marks—the Sky Tower, harbour bridge, motorway, suburbia—yet feeling discon­nected from all that, here in this sanctuary in the urban wilderness, this island of yesterdays.
The surprising thing is that this patch of wildness remains at all. In the 1930s, a scheme was floated to transform the area into an airport. Two decades later, it was to be a shipping port. The then Auckland Harbour Board planned huge reclamations that would have eliminated Pollen and Traherne Islands, parts of Rosebank Peninsula and swathes of wetland as well. In those times—and for far too many years later—wetlands were considered waste­lands. Rather than being valued as ecologi­cal stabilisers, they were seen as eyesores best drained and covered over.
Had the port gone ahead, one of its victims would have been a geological oddity we're about to see. Near the eastern end of the island, shifting sediments have revealed a peat swamp laid down 160,000 years ago, during a glacial period when sea levels were some 100 metres lower than they are today. In that epoch, the sea fled the upper Waitemata, and forest flourished in its place. Podocarp pollen has been identified in the jet-black peat deposits that now protrude through the brown marine silt. We pause to marvel at pohutukawa and tree-fern trunks that are slowly weathering out of the swamp that entombed them eons ago.
More striking reminders of the Pleistocene past lie scattered across the mudflats in the form of what looks at first glance like bits of broken deer antler, black­ened through long exposure to the elements. They are the fossilised casts of shrimp burrows. Several species of mud shrimp build elaborate, multi-tunnel burrows, but it took two touches of serendipity to pre­serve the evidence of their occupation. First, an inundation of sandy sediment was needed to fill the thumb-wide burrows with sedi­ment. Second, iron sulphides in the anaero­bic mud required conversion to limonite, an iron oxide which acted as a cement to bind the sand grains together.
The return trip to the western end of the island is across vast tidal flats that are a shorebird's buffet. "If you're a mud snail or a mud crab out here, you're dinner," says Coote. Dotterels bob and scamper close by, while gulls and a single Caspian tern work the distant margin of the sea. Depending on the season, Coote and his colleague Kent Xie, who conduct these public walks, see Royal spoonbills, wrybills, godwits and knots, along with the more permanent residents: oystercatchers, pied stilts, shags, white-faced herons. "You feel like you're in their world," says Xie.
[chapter-break]
So ends my 'pollenation'—and since the point of pollen is to create new beginnings, let me say that it has. My experience of living in Avondale now embraces new routes, new land­marks, new memories. Stopping by mangroves on an autumn evening is part of my jogging regimen now. Will the mullet be jumping tonight? Looking for copper butterflies and Avondale spiders offers another excuse for a nature ramble with my grandsons.
Every city, every town, has its Pollen Islands, places we pass, barely cognisant of their existence, on our way to someplace else. In fact, Pollen Island as a story in this maga­zine appeared on the editorial radar as a result of an awareness-raising project for Rosebank Peninsula. A group of artists and academics sought to 'reclaim' an industrial landscape­ to show that no place is beyond cultural redemption as a site of community and iden­tity, a place that can become 'our place'.
And now there's a landscape project organ­ised by Friends of the Whau, called Muddy Urbanism, that seeks to reimagine this once-vibrant waterway, sidelined by history.
What is happening here? Why this spate of local awareness-building? It surely comes, in part, from a dispiriting sense of environ­mental decline at national and global levels. Reclaiming the experience of local wilder­ness is a way of pushing back against the forces that seek to commercialise and com­modify nature, wherever we look.
New York Times columnist Timothy Egan wrote recently: "The cure for Nature Deficit Disorder, for a worldview increasingly shaped by Google-coloured glasses, is the quiet riot of the wild, nearby." Pollen Island is my wild neighbour. Who's yours?