The Banabans of Rabi
Decades of phosphate mining on Banaba/Ocean Island left it unfit for growing and gathering food, so the islanders who lived there were resettled on Rabi in the Fiji group after WWII. Most remain on Rabi living a subsistence existence but some still dream of far-off Banaba, now part of Kiribati.
A New Zealander invited to visit the Banabans of Rabi Island, in Fiji, takes a flight to Nadi (three hours), a bus to Suva (some five hours), an overnight boat to Savusavu (about 12 hours), and a hired car to Karoko (another four hours). You then wait for an indeterminate period of time for a fishing boat to turn up (requested the day before by telephone from Suva) in order to make the crossing to Rabi (a last 45 minutes or so), as there is no scheduled transport to the island. You wade through the tide at both ends of this final leg—and wonder why 4000 people have to live on an island without a wharf.
You spend just a few days with the Banaban people and feel refreshed by the clear-eyed, friendly faces of all ages that smile at you and greet you as you pass. There is no cash economy here other than a limited number of jobs paid for by the Rabi Council of Leaders, but a subsistence economy keeps people industrious and fed, and tolerates no waste. After fish and dalo for breakfast, it will be fish and maybe rice for lunch, and fish and breadfruit for dinner. But different—and delicious—fish, prepared a different way on each occasion, and the freshest you'll ever eat. There may be pawpaw or mango to follow, and you soon learn not to spill the milk as you drink from an exquisitely refreshing moimoto, or drinking coconut.
Don't these people seem happy and healthy? And wouldn't anyone be pleased to be so removed from the hectic pace of the modern world? Well, yes and no.
There is no grid electricity on Rabi. The island's four villages—Tabwewa, Uma, Tabiang and Buakonikai—run diesel generators for only a few hours of an evening. Maybe someone will play a video or DVD in their house, and visitors will gather; maybe they'll light a hurricane lantern. But fuel is expensive, so there's incentive for high school children to rise at 4.30 a.m. to get the full benefit of the daylight hours. They're ready to leave on the school bus at 6 a.m.—if it's running. If it's out of service, which isn't unusual, the walk takes two hours, which means energy is expended and precious study time lost. The sum total of public transport here is two buses brightly painted with the logos of Stagecoach New Zealand, Reef Shipping and various Kiwi communities and wishing "Mauri Mauri—Greetings from New Zealand".
So who are the Banabans? How long have they lived on Rabi Island? How come education is so highly valued here? Why are those two buses painted like that? And what might these questions have to do with New Zealand? Even the short answers are long ones.
[Chapter Break]
The Banabans are a Micronesian people, originally from Banaba, also known as Ocean Island, a 595 ha speck of land in the central Pacific, just south of the Equator. Before European contact, Banaba was an independent territory, but today it forms the western-most tip of the Republic of Kiribati, some 400 km from the capital, Tarawa. Nauru, 200 km to the west, is Banaba's closest neighbour, but as the two islands are different countries, passage between them is not easy.
But the Banabans don't live on Banaba any more. Since 1945 they've lived on Rabi Island.
In 1900, a New Zealand prospector named Albert Ellis discovered that the surface of Banaba, to a depth of 20 m, consisted almost entirely of extremely high-grade guano phosphate that could be readily converted into rich agricultural fertiliser. The British government promptly annexed the island into the Gilbert and Ellice Islands colony so that mining could be sanctioned. The British-owned Pacific Islands Phosphate Company (PIPC) secured a 999-year lease of right to mining at a cost of £50 per annum. Work began immediately.
PIPC later sold out to the British Phosphate Commission (BPC), a consortium involving the British, Australian and New Zealand governments. Mining ceased during World War II, but it resumed soon afterwards and continued until 1979, by which time the extraction of millions of tonnes of phosphate had reduced the island to a craggy jumble of coral—but brought great benefit to New Zealand and Australian agriculture. Ocean Island phosphate also went to Japan, a matter of no small irony, since the military occupation of Banaba by the Japanese during the period 1942– 45 saw atrocities bordering on genocide. While women and children were moved to surrounding islands, some 160 men were retained by the Japanese to procure food and fish for them. On August 20, 1945, these men were herded to a cliff edge, bayoneted and pushed over. Only one survived, Kabunare, and he lived in a cave for 104 days until Australians had taken over the island. His testimony led to the hanging of the Japanese commander and his deputy for war crimes.
After the war, the surviving 1003 Banabans were persuaded to relocate en masse to Rabi Island, a 66 sq km island in the Fiji group. It was a very different island from Banaba. Banaba had been very dry. Fresh water had been precious there and found in only a few subterranean caverns which it had percolated down to. There had been no surface streams. Rabi was wet with many streams and rivers. It was also subject to cyclones and, was to Banaban sensibilities, often cold. For the previous 80 years, Rabi had been a copra plantation owned by Lever Brothers, but it was then for sale. British authorities negotiated its purchase in order to resettle the Banabans, whose numbers and morale had been depleted by their experiences during the war, and whose island had already been substantially damaged by phosphate mining. Accumulated royalties from the phosphate mining were used for the purpose, a sum of A$25,000. Thus Banaba was emptied of its indigenous inhabitants and freed up for the resumption of mining by the BPC.
During the post-war years, aerial topdressing with Ocean Island's super-phosphate turned New Zealand farms into green goldmines, helping make New Zealand a developed country. And ever since their relocation, Banabans have had two homes—one where they live, and one which lives in their memory. Every day.
[Chapter Break]
The early promises by the British Crown to restore Banaba with soil and trees have never been honoured, and such compensation as the BPC has paid for the impact of its activities has, in the opinion of many, been woefully inadequate. The Banabans have tried for better deals a number of times over the decades but have essentially been sidelined.
In the mid-1970s, on the eve of independence for the Gilbert and Ellice Islands and their division into Kiribati and Tuvalu, the Banabans sued both the British Crown for its failure to replant their island and the BPC for its failure to pay adequate compensation. The court case lasted an unprecedented two-and-a-half-years, at the conclusion of which Justice Megarry declared in his judgement (which took four days to read, so complex were the issues involved) that moral right was clearly on the side of the Banabans. He stated that the British Crown had not acted honourably; nevertheless, he left it without obligation to make financial or environmental reparation. As for the BPC, he judged that it should offer a financial settlement to the Banabans but declared his court didn't have the jurisdiction to set the amount.
The Banabans were sorely perplexed that they hadn't been directed in the first place to a court that would have had such jurisdiction. Subsequent arbitration saw the BPC offer £780,000, but the Banabans had to pay their own legal costs as well as their living costs in London for the years of the trial. A little later the British government placed £6.5 million in a trust fund for the Banabans, interest from which today provides the core funding for the administration of life on Rabi Island, where the population now numbers 4000.
[Chapter Break]
In 1979, at the start of Kiribati independence, some 250 volunteers moved from Rabi back to Banaba and have lived there ever since, although a subsistence economy is no longer possible owing to the ravaged and polluted state in which the island was left. These caretakers look after the island on behalf of the landowners and act as a safeguard against the recommencement of mining by the Kiribati government, which considers Banaba its property. The Banabans think otherwise, and the elected Rabi Council of Leaders appoints a member for Banaban Affairs in the Kiribati parliament to advance their views and monitor the situation. Britain's independence settlement package with Kiribati amounted to the colossal sum of £658 million—all of it earned from mining Banaba for close to a century, but not a penny was reserved to develop life for the Banabans on Rabi.
The transition from colonial administration to independence typically brings tensions among the various ethnic groups of which a country's population is composed to the surface. This is as true of Kiribati as anywhere else, and, as a minority, Banabans fare poorly. But their situation is doubly vexed, for while their homeland lies in Kiribati, most of them reside in Fiji, where they are likewise a minority.
The Banabans are at pains to emphasise their gratitude to the Fijian government, which accorded them citizenship in 1946 and provides continuing assistance with health, education and general administration, although foreign aid given to Fiji or Kiribati never seems to trickle down to them. They are a people deprived of their fair share. They live on Rabi with minimal electricity, next to no public transport, little infrastructure, only rudimentary health services, no social welfare, and only meagre protection against the elements, which are, at times, extreme.
As well as the 4000 Banabans on Rabi and the small group of caretakers back on Banaba, a further 1000 live in Savusavu, Nadi and Suva, where there are jobs and wider educational opportunities. A number of families have set up house in Suva for the sake of better educational opportunities for their children, but for many, with other dependent family members, this isn't an option. For those on Rabi with only a subsistence livelihood, it is a huge challenge to save for their children's further education.
There is an administrative office in Banaba House, in Suva, which maintains telephone contact with Rabi, although major storms can cut communications for days (as did the furious Cyclone Ami of 2003). Several church congregations in Suva provide a community focus for resident Banabans.
Despite their lack of amenities, the Banabans are not a depressed people. They are highly motivated to help themselves (if only they could receive a little more help to do that) and resourceful (they have to be). One might say they have become more Banaban than they ever needed to be before the great migration of 1945 and the struggles of the 1970s. Nothing sharpens a sense of identity more than the threat of its loss. And there's nothing like a sharpened sense of identity to keep alive a sense of history.
Banaban stories
Nei Makin is a remarkable woman from any perspective. Born in 1930 on Banaba, she always longed to attend school to study English and maths, but under the colonial administration of District Commissioner Arthur Grimble, that privilege was reserved for boys only. Girls were to learn domestic skills and read the Bible. Nei Makin remembers Mr Hard, a New Zealand headmaster on Banaba, and she was inspired by the world he represented. To this day she sings a subtle version of a Maori song he taught there in the 1930s.
Throughout the years of mining, then the devastating Japanese military occupation during WW II, under which her father was murdered—the family and fellow Banabans were forced to watch his decapitation with a samurai sword—Nei Makin still wanted to pursue "the proper kind of schooling".
In 1946, by now on Rabi, she saw her chance and persuaded some girlfriends to hassle the head teacher—a Mr Kaake—to allow the girls to sit in the tent that functioned as a classroom. He refused to let them stay; they refused to leave. In the end, after various sabotaging pranks, Mr Kaake, to save the boys from further distraction, relented and let the girls remain.
The canvas side of the tent served as a blackboard. The children wrote on toilet paper left over by New Zealand soldiers who had been stationed on Rabi during the war, using burnt pieces of coconut shell as pencils. They made seats out of stacked coconut-shell halves so they didn't have to sit in the mud. Rainfall, scarce on Banaba, was all too plentiful on Rabi, the moist conditions contributing to the deaths of 45 elders from influenza within the first three months there. In a population of 1003, this must have struck like a death knell.
Nei Makin and her husband, Na Karoro, eventually became school-teachers themselves, and, with others, helped to make education the priority on Rabi. Nei Makin recalls another New Zealand headmaster, Mr Jobson, who used to arrange scholarships and placements for young Rabi students so they could continue their schooling and training elsewhere in Fiji. She is saddened that the network he created has stopped operating, and she and her colleagues find it frustrating that the aspirations of so many bright youngsters have to be curtailed by the scarcity of scholarships available to them in the Fijian quota system, in which Banabans figure as only the fifth largest ethnic minority.
Although now retired from teaching, Nei Makin and Na Karoro are active as leaders of the Banaban Dancing Group, which they took to the quadrennial Pacific Arts Festival for the first time in Suva in 1972 and again in Rotorua in 1976. Most recently, the group performed in the opening ceremony of the South Pacific Games, held in Suva in 2003, and as part of the activities staged for the 60th anniversary of relocation, observed on Rabi on December 15, 2005. To their continuing sadness and puzzlement, however, Banaban dancers, although renowned for their sparkling performances, have not been included in the Fijian contingent at the Pacific Arts Festival since 1992.
In their talisman dance, known as Te Karanga, the performers carry long staves to which prized frigate-bird feathers have been attached. The dance is traditionally a ceremonial opening item, performed only on occasions of especial significance, and is always an arresting sight.
The dancers' costumes are striking, and much care is taken in their preparation. Pandanus, coconut, other fibres, seeds, shells and feathers—all must be collected and processed with great care. The women's shredded skirts are dyed black, smoked over a fragrant wood fi re, then oiled. The back view of a dancer, with long black hair cascading down onto a long black fibrous skirt, is a beautiful sight. Brilliant white shells contrast with the shine of bleached pandanus— radiating, shimmering, life affirming.
Nei Tenamauea Kabanti
I am Tenamauea Kabanti. I was born in 1924 on Banaba. My father's name was Kabanti, my mother's name was Tiouakarawa. They had two daughters—myself and my younger sister, Te Biriro.
We lived in Tabwewa village. My father worked on boats as a crewman, travelling to Nauru and back. In 1934 I started attending the mission school in Tabwewa; it was run by the London Missionary Society.
Grimble was the commissioner there on Banaba. He did not allow girls to go to the government school—that was only for the boys. Mr Hard was the first principal of the government school in Tabwewa. His assistant teacher there was Naikara Kaake (later, on Rabi, he became headmaster). Naikara came to the mission school to teach part-time— English and the alphabet and things like that—but then Grimble told him not to do that anymore. The girls were just to learn things to do round the home.
I lived in Tabwewa but I liked to go swimming at Uma beach. There was a steam railcar that would come with the rations for the company [the BPC]. The first car would come at 6 o'clock in the morning with ice for their day's food and drink—and you could get a ride back to Uma beach on that car.
For food I liked fish best . . . we had many fish . . . and rice, and "Pick Me Up" [a brand of Worcestershire sauce]. And we had almonds—oh, they grew on Banaba, plenty of almonds. You could eat the flesh around the nut, it was very thick and juicy, not like the thin fl esh of the ones that grow in Fiji now, where you throw the skin and fl esh away and only eat the nut. And we had pawpaw and pumpkin and melon and pineapple and some cashews.
There were some signs and rumours of war. We heard about a German attack on Nauru but then we forgot about it. Some Australians came to Banaba.
For our exam a missionary teacher from Nauru, Mr Wills, came to assist. Tarawa was too far away for someone to come from there so he came from Nauru. Mrs Wills taught us sewing and embroidery and weaving, but I liked English best. I came top in the exam, and Mr Wills wanted to take me to school in Nauru, on a scholarship. But another man, an interpreter, said that I couldn't go because I was engaged to be married, so another girl—his daughter—was sent in my place. I was very jealous of her because I wanted to learn English very much. Her name was Terengaiti. After a while her mother went and fetched her back. When that girl saw me, she spoke in English to me, and I hated her for that, so I swore at her.
In 1940 I was married to Tokamaen. I was 16, that was the legal age to marry. According to our custom the bride and groom exchange to opposite families three or four days before the wedding. Tokamaen came to my family to be dressed and prepared and they had everything ready to make him beautiful. But when I went across to his family side, I was disappointed that they did not have a veil prepared for me, only the long white gown for me to wear, but not a veil.
We went first to the magistrate for the marriage, then we went to the minister for his blessing. That was Rev. Rusa, he was the BPC's minister. Then we went to the maneaba [meeting house] for the feast and the entertainment with singing and the dancing—and the throwing of food. We always throw food at each other to finish off a wedding—it's a custom. Then the couple goes to live at the bride's house with her parents.
The Japanese arrived on Banaba in 1942 and they sent many of us to Nauru, where there would be more food. We travelled on the ship Ikutamoru. We left in the afternoon and sailed through the night. At sunrise we could see that we had arrived at Nauru. By 2 p.m. we had landed; there were 500 people. We were transported by truck to Inbak. We were supposed to stay there in houses, but on that same day the Japanese told us to hurry to the caves and shelter there because the bombing from airplanes was going to start. There was barbed wire all around the island shore.
My parents came, and also my husband. I was already pregnant. We went there that first night and stayed in the cave, and that's when the labour began and I started to give birth. I was 19, this was my first baby. The baby was born in the cave and the next day the US bombers arrived.
Then the Japanese came again to us and said, "Hurry to the caves on the other side—there will be more bombs coming", so my husband carried our baby and he went ahead. I could not walk because of just giving birth so I crawled there on my hands and knees. I was much later than the others by the time I arrived there—it was the end of the day and already dark—and a Japanese man called out, "Who goes there?" and I answered, "A woman."
We stayed four days in that cave. My milk would not come for me to feed the baby, but another woman, Kaititake, was feeding her own baby, Taonibeia, so she fed my baby too. We called our baby Rita. She lived a good life and just died last year, 2004, on Rabi. Taonibeia died that year too.
We stayed for more than three years on Nauru. We used to watch the US bomber planes. They fl ew in a V formation. We had food rations but they were soon used up. There was never enough food. So we went fi shing and collecting fruit, and we planted pumpkin and a creeping green plant—but we had to do that in secret because the Japanese would punish us if they knew about it. There were some secret executions by the Japanese on Nauru, but not nearly as many as on Banaba, which we heard about later.
In 1945 the war ended with the Japanese surrender. The US ships arrived, and three days later a government small boat, the Kiakia, arrived to collect the government employees; so they took my husband and me to Kosrae, where they collected those employees too, and then took us all to Tarawa. My husband worked in fi nance administration there.
It was not until 1953 that I fi rst visited Rabi with my parents, and I came back there with my husband in 1957 and we stayed. By then we had another two children, a girl and a boy, and then we had one girl and two more boys on Rabi—so six children altogether… I have 18 grandchildren and 16 great-grandchildren.
My husband was the manager of the Banaban community store and he was in the Rabi Council administration. He edited the Banaban News for some years. He was a good interpreter so he went to London for the court case against the British Crown and the British Phosphate Commission in the 1970s. That was when this photo was taken . . . that is Tokamaen and Rotan in front of the elephant cage at the London Zoo! The hurricane called Cyclone Ami which we had here in Rabi in 2003 has spoilt nearly all our wall pictures, but this one survived.
In 1997 I travelled on the homecoming trip to Banaba. I hated the catamaran, it was such a light boat for the ocean travel and it made me very seasick. I was one of the four old ladies who went, but I was not shown in the fi lm which was made of that trip.
These days I sit in my house at Tabwewa and after my breakfast I start weaving. I sit weaving all day. I stop when it gets too dark for me to see what I am doing. I have taught many younger women how to do weaving. My eyes are good, I do not use eye glasses—they make everything blurry. I cannot walk now—trouble with my knees and hips—but someone helps me crawl along when I need to go outside. Sometimes I get a ride on our bus to church on Sunday but it quite often breaks down.
My Days at Motawa
My name is Banea. I was born in Vaitupu, which is in Tuvalu, in 1942. I moved with my family and others in a group resettlement from Tuvalu to Kioa Island, here in Fiji.
I attended Vatuvonu School, on Vanua Levu, until the age of 10. I came to Rabi Island and married my Banaban wife in 1970 or thereabouts. She was from Buakonikai village, so we lived there, at the southern end of Rabi. Our daughter, Momere, was born in 1978, and a son was born in 1980. He works on a farm in Tabwewa. My wife died two years ago.
I have always been a fisherman, a strong and healthy person. But a while back I became sick—some sort of trouble with my legs. My legs were paralysed so I could not stand or walk. The doctor did not know what the cause was. They sent me to the hospital in Savusavu, but still no-one could say what caused the sickness.
I decided about two months ago to come and stay here at Motawa. I want to catch fish and support the family. My son-in-law is in Fatima, in Nuku village, and those grandchildren are at Banaban primary school.
So each day I go swimming, from 10 o'clock in the morning. I stay out there until maybe four or fi ve o'clock in the afternoon, depending on the tide. I swim out to the reef and then do free diving—and I spend those hours catching fi sh. I take my spear and I catch parrot-fish, rock cod, sometimes trevally, and many other kinds of fish.
I wrap a string around my body, with one end of the string in my mouth and the other end tied at my waist. As I catch each fish, I attach it to this string, so the fish are all hanging down around my body and my hands are free to keep fishing.
Sharks are attracted to trevally so you have to be careful not to take too many of those on one trip. If someone asks me how do I feel about those sharks following me and sniffing around, I will say, "Well, men will search for their food and sharks will search for theirs."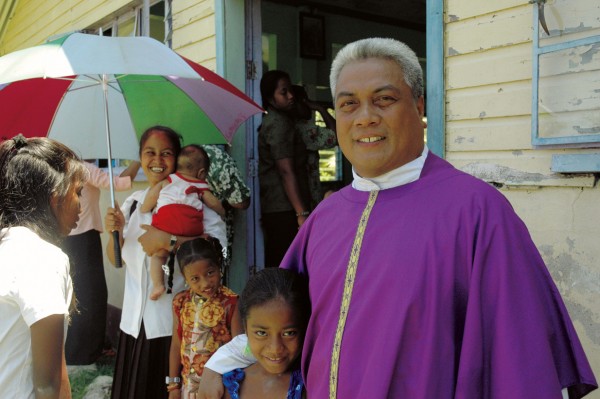 My legs are much better now—I can walk again—so maybe the swimming has helped. Just today they are not so good, so I decided not to go out to the reef. But usually I go each day.
I think I will stay living down here at this small settlement of Motawa on the coast, with my daughter and the four small grandchildren. Meantime we are just staying in this small house made with pandanus woven walls, but soon we will build a bigger and stronger house.
Copra is growing in a small plantation here. It grows well, but it is a long hard trip to carry the copra down from here in Motawa all the way to Nuku village for the boat to take it on to market.
If you ask me what advice do I have for what the younger generation of Banabans here on Rabi should do, I will say, "Do nothing but planting and fishing!"
Life of Rabi
I am Kiaimoa Tekenimatang, from Tabwewa village. I was born here on Rabi in 1983, so I had my 21st bithday in October 2004. We had a big kava party in the maneaba with maybe 20 of my friends there—singing and talking and laughing and grog.
I went to the Banaban primary school, then to Rabi High School for forms 1 and 2, then to another junior high school to attend form 3, but then I finished with school. I enjoyed school, especially maths and basic science. I was sorry to leave but it is expensive with the fees and you don't get much food when you are away boarding.
I am working at farming. I plant dalo and cassava, yagona, potato and vudi [banana]. I walk to the gardens each morning about 8 a.m. and return about 3 p.m. Even if it is raining I still go to the gardens.
I would very much like to visit New Zealand some day and look around at the farms there, including cows and sheep, horses and pigs, and honey bees.
Sometimes in the early morning I go pig-hunting with my friends. We use spears. First the dogs go and find the pigs, and then we follow. Sometimes four spears are needed to kill the pig, and maybe five or six men are needed to 6 carry a big pig back to the village. We make pork soup and other meals. Also we slice and salt it, to keep it for maybe a couple of weeks.
My favourite food is dalo and fish—especially tuna. I sometimes go fishing with my father or my uncle in the daytime to catch tuna. Sometimes we catch 100 or 200 fish in the season. [A season is a period of about a week around full moon, when a particular type of fish is plentiful and there is a good bite period.]
My wife's name is Temarawa. She is 18 years old. She keeps the house tidy and she does sewing—dresses and shirts; and she sells these to others in the village. The material she needs for that sewing comes from Savusavu.
I can't imagine a better life than this one of ours on Rabi.
Getting to School on Time
My name is Takenteiti Corrie. I am 14 years old and I live on Rabi Island. I am in the third form at Rabi High School, where my favourite subjects are accounting and economics. I hope that when I leave school I can go to Fiji School of Medicine in Suva and study to become a doctor.
In my free time in the weekends I like to play volleyball and netball in the village where I live—Tabwewa. On Rabi we have four villages and these have the same names as the old villages in our homeland, Banaba—but I don't know much about that time.
My best friend is called Teria Tekenimatang. She is in form 4 at Rabi High School and she lives in Nuku village. We share a lot of secrets but I can't tell you about these because then they wouldn't be secrets any more! Teria is a very good singer and I like to listen to her sing.
My favourite day of the year on Rabi is December 15. We call that Remembrance Day, to mark the arrival in 1945 of all the Banaban people who came from Ocean Island after the war, when the mining had ruined the homeland of Banaba.
That day marks the start of a week of celebrations, and the best part of these for me is the sports tournament, when many teams play in competitions. We also have athletics and I like to run in the 100 metres.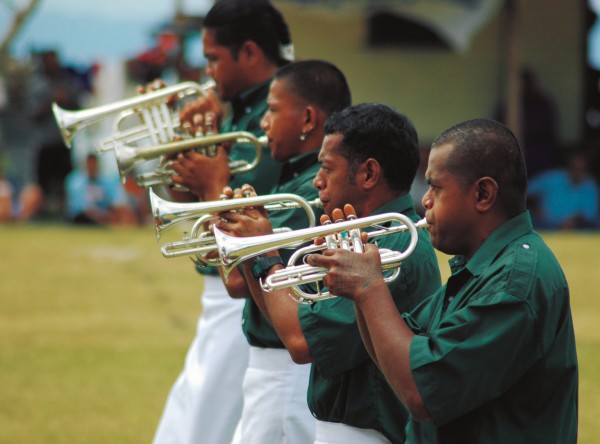 My favourite foods on this island are dalo and fish—especially wahoo, a deep-sea fish which my uncle goes to catch in his canoe, which we call a vaa. He leaves about 7 p.m. with many other men, each one in his own canoe. On a calm night they put out several lines and wait.
The wahoo may be a metre long. They have to hook it and then to haul it onto the vaa. They only need to catch one fish on a trip it is so big. They are very smart fishermen and they know the landmarks so they can see their way home safely even in the dark. Once I went out with my uncle just to watch him catch a fish.
There is only one bus on the island [written before the two new buses arrived] and that takes us to Rabi High School each day. If it breaks down then we have to walk; that is 10 kilometres from Tabwewa, and it is very hot here so it takes two hours to walk that far, and two hours home again. We have to set off at 6 a.m. because school begins at 8 a.m., but sometimes we don't know that the bus has broken down until 7 a.m., so then when we walk we get late to lessons. I don't like being late for lessons.
The year before last we had the hurricane—Cyclone Ami. It came in the night and we all stayed inside the house and we prayed all night until it passed. It was very frightening and the roof blew down on us. But we did not get hurt because we prayed. Ko raba. That is my story.
Learning to Fish
My name is Joseph Paul Tuari. I am schooling in the Banaban Primary School and I am in class 4. My teacher is a Fijian called Nemani. He is a good teacher.
I will try my best in school so that at last I will get good work. In future I want to be a teacher.
After school I used to take my fishing line and stand on the sea wall and start fishing. Sometimes I caught 15 fish about 3–4 inches in size. I like eating fresh fish. I want to learn how to catch big fish like my father does. My father is a Rabi policeman and he helped me write down this story.
I want to go back and see my homeland, Banaba.
God help us.