Burra-sahib: The legacy of Sir Edmund Hillary
On May 29, 1953, New Zealander Edmund Hillary became the first person to set foot on the summit of Everest, roof of the world. Achieving mountain­eering's long-cherished goal was his crowning moment as an adventurer, but also marked the beginning of lifelong humanitarian work with the Sherpas of north-eastern Nepal. The bonds forged between Hillary and these resilient mountain people, who toil in the watchful presence of an age-old Buddhist faith, are now being strength by others who feel a kinship with this region.
Steam rises from the pit as crumbling earth is spaded out, uncovering the muslin-wrapped food and hot river stones. The porters in their checked shirts and bright nylon jackets bunch closer to examine the haul as it is pried from the ground. The New Zealanders have seen it all before. But they too, watch intently as one after the other, carrots, potatoes and tender meat are opened to the crisp mountain air.
The New Zealanders have seen it all before. But they too, watch intently as one after the other, carrots, potatoes and tender meat are opened to the crisp mountain air.
John Gully, director of the Nelson-based trekking com­pany Everest Expeditions, grins. It's his gig, and he is enjoying every minute of it. So are the 30 or more teenag­ers and parent helpers he has gathered from the length and breadth of New Zealand and shepherded all the way here to this remote corner of north-eastern Nepal to partake in what is a cultural "Outward Bound."
Beyond the courtyard of the Panorama Lodge, the natural basin of Namche Ba­zar—chief town and trade hub of the Sherpas—dips a hundred metres or more, curving and tilting like a Greek amphitheatre, orient­ing its bald terraces and sturdy stone buildings to­wards an unprotected lip of land. Over that lip, the land plunges 500 metres to the twisting bed of the Bhote Koshi river, then on the far side climbs with equal abruptness 1800 metres to towering peaks of rock.
Namche Bazar itself lies at 3440 metres above sea level and is circled by moun­tains. They rear up from massive buttresses of chis­elled stone—snow-laden, haughty and indifferent. Seductive, yet unapproachable as Judgment Day.
Not 30 km from this very terrace looms the most unap­proachable, the most seductive mountain of them all. Called Chomolungma by the Tibetans and Sagarmatha (Mother of the Universe) by the Sherpas, the world knows it simply as Mount Everest. Apex of the Earth.
It is Everest that brings me to Nepal. Or rather, I am drawn here by the first man to break Everest's spell of invincibility by the feat of hauling himself up on to its frozen, wind-blasted summit, then getting back down to tell the tale. Ed Hillary. Sir Edmund. One-time beekeeper of Papakura, Auckland. Adventurer, explorer, writer, hu­manitarian. Friend of the Sherpas. The man they call "Burra-sahib"—big in heart.
A member of John Hunt's British expedition, Hillary reached the summit just before midday on May 29, 1953, in company with Sherpa Tenzing Norgay, sending ripples of patriotic pride out across the Commonwealth and throughout the world. The achievement was a fitting gift for the new queen's coronation and one which forever would bind the name of Hillary with the mountain that has come to symbolise the ultimate in endeavour.
Hillary first came to the Himalayas in 1951, and in spirit he never left. During early climbs there, and over the months of preparation for the Everest summit attempt, he developed an abiding respect for the Sherpas.
"Few of us had failed to learn something from the character and temperament of the men themselves, their hardiness and their cheerful­ness; their vigour and loy­alty; and their freedom from our civilised curse of self-pity," Hillary wrote.
As friendships deepened, he has found reason to re­turn time and again to the Sherpas' homeland, Solu Khumbu: to build schools and clinics, to lay water pipes, build airstrips and cart out rubbish. To climb.
There are poignant per­sonal connections, too, with the rugged Solu Khumbu. Here, in 1975, he con­fronted the aftermath of an aircraft crash that took the lives of his first wife, Louise, and their 16-year-old daugh­ter, Belinda. And here, late in life, he has been forced
There are poignant per­sonal connections, too, with the rugged Solu Khumbu. Here, in 1975, he con­fronted the aftermath of an aircraft crash that took the lives of his first wife, Louise, and their 16-year-old daugh­ter, Belinda. And here, late in life, he has been forced to come to terms with increasingly severe bouts of altitude sickness which threaten to end his mountain visits.
Despite such physical dis­t' comforts, Hillary, now in his 81st year, still throws him­. self into campaigning and fundraising on behalf of the Sherpas. These days, other footsteps have joined his, and younger backs help shoulder the load, further strengthen­ing the bonds between the Sherpa people and generations of New Zealanders. But no matter how many new hands appear on the scene, throughout the rugged valleys and lofty villages of Solu Khumbu the work and the name of Hillary endure, a fitting tribute to one of the greatest of our adventurers.
[Chapter Break]
At the world's highest hangi, the Kiwis are carving the meat and dishing up veg. John Gully's guests—village elders, an army man, the chief park war­den—are warming themselves at a woodburner in the lodge's dining hall. But Gully's thoughts are elsewhere. The mountaineer turned friendship ambas­sador is holding forth to me on the plight of the Nepalese lowland porters. Uneducated and with few prospects, the five-dollars-a-day wage for hefting tourist gear up the winding trails is, says Gully, the only hard currency they are likely to see.
"They often get treated like scum. Tour parties load them down, trying to save an extra 20 rupees a day," he says. As he and his offsiders coax the reluctant porters through the dining hall door and to the tables, he explains how his approach differs.
"It's like back home. You look after your people."
Gully should know. He is a veteran of several Everest expeditions, including the 1988 New Zealand-Czechoslo­vakian attempt on the difficult south-west face, the 1989 New Zealand-Sherpa expedition and the 1990 interna­tional expedition.
The porters take a while to grasp the notion that they are not only being invited to eat indoors, but they are to be served by the New Zealanders. Waited on by their employers. The food arrives and, after an awkward silence, their reserve breaks. They tuck in.
Sherap Jangbu and his wife, Lhakpa, owners of the lodge and longtime friends of Gully, oversee proceedings with hospitable warmth. Sherap has made a two-day jour­ney on foot from another village, covering the ground in a single day, to be back in time for the hangi. It has become something of an institution in these parts, as have the Kiwi and local songs that match and mingle in the crowded, low-roofed dining hall when the plates have been cleared.
Later, I climb the narrow stairs to the gompa—the lodge's devotional chamber. With accommodation stretched by Gully's big group, I have been sleeping in this fragrantly scented room—a necessity under the circum­stances, but an honour to me. Each night, after removing my boots, I have swung back the heavy door and entered, crossing the room's worn boards to doss down on one of its cushioned benches.
I loved the room on sight, with its richly ornate cabinet­work, its elaborate figurines and brightly polished bowls. When the candles are lit, flames flicker and dance across the 110 glass-fronted cubbyholes, each of which cradles a book of sacred Buddhist writings.
Lying awake on the bench, my gaze loses itself among the room's details. Hillary later tells me that one of the most encouraging signs among the Sherpas—a people fac­ing enormous challenges—is the way they have tenaciously clung to their cultural and spiritual links.
From down below the shouts and laughter of the por­ters cut the air. Emboldened by food and friendship, they have taken to dancing and singing in the courtyard. Tomorrow, Good Friday, we will turn for home.
I have been here less than three weeks, but in that time I have come to understand the devotion to the place of people like Gully, and Hillary before him. It is impossible to spend a day in Solu Khumbu without being over­whelmed by the sheer physicality of the landscape, and to detect the special qualities it has forged in the Sherpas.
Like most visitors, I had the first intimations of gran­deur thrust at me before I had even set foot in the place. For close to an hour during the flight from Kathmandu, I had watched razorbacks and ever-deepening gorges slide under the wings as we left behind the cultivated lowlands with their houses scattered like spilt salt across the land­scape and climbed delicately towards the Khumbu. The nearest road calls a halt some six days' walk short of Lukla, our destination and the major gateway to the Sherpa homeland.
In the early 1950s, Kathmandu itself was thoroughly isolated, with no airport or road connections to the outside world. Travellers fortunate enough to obtain an entry permit were forced to walk in through steep hill country, and the few cars on Kathmandu's streets had arrived the same way, carried along the narrow tracks by gangs of porters.
As the Twin Otter aircraft touched down on the rag of cleared ground at Lukla that passes for a hillside airstrip, nervous passengers around me burst into applause. The meagre ramp of a runway is an early warning of the diffi­culties this mountainous terrain imposes on people trying to get about.
Built by Hillary to facilitate the bringing in of building materials for Sherpa schools and for a proposed hospital at Khunde, the airstrip opened the floodgates for tourism. For a time, Hillary fretted that the human deluge would swamp or corrupt Sherpa culture. But after a little uncer­tainty, the Sherpas adapted, learning to charge for food and accommodation and taking modest precautions to deter theft.
At Lukla I met Kami and Kanchha, the two young Sherpa guides who had been assigned to me. Their broad, boyish grins and easy good humour went a long way to explaining Hillary's lingering attachment to the place. They were to help pack in my excessive western clobber to Namche Bazar, where Gully and his party were resting. I was also scheduled to rest in Namche.
The importance of acclimatisation at heights above 2500 m had been drilled into me before leaving Auckland. Failure to adapt gradually to altitude can cause a poten­tially lethal condition known as acute mountain sickness. It is triggered when the body succumbs to the effects of low air pressure at high altitude. Only half as much oxygen is absorbed at the altitude of Everest base camp as is absorbed at sea level, and only a third as much at the summit.
At its most benign, AMS causes headaches, dizziness and sleeplessness. At its worst, it can cause the lungs to fill with fluid and the brain to swell. When it strikes, the only solution is immediate rest, and if things deteriorate, to get down to a lower altitude fast.
Despite widespread publicity about AMS, westerners are still regularly evacuated from the mountains in bad shape. Some die. On Everest itself, even more die. Since Hillary and Tenzing planted themselves on the summit in 1953, 982 others have reached the top of the 8,850 m mountain and 168 have died on its slopes. The odds aren't good: about one in six.
Equipped with that sober statistic, I followed my lively Sherpas through the beautiful foothills. It was a Mary Poppins scene. On the hillsides rhododendrons were breaking into colour, and in the neatly tended fields, crops of potato and buckwheat were starting to show. The rock-studded path wound through compact villages of rectan­gular stone houses and beside water-powered prayer wheels. Often we came across painted or carved mani stones bearing Buddhist invocations and posts draped with seasons-old prayer flags which fluttered in the light breeze, releasing their faded petitions to heaven. The paths were alive with porters and cattle, laden with goods for distant settlements—everything from bottled water and tins of kerosene to hewn timber and corrugated iron.
The imprints of Ed Hillary hereabouts are not hard to find. Mahendrajyoti, a school near Lukla, carries a sign above one of its modest buildings: "Sir Admund Hillari, Block A, 1965." Another notice testifies that, 20 years later, Block C was added. As we walked, Kami pointed to low buildings on the far side of a field overlooking the icy, boulder-choked Dudh Koshi river, whose waters drive headlong from the Everest massif. They belong to Chaurikharka, another school supported by Hillary.
The schools had their beginnings in a conversation which took place around a smoky fire in a barren, windy tract of land beside the Tolam Bau glacier, in October 1960. World Book Encyclopedia had earlier agreed to sponsor a 10-month study on the effects of high altitude and low temperature on human performance, bringing Hillary and others to the Khumbu. They had dutifully hunkered down in a but at 5800 m for a prolonged stay, undergoing vari­ous scientific tests.
Partway through the study, while sitting around the fire, Hillary asked his Sherpa friends what they felt would most help their village. A clinic? Improvements to their farms? The answer, reported Hillary, was unequivocal: "knowledge for our children."
With financial help from the expedition sponsor, Hillary and some of his mates returned the next year and put up a prefabricated aluminium building, the material having been flown in from Kathmandu to a hazardous makeshift airstrip in the Mingbo valley. It was the first schoolhouse to be built in Khumjung, and the region's first aid project.
A teacher was recruited from the expatriate Sherpa community in Darjeeling, and over the following year glowing reports reached Hillary of the fine work being wrought among the children of Khumjung. Along with the heartwarming comments came petitions from neigh­bouring villages for similar schools.
Hillary responded with characteristic speed, and the building programme began in earnest with the Himalayan Schoolhouse Expedition of 1963, which involved 200 por­ters in a 16-day marathon to pack in everything from window joinery to rolls of alkathene irrigation pipe.
The main motivation behind the expedition was Hillary's deep respect and affection for the Sherpas, but he candidly admits to a more political reason: the inroads being made by Chinese communist propaganda and money to the north. "I . . . felt the Sherpas should at least have some opportunity to see that Western society had its vir­tues and its opportunities for growth and freedom."
This time, Hillary managed to raise money not only from the publishers of World Book Encyclopedia, whose staff dug deep into their own pockets for the expedition, but also from Chicago-based Sears Roebuck, whose camping equipment Hillary helped design.
Fundraising is one of the least glamorous but most vital ingredients in any volunteer aid project, and here Hillary's personal qualities proved invaluable.
Close friend Mike Gill quotes a World Book executive's revealing first encounter with "this guy Hillary who'd climbed Everest and got a knighthood for it." The Ameri­cans knew Hillary wouldn't work for nothing, and would probably be packing a whole gang of lawyers and account­ants, but they figured they could tough it out.
"Then in comes this tall guy, by himself, with his hair all over the place and carrying an old briefcase held to­gether with string. Well, that threw us right from the start. And then when . . . we asked how much he would like for himself he says: 'Well, on an expedition we usually don't take any money for ourselves.' We didn't know whether he meant it. For a bit we thought he might just be the coolest cat we'd ever met. Then, we began to feel sorry for him. We felt we had to help this guy—force him to take the money. Up till then I'd never been able to understand why he hadn't made a million bucks out of Everest."
Well-planned though it was, the schoolhouse project did hit snags. One of the biggest was struck in Namche Bazar. A request to take over the government-funded school in the town—which at the time had a reputation for deceit and banditry—was subverted by local politics, and by the resident teacher's attempt to make off with money earmarked for school supplies.
Hillary proved no dupe, and the ruse failed, but division in the community slowed attempts to bring education within reach of all Sherpa children. Nevertheless, Hillary persevered, in 1964 setting up a charitable foundation, the Himalayan Trust, to fundraise and oversee building projects in the Khumbu. Almost 40 years later, a total of 30 schools have been established, and the trust has had an impact on twice that number.
Recognising that teachers at the primary schools lacked training, the trust decided in 1997 to start a one-month teacher training programme in the winter off-season.
"We expected about 40 teachers, but 160 turned up," Hillary told me. "At the moment, the number is closer to 200."
John Gully has also taken up the education challenge. Just days before I arrived in the village of Phakding, his group handed over to the local school more than a thou­sand books they had brought out from New Zealand. As a form of loss insurance, the wily Gully had taken care to distribute carbon copies of the book list to the mayor, the local lama and the village committee.
[Chapter Break]
After an early breakfast at Phakding's Namaste Lodge, I stepped outside to get the measure of the day. The pine-clad hills smoked with mist. Here and there, magnolias put out creamy white flowers among the red stains of rhododendrons. At my feet, icy water foamed and spat, making noisy work of getting past the river boulders.
I couldn't recall having felt more in love with the sheer act of standing somewhere. Of surrendering to the simple pleasure of stepping out purposefully into a landscape.
The Khumbu lies just outside the tropics, so when the midday sun gets a good angle of attack on the gorges, temperatures can soar. With that in mind, I secured an extra bottle of "Hill Sweet" mineral water and set off, with Kami and Kanchha leading the way.
Beyond Phakding, the Dudh Koshi grows more asser­tive and the swingbridges, with their arcing wires and festoons of prayer flags, develop into true feats of struc­tural engineering. As we approached one, the air came alive with the dull thud of a chopper labouring in thin air up towards Everest base camp. The sound fired medivac images in my head, and grim anecdotes about death by AMS. Less than a week before I arrived, two climbers had been killed in icefalls and a German visitor suffering from AMS and vomiting blood had been airlifted out. At this altitude, most helicopter flights are evacuations.
Such intimations of mortality were soon swept aside, though, when we came across yet another reminder of the energetic Admund Hillari: the entrance to Sagarmatha National Park. The idea of a national park which incorpo­rated Everest and the valley systems settled by the Sherpas had been kicked around for some time when a United Nations forestry worker got talking to Sir Ed in Kathmandu. The Khumbu was park-sized, said the UN man, and, being familiar with New Zealand's mountain parks, he thought New Zealand had the necessary exper­tise to oversee the job.
"He said someone would need to inspire them, so I went to the New Zealand government," Hillary told me. "I must have given them a good line because they went ahead with it."
Following talks with local leaders, New Zealand project managers arrived in the Khumbu in 1975 under a bilateral aid agreement, and for the next six years they helped shape the amenities and policies for this rugged land of deep gorges and glacial valleys, home to 3500 Sherpas and around 500 Tibetan refugees and Nepalese officials, sol­diers and labourers. In 1976, Sagarmatha was gazetted as Nepal's third national park. Three years later it was de­clared a World Heritage Site.
The New Zealand government's handiwork includes a visitor centre and three park lodges at Namche as well as a tree nursery in Teshinga—all now funded by Hillary's Trust. The government also trained Sherpas as wardens.
Seated at a small wooden desk in a sparsely furnished office, Sagarmatha National Park's chief warden, Nima Wanchu Sherpa, confided with me that the job was not without its problems. For one thing, he said, it was poorly paid. He was a graduate of New Zealand's Lincoln College and held an MSc from the United States, but here he was earning less than Sherpas working for the trekking compa­nies in Kathmandu. Of his 38-strong staff, only two were Sherpas—that in itself told the story.
Deforestation is another worry. In the 400 years since the Sherpas came here from the north, 50 per cent of the forest has been cut. At high altitude it is slow to recover. In Jorsale, just within the park boundary, 35-year-old blue pine stands 24 m high. At Namche Bazar, 600 m higher, a tree of that age reaches a mere 16 m. It is doubtful that the slow-growing rhododendron forests will ever recover.
Recent legislation limits locals to collecting dry firewood for their own use in the park. It cannot be sold to visitors, who must bring in alternative fuels.
But the law had to be policed. Sometimes villagers are driven to cut green wood, said Nima, in which case he must impose a fine.
An experimental tree planting has been made at park headquarters, funded by the Himalayan Trust, and, en­couraged by this move, villagers have replanted the hill behind Namche.
The trees look to be healthy, though, like all plants here, they are in no hurry to get bigger.
[Chapter Break]
Not far beyond Jorsale, a spectacular swing bridge marks the final crossing of the Dudh Koshi. The river's glacial meltwater courses through the boulder-choked gorge 80 m or more beneath the bridge's wooden planks. After waiting for a couple of yak trains—which tend to get the right of way on the flimsy structure—we crossed and followed the zigzagging dirt track up the wall of the gorge.
An hour and a half later we reached the maze of paths and rock-walled corrals that mark the lower fringe of Namche Bazar. Twenty years ago there were one or two shops and three lodges here. Now more than 40 lodges and a warren of shops line its crowded thoroughfares and cramped terraces, with new ones added every year. Across the Khumbu as a whole, 15 to 20 new lodges are built every trekking season to cater for the 15,000 tourists who beat a path to this tranquil corner of the world.
Who can blame the locals for seizing a business chance? Growing crops and herding livestock has never been easy in Namche. Early on, the town made its mark as a com­mercial centre, lying as it did on the trade route between Tibet and India. When the trade dried up, mountaineer­ing, then trekking, stepped into the breach, and the Sherpas welcomed both with open arms.
Mountaineering had exerted its influence on the Sherpas long before the first climbers set foot on the stony paths that thread between the villages. With Nepal closed to the outside world until the early 1950s, the first British expeditions were forced to sidestep the Khumbu entirely and attempt climbs from the Tibetan side. The man re­sponsible for throwing Sherpas into the equation was Scot­tish physician Alexander Kellas, who had had first-hand experience of their abilities at high altitude.
With a good many emigrant Sherpas working in Darjeeling when the first British Everest expedition set out from there in 1921, it was natural that they should be hired in large numbers as load bearers and helpers—a practice that continues to this day.
In 1933, a 17-year-old Sherpa by the name of Tenzing Norgay emigrated to Darjeeling to take advantage of just such an opportunity. His moment of glory was to come 20 years later when he stood beside Hillary on the world's highest peak.
As Kami, Kanchha and I climbed the winding path to the Panorama Lodge, we looked down at clusters of col­our-coordinated tents pitched on scraps of dusty terrace. This was climbing season, and the brightly equipped mountaineers had almost succeeded in turning Namche into a giant Ludo board.
At the Panorama, bad news awaited us. Though he had not mentioned it to me, Kami's mother was dying of stomach cancer. Dave Austin, the doctor with Gully's group, said she was not expected to live more than a week. He had done what he could to ease her pain.
The illness had left Kami's father, Nima Dorje, not only grief-stricken but in financial difficulties. Searching for a cure for his wife over the past months had eaten through his meagre savings. Unable to read or write, he had no prospect of becoming a sirdar—head Sherpa on an expedition or trek. It was a cruel twist of fate for the talented 49-year-old, a man who had climbed five times with Everest legend Reinhold Messner. I was saddened to realise what few resources the poorest of this isolated people had to draw on when tragedy struck. Just resil­ience and an indomitable courage.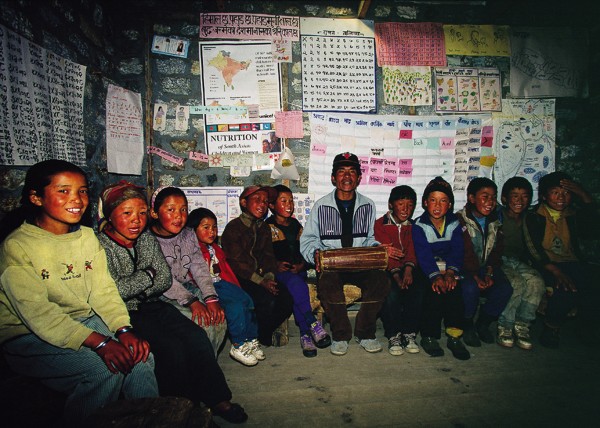 Not all news on the medical front was grim. Austin had worked something of a travelling clinic on his way to Namche, attending to 14 Sherpas in Phakding alone. As head of Whangarei hospital's intensive care unit, he was well used to seeing the results of whatever life could throw at the human body. And having served time on a Whitbread yacht, on ski fields and dive trips, he had developed into something of an adventure specialist.
Austin had with him a formidable kit of pharmaceuti­cals and equipment, including a portable device for fight­ing AMS by artificially increasing atmospheric pressure. A veteran of Gully's 1992 Youth to Everest expedition, he knew what to expect in the Khumbu, and before leaving New Zealand had approached more than 30 drug compa­nies for medical donations.
"They all gave," he said. "It was magnificent!"
When Austin made the short climb up to the hospital at Khunde, which stands on a narrow plateau above Namche, I went with him. The doctor in charge, Cana­dian Jim Litch, was glad of the donated medicines. He and his staff treat around 9000 patients a year-250 of them westerners.
The squat, stone-walled hospital and a nearby school are further reminders of Hillary's impulse to build things in the Khumbu. Doing something about education had been his first response to Sherpa needs, and attending to their health was a close second.
Just two days' walk from Khunde, during the 1963 Schoolhouse Expedition, Hillary and his climbing mates encountered their first large-scale medical challenge: smallpox. Powerless to help a widow's dying daughter, and realising the contagion was spreading quickly, they resolved on a vaccination programme. Hillary arranged for an airdrop of vaccine, and soon foreigners and Sherpas alike were administering the life-saving doses to hundreds of people at a time in the nearby villages.
Eventually, it became clear how the smallpox had ar­rived. A Sherpa employed by an American Everest expedi­tion had become infected in Kathmandu and, though brought low by fever, had doggedly persevered—the way only Sherpas can—unknowingly carrying the deadly dis­ease into the heart of the Khumbu.
Being of necessity frugal, many villagers declined to burn the clothes of their dead relatives, instead trusting to a hard scrub in running water. To make matters worse, the Sherpas, who normally cremated bodies, were seized by the notion that the smallpox would be borne aloft by the smoke to infect others. So, after death, many smallpox victims were committed to the rivers.
Although Hillary's team had been vaccinated within the previous 12 months, they put themselves forward for a new dose. To their surprise, each and every one of them reacted positively to it, developing fever, swollen glands and aching arms.
When I came across that information, it did nothing for my own sense of invulnerability. For reasons best known to the world of science, Nepal is a haven for pernicious diseases. In Auckland, my travel-medicine specialist had furnished a long list of recommended vaccines, including hepatitis A, diptheria, tetanus, typhoid and polio, for each of which I was duly jabbed. Thankfully, smallpox has now been eradicated.
About his own encounter with the disease, Hillary later wrote: "Of all the programmes we carried out on the expe­dition—schools, waterworks, medical clinics, and the like—the one most widely appreciated was undoubtedly the vaccination, and this hadn't been part of my original plans."
Those words were penned in 1964, the year Hillary built Khunde hospital. It was also the year he and others bought a tract of pasture and terraced potato fields in the small village of Lukla on behalf of the Nepalese govern­ment, and turned it into a landing strip. By making the 17-day porter trek from Kathmandu redundant, the Lukla strip soon became Nepal's busiest mountain airfield and the gateway to Everest.
[Chapter Break]
Pinned in Namche by a mandatory rest day, I decided to find out more about the effect of tourism on the Sherpa way of life.
Sherap, the Panorama Lodge's gen­ial host, recalled the time 40 years ago when the outside world was little more than a rumour. He remembers as a boy seeing his first handful of cooked rice and tasting its puffy sweetness. In those days, buckwheat and potatoes were the staples, and rice was reserved for feasts. It came from the Terrai, the fertile lowland plain of southern Nepal, 10 days away.
In the early 1970s, Sherap served as cookboy on various Everest expeditions. He had embarked on the classic Sherpa career path, from cook boy to cook, then sherpa and finally sirdar.
Then, in 1975, even as New Zealanders were helping turn the Khumbu into a park, trekkers began appearing on the trails in promising numbers, and Sherap switched vo­cations.
All Sherpas in this area now have some connection with trekking. Once, they were farmers or traders. Sherap's father had been a trader, travelling four times a year over the 6150 m Nangpa La Pass into Tibet as far as Lhasa. Large numbers of Tibetan refugees have since made the reverse trip, settling as far away as Kathmandu and north­ern India. Some 200 of them live in Namche Bazar.
Was there enough for everyone—Tibetans included—to make a living from trekking, I asked Sherap.
"I hope so," he said.
I found Ang Phurba Sherpa, the town's former mayor, in one of Namche's labyrinthine alleys, behind the counter of the Potala Mountaineering Shop. The shelves were laden with packaged and bottled goods laboriously brought here on the backs of porters. Across the dusty, flagstoned lane stood the Everest Book Store, its sign offering phone, fax and email services. It is one of the ironies of modern life that satellite dishes now bring the world to the Khumbu, a place so physically isolated that it hasn't seen a wheelbarrow, let alone a car.
Ang Phurba began his 18-year stint as mayor in 1973, when Namche was a very different place. In the early days, expeditions with 1500 porters passed through here. Now, he told me, expeditions had shrunk in size to perhaps 10 members and 100 porters. But the number of expeditions has rocketed: in 2001, 51 separate groups will besiege Everest from both the Tibetan and Nepali side.
"People have good jobs now," Ang told me, "but it is difficult to protect our culture. Our children leave the villages and go to boarding school in Kathmandu or India. Of our eight- and nine-year-olds, 60 per cent have left—a lot of them sponsored."
Ang's own children are scattered: a daughter and two sons live locally, but two daughters are in the United States and another son is in Kathmandu, along with two grandchildren.
At the Khangri Money Exchange, Dorje Lama Sherpa was worried about another pressing matter: the environ­ment. Until recently, he headed up the Sagarmatha Pollu­tion Control Committee, set up in 1991. A big problem, said Dorje, was the difficulty of removing glass and other litter. During their 1990 expedition, New Zealanders Rob Hall and Gary Ball oversaw the removal of five tonnes of rubbish from Everest base camp. That was a start, and other commercial operators have since smartened up their act. In 1998, shopkeepers, lodge owners and the expedi­tions themselves stopped packing in glass beer bottles.
The previous evening, I had struck up a conversation with someone at my elbow as we leaned on a rail watching the last gilding of sunlight wash from a high peak. He introduced himself as Roger Drake, from Grand Canyon National Park, specialist in backcountry toilets; a man who had been to Everest to put a public amenity somewhere on the north side.
Drake acquainted me with the fact that one in six children here died before the age of five. A lot of that mortality had to do with sanitation. He was finding out just how much by, among other things, running faecal coliform tests.
In Drake's view, there was no easy answer to tourist pressure. The locals knew how to work a composting toilet, he said. The problem was too many toilets and not enough fields to put the waste on.
By the 1990s, the route in had become so well used that it was known as the "Kleenex trail," and discarded waste in the glacial valleys had begun accumulating in unmanage­able quantities as the number of commercial climbs grew. In 1991, 21 climbers had reached the summit almost si­multaneously, and on one day in 1993 some 40 people stood at the top of the world. The trend toward guiding novices up Everest for a fee stirred Hillary into a rare public comment. Such operators were, he said, "engender­ing disrespect for the mountain."
Respect was a natural concept for Hillary to fall back on. It characterised his half-century-long relationship with the Sherpas. Respect for them and their fragile, unforgiv­ing landscape, for their culture and their religious beliefs.
Not a convert to Buddhism himself, Hillary the gruff, craggy mountaineer is nevertheless attuned to the spiritual impulse. Indeed, he looks back on his 1977 jetboat expedi­tion up the Ganges as one of the most rewarding he has undertaken precisely because it combined adventure with spirituality. On that occasion, Hillary and his team—which included his son Peter—journeyed from the river's mouth in the Bay of Bengal 2575 km to its source high in the Himalayas.
Of a ceremonial blessing en route, Hillary wrote: "We were transported into another world, a world of religious fervour, of deafening sound, of the importance of Mother Ganga, and the surprising acceptance of our journey as a sacred pilgrimage . . .
"I think for a brief space of time, we almost became Hindu in our thoughts. We were completely absorbed into the beliefs and the history and the understanding of the people of Mother Ganga."
Hillary has done what he can to preserve the spirituality that lies at the core of Sherpa life. The Himalayan Trust has helped build the Salleri monastery and restore others that have fallen into disrepair. In the course of his work, Hillary also developed a warm friendship with the abbot of Tengboche monastery, the vital spring of Buddhism in Nepal. The monastery, perched on a jutting spur of land high up the valley toward base camp, presides over some of the most breathtaking scenery on Earth.
[Chapter Break]
It was to Tengboche that Kami, Kanchha and I bent our steps early one morning. Our way, as we left Namche, was made aromatic by braziers of burning juniper balanced on steps and court­yard walls about the houses. The crisp mountain air was invigorating, and electric with promise. It offered up the detail of even distant objects with crystal clarity. This was true Everest country. Hillary country.
As we walked I fell to thinking about what it was that instilled in people the vocation, the compulsion, to climb. George Leigh Mallory, the dashing English climber of the 1920s whose every action—including reading Shakespeare aloud at high altitude—lent a romantic sheen to the enter­prise, famously answered, "Because it is there," when asked why he persisted it attempting Everest.
No one since Mallory has said it better. Hillary himself confessed to having always had a sense of adventure, but one that was undirected, inchoate, until at 16 he went with a school party to Mt Ruapehu.
"Ten days of skiing and scrambling about sold me on snow and mountains and all the rest of it. That trip got me going," he told me. "Then, as I developed, it became more important. Mountains and the people of the mountains became the interest of my life."
On his epic ascent Hillary used bottled oxygen—"Eng­lish air"—but few aluminium ladders or fixed ropes, scores of which now clutter Everest. In May 1978, Messner got up without supplementary oxygen, making what some pur­ists hail as the first true ascent.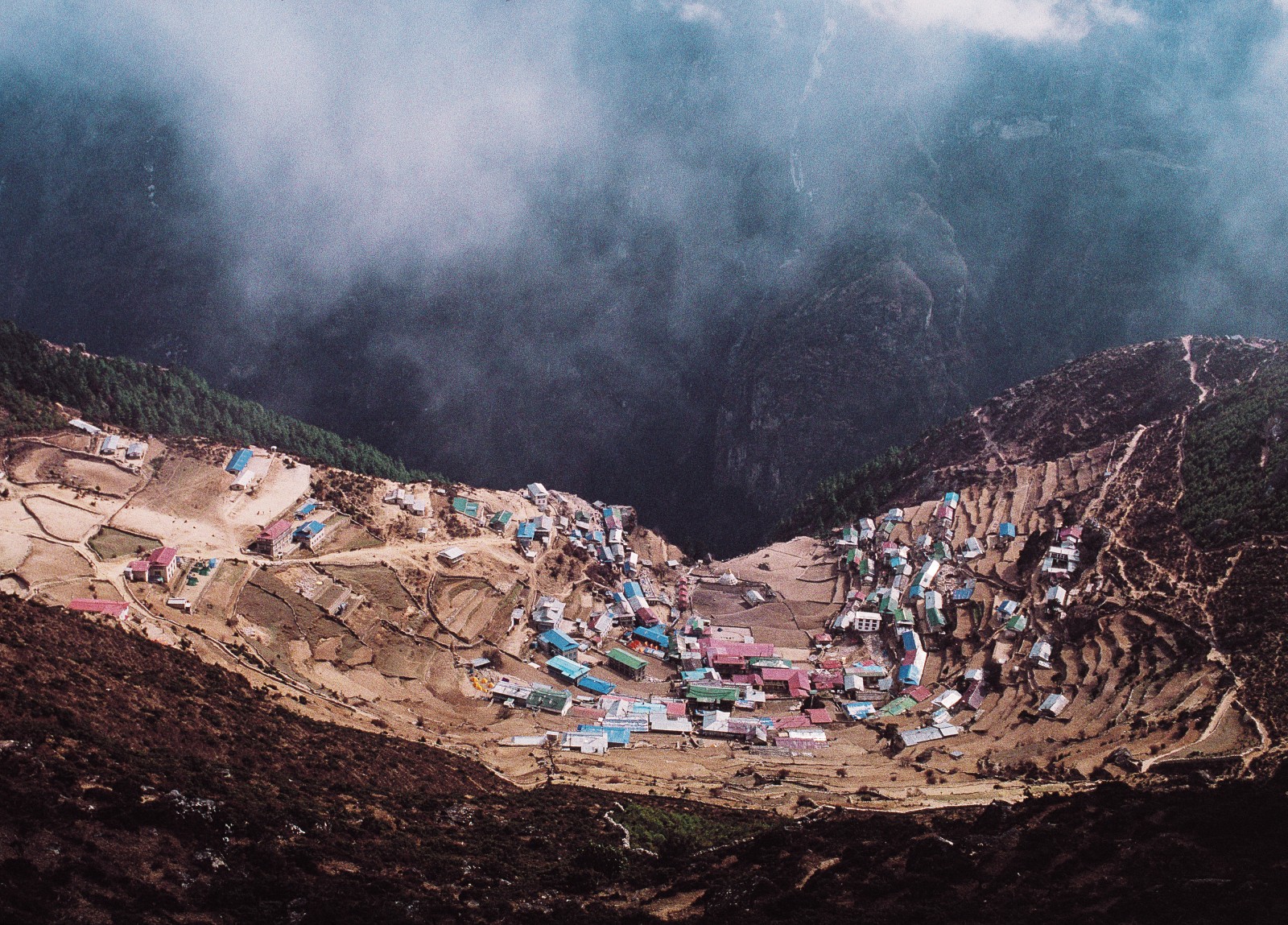 In the spring of 1999, climber Babu Chin Sherpa went one better, spending 20 hours without oxygen on the sum­mit. Before leaving Namche, I had noticed on the bake­house door a poster announcing that the local hero was now attempting a 16-hour "speed expedition." Undoubt­edly, he was already somewhere in the vast landscape up ahead, making his ant like preparations.
My first view of Everest—Peak XV, the Third Pole—was not something I was prepared for. Rounding a bend, I was stopped in my tracks by a breathtaking panorama of sharply hewn summits, a gallery of icy pinnacles towering above forested foothills. Out on a distant ridge, insignifi­cant against its overwhelming backdrop, lay the speck that was Tengboche monastery. High above, from behind the imposing shoulder of a neighbouring peak, reared the blunt cone of Everest, trailing a plume of ice crystals.
It was humbling to think of the rangy 33-year-old from Papakura and his main man, Tenzing, up there, tena­ciously hauling themselves into the jetstream amid ice and rock. Not knowing what to expect. Eight kilometres high and climbing.
Fighting exhaustion, they overcame the last hurdle, a 12 metre high wall of smooth rock—known ever after as the Hillary Step—and clawed their way to the summit.
"A few whacks of the ice-axe, a few cautious steps, and Tenzing and I were on top," Hillary wrote.
It was 11.30 A.M., May 29, 1953.
Anglo-Saxon that he was, Hillary held out his arm to shake hands, but that gesture fell short for the excited Tenzing. Filled with emotion, he threw his arms about Hillary, and, four-square on the roof of the world, the two men hugged one another.
Hillary snapped a picture of Tenzing holding aloft an ice axe strung with flags: Indian, Nepalese, United Na­tions, the Union Jack. He had not remembered to pack the New Zealand flag. Nor did he think to pose for a photo­graph himself. Such things, like the knighthood that came soon after, meant little. Instead, he took shots down the major ridges as proof of the climb.
Tenzing dug a hole in the snow and placed in it some biscuits, a piece of chocolate and a few sweets. Beside this offering Hillary buried a white crucifix on behalf of expe­dition leader John Hunt. They nibbled mintcake. Hillary glanced at his watch. 11.45. Time to move.
Earlier that day, in the grey light of dawn, they had looked out from the small ledge they called Camp Nine and had seen, 5000 m down, the old monastery of Tengboche.
"To Hillary, perhaps, it does not mean much," Tenzing later wrote in Man of Everest. "To a man from the West it is only a far, strange place in a far, strange country."
But for Hillary it did mean, or at least came to mean, a great deal.
Tengboche was the site of the victorious British Expedition's first base camp, and in the years that followed the climbers who passed this way availed themselves of the monastery's hospitality and sought the blessing of the abbot.
When, in 1989, news came through that the old monas­tery had burned to the ground, Hillary (then high com­missioner for India) travelled the world raising money to rebuild it.
Cresting the ridge at Tengboche after a steep climb, we arrived on the flattened knoll occupied by the monastery buildings. To the west rose Khumbi Yul Lha, the sacred mountain. To the east, the haughty precipices of Kangtega and the beautiful Ama Dablam. North-east, at the head of the valley, lay the massive wall between Nuptse and Lhotse, which all but curtains off the final act—Everest. The scale and grandeur of these mountains seemed to create a sort of spiritual parallax, blanking out mundane worries and pull­ing new perspectives on life.
A fine place, then, to replant the flower of Buddhism uprooted from Tibet by years of Chinese persecution.
The monastery has an unlikely ally in Michael Schmitz, a German architect who has logged 30 years in Nepal, planning new towns in the south and rebuilding schools in the wake of the devastating 1985 earthquake. Schmitz now devotes seven months a year to the monastery, overseeing the building of accommodation blocks and stone walls, and conducting daily tours.
"If this monastery dies, everything is lost. It is the heart of Sherpa culture," he told me, counting the donations after a well-patronised tour. It was a good take—the equivalent of SUS50. Enough, in this remote region, to buy half a bag of cement.
Before crawling into my tent, which had been pitched on a narrow tongue of land, I took in the view. I was higher than Mount Cook, and all around me brutal rock rose heavenward. There were bodies entombed in this land­scape. I thought again of the 168 climbers, New Zealander Rob Hall among them, still on the slopes of Everest. Even now, the mountain's blunt peak was releasing a long rib­bon of ice, stripped from it by gale-force winds—testi­mony to the raw power unleashed here. Just last year, Tengoche was battered by 180 km/h winds.
I learned that Babu Chiri Sherpa had achieved his speed ascent, taking just under 17 hours. Less than a year later, the 35-year-old climber, veteran of 10 ascents, fell to his death while taking photographs.
That's how it goes in this place. Death and beauty. The thorn with the rose. And both writ large.
"The Sherpas' finest traits have been developed in their battle against their tough environment," Hillary once said. "The last thing I would wish to do is to remove them from battle completely; better to put some sharper weapons into the Sherpas' hands."
The next morning I met the spiritual leader of the Sherpas, the 63-year-old abbot of Tengboche—Ngawang Tenzin Jangpo. As he draped around my neck the white prayer scarf I had presented to him, all of Hillary's work seemed to resurface. A rope across rock. A hand out­stretched. It was through acts, not words, that Hillary worked. Like the best of friends.
It had been a cold night in the tent. One of the coldest I had known. Now light was throwing ice and rock into relief, brightening paths and passes. I shouldered a bag and looked for Kann and Kanchha. Time to move.