Turning the tide
A team of New Zealanders and Tongans have just carpeted a remote volcanic island in Tonga with poisoned bait, hoping to eradicate rats—and with that one action, restore a vibrant, interconnected ecosystem of seabirds, forest animals, coral reefs and marine life.
The helicopter lifts from the green main island of Vavau, an intricate jellyfish-shaped archipelago in northern Tonga. Coconut palms and taro plantations unfold beneath us, and then the land suddenly gives way over sheer, forested cliffs. "Look how clear the water is," says chopper engineer Brad Lentfer over the headset. He's from Cambridge. "You don't get that in the Waikato River."
It is an impossible colour, a shimmering, lucid turquoise, despite the cloudy morning. "There's a whale—two of them!" says the pilot, Davin Mudford from Ōtorohanga, a gravel-voiced veteran of nearly 20,000 hours in the air. "God, they're big." I catch a brief glimpse of the humpbacks' dark shapes beyond the fringing coral before we wheel away.
Our destination is a dim triangle on the western horizon: the uninhabited volcanic island of Late (pronounced La-tay). The clouds clear as we approach, spilling sunlight like a curtain being drawn back, revealing sparsely vegetated upper slopes, cave-pocked basalt cliffs, lush forest, a flower-edged lake, a scatter of orange tents, a rusting telecommunications tower and an array of solar panels. Mudford sets down the chopper, and French operation leader Baudouin des Monstiers scurries over to meet him.
For the second time in a month, these two and their team are about to cover this island in rat poison—the final, crucial moment in an operation that's been dreamed of for a decade.
[Chapter Break]
Late is home to one of the best and least-disturbed native forests in Tonga, and supports a wealth of biodiversity—tropical shearwaters whose shrieks and chirrups fill the skies before dawn, graceful snow-white tropicbirds flying slow laps of the scoria-red crater, pterodactyl-like frigatebirds, both the shy and the friendly ground dove, the threatened Tongan whistler, the spotless crake, and giant land crabs that engineer and fertilise the forest.
The only problem is the rats—Rattus exulans, the Polynesian rat, called kiore in New Zealand. They've probably been here on Late a thousand years, jumping ship from voyaging vaka. They're smaller than other types of rat, but still, their impact would have been "initially devastating", says Richard Griffiths from the non-profit Island Conservation, who is overseeing the project for the Pacific Regional Invasive Species Management Support Service.
"They climb trees, they take nestlings, chicks, they take eggs, they eat reptiles, they eat invertebrates, seeds and seedlings of forest trees. They change everything over time; there are probably species that are [consequently] no longer present on Late."
One of those vanished birds might have been the malau or Tongan megapode, a plump, dark-grey scrubfowl with stocky yellow legs and unusual breeding habits. Other Pacific island megapode species make their nests from piles of compost, using the heat generated inside to warm their eggs. The malau takes a shortcut, digging into volcanic soils and relying on their geothermal power for incubation. (Late certainly seems a promising home for them—I stepped over a fern-lined crack near the summit and felt the mountain's hot exhalation rise up around me.)
Malau were once widespread in Tonga, but the pressures of rats, cats and hungry humans pushed them close to extinction, surviving on only a single northern island. In 1992, Tongan officials translocated malau eggs and chicks to Late and another active volcano near Vavau, Fonualei. Some 20 years later, a team counted more than 40 malau on rat-free Fonualei, and estimated the total population there at around 1000. On Late, they didn't find any of the birds—but the team saw their first rat in broad daylight as soon as they hopped off the boat.
Since then, getting rid of Late's rats has been a priority. Planning began in 2016, but it took seven years to secure funding for the million-dollar project. COVID-19 and the 2022 eruption of Hunga Tonga–Hunga Haˇapai caused further delays. Then there's the fact that Tonga doesn't have any helicopters.
In June, Mudford's Heli A1 crew took apart their helicopter, packed it into an open container, and shipped it from Auckland to Tongatapu along with 30,000 litres of jet fuel and 60 tonnes of bait, before flying the machine up the island chain to Vavau. In early July—three weeks before our visit—the eradication team dropped the first sacks of bait on Late at last. Almost all of the island's rats should be dead by now, but just in case, over the next day and a half, they'll do it all again—to ensure not a single rodent survives. If they're successful, Late will be the largest island in the tropical Pacific to become rat-free.
[Chapter Break]
New Zealand pioneered the art of removing invasive mammals from islands, beginning with tiny Maria Island in the Hauraki Gulf in 1964. Richard Griffiths' first eradication job was getting rid of mice on Mokoia Island in Lake Rotorua, and he was immediately hooked. "The concept of being able to transform an island ecosystem with one intervention was just so exciting and fulfilling for me," he says.
In 2002, Griffiths and Mudford worked together to drop bait on the rugged slopes of Te Hauturu-o-toi/Little Barrier Island, successfully eradicating kiore—the same species found on Late. Griffiths has since done the same on more than 30 islands worldwide.
"New Zealand's most poorly known export industry is conservation," he says. "It's very rare to find a large, complex eradication project anywhere in the world that doesn't have a New Zealander somehow involved in it." This one is no exception.
To get rats off a remote Tongan island, you need a few different kinds of people. Mudford, the pilot. Lentfer, the engineer, in case the chopper breaks down. Andy Curtis of Te Awamutu, ground crew, whose job is to refuel the machine, "make the pilot look good" and make everyone else laugh. Des Monstiers running the show—running everywhere—sorting logistics and making plans. (Griffiths, his boss, was on Late for the first application but not this one.) Morgan Marshall, a geospatial analyst from the Department of Conservation (DOC), sitting at a generator-powered laptop in a tent, keeping track of exactly where the chopper flies and how much bait is spilled out. Sasha Roselli, a DOC ranger, who has to bush-bash down to the coast and back up every day—a six-hour hike—checking the poison has fallen evenly across the island. Jono Dobbs, a skilled volunteer, loading bait and helping Roselli (his partner) with monitoring. DOC contractor Mark Le Lievre of Akaroa, supervising the bait-loaders (DOC helped fund this project). Three Tongan men—'Oto'ota To'oa, Vesi'ai Taulani, Kosilio Faka'osi and one woman, Loisi Tongia—all from the national environment department, who are loading bait and cooking dinner, sharing local knowledge and gaining new skills.
It's 8am. Everyone is in position, and the work begins.
[Chapter Break]
Mudford climbs back in the chopper, and Lentfer and Curtis attach a large green bucket to its underside. The helicopter lifts into the air and hovers 100 metres away at the bait-loading area, where several Tongans and Kiwis in overalls, face masks and respirators are perched on a motherload of bait.
The loaders start hefting 23 kilogram sacks to their shoulders and upending them into the bucket.
For one minute, two minutes, all is furious action—the noise of the blades, the rotor wash blowing like a cyclone, the bait dust flying back over the loaders in a fine green plume. "Good pace!" says Le Lievre. "You've cracked a two-minute load."
The bait is essentially poisoned Weetbix—centimetre-long cylindrical pellets of wheat dyed an unhealthy-looking bright green. The active ingredient is brodifacoum, a blood thinner. It's the best tool that currently exists for one-off missions like this, where a large area must be covered and the aim is to get rid of every single rat and then leave the island alone.
In 2015, back in the planning stages, the team checked whether other animals on Late would be at risk. They spread a dummy, non-toxic version of the bait across 20 hectares of the island. Inside was a fluorescent biomarker that glowed in UV light. Three days later, they caught around 80 birds, geckos and skinks, putting each in a black cloth bag and shining a UV torch on both ends of the animal—beak and bum. There was no sign any of them had eaten the bait.
On other Pacific Islands, land crabs—including the gigantic coconut crabs that can reach four kilograms and a metre across—are known to hoard and eat brodifacoum bait. Though they're not harmed by it, they can stymie an eradication by getting to the stuff before the rats do. That means the amount of bait needed is determined not by how many rats there are, says des Monstiers, but how many crabs. Late has four species of land crab, but not very high numbers (for now), meaning the team are aiming to spread a relatively light 12 kilograms of bait per hectare.
[Chapter Break]
The bucket full, the helicopter swings away and down to the lower reaches of the island. Late has been divided into around one hundred 45-metre strips, and Mudford will fly with precision along each in turn, the bait spinning out 45 metres either side, covering each area twice. Then he'll circumnavigate both the coast and the lake—areas favoured by rats, and crabs—to ensure not a single rodent's territory is missed. Generally speaking, there should be a bait for every two square metres of island.
There are two ways to verify it's going to plan. With coloured flags, Roselli has marked out thirty 20-square-metre plots from summit to coast, and treks between them checking how many bait pellets have landed in each one. Over the following days, she'll also monitor how many have been nibbled or eaten.
At the same time, Mudford chucks a thumb drive at Marshall every time he returns to refuel. The GPS data automatically records exactly where he flew and how much bait was released. Mid-morning, red lines on Marshall's map reveal the bucket's throttle was accidentally switched to low, releasing less bait—so the mistake is quickly fixed and Mudford sows those lines again.
At ground level, up near the summit, Roselli has noticed too—"That's a pretty naked plot!"—but then the helicopter flies directly overhead, and the additional pellets come bouncing down among the rocks and casuarinas.
Meanwhile, in between bait lifts, the loaders get a brief reprieve. Taulani from Vavau sings as he works. To'oa's day job is mangrove restoration; here, he shows off, lifting bait bags with one hand.
Faka'osi's arms are like tree branches, too—he easily lifts Curtis onto his shoulders as they joke around—but now he's breathing hard as he hauls the bait bags from the boxes and rips them open with a Stanley knife. He's from a tiny, beautiful island (population: 20) in Tonga's far north and is a bird-lover—he was thrilled to see ground doves for the first time on Late.
Tongia has immaculate eyelash extensions behind her safety goggles. She's been passionate about conservation since high school, and works as an invasive species project officer with the environment department in Tongatapu. Her team drives around the islands in a ute emblazoned with "Tongan Invasive Species Battler" beneath two crossed machetes.
She had to convince some colleagues that the Late eradication is a woman's job. "I know I can do what men do," she says. "I think it's everyone's responsibility to conserve our environment—women, men, our future generations. As a mother, being here makes me see what I can do for a better future for my kids."
The thrum of rotor blades announces the helicopter's return, and Tongia and the team climb back onto the bait boxes, ready to go. "One minute 45," crackles des Monstiers' voice over the radio afterwards. "That's a record!"
Finally, around four in the afternoon, he calls a halt for the day. Mudford has been in the air since shortly after dawn. Faka'osi lies back on the pallets exhausted, his arms outstretched.
[Chapter Break]
After dark, I sit with des Monstiers a little away from the camp. He is 33, swears by a pair of ladies' white plastic sandals for tropical toe protection, and first caught the predator-busting bug a decade ago, saving penguins and albatrosses from cats in the French subantarctic islands.
"Every day I see the impact of humans on what I love the most," he says. "In a perfect world, I wouldn't be out here saving species on the edge of extinction."
This is the first time he's led a helicopter-based eradication, and he's feeling it. The stakes are high.
"If you forget just one rat, it's a failure," he says. "The devil will just hide in the details."
Before flying out to Late, des Monstiers had briefed us on some of the precautions. Every scrap of food from the camp must be accounted for and stored in sealed buckets—if a rat fills up on leftovers, he may not be hungry enough to eat the bait. The same goes for human waste, meaning a special tent-toilet system is needed, involving multiple plastic bags and more sealed buckets.
Despite everyone's best efforts, these missions don't always succeed. Mudford spent months on a mouse eradication project in the south Atlantic that ultimately failed, as did a recent four-month rat operation des Monstiers worked on in French Polynesia. "I take it personally," he says. "It's a lot of travel, it's a lot of energy, it's a lot of money, so if we're not successful, then for me, my impact is negative, and it's always difficult to accept that."
Still, the odds are good for Late. A 2022 study of 666 rat-eradication attempts worldwide found they had a success rate of 88 per cent. Done right, there's an excellent chance of success, says des Monstiers. "We have one month to change the tide, and then we leave this place, having removed one of the main threats humans put on this island."
[Chapter Break]
How will Late change, when the rats are gone? It will quickly become a livelier and noisier place, says Griffiths. For seabirds like the shearwaters, "breeding success will change overnight. Fledging success rates that might now be less than 20 per cent might rocket up to 70-80 per cent. It will give a huge boost to the abundance of seabirds in a relatively short time span."
Other seabirds—petrels perhaps, or boobies—may start breeding here, bringing more ocean nutrients to nourish the soils. Forest birds and land crabs will benefit too—not just from reduced predation, but also less competition for food. The birds will pollinate more flowers; the crabs, "like little architects", will dig more tunnels. Seeds and seedlings commonly eaten by rats will grow into trees, changing the composition of the forest. "All of the connections within the ecosystem will improve," says Griffiths.
Removing rats triggers such a complex cascade of events that not all the impacts can be predicted. After the eradication on Raoul Island in the Kermadecs, for instance, scientists discovered land crabs there—New Zealand's first record of the species. "We always have surprises," says des Monstiers.
The only animals that stand to be negatively affected by the rats' demise—apart from the rats—are a small population of rodent-eating barn owls. They will need to change their diet, move to a new island, or die out. Barn owls are widespread worldwide, though, and have plenty of other ratty havens open to them, says des Monstiers. It's a small price to pay for everything else.
[Chapter Break]
The benefits promise to transcend the tide line, too. Emerging research shows that islands with rich populations of seabirds also have healthier coral reefs and greater fish diversity. Scientists used to think that coral thrived in low-nutrient environments, University of Otago marine biologist Candida Savage
tells me.
In 2010, Savage wanted to test the harmful effects of fertiliser run-off on coral reefs in Fiji. She chose rat-free island Namena as a low-nutrient control and asked a student to collect water samples, but when she ran the lab tests, she was convinced the student had mixed up the sample vials. "The nutrient levels were sky-high!"
The next year, she went out to Namena herself to collect more. Looking up at the thousands of roosting red-footed boobies, smelling their pungent guano and diving above the island's incredibly healthy coral "gelled a completely different train of ideas" for Savage—perhaps the right kinds of nutrients could actually be beneficial for the reefs?
She swapped fragments of branching coral—an important species for reef-building—between Namena and a similar reef on nearby Vanua Levu without any seabird colonies. A year later, the results were dramatic. The corals growing in the guano-rich waters around Namena were practically glowing with health. They had grown 15 centimetres—four times as much as those on Vanua Levu—had already branched into complex staghorn shapes, and had more symbiotic algae. Due to the pandemic, Savage hasn't yet been able to follow up with more experiments, but she thinks the seabird poo probably contains just the right mix of nutrients to help the corals thrive.
Other studies in the Chagos archipelago in the Indian Ocean and Palmyra atoll in the central Pacific have shown there are nearly 50 per cent more fish around rat-free islands compared with rat-infested ones, and some fish grow faster. Healthy seabird populations can boost phytoplankton as well as coral, attracting large pelagic animals like
manta rays.
[Chapter Break]
Wanting to get a sense of what Late and its surrounding seas might be like without rats, I visit a tiny islet in the Vavau archipelago with Karen Stone of the Vavau Environmental Protection Association, Tonga's sole environmental non-profit. Scattered south of the main island are dozens of idyllic miniature islets—thick green forest atop a ring of soft white sand, encircled by maze-like reefs and azure water. Rats were eradicated from one, Mananita, 20 years ago, and the seabirds there are thriving, says Stone. Today the clouds glower, the sea is rising and the waves won't allow our boat anywhere near it.
Instead, we go to Fonua'one'one, Stone's favourite of all the islets. We snorkel ashore against the current, past angelfish and barracuda and huge corals the shape of broccoli and brains.
Stone is British, but has lived in Neiafu for 18 years. She founded the non-profit with six Tongans in 2009, and in 2016 they helped the environment department spread rat bait by hand over Fonua'one'one and three nearby islets.
On the edge of the beach is a huge, spreading 'ovava tree. Its leaves are splashed with paint-like guano, and perched on stick-nests in its branches are some chicken-sized fluffballs—red-footed booby chicks. It's the first time Stone's seen them nesting here. "It's a great sign the island's rat-free."
She, her staff, and colleagues from the environment department aim to visit each islet at least once a year to count birds, monitor turtle nesting, survey coral growth and check for rats. Do the mottled blue eggs of the black-naped terns lie in the grasses unmolested? Or are there fresh, rat-sized holes in the fallen coconuts?
We check a pile of coconuts and find none—just a party of hairy juvenile coconut crabs hiding in snail shells like hermit crabs. The smell of guano pervades everything, and the trees are noisy with both sea and forest birds. Seven years on from the eradication, this small island thrums with life.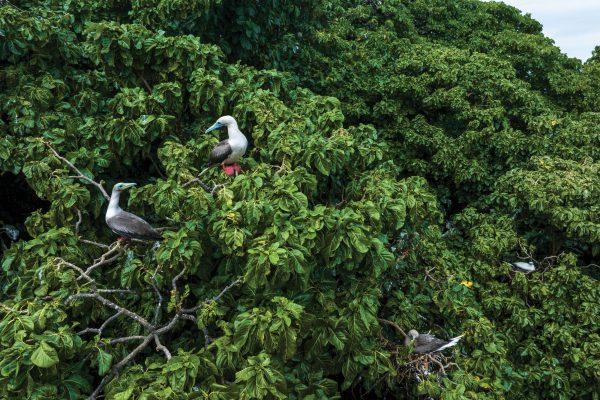 There's evidence of changes underwater, too. The group's surveys in 2022 showed a three per cent increase in coral biodiversity and health here since 2017, the year after the eradication. (Coral grows slowly, so that's a positive trend, says Stone.)
Good fisheries management is important as well, she cautions, though removing predators has the potential to boost fishers' livelihoods while contributing to resilience in the face of climate change. "The stronger and healthier our reefs are, the better they'll do at protecting us from waves, storm damage and sea-level rise."
[Chapter Break]
Back on Late, at midday on the second day, Tongia and Faka'osi tip the last bags of bait into the bucket. As Mudford zooms off to drop it over the forest, Curtis throws his arms in the air in celebration, and Faka'osi is moved to tears. "Tears of joy, because I like to do good work for Tonga," he says. "I close my eyes and I say a prayer: 'Thanks, God, for giving us energy to finish this job.'"
"I'm so proud to go back and tell everyone I was the girl who was part of the team," says Tongia—"bait loading and cooking, and removing rats. If I can do it, you guys can do it too." She hopes she'll also be part of the team that will return to Late in a year's time, to check the trail cameras and look for any signs of rats. If there are still none the year after that, the island will be declared rat-free, but by then, its recovery will already be underway.
My last glimpse of Late from the departing chopper is black cliffs and rugged coastline. The island looks like both fortress and paradise—and without rats, that's exactly what it could be.
Kate Evans and Richard Robinson's travel costs were met by funding from the Pacific Regional Invasive Species Management Support Service (PRISMSS).