LOADING Outer Hauraki Gulf, New Zealand
Play with the pilots
In calm water far out to sea, a group of pilot whales—including some juveniles—rests on the surface between hunts. Some doze upright in the water column, while others appear to drift off in front of the camera as they swim.
Long-finned pilot whales are deep-water hunters, often found above trenches and steep underwater features that might be habitat for their preferred prey, squid, or large fish. They live in very large groups, but even with a sizeable population, the species may actually be threatened. Not enough is known.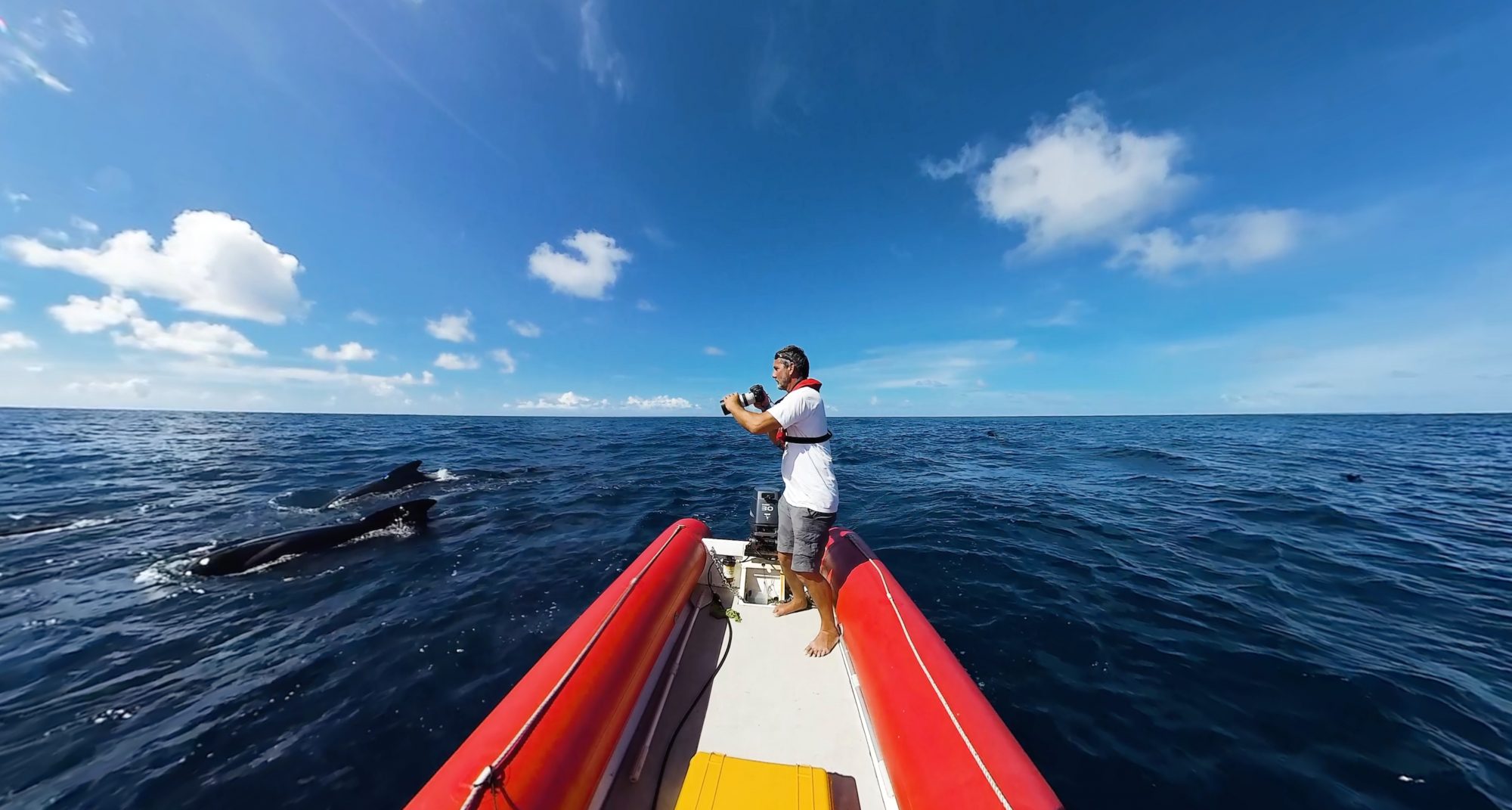 LOADING Outer Hauraki Gulf, New Zealand
Smile for the camera
Just beyond the territorial boundary of New Zealand, marine scientist Jochen Zaeschmar takes aim at a pod of pilot whales. For years he has been recording and monitoring the behaviour of pilots, bottlenose dolphins and false killer whales to understand the population dynamics and how the species interact.
Zaeschmar has recorded food sharing between false killer whales and dolphins, and interactions that seem to suggest that the pairing is mutually beneficial—a relationship that is rare among cetaceans.
LOADING Outer Hauraki Gulf, New Zealand
Dive with the dolphins
Oceanic bottlenose dolphins play on the bow, leaping, cavorting and blowing bubbles. They are substantially larger than their brethren found along the coast of the mainland and also carry the marks of life in deep water—specifically the biscuit-shaped bites of cookie-cutter sharks.
Little is known of the population of oceanic bottlenose dolphins, or their distribution, a dearth of data common to almost every inhabitant of the space beyond our continental shelf.
LOADING Outer Hauraki Gulf, New Zealand
Whaling with Rochelle
Point the bow at the razor horizon and leave the coast behind. As the seafloor drops away to 400 metres deep—marking the edge of the continental shelf—you leave New Zealand and enter the wide, wild realm of Tangaroa.
This is a place with different creatures and different rules. Here whales hunt with dolphins, fish congregate into boiling meatballs and sharks lurk in the shadows, just out of sight. Marine scientists such as Rochelle Constantine are beginning to understand the relationships and rules of the open sea, hopefully soon enough to save it.
LOADING Outer Hauraki Gulf, New Zealand
Long-distance travellers
A pair of juvenile triggerfish hang beneath a hunk of driftwood encrusted with goose barnacles, some 25 kilometres out to sea.
They're joined by a school of mahimahi, a large tropical fish species, which has come to New Zealand following the warm water, and will likely leave again before the end of summer. Most migratory species in this blue zone follow the same inshore-offshore seasonal pattern, including billfish and manta rays.