Inside Kung Fu Inc
It's the birthplace of kung fu and Zen Buddhism. Home to an ancient sect of warrior monks. The thousand year old legend that is Shaolin Temple. They've survived battling warlords and the wars and upheavals of the twentieth century but will fists and faith be enough to ensure Shaolin survives the grip of modernization? Or will a corporate face lift change Shaolin forever? Get ready as a new generation of monks train for the fight of their lives…
Shaolin Temple—birthplace of kung fu and Zen Buddhism. While Shaolin's roots are undeniably sacred, today's young hopefuls dream of being the next kung fu mega star.
From battling warlords to the war and upheavals of the twentieth century, Shaolin has proven its ability to adapt and survive. Now times are again changing and Shaolin is rising from the ashes to renewed fame and fortune. The temple and its inhabitants are flag bearers for the global business machine that is Shaolin Inc. With multi million dollar investments in property, media, health care and tourism, Shaolin is a commercial force to be reckoned with.
Despite its more recent entrepreneurial forays, Shaolin remains a hot house for training the country's best kung fu talent. After enduring punishing regimes that test the limits of their physical endurance, only the best will be selected as part of Shaolin's highly respected display teams. Others are destined to find work as body guards or martial arts teachers for even the youngest of Shaolin's students understands that while many are called, few are chosen.
Shaolin has spawned the growth of mega kung fu schools in the nearby city of Dengfeng. Here, Jackie Chan wannabes from around the globe practice a competitive version of kung fu known as Wushu. But for the true Shaolin monks such as 10 year old Luo Zhenzhong and 18 year old Zhou Jinbo, mastering Shaolin kung fu and making it to a display team remain the ultimate goal.
Can Luo overcome an ankle injury in time to audition for this year's display team or will the previous year's training have been in a vain? Will Zhou's dedication to becoming a master of qi gong or iron kung fu impress his masters enough to secure him a place?
And will a Belgian choreographer and a Polish composer win the Abbot's vital approval to take their unique blend of interpretive dance and kung fu to the world's number one dance venue? Can the Abbot successfully safeguard Shaolin against copyright infringements while at the same time keep its spiritual heart intact? Can Shaolin ride the current wave of change?
Episodes From This Series
1 hour / 2008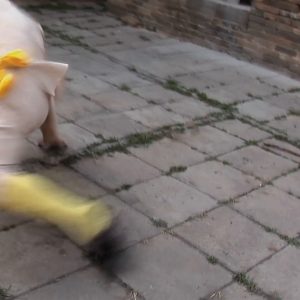 1 hour / 2008