Without a trace
In the wilds of Kahurangi National Park, a tramper disappears two days before Christmas, sparking a huge search and rescue effort. Several years later, Alistair Levy has still not been found.
It was late afternoon by the time he reached the hut, a welcome sight after the hot climb from the valley. Alistair Levy walked up the stairs and onto the deck. He took his boots off, placed them by the wooden bench, opened the door, went inside, flopped down on the bottom shelf of bunks, and fell asleep.
Karen and Barry Driver, from Nelson, were already in the hut, on the second of three nights there. They were enjoying day trips around Mt Owen, a hulking, flat-topped, weather-worn marble massif, the highest peak in Kahurangi National Park. They noticed the new arrival's exhaustion and felt worried—he hadn't changed his clothes, hadn't had a drink, hadn't even got out anything to eat. He hadn't even really said hello. In fact, the man looked totally knackered, and it gets cold up there during the night, even in summer. He should have at least changed his sweaty clothes. But he was breathing evenly, so they left him to recover from the climb.
Levy didn't wake up until the evening. The Drivers had eaten their dinner and were getting ready to settle down on the top bunks when he got up to make his own meal on his gas cooker. Karen engaged him in conversation—she always tried to talk to people who were tramping alone. But he was tired and not overly chatty, apart from mentioning he'd done the tramp before but had to pull out, and had always wanted to tick it off.
That evening, Karen woke to hear kea attacking the three pairs of boots left outside, and she got up to bring them in. Clear nights in the Kahurangi are riotous with stars, and below, the tussock, Spaniard grass and coprosmas were washed of colour. The sheer marble bluffs bordering the mountain pass were so pale they were still visible, shining a ghostly blue under the half-moon.
The next morning promised another hot day. Levy seemed better, and much cheerier. He thanked Karen for rescuing his boots, and as all three made breakfast and arranged to start their days, they got to talking. Levy mentioned he wanted to be off the mountain the following day, Sunday, and in Christchurch the day after: Christmas Eve. He told them what he was planning, and Karen started worrying. They'd been up Mt Owen several times, but the route Levy had in mind wasn't something they would have attempted—and they had managed the distance from Courthouse Flat to the hut with no trouble. She said, "Do you realise how far that is?"
Levy's route took him up the mountain, and across a marble boulderfield riddled with crevasses. He was walking into a minefield.
SATURDAY, DECEMBER 22, 2012
His journey had started earlier that day.
It was a fine weekend for a walk. Christmas time in the top of the south, and the morning had dawned warm and clear as Levy drove from Nelson to Mt Owen. The hop fields were ripening; the blackcurrants were nearly ready, and the rivers were sparkling blue in the glinting sun.
He had turned 54 a month earlier, and was on summer holiday from his job as a science teacher at Palmerston North Boys' High School. He'd been looking forward to this trip for a while. A tramper since his early 20s, he hadn't done many big trips in the past couple of years. But he'd tackled plenty of routes in the South Island, including a six-day crossing from the West Coast to Rakaia Gorge, the Heaphy Track, and parts of the Hollyford Track. This trip would be the first of several more he wanted to make that summer, joining up the dots on a lifetime's mission to cover the South Island.
He had farewelled his teenaged daughter Gemma and his wife, Tracy Willson-Levy, a couple of days earlier; he and Tracy had gone out to dinner to celebrate their seven-year wedding anniversary the week before. A few days before, he had driven to Wellington, the car loaded with Christmas supplies, and taken the ferry over Cook Strait. He spent a couple of days at old friend Max Coote's house in Nelson, and they planned to meet up in Omarama after Christmas for another tramp up the Ahuriri Valley.
That morning, as they said goodbye, Coote asked Levy where he was headed next. "I'm going up Mt Owen," Levy said. "Down into that basin that you and I didn't manage last time."
Nearly 20 years before, the pair had attempted to make a ragged circuit over the mountain and out, but had to turn back from descending the south side of the summit when they ran out of daylight trying to find their way through the broken stonefields of Castle Basin. Levy had always wanted to finish the trip, but this time, he'd be walking it alone.
He drove to the Kohatu Flat Rock Cafe, at the fork where the road to Murchison turns towards Tapawera, the mountain ranges filling the horizon. The Kohatu used to be a beer-drenched tavern, but coffee and eggs benedict do just as well in the country these days. It was a busy morning, and Levy had a quick yarn with the Kohatu's owner, Graeme Crook, asking if he could leave his bike there.
Levy told him he planned to park his car at Courthouse Flat, the start of the track, hike over Mt Owen, hitch back to the Kohatu, pick up his bike, ride it back to his car, and then go on to Christchurch. It would be overnight; maybe two, if he was running late getting through the cracked grey rock fields on the south side of the summit. Crook agreed to lock the bike in the shed until he returned. He was a hell of a good joker, Crook thought; someone you could talk to for hours.
It was a well planned trip—he and Tracy had swapped their Palmerston North house with an old friend so they could spend time with Levy's brother Graham and his wife in Christchurch over Christmas. Willson-Levy would return to Palmerston North at the beginning of January, and Levy would continue travelling and tramping in the South Island. She'd bought him the new yellow Bauer Tornado mountain bike as a present, especially for the trip.
His plan settled with Crook, Levy drove on through Tapawera—past the Four Square, the school, the cluster of homes, and up the Tadmor Valley, then turned into the Wangapeka Valley.
Along the way, he stopped to pick up a hitchhiker, Lin Wen Hsiang, who went by the name Sirus Lin. The former postman from Taiwan was headed for Mt Owen as well. He was travelling the world, nursing his obsessions with budget travelling, hitchhiking, tramping, and posting bare-bottomed pics on Facebook in each new country. He was a friendly-faced, energetic, scruffy guy whose trouser bottoms were slashed to bits, as though he'd been clambering all over rocks; but he was the sort of person who turned strangers into mates wherever he went.
The pair chatted the whole way. Lin told Levy about his travels, and Levy talked about his Scottish ancestry; he struck Lin as an exceptionally nice man. They drove up the valley, past the bare hills scarred from logging, the Buddhist meditation retreat, the farms, and across a couple of fords. They drove the gravel road along which wild pigs sometimes run, winding high above the Rolling River chattering over boulders; a high bank to their left, a bushy drop on their right.
Courthouse Flat is a pretty, snug spot, ringed by mountains rearing straight up. You can still sense the echo of Gladstone, the 1870s goldmining township of several hundred souls that once stood here, at the convergence of two streams rushing into each other, draining the massive underground channels and cathedrals hidden in the core of Mt Owen. The remnants of the courthouse chimney are still visible, but it's as though the jailhouse and hotels, the skittle alley and stores, and the hundreds of hopeful people have simply been swept clean, grass rolled out in their place. Nearby, along the tracks leading uphill, there are forests of blackberry, a stamping battery, the remains of tailings, and mining implements rusting away into nothing.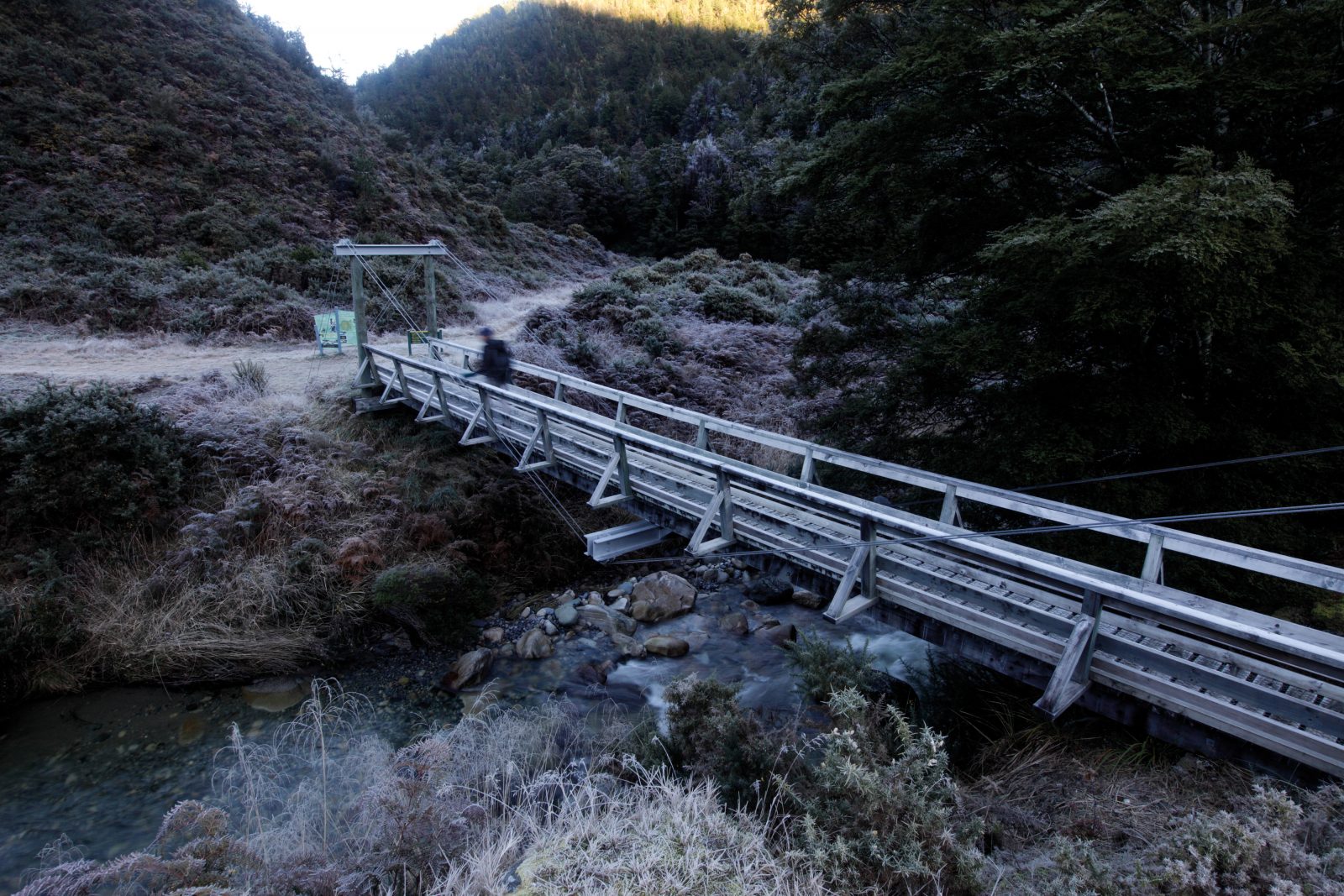 Levy parked his car, then shouldered his purple-and-black pack. It was eight kilometres to the hut, most of it a decent uphill slog. He and Lin began to walk, choosing between two tracks leading up the mountain. One winds along Blue Creek, sidling up through the covering beech; the other is a brutal trudge along a sparse ridgeline, bristling with mānuka. An hour and a half up, the two trails meet and continue as one, rising through knotty roots of beech until you reach Billies Saddle, a former grazing area, where the vegetation shrinks to nothing and the tops open out into meadows of summer-gold grass, dotted with the twisted white skeletons of trees. It's a good place to stop for a drink.
Here, the views on a hot summer's day are sensational: north to the blue curve of Tasman Bay, west to the Coast across a spine of ranges. If you get the sun right, you can see it glinting off distant John Reid Hut, named after the local helicopter pilot who performed the first cave rescue on Mt Owen when he saved young caver Lee Merchant in the summer of 1963.
The Nelson Photo News reported that Merchant might well have ended his life up there after suffering severe spinal injuries falling 20 metres down a 260-metre-deep cave he'd discovered. For more than two days, he waited down the hole as bad weather roared above and the helicopter tried to rescue him. Finally, 52 hours after the accident, his condition had deteriorated so much that Reid grabbed a break in the cloud, dashed in, picked him up, and flew him home to Nelson in minimum visibility. "Lee can also thank his lucky stars that in Nelson he had the best search and rescue organisation in New Zealand to get him out. These voluntary searchers did a magnificent job," the Photo News reported.
It would be the first of many rescues, near-misses and deaths as cavers began to explore the mountain's depths. Mt Owen is a fat, ashy plug of rock sitting up nearly two kilometres from sea level. Water has worn the surface into razor-sharp, fluted grey ripples, and drummed away below too; the mountain contains some of the biggest caves and finest glaciated karst in the world. Cavers frequently encounter the bones of moa,  kākāpō and Haast's eagles that have dropped through from chasms above.
The best way to describe Mt Owen, says leading New Zealand caver Kieran McKay, is like a glacier wrought in rock, struck through with crevasses.
McKay has spent about 300 days on and under the mountain over his career, as he and teams of cavers attempt to discover more of the labyrinths within. It's his dream to see Bulmer Cavern, currently New Zealand's longest system, stretched into the longest in the world, and all evidence so far says that it's only a matter of time, even if it takes generations to finish the job.
But what makes the mountain unique also makes for its treachery: water is scarce in this sieve-like landscape, and there's a lot missing between the topographical map's 20-metre contour lines until you step right into a crevasse.
Lin and Levy walked on. The usual route from Billies Saddle is to stay at Granity Pass Hut or camp near the tarns further up, climb Mt Owen, and then leave via the same route. That's what Lin was planning, but Levy had something different in mind, and told him about his dream to complete the circuit.
On they went, out of the sun, through a stand of gnarled beech hung with greenish-white moss, the trees old and dwarfed by the climate. Down through the twisting Devil's Staircase, a steep, rooty track, past fallen trees and heavy rock overhangs, some deep enough to be called a cave. Over a waterfall, which sheets across slippery, uneven rock—the first place to fill their drink bottles since the hot climb from the valley floor. Through to Ghost Valley, where Blue Creek runs through tall, hooded beech forest. Past the mossy, collapsed slabs of the old prospector's hut. Out of the beech and into a grove of neinei trees, the dracophyllum that look straight out of Dr Seuss, the leathery fronds of which make a comfortable bed if you pile them high enough, should you be unexpectedly caught outside.
They took their time. Lin had to wait several times for Levy to catch up, and he thought Levy's fitness wasn't as good as it should have been. But then, Lin had been travelling around New Zealand tramping for most of the year and was a good 20 years younger. And there was no need to hurry, with the weather hot and clear and the hut close by. They walked up a dry stream bed, narrow but jostling with massive boulders that demanded quick feet and careful attention. When they reached the hut, Lin went on ahead, to camp in Sanctuary Basin, closer to the summit. Levy walked into the hut, said hi to the Drivers, lay down on the bunk, and fell asleep.
SUNDAY, DECEMBER 23, 2012
The next morning, he and the Drivers chatted about the route, and he told them he wanted to skirt the summit and head into the rocky, broken moonscape of Castle Basin before making his way out through what's known as the Bulmer. From there, he'd pick his way down the mountain to the bushline and the Owen Valley.
Karen was worried. It was a long trip to make in a day. Levy had a map, but she noticed he spent a long time studying the one on the wall of the hut. It's a huge distance, she said, and difficult ground, with large holes between, and in, the rocks.
"Even just to walk that tricky bit alone, let alone get down to the bottom of the mountain—it's massive," she told him.
He said, ruefully, "The flats of Palmerston North don't prepare you for coming up Mt Owen."
There was a notice on the wall from DOC saying that the route through the Owen Valley wasn't marked or formed in any way. In fact, the only way through the shattered rock is via small cairns, but they're random, often put there by cavers and trampers who have picked their way through. When Levy and Coote were up the mountain, the cairns weren't much help—they seemed to lead to nowhere.
He knew how tricky it was, and had good reason to be careful. In 2004, a 25-year-old Christchurch tramper, Anthony Goile, broke his teeth and badly hurt his back on the south side of Mt Owen. It was wet, and he'd sat down to edge over the snowgrass, then started to slide. He cartwheeled over a bluff, bounced down the mountain, and plummeted 100 metres to a steep ledge below. Only his pack saved him, and his helmet, and his friends, who had a cellphone and alerted police. But high winds and low cloud stopped the helicopter, and Goile spent more than 24 hours on a steep face, in agony, not sure if his back was broken or not, waiting for rescue.
Karen and Barry's impression was that Levy wasn't as fit as he should have been to tackle the route he'd planned, especially if he'd been that knackered coming up from Courthouse Flat. Privately, they thought he was taking on too much—indeed, Barry thought no-one should be tramping up Mt Owen on his own. But each to his own, though; it's up to people to make their own calls, the Drivers thought, and it would have been insulting to say any more. Barry didn't want to judge; he thought if Levy felt unsafe, he'd review his situation and make the right calls.
Levy posted his payment for using the hut into the box on the wall by the door—$15 worth of DOC tickets—and wrote his intentions unusually decisively as hut books go: "Going out through Bulmer—not Mt Owen/Sunrise."
It was about 9AM when he left, in sunhat and wearing his glasses. But Karen noticed he wasn't quite sure which way to go. He asked the Drivers which route it was up to Mt Owen, and they pointed out the orange triangles and said goodbye.
Levy walked towards Sanctuary Basin, along a moraine wall known as the Railway Embankment, left over from when a glacier had pushed past millions of years ago, smoothing the land and moulding the rest of it into hummocks and slides. He met Wellington trampers Peter and Caroline Gates, and the trio exchanged a hello; Levy mentioned he was headed for Bulmer Creek. He walked through a cleft in the landscape, dwarfed by massive walls on either side, and passed the tarns, deep blue pools edged in marshy grass. Just after the tarns—as he was about to enter the riven granite humps on the shoulder of the summit—he met two other trampers, Mike Drake and Dave Quested.
The pair were coming down from the summit, where they'd been half an hour earlier. Drake had been up Mt Owen several times; in fact, it was the mountain that got him back into tramping. Originally from Yorkshire, in 1994 he moved to a piece of paradise about 11 kilometres from Tapawera, which overlooks the Kahurangi National Park—and when you're living in paradise, you want to immerse yourself in it.
He'd seen photos of Mt Owen in a magazine and thought he should tackle the mountain on his doorstep; the features of the rock reminded him of home. In 2000, he joined the local Waimea Tramping Club, and later on the Nelson Tramping Club and the Nelson Alpine Club too.
Drake, Quested and Levy stopped and introduced themselves, and talked for some time. Drake and Quested had been melting snow for water, the only fluid available on the rocky tops, and jokingly said they'd see Levy back at the hut as they weren't sure they had enough gas left for another brew. Levy said he wasn't heading back to the hut, but offered them a gas canister of his own, an older-style one that you have to pierce to use. The pair declined; their stove only fitted a screw-top canister.
The three fell to talking about the route Levy intended to take, and he said he hoped to be out that day, through Bulmer, without another camp to make. Privately, Quested felt he was a little unfit, and was concerned about his intended route. Drake, who had been that way before, had a few pointers for him.
He told Levy several times that he could turn back at any time if he was unsure of the route. But the most important thing, he added, was to make sure he was stepping on solid ground before he put his foot down.
He offered Levy a larger-scale map of the south side of Mt Owen, an A3 one he'd printed off at home, which Levy accepted. Drake asked, "Do you have a compass?"
"No," Levy said, and the pair were surprised, and a little perturbed. Drake offered him his own; Levy declined.
After they farewelled him, Drake and Quested continued down to Granity Pass Hut, chatting about Levy and hoping he'd be okay; it was tiger country up there, and strange for someone to be without a compass.
Not long after that, the pair met the hitchhiker Sirus Lin walking up to the summit, and said hello. The night before, from their campsite on a rocky spur high above the track, Drake and Quested had seen Lin's torchlight flashing at his camp.
At the hut, the pair had lunch and talked for a bit with the Drivers about Levy, mentioning their concern that he was alone without navigation aids and that the route was difficult. But they were walking out that day, and thought no more of him.
Around that time, Levy was up quite high, and found reception to send a text message to his wife back in Palmerston North. Willson-Levy got it as she was preparing to fly to Christchurch to meet him for their family Christmas.
"On Mt Owen," he wrote. "See you late pm tomorrow. Love A."
As he did so, another lone man was walking up from Courthouse Flat: Wellington environmental scientist Richard Nottage, who was on holiday from his job with NIWA. Nottage's mother had died the year before, and it was just him and his father at his home in Stoke for Christmas. He'd taken the opportunity to do a two-day walk up Owen.
He walked quickly, thrilled by the bluebird day, and reached the hut in mid-morning. He pitched his bright orange tent beside the tarns and walked to the summit. It's a tricky path to the top, and Nottage teetered over rocks, avoiding deep crevasses lined with sharp furrows and ridges. There were a few puffs of cloud building in the mountains on the horizon to the north and east, but nothing to worry about.
On the way up, he met Lin coming down. Lin had shot a video at the summit and uploaded it to YouTube that day. It's a slow pan around the clear blue orb of the horizon, Nelson tucked into a curve of Tasman Bay, the ranges folding back into shades of blue, the shattered rock of the brown and grey tops spotted here and there with snow.
"It's just absolutely… sensational," Lin told his camera, the wind and the view snatching at his breath a little. There is no-one else in view—but somewhere in those rocks, out of frame, or too small to see, was Alistair Levy.
As the hot day eased into evening, Nottage returned to his tent. He'd made a few missed turns on the way back down from the summit, and had taken his time. One wrong turn led out to a bluffed-out area, but he managed to retrace his steps back uphill to find the cairns again. It occurred to him that despite the lack of wind, cloud, and the many hours of light left on one of the longest days of the year, you could easily lose your way.
As evening fell, the sun in the west was joined by a washed-out half-moon, waxing gibbous in the northern sky. Lin was camping out again. The Drivers prepared for their last night in the hut, having spent the day exploring. But they were keeping an eye out for Alistair Levy.
At 6pm, the light was warm and soft. Nottage ate jambalaya and a chocolate steamed pudding and had a cup of tea. He read for a while in the silence—no wind, no birdsong, the fly of his tent folded back so he could look up at the blooming stars. Before he turned in, he folded his tent fly back, in case the weather turned.
He didn't sleep well that night. Sleeping solo, even in a warm sleeping bag, in a dry tent, with torchlight to hand, he thought the mountains could sometimes be an unsettling place, with that vast empty landscape at your back. As dawn arrived, he woke, and in his half-dream state thought he'd heard a yell in the night. But deer and goats wander the tracks up there, and kea too. It was just his mind playing tricks on him.
MONDAY, DECEMBER 24, 2012— Christmas Eve
The morning dawned overcast, with high white cloud. It was Christmas Eve, and the Drivers, Lin and Nottage got up to walk home. Nottage walked out early, the high cloud burning off soon enough, and the sun was intense by the time he got to his car. He got in, opened a bag of corn snacks and drove down the Wangapeka River Road. Several kilometres down, he spotted Lin walking, and stopped to pick him up. Back in town, Nottage dropped a grateful Lin off at the Richmond Mall Pak'nSave and wished him a happy Christmas, then went home to Stoke to see his dad.
The Drivers got in their car and drove back to Nelson too, and went to hear the Christmas carols at the Nelson Cathedral that night.
But in Christchurch, Levy's family were still waiting. He hadn't got out by Christmas Eve, and hadn't used his phone since he sent his text. At the Kohatu, his new bike was still locked up in the shed.
A cold front was nearing, mixing with the hot air and creating the first of the rain that would soon dump over Mt Owen, bringing with it a white, clinging mist. The next day, the hunt for Alistair Levy began.
TUESDAY, DECEMBER 25, 2012—CHRISTMAS DAY
In Christchurch at 9am, Graham Levy picked up the phone, called police, and told them his brother was missing. On duty that day was Sergeant Steve Savage, who got the call from the police Southern Communications Centre.
Savage, now a senior sergeant, is an incident controller in the local police search and rescue squad, and he knew Mt Owen. Once, tramping years ago, he'd walked up to the summit and on to camp in Poverty Basin, and still remembered a gust of wind that blew him off his feet. He was thankful it hadn't happened next to one of the giant holes that riddle the landscape.
The Nelson Marlborough Rescue Helicopter flew to Courthouse Flat, checked for Levy's car, checked the hut, and then spent several hours ranging over the hills, flying the tracks and the route through Bulmer and Sunrise Ridge. The terrain they looked over was rugged and broken; deep crevasses, lots of holes into caves, bluffs and drop-offs, dense bush and very steep terrain. Helicopter crewman Hamish Pirie would later tell media it was "hellish".
LandSAR volunteers were called up, but no-one was able to go out until Boxing Day. Search and rescue groups in the top of the south are among the busiest groups in the country, second only to Wanaka, and it was a busy day for emergency services too. The rescue helicopter was called away to Tonga Quarry Camp at Tonga Bay in Abel Tasman National Park, after a man in his 50s and his 14-year-old son were scalded by boiling water when a camp stove was knocked over. It returned to the mountain that evening, with night-vision equipment, but crewmen saw only goats and deer. They flew until about 2AM without spotting the infrared signature of a human. That night, the bad weather began to move over Mt Owen, and the rain settled in.
WEDNESDAY, DECEMBER 26, 2012—BOXING DAY
Down the highway at the Owen River Tavern, search teams gathered at the base of the mountain and waited four hours for the weather to clear so the helicopter could fly them in. There were five teams going in, including specialist cavers from CaveSAR, covering the Bulmer Tarn, Mt Owen, Branch River and Sunrise Peak to the Owen River Valley. The search areas were based off Levy's last-known point, where Drake and Quested had stopped to chat, and police had mapped out a 'wagon wheel' from there, searching segments based on where he was intending to go and the probable routes he'd taken.
Murchison Search and Rescue volunteer Larry Charles went to the Mt Owen carpark, at the end of Levy's intended route out, to try to find the yellow mountain bike. Police had assumed Levy had hidden it in the bush so he could bike back to his car, which he'd done on his previous trip with Coote. But back at the Kohatu, Graeme Crook had remembered the bike in the shed and called police—and Charles found a set of footprints in some creekside mud instead.
He'd had a chat to the neighbouring landowner and knew there had been visitors staying that weekend, but the prints were beyond where they'd gone, and were heading out—and were also Levy's size.
"I'd say yes. It was a high probability it was him," Charles says. "If there was a set of prints or shoes we could compare to, we could have said they were similar—but we didn't have that, so we can't rule out it being someone else. But the chances of there being two individuals coming down off that area are not that high."
Charles knows Mt Owen like his own backyard, and is frequently called upon to help find people in trouble up there. He has two German shepherd search dogs, Namu and Ammo, short for the French word for love—amour. He calls them "pig dogs for humans", trained to find any hint of people, including anything they drop. (Once, Charles was on a search at nearby Mt Arthur and saw a guy walking out of a hut on the bushline, squinting at a map in front of him. Halfway back, the dog leapt up on a bank—he'd spotted a pair of glasses. Charles knew straight away who they belonged to.)
But the dog has no idea who he's looking for—it's up to Charles to interpret what they find. He could establish that someone had indeed come down that valley, but no more.
Above the valley, Nelson Search and Rescue volunteers Louis Standfield, Dave Newton and Richard Walker flew in to the bluffs by helicopter, threading through low cloud. Standfield, who has been a search and rescue volunteer since 1987, packed his bag for 48 hours. He has six kids, and they're used to him disappearing to look for other people's fathers, mothers, brothers and children. "We couldn't do what we do without our families," he says. "I couldn't leave the house without my wife standing there going, 'Bye'. And the children go, 'Yip, see you'. You miss birthdays, Christmas, and you just say, 'This is what we do'."
As they neared the rocks, Standfield nudged Walker and said: "You can imagine orcs running up and down this mountain, can't you?" Walker gave him a smile; he could. As the helicopter looked for somewhere to settle down, Standfield thought it was very much like landing on the moon.
Their task that day was to sweep around the south side and see if they could pick up any rubbish or tracks going into Castle Basin. Searchers follow a technique called 'purposeful wandering'; nearly every person will pick the easiest way through vegetation, following natural paths. Because the brain ignores inessential information, searchers have to re-train their eyes. Every few metres they stop to explore the six sides of a transparent cube: up, down, front, left, right, behind.
[sidebar-1]
They walked, calling. Levy had Christmas planned with his family in Christchurch. He wasn't classed as a despondent, someone who didn't want to be found. If people were calling, he'd be yelling back.
They thought they heard a call come back. They did another call: nothing.
"No footprints, no rubbish, no campsites. It was just like we were the first people along there," Standfield says. They turned in for the day, but the call Walker thought he'd heard was still playing on his mind.
On the other side of the mountain, Don Schwass and Jason Diack, from Hira and Tapawera, were dropped off by helicopter about 11AM, tasked with searching from the point Levy was last seen chatting to Drake and Quested on the mountain's flanks. Their job that day was to check the nooks and crannies, and find the decision points where Levy may have chosen his path, or taken a wrong turn.
They picked their way through a landscape riddled with bottomless pits—holes the size of a doorway, but pitch black, and deep enough that a rock dropped in made no sound at all.
Schwass, a tracker, is the most senior volunteer in the Tasman area, having been a search and rescue volunteer since 1989. "If you're lost," Standfield says, "you want Don looking for you."
Tracking is his life; he sees what others don't, distinguishing between the natural and what humans leave behind when they walk through a landscape. Often, they don't see what he's seeing even while he crouches to point it out.
The landscape tells its own story. He notices transfer, where flecks of dirt and grass end up on adjacent rocks, and how grass changes when you walk through.
"A lot of it is learning about the person and the decisions they make; it's very much like trying to outwit them at a game of chess," Schwass says.
He has always treated tracking like hunting. Other searchers blow whistles and call names; it's Schwass' job to read the earth for the clues that make no sound, picking his way through thousands of square metres to find a body that may be taking up only half of one.
"I use Mother Nature, what you see out in the bush," Schwass says. "I like to see it at the same sort of time they were there, maybe a different day, and look through their eyes, think what they were thinking and try to make the same decisions. That's how to be a successful tracker." When you learn to track without footprints, that's when you know you're doing pretty well.
They found the point where Drake and Quested had met Levy, and found some sign heading towards Bulmer, but it was difficult to tell if they were picking up Drake and Quested coming down or Levy going up. They dropped into a basin, noticed a bit of sign coming into it, and then saw that it had stopped. By then, the weather was getting rough; almost as soon as their helicopter had swept away, it had clagged in.
They spent the day combing the basin, and found a pair of boot marks, and a spot where someone had been camping and had a little fire going. But it seemed old, and the marks could have been from anyone. Other than that, there was nothing to go on. Levy had a father in the Forest Service, who'd taught him to never leave anything behind.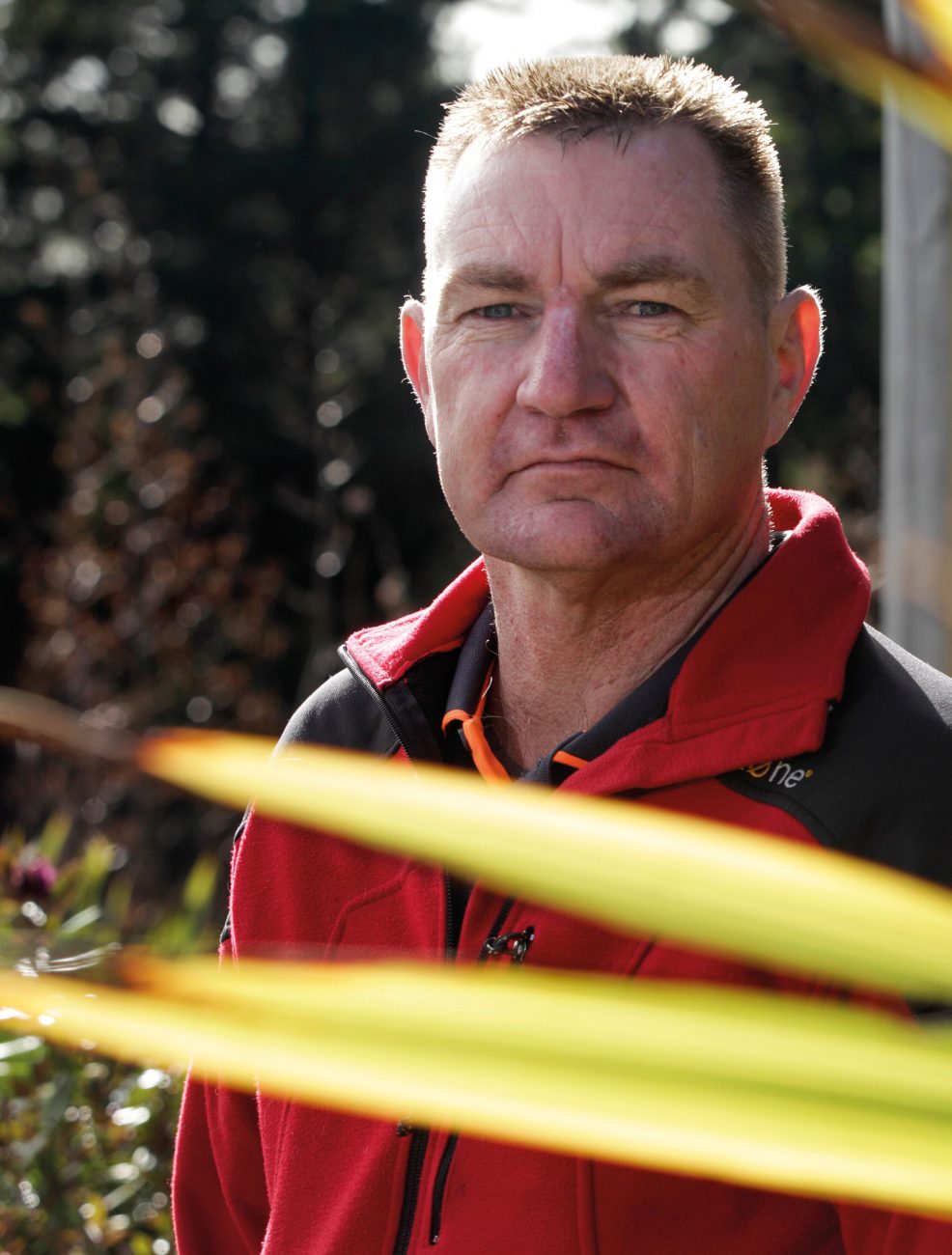 Diack, a farmer, likes to carry a good supply of water and food, and found himself in a couple of precarious situations as he and Schwass sidled around rock and sinkhole, his pack becoming a swinging dead weight when they had to leap across a ravine.
"Like I've said to some of the jokers going up there looking for people, it's no wonder they go missing. It's pretty easy to get lost up there," Diack says. "I kept noticing the track had piss-poor marking. Quite a few places we stopped and asked, 'Are we on the right track? Is it this way or that way?' There need to be more markers; that's what I was telling some of the jokers, anyway."
That evening, the clouds burst and rain began to bucket down, and it got windy and cold. About halfway up a cliff face on a ridge, Schwass found a hole, a metre or so high and a couple of metres deep. They wormed their way in and hunkered down for the night, their families back home alerted that they'd be sleeping out.
The weather was atrocious. Schwass had a bivvy bag, but Diack had just an orange pack liner to huddle into. He had brought a tent fly, but there was nowhere to anchor it. They slept badly, the rain drumming all night on the rock above their head.
THURSDAY, DECEMBER 27, 2012
In the morning, the weather was still terrible, and white with mist; Schwass and Diack couldn't see further than the length of their arm, and had to feel each step with their feet before they put any weight down. Schwass knew the ground disappeared in hundreds of places, where the grass has grown together, and where if you stepped on it you could plummet 10 metres.
The weather was so bad that they needed to use a GPS to get off the tops, and conditions were getting dangerous. They finally reached the hut to warm up—but it doesn't have a fireplace, so they headed down to Courthouse Flat and walked off the mountain.
That day, Larry Charles flew up to Bulmer Creek, and intended to fly on to Bulmer Lake, but fog was down on the bluffs and he couldn't see more than 20 metres. He and the other teams searched again the next day, to no avail.
The search continued for four more days, a mixture of ground and aerial, interrupted by the weather. Police asked a group of cavers in the area to keep a look out; they found nothing. Alistair Levy had simply disappeared. It was as if the mountain had opened up and swallowed him.
On the last day of December 2012, with snow on the peaks, the teams were called in for good and the search entered 'limited continuous search mode', pending further evidence. The snow and bad weather hung around, interspersed with heavy rain, and a thunderstorm lashed the ranges, welcoming in the New Year. The cloud and rain lasted until January 4, when the sun came out again and shone strongly for the next week—the longest it had done so since Alistair Levy parked his car at Courthouse Flat and set off for the mountain.
Police told his family that a "catastrophic event" had occurred which he could not have survived. Alistair Levy may be buried forever, in the marble tomb of Kahurangi National Park.
[Chapter Break]
Police had searched for seven days. Should they have looked for longer? Other lost people have been found after more time has elapsed, and nobody searched the bush areas fringing the mountain's cap of rock. Searchers drove the roads on Christmas night, in case he had made it off the mountain, but no-one searched the bush on either side of them. (Eighteen months later, police would spend seven days and nights looking for Thames, the lost police dog. Happily for his handler, Thames was found.)
Steve Savage says it's always a difficult decision to call off a search.
"It's a big deal. And it's a horrible thing to do," he says. "It goes on what information you've got. Obviously you want to be able to search wherever you can [but] in this area a lot of places where we'd like to get searchers we couldn't even get them in.
"The problem is, Mt Owen is all rock. You don't leave footprints. There's no mud up there."
It's bush on bluffs, Savage says, and ground teams couldn't go in.
"It was logistically extremely challenging. So to call off a search is based on exhausting what you can do reasonably. We could keep putting people back across the top of Mt Owen; you could do that forever and a day. There are people up there all the time, and no one's found him yet."
The landscape is tough—he says the teams were "bloody miserable" in there. "There's some gnarly country from where he was last seen to the bush edge; you've got three kilometres of pretty extreme country with some big slots and holes in there. I couldn't believe it until I flew it myself and looked."
There are indeed sections that haven't been searched, Larry Charles says. But the weather was so bad at the time that it was impossible; after the first couple of days, at no time in the next four to five days was the entire mountain clear. "They flew what they could," he says. "But it's a needle in a haystack."
The people who aren't found play on his mind, Savage says. "You just want to know what happened to them."
[Chapter Break]
You can see Mt Owen from Max Coote's home in Atawhai. At Christmas time, the sun sets right behind it.
Coote has been up the mountain again since Levy disappeared, and looked down into Castle Basin, wondering where he could start searching for his friend. But he realised it was futile. "I thought, 'What am I doing here? There's no point.' It's just madness. It's a nightmare."
The pair hadn't thought it looked so bad in 2000, the first time they attempted it. "But having looked at it again, no. He underestimated it."
Levy was "a glass half-full guy", Coote says. "He'd be positive about it, and he'd done so much walking around the country; so many tracks, and it seemed like such a short distance. Down into the Bulmer. Down into the Owen Valley. It's nothing. It seemed like a non-event, that he was going to whip up there, down the other side, and hitch back to Kohatu.
"The horrible thing with this is you just don't know. It's all just there in your imagination and you try not to think about it."
Since Levy's disappearance, Coote always carries a spot tracker. The device, frequently used by cross-country paragliders like Coote himself, sends out a location signal every few minutes. Levy wasn't carrying an emergency locator beacon, but even they aren't much good if you fall and hit your head. With a spot, you could be lying insensate, and an electronic signal will still lead searchers straight to you.
"I'll tell you something about Alistair," he says. "When we went into Mt Owen, we saw a tent outside Granity Pass Hut and thought the hut must be full, and our reactions were totally different. I'm thinking, 'Oh God. People in the hut, what are we going to do?' And he's going 'People! Neat! There will be people there!' He just loved people. And I tell you what, I have never had so much fun in a hut in my life. It was this crazy family and Alistair was on form and there was endless entertainment. He had that sort of personality. He loved people and people loved him. And everyone that knew him misses him."
[Chapter Break]
In March 2013, at a tribute for family and friends in Palmerston North, family spokesman and minister John Hornblow told media they were coming to terms with the loss, and the service was a way to celebrate Levy's life.
"This is one of the hardest situations for people to come to terms with," he said. "The question in the back of everyone's mind is still what's happened and where is he? There's nothing in his nature to suggest he's gone walkabout… the situation is pretty rare and unusual, especially for him."
Questions and regrets remain for those who were the last to see Levy alive that weekend. Though many of the trampers crossed paths with him and with each other, somehow he slipped through their net and vanished. In the wake of tragedy, the tiniest of actions take on massive significance.
The trampers think of the chain of small events that caused his disappearance, and a parallel chain that meant they walked off the mountain where he did not. If the wind and pressure systems had brought the mist earlier. If they had been firmer about emphasising how ambitious his plan was. Could they have done anything differently?
Nottage hasn't been able to forget the man whose footsteps he followed, and he still uses one of the photos from that trip as a screensaver.
"I was possibly the closest person to Alistair that night, and that's always there in the back of your mind," he says. He thinks of that sound he heard in the quiet of the early morning, but knows that in the wake of a man's death, his mind is creating meaning where there isn't any.
"I don't want to plant any seeds of anything ghostly," he says. "When I woke up, I didn't feel it was real." But it still sits uneasily with him, that he could have been so near a man who needed help.
When the Drivers heard Levy was missing, Karen wasn't surprised, and told police their concerns. She followed the story, and felt maybe they should have done something to stop him.
"But you can't, really," she says. "I didn't know the route he was going on, so I couldn't say you shouldn't do this. People are responsible for their own health. But the fact that he never walked out does affect you. It was very sad."
"We think," Barry Driver says, "that if we'd left his boots out, maybe the keas would have bitten them to buggery, so much that he couldn't have walked out, and he would have had to go back, and wouldn't have died.
"We could have said a bit more to him: 'Are you sure you're up to this?' But it's not your job to make decisions for others. He made his own."
[Chapter Break]
Some may find comfort in the mountain becoming Alistair Levy's grave; for others left behind, no body means there is no finality, and no end to the grief.
On November 14, 2014, coroner Sarn Herdson held her investigation, and was satisfied that the search and rescue operation and police inquiries were extensive and conducted in areas of difficult terrain.
Officially, Levy is missing, presumed dead, and died on or about December 23, 2012, a month after his 54th birthday, with his body presumed to be permanently lost or irrecoverable.
"There is no evidence to support the proposition that he was mentally unwell or acted in a manner to cause his own death, and no evidence to support the proposition that he died as a result of criminal activity," Herdson said.
The cavers still keep an eye out for him. Kieran McKay and the rest of them will search for Levy's body under the mountain until he's found.
"I certainly hope one day we may find him," he says. "I'm pretty confident, because we spend a lot of time searching up there. That's definitely in the back of everyone's mind. On most expeditions, people spend a bit of time going to search the area to see if they can find him."
The search and rescue volunteers also don't forget the people never found. Don Schwass went back about six months into 2013 to have another look, and Larry Charles organised a training session for Murchison Search and Rescue. There was a little bit in the bank account, and they hired a helicopter to come up from Reefton to cover a route they thought Levy might have taken. But they didn't find anything.
"Whatever's happened to him, I think he's been probably unresponsive in that first day," Charles says. "Something's happened to him on the last day he was seen. But up there it's more than likely a fall rather than getting lost. I don't believe he could get lost with the stunning weather he had, and we made a lot of noise in the helicopter flying around."
It was only that call-back in the mountains on Boxing Day that continued to bug Richard Walker. What had they heard?
About 18 months later, Walker went back with a group of people and called out again in the same place. An echo came back, just like the "help" he thought he'd heard the first time. It was only the sound of his own voice they'd been hearing, reflecting off the marble labyrinth of Mt Owen.