Wetlands
Dismissed as worthless, pestilent places, wetlands—where the water table is at or near the Earth's surface—are anything but. They purify water, prevent floods and erosion, store carbon, provide resources like peat and flax, process nutrients, act as nurseries and offer recreation and aesthetic value.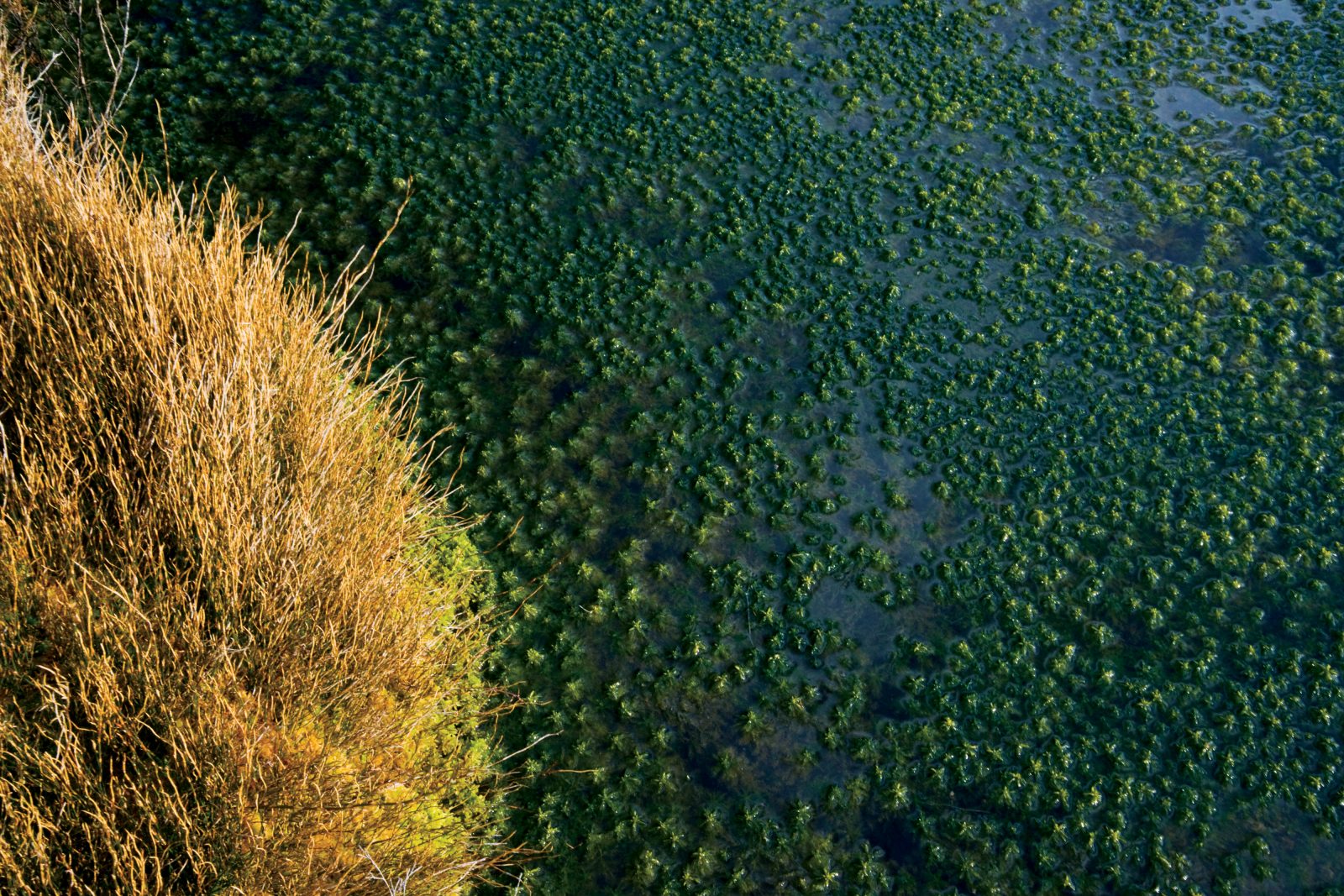 My house is built on a swamp. My suburb, my town, my region, is built over one of the most extensive networks of wetlands to have existed in New Zealand, fed by the pluvial superfluity of the southern Tararua range, before flowing, pooling, oozing, seeping its way across the Wairarapa plains to the sea.
There was a time when you couldn't have walked a morning in this country without sinking into a mire. Some regions, like the Hauraki Plains, were nothing but bogs, tarns, fens, peat fields, swamps, estuaries and lagoons. They punctuated and perforated our flat lands, soaking up the legendary rains and offering them to plants, insects, amphibians and birds as food and shelter.
Maori knew wetlands as larders, troves of seasonal sustenance and a store of materials to fashion into mats, ropes, walls, clothes. Healers knew them as dispensaries of medicines, tinctures and supplements. Europeans knew them as a blight. Wetlands had no place in the agrarian ethic they brought here—flat land was coveted; where Maori saw resources, colonists saw pasture, sheep and fences. Prosperity. Progress.
The rigour which with they liquidated the wetlands is remarkable. A Landcare Research study in 2008 calculated that wetlands once covered 2.4 million hectares—nearly 10 per cent—of the country; just less than 250,000 hectares remain. The loss was greatest in the North Island, where less than five per cent of wetlands survive. The South Island has kept 16 per cent of its wetlands, which make up 75 per cent of our national extent.
In all, 90 per cent of our wet places are lost. With them went a host of endemic fish and fowl, banished to obscurity or extinction. That loss has not sobered some of us. Today, our wetlands still face drainage, clearance, pollution, choking sediment, invasive weeds and mammalian pestilence.
But others have decided enough is enough. In 2006, the then Labour Government and the Greens agreed on a funding package, called Arawai Kakariki ("the green waterway"), for intensive, large-scale conservation projects and asked DOC to come up with some deserving causes.
"There's been a general decline in the condition of a lot of our wetlands," says Richard Suggate, the department's Arawai Kakariki national co-ordinator. "Traditionally, the focus has been on forests and mainland islands, but wetlands have been neglected for a long time.
"We were looking for large sites with significant values in relatively unmodified condition," says Suggate. "So we chose Whangamarino, a flooded peat system in the Waikato, as one; an inland river, lake and wetland basin system in inland Canterbury, the Ashburton Lakes, or O Tu Wharekai, as another; and Awarua–Waituna in Southland, a coastal lagoon system with a peatland catchment, as a third. They're three completely different wetland types, which meant that whatever we learned, we could then apply across a broad range of other wetlands."
Awarua and Whangamarino are listed as Ramsar Convention sites, wetlands of international significance as determined by a gathering of the world's wetland scientists at Ramsar, Iran, in 1971. The funding, says Suggate, will help New Zealand to meet its obligations to protect them. "Our attention to Ramsar sites in New Zealand [we have six] has been a bit spasmodic, to put it nicely, and wetland management throughout the country has been variable."
But Arawai Kakariki means to turn that around and win wetlands some friends; banish the image of the fetid, mosquito-plagued quagmire and reveal instead one of the most wondrous, the most complex, the most elegant of webs. "Let everybody know what we have," as wetland ecologist Hugh Robertson puts it. "People are starting to see that the clearing and drainage of wetlands has got an endpoint, and we want to protect what we've got left.
"Christchurch is built on a swamp, Invercargill is built on a swamp. There are a lot of places in New Zealand where maybe, if we had moved to the side a little, we could still be enjoying all those services—flood protection, water purification, recreation—that those swamps once provided."
[Chapter Break]
You cannot fathom the immensity of Awarua wetland until you find yourself 3,000 feet above it. From the flat dairylands of southern Southland, you cannot see the 13,000 sprawling hectares of bog and fen, tussock and manuka dotted by raven-black pools like blots from a fountain pen. You might never know of the sinuous estuarine margins bounding the lagoon, calm and imperturbable, just a sandspit from the chaos of the breaking Foveaux Strait.
But take to the southern sky and you get a potent, enduring echo of a time before axes, bulldozers, draglines and dairy herds. Awarua is so big that you can, if you look into its heart, see nothing but wetland to the end of peripheral view, and realise that, once, much of our country looked like this.
Turn your head just a little, though, and you're back in the 21st-century frame; a chequerboard of neat fields marching on the peatlands. The helicopter's shadow drifts across grids of fences, lines of roads—nature broken, then reassembled into straight rows, and none straighter than the kilometres of drainage ditches that score the earth below.
Even over the crackly intercom, you can hear the jolt in Dean Whaanga's voice. "A lot of this is new to me," he says, gazing out over the lattice of turned earth. Below, diggers are bowing to their work, drawing big, black buckets of peat. Whaanga was meant to know about these works; as a Ngai Tahu resource management officer, he was supposed to have approved many of them.
"We've consented some small developments around the margins, but when you see this…" He shakes his head. "I didn't realise there was so much work going on. I don't know if we can keep up…"
One ditch has been cut right up to the fence posts bounding the Scientific Reserve, the spoil hurled over it into the DOC estate.
Unconsented work is draining the life-blood from Awarua, sapping its mauri. "The life force has diminished," says Whaanga. "I find it difficult to understand why we need to continue developing the wetlands into farms. Our kaumatua say we've gone too far down one track, the development track. There's a real feeling that this needs to stop."
Wetlands are healing places, he says, places of purification, containment, gentle release. "I've always had the feeling that it's a very feminine place…Papatuanuku [the earth mother] is a graceful lady, but we no longer give thanks for what we take… We're doing things without thinking about the consequences. We cannot expect Papatuanuku to brook our rapacity forever," he warns. "If, one day, the consequences of that are reckoned, we shouldn't feel sad that our mother earth will heal herself in whatever way she must."
As a boy, Whaanga followed his elders into Awarua, learned to fish, hunt and gather here. Wetlands have ever been living larders for Maori, natural storehouses of kai. As such, they were waypoints across the ancestral landscape; Whaanga's tupuna journeyed over Te Wai Pounamu to gather the bounty they held.
"Three or four hundred years ago, there was a village at Tiwai," he says, "placed to take advantage of stone from the harbour, the seal colonies. And it had good access into the wetlands, where you had all the fish species, the birds, the seagull eggs… It was a huge resource, especially for tuna."
Nowadays, the locals get their tuna—eels—from Victor Thompson. He's standing waist deep in what I'd call a ditch—an unbending, treeless channel cut through a paddock. Thompson still calls it a stream; the paddock, he insists, is still a wetland. "When this place floods," he says, grappling with the wings of an eel trap, "it'll be swarming with eels, native fish, all gorging on the tucker washed down the river." He proves it by heaving the trap clear of the opaque water. It's writhing with eels.
"You can't stop a wetland being a wetland," he tells me. "Just because we've drained it and fenced it and covered it in grass doesn't mean it stops being a swamp."
As the owner of Invercargill's eel factory, he, too, has an abiding gripe with the diggers and the "pioneer" mindset that keeps them revving. "The regional council has a policy of cleaning these drains out every couple of years," Thompson says. "Every time they do that, they just dig the drain deeper, the water table gets lower, they clear all the vegetation from the banks—all the cover the eels and fish need."
Farmers don't like surprises, and stop banks, floodgates, drains, all our devices are there to choke the contingency, the dynamism from nature, to try to lend some certainty to their notoriously fickle following. But these Southland flats weren't made to work like that.
[sidebar-1]
The "Great Swamp" once stretched from Bluff to Mataura—the settlers had to wind their way around the estuarine margins to get past it—but a craving for pasture, production, prosperity, has devoured thousands of hectares of shrubland, flax swamp and forest. Record milk solid prices in 2007 put money in the moleskins of dairy farmers who sought cheap land to invest in. They found it here.
The trouble is, locals will tell you, these guys don't understand, much less care, about the special nature of this land. They're trying to inflict their Waikato ways—drain, oversow and stock to the max—on what is a very different place.
When Murray Waghorn milked here, not far from the shores of Waituna's lagoon, he ran 70 cows on the 250 acres he bought as a teenager. Now, he says, his old farm "is a disgrace. There are 250 cows on it; all the tile drains have fouled up with the compaction by the sheer number of cows on it.
"When you're looking at 600 cows overwintering on a 10-acre paddock and bogging it up, what's that doing to the soil? I've never seen anything like it, ever."
Waghorn's father wrested a living from this place cutting flax and trapping rabbits until he had the downpayment on a farm, or more correctly, says Waghorn, "257 acres of stumps from one end to the other. He'd pull stumps with horses until he could afford a tractor.
"We lived on flounder, and the larder was full of ducks. For Dad, this was the only place on Earth."
As a boy, Waghorn swam in the lagoon on school picnics, caught "native trout with a worm and a bent pin. Waist deep, you could still see the bottom. We used to chase baby flounder around in Lawson's Bay. They were the size of a half-crown.
"Then in the 50s, the catchment board came in and started cleaning the creeks. They got stuck into the Waituna Creek, at the head of the lagoon, with a dragline. The silt that came down that creek destroyed the lake as we knew it. You were walking in black mud this deep," he raises a hand to his hip.
Waghorn found himself thinking the unthinkable. "We were brought up with that development mentality, but in hindsight, I don't think this is a suitable area for dairying, to be honest.
"You see all the effluent-spraying going on and I wonder how much makes its way into the tile drains. There was algae all along the lake edge last summer. It stuck to the dog and stank something terrible…"
He found himself leaving ponds, bogs and trees where they were, and ended up selling part of his block to the Nature Heritage Trust in 2008 so it could rejoin Waituna wetland. Manuka has already claimed some of it, and a DOC shelter now looks out over the bay where Waghorn hunted his baby flounder.
You can walk a six-kilometre gravelled loop near his old farm, winding through head-high scrub, bog pine and tangle fern punctuated by peat bogs and ponds. This is categorically not a swamp; swamps are usually fed by rivers, receiving a constant flow of water and nutrients. These bogs, by contrast, are stagnant, impoverished, their funereal waters hostile to all but the best adapted, like the sphagnum mosses that squelch underfoot.
Little wonder, maybe, that wetlands still have an image problem. You won't see one on a "Beautiful New Zealand" calendar. They don't look spectacular, in the way a West Coast forest might. They don't ring with birdsong, like an island sanctuary. Things don't soar here; they creep and wriggle. Birds don't chime; they croak. Waters don't run foaming and glacial blue. They seep, inky and inscrutable.
Wetlands have to work hard for our love, and no-one knows that better than Sally Chesterfield. Her job, as DOC's project manager for Awarua-Waituna, is to promote Awarua as an asset instead of a "waste of good productive land".
"You have to get to know wetlands," she says. "They're not appealing from the outside, until you understand their idiosyncrasies; how amazing the wildlife is, the way the wetland functions."
Chesterfield and her team spend most of their time beyond the boundary, visiting farmers, developers and residents upstream, because, "we can do all the work we like on the conservation estate, but it's not going to achieve much unless we mitigate the impacts coming from upstream. It's essential that we work with the community—that we try to raise the profile and the appreciation of these places. At the end of the day, we both want the same thing from very different angles. Nutrient loss hurts farmers and wetlands alike."
Chesterfield thinks a corner has been turned in the fortunes of wetlands—or at least a kink. "People are starting to understand that wetlands are absolutely critical to water quality and flood protection." What's more, she says, Awarua's peat bogs—a millennia's morass of accumulated plant matter—are emerging as critical carbon sinks. Whereas trees are felled, or eventually topple from senescence, peat bogs can go undisturbed for centuries, providing a stable, secure store.
The advent of community care groups, such as the Awarua-Waituna Advisory Group (AWAG), formed out of fears for the wetland's health, gives Chesterfield heart. Chairman Roger McNaughton has hunted ducks at Waituna for nearly 50 years, as did his father and grandfather before him. On the wall of the family duck hut—the third on this site—a scoreboard records opening-day tallies back to the fifties. "The McNaughton males started hunting here in 1907," he tells me. "I first came here as an eight-year-old, and in those days, it was just a tunnel through the scrub to get here. It was a great place, a wilderness. Those paddocks out there were 30-ft high manuka."
He says that while it's fashionable to blame Awarua's woes on dairy farmers, the trouble really began in the fifties, when the catchment board started draining the bogs, "channelising" the feeder creeks. "Those bogs would trap water and release it slowly, but now, it fair races down here." From the sixties, he recalls, the nearby river raged with unprecedented fury. "It washed away the fishing huts… took blocks of land the size of this hut and carried them into the lagoon."
As a boy, he could see resting trout through the tannin-tinted waters. Now, he says, they run a filthy yellow colour. "They call it progress I suppose…"
AWAG wants to get those waters running clear again, and figures the best way to do that is to keep stock away. So it offers to go local farmers halves in the cost of fencing them out. So far, it's spent $140,000 of Arawai Kakariki money on 50 kilometres of posts and battens. McNaughton says it's a win for fishers and farmers; the fences stop effluent flowing into the wetland and cows drowning in the drainage channels.
"But I've got to ask, is it too late? For every hectare of farmland, there's something like 250 metres of underground drain. Have we already gone too far?"
Yes, says Zane Moss, Southland senior field officer for Fish and Game. "Those drains act almost as a direct conduit for nutrients and sediment into our streams. It's almost an unavoidable consequence of farming in Southland. Studies are hinting that we're pumping around twice the phosphates into Waituna as it ought to absorb."
Dairy farms now outnumber sheep spreads five to one, he says, "so the horse has well and truly bolted". Moss says that if carrots like the AWAG subsidies don't get results soon, it will be time for a bit of stick. "Hopefully, constraining one or two of the worst practices, like overwintering cattle on fodder crops, will help significantly. Otherwise, I suspect, it will require increasingly Draconian regulations."
But some local farmers have made a start. Joanne Crack—another member of AWAG and the Waituna landcare group—and her husband run a sheep farm and dairy unit where once was the Great Swamp. Instead of getting the diggers in, they fenced off the wettest places and let them heal. They've also protected 40 hectares of bush, and fenced most of the streams. "On the dairy farm, we're using RPR [reactive phosphate rock] instead of superphosphate, and we're using Sustain, which inhibits nitrogen loss, instead of urea," says Crack. It costs more, she says, "but we think it's worth it".
She says the dairy boom brought "corporates" to the area, and "there are some that we as neighbours, the environment and the community would be better off without". She says the pursuit of profits for absentee "white-collar owners" has swept the ethic of stewardship aside.
"Their only interest is to make a dollar, at whatever cost to staff, animal welfare and the environment."
[Chapter Break]
Farther north, on the sunlit plains of Ashburton, the irrigation booms leave rainbows in their wake, but to the west, a grey, glowering firmament grips Mt Possession. I call into the Mt Somers general store. "I reckon it'll be snowing up there," the owner ventures, handing me a bag of groceries to take up to Lake Heron Station. I'm still in sunglasses, but the wipers go on at Blowing Point. At the gravel turnoff for Lake Heron, sleet oozes across the windscreen, and by the time the car clatters over the cattle grid, snow is settling on the backs of Philip Todhunter's Angus cows.
October snow is novel to a townie, but the rangy, genial runholder barely notices. "A white Christmas isn't uncommon round here," he tells me as I hand him the groceries. Behind him, his farm, 19,000 hectares of pitching, bucking high country, rears into the gloom, all the way to 2700 metres. All about, the afterbirth of the alps, gravelly, grey moraines, and scree fans shaken from the empyrean by earthquakes.
Lake Heron Station has been in the Todhunter family for 92 years, which is still but a nanosecond in the age of the mountains—the Taylor, the Palmer and the Wild Man's Brother Ranges—that bound it. Philip and his wife Anne still run it "along reasonably traditional lines, in that we have summer and winter country for the wethers. And we have an annual muster, because it's part of the tradition; that's what we enjoy about the place."
But farming hasn't stood still here. The couple have intensified the operation—in a considered fashion. "We've made the blocks a bit smaller, worked out the better soils, put in reticulated water, so we can look after animals better."
The idea is to get more production, more profit, out of parts of Lake Heron to bankroll the protection of the rest. Environmental stewardship can be costly, says Anne, "so you have to have a productive farm. If you're struggling, you don't have any spare money to fence off waterways or put in water systems. We're working out what's good for the land and for Lake Heron."
"It's about protecting the landscape, the wildness," says Philip. "There's a natural beauty, the light, the wildlife. It's hard to… I don't know how you put it into words."
But he has no trouble putting it into deeds. The couple have fenced off tarns and streams and are slowly getting the lakefront secured from stock. When he's not farming, running ecotours or flying a helicopter (the Todhunters are partners in a heliskiing business), Philip is felling the grey willows that infest the station's wetlands and lakeshore.
"We're talking to DOC about doing some predator control up here so that we can bring blue ducks back onto the Cameron River, which runs through the property."
As far as Anne's concerned, the environment isn't someone else's job. "Why should DOC do it on its own? Why should it have to? We all have a responsibility to this planet."
In 2004, the Todhunters, along with a couple of neighbours, bought around a fifth of nearby Clent Hills station. At the same time, they agreed to a deal that allowed the Nature Heritage Fund to purchase 10,000 ha of the most ecologically valuable tussock grasslands and catchments around Lake Emily and the Lake Heron Nature Reserve.
"That secured protection for some ephemeral wetlands, which are quite rare," says Philip.
Kennedy Lange is standing in one of them, marvelling at the swarms of tiny aquatic beetles fleeing his footfalls. The water is cold, limpid—and not much longer for this earth. As recently as 10,000 years ago, glaciers ground this high-country basin to powder, leaving monoliths of ice in their wake, explains Lange, a DOC biodiversity programme manager. "As they melted away, they left these depressions in the moraine surface. Silt filled in the gaps, sealing it off and creating a very specific type of drainage, where ephemeral turfs develop."
The depressions, called kettleholes "are one of the rarest ecotypes we have", he says. "The actual area of kettlehole turf in New Zealand would be measured in the hectares." They're found mostly in the eastern South Island high country, and this cluster of 80-odd in the Ashburton Lakes (more than anywhere else in the country), is one reason DOC chose to include the area in the Arawai Kakariki project.
Life for the tiny beetles, and everything else in these fleeting ponds, is a contingency. Already, the pond is shrinking in the warming spring, leaving tide rings jewelled with unique communities of specially adapted plants. "This hydrology has driven a whole suite of turf plants that are utterly specific to this type of surface," says Lange. "They won't exist anywhere else.
"As it dries out, you get this ring of vegetation that moves down the moisture gradient, so it's incredibly dynamic—it changes over a few months." Not only that, but unseasonal rains—or none at all—reduce survival here to almost random probability.
"The challenge for these organisms is that every season is different," says Lange. "So one year, you'll find a species flowering in November, another year, it might not be until February."
He points out a pygmy forget-me-not. "This is a good example of a true spring annual. It appears above the turf as the water recedes, then it flowers, sets seed and dies before things dry out completely.
"Historically, there would have been thousands of native geese running around here," says Lange, "and some schools of thought suggest they, along with moa and other extinct species, may have driven the evolution of some of these turf species."
A withering rain shadow cast by the Main Divide may have meant these inter-montane basins were always prone to desiccation, but nobody really knows what the place looked like before fires and axes. For all we know, there could have been tall forests here. Lange says the answer should come to the surface when ancient pollen grains from wetland sediment core samples are analysed by Canterbury University.
For now, the Ashburton Lakes remain remarkable for their integrity. Unlike wetlands lower down, they're still largely untainted by industry. "Up here, our growing season is very short," says Philip Todhunter. "Even if we put tonnes of fertiliser on, we couldn't grow any more grass, so fertiliser run-off isn't really a problem in the high country. And we're under the Rakaia Water Conservation Order, so irrigation isn't an option, even if we wanted to do it."
But some fear the tenure review process—which has seen high-country leaseholders take ownership of some of the more productive lowlands in return for giving up higher pastures to the conservation estate—will drive more intensification, now that farmers have to realise the same profits from smaller runs. Already, along some gentler country in the upper Rangitata, tractors are ploughing and oversowing.
Right now, though, Lange's got smaller things to worry about—the cells of didymo discovered recently in the upper Rangitata. "It remains our worst nightmare." The noxious water weed has lurked downstream at Blowing Point, just five kilometres from the lower wetlands, for some time, but the Rangitata infestation has everyone talking about didymo in the Ashburton Lakes as an inevitability—a fatalism that Lange is keen to scotch, lest people give up cleaning and drying their boats and fishing gear. "There seems to be an impression out there that there's nothing we can do to stop it, whereas it seems that we are at least buying ourselves some time."
He has little idea how didymo might affect the lakes, and the extensive beds of freshwater mussels they nurture, but thinks Canterbury's notorious nor-wester might exacerbate any impacts. "Didymo thrives in the wave-wash margin, so it could do very well on these disturbed shores. We know it would have a major effect on the streams, too, because it affects the invertebrates in those streams, and they're the foundation for whole ecosystems."
If nothing else, the prospect of didymo has reminded people just how precious the lakes are, and therein, says Philip Todhunter, lies the key to their protection. "Water has a value. And if you can put a dollar value on the benefits that wetlands provide, as a sponge, as a filter, as a flow regulator, as storage, we'd have a lot more wetlands than we do now."
Lange agrees. "Some of the benefits are much wider-reaching than you might think. These ecosystems play a huge part in keeping the water clean, and what's the value of that clean water? The tourism value? All that can be calculated, and while it seems a little mercenary to look at wetlands in dollar terms, it's a good way to understand things. So that if people are talking about eroding those values, they can understand what the cost is to the community."
[Chapter Break]
Ten minutes east out of Te Kauwhata in north Waikato, a sign invites you to make a right onto Waikare Rd and take a twisty scenic drive around the lake of the same name. On a gentle day, the lake is a bright-blue mirror of the big Waikato sky, both dotted with squadrons of swans. Willows crowd to the water's edge. Their fluffy seeds catch on cobwebs lit neon by the billion shards of sun scattered across Waikare's waters.
It's pleasant, it's quiet, but like some bad spaghetti western, it's somehow too quiet.
Bounce down a potholed gravel track, past a picnic ground rank with weeds, and you'll find the derelict, borer-pocked boatsheds that used to be the Lake Waikare Yacht Club. Someone's dumped a bootload of rubbish in them.
A kilometre or two along the shore, flapping sheets of corrugated iron clang against rusting bathing sheds. They sound a knell; something went badly wrong here.
Nailed to a nearby willow, a terse sign breaks the spell of Waikare—do not swim here. The lake, it warns, festers with toxic blue-green algae.
"No-one in their right mind would swim in Waikare," offers Kevin Hutchinson. "It's biologically dead." Hutchinson has lived in the Waikato most of his life. A keen duck shooter, he became DOC's first dedicated wetlands ranger 10 years ago.
In 1961, the lower Waikato-Waipa Flood Protection Scheme lowered Waikare by more than a metre, to a strictly controlled 5.5–5.65m. The then Waikato Valley Authority built a control gate at the confluence of the Whangamarino and Waikato Rivers, and replaced the lazy oxbows by which Waikare meandered into the Whangamarino wetland with a straight, deep canal, controlled by another gate.
In April 1968, two storms collided over the North Island. They tore Waikare—now shallow and fragile—to shreds before heading south to sink the Wahine.
"All the weed was ripped off the bottom," says Hutchinson, "and it put all the lakebed into suspension." Waikare never recovered, and according to a NIWA report, it won't; not for another century at best. Missing that top metre of water, shady tall forests gone, it warms tepid in the summer sun—the perfect simmering pan to cook up a toxic bloom.
Nowadays, milk tankers thunder every evening over the bridge that spans the drainage canal. Tonight, a southerly has churned the lake to a brown broth, and the channel water is so leaden with sediment that if you unwisely plunged your hand into it, you wouldn't be able to see your fingertips.
"Waikare used to be so productive," recalls Phillip Walters, manager of Te Kauwhata's eel-processing plant. "Eighty or 90 tonnes of eels was the best year they had; now you'd be lucky to get 30." Not that he'd take them. "They're mongrels… stunted. Just a head and a backbone."
He remembers when the flood works severed the umbilical between Waikare and Whangamarino. "When they first put that floodgate in, all the little elvers—thousands of them—would come up out of the Whangamarino, then they'd be buggered—they couldn't get past it. They'd be trying to crawl straight up the concrete wall."
[sidebar-2]
For years, a local eel fisher collected the baby eels in buckets and tipped them back in upstream, to try to keep the natural cycle going. "He'd bucket them over, day after day," recalls Walters. "He did that for years. Finally, they put a fish bypass in. I was there for the opening, and there was a big crowd—local dignitaries, the works. They opened up it up with great fanfare and the first thing that swam through was a bloody koi carp. You had to laugh or you'd cry."
Koi are a pestilence. Introduced into the country in the 1960s, they became the quarry of fishers calling themselves coarse anglers, who then spread them—illegally—into water-ways around the country. Today, koi infest every water body in the Waikato bar one.
Gary Watson was that eel fisher who bucketed the elvers over the Waikare floodgate. On this blustery October day, he's checking his nets in the Whangamarino wetland, as he's done for the past 30 years. He remembers when koi turned up in the late eighties. "You used to see millions of mysid shrimps in here; it was thick with them. They looked like a black tide mark around the whole shoreline. That was eel tucker—the males needed those to get into condition for migrating. The koi hoovered the shrimps up in no time; everything went downhill from there."
His nets are full, thrashing, but not with eels. Even through the thick brown water ("It's a lot cleaner than usual," he insists) the gold of koi flashes. "I'm a koi fisherman, not an eel fisherman," he mutters as he empties the biggest—some top 14 kg—into a tray. Their throes thunder on the hull of Watson's tin boat. He has one of a handful of licences to sell koi, but the market is meagre.
As he sorts his few skinny eels according to size, he points out all the artificial channels, straight as dies, dug through the Whangamarino to "get the water out of the farmers' way. These should all be blocked off," he says, "everything should be slowed back down."
When the flood scheme went in, the Whangamarino, strangled to a trickle, would wither each summer, says Watson. "You'd be bumping bottom all along here," he recalls.
The canal, the gates, the pumps are what you might call a "hard engineering" response to complaints from farmers about the periodic floods that beset their properties, and to demands to provide more "productive land" for development around the wetland, which once stretched more than 10,000 hectares across the northern Waikato, from Te Kauwhata almost to Mercer. Roughly a third has vanished beneath pasture and crops.
The reason is the stuff in those milk tankers, and the price it's fetching. Recent high milk solid payouts have tempted dry-stock farmers into converting to dairy—mega-dairy. Herds of 2500 cows are not unheard of around here, and they need grass—lots of grass.
In 1989, some 5700 hectares of Whangamarino was awarded Ramsar status, an international recognition of its rich host of native wildlife. A national stronghold for bittern, it's also home to herons, spoonbills, rails, waders and waterfowl.
But its Ramsar ranking hasn't won it any special protection. Whangamarino serves as a portfolio of pretty much every blight that ails our wetlands—drainage, encroachment, sedimentation, nutrient runoff, dairy effluent, pests and weeds. Hutchinson says the best DOC can do is prioritise the wetland's natural assets and protect what it can.
DOC and Auckland/Waikato Fish and Game sought—and won, after a threat of appeal by farmers—a water right to restore the level of the wetland by building a weir across the Whangamarino River, the main outlet to the Waikato River.
Officially, the first one "failed", but locals like to tell you it was blown up by aggrieved farmers. The second one, built in 2000, is still there, and it returned the wetland, says Basil Lofroth, to a semblance of the verdant waterworld he first embraced as a teenager, when Whangamarino was "the duck factory of New Zealand". He's shot ducks here on the Reao Arm for nearly 60 years, and kept records of every season. The flood years stand out as tallies in the high double figures.
He and brother Charlie have maintained a duck hut—the "Shoot Inn"—next to the Reao for decades. There's a tide mark around it, about half a metre up the tin walls. Every time Environment Waikato opens that control gate at the tail of Lake Waikare, the Whangamarino floods through the Shoot Inn. There's no warning, no consultation, says Charlie. Last year, it came up higher than the bottom bunk, and it happened "right on the ducks' nesting time. If they're not wearing snorkles, they're stuffed."
"We'd never had any trouble getting our limits," says Basil, "but last year, we shot maybe half a dozen between us."
But like many wetland users, what really gets the brothers riled is the sight of ranks of skeletal, bleached crack willows, sprayed in a DOC control programme. As far as they're concerned, DOC destroyed the wetland. "The ducks used to breed in there; now there's no cover. The trees have fallen over; you need a bulldozer to go in there and make some tracks."
But DOC's mandate is not to provide cover for game birds, or access for sport shooters; it's to protect whatever endemic values Whangamarino has left. Hutchinson threads a tinnie expertly through snarls of willow stumps, a long-handled slasher close at hand. "As a Ramsar site," he says, "the Government has signed up to an international agreement that says we don't want to see it degrade any further than it already has, that we work to protect and preserve it."
All the same, he's not convinced the spray campaign was a good idea either. Over the burble of the outboard, he explains that crack willows, while they're undoubtedly pestiferous, cannot spread by seed; instead, they clone themselves from broken-off bits of parent plant. So they spread relatively slowly, making them easier to control.
He fears that killing the crack willows only handed the advantage to a tougher foe. He points into the sky. "Look up there." Against the sun, thousands, probably millions, of fluffy grey willow seeds are riding the nor-wester.
Introduced in 1925, grey willows now cover 10,000 ha of Waikato wetlands, and have surrounded Whangamarino. Now, Hutchinson ruefully eyes a phalanx of grey willows muscling their way into the central peat bog through the fallen corpses of their relatives.
"There's no quick fix, no biological control we can release, because if we did, another exotic would simply jump up in its place, like alder, or royal fern. We'd just be replacing one weed with another."
The willows are thriving on the lush slurry of sediment flowing into the wetland from Lake Waikare, enriched with fertiliser lost from surrounding farms. Even as Hutchinson explains about the nitrogenous cocktail, a spreader is working a farm on the wetland's western shore. We watch the nor-wester blow a plume of lime into the waters.
Then there are the stock wandering around the wetland. Ramsar site or no, cattle have free run of much of it, pugging soils, trampling native orchids and grazing sedges. Between them, Environment Waikato and DOC offer farmers an 85 per cent fencing subsidy, but uptake has been slow. Hutchinson says the wetland badly needs a stock-free buffer zone of a hundred or so metres around the perimeter, but the way it stands, farmers prefer to take advantage of free summer grazing. "There's still a long way to go," he says.
It frustrates him that while neighbours blame inaction and non-compliance on costs, nobody acknowledges the money the wetland saves them every year. "This place has protected farms from flood damage time and time again," he says, "and in summer, it stores water for irrigation. It's saved us a fortune in public works, stopped the state highway flooding…"
History bears him out. In 1998, a "100-year flood" left the Waikato River and crossed a spillway—at 200 cubic metres per second—into Lake Waikare. Without the Whangamarino, found a 2007 report, an extra 73 square kilometres of farmland would have been inundated. In 1998 dollars, and a damage estimate of $515 per hectare, farmers, croppers and vineyards would have been hit with a $3.8 million cleanup bill.
Since 1995 alone, the wetland has absorbed 11 floods for locals.
Then there is the worth of its very existence. Fish and Game sells some 30,000 gamebird licences for the region every year. A 1988 Massey University study concluded that society valued Whangamarino to the tune of $13.5 million a year, just for being there. But that nominal value has yet to translate into real payback. "It's time people understood just what this place is worth," says Hutchinson, "then maybe…" he breaks off, piqued instead by a glint of gold on the still brown surface.
In a fraction of a second, he grabs the long-handled slasher from the bilge and leaps into the waist-deep backwater, bringing the weapon down in a fountain of weed and water. Then, stalking like a heron, feeling with his feet, he gives a grunt of satisfaction as he hauls a cloven koi carp to the surface. One less to worry about.
But wetlands need more than the odd good deed, says Phillip Walters. It's time for a complete re-evaluation of our relationship with them. "All they're concerned about is flood protection," he says. "Well, they sure stopped the flooding. It's all very well farmers being the backbone of the country—fair enough, they bring a lot of money into the country—but they need to think about next year, and our kids, and our grandkids.
"They're sucking too much water out. We've only been here a hundred and something years and we've wrecked the place already.
"Sure, I'm worried for the eels and the fish and the ducks, but what about us? We can't live without water…none of us."