That Sinking Feeling
Tuvalu's children face an uncertain future as the seas surrounding their tiny Pacific homeland slowly rise. The country's leaders believe it is only a matter of time before Tuvalu's 130­ odd islands and islets­ none of which rises higher than five metres above sea level—slip beneath the waves, forcing the 9500 inhabitants to evacuate. But is Tuvalu really fac­ing national extinction, or has the islands' dilemma become, as one conserva­tive think-tank claims, "an icon of environmental and political deceit?"
For a country the size of Ran­gitoto Island with a popula­tion rivalling that of Grey-mouth, Tuvalu has made quite a mark on the world stage. Over the past decade this group of tiny islands lo­cated midway between Bris­bane and Honolulu has got itself into the media spot­light over claims that it is facing national extinction as a result of global warming. Developed nations, say Tuvalu's leaders, are profligately filling the atmosphere with greenhouse gases. They are warm­ing the globe and causing sea levels to rise. For an island nation such as Tu­valu, where the highest land is a mere 4–5 m above sea level, rising oceans are a ticking bomb. Defuse the bomb, Tuvalu's leaders say, before our peo­ple—and millions more in other low-lying lands—face catastrophe. Oh, and while you're at it, you can pay us for damages.
Pacific nations first voiced concerns about being in the environmental fir­ing line in the late 1980s, as the implications of human-induced climate change began to filter from the scien­tific community through to the wider public. The president of Kiribati put it plainly when he said he feared that in the future "my country will not be there". Environmental lobby groups such as Greenpeace picked up the idea of low-lying islands going the way of Atlantis and placed the issue of sea-level rise on the media agenda. Journalists latched on to Tuvalu as the environmental hard-luck story of the new millennium. In no time, the world's fourth-smallest nation became a poster child for greenhouse annihi­lation.
Headlines such as "Tuvalu Too­dle-oo", "The Canary is Drowning" and "Tuvalu Sinks Today—The Rest of Us Tomorrow?" began to prolifer­ate. In 2001, environment campaigner Lester Brown wrote, "The leaders of Tuvalu have conceded defeat in their battle with the rising sea, announcing that they will abandon their home­land." At about the same time the Tu­valuan prime minister, Koloa Talake, upped the ante by threatening to sue the United States and Australia for failing to ratify the Kyoto Protocol on climate change. The lawsuit, which was to have been filed in the Interna­tional Court of Justice in the Hague, was dropped when Talake was ousted from office in 2002.
The rhetoric, both from Tuvalu government officials and climate cam­paigners, has remained strident. In a speech to the United Nations in Sep­tember 2003, marking the 25th an­niversary of Tuvalu's independence, then prime minister Saufatu Sopo'aga told the General Assembly that his people lived "in constant fear of the adverse impacts of climate change", and were "deeply dismayed that key industrialised nations do not share our concern". The threat of sea level rise, he said—in language guaranteed to catch the delegates' attention—is no different from "a slow and insidi­ous form of terrorism against us".
This year, in a new book on global warming, environmental journalist Mark Lynas portrayed Tuvaluans as facing a Hobson's choice: "to move, and live cultureless and uprooted in a foreign country, or stay on the land of their forefathers and die". Like many other writers, he spoke of the "immi­nent evacuation" of Tuvalu.
Was it all true? Was Tuvalu soon to resemble a film set for The Day After Tomorrow? Were frigates standing by to pick up 10,000 evacuees? Or were the reports of Tuvalu's imminent demise exaggerated? Over 10 days at Easter 2004, I had the chance to find out. In the company of Christchurch photographer Giora Dan, I trav­elled to two of Tuvalu's nine islands. I wanted to get to the bottom of the sea-level issue, but also to find out what the world stands to lose if 25 sq km of Pacific Island real estate goes under the waves.
Monday, April 5
Living on a Volcano
There is no accurate count of the number of islands in the Pacific. Perhaps there are 20,000, perhaps 30,000. Most are the tops of ancient volcanoes that rose thousands of metres from the ocean floor to break into the world of air and light. Erosion shaved some of the mountains down to sea level, allowing coral reefs to gain a foothold on their submerging summits. Over millions of years the reefs accumu­lated sediment and sprouted vegeta­tion, to eventually become the palm-fringed atolls that are the trademark of the tropics today.
Seeing an atoll from above pro­duces a moment of surprise and delight. After mile upon mile of blue monotony, suddenly this lovely green teardrop. What is its name? Do peo­ple live there? How do they survive on such a tiny sliver of land? Funafuti is one such teardrop: 30 islets spaced like emeralds on a 70 km necklace of coral reef. Almost half of Tuvalu's population lives on just one of these islets, Fongafale—some 4500 people living on less than 2 sq km of land.
Tuvalu's only airport is on Fonga­fale. I step down from the aircraft into the 30° C heat and humidity of mid­morning—normal conditions for an atoll only eight degrees south of the equator. Giora, who has already been here for a week, takes me to the lo­cal cantina for a drink. They're out of cold beer, so we drink bottled water at a plastic table, listening to country music sung in Tuvaluan and watch­ing the locals come and go. I jot down some of the slogans on their T-shirts: "Learn Swahili", "Diana, Rose of England", "Bob Marley, Legend". T-shirts, I think, are a kind of cultural flotsam. They fetch up on distant shores, their mélange of messages pro­viding a snapshot of the times.
There's a breeze coming off the lagoon, so we head in that direction. Some boys are fishing with baitless hooks from a wharf. They use long bamboo poles for rods, wiggling them to make the hooks move like lures. The trick works—every few casts a glittering silver fish is flicked up onto the wharf, where a small child bites its head to kill it.
Wooden motorboats bob at anchor. One has the word "Vodka" painted on it. It seems an unlucky name for something you'd prefer to keep off the rocks. For a dollar, we buy some shell­fish on a skewer—a type of whelk, by the look of them. Giora reckons they taste like bits of rubber that have been left in the sun for several weeks, then moistened with salt water.
By late afternoon the heat abates and people emerge from their houses. Soccer games start on the runway, the only large stretch of flat, clear land on Fongafale. Women congregate in the lagoon, sharing a bowl of cooked crabs or fish heads, the Tuvaluan equivalent of chips and dip. A boom box starts up and giggling schoolchildren practise dance moves.
Later I watch traditional Tuvaluan dancing, a high-energy performance in which the men sit on mats and keep time with their hands—slapping their open palms on the floor with steadily increasing force—while the women's arms float and their hips sway. The songs that accompany the dance have quarter-tone shifts that lend mystique to the music.
I'm sitting cross-legged, engrossed, when I feel something prickly on my leg and look down to see a land crab advancing up my thigh. My sudden movement to flick it off attracts atten­tion and a few knowing smiles from those around me, as if to say, "Relax, you're in the islands now."
Tuesday, April 6
High Tide in Fongafale
Manoa Tehulu is husking coconuts, splitting their tough coats on a metal spike embedded in the ground, then stripping away the thick chunks of fibrous husk. There is nothing unu­sual in this: husking niu is a stand­ard morning chore on every Pacific island. The meat of the nut is fed to household pigs or squeezed for coco­nut cream; the shells and husks fuel the cooking fire.
What is unusual is that Manoa is standing ankle-deep in water. It has been seeping out of the ground for the past couple of hours, as high tide ap­proaches, and now Manoa's house and those of his neighbours are surround­ed by a broad, shallow pond. Manoa's granddaughter and another child are wading up the driveway, trying to catch tadpoles, which dart about in the brackish water.
In a few hours the pond will have completely drained away, but it will be back tomorrow. This is the time of year of "king tides"—the highest spring tides. Over the past decade these tides have been pushing more and more water up through Fonga­fale's porous soil, temporarily inun­dating low-lying areas. In 2001 the entire airfield was covered.
Though some have seized on Fon­gafale's flooding problem as evidence of a looming environmental catastro­phe, Manoa regards it as an incon­venience, nothing more. It's not as if he could build somewhere else. Va­cant land is scarce on Fongafale. The central village area looks like a New Zealand suburb after an infill housing boom. "Fongafale is like Henderson with water around it," says Reverend Lofafa Alafio, a Tuvaluan minister in west Auckland, where half of New Zealand's 2000-strong Tuvaluan emi­grant population lives.
Looking around Fongafale, my im­pression is not one of people wring­ing their hands while waiting for ca­lamity. I see no evidence of "constant fear" and "deep dismay", as portrayed by the prime minister, but of people facing and dealing with the challenges of island life. One of Manoa's neigh­bours, a Taiwanese man named Wu, is helping Funafutians do just that. He has been here for three months as part of a Taiwan-funded technical mission to explore better ways to grow fruit and vegetables on the islands. He shows me around the project garden, stopping by each plot to list the veg­etables he has growing: okra, water­melon, soya bean, eggplant, Chinese cabbage, and at least a dozen more.
Many of the seedlings are poking their heads up between the leaves of dead coconut fronds laid over the soil. On coral islands such as Fonga­fale, where soil fertility is poor and daytime temperatures soar, compost and mulch are keys to successful plant growth. So, too, is shade. Without it, germination of many fruit crops is low—"lots of flowers, no lots of fruits," Wu says. He pauses next to a young pawpaw growing under shade cloth. Before, when it was in full sun, the fruit set was pitiful. Now there are half a dozen baby green pawpaws starting. "Cover for one month, fruits very beautiful!" he exclaims.
Wu hopes that the local people will try out these techniques for them­selves, but I'm doubtful. Fongafale seems to be in the grip of import fe­ver. Riding around the town on a mo­torbike—the standard mode of travel here—I see little evidence of garden­ing but plenty of empty Spam tins and Two Minute Noodles packets.
A cloudburst sends me scurry­ing for cover in a family's sleep­out—a raised wooden platform with a thatched roof. Many families prefer sleeping in these airy, wall-less struc­tures to doing so inside their houses.
On the hottest nights people spread their sleeping mats on the airport run­way, where there is maximum chance of a breeze.
I discover I am sheltering with the family of a former governor-general. Toomu Sione was one of the country's first government ministers when the Ellice and Gilbert Islands separated in 1975 into what would become Tuvalu and Kiribati.
He invites me into the house and I ask him whether the tidal flooding concerns him. He says he is more concerned about coastal erosion. His home island is Niutao. He says when he was young the beach was half a mile wide. "We used to play football with a coconut. Now you cannot find room to play. The beach has gone."
Erosion is affecting other islands, too. All along the lagoon side of Fon­gafale, waves lick the sand from be­neath the coconut palms and threaten to undercut the road. There is noth­ing new or remarkable about the proc­ess of beach erosion. The give and take between land and sea happens on every coastline. It's the geological dance of the ages. But here, with such a puny acreage of dry land, the stakes are higher. An advancing tide makes a menacing dance partner.
Wednesday, April 7
On the travelling bird
Giora and I have booked a deck passage on the inter-island ship Manu Folau, bound for the northern islands, where the population density is a tenth that of Funafuti and where life follows more traditional patterns. I approach the 47 m ship warily.
My experience with vessels in the Pacific has not been good. A frigate to Tokelau, a hydrographic ship to the Kermadecs, a missionary ship to the Cook Islands—each has ushered me into the private purgatory of seasick­ness. I wonder if Manu Folau ("trav­elling bird") will prove easier on the constitution.
With the first lifting of her bows to the Pacific swells outside the Funafuti lagoon I know the travelling bird is not going to treat me kindly. It's go­ing to be a long flight.
Thursday, April 8
The Nikkei Average in Nanumea
I must have slept at some stage of the voyage, because suddenly it is morning and we are idling beside an atoll, the most striking aspect of which is a spire-studded church roof towering above the coconut palms: we have arrived at Nanumea.
We've had a stroke of luck, Giora and I, as far as Nanumea is concerned. Ordinarily supply ships wait only a few hours at each island to unload before moving on to the next port of call. If you elect to stay ashore, you're stuck on the island for two weeks until the next ship calls—more time than Giora and I can afford. By chance a group of officials from Funafuti is on board. They are to hold consultations with the Nanumeans about a new de­velopment strategy for Tuvalu, and Manu Folau will be returning to pick them up. We have a four-day window in which to experience life on Tuvalu's northernmost atoll.
There are only two atolls—Fu­nafuti and Nukufetau—where a ship can enter the lagoon. Elsewhere ships stand offshore and goods and passen­gers are ferried either through a reef passage to a dock, or, where there is no lagoon, through breakers to a beach. Both methods can be harrowing, for Pacific shores are rarely calm.
At Nanumea the reef passage (called the American Passage because it was dynamited into existence with the help of US Navy SeaBees during the Second World War) is a narrow chan­nel through which the tide races at up to 10 knots. Our boatman approaches the entrance gingerly. Two-metre combers are smashing onto the reef and creating a nasty backwash. The boat ahead of us had a wave slop over the stern. A passenger on our tender is carrying a birthday cake protected only by tinfoil. Confident man.
The boatman guns the outboard and we surf through without mishap. He makes the sign of the cross and lights a cigarette as we motor towards the dock.
Nanumea consists of two main is­lets and a lagoon enclosed by a boo­merang-shaped reef. Nanumea islet, where the 650-strong population lives, looks like a pair of tweezers reaching out towards lozenge-shaped Lakena. At some point it was decided that the cultivation of swamp taro would be restricted to Lakena, thus keeping mosquito-breeding sites to a minimum around the villages.
Frogs were not introduced to Na­numea, as they were to other islands to control mosquito larvae, and dogs were banned, with the result that Na­numea is frog-free and dog-free, and has fewer flies and mosquitoes than Funafuti.
What Nanumea does have, sur­prisingly, is the BBC World Service, rebroadcast on Radio Tuvalu. I move closer to listen: Tokyo stock prices en­lightening a Tuvaluan family living in an open-walled thatched house with a crushed-coral floor. The woman of the house beckons me in, and I join her and her elderly mother for a lunch of raw fish with chillies, steamed rice and crushed sweet biscuits in coconut cream.
Good Friday
You shall be with me in Paradise
Nanumea's church steeple is pos­sibly the highest point in Tuvalu. I climbed it several times, negotiating ladders of ever-decreasing solidity on my way up the 35 m high central spire to look out across the sea. At one time in its history the tower was even higher, but fear of cyclone damage led restorers to prune it.
Even if it were not located on such a tiny island, dwarfing every other building, the Nanumea church would command attention. It is a cross be­tween a gothic cathedral and an air-traffic control tower. Its name, paint­ed on the wall above the main stained-glass window, is Loto Lelei—Good Heart. The window itself is a work of art which incorporates local symbols: the central motif is a cross of overlap­ping taro leaves, the apostles are rep­resented by a circle of 12 fish.
During the service, children sit on mats on the floor—boys to the left, girls to the right. A cane rests on a pew on the boys' side. I take a seat in the front row, realising only after the service has begun that I am in the choir section, so I experience the rich harmony of Tuvaluan a cappella hymn singing at full volume—a glori­ous sound.
Rev Eti Kine mounts the pulpit, which has been festooned with artifi­cial flowers for the Easter service, and announces in English that his text will be "This day you shall be with me in Paradise." He then preaches in Tu­valuan, so his message is lost on me.
At low tide I walk out on the reef to where a Second World War land­ing craft lies rusting in shallow water. Along with Funafuti and Nukufe­tau, Nanumea was a strategic bastion against Japanese advance in the Pacif­ic. More than 2000 American troops were stationed on Nanumea, displac­ing the locals, who settled on Lakena for the duration. As well as dynamit­ing a boat passage, the Americans cut down 22,000 coconut palms to build a bomber runway. After the war, the islanders, seeing no further use for an airstrip, replanted the palms.
[Chapter-Break]
Saturday, April 10
King of the toddy
Heavy rain all morning—several centimetres towards the 3–4 m Tu­valu receives in a year. Despite such drenching, the atolls are susceptible to drought because of the porosity of the soil and the high air temperatures. For this reason Tuvalu's staple root crop, pulaka, or giant taro, is tradi­tionally grown in swampy pits a metre or two below ground level.
A young man named Makisi takes me to Lakena to see the pulaka pits. He wades into the black swamp-water of his family plot. The stalks of the plants are taller than he is, and bear glossy, lily-shaped leaves bigger than pillowcases. Using a long-handled spade, he jabs at the roots of a mature plant, then hauls the whole thing out onto dry land. A few more slicing cuts and the pulaka is revealed: a bulbous tuber as thick as an arm.
One of the worries about sea-level rise—in Tuvalu and elsewhere in the Pacific—is the threat to taro culti­vation. Already in Funafuti and on Vaitupu salt-water infiltration of the ground water has spoiled many pulaka pits. Instead of digging down, grow­ers now have to build up their plots, walling them with bits of roofing iron and bulking up the soil with compost and trash. Nanumea is lucky in this regard—there is a large freshwater lake next to the pits, and saltwater in­cursion has not happened.
Taro is both a dietary staple and a backbone of the traditional economy. On Fongafale, 76-year-old Sir Toaripi Lauti, Tuvalu's first prime minister, told me he still grows pulaka for his family. When I met him I expected to see a man drifting comfortably into old age on some kind of golden para­chute or government pension. Instead, he was wondering how he would sup­port his family when he became too old to work in the gardens.
He said that in Tuvalu the old men take responsibility for the needs of the family. "Even if they are sick they will go down into the pits because the life of the family depends on them. When I stop government I have no other source of income, so I have to plant the pulaka. It is a harder work to do now, but I can still make it."
There was a note of uncertainty in his voice. He looked across the room at a model thatched house he had made. "Perhaps I can sell handcrafts and pay the young men to weed the pits. Peo­ple will live longer if they don't have to go down into the mud."
This is the spirit of Tuvalu, a 76­ year-old knight who goes down into the mud to feed his family.
On Nanumea I look for my neigh­bour, Tauee Tekapu, who has offered to show me a different kind of local spirit: coconut toddy. "He's upstairs," says a boy, pointing to a coconut palm with steps nailed to the trunk. I look up and see Tauee among the fronds changing toddy bottles beneath an amputated flower stalk—the source of the juice. He trims the cut end of the stalk and carefully positions a V-shaped piece of coconut leaf to carry the dripping sap into the mouth of a new bottle.
The unfermented nectar, kavele, is slightly sweet and faintly coconutty, but has quite a different taste from coconut water. It can be boiled to make a sugary syrup, but mostly it is fermented to make kau, sour toddy, the spirit of the outer islands. (In Fu­nafuti, judging by the mountains of empties that blot the landscape, sour toddy has been displaced by Victoria Bitter as the local tipple.)
At a bench under a breadfruit tree, Tauee, who calls himself "king of the toddy", pours unfermented juice into a variety of receptacles, including co­conut shells and plastic fishing buoys. These have been dosed with a few tablespoons of "bug", enough to convert the toddy over a couple of days from a bland tonic to a potent liquor.
Tauee pours me a tumblerful of Nanumea's finest. I've heard toddy called Pacific Champagne, but paint stripper is more the comparison that comes to mind.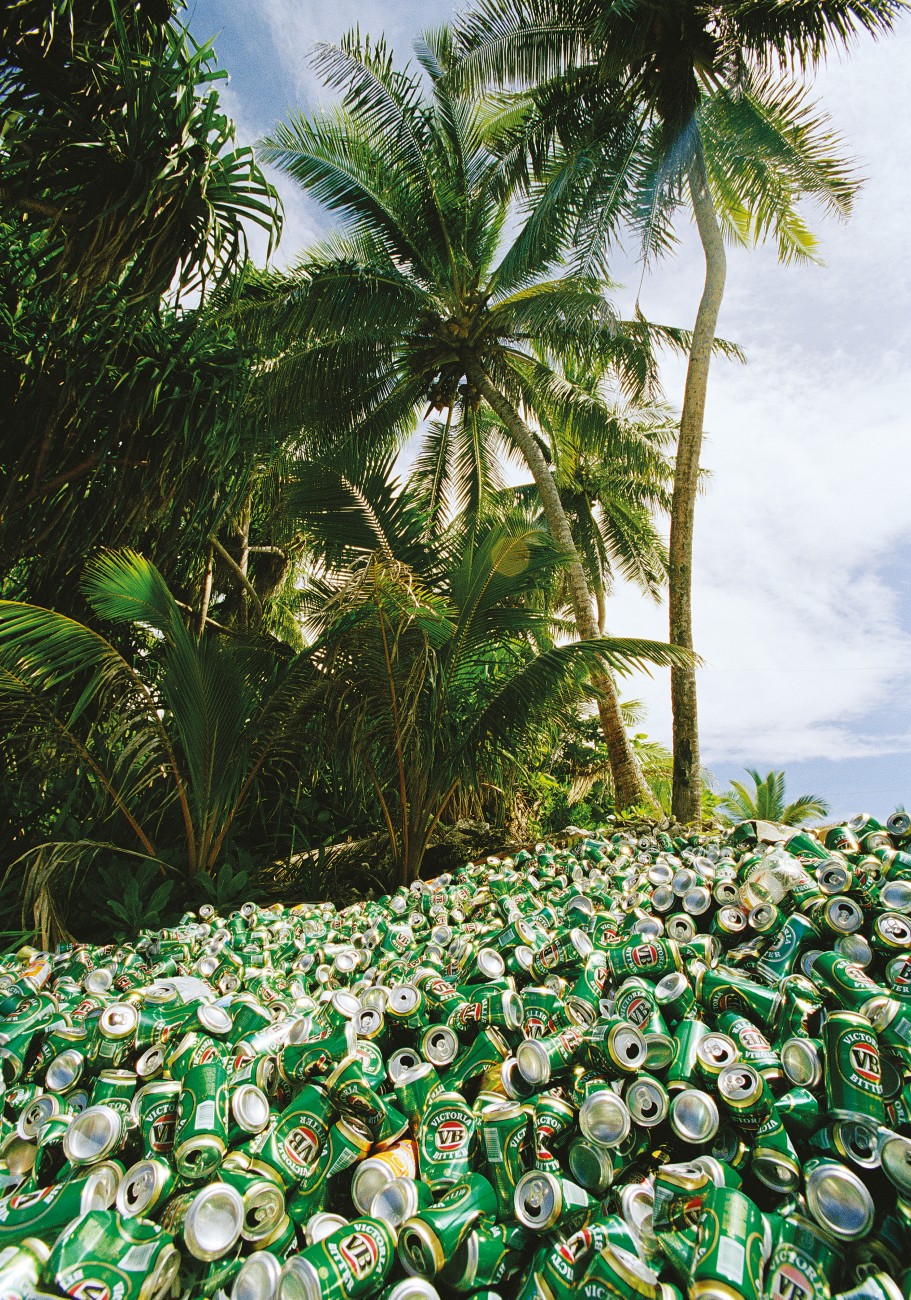 In the evening, Simon, a 32-year-­old seaman with a garland in his hair and toddy on his breath, stops by the guest house to talk. He wants to tell the palagi that the church and the kaupule—the community council of elders—are stifling progress on the island, and fostering conformity. "There's a saying in Tuvalu that the youth is the strong arm of the islands," he tells me, "but the youth don't have a voice. You're not allowed to speak in the fale kaupule until you're 40. You can vote when you're 18, but you can't express your opinions. That's why development is so slow. The kaupule wants to keep to the old ways."
He takes a swig from a fishing buoy and looks at me with heavy, watering eyes. If he could, he says, he would find a New Zealand girl to marry, and emigrate. Other Tuvaluan men have told me the same thing. Marriage is a ticket to freedom, the ultimate wind­fall. "But New Zealand is very strict," Simon adds, referring to the immigra­tion policy. Under a set of provisions known as the Pacific Access Category, 75 Tuvaluans are granted residency in New Zealand each year, but they have to meet character, health, language and age criteria, and have a firm job offer. (Kiribati, Tonga and Fiji also come under the PAC provisions.) The scheme has only been in operation for two years, but so far none of the four countries has filled its quota of mi­grants.
Easter Sunday
For whom the bell tolls
Nanumea's day starts early with the tolling of a bell at 4.45 a.m. for morning prayers. The "bell" is a gas cylinder with the bottom cut out of it, donged 100 times with a piece of scrap steel. The village stirs and the rituals of morning begin. The flick, flick, flick of whisk brooms sweeping up breadfruit leaves that have fallen dur­ing the night. The quiet hiss of fish frying over coconut-husk fires. Old men on ancient bicycles with buckets of scraps balanced on the handlebars peddling towards the pigpens on the outskirts of the village.
The sea beckons, a luxurious 30° C at this time of year, so warm you need never get out. I slip into the mirror-smooth lagoon. A handful of men are fishing from outrigger canoes. These lightweight skiffs look as fragile as birds' wings. Beyond them, distant puffs of white smoke burst on the ho­rizon—surf on the outer reef.
The tide is dropping, and hens fos­sick for tidbits at the edge of the reef. Below me, a choir of angelfish glide on yellow-and-black fins through a rusty engine block. The amount and diver­sity of junk in the lagoon is astonish­ing: bicycle wheels, clothing, a treadle sewing machine, an old suitcase. It is the same in Funafuti. Tuvaluans keep their own backyards immaculate, but seem unperturbed by an accumulation of trash on roadsides and in the sea.
The title of Rev Kine's afternoon sermon is "Count Your Blessings"— easy enough for an outsider to do on a tropical idyll like this, but more diffi­cult for the locals, who see their popu­lation dwindling and the government dragging its feet over development. Like small nations everywhere, Tuva­lu's progress is lopsided: the capital is several rungs higher on the develop­ment ladder than the outer islands. In 2002, the average annual household income in Funafuti was $NZ14,000; in the outer islands $NZ4000.
I ask Sulufaiga Uota, one of the deputation from Funafuti, what Nanu­mea's development priorities are. She says the wish list is similar to that of most of the outer islands: sealed roads, earthmovers for improved cultivation of land, better health care (most is­lands have only a nurse and a clinic), erosion control, assistance with water supplies and waste management, vo­cational and computer training.
We talk for a while, and Sulufaiga asks me a surprising question: "Tell me, why do parents read to their chil­dren in New Zealand?" It isn't a rhe­torical question—she really wants to know. I say something about encour­aging the imagination and instilling the idea that books are fun, that learn­ing is fun. With a note of wistfulness in her voice, Sulufaiga says that in Tu­valu the only book most children have access to in their homes is the Bible, and that their first real encounter with books is at school, where the printed word comes to be equated not with pleasure but with the pain of home­work and tests. The enjoyment of reading—indeed, of learning—rarely takes hold in a child's mind. Indeed, literacy rates are falling, and islanders are worried about a growing school dropout rate. Between 1991 and 2001, the proportion of students passing the Fiji Junior Certificate—an examina­tion which grants students entrance to the fifth form—fell from 61 per cent to 13 per cent. The 2002 national census indicated that only 14 per cent of the adult population had education to secondary level.
Manu Folau comes over the ho­rizon, but it is dark by the time the unloading of interminable drums of diesel is complete and passengers can be ferried out to the ship. As the ten­der motors away from the dock, phos­phorescent fish dart beside us creating flashes of underwater lightning. I find a patch of vacant deck and resign my­self to another 24 hours of wretched­ness.
Monday, April 12
'Too much aberrations'
Twenty-four hours turns into 36, but who's counting? We detour to Nanumaga, because the ship was un­able to unload cargo there earlier ow­ing to bad weather. I discover that the bridge is considerably more comfort­able than the deck, so during the day I spend many hours there chatting to crew members. Sokiata Suitupu, the chief mate, studies a weather fax. Two circles marked "T" indicate the pres­ence of tropical cyclones. Like many seafarers I meet, Sokiata says the weather is less predictable than it used to be. There have been wind warn­ings for the past two weeks—unusual for this normally settled time of year. The weather now has "too much aber­rations," he says.
Digital gauges show we're travel­ling at 9 knots but making 10.5. Fana Tinapa, chief engineer, explains that the South Equatorial Current, a clock­wise-spinning gyre, is giving us a push-along. Currents can save your life in Tuvalu. Fana tells me that fishermen lost at sea off Niutao invariably end up in Nanumea, thanks to this current.
Tuesday, April 13
Consulting the oracle
After four days on an outer island, Funafuti feels like downtown Auck­land: the hum of traffic, the hustle of commerce. I check my email in Tu­valu's only internet bureau, then visit Hilia Vavae, director of the Tuvalu Meteorological Service. Photographs on the office wall show Hilia and her staff standing outside in water up to their calves. The pictures were taken during the king tides of March 2001, when tidal flooding of Fongafale reached a peak.
The alarmist press has leapt to the conclusion that sea-level rise must be to blame, but Hilia is more cautious. First, Funafuti is the only atoll where flooding is occurring. And second, the total sea-level rise in Funafuti over the past two decades has been only about 2 cm (see sidebar, page 60), while the depth of flooding can be half a metre or more.
What, then, could be behind the flooding problem? Hilia believes the answer may have more to do with land than sea. In particular, with manmade changes that started in the 1940s, when Funafuti was turned into an "anchored aircraft carrier" (as one historian described the role of flat coral islands during the Pacific war). The US military needed a runway large enough for the squadrons of bombers which would attack Japanese bases in Micronesia. It was built pre­cisely where Fongafale's gardens and pulaka pits were located, so American engineers had to shift tonnes of earth from elsewhere on the islet to fill in the trenches made by generations of Tuvaluan gardeners. To fill old holes they had to dig new ones—"borrow pits" as they are known.
As soon as they had been dug, the new pits filled with water—initially fresh, but before long brackish. Hilia suspects that the excavation of the borrow pits fundamentally disrupted the hydrology of the islet, and is at least partly responsible for the flooding episodes. A key component of coral islets is a lens-shaped natural reservoir of fresh water that lies un­der their surface. If that reservoir is damaged or depleted, salt water from the surrounding sea can infiltrate and contaminate it. It doesn't take too much imagination to suppose that massive excavation of land could alter the equilibrium between the freshwa­ter lens and the sea. Cyclone damage may also have played a part. During Funafuti's most devastating cyclone in recent times—Hurricane Bebe, in 1972—salt water gushed up like gey­sers through potholes in the runway, covering the airport to a depth of more than a metre.
A reduction in freshwater run-off could also be part of the problem. The lens relies on rainfall to recharge it, but in recent decades less and less rainwater has been trickling into the ground. Funafuti's population sky­rocketed following independence, and that led to a housing boom. But instead of having traditional thatched roofs from which rainwater dripped onto the ground, the new houses had iron roofs and spoutings, and the water was collected in tanks. The newly sealed roads and, of course, the mammoth slab of concrete that is the runway have also served to limit the amount of rainwater seeping into the ground, and have perhaps led to a de­pletion of the lens.
I ask Hilia what she thinks of the doomsday scenarios concerning Tuva­lu. She agrees that the empirical data don't support the view that Tuvalu is soon to disappear beneath the waves, but says that other supposed signs of climate change—a greater frequency and intensity of cyclones, and more severe droughts—are affecting her country. In the end, she comes down on the side of pragmatism: "What I tell our people is you have to rely on what you see. You see the erosion of the beaches. You see the pulaka pits getting salty and the banana palms dying. You see the storms." What they're seeing, Hilia believes, is the first fruit of an increasingly bitter harvest.
Wednesday, April 14
Ground zero
Tepuka Savilivili has no beach, so I step off the boat that has brought me across the lagoon from Fongafale into waist-deep water and wade to the boul­der-strewn shore. In 1997 this tennis­-court-sized islet was scalped. That year three tropical cyclones—Gavin, Hina and Keli—visited Tuvalu. High seas associated with Gavin and Hina washed away an estimated 6.7 per cent of the group's total landmass. But Keli delivered the coup de grâce in June when it stripped the entire vegetation cover of Tepuka Savilivili.
Before Keli this was a miniature paradise where a person might go to escape the madding crowds of Fon­gafale and relax in a grove of coconut palms. Today Tepuka Savilivili has been reduced to a pile of coral rubble dotted with the ubiquitous maritime flotsam of polystyrene fishing buoys and plastic bottles. The only vegetation is a few sprouting coconuts, their green fronds striking a note of fragile hope amid the devastation.
[sidebar-1]
Some regard the fate of Tepuka Savilivili as a prequel to the drama that will overtake the rest of the Pacif­ic. Today a postcard-perfect tropical island, tomorrow a wasteland. Tepuka Savilivili, say the prophets of climatic apocalypse, is ground zero for global warming. Its fate is the fate of all low-lying islands.
Perhaps so. But sea-level rise was not the cause of Tepuka Savilivili's demise. Put any island in the path of a big enough hurricane and demoli­tion will ensue. Think of Niue's ex­perience with Cyclone Heta. It is also worth noting that violent weather is not the only cause of island attrition. On Tarawa atoll, in Kiribati, changes in lagoon circulation brought about by the construction of a causeway led to the disappearance of a prominent islet. In both Nanumea and Funafuti I met people who claimed that altered current patterns (in both cases the result of human alterations to reef structure) were exposing previously submerged reefs in some places and scouring away sand in others.
Thursday, April 15
Your climbing rope awaits you
My last day in Tuvalu. One final awakening to crowing roosters, dron­ing motorbikes and the sound of paths being whisked. The thud of a falling breadfruit, and the heady, almost un­bearably sweet passionfruit smell of its flesh. I make my usual motorbike run to the northern end of Fongafale, past the borrow pits and the pigpens. A gang of men are building a sea wall. They pick up coral rocks from a pile beside the road, carry them a few metres and drop them behind a mesh-covered embankment. They're clearly part of an aid project, because they're all wearing matching brand‑new overalls, hard hats, safety glasses, gumboots and gloves. They are the most immaculately attired workmen I have ever seen.
Mondays and Thursdays are Fu­nafuti's plane days. A small Air Fiji turboprop from Suva arrives mid­morning and departs soon afterwards. A few minutes prior to landing, a truck is parked on one side of the air­field with a piece of red cloth in the window—a signal to motorists not to cross the runway. The truck driver is also supposed to chase dogs off the airstrip.
Of the 20 or 30 inbound passengers, perhaps half will be tourists. Tuvalu's tourism trade is small—about 1000 visitors a year—and unlikely to blos­som so long as there is only one hotel and the cost of flying from Suva to Fu­nafuti one way is the same as a round trip from Auckland to Rarotonga. The rest of the arriving passengers will be politicians, staff of non-governmental organisations, civil servants (10 per cent of Tuvalu's population are either civil servants or staff of public-sector corporations) and perhaps a journal­ist or two getting the story on ground zero.
As for departures, given the media reports ("As the vast expanse of the Pacific Ocean creeps up on Tuvalu's doorstep, the evacuation and shutting down of a nation has begun."—the Guardian) one half-expects to see a queue of climate refugees—"ca­noe people" they have been called­ clutching their belongings. Much has been made of the Tuvalu government's supposed plans to resettle its people, with the annual quota of 75 residency permits in New Zealand cited as part of the evacuation strategy. In fact, the immigration opportunity offered to Tuvalu (and other island nations) under the New Zealand Immigra­tion Service's Pacific Access Category has nothing to do with environmental concerns and is all about regional development and being a good Pacific neighbour.
While Tuvaluan politicians present grim scenarios of people clinging to coconut palms while waves wash over their islands, the islanders themselves pay little heed to their leaders' prog­nostications. Many flatly refuse to believe the islands are under threat. Their conviction comes not from sci­ence but from scripture: "And God spake unto Noah, and to his sons with him, saying . . . I will establish my covenant with you; neither shall all flesh be cut off any more by the wa­ters of a flood; neither shall there anymore be a flood to destroy the earth." In a country whose national motto is "Tuvalu for the Almighty" and where 95 per cent of the population profess to be Christian, the promise to Noah carries more weight than the predic­tions of foreign climatologists.
In any event, Tuvaluans do not seem disposed to abandon a homeland which has been theirs for 2000 years, one which they helped defend in a war and which they bootstrapped to pros­perity after independence. A Tuvalu-an may travel for education and job opportunities overseas, but the bond with the home island remains strong. There is a saying, spoken especially to young people who leave their villages for the bright lights of foreign cities: Tou kafaga tenei e faitali ata—"your climbing rope awaits you". No mat­ter how long you are away from Tu­valu, one day the islands will draw you back. Then you will take your place in the community again, climbing the coconut and attending to the daily chores.
Initially, I found something schiz­ophrenic about the Tuvaluan govern­ment's messages and actions, on one hand invoking doomsday scenarios and threatening legal action against Kyoto laggards while on the other cultivating aid donors (including those same laggards) for island devel­opment—everything from agricul­tural projects and sea-walls to office buildings and cellphone towers. The government acts like a ship's captain sending out a Mayday call while at the same time asking for a refit.
But perhaps this penchant for run­ning with the hares while hunting with the hounds is just clever tactics by a global underdog. Even if you're not drowning, it doesn't hurt to wave—someone may throw you a life raft.
Will Tuvalu face national extinc­tion from rising sea levels? In the short term, the answer is no. In the long term, probably yes. What surely matters most to ordinary Tuvaluans is to have, for as long as possible, what Maori call turangawaewae, a word that means both one's literal home base and the wellspring of one's iden­tity. I don't know of anyone who has expressed this mingling of home and heart better than the writer, broad‑caster and actor Waihoroi Shortland. "My turangawaewae," he wrote in New Zealand Geographic, Issue 5, "is the place from which my canoe was launched on life's rocky road; it is the stump to which I will tie that canoe at journey's end. In life it is the ground on which I stand, in death it becomes the breast that nurtures me at night."