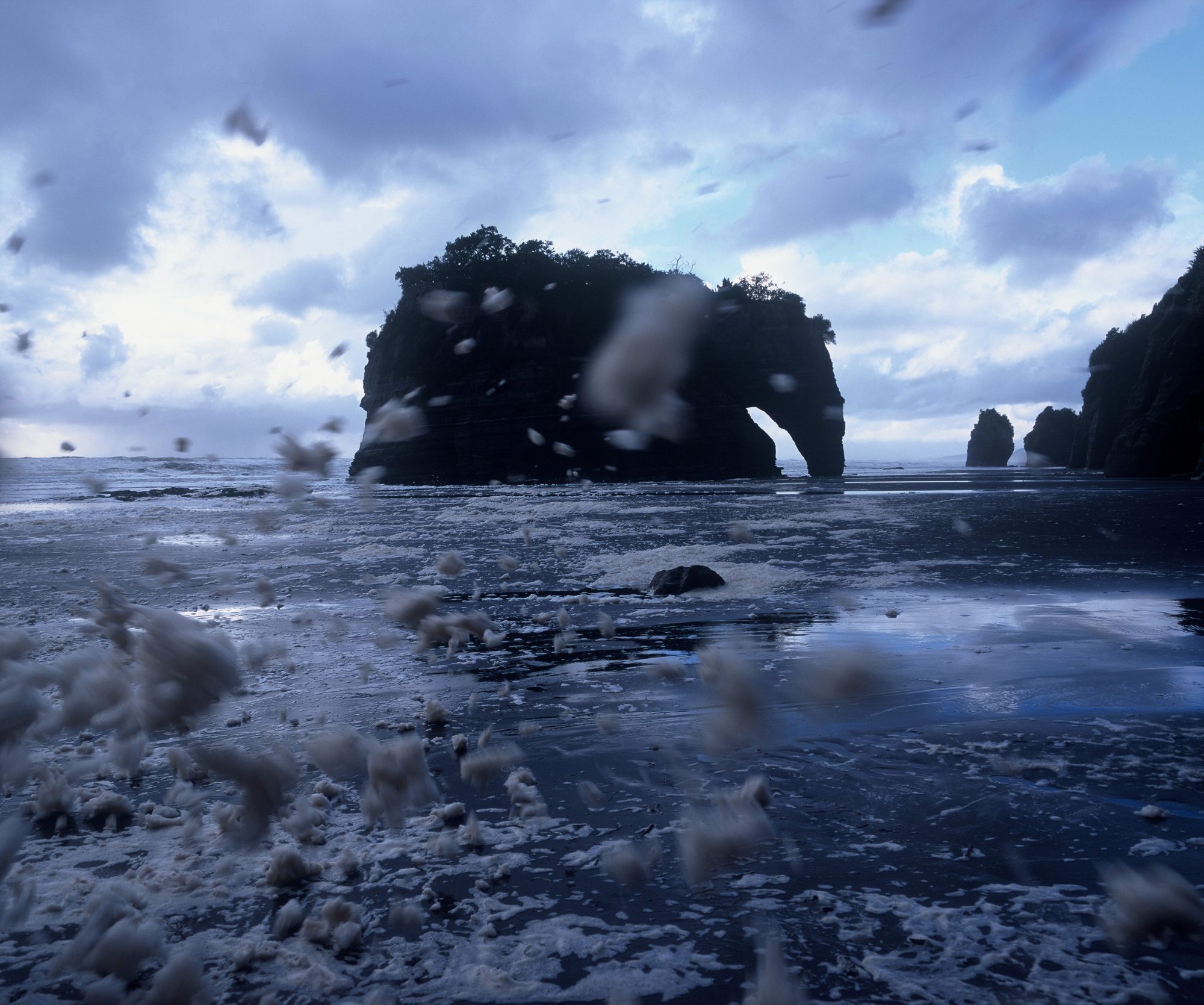 Tongaporutu coastline
At the boundary of impermanence

To capture the true essence of a place' to reveal its nuances and moods, one has to know it as intimately as one knows lover. The Tongaporutu coastline in north Taranaki is a place I am beginning to know in this detail. It is one of the most spectacular and dynamic coastlines in the country.
Although I first visited this coast in 2001, I have been taking detailed notes and photographs since 2003. My lifechanging moment occurred in April 2003. I was photographing boulders at Pilot Road Point on the northern side of the Tongaporutu River. They were beneath an arch beside a cave and my tripod head packed up. Cursing, I vowed to return with the next low tide in a fortnight. When I did so with my repaired tripod, the boulders had vanished. Astonished, I thought that if changes are occurring so quickly, perhaps I should document them over a year. Initially, I planned to come once a month but have ended up visiting more frequently because there is such a large area to cover. Basically, I have photographed from Te Kawau Pa north of Rapanui, south to Whitecliffs, a stretch of 11 kilometres. And my initial year has spread through several more with no end in sight.
Someone once commented in a photography magazine that, "… great landscapes can be elusive, but at least they won't disappear overnight." I always smile when I recall this sage piece of advice, because it is incorrect' particularly with respect to the Tongaporutu coastline which is in a constant state of flux.
Beaches, the highways of the coast, are the most ephemeral of natural features. Their malleable mantles of sand ebb and flow in tune with the prevailing currents and weather conditions. Each tidal cycle produces a fresh canvas. One never to be repeated.
You might expect cliffs to be more permanent, but those at Tongaporutu are not. They have been fashioned from crumbling grey papa and sandstone, and are under constant assault from the volatile Tasman Sea. Anecdotal evidence suggests that the coastline is eroding at the rate of two metres annually. Changes are thus occurring over breathtakingly short timeframes even in human terms, let alone the normal spans of geology.
Spooky caves, stoic rock stacks and great sheer faces of layered rock—none of them last.
This is also a treacherous coastline for the unwary. Access is only safe when tides are a half metre or lower and the weather is reasonable. At high tide and during stormy conditions, regardless of the state of the tide, waves sweep right up to the cliffs, and those cliffs are unclimbable. Walking the coastline, I have a cat-and-mouse relationship with the sea. Sometimes it is a playful kitten. Other times it is a ferocious tigress who mesmerises with potent displays of raw power. The cliffs too have their moods. They can be benign on some occasions and have rock-throwing tantrums on others.
The Tongaporutu coastline is a place where you either learn to read its moods very quickly or you can be very quickly dead.
That is what I love about Tongaporutu. In the presence of death, I never feel more alive.