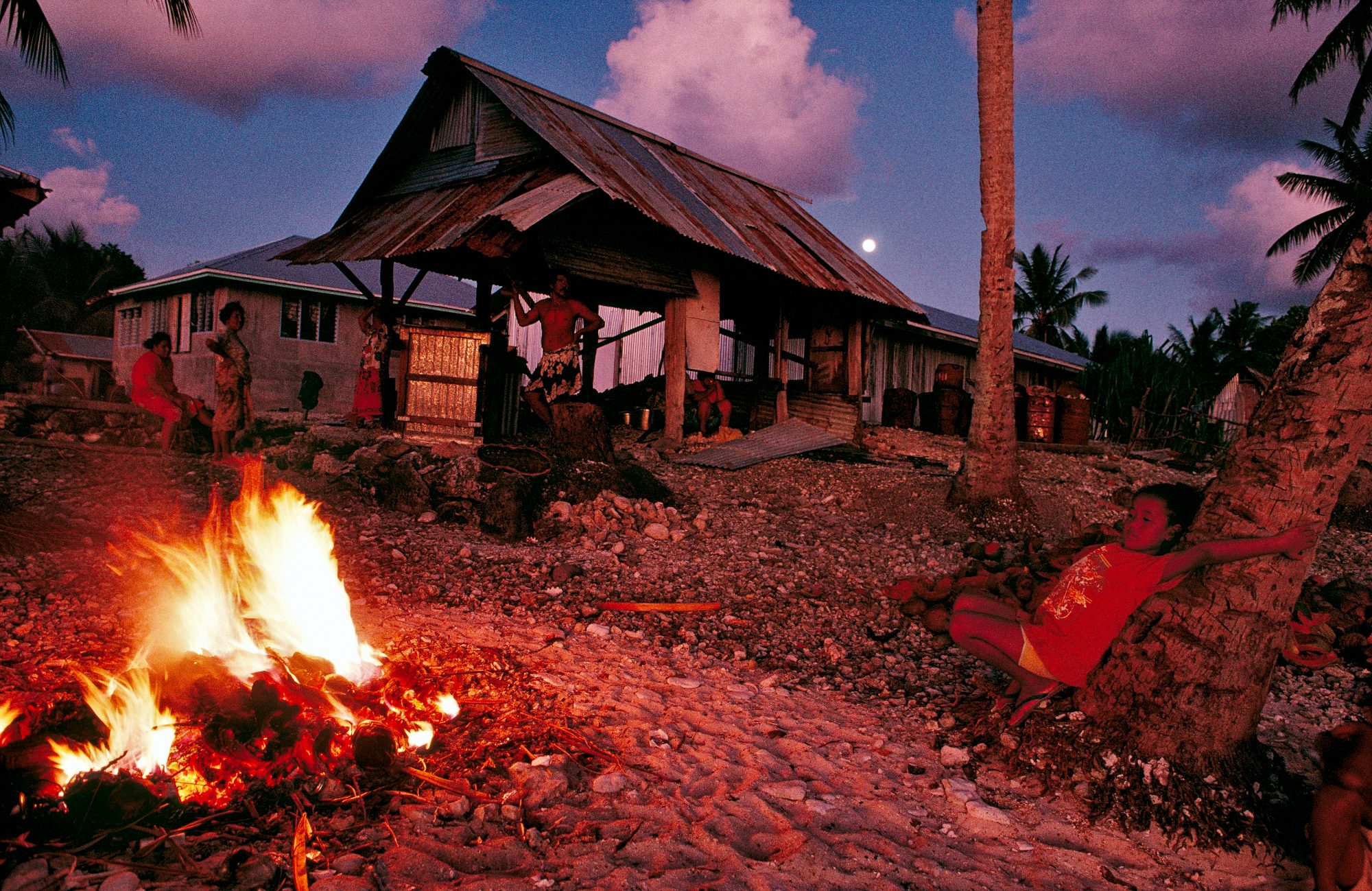 Tokelau-islands of the wind
Homesickness and uncertainty show on the faces of Tokelauans returning to the islands. Although Tokelau is counted as part of New Zealand, living conditions in this last Pacific dependency lag far behind those in the rest of the country, and the islanders are faced with the dilemma of whether to become independent. But in this lonely tropical outpost the cool of the evening brings its own rewards: moonrise moments of timeless charm.
Through the half-closed eyes of a wilful afternoon nap I had guilty visions of what, really, I should have been doing. That is, what any halfway diligent writer would have been doing: finding out what makes Tokelau tick. Asking pertinent questions. Filling notebooks.
But for the traveller jazzed with the electricity of the outside world a course of sleep therapy was perhaps the best way to make sense of a place '' here for many the 20th century is still only a rumour.
Most days that argument was somehow confirmed by the curtains lazily billowing and fluttering in the cool breeze above my bed. Outside, the opalescent waters of the lagoon slooshed and slopped on white sands.
I had already tried the newshound approach. It hadn't taken long to under­stand that nothing much happens on any of Tokelau's atolls. Hustling around in a lather of notebooks and questions wasn't going to make it happen any faster.
There was no shortage of issues I could have followed up. The impact of the cash economy on the old sharing ways. The threat to elders' authority. Should Tokelau become independent? Could a nation of 1600 souls with no export income survive without four million dollars a year from New Zealand? These were important questions.
But people for whom every face is as familiar as family and for whom life is a placid ritual of placid tasks are not given to articulating insight upon demand. Especially not the demand of a stranger bursting in from another planet.
Instead, they did the interviewing: What is your name? Where are you from? What boat did you come on? How long are you staying?
My story could not be built upon answers to these questions. The shy silences that otherwise abounded—silences pickled with village suspicion—weren't much use either. My task of writing 8000 words became a source of rising panic.
There I was, deadline-riven in a culture whose lexicon is about untroubled languor, where every movement is accomplished with a dreamy floating ease: the fluid shift of an eye, the slow splay of a hand. Even the joints of the feet, the individual toes, move with an independent plasticity, if they move at all. These people are masters of reflective immobility.
Clearly, to find Tokelau was about journeying into that sense of ease. About learning to communicate using silence. What deadline? Let all the pressures drain from the body. Snooze long and hard and, still torpid with sleep, stroll with no place to go. Only then would the essence of Tokelau reveal itself.
[Chapter Break]
In some ways, Tokelau is even more isolated than Antarctica, where the New Zealand flag flies over our only other dependency. Every summer, RNZAF Hercules aircraft rumble back and forth to McMurdo Sound, but no plane disturbs the silence of this threadbare necklace of atolls north of Samoa, because there's no airstrip. The only way in and out is by tramp steamer that calls from Apia, stopping only briefly. You could be stranded for months. Until this year, there wasn't even a telephone.
There are few countries left in the Pacific where the weekly plane-load of tourists and the wage packet haven't undermined the authority of the traditional order. But, on Tokelau, so I learned from the few books that have been written about the place, the minutiae of daily life are still strictly ordered by councils of elders that direct the menfolk when to work the village gardens, when to fish and how the catch is to be divided among the households of the village. I learned that on these smatterings of pure coral rock the bare business of gathering or growing enough food requires an interdependence that is held together by a disciplined hierarchy of rules, tuned by tradition—still largely intact.
The deafening lack of contact with the outside world—that one ship visit every month or so—has kept this social order undisturbed by intrusion, or so the library books promised. I was looking forward to experiencing a part of New Zealand that has remained a blank in our consciousness; a slice of life on an atoll as it has always been lived. But how to get there?
Earlier this year, a chance overlap in shipping allowed New Zealand Geo­graphic photographer Arno Gasteiger and me to travel to Tokelau with a reason­able certainty of getting off again. We hitched a lift to the middle atoll, Nukunonu, with the navy survey ship Monowai. There a survey team had been checking tide levels, to better predict the effects of global warming, rising oceans and whether on not there'd even be a Tokelau in a hundred years' time.
Our visit coincided with a fact-finding mission from the United Nations, due with the so-called regular steamer, which would stop for a day at each atoll, giving us the opportunity to travel south from Nukunonu to the atoll of Fakaofo.
For years, the UN has been encouraging Tokelau towards independence, and this would be the fourth such tour. For their part, the islanders steadfastly refuse to sever links with New Zealand, although they have gained more say in the running of their own affairs.
New Zealand inherited the responsibility for administering Tokelau from Britain in 1925. Then we treated Tokelau as a distant and forgotten outpost of Samoa, which was already the victim of shameful and brutal mismanagement by New Zealand colonial officials. In 1948, Tokelau was incorporated as part of New Zealand, with its affairs being run from a desk in Wellington.
Now, in response to demands from Tokelau, the public service is shifting to the actual atolls it is supposed to be administering. Not only that, but the service will be run by Tokelauans. Given the leisurely pace toward emancipation, it is hardly surprising that the UN has taken an interest.
Landfall, by rights, should have been by traditional longboat, but we flew ashore by Monowai's helicopter. From the air, Nukunonu's lagoon shone like an extraordinary opal shot with flecked turquoises that shifted in the play of sun- light. Around the edges of this impossible jewel clung a narrow crust of coral that sprouted coconut palms and, on one island, a shore-to-shore clutter of fibrolite, Cooper louvre windows and corrugated iron.
The chopper set us down at the school. No child showed a face at a class window. No adult appeared. But, after walking some distance, we located the store, always a focal point on islands like these: a place to wait for the world to go by so that you can watch it when it does. A dozen eyes swivelled in our direction.
"Hello, we're from the New Zealand Geographic magazine. It's good to be here at last. Does anyone know where the EO is? I think somebody radioed to tell him we were coming."
One of the men, with a shift of the eyebrows, indicated that maybe, just maybe, he was the Executive Officer, the man I was seeking. A pained silence followed. His face creased with botherment. "Got any hostuff?" he eventually whispered. Pardon me? "Got any hostuff? We haven't had a ship for months."
After a deal of trial and error I determined the EO was speaking to his thirst, "hostuff" being the local name for spirits—hot stuff as opposed to cold stuff, for which he was also desperate. "We've run out of beer. We've had no beer for two months. No beer, no hostuff—and we've got a disco tonight. Can you sell us some beer?" This was a predicament I was unable to assuage—least of all with the bottle of brandy packed in my bag.
Rampant hostuff and disco on this step-back-in-time unspoiled island para­dise? "Oh, yes. We have disco all the time—in the cargo shed. Fund-raisers. We drink kaleve we make from the coconut tree, but tonight's disco is special. It's to say goodbye to the navy boys."
I suggested he buy his supplies from Monowai, where, from entirely casual observation, there had appeared to be no shortage of liquids. The shelves of Nukunonu's store, on the other hand, were virtually bare. The island was down to its last cans of bully beef, packets of ships biscuits, its last few pairs of jandals. Since we weren't in need of jandals there wasn't a lot of choice, but, even so, our purchases were officiated by three employees.
"A can of beef and a packet of biscuits," I asked the woman behind the polished hardboard counter. This she communicated to an assistant standing beside her. His speciality, obviously, was to locate items on the shelves. The shop manager, installed in a booth, recorded the transaction.
Later that day, by the time a cargo sling of beer had been choppered in, we'd already established ourselves at a house vacated by the navy survey team. Our point of contact, the EO—no doubt occupied by a complex local ritual—was nowhere to be seen.
From the departing navy boys we learned that, if the people of Nukunonu were disco-crazy, none was more so than Luciano Perez, the principal of Nukunonu's school. For years, Luciano had run a nightclub in the living room of his family house, called St Theresa's. The nightclub did a roaring trade but was a little disruptive of family life. Now—in his spare time—he was building a complete entertainment complex for this island of 350 people. St Theresa's II—nightclub, bar and tourist hotel—so far remained a concrete shell.
Eventually, we tracked Luciano to the new construction, where he was sorting out a tangle of party lights and generally organising a play-list and the prepara­tion of snacks for the night's revelry.
A short wiry man, Luciano was famous on Nukunonu for his intense energy, for his projects, his gusto that, some said, was a gift of his Portuguese ancestry. His entrepreneurial drive may be unusual on Tokelau—or indeed anywhere—but his Latin names are not. A singularly active Portuguese whaler who settled on Tokelau last century saw to that. Tokelauans now maintain a tradition of Latin Christian names. Thus it is that born and bred Tokelauans rejoice in names like Pella, Casimilo and Angelo.
Luciano invites us to stay for dinner but apologises for being too busy to talk. To keep us amused, he wants to play a CD of South American dance music salsa that somehow he's obtained. But someone has borrowed his portable generator. He sends a deputation of kids to track it down. "The island hasn't had power for months. The main generator keeps breaking down. It's out of the ark and we've got to wait until they get parts from England. It's the same on Atafu. They haven't got power either."
Later that night a general crunching of footfalls along the coral paths leading to the cargo shed indicates the disco is about to begin. In the cool night air, with a huge moon spreading pools of light across an endless ocean, the fussy floral fragrance of the women's perfume gathers strength, mixing with the clove tang of brilliantine.
Inside, grandfathers tango with granddaughters, and grandmothers loud with flirtatious merriment haul sailors out on the dance floor. To the beat of the music (and the generator) Nukunonu parties on down, disco-master Luciano presiding. The entire island—minus the infants and press-ganged baby-sitters—seems to have turned out.
This was disco closer to a backblocks Kiwi woolshed "do" than anything out of New York. The shed is decorated with coconut palm fronds, coloured lights are strung from the ceiling, and at intervals during the night the principal dispenses bottles of hostuff as prizes—from a stash he'd somehow kept the EO out of. A bottle of Vat 69 for the best dancing. A bourbon or two for the best-dressed couples.
At midnight sharp the sound system is unplugged, a hymn and concluding prayer offered and the disco mamas and papas of Nukunonu stroll the few short steps home.
[Chapter Break]
Arno and I both woke with splitting hostuff headaches, which pain a breakfast of ship's biscuit, bully beef and a cup of doubtfully brackish tank-water did little to remedy. We also woke to the moment I'd been waiting for: the savour of total isolation. With the navy gone there was now literally no way of getting off this island. It was the feeling I had come a long way for.
Waiting for Luciano, I studied the school library. You can tell a lot about a school by its library, and the shelves in Luciano's were well stocked. On the wall were children's posters that cheerily encouraged reading. Children fishing for books, cuddling books. "Hook a book! Hug a book!"
You can also tell a lot about a school by whether or not the children are treated as adults. As I spoke to Luciano there were constant requests for attention from well-mannered children who approached in total confidence. They won Luciano's instant unfussed focus. I complimented him on his pupils' easy confi­dence.
"Yes, yes, I like to see them like that. It's not the Tokelau way, not faka Tokelau—that way children are supposed to stay very quiet and not to think for themselves. Hah! The old people always spend their time preaching at the children to stop doing things. I spend my time preaching at them to do things. You don't want to stop their brain developing.
"Skateboards—they wanted to stop them. Children were breaking bones. But I say, let them break their bones—that's their way of reaching for the sky. If we stop their interests they might stop being interested in anything. Where does that leave children? They wanted them to be happy whipping a hoop, like they did. Hah! Faka Tokelau—the Tokelau way—has to learn about change.
"The old people misjudge the young generation. There is too much for them to understand. They say too much talk from the young people is dangerous. Now we have money, outboard motors, compost—" Compost? "Yes, compost. We talk about the environment, we have how many posters, but still the people burn all the leaves. Brainless! It's all been explained how the plants rely on each other and need compost, but it takes a long time for people to understand change."
Luciano moves from compost to culture. "You know, the old people can't say we don't believe in preserving our culture. Before, we had a New Zealand syllabus taught in English. Tokelau was not important in our teaching. We've changed that. Now we teach in the Tokelauan language. When the policy was to teach in English—my English is not too good, and the children's English is worse—well, how could you teach anything? It could never work. Sure, now their English isn't so good, but it's better to have bad English than a bad understanding of the world.
"There's a lot of talk about sustained autonomy and not relying on handouts. Try small business development, they tell us. Start a bakery, do sewing, raise poultry. But sustained autonomy needs new discipline. If you pay someone to be a nurse, then she should be at the hospital, not at someone's house drinking kaleve when you need her.
"The people in the Apia office that administers our islands are even worse in their attitude. We depend on them to order goods for us. You send the money, but when the ship comes there's no goods and no money. So you radio the office and they tell you, "Sorry, we lost your money," and you can't force any action. There's nobody to turn to. They haven't stolen your money, they've just spent it. Faka Tokelau makes people very casual about these things: there's always fish in the sea and breadfruit up the tree, and it belongs to the village, to everyone.
"Our inati system of sharing is really disturbed by money. Before, you give everything to the village and the village gives you back your share—fish, bananas, taro. But nobody gives their wages to the village. Those with jobs still get their share of the food, but don't do the work to gather it. This causes jealousy."
I want to know how New Zealand has performed in its least-known backwater. "New Zealand has not taken its responsibilities very seriously. They didn't even have a proper school here until the 1950s. When it opened, the old people came along too, to learn how to read and write. How can you talk about sustained autonomy when education is so new? You need to educate many generations before you can educate a society." Luciano shakes his head at the waste of potential.
I spend a little more time in the library. I reflect that for 25 years the children of Nukunonu have passed through this man's hands, have been exposed to his enthusiasms and drive. How much of Nukunonu's reputation within Tokelau for vitality and educational achievement is due to live-wire Luciano? What could a few more Lucianos do for this place? For any place?
[Chapter Break]
Strolling off to the store to lay in a decent supply of bully beef and crackers (the cargo ship isn't due for at least a week), I discover our morning of isolation is at an end. Tokelau's inter-atoll ferry, a tubby steel catamaran, has arrived overnight to take Monowai's place.
This is surprising. Innumerable phone calls from New Zealand to the Tokelau office in Apia about the logistics of internal travel had earlier failed to reveal this ship's existence. Its appearance means that Arno and I can now visit the northern atoll of Atafu, rumoured to be Tokelau's most beautiful and, since it is Luciano-free, the most traditionally-minded.
We take the boat that night and wake to find ourselves already anchored off the reef at Atafu. Around the boat are a handful of outrigger canoes, powered by outboards. In the deep blue, almost purple, waters, fishermen are diving for the day's bait. They use small fishing rods to cast their lines while they dive. Because the fishermen are in the water with the fish, they're able to steer the baited hook directly to the target, and see when it bites. On Tokelau there is nothing unusual about the sight of men catching fish, but everybody's watching all the same. There is no tiring of the magic of hauling livelihood from the sea.
The physical focus of Atafu is a village square of immaculately-groomed white coral gravel. At one side is a traditional meeting house of thatch and poles. On the other is the new replacement: a pure Kiwiana micro-palace of bronzed alu­minium ranchsliders, louvres and corrugated iron.
I learn that the men favour the new edifice while the women prefer the old-style meeting house. Once a week, the women's club plays bingo with prizes of maybe a bottle of shampoo, a roll of pandanus leaves for weaving or a couple of rolls of toilet paper.
I ask one of the women if they plan to play cricket any time soon. "You've heard of our cricket? We have your prime minister playing cricket here. Lange the best man at cricket." At this recollection the woman's narrative dissolves into laughter. "He try to hit the ball but the ball was already past him!" Cricket, at 50 a side with older batsfolk nominating younger players to do the running, is an Atafu highlight. But the week we're there isn't cricket week.
Instead, on the evening of our arrival, the village council—which had already banned beer—was for good measure debating whether to outlaw disco. Although Atafu's brand new meeting hall was designed for dances (installed in the ceiling was a spinning disco mirror-ball) the island's first disco at this venue—the night before we arrived—had been cause for worry.
I joined the council to observe the deliberations as, beneath the mirrored disco ball, each of the 22 members had their say. One elder, through loosely-anchored false teeth, spoke in horror of scenes never before seen on Atafu. Wild dancing Women drinking. Put a stop to it. Another, wearing a teeshirt that said "Batman Sucks" agreed that the idea of women drinking was unacceptable. And so on.
Thus the gnarled, timeless wisdom of the elders (much venerated by anthro­pologists) added up to some hours of discussion on the threat that disco dancing posed to Atafu's moral fibre. The United Nations' visit in five days' time, where the entire future of Tokelau was up for grabs, didn't get a look in.
Back at a house that will have to remain unidentified, a woman explained her view of the disco crisis. "This is a very small island, but they have a hundred thousand rules. No cards on Sunday, women can't drink, you can't travel across the lagoon without permission. I respect what I know is right, but why should a man drink when his wife can't?
"The pastor started it, He say this building should be used for good purposes, not for wild dancing. It was nothing. Just disco dancing, but they haven't seen it before. The pastor, he was angry because the women had bought all the home-brew on the island and he couldn't get any! Hah! It's our time now, not theirs. Tonight, I think this was a big defeat for those views from the past."
The next day we are invited to a picnic on the other side of the lagoon. We travel with the EO's wife and her niece, Malae, to whom I am introduced as a likely future husband. As we set off she impatiently quizzes her niece. "Has anything happened between you two yet?" Malae replies, "No, he's too slow!" They both burst into laughter. Somehow I've ended up holding the ukelele. I pass it to Malae so that I can make a note of the conversation. She starts singing.
Later, she identifies the song in a song-book I have with me:
Atafu my island stands in the deep currents of the ocean,

The story of islands carried by the wind,

I feel in my body

Atafu is the paradise

Of the whole Tokelau,

With its pure white sand

And glistening pebbles,

As you see.
Despite the sweetness of the words and the allure of our picnic island destina­tion, I'm feeling nauseous. Slopping around in the bottom of the boat is a mixture of tuna blood, sea-water and two-stroke fuel broiling, as we are, in the sun. Slopping around in the bottom of my stomach are the remains of Nukunonu hostuff and tank-water. It feels like a greasy dish-rag stuck in my throat at gag-point. Taking notes is not a good idea.
But picnic island is consolation. To make landfall, we thread past deep cus­tard-yellow sand cays and spits. On the other side of the atoll a chain of islands, strung out in convoy, frames the lagoon. It's here that I gain a sense of a lagoon being the crater lake of a huge volcano, the surrounding ocean nothing but sky.
Already on the island there is a fire. Women are preparing a feast. Men, occupying their traditional role, drink kaleve homebrew and watch. The women work in perfect unison, singing their songs with pure, clear voices. Two grate coconut. Two others squeeze milk from the grated coconut, leaving a dry flour for the pudding. Another plumps dumplings ready to be baked in green-leaf pack­ages that two other women are tying together. One woman fans flies with one hand and beats time on a water bottle with the other. Malae accompanies the singing with her ukelele.
For several hours this weave of cooperation, rhythm and song continues. The essence of these tiny islands is the ineffable calm of cooperation. By contrast, the men hang back, on the periphery. They are getting half-cut on kaleve and boring each other with serious talk about something. Probably the disco.
By now I've long given up the newshound approach to Tokelau. On Atafu, I learn that the canoe landing is the place to hang out. Here the elders have a shed for playing cards, carving and generally shooting the breeze. It's also where the fishermen's catch is divided among the village. This way of sharing is called inati, and the slicing up of the great barrel-chested tuna is a precision business attended by an elder who calculates the need of each household according to the age and number in it.
The children who are delegated the job of sizing the fish reward themselves by reaching between the gills and hauling out some prized organ they chew raw. On Tokelau there's none of the palagi reluctance to partake of raw fish. Fishermen think nothing of tearing tuna to pieces with their teeth, a sort of Silence of the Lambs rending of blood-red flesh and guts. Children will clutch fish streaming blood and slime as if they were teddy bears. I saw one child wearing the head of a huge tuna as a mask.
Across from the inati landing in the elders' hut, the carvers work, adzing fishing tackle boxes from Atafu's famed variegated kanava hardwood. I'm not the only one sitting awhile, watching on.
Some play cards. One snoozes, a wooden pillow tucked in the nape of his neck. These elder craftsmen somehow splay their feet out in front of them, using the upturned soles as a cushioned workbench, the upholstery of flesh preventing the finely detailed wood from splitting under the adze blows.
One master carver, wearing patched spectacle frames with lenses that could have been cut from the base of a Coke bottle, is detailing a rebate that takes the lid: endless paring blows that see the wood fall away like shavings of milk chocolate. Tok tok tok. Where any Kiwi chippie would be figuring out how to get a band-saw in on the act, these men seem to prolong the act of creating.
The last of the children sent for the inati share stagger off up the path clutching armfuls of tuna. A truck trundles by with banana leaves for compost. Not a truck, the truck. A child husks coconut on a spear. Someone carts a load of sand somewhere, the bucket swinging from a notched carry-stick lying across his shoulder. The carver sheathes his adze in a coconut husk and chews a chunk of fish. The shopkeeper lady walks by, swinging a bunch of keys with a certain ostentation on an island where there are few locks.
A group of men arrive to install some heavy form-work in a pit dug for a septic tank. They inject their manoeuvres with the sense of drama all men lend to the task of shifting heavy weights. A sizing of angles, a shifting of position for better purchase. Some serious male grunting, tahi, luo, tolu . . . and the plywood shutter drops into the wrong part of the pit. Obdurate and immovable.
These septic tanks will, one distant day, replace the traditional Tokelau la­trines that are built out over the lagoon. Although this arrangement leaves the foreshore draped with doubtful streamers, their loss will see the demise of a fabled Tokelau institution.
They're nicknamed Tokelau telephones. I discovered why one night when, over the course of an hour, I watched perhaps half a dozen men disappear into a single toilet little bigger than a chicken coop. I waited. None came out. I waited some more. "Excuse me," I inquired of my companion, "but nobody's come out of the toilet . . . and quite a few went in."
John Taupe, recently from New Zealand, explained. "It sure takes some getting used to, but that's where everybody meets up. You go for a snap and a chat. It's where you get all the goss. The women have theirs, too." This perplexed me. "You mean you're squatting away and your neighbour just hunkers down next to you . . . and next minute he's talking about the weather?"
And so the days at Atafu slid by. There was even a disco, but no disco ball. Instead, the dancefloor was floodlit with fluorescent lighting, and a constable was on hand to prise partners apart and quell the exuberant.
An elder introduces himself. Kuresa Nassau speaks with a slight American accent, from his years in Hawaii. "The elders are tough, very tough. There is a law that you can't get drunk. That doesn't seem to make sense—if you are drinking you are going to get drunk, right? And people do get drunk. But what the law means is that nobody goes overboard. On Atafu you really have to watch your behaviour to keep things calm and sensible.
"I am very strong on human rights, but we are very isolated and we have to survive together. You see, what is good for one person is not always good for everybody. Some might say they can feed their family, but what happens if they can't? At the end of the day the community will feed the family. So here you don't look after your family, your first responsibility is to the community, and the community looks after your family. If you've been living outside Tokelau, that takes real trust. When I came back I didn't like it. They said you must fish for the village and not for your family. It took me 10 years to discover the sense of all these things."
This vision of well-balanced calm doesn't wash with many of the younger folk. During a netball game at Atafu school, I ask one woman how she sees Tokelau's future. "You're looking at it. What it is now is what it'll always be. The be all and end all is that the old men try to control everything, and until they take off somewhere . . . I don't know . . . take them to visit the 20th century . . . then this place won't get anywhere. That's because no-one with hopes and expectations is willing to put up with all the meddling in your life."
[Chapter Break]
No Article on an Exotic Location like Tokelau could be considered com­plete without the writer giving a graphic first-hand account of some traditional food-gathering activity: wrestling an octopus, vanquishing a shark, shinning up a coconut tree. Traditionally, the writer, through pa­tience and application, gains the trust of some grizzled oldster, who then imparts hitherto jealously guarded knowledge of food-gathering lore.
An early such effort on Nukunonu, with the aim of gaining a rare and privi­leged glimpse into the mysteries of noosing the wahoo gamefish, met little success. This method of fishing, so my books told me, involves the use of chum, baitfish and a lassoo in such a way that the two-metre wahoo (a sort of Exocet mackerel) launches at its prey through a drawstring noose. It requires extraordi­nary reflexes and skill. First to lay an effective trap. Second, to pull the noose tight at the right moment, and finally, to make sure the wahoo, with its razor-sharp fins and teeth, doesn't dismember those aboard the canoe.
At Nukunonu I asked if there was any chance of joining an expedition of wahoo noosers. This request was met with the sort of half-superior explanation you might give a simpleton child. "We've got hooks now." The fisherman didn't spell the word "hooks" or explain that they were little bits of sharp steel that caught in a fish's mouth, but I sensed he was about to. Hooks! Of course! Silly me! Why noose a wahoo when you've got hooks!
Having missed out on the spectacle of some old man of the sea noosing a wahoo or two, I leapt at the chance to join a bird-netting expedition (even though the words "bird netting" didn't have quite the overpowering fascination of "wahoo noosing"). Surely this encounter would provide the insights I sought concerning the age-old self-sufficiency practices of Tokelau.
When we reached the appointed spot, I watched a young man climb 30 metres into a breadfruit tree. Probing with his fingertips the sinews, bulges and limbs of this sheer black trunk, he somehow discovered seemingly impossible points of purchase. Although the trunk was slick with rainwater, he hauled himself up in a series of fluid certain movements to where sea-birds called akeake had their nests.
Certainly, the idea of killing these fine-boned, pure white, translucent-winged terns that flitted and hung in the air around the village was none too appetising. But the thought of these paper kites struggling in a net before having their balsa­wood necks snapped was made more bearable by this being a traditional hunt for a traditional delicacy.
I suggest to one of the men that the flesh must be tasty. "No, not really. We get them because they make their mess on the roof." This man, Tapeni Kalolo, has an elbow rent by a great half moon of rumpled scar tissue. As the others gather the nets and make ready to choose another tree, I wonder what sea creature disfig­ured his arm. A shark? The tail of a stingray? Could it have been a noosed wahoo? "Noosed wahoo, was it?" I ask, indicating his elbow. Tapeni Kalolo laughs a deep laugh. "It was a bloody car! The thing rolled on me between Levin and Palmerston North."
So, through trial and error, we discover that traditional food-gathering activi­ties have declined because lo, there is now less reliance on traditional food. An expanded public service means Tokelauans are now able to afford more tinned food and other imported items like high-fat mutton flaps and ice cream. Each Tokelauan now consumes 50 kilograms of sugar and some 400 bottles of beer annually. (In fact, the only traditional food-gathering activity that it could truly be said I participated in was helping to unload the cargo ship. More on that later.)
The price of prosperity, a 1990 survey showed, has been a rapid rise in the rate of diabetes, heart disease, hypertension and gout. Frankly, if the choice is be­tween the pre-European diet and gout, give me gout. In those days, these mounds of porous coral gravel were harsh places indeed. Coconut and the sweet fibrous fruit of the pandanus were the only crops. Later, the importation of swamp taro broadened the food base, but even so, Tokelauans were forced to dig huge pits three metres into raw coral rock to find the natural water-table that would support the taro.
Bananas and mango were easier to establish, but it was breadfruit that pro­vided the first plentiful addition to the diet. The miraculous abundance of carbohydrate offered by this tree was well-known to early European explorers.
Captain Cook encountered breadfruit on his first voyage to Tahiti. He wrote: ". . . if a man plants ten trees in his lifetime, which he may do in about an hour, he will have completely fulfilled his duty to his own and future generations, as the native of our less temperate climates can do by ploughing in the cold winter and reaping in the summer's heat as often as those seasons return."
Now the breadfruit trees of Tokelau provide such an unending crop that most is left uncollected. In the villages, where almost every house is shaded by a huge breadfruit tree, the air is sweet with fermenting breadfruit mush. The fruit crashes into corrugated iron like cannonballs.
Europeans may have brought breadfruit, but they also brought slavery, and the effect on Tokelau was devastating. In just one month in 1863, four Peruvian slave ships took away nearly half the population of the atolls—nearly all the able-bodied men. Fakaofo lost 140, Nukunonu 76 and Atafu 36. This cargo of men (and some women) was sold at the slave markets in Callao. Only one ever returned.
[Chapter Break]
These days, Tokelau's population is remarkably stable. In 1963, New Zea­land provided assisted immigration to ease overcrowding, but the scheme was halted in 1976. Between then and now the population has stayed at around 1600, this despite the free access to New Zealand that has denuded Niue and parts of the Cook Islands.
Many leave Tokelau for schooling, jobs and family reasons—some 4000 Tokelauans live in New Zealand—but just as many return. Sefo Moti was one who, as an 11-year-old, was granted a scholarship to St. Joseph's boarding school in Masterton. "There were four of us on the scholarship, but we didn't know anybody who was meeting us. My brother and auntie were there to pick us up, but I never knew what they looked like. I thought, it has to be them, 'cos they're the ones who are smiling."
An 11-year-old from Tokelau shunted off to Masterton? "Yeah, it was very hard, very lonely. I could understand English but I couldn't speak it. I survived. Got a job in the forestry at Taupo, then at General Motors . . . but they made me redundant. Now I'm here with my wife."
How difficult was coming back? I talked to Sefo's wife Mena. "There's no question about it, it's hard here. Nothing happens. Nothing changes. You have to keep yourself occupied somehow to keep sane … Well, you are occupied. There's no escape from it. It's a constant battle to keep this but tidy… there's the dust, the sand, the chooks… you sweep a thousand times a day, you do your washing in a bucket, you cook on a fire, and what's there to cook? Fish, rice, breadfruit, coconut. Fish, rice, breadfruit, coconut.
"There's no privacy, either. You walk to the end of the island to get away and you think, I'm 28 and what have I got to show for it? Back in New Zealand you've got shopping, nightclubs . . . keeping up with the trends. You can take a break. And I'm desperate for winter. It's so much easier to keep yourself warm than trying to cool off. I'd love to go for a break. You need to get off the island." It was clear that Mena wasn't going to get her break.
On Tokelau, women very seldom get to leave the confines of even the home island—not to zoom out across the reef in an outboard dinghy to the open spaces of the ocean to fish, nor to cross the lagoon to the gardens on other islands, nor to experience the extraordinary universe that lies under the water. All these areas are preserves for men. It is the unusually bold woman that enters them. Certainly no mother has the time.
On all the atolls, there was something claustrophobically depressing about the way the women were island-bound, hut-bound, family-bound, surrounded and oppressed by the endless noise of endless children.
As Mena poured out her story, I lay on a mat spread over coral gravel, drinking a cup of tea and trying to keep a horde of persistent sticky little flies away from the cup, my mouth, my face. I reflected on the sheer grinding routine that women in the Third World undergo.
Never again would I whine about the downside of 20th century living: the isolations of the nuclear family, the endless hard-sell prattle of television ads, the buy-more compulsions of consumerism. For the first time I counted these all as blessings. What possible complaint is there about a century of scientific endeav­our in the cause of consumer comfort? Give me more appliances, more miracle cleansers, more miracle impervious surfaces!
I thought back to camping at the beach during summer holidays. After a few weeks at the most, the novelty of sand, heat and cooking on the open fire wears thin. The thought of returning to the ease and comfort of home becomes irresist­ible. For the women of Tokelau, life is one long summer holiday.
In fact, Tokelau lacks not just the comforts of New Zealand, but also lags far behind conditions in New Zealand's former colonies of Niue and the Cook Islands. One afternoon I visited the cemetery at the north end of Atafu. There I encountered Ave Foua tending the fresh grave of her daughter. The mother was lying down next to a coffin-shaped outline of rocks in the white sand. With her head propped by an elbow, and smoothing the sand with her free hand, Ave told me that her daughter died in late pregnancy because there were no drugs.
At the island clinic I confirmed that Mary-Ann Foua died because the hospital had no drug to lower the blood pressure caused by her pre-eclampsia toxaemia. I also learned that three years ago a two-year-old boy died because the hospital had run out of valium. A week later, at Fakaofo, I was present when a drug shipment was being unpacked. So slack is the system of supply that the replacement antibiotics had already expired.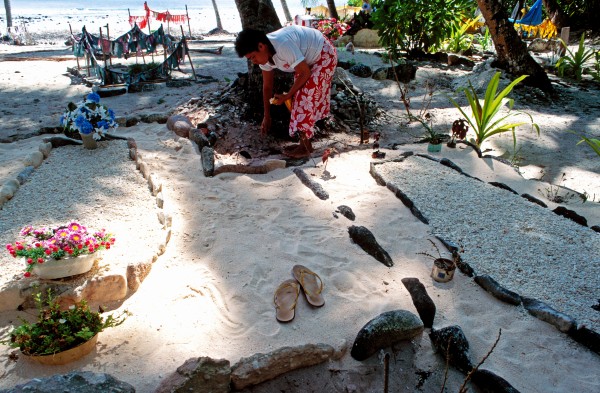 Atafu's Agnes Kuresa spoke to me about more general neglect. "What part of New Zealand has no electricity? We can ask, but getting it is something else. We ask for decent generators every year, but where are they? Compared to the Cook Islands and Niue, they treat us like children."
A review of the facilities suggests New Zealand has been treating Tokelauans as second-class citizens. Two out of three atolls are without reliable power. Telephones were installed only this year, after seven years of patient requests. There is no air transport and inadequate sanitation. State-provided schooling is a relative novelty. There's not even a water pump for fire-fighting in islands that are densely populated. Until three years ago there was no transport between atolls.
I ask Kuresa Nassau, Atafu's former faipule (representative at national level) for comment. "This is part of New Zealand. They took over Tokelau in 1925. Now it's 1994. What have they done? We've had to survive by ourselves. The problem is, Tokelau has been a yes-man for too long. The elders listen to New Zealand but they don't understand the issues. The voice of the people must be strong. In American Samoa the voice of the people is very strong. You demand things and you get them. I'd much rather deal with the Americans."
New Zealand may be giving four million dollars a year in aid to just 1600 people, but very little of that has been spent on effective infrastructure that can support a more viable nation.
Until this year, the day-to-day business of Tokelau was administered from an office in Apia, with a large slice of the budget being spent in Samoa rather than Tokelau. The reason? Lack of a telephone and a boat meant that it was impossible to administer Tokelau from any of the atolls. The purchase of a small catamaran and the installation of a single telephone on each of the islands has now allowed the office (and its budget) to shift to Tokelau.
Previously, the only way to visit another atoll was by cargo steamer that called every four to six weeks but stayed only for a day on each atoll. Practically, this meant that anybody wishing to stay on another atoll for longer than a day had to allow at least a month—often two, if the schedule changed—for the visit. There was no way of contacting the outside world save for virtually inaudible radio.
In such ways the historical lack of investment in Tokelau has locked Tokelauans into more expensive dependency. Now the provision of a Tokelau-based public service run by young New Zealand-educated Tokelauans may see the beginnings of change. One area of investigation could be frozen fish export.
Tokelau's only real source of wealth is fish, particularly tuna. Tokelauans are skilled fishermen. The Pago Pago tuna cannery in American Samoa, just two days' sail to the south, has been offering top dollar for tuna for years. It can't get enough tuna. There is nothing unusual about small isolated islands making a living from such a trade. Palmerston atoll in the Cooks makes a good income supplying Rarotonga with frozen fish, with shipping at least as erratic as that of Tokelau.
Given that 70 years of New Zealand stewardship has failed to provide a remotely viable set-up on Tokelau, it's hardly surprising that Tokelauans consist­ently reject the United Nation's suggestions to cut the apron strings, inadequate as they are. But that doesn't stop the United Nations sending elaborate and expen­sive missions to Tokelau every few years, nor does it dampen Tokelau's excite­ment at the pomp and ceremony of the visits.
At Atafu, same hours before the ship bearing this latest mission arrived, the island was aquiver with tension. Every inch of coral gravel, already thrice-whisked, was further broomed. Carpenters mended smashed-in doors at the school with hardboard sent months earlier for the purpose. With the UN still at sea, chooks were shooed from the landing area. The garlanded archway was fitted with still more flowers, the New Zealand flag run up the pole, the school choir marshalled.
The delegation, when it finally passed through the archway, was greeted by a rippling ensign, a constable pig-jumping to attention, and a choir of great fer­vency trilling "God Defend New Zealand" with a lilting vigour the anthem no longer commands in its country of origin. This was clearly intended as a heartfelt demonstration of Tokelau's desire to remain counted among our Pacific shores, to help guard the treeple starrr.
But to the UN decolonisation delegation, used to such displays by the coloni­ally subjugated, the display risked communicating precisely the opposite infor­mation.
The visit was all about making sure the people of Tokelau were not being kept as New Zealand citizens against their will. It was to this underlying theme that the New Zealand representative, Lindsay Watt, spoke. "During the next three days, the mission will be left in no doubt that the voice of Tokelau is exactly that: the authentic voice of Tokelau."
Then it was the UN's turn, the Tunisian head of mission lingering on his words as if savouring fine wine: "We are honoured to wisit your beautiful country. No matter how small is your island, no matter how limited your population and resources, no matter how remote, we consider your well-being as significant as that of any of the peoples we represent.
"Today, we have brought with us a gift all the way from the United Nations for the people of Tokelau." Here the UN man, with great reverence, produced a wooden box, inlaid with mother of pearl. "This was made on the shores of the Mediterranean from ebony from the forests of Africa and shell from the oceans of the world." He turns the box in his hand. A thought has just occurred to him. "I think it shows that the human arts are universal."
I was starting to stew with resentment at this career diplomat on a perk trip telling Tokelau, without fear of local contradiction, that he and the UN personally cared about their well-being. The Tokelauan elders, not understanding English and being keen students of body language, were, of course, making their own careful appraisal of faces, independent of the words, and, I suspect, deriving a message at some variance with them.
Feeling a sudden need for fresh air, I step outside. But I'm instantly cornered by some ginger-bearded, bratwurst-legged, beefy back-packer who is touring with the steamer. "Hi, I am coming from Jormany! You know, I think I am the only passenger who is paying to be on the ship!" So you're a tourist? "No, I am not a tourist! I am a twaveller. Nine months I have been from Jormany! That's extraor­dinary. I'm sorry, but I really have to get back inside. Tokelau has been mercifully free from this influence.
Back in the hall, one of the UN people, from PNG, is unaccountably telling a story about the different kinds of bones there are in the world. "First we have the wishbones. They wish all the time and do nothing Then we have the knuckle­bones. Any time there is a good idea they knuckle it down. You don't have any of those in Tokelau! And then there are the jawbones. They just talk, talk, talk. It's the backbones who talk less and always do the work."
On an island that knows a set of jawbones when it sees them, this is dangerous ground. Later, a constable ushers the delegation outside for lunch. He clearly can't resist. "C'mon, you jawbones, it's time to go!"
At Nukunonu, a day later, the Tunisian head of mission, with a straight face, addresses the elders of an island he's never heard of. "It was indeed always a dream to wisit your beautiful island. That dream is now a reality. We feel now that we are among friends, and we will make it our duty to report what we have heard to the committee."
He produces a carved box inlaid with mother of pearl. "The wood is from Africa. The pearl is from the oceans of the world and the hands that crafted this . . ." A thought occurs to him. "Somehow this demonstrates the universal nature of the human art."
Linsday Watt has his turn. "The mission will be left in no doubt that the voice of Tokelau is exactly that. It is authentic. It is nobody else's voice."
Outside the cargo shed reception the more important business of unloading the ship through the surf has already begun. For some reason, I'm seized by a foolhardy impulse to join the crew of a small lighter as it heads back out through the crashing swells, 30-knot winds and lashing rain for a fresh load.
The very thought of trying to land crazily swinging pallets of cargo into small boats rising and falling on five-metre swells would be enough to send a Kiwi watersider into early retirement with angina. But me? Well, this was the high-risk food-gathering exercise I'd been waiting for. And so, at Nukunonu I made the snap decision to join the men in their furious, utterly lethal ballet.
The first load was 44-gallon drums of diesel that smashed into the cockle­shell lighter like concrete blocks. Four of us had the simultaneous job of some‑how rolling the drums to one end of the lighter, holding them there so they neither burst through the side of the boat nor crashed into our legs while we steered further pallets into position.
Bulldogging these twin hook-loads, weighing some 500 kilograms, into the boat was like doing 15 rounds with a tag wrestler. Suspended only by clamps that hooked on to the damaged rims of the drums, they swung in an awful swathing arc. Given that we could hardly stand in the storm conditions, this was literally the most frightening thing I've ever done.
Exhilarated by my survival, I decide to go out again. This time we're landing a cargo more precious than diesel: a pallet of Steinlager. But something goes wrong, badly wrong.
It becomes clear that the winchie doesn't know his job. The pallet of beer starts a circular swing above our heads that the winchie doesn't know how to dampen. The load becomes dangerously unbalanced, and a tonne of beer threatens to topple into the boat. It is either jump overboard or hope like crazy that the chain-gear on this tired old tramp steamer will stand the strain. All the while we are rising and falling like a goods lift in the swell.
When the pallet finally hits the boat it threatens to capsize us into the water. Somehow we manage to unpick the pallet and stow the beer safely away. In the wild whipping spray we actually dance a jig of triumph.
But before we leave I'm treated to a first-hand lesson about why nothing is ever simple in the Pacific. A metal box is carefully lowered to us. It's clear this is a very important box because another boat has been sent to take it from us. Tragically, as one of the men passes it from our lighter to the waiting dinghy he loses his balance. He throws it into the dinghy where it lands with a tinkling crash. We learn later that this was delicate switchgear, sent all the way from London for Nukunonu's malfunctioning generator. Another six month's of darkness?
If unloading cargo is adventure, then loading passengers is an epic of biblical proportions, particularly since the UN welcome has dragged on until nightfall. To get aboard the ship, old women, children, the frail and lame—all must step from insanely plunging, heaving dinghies on to the gangplank trailing down the side of the steamer.
In the darkness there is an unbelievable cacophony of useless instruction as passenger after passenger dithers during the 10 seconds when the dinghy is actually level with the gangplank, and then has to be grabbed as they belatedly step out into the void.
While all this is happening my mates on the lighter are still engaged in the same frantic tag-wrestle of landing cargo on the tiny aluminium platform. They're in a race against the captain's schedule for putting to sea. With the last passenger safely aboard, and the last piece of luggage hauled aboard by rope, it's clear they've lost the race. There is still another pallet to off-load, a pallet of beer and general cargo. Thirty minutes' work. But the booming voice of the Scots captain has sounded from the bridge: "Ah said, finish up!"
Nukunonu will have to wait another two months for its cargo.
[Chapter Break]
As the Lighter Departs toward the shore of Nukunonu, on the aft deck of the steamer the passengers make the best of their lot. Deck passage on a Pacific tramp steamer had always conjured ideas of hammocks and breeze-charmed days under a limpid blue sky. But here deck passage is all about huddling miserably next to greasy windlasses with freezing rain driving in through flapping tarpaulins. Photographer Arno and I somehow manage to find a spare cabin, but since the air-conditioning has broken down it is of doubtful advantage.
With the porthole shut against the driving spray, the smell of a spectacularly blocked toilet across the companionway has full reign. It's a few degrees cooler on the floor, so we sleep there. But the vibration of the propeller shaft through the floor, the wallowing of the boat and the sheer boiler-room heat replace sleep with a recurring nightmare. Through the long night I am pursued down endless corridors not by swinging drums of diesel but by the Tunisian head of mission waving an inlaid box. Hard on his heels is the entire UN delegation, chanting diplomatic nothings. "Yes," I shout deliriously at my pursuers. "I know the Tokelau voice is exactly that. I believe you. I believe you."
Travelling across the lagoon at Fakaofo, tired at the end of another long hot day of United Nations waffle, I was in no mood for earnest interrogation from the young boy driving the boat. But there was no deterring him: "What-is-your-name­where-are-you-from-how-do-you-like-Tokelau." He had no interest in my an­swers. Instead, he had something to tell me. "I am very unhappy!" Unhappy?
"Oh yes," said Mike. "My girlfriend left today for New Zealand. I am very sad."
The boat bucked through the chop awhile. I asked why he didn't join her.
"I can't go now because I am here studying for the fifth form, and then I must go to Apia for the scholarship exam . . . My parents tell me I must pass that exam. They say if I miss that, I will have to come back to work as a labourer."
This clearly is a fate too awful for words. I ask him what happens if he passes. "Ah, then you work as an official. Justsitinachair. And my girlfriend will be waiting there for me in New Zealand."
The sheer certainty and unencumbered innocence of his dreams made me feel old and calloused.
We were travelling from the main island of Fakaofo to the neighbouring island of Fale, carrying a cargo of beer for a party celebrating the departure of the UN mission. It is there I begin to find the words that I knew must exist on Tokelau, words that described how Tokelau has been able to turn its back on the 20th century, about why it is that so many return here. Why it is that Tokelau will always have a future.
Supping beer on a verandah, I speak to a young Tokelauan who is in Fakaofo to install Tokelau's first telephone. "So Tokelau's about to see some changes," I prompt him.
"No, just because we have a telephone doesn't mean Tokelau wants change. We don't want development here. What else is there except for tourism? Outsid­ers paying us to do our dances? Everywhere I go I see the more developed a place is, the more unequal it is. In our custom everything is equal, but if I get a good job and my cousin doesn't then that's not equal any more. I get richer and richer and he gets worse and worse.
"Good old New Zealand hasn't done much, but at least they've left us alone. We wouldn't be better off under the French. They'd be cutting a channel through the atoll, building a port for the big ships. We don't want that. We prefer to mess around in our little boats, dropping everything in the surf. They'd have tourists here, a Club Med. There'd be French schools. We're lucky New Zealand's done nothing!"
Eliu Iosua, a school teacher, confirms the feeling. "Life here is completely satisfying. The losses of the 20th century are heavier than the gains. We don't need all that stuff here. There's no other people like us in the whole world. Why should we trade that for a hotel or an airport?"
Pio Tuia, Fakaofo's catechist, agreed. "You talk about France . . . France is very good at helping its colonies, but it is also very good at demolishing culture. Most of the French places in the Pacific have lost their mother tongue. The fine print in those arrangements is all in French.
"This is why we are so glad that New Zealand stayed away. If New Zealand had started educating Tokelau 70 years ago, we'd have had a very different Tokelau. It would have been a New Zealand island . . . not Tokelau. That is why we have no regrets in our relationship.
"Our isolation is our strength. Without that we'd have lost something unique. Our journey into change is inevitable, and we shouldn't resist that, but we must manage it. The required element of education—so that Tokelauans themselves can un­derstand and manage the change—is beginning to arrive.
"Coming to Tokelau, you quickly learn it's a different world. In very short time you forget the televisions, the buses. Soon you think only about fishing, planting, sleeping, playing cards, being part of the big family here. That will never change."
In my last days at Fakaofo, without realising it, I am quietly absorbed into a community of perhaps 600 people living on an island no bigger than a few football fields. I stroll the narrow lanes crowded by a huddle of houses, listening to the school playground intensity of chatter. I'm invited into homes where I learn of the daily struggles and the hopes for the future. I bathe under a tap twice a day. I listen to the guttural calls of the town crier doing his daily rounds. All of this means noth­ing in particular, but all of it adds up to Tokelau.
During my last moments on Tokelau, standing at the edge of the reef waiting for a dinghy to take us out to the ship and then onwards home, I savour the understanding I have finally ac­quired.
I recall a conversation I had with a young Tokelauan visit­ing Tokelau for the first time. John Taupe, who back in New Zealand worked at a Hutt Valley K Mart, was steering a dinghy at midnight across the lagoon at Fakaofo when we talked. Talked of why Tokelau holds such a powerful attraction.
As we slipped across the waters, the unbelievably twin­kling stars were reflected in the steel calm of the lagoon. Beyond the reef the swell of the endless ocean crashed and spumed a frothy white in the moonlight. I revisited the thought that these lagoons were crater lakes, oases in an angry ocean.
John turned and said, "You know, my grandfather had a dying wish. He told me about the home star, the home star that guided his canoe from Fakaofo all the way home to Atafu. He took a lot of trouble to tell me about that star, but I was young and I was in New Zealand and had no interest. It meant nothing to me. Now I'm here under all these stars, and I don't really know which one it is. Now that I want to know, I don't know. His dying wish was for me to come home to Tokelau, to come back to his home. To find the star. So I am here."