To the rescue
You've hurt yourself in the mountains, and you'll never make it out on your own. What happens next?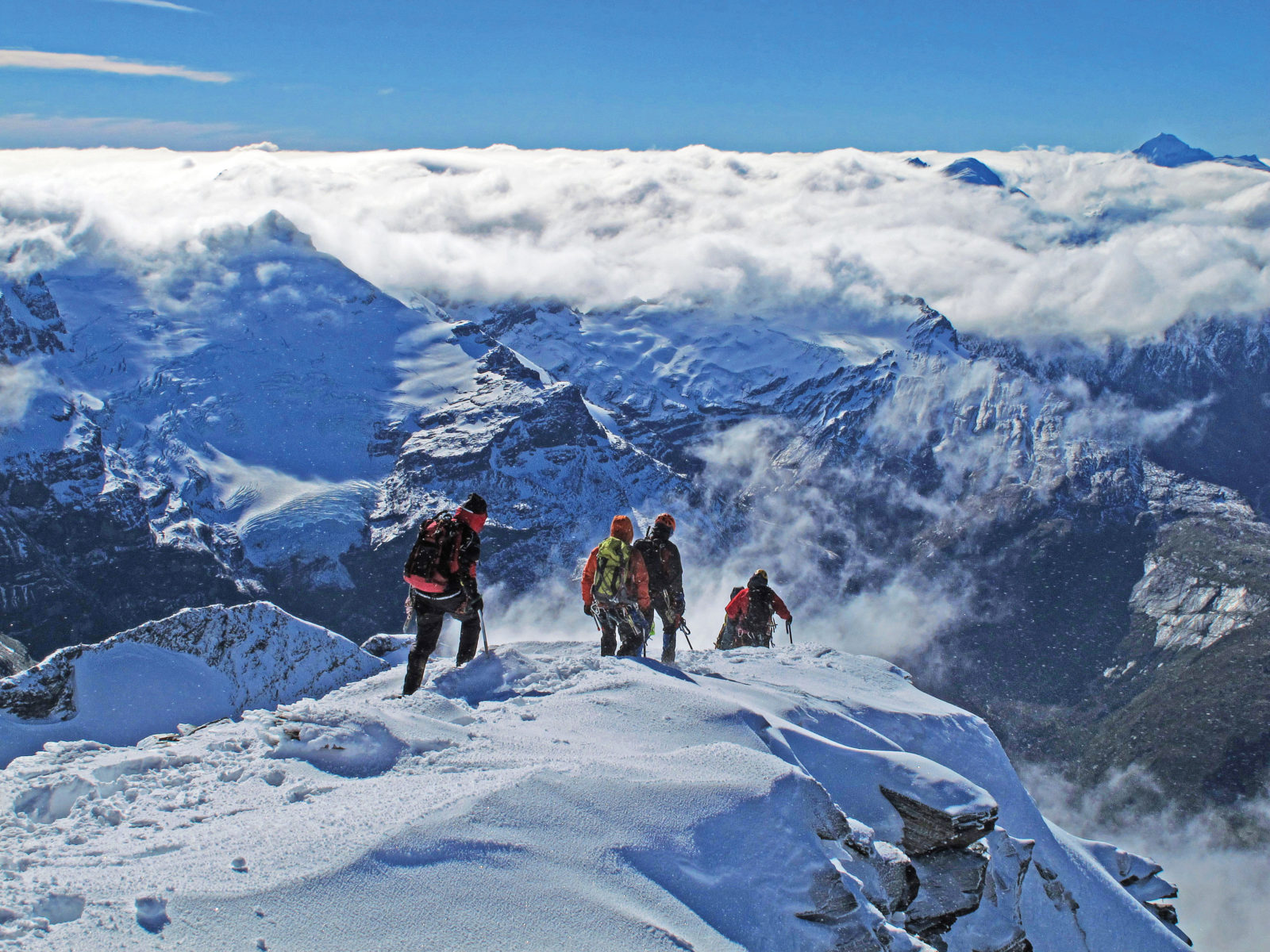 It was a clear, moonless November night, glittering with stars, when Ian Larratt strapped on his crampons, tramped through the snow up to the Quarterdeck Pass, and set out across the Bonar Glacier. The 27-year-old Canadian had travelled to New Zealand to climb Tititea/Mount Aspiring, a classic glacial horn that attracts climbers more for its beauty than its technical difficulty.
But Aspiring isn't a mountain to be trifled with. It sticks up into the Roaring Forties, where storms can last for days, and it's guarded by an icy moat in the form of the Bonar. On a good day, you can wander across the glacier in a light cotton shirt. On a bad day, you can be flattened by the wind, freeze in a snowstorm, or become hopelessly lost in the jungle of mist that rolls up the glacier from the West Coast.
Larratt was navigating using the GPS on his wristwatch and the tracks left in the snow by other climbers. He also carried the latest personal locator beacon (PLB), a DeLorme inReach, which he'd bought for the trip, thinking it would be cool to share his adventure in real time—anybody would be able to follow his beacon's progress online.
The day before, Larratt had tramped up the Matukituki Valley to French Ridge Hut, where he'd slept for a few hours, before setting off in the dark for Colin Todd Hut. Arriving there at around 7am, he crawled into his sleeping bag and slept until 2pm. The weather forecast for the following morning was good, but in the afternoon, a storm was supposed to move in from the northwest. So, Larratt left at 3am, figuring that, if he climbed fast, he would have enough time to summit the mountain, pick up his gear from the hut, then bail back across the Bonar Glacier and down to French Ridge Hut.
The moonless night gave way to a fine morning. He scaled the mountain's northwest ridge, and reached the summit under blue skies, surrounded by 360-degree panoramic views, before retracing his steps across the glacier.
He nearly made it before the storm caught up with him.
By late afternoon, Larratt's world had shrunk to a couple of metres and the wind was rising. Snow was falling, covering the tracks he had been following. The storm was eating his trail of breadcrumbs. On the ascent, he'd saved waypoints in his GPS, and that got him to the edge of the Quarterdeck Pass but, with no visibility and no tracks to follow, he couldn't pinpoint the proper exit.
That was when the storm became malevolent. It blew him over. Driving snow stung his eyes, and the cold made him clumsy. He needed to find shelter.
The snow hole that he scraped out of the Bonar, using his ice axe, was just big enough to curl up in. Although it offered some safety from the storm, long term it was substandard housing. Larratt figured the weather would clear in two days, as forecast. When that happened, he'd climb down French Ridge to the Matukituki Valley, and nobody would be any the wiser to his misadventure.
[Chapter Break]
Unbeknown to Larratt, his father, Bruce, was watching over him from Sydney.
"His last message was that he was hoping to get to French Ridge Hut before the weather came in," Bruce recalls.
The PLB in Ian's pack had been pinging an update every 10 minutes, leaving a trail of dots on an aerial photo online, and Bruce, a former ski patroller at a Canadian ski field, recognised the danger signs. He knew the weather had turned. Checking a topographical map, he saw that his son was in rough terrain surrounded by crevasses. Bruce sent a text message to Ian, telling him to dig in and get out of the wind, but Ian didn't reply.
When the PLB hadn't moved for five hours, Bruce knew he needed to take action. "My mind was fully engaged in search-and-rescue mode. I wasn't afraid, but I focused on the information that I had, like I would have for any other search. I studied his last waypoints, looking for sudden elevation changes, and concluded that he was either dug in with a dead cellphone battery, sleeping, or had fallen. If he had fallen and survived, I knew that the falling snow might insulate him enough to survive the night, but that he would need help as soon as possible."
Bruce rang Queenstown police, who alerted their colleagues on the other side of the hill. Wānaka Search and Rescue (SAR) squad member Constable Emma Fleming got the call at 10pm, and headed straight to the operations room at the Wānaka police station. She checked the position of Larratt's PLB online.
"You could see by the dots and from where he was that he was in trouble," she says.
Her first phone call was to mountain guide Gary Dickson, and together they kicked off a rescue. They had a head start in that they knew exactly where Larratt was. But they had no idea whether he was dead or alive.
Around midnight, Fleming began calling SAR volunteers, and soon had a rescue team set for daybreak: builder Lionel Clay, surveyor Brian Weedon, and Davie Robinson, an International Federation of Mountain Guides Associations (IFMGA) guide.
Clay drove into the Wānaka SAR base early the next morning, questions running through his head. What was the avalanche hazard? How cold would it be at 2300 metres? Should the team take skis or snowshoes? If they found Larratt alive, they'd need chemical heat pads, sleeping bags, a warm drink…
At the helipad above the Department of Conservation (DOC) office in Wānaka, rescue pilot Doug Maxwell landed in a Squirrel from Aspiring Helicopters. After a quick greeting above the scream of the machine, they took off towards the Matukituki Valley.
A wall of black cloud obscured the mountains.
[Chapter Break]
Larratt woke in his snow hole to freezing temperatures and powerful gusts of wind. When he tried to look outside, the pain in his eyes was unbearable. It was as if they were filled with burning sand. Tears streamed down his face. The day before, finding it hard to see in the stormy weather, he'd taken off his sunglasses and exposed his eyes to enough ultraviolet light to give him snow blindness.
He knew now that he wasn't going to be able to walk out.
He pulled out his PLB and pressed the SOS button. Then he followed that with a text message: "Cold, wet and lost, in a snow cave."
About 20,000 kilometres above him, a GPS satellite picked up his SOS and transmitted it to the Rescue Coordination Centre New Zealand (RCCNZ), near Wellington. Normally, RCCNZ would alert the nearest SAR team—but, thanks to Bruce's call, they already knew about Larratt's predicament.
Meanwhile, in the helicopter, the team's attempts to take a look at Larratt's spot confirmed what they already suspected: the weather was appalling. They made several attempts to approach the Bonar Glacier, but rain lashed the bubble of the machine and the wind threw them around.
"We took one last look, but then we had to pull out, well aware that it might be his last chance," says Clay.
There was nothing more they could do that day.
[Chapter Break]
Getting rescued is expensive. A protracted search and rescue of one climber from the Bonar Glacier in 2018 is estimated to have cost at least $150,000, and totalled 500 volunteer hours.
When a person activates a PLB without good reason or does something that might appear stupid, the public are quick to condemn them. Often, there are calls for them to pay for their own rescue. But police believe this would cause people in trouble to hesitate to call for help, or even to hide from rescuers. Police administer only a stern admonishment: "They put rescuers' lives at risk."
When the sun is overhead, Aoraki/Mount Cook draws camera-toting tourists and summit-driven mountaineers like bees to a flower. But the hypnotic view and the motivation to walk just that little bit further or climb that little bit higher can be a dangerous impulse.
"There's been a massive increase in those wanting to get first ascents or first ski descents, or focus on key areas for selfies, geo-caching—you name it," says Aoraki/Mount Cook alpine cliff rescue team leader Mark Evans.
"It's not about the summit any more. Rather, it's the need for an Instagram shot. And many of these people are lacking the necessary skills to make the right risk assessment on the conditions around them."
Climate change is also having a dramatic effect, as shrinking glaciers make access to the more popular peaks—such as Aoraki/Mount Cook and Mount Tasman—increasingly difficult. This means the optimum climbing season is moving earlier, from summer to spring, when the weather is more unstable.
Last season was a tough one for the Aoraki/Mount Cook rescue team. As well as seven climbing fatalities in Aoraki/Mount Cook National Park, there were a number of other challenging rescue and recovery operations. It was also 26-year-old Khan Coleman's first season with the team.
"For sure, some rescues can be tougher than others," he says. "Especially if someone has fallen a long way. Personally, I try to take something positive from it. Learn from what has gone wrong rather than just focus on the negative side."
Coleman adds that an important part of de-stressing after a tough scenario is to take the SAR gear off and be anonymous for a while.
"Quite often we go out as a team afterwards. We can talk openly with teammates or friends and family. And knowing that, if you do feel something, it's not unusual. If I feel rattled, it's okay to take some
time out."
[Chapter Break]
On Larratt's second morning waking up in his snow hole, the Wānaka SAR team gave the rescue another go.
"There was just a small window in the weather," says Clay. "We could see the top of the Quarterdeck, but we couldn't fly up there."
It was risky—the weather window was a louvre that could snap shut at any moment. But, shortly after 8am, Larratt heard the unmistakable sound of a helicopter.
"Then, out of the valley below, I saw the chopper rise right in front of me," he recalls. "It was big and blurry, and possibly the grandest sight I've ever seen."
Larratt knelt down, lowering his head against the swirling snow created by the rotor wash.
"The next thing I knew, there was a hand on my shoulder. You know for sure you're going home at that point."
[Chapter Break]
On a sunny autumn evening, I visit mountain guide Davie Robinson at his tiny home in Wānaka. He's been an SAR volunteer for the past two decades, whereas I joined the crew in 2007. He's a handsome man with a mop of hair that seems to have a life of its own as he flicks it out of his eyes. He tells me he was shy at school, a low achiever, but then he went on a winter tramp in the Scottish Highlands. His school group got lost in a white-out and the walk back to safety was arduous. He loved it.
We drift onto the topic of the risks people take in the mountains: the balance between pushing your limits and considering how your actions might affect those around you. British mountaineer Mo Anthoine described the feeling as "an intense craving for deep experiences with an uncertain outcome".
[sidebar-1]
By its nature, mountaineering involves risk-taking. A second of inattention can kill you—the second where you didn't position your crampon just so, or place your ice axe as securely as you thought. Some risks can be reduced with good planning, fitness and a conservative approach—but avalanches and rockfalls still happen to well-prepared people. Mountaineering teaches you to accept that you can't control everything all the time. Sometimes, you just have to take a deep breath, walk across a slope and hope you'll make it to the other side.
Managing risk is part of what attracts people like Robinson, and me, to the sport. It's through taking risks that we hope to grow into better people, to build self-confidence and form lifelong friendships—and we do it all while experiencing nature in its full power and glory. But, even the most experienced among us don't always get it right. Sometimes we realise too late that a risk we took was
too great.
I know this from experience. Back in 1997, I found myself in need of rescuing.
[Chapter Break]
I was standing on a narrow ledge at 3100 metres, near the top of the north face of Mount Hicks, when a rock the size of a fist came hurtling towards me from high above. No matter which way I dodged, there was no escape—it moved like a missile targeted at me, and it struck my left hip with an overwhelming force.
I immediately knew the rock had broken bone. I felt strangely calm. My brain shifted into a pragmatic mode: What do I do now?
"A rock just hit me," I called down to my climbing partner, Clinton Beavan. "It's broken my hip."
Mount Hicks is a wart of a mountain protruding from the side of Aoraki/Mount Cook. Surrounding me were steep rock buttresses and overhangs. Five hundred metres below, La Perouse Glacier flowed west towards the Tasman Sea, where I could see waves breaking on the shore. It was about as isolated as you could get in New Zealand.
Even though the day was sunny and warm, a heavy dread settled over me.
To get here, Clinton and I had woven through a shattered glacier, crippled and twisted by a long, hot summer. We'd abseiled over a bergschrund, and down a 150-metre-high gully made of rock so rotten that if it'd had an odour it would have made you gag. Climbers describe this as choss—so loose and friable underfoot that climbing it relies on faith that it won't collapse.
The rock that hit me wasn't the first one that had tumbled down. Starting up the north face of Mount Hicks when it was out of condition had been just dumb. It was late summer, and any snow and ice that had glued rocks in place within the gullies on either side of our route had melted. We'd heard rockfalls on our approach to the face. The mountain had given us ample
warning.
Faced with our mortality, things became simple. In an emergency, you're usually left with only two choices. Make the right one, and you live. Make the wrong one, and you perish. Unlike Larratt, we didn't have a PLB—at the time, they were just starting to become widely available—so our only option was to self-rescue.
Adrenaline had flooded my body, and I climbed down to Clinton without feeling any pain. We decided Clinton would abseil first, so he could hold the ends of my ropes as a safety brake. He tied the ends of the rope together so they were doubled through our anchor—a nylon sling around a large rock horn—and threw the rest of the rope down the face.
I tried to abseil as normal, by leaning back and walking backwards, but the adrenaline had worn off and my first step drove red-hot pokers into my hip.
I looked at Clinton down the length of the ropes. I could see that he was wondering whether I was doomed. Whether he'd have to leave me behind.
I wasn't about to give up, so I started abseiling one-legged, hopping down the face. If I put weight through my injured side or caught my leg on a rock, the pain was unbearable.
At the end of each 50-metre abseil, Clinton clipped me into the anchor he'd made, took the ropes out of my belay device, and pulled on them, praying they wouldn't get stuck in a crack as they fell down to us. We were lucky, and after 12 or so abseils we made it down to the glacier.
At the base, it was sunny and warm. Clinton rolled out my sleeping mat for me to rest on, and we sat in silence. I could see a veil of cloud forming out over the Tasman Sea. Bad weather was coming.
"You'll have to go and look for a crevasse for us to shelter in," I said.
That would mean Clinton heading solo across a glacier riddled with crevasses. We both knew that was a risky thing to do. Normally, we would have been joined together by a rope while crossing a glacier, so that if one of us fell into a crevasse the other could arrest his fall and help him back to the surface.
But we didn't have a choice. If we stayed put, we wouldn't survive a storm.
After about an hour, Clinton reappeared and said he'd found a crevasse with a false floor that he thought would shelter us. He'd put his foot through the floor, but otherwise it seemed mostly intact. It was a few hundred metres away on a rising traverse—but I couldn't walk and Clinton couldn't carry me.
I devised a way of crawling sitting up, where I lifted my bum and shuffled, then lifted my injured leg. It seemed to take me hours. Around me, the glacier rolled away towards the West Coast bush. A flat light had set in, with the sun low on the horizon.
At the crevasse entrance, I took one more look at the weak sun behind the thickening clouds.
I wondered if we'd still be alive when the storm cleared.
[Chapter Break]
It's when people miscalculate and find themselves on the wrong side of the risk equation that our SAR teams step in. But they don't always get there in time. Not every mountaineer comes home alive.
Body recovery is a significant part of the job, and Robinson has brought home the bodies of numerous men and women who haven't been doing anything particularly extreme.
It's heavy lifting, emotionally as well as physically, and over the years, he's developed a few coping mechanisms. I know exactly what he's talking about, because I've been there to see him put these strategies to use.
One summer's day, Gary Dickson and I were on Aoraki/Mount Cook recovering the body of a young mountaineer who had fallen from the East Ridge. Using a longline, we retrieved the climber's body from the mountainside, then landed on a glacier, where we put him in a body bag. As we carried the bag to the helicopter, Robinson started talking to it.
"You're all right now, Stu. We've got you. We're taking you home. It's okay."
I was shocked. Why bother talking to a body? They're dead—they can't hear you. Was this some ancient Celtic custom to help the deceased transition to the afterlife?
"A lot of the bodies I've picked up have fallen a long way and they're pretty banged up," says Robinson, when I bring it up. "Just a bag of bones, no shine in their eyes. They're not human any more. So, to make it easier for me to deal with, I re-humanise them by finding out their names quickly and talking to them. It helps me cope."
To that end, Robinson also makes sure a body is never left alone until it is back in civilisation.
"I believe we should treat the body with as much respect as we can. I like to think the family would take comfort from knowing someone was looking after their son or daughter's body."
[Chapter Break]
Doing the rescue out in the field is perceived as the heroic act, but police also play a critical role. They're the ones who have to make the ultimate call to suspend searching. For Sergeant Aaron Nicholson, who led Wānaka SAR for 18 years, that was the hardest part of his job.
"Looking back, I don't mind the mechanics of it—the physical side of what you see," he says. "It's the emotional toll and dealing with the families that I struggle with. Their grief becomes your grief. Some people can remove themselves from that and don't mind. But that's not my personality—I'm sure it takes its toll."
Nicholson did his best to help families come to terms with loss. In April 2015, Ally Willen, a 20-year-old university student from the United States, disappeared on the Gillespie Pass Track during heavy rain. After a multi-day search, her clothes and her pack—the straps broken—were found on the banks of the Young River. Nicholson suspected she had been swept away by the river in flood. Her distraught father, who had flown in from the States, asked about draining Lake Wānaka to look for her.
Rather than leaving the father to wait while the search continued, Nicholson organised to fly with him and Willen's uncle into Mount Aspiring National Park and walk part of the track where she had been tramping. I joined them, as a Wānaka alpine cliff rescue team member, to help with safety—but also to keep them company on their journey of grief. Recovering a body gives people closure—but what if that's not possible? Perhaps following her footsteps would help. Together, the four of us retraced her steps up and over the pass, the track weaving through tussock. The bulky Mount Awful was on our left and you could see the Young River below, a silver thread, benign now that the rain had ceased. Willen's father and uncle seemed to begin to understand why she had been walking in such a wild place. I remembered one of Willen's Facebook posts, a quote from the poet Sylvia Plath, and wondered if it was resonating with them: "I felt my lungs inflate with the onrush of scenery—air, mountains, trees, people. I thought, 'This is what it is to be happy'."
Halfway down the pass, a call came over the radio. Willen's body had been found, wedged between boulders in the river.
[Chapter Break]
When I next opened my eyes, I saw the striated ice of the crevasse walls and roof. In the morning gloom, it was the colour of concrete. I was lying on my back. We'd survived one night, protected from the worst of the storm, but spindrift blew in. I could feel dampness against the backs of my hands, and I was shivering so violently it was almost full body spasms.
Whumph! The false snow bridge Clinton and I were lying on shuddered. For a split second we thought we were about to plunge into the darkness. Shouting and cursing, we realised it was still intact, although there was now a crack between it and the crevasse wall. How much longer would it hold up?
I watched as Clinton took his tobacco and rolling papers from a Ziploc bag. He placed the tobacco on the paper and gently rolled it back and forth, then licked the sticky strip of tissue. With a final roll, he sealed the cigarette, placed it between his lips and lit it. Right then, I wished I smoked.
The scent wafted past me on the draught coming up from the depths of the crevasse: an organic, woody smell in a sterile environment. It transported me to being five years old in the cab of the truck my father drove as a road worker in Southland.
For a brief moment, Clinton and I found some respite from the gnawing stress of what might happen to us.
[Chapter Break]
After four days and nights, the storm finally blew through. I could tell by the change of light in the crevasse that it was sunny outside. We decided that Clinton should climb out so that he would be visible if rescuers were searching for us.
When he left, I couldn't cope with the loneliness of being in the crevasse by myself. Even though it had sheltered us and saved our lives thus far, it was a lifeless place. It had a tomblike presence. I stuffed my sodden sleeping bag in my pack and tied it to a piece of rope so I could tow it behind me.
It was awkward getting up the slope. On the glacier, the sun and warmth were a shock. For a while I sat numbly in the snow.
If we had to go back into the crevasse, I'd need a dry sleeping bag. I kneaded the frozen clumps of down, and teased the sodden feathers apart. As patches of the nylon dried, I could smell the sweet scent of urine.
The mountains were as beautiful as I'd ever seen them, but the feeling of dread was there, too. I thought about dying here.
Anyone who mountaineers for a few years has experienced death—either through close encounters with their own mortality or friends who have died. I thought I'd reached a quiet acceptance of my own death; I knew it might happen in the mountains, and I wasn't afraid. With the prospect of rescue, though, I realised I didn't want to die yet. Tears plopped onto my sleeping bag, making little damp patches.
Then I noticed that Clinton was stamping out a help sign. He formed SOS—it had fewer letters than HELP—and made a cross out of the climbing rope beside it. We tried making a dye for the sign with a teabag but, without fuel for the stove to heat water, it wouldn't brew. We'd run out of fuel, as well as food.
Clinton had just finished his sign when we heard the sound of a helicopter coming through a saddle in the north between Mount Teichelmann and Mount Magellan. It was too far away to see. The noise got louder and, across the glacier, we spotted the machine making a beeline towards us.
Clinton started waving my tie-dyed sleeping-bag liner, and I frantically waved my arms. The chopper flew directly overhead—I could even see the pilot's face—before circling once, then flying away.
"Do you think he knew we were in trouble?" I asked. "Did he see your sign?"
"I don't know," Clinton replied.
I went back to kneading my sleeping bag. Clinton sat in the snow. The sun moved slowly across the sky. Nothing stirred. There was no noise, no rockfall, no wind.
Mount Hicks glowered over us, plastered with new snow. Then the noise came roaring all of a sudden around the side of the mountain, and another helicopter flew towards us. This time, it hovered. I knew they were checking out the surface of the snow for signs of crevasses.
It seemed to me like an alien ship landing on the surface of a godforsaken planet. I watched, fascinated, as people got out. It was the Aoraki/Mount Cook alpine cliff rescue team. One of them carried a stretcher. I recognised another, Stu Drake, who was smiling broadly at us. He walked over to me and put his hand on my shoulder.
At that point, I knew I was going home.
[sidebar-2]