Thunder of a distant war
Aotearoa couldn't be further from the Russian invasion of Ukraine, but social media and global news make the war all too close for the many New Zealanders who have roots in the region.
For Vika Vorotyntseva in Luhansk, the most obvious sign that the 2014 invasion of Ukraine had begun was the sudden appearance of jingoistic screeds on Facebook about "fascist" Ukrainian protesters and Russian media reports of anti-Russian violence. None of it resembled the world she knew; initially, the disinformation seemed ridiculous. But within months, her brother was spouting Russian talking points. "Russian propaganda is like a second nuclear bomb, believe me," she says.
Then mercenaries and soldiers in anonymised fatigues began moving across the border into Crimea and Ukraine's Donbas region, where Luhansk is. As Russian paramilitaries seized government buildings and closed transport hubs, Vorotyntseva fled. She and her mother caught one of the last trains from the city and escaped to Zaporizhzhia in southeastern Ukraine. From there, she watched as her home became what she calls "a black hole". Ukraine continued to claim Donbas, but Luhansk and Donetsk—another city in the region—established themselves as breakaway states. Thousands of Russian troops deployed along their newly militarised boundaries. Skirmishes with Ukrainian troops frequently broke out.
After several months of uncertainty in Zaporizhzhia, Vorotyntseva's elderly mother decided to return home to Luhansk. Visiting her meant traversing dangerous border posts and dodging Russian soldiers in the streets of her old home.
With no permanent home, and scared that the conflict might spread to Zaporizhzhia, Vorotyntseva decided she also had to leave. In 2013, she had fallen in love with a New Zealander while on holiday in Turkey. In late 2014, keenly aware of the danger Vorotyntseva was in, he joined her in Ukraine. Driven by the sudden reality of war, they married, applied for a New Zealand visa, and left.
Now she lives in Nelson, in a suburban house with a tidy picket fence and rooms she brightens with clutches of orange daisies. There's a "quiet feeling" here, she says. It is far from war or violence. It is also far from the family she left behind.
Vorotyntseva's son had left home in 2011 to study architecture in Kharkiv—a centuries-old northern fortress city just 30 kilometres from Russia—and he remained there when she moved to New Zealand. Her mother, who had been diagnosed with diabetes, was struggling with access to healthy food and the stress of living in a war zone. Wary of Russia's intensifying threats, Vorotyntseva applied for visas on their behalf, but her applications were delayed by pandemic lockdowns.
By 2022, it was too late. On February 24, Russian President Vladimir Putin declared a "special military operation" would "denazify" Ukraine, which in turn prohibited military-aged men from leaving the country.
So, here on the other side of the world, Vorotyntseva is stuck watching news feeds and reliving the last invasion in her head. She is hopeful that her son can avoid conscription, and that he and her mother can avoid the bombing and artillery fire that touch every part of the country. But she doesn't know whether that hope is realistic. "It's not safe anywhere in Ukraine," she says. "Nobody knows where the rockets will land every day."
[Chapter Break]
In the weeks since Russia's invasion, Ukrainians such as Vorotyntseva, outraged at the violence inflicted on their family and friends, have organised countless protests and vigils around New Zealand. One of the most common calls at these gatherings is for Russians and also Belarusians—whose country was used as a launching pad for Moscow's invasion—to stand with Ukrainians against the actions of their countries' governments.
Many have. But many also fear that the tools that enable them to keep abreast of the conflict 17,000 kilometres away may also help their governments to track their own movements.
Alyosha has lived in New Zealand for more than a decade, but he grew up in a small city in the middle of Siberia. His family still live there. As Putin announced Russia's invasion, Alyosha—not his real name—was watching on his laptop, his Ukrainian business partner alongside him, in their Auckland office. "They're just expanding the empire," he says.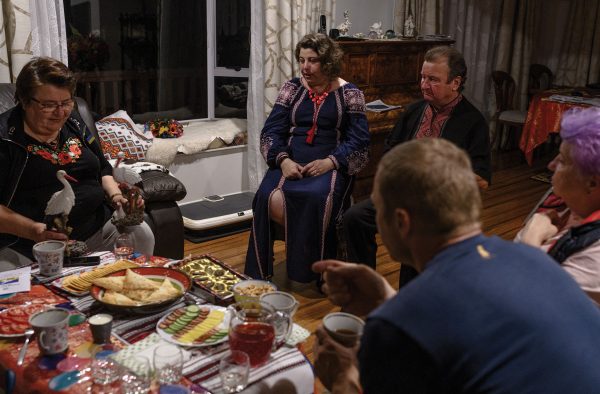 Alyosha has been getting news via a dissident Russian news site on Telegram, a social media app. "Now, nothing can be hidden, right? Everyone has a phone in their pocket and a camera. All these photos, videos, and all the satellite shots as well… war crimes are not hidden any more."
He thought about speaking out on social media or attending protests in person, but then he began to worry that his family—many of whom work in a government-affiliated factory in Russia—could lose their jobs or freedom. "History sort of repeats itself, and reading about Stalin times—when the crazy repression and gulags were happening—you know that it can go that direction again… They're ready to also repeat all that. So of course we're afraid for our families… It's not like that yet, but it's definitely going in that direction and at crazy speed."
His family feel the same way. In their conversations via Messenger, "they now prefer to delete the chat history, just in case", says Alyosha. "If someone needs to delete the chat history, because they are afraid of that being seen, that's scary, scary times."
Ultimately, he has gone ahead and attended a handful of protests here. "In Russia, they consider [protests] as defamation of the Russian army and the whole military operation," he explains. "So it's a real danger to go outside and speak up there. The least we could do here is safely go [to protests] and support Ukraine, support our friends, and just be against pure evil in this situation."
Even so, he is cautious to avoid photographers and never gives his name. "People are getting paranoid, but there is a valid reason for that."
[Chapter Break]
When Volha Kastsiuk looks out the window of the school in Te Tii where she works as a teacher aide, the only other building she can see is a thin line of white on a far-off hill where a local farmer has built a shed.
This remoteness is the whole reason her family came to the Far North. Originally from Belarus, Kastsiuk moved here with her sons and Kiwi partner in search of somewhere small with a close-knit community. But it does feel separated from the world. "I'm feeling like everything coming to New Zealand is quite delayed compared with Europe. Even when I was living in Moscow, everything was coming so fast to you—all the news and everything. But in New Zealand, it's a little bit slow."
Belarus, her home, is often called Europe's last dictatorship. Its president, Alexander Lukashenko, has maintained political control for decades through a combination of vote rigging, violence and tacit support from Russia. In 2020, he secured a sixth term in office in an election marred by fraud. Protesters were dispersed with rubber bullets and flashbangs; a number of prominent dissidents were beaten or exiled.
To Kastsiuk, the news was intolerable. She began working with a coalition of cyber activists to find contact details for officials involved in Lukashenko's regime. For half a year, upon finding a phone number or email address, Kastsiuk would send messages "warning them that crimes against humanity don't disappear".Then, one day in 2021, Kastsiuk received a phone call from Interpol. Belarusian officials had sent her details to the organisation's New Zealand representative and asked them to stop Kastsiuk from sending "threatening messages". A Police spokesperson said that an Interpol officer spoke to Kastiuk and advised her to desist, and that she agreed. Kastsiuk says she refused emphatically, telling the Interpol official: "I'm sorry, but I will continue to send messages because it's my way of fighting against dictatorship and Belarus."
Next, Belarusian police appeared at her mother's door in the small town of Stolin. "They wanted to talk with her about me and said that they were looking for me. Which is completely ridiculous because they know I'm not living in Belarus." They returned to her mother's house twice after that, she said, looking for opposition symbols. "If they find a red-and-white sticker or flag in your apartment, they can arrest you and put you in prison for 15 days or 30 days. Or they think about something else that can give you a few years in prison."
Kastsiuk called the Stolin police station to ask what was happening and was told, "We've been looking for you as a witness." The police refused to explain what they wanted her to testify for, says Kastsiuk. "This is psychological pressure that they're putting on my mum. I'm pretty sure they will come for my mum again."
She's not the only Belarusian in New Zealand who is worried about their family. "Quite a lot of people are scared," she says, based on her discussions with other members of the community. "They're scared for their families or scared for themselves."
Worried about her mother's safety, Kastsiuk finally quietened her advocacy. For almost a year, she refrained from messaging Belarusian officials. Then Russia attacked Ukraine with Belarus' support. Faced with her country's complicity, she decided she couldn't remain silent. "Belarus had never in its history ever invaded any other countries. We've always been defending ourselves, but we never were aggressors. This is my responsibility. It's like collective responsibility of the nation for everything that is happening… I just feel like one day I should come to Ukraine and fall down on my knees and just say, 'I'm so sorry. I hope you forgive me for that.'"
Now she is glued to a stream of news she cannot avoid, in a place both distant from and intimately connected to the rest of the world. She organises fundraisers for refugees, routinely posts online and helps marshal New Zealand support for Ukraine.
That advocacy—first against Lukashenko, now against Russia—has had a cost. Kastsiuk doesn't expect to return to Belarus or Russia while Lukashenko remains in power: the risk would be too great. "I'm not coming back. I sort of burned the bridges behind me there." But she has decided that to live with herself, she must also live with that risk.
"I guess I should be enjoying the sunshine and beaches and ocean and everything around that. But it doesn't really work this way, unfortunately. Or fortunately. I don't know."