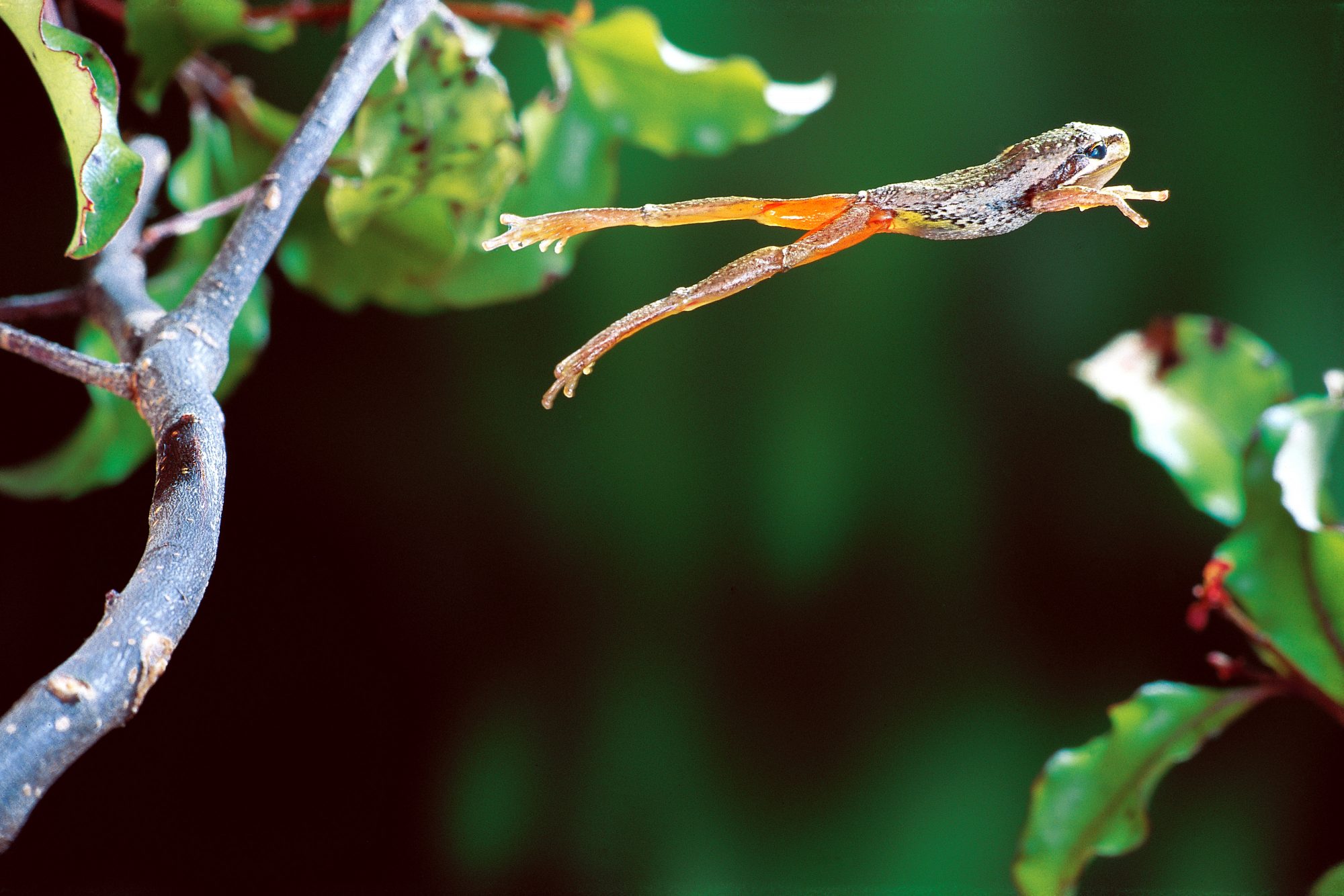 The truth about tadpoles and frogs
Bulging eyes, cold, clammy skin, webbed feet and a capacious mouth—frogs may repulse us, but they also intrigue, and who hasn't marvelled at their summertime serenade under the stars? Yet around the world many of Kermit's kin are disappearing, and here in New Zealand frogs seem less common than they once were. Deputy editor Warren Judd investigates the state of the amphibious nation.
The car's headlights swung over the knob and down into the hollow of the road, catching the frog in mid-jump. The pale, slender shape was at full stretch half a metre above the rough gravel, bravely leaping towards some destination it would never reach. I winced as it went under the car, and imagined the squelch.
"Couldn't you have swerved or something?" I plaintively asked my daughter, a newly fledged driver.
"Get real, Dad," came the reply.
I was sorry about the demise of the frog. Frogs are harmless and cute. Though they have a somewhat alien aspect to them, they are much more endearing than, say, a rat or a spider. They don't move fast enough to frighten us, and their big eyes, lugubrious mouths and "hands" give them a benevolent—even humanoid—appearance.
In fairy-tale times, kind princesses regularly kissed frogs and were rewarded by the amphibian metamorphosing into a handsome prince beneath their lips. In our century, frogs have endeared themselves to us in the form of the froggie who went a'courtin', Burl Ives' little green frog on his lily pad, and, of course, Kermit—Muppet extraordinaire, cultural ambassador and, recently, presidential candidate.
Out in the farmland where I live, a decade ago the WOOOG, woog wog wog of frogs was chief among the noises of the summer night, and encountering up to half a dozen frogs taking their chances on the road was not unusual. Now the chirps of crickets, hoots of moreporks and occasional coughs and squeals of possums are the main sounds to ruffle the quietness of the dark.
The frog just annihilated was only the third I had seen this summer. It had been a dry year, to be sure, but the previous summer had been wet, and the frogs were just as scarce. Reports from around the world suggest that once abundant frog species have been vanishing. Could the same phenomenon be happening here? Will the croaking chorus of frogs by the bach water tank, or show-and-tell tadpoles in Agee jars on school window-sills, become images of New Zealand past?
[Chapter Break]
The frogs that are most familiar to us—those with green and gold livery—are no more native to New Zealand than we are ourselves. They were introduced from Australia in the middle of last century, and are actually two very similar species: the green and golden bell frog, Litoria aurea, which is found only in the northern half of the North Island, and the southern bell frog, Litoria raniformis, which, despite its name, is found throughout the country.
In the south, a third Australian species is common: the whistling tree frog. This character is small—no more than 40 mm in body length, compared with 85 mm for the bell frogs—and ranges in colour from buff to brown.
As well as these immigrants, New Zealand has its own indigenous frog fauna: four living species described so far, with a further three subfossil species which have become extinct in the 2000 or so years that kiore, the Polynesian rat, have been here.
Few New Zealanders can claim to have seen a native frog. Indeed, even Maori seem not to have been overly familiar with them. When goldminers near Coromandel discovered one in 1852, local Maori claimed never to have seen anything like it before, and suggested it was the spirit of the gold come to Earth. Despite this denial, Maori do have a traditional word for frog: pepeke.
The native frogs are small (adults are 35-45 mm in body length), camouflaged to near invisibility, restricted in distribution and uncommon even within their range. They are also protected by law, which means that they are not to be interfered with, handled or taken into captivity.
I first came across native frogs by accident. It was in the late 1960s, when our family went on a rockhounding trip into a remote section of the Coromandel Peninsula north of Tapu. We were searching for fragments of translucent orange-brown quartz (carnelian) on flat alluvial ground under a canopy of teatree and ferns. Streams little larger than ditches meandered across the area, and the quartz was supposed to be most easily found in and along the edges of these watercourses.
I don't recall finding any carnelian, but I uncovered several native Hochstetter's frogs (Leiopelrna hochstetten). They were not in the water but under nearby rocks on damp ground. They had the colour of moist stone and were rather flat in appearance. With their covering rocks removed, the frogs would usually remain perfectly still, and were almost impossible to distinguish from the background.
That day I also discovered one or two clusters of their eggs: nine or ten gelatinous balls wedged in a cavity, each about a centimetre in diameter. Within each crystal orb, perched on a pale golden yolk, was a prominent tadpole—the only way I knew these were frog eggs. In all four native species the tadpoles develop within large eggs, and do not have a free-swimming phase in their life cycle. They hatch at about the time legs are starting to appear, and continue to be nourished by the yolk until they complete meta­morphosis into 8-12 mm froglets.
In the introduced Australian species the adult female lays a large number of tiny eggs which hatch into the small wriggling polliwogs beloved of children. These tadpoles grow a horny beak with toothlike denticles and feed on small aquatic plants (particularly duckweed) and moribund animals, including other tadpoles. They possess gills for respiration and also for filtering out small organisms from turbid pond water as additional food.
Once they have grown to 8-9 cm, legs start to appear, the tail shrinks and the tadpole's muddy colour takes on a greenish tinge. The transformation into a small frog is com­plete within a week or two, depending on temperature.
Changes happen inside the creature, too. Essentially, the amphibian is being con­verted from a vegetarian fish into a carnivorous land animal. Gills are dis­carded in favour of lungs. Fast-moving insects replace plants in the diet. An extensile fly-catching tongue develops, along with proper jaws and some teeth. Eyes enlarge and eyelids form. The intestine shrinks in length. A stomach forms. (Yes, tadpoles lack a stomach!)
Vocal apparatus develops, to a greater extent in males than in females. The structure and operation of the kidneys change, from secreting water and am­monia to conserving water and excreting urea. Reproductive organs develop. The skin changes to protect the organism in air as well as in water. No other vertebrate undergoes such a thorough remodelling—from "submarine" to "jump-jet."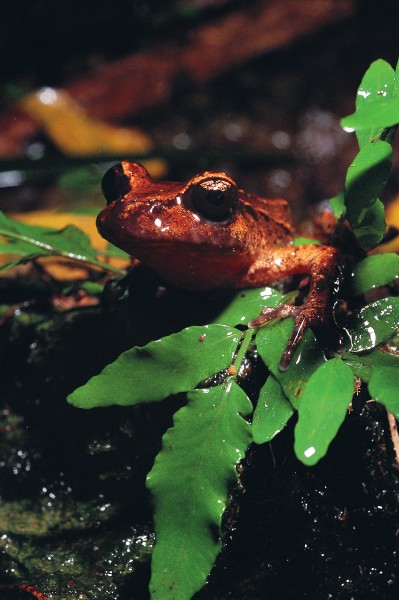 Native frogs undergo some but not all of these changes. Since they are nourished by yolk until metamorphosis, the larvae do not go through a herbivorous feeding stage. The tongue is small and rounded, not highly extensile. Tadpoles have only small gills, and adults lack a vocal sac.
Because of our familiarity with intro­duced frogs we are accustomed to thinking that the aquatic tadpole that slowly grows and then metamorphoses into a froglet is the normal path of frog development. The more direct development of our native frogs seems peculiar. But among the world's almost 4000 species of frogs there are about 30 different pathways to maturity, and the in ovum development of our native frogs is by no means uncommon or strange.
In the back-brooding frogs of central America, for instance, the male uses his feet to push eggs into pouches on the female's back and then fertilises the eggs by depositing sperm on her back. In some back-brooding species small frogs eventually hatch from the eggs (still in the pouches), but in others tadpoles emerge which complete their develop­ment in water.
In southern Chile, the small Darwin frog lays eggs on moist ground, and 10-20 days later attending males ingest the eggs and brood them in their vocal sacs until the young metamorphose. Females of the gastric-brooding frogs of Queensland go one step further, swallowing fertilised eggs which develop into froglets within the stomach. Production of stomach acid and digestive enzymes is temporarily turned off. About 20 froglets may eventually be born—from the mother's mouth!
Sad to say, the two species possessing this peculiar habit, which were only discovered in the mid-1970s, are already feared extinct.
Some species of frog lay their eggs in floating nests of foam which they whip up with their legs from special secretions. Other frogs place their eggs in nests of leaves hanging above water, so that when the tadpoles emerge they fall into it. Yet other species carry their tadpoles from terrestrial nests to release them in water. Females of the flaming poison-arrow frog of tropical America transport their tadpoles, a few at a time, from the forest floor to water-filled hollows in the leaf axils of plants. Each morning they visit their offspring and lay some unfertilised eggs, which the tadpoles devour. Eggs for breakfast, anyone?
Fertilisation in almost all frogs happens outside the body. Typically, the male spreads himself over the female's back and clasps her firmly around the chest, waist or thighs in a manoeuvre called amplexus. Often his hands develop horny pads in the mating season to give a better grip, for amplexus often lasts for hours. She releases a stream of eggs which he fertilises as they are laid.
While the development of our native Leiopelma frogs may not be extraordinary in frogdom, the animals themselves are. They show affinities with the oldest frog fossil known, dating from about 200 million years ago (the early Jurassic period)—affinities which are shared with only one other living species of frog, Ascaphus truei from North America. All other frogs are much more advanced.
Together with the tuatara and kiwi, Leiopelma was one of those ancient Gondwanaland groups that floated away on prehistoric New Zealand 70 million years ago and have changed little since. Not even any of Australia's several hundred frog species are similar.
The features which set Leiopelma apart from most frogs are internal idiosyncrasies of the musculoskeletal system, including the persistence of relic tail wagging muscles in the adult, elongated ribs attaching to the sternum but not the vertebrae, the route that the facial nerve takes in exiting the braincase, and other details of little meaning to the non-herpetologist.
[Chapter Break]
Despite the illustrious position our frogs occupy in the frog universe, only a small band of scientists pay close attention to the animals. As with much of New Zealand's fauna, deciding exactly how many species there are is impor­tant for conservation purposes. Ben Bell of Wellington's Victoria University, who has studied native frogs for 25 years, is now describing the frog found on Maud Island in the Marlborough Sounds as a new species, Leiopelma pakeka (an old Maori name for the island). For a long time this frog was considered identical to the Stephens Island species, Leiopelma hamiltoni.
Frogs were first discovered on Maud Island in the 1930s, and in 1940 a local priest was told of their existence. He eventually passed the information to the Wildlife Service, which confirmed the frogs' presence in 1958. Sixteen hectares of steep bush was fenced off from stock to protect the frogs in 1965, and in the late 1970s the Crown, with assist­ance from the Royal Forest and Bird Protection Society, purchased the entire island, which is now run by the Department of Conservation as the Tom Shand Scientific Reserve. There are no possums or introduced predators on the island, which is also home to abundant lizards, giant weta (introduced from Mana Island, off the Kapiti coast), and kakapo (from Codfish Island, west of Stewart Island).
In the company of three DoC staff, photographer Michael Schneider and I set out to find the frogs one night in October 1995. The forest the frogs inhabit runs up the steep eastern face of the island. Much of the forest floor is covered by large boulders, piled one above the other, and the frogs live deep within their shelter.
The foot of the forest is only a few hundred metres from the comfortable DoC house, but that was far enough in the heavy rain. Moisture is supposed to bring the frogs out, but on this night they were scarce. Perhaps the intensity of the rain kept them under cover, for, unlike Hochstetter's frog, this species is not found close to water. Yet we did see a few small, inconspicuous sphinxes, poised on their rock pedestals.
Ben Bell says that the Maud Island frog population is healthy (numbering perhaps 20,000) and expanding into surrounding scrub. One frog here is now at least 30 years old, and another just a year younger. "Both look perfectly healthy, so who knows how old they can get?" Bell remarks.
By marking the frogs and mapping their positions in the forest, biologists can learn about their movements as well as their lifespans. It seems that young Maud Island frogs roam around a little, but once they mature, they don't travel much. The 30­year-old, for example, is invariably found within a few metres of one particular hole.
Although the population is flourishing, a fire through the bush could be catastrophic, altering the habitat and causing the frogs to decline. Predators could also reach the island. Stoats have twice swum there from the mainland 3 km distant in the last decade. To guard against such calamity, Mandy Tocher, DoC's South Island herpetologist, has transferred several hundred Maud Island frogs to Motuara Island, near the entrance to Queen Charlotte Sound, where they are doing well and have apparently bred in their first year.
On Stephens Island, 45 km away (see New Zealand Geographic, Issue 32 ), the situa­tion of Hamilton's frog, L. hamiltoni, is very different. Not more than 300 frogs exist on the island in a 600-square-metre patch of boulders near the windswept summit—an area dubbed the "Frog Bank." Yet this species was once widespread. Subfossil remains have been found in caves in the north-west of the South Island and as far north as Waitomo in the North, where the frog lived until at least 1680 years ago. Perhaps this species is unable to survive in the company of mammalian predators, and it persists on Stephens because the island is free of these pests.
In 1992, a dozen Hamilton's frogs were transferred to a newly created frog habitat, the "Frog Pit"—an area sheltered by more bush than the Frog Bank—but so far only one juvenile frog has been found here. Nobody is sure whether the frogs are not breeding, whether they are but young are just hard to find (a real possibility), or whether the young are being eaten.
Mandy Tocher explains some of the difficulties in trying to assist the frogs: "Tuatara are known to eat frogs, so we fenced them out of the Frog Pit. However, they also eat the large, unpleasant spiders found on Stephens, and these have now become abundant in the Frog Pit. Overseas, large spiders often eat small frogs. Perhaps the spiders are eating the young frogs on Stephens also."
Ben Bell has had both L. pakeka and hamiltoni breed in captivity in Wellington, and notes that hamiltoni is a much less successful breeder. It is likely that the Stephens Island species will remain our most endangered frog for the foreseeable future.
As Kermit the Frog says: "It's not easy being green"—or, in the case of Hamilton's frog, brown.
[Chapter Break]
In the remote Whareorino Forest south-west of Te Kuiti, Karen Eggers from Massey University is studying the ecology of native frogs for her MSc thesis. The discovery of frogs in this area in the early 1990s was a considerable surprise. Hochstetter's frog is known to occur in tracts of bush from Waipu to East Cape, and in a few scattered localities north-west of Taupo and up through the Waikato, and a second North Island species, Archey's frog, Leiopelma archeyi, is found at higher altitudes on the Coromandel Peninsula. But at Whareorino both species were found.
Eggers is concentrating her research on Archey's frog, a species I had never seen, and she invited me to join her in the field.
Just getting to where these frogs live proved to be hard work: a three-quarters-of-an-hour drive from Te Kuiti, the last few kilometres on a real one-horse road, followed by a hike into the mountains in steady rain. After an hour of puffing up a good track, there was another 30 minutes of picking over broken terrain through bush before we reached the study site. Eggers makes this pilgrimage three or four times a week, returning to Te Kuiti at night, and travels up from Palmerston North every second week.
The study site turned out to be the side of a shallow basin under thick bush, neither dry nor especially wet (disregarding the rain that was pelting down), with a scattering of mossy rocks covering the ground.
In its habits Archey's frog is more akin to the Stephens and Maud Island species than it is to Hochstetter's, in that it is not found near streams. Indeed, in ecology, morphol­ogy, development, behaviour and chromosome comple­ment the first three species appear to form a closely related subgroup, while Hochstetter's frog stands apart.
Frogs at the site weren't exactly hopping out all over. I lifted and replaced about 100 rocks before I came upon my first specimen. Judging by its body length (25 mm), it was an adolescent—and beautiful to behold. Unlike the dark, dull hochstetteri, this frog had vivid green and orange zigzags between darker pools of pigment on its back and upper legs. Amid dead fern fronds or moss it would have been hard to spot.
With its glistening onyx-black eyes, it looked like an enamelled brooch. It proved to be the only frog I uncov­ered that day, and Eggers and her assistant, Claire Murphy, a recent MSc graduate, found only about eight frogs between them—one of their better tallies.
Each small squirming frog was measured with a micrometer (toe lengths, body length, upper and lower arms and legs-30 measurements in all), weighed, photographed, and marked by clipping the tips from some of those freshly measured digits. The severed toe-ends were stored in vials of ethanol for future DNA analysis. (When we speak of a toe here, don't think of anything too large and important. Imagine something translucent, as slender as a pin and about 2 mm long).
The rock each frog was found under also had to be scrutinised in the interests of science: its dimensions recorded, position and bearing from the nearest quadrat marker determined, vegetation cover described, whether the rock (and frog) rested on soil or leaf litter, what surrounding rocks were like, etc.
All this pretty tedious grist was recorded on appropriate forms—waterproof paper, of course, because the day's wet weather was typical for Whareorino. Out of 20 or 30 visits to the site, Murphy says one-and-a-half days have been fine. Drifts of hail marked her first trip.
[sidebar-1]
Despite all the rain, the soil under the rocks is surprisingly dry. It is likely that high humidity is the key to the animals' presence here. Frogs can lose water through their skin in dry environments, but by the same token they can soak up moisture like blotting paper. Spending just a few hours in contact with moist vegetation will enable a dehy­drated frog to regain all its lost body weight.
Late in the afternoon, Eggers, perhaps sensing my waning enthusiasm as the rain poured on, indicated a particular rock and suggested I look under it. In a small cavity beneath the rock a frog squatted over a clutch of eggs.
"He's been there for over a month," Eggers said. "I've checked him three times now."
In Archey's frog it is only the males who brood the eggs. Of course, in a cold-blooded animal such as an amphibian, eggs do not have to be kept warm to develop, and the real point of the behaviour is not understood. Perhaps the male keeps the eggs and their developing tadpoles moist, or is able to keep fungal infections at bay.
Males of the Stephens and Maud Island species also stay with their eggs, but the Hochstetter's male does not look after the eggs, perhaps because they are laid in a much wetter situation.
This particular L. archeyi male eventually stayed on his eggs for nine weeks, until mid-January. Two offspring finally hatched, still with tails but with small limbs as well. There is some variation in maturity among hatchlings in this group of native frogs. In some clutches the limbs are well developed, tails are starting to regress and the off­spring are quite froglike, whereas in others the limbs have not yet formed. L. hochstetteri hatchlings are consistently less mature and more active. They possess a larger tail, smaller limbs and are able to swim effectively.
The Archey male is not finished with his offspring even after they hatch from the egg, for they climb on to his back and he ferries them about for five or six further weeks while they continue to metamorphose.
It is only once they reach the "metamorph" stage—completely metamorphosed miniature frogs—that they finally get off Dad's back.
For him, procreation is the introduction to three or four months of filial servitude.
Another peculiarity of native frogs is that they lack eardrums. In the introduced species—as in most frogs—the eardrum is a prominent oval patch behind and below the eye. The absence of an eardrum does not mean that our frogs are deaf, probably just a trifle hard of hearing.
Frogs use their hearing not just for listening to the sounds made by each other, but for detecting prey, predators and storms. The marine toad detects some of the frogs it preys on by their calls, and the sound of rain or thunder is thought to trigger the emergence of some species which inhabit arid regions and hide underground for long periods. Aborigines entice buried frogs—such as the water-holding frog of Central Australia, which they use for meat and drink—to emerge by stamping on the ground.
Our native frogs also lack a vocal sac, but again, this doesn't mean they are mute. The Whareorino frogs were discovered precisely because of the noise they made. Dave Crouchley of DoC in Te Kuiti tells the story: "A party were slashing tracks up in the forest. We heard this peculiar screeching noise, and traced it to small frogs falling out of the punga and pepperwoods as we knocked them over."
Karen Eggers has never heard a frog screech, but "one chirped when it became very agitated while I was handling it." Ben Bell once heard a frog cry out on Maud Island: "I turned over a log exposing a frog. Immediately a robin swooped down and started pecking the frog, which let out a sharp yelp." He comments that they also make squeaks, and "when you're in the bush at night in the breeding season, you hear a variety of noises which I'm sure the frogs are producing."
Frogs in general—including our introduced species—are vocal animals. Most force air from their lungs over vocal chords in the larynx and into a very elastic vocal sac in the throat area, which modifies and amplifies the calls. Unlike most animals, frogs do not open their mouths when they call. Sound simply passes through the skin of the vocal sac.
In some species, calls are audible for less than five metres; in others they carry for kilometres. Sound levels in the noisiest species can be as high as 120 decibels (measured 25 cm from the source)—comparable to standing next to an aircraft's jet engine.
The trunk muscles responsible for forcing air from the lungs during vocalisation are among the largest and best-developed muscles in the frog body. Calling frogs have been found to consume seven times the amount of oxygen used by resting individuals, and the oxidative capacity of trunk muscles has been found to be seven times higher than that of leg muscles.
Males make most of the noise, both for attracting mates in the breeding season and for establishing territorial spacing. In at least some species, above a certain sound inten­sity males will stop calling and move further apart. In other species the males have been found to remain just within auditory range of each other.
One of the basic male calls is the advertisement call, which identifies the species, sex, reproductive state and position of the caller, and it is designed to attract mates and establish a territory. In areas of the tropics where there may be dozens of species of frogs in a small area, many of them closely related, vocal divergence is a key mechanism in species recognition and speciation, in that it is a barrier to wasteful mismatings.
In our three introduced species, males congregate at breeding sites—usually ponds or swamp areas—in the spring and set up loud choruses. Each species has a different call. The whistling frog, Litoria ewingi, gives a high-pitched, cricketlike "cree-cree-cree-cree-cree-cree-cree," with each pulse of sound lasting a fifth of a second and the entire call taking two or three seconds. Calls can be heard at any time of year, but are less frequent in winter and during dry periods in summer.
In the southern bell frog, Litoria raniformis, a series of briefer but rising "quaaa-quaaa­quaaa-quaaa" sounds is intermixed with "quor-ok-ok-ok" notes, producing a "more rum­bling, less regular chorus" than that produced by the green and golden bell frog, accord­ing to Ben Bell. The two bell frogs are most vocal between September and February.
In distinguishing calls, it is helpful to remember that the green and golden bell frog is found only in the North Island, north of a line from Whakatane to Awakino, and is commonest from Auckland north. The southern bell frog is found throughout the country, while the whistling frog occurs throughout the wetter areas of the South Island and in Manawatu, with the odd record from Taranaki and the King Country. Whistlers are sold in pet shops in Auckland and can be expected to spread more widely in the north of the country.
[Chapter Break]
A part from the noises it helps to generate, the capacious frog mouth is notable for the tongue it contains. In most species, this organ is at­tached at the front of the mouth and is flicked out over the lower jaw to snatch prey. Glands in the roof of the mouth produce sticky secretions which coat the top of the tongue (which faces down when the tongue is out).
Frogs are predatory carnivores, feeding mostly on insects, which they catch with their tongue once the prey moves within range. Some species, including the green and golden bell frog, increase their strike rate by leaping at the prey while they "fire" their tongue.
Good eyesight is essential for this style of feeding, and protruberant frog eyes can see in virtually all directions at once—the most extensive visual fields of any vertebrate. Unlike human eyes, in which the focus is changed by altering the shape of the lens, frog eyes are focused by muscles moving the lens towards or away from the cornea.
Prey can be captured under very low light conditions—when it is much too dark for humans to see—and feeding responses seem to be triggered by visual cues: the size, shape and speed at which an object is moving.
Sometimes inappropriate objects trigger the capture impulse. Frogs have been found with stomachs full of seeds seized as they fell to the ground or floated past on the surface of a stream. Hawaiian toads have been killed by snapping up the falling poisonous blossoms of strychnine trees.
While it is likely that native New Zealand frogs have good eyesight (since they feed at night in the bush), their tongues are small and rounded, not at all the elaborate fly-swats of the introduced species. They are "ambush feeders," emerging from their burrows on humid nights to wait, sometimes in vegetation a metre or two above the ground, for a prey species to blunder past. More feeding undoubtedly takes place beneath the rocks where they live.
But what do the native frogs actually eat? Observing them feeding in the wild is almost impossible, so more oblique approaches must be employed. Examining stomach contents is one option, but as it involves killing individuals, it is not much favoured for protected and possibly endangered native species. Collecting faecal pellets from frogs held in captivity and examining them for prey remains is an alternative. Another is putting a variety of prey species in with captive frogs and seeing which prey disappear. It turns out that Leiopelma frogs eat very much what they might be expected to eat: amphipods, pseudoscorpions, small spiders, insect larvae, springtails, beetles, fern spores, ants, mites and the occasional small snail.
Scientists are concerned not only with what native frogs eat, but what might eat them. In Whareorino, mice, rats and wild pigs are probable predators. Pigs frequently root among rocks, turning them over and devouring whatever is beneath. A less expected predator is the green and golden bell frog; one of Ben Bell's students found one with Leiopelma remains in its stomach.
[sidebar-2]
Some birds are potential predators, too. Weka would make short work of a frog, and moreporks could take them at night. Frogs seem able to coexist at some level with rats and mustelids, but there is clear evidence from the subfossil specimens that ranges have dramatically contracted and species become extinct since kiore were introduced.
There is even a possibility that Hochstetter's frog may be eaten by fish. Ben Bell has seen a large galaxiid fish twice take a young frog of this species into its mouth, and twice spit it out. Like many frogs, our native species may be distasteful to predators.
Habitat destruction or modification by human activities (such as logging) or animal depredations (goats, deer and pigs) also constitutes a probable threat to native frogs on the mainland.
[Chapter Break]
Because frogs use their skin as well as their lungs in gaseous exchange it is thin and must be kept damp. Skin glands produce moistening secretions, and in some species toxic substances as well. Most notorious are the steroidal alkaloids produced by Central and South American poison-arrow frogs. These chemicals are much more potent than the plant poison curare, also used on poison arrows.
Other frogs produce tetrodotoxin (or a closely related compound), the powerful neurotoxin found in pufferfish, the Australian blue-ringed octopus and a variety of other creatures. It is thought that tetrodotoxin is actually produced by bacteria, and reaches higher animals through the food chain. The same may be true for the alkaloids, at least some of which are now thought to originate from beetles and millipedes which frogs feed on. Monarch butterflies and their caterpillars do something similar, retaining the toxic compounds they ingest from swan plants. Just how any of these animals accomplish this treachery is a mystery.
The majority of frogs, however, don't produce toxins. Most of their secretions are merely disagreeable or induce the would-be predator to gag or yawn, affording the frog a chance to leap away, or, in the case of some tropical tree frogs, to glide to safety. In gliding frogs the digits are long and the webbing between them is much enlarged. With the limbs spread close to the sides of the body, a parachute effect is obtained and the animal can "skydive," albeit steeply, or manoeuvre sideways during a jump.
Most frogs can make jumps of between six and seven body lengths, though the record is held by a South African frog—a veritable Carl Lewis of the animal kingdom—which executed a prodigious bound of over 10 metres.
Frog secretions have long attracted the interest of humans—and not just for use as poisons. The skin of some species, including the cane toad—which reaches plaguelike numbers in Queensland—contains the alkaloid bufotenin, a potentially lethal hallucino­gen. Licking or kissing cane toads is against the law in Australia, and toad slime is also a restricted substance in the US. In fact, being in possession of any one of several species of toad is a crime in some US states. A potent soup can apparently be made from the skin of these toads, or the mucus can be scraped off, dried and smoked.
Frogs and other amphibians have long been favoured subjects for physiological investiga­tions and in studying how vertebrates develop, not least because some amphibians are able to regenerate limbs—the most advanced organ­isms able to perform this sleight of hand.
One biologist, intrigued as to why post­operative frog wounds never became infected when laboratory amphibians were returned to the less-than-sterile water of their tanks, has isolated a whole new class of antibiotics from frog skin. The magainins show potent activity against microbes ranging from the Herpes simplex virus to the parasite that infects Bluff oysters, Bonamia. A topical magainin cream has proved effective in treating foot infections, impetigo, bed sores and more, and other products are being developed which, it is hoped, will help in the treatment of periodontal disease, cystic fibrosis and possibly even cancer.
Skin secretions from the phantasmal poison-arrow frog have been found to contain a pain­killer 200 times more potent than morphine, and in the skin secretions of the bicoloured tree frog from South America a peptide has been discovered which interacts with one of the main signalling systems used by animal cells. This alkaloid is likely to be of consid­erable significance in research on neurological disorders and brain function.
It was an anthropologist in Brazil who brought this compound to scientific attention. He noted that Mayoruna Indian hunters had a strange ritual in which they rubbed the frog's secretion into self-inflicted burns—causing them to become violently ill, then to fall into a deep sleep. On waking, they claimed they could hunt all day without getting tired or hungry, and boasted that none of their arrows would miss. This practice of "taking frog" has been compared with getting high in reverse: "first you vomit, then you get a hangover, then you feel terrific!"
Elsewhere in the world "taking frog" normally involves silver cutlery in fancy restau­rants. Humans must rate as major predators on larger varieties of frogs in countries like France and the United States. The French, whose renowned predilection for frogs has earned them a national nickname, seem to have cornered the market in slime. A dish of escargots aux grenouilles (snails and frogs' legs) represents the pinnacle of haute cuisine, and to satisfy its epicurean fancy France imports 80 million pairs of legs per annum, mostly from India, Bangladesh and Indonesia.
The US imports about a third as much—around a million kilograms—to meet its own culinary needs, supplemented by a sizeable local frog take. Going frogging, or "gigging frogs" (catching them with rod, hook and cloth bait), is a traditional American pastime, especially in the South. Nowadays, the preferred method is to shine a bright light from an aluminium dinghy to spot and dazzle the frog, which is then plucked from the water by hand. Different states have different frog seasons, and there is a nightly bag limit—eight in Missouri, 18 in Arkansas, and so on. The legs of a good bullfrog can be 25 cm long, and, dipped in egg and flour, then fried, they are considered excellent tucker.
Frog eating is nothing new. Aztecs at Montezuma's court regularly consumed both frogs and tadpoles, while gourmets such as Lorenzo the Magnificent of the Florentine Medici family relished frogs' legs in 15th-century Tuscan inns.
Not surprisingly, hunting is making frogs scarce in parts of Asia, and, as a result, agricultural pests and malarial mosquitoes are on the increase. In fact, some countries are now having to spend far more on agricultural pesticides than they are earning from frog exports.
However, human predation is not the cause of most of the decline in worldwide frog populations. Habitat destruction can account for shrinking numbers in some regions, but frogs are disappearing even from areas where direct human activity is virtually absent.
Consider as an example the Californian mountain yellow-legged frog. The species was abundant in the mountains of the state as recently as 1970, but by 1991 very few frogs could be found. Fifty per cent of sites where the species had been previously recorded in the Sierra Nevada were found to have no frogs at all. Further south, in the San Bernardino, San Gabriel and San Jacinto Mountains—where, again, the species had once been abundant—surveys from 1988 to 1993 uncovered just 100 adults. The introduction of fish that prey upon the frog and its tadpoles could account for part of the decline, but the frog has vanished from many areas where there are no fish, and survives along with fish in other areas.
In Costa Rica's Monteverde Reserve, thousands of the spectacular golden toad were seen during 1987. Two years later only five animals could be found, and not one has been seen since. The species is almost certainly extinct. Twenty other species of frog and toad have vanished from the region.
Similar stories could be told of hun­dreds of frog species around the world. But not all species are in trouble. Some frogs seem quite unaffected by any decline, even within the same forests inhabited by declining species.
Numerous theories have been advanced to explain the problem: increased UV through ozone holes, chemical pesticide poisonings, global warming, El Nino-inspired droughts, acid rain, pollution and more, but none of these explanations seems completely convincing. It has been suggested that frogs are "indicator" species, their demise point­ing to a general contamination of the Earth, as canaries once gave early warning of the presence of poisonous gas in coalmines.
Some biologists are exploring the idea that disease—perhaps a skin pathogen which might cause death by dehydration—is causing the collapse in frog numbers, and this hypothesis seems more reasonable than most. Such a disease could even be spread by globetrotting biologists or fishermen.
Bruce Waldman of Canterbury University and Phil Bishop of Otago University are interested in finding out whether New Zealand's introduced frogs are in decline. They certainly are in their native country. "The green and golden bell frog and southern bell frog have both declined dramatically in New South Wales, and are now considered endangered there," Waldman says. "Loss of habitat can only partly explain the decline."
Last summer Waldman, Bishop and a couple of visiting Australian herpetologists made a whistlestop tour of New Zealand, checking numbers of introduced frogs. "We got a lot of anecdotal material suggesting that the frogs are declining here, and although we found some frogs and tadpoles, we also found lots of suitable ponds that lacked frogs, and generally these contained the small introduced mosquito fish Gambusia. Overseas, Gambusia has decimated many frog populations by eating tadpoles," Waldman tells me.
He comments that seven or eight years ago, it seemed frogs were simply disappear­ing: "It was as if they had been sucked up by UFOs—in fact, that was fatuously sug­gested. But lately people have been finding dead and dying adult frogs in Australia and central America, and a student has even found them here by a lakeside in Canterbury."
In south Auckland, Phil Collis, who runs the Burbank Goldfish and Tree Farm, has also noticed a decline. Collis raises his goldfish in dozens of large ponds. Frogs get into his ponds, lay eggs, and then the tadpoles compete with the goldfish for food, resulting in small, underfed fish. For many years Collis used to get rid of the tadpoles, but recently he has found lucrative markets for frogs, so now raises them as well. "This season I sold 15,000 frogs to a guy in Los Angeles who sells them as pets. It's a huge market, and we can trade in the frogs because they are not New Zealand natives."
Collis says there has been a marked reduction in the number of frogs entering his pools over the last decade: "There used to be hundreds coming to lay eggs: now there are only dozens. I let a few thousand go each year to keep up the wild stocks." He also says that at times he sees groups of apparently unhealthy young frogs. "I treat them by putting copper sulphate into the water, the same as I treat goldfish with infections: they all seem to recover."
Bruce Waldman is sympathetic to the idea that disease could be killing frogs, but is also troubled by its implications: "So far there is no evidence that we have frog-killing diseases here, but there have certainly been widespread frog deaths in South America. Quite a few live frogs turn up here in shipments of bananas from Ecuador, and I'm worried that they could bring disease with them."
In an effort to get a better idea of frog distribution and where local frogs might be in decline, he and Bishop have recently produced a questionnaire and identification pack on frogs for distribution to schools, seeking details of any frogs seen. *They are especially interested in sightings of lethargic or sick frogs.
How are native frogs faring in light of this worldwide downward trend? There is no evidence of decline, apart from at a single site that Ben Bell has regularly moni­tored in the Coromandel Ranges. Here Archey's frog was common until the last two years, when it unac­countably became sparse. Elsewhere in the Ranges the frog is not thought to have declined in this fashion.
In reality, little regular monitoring of our most widespread species, Hochstetter's frog, is being carried out, largely through lack of government funding. Some frog research is being sponsored by a small Auckland firm, Ace Environmental Services, which contributes funds to the Frog Recovery Group, a DoC body which aims to enhance stocks of native frogs in the wild.
Not all is gloom in the frog universe. There have been one or two pleasant surprises of late. Between Wellsford and Warkworth, for instance, Hochstetter's frog has long been known to inhabit areas of native bush, but latterly it has turned up in pine forests. The land in question was cleared for farming before the Depression, but later abandoned. In the early 1970s, pines were planted. Now those trees are being felled, and frogs are being discovered on rocky ledges and in rock tumbles in streams within the forest. Carter Holt Harvey, in consultation with DoC, is leaving small enclaves of mixed natives and pines up to half a hectare in size undisturbed around the colonies of frogs. Whether the frogs have survived the several cycles of land clearance or whether they have migrated back into the area is not known. The same species is also being reported from scattered pine forests as far south as Gisborne.
Karen Eggers' hard work in Whareorino is also prompting excitement. When she plotted all those tedious measurements, the data indicated that the animals fall into three groups: Archey's frog, Hochstetter's frog and something else. The "something else" seems to be a more solid, rectangular frog than Hochstetter's (which is pear-shaped) with a uniform colour like that species, but living away from streams among Archey's frog.
Some 25 specimens have been seen. The young are plain coloured, unlike those of L. archeyi, which are usually strongly patterned in green or orange. Eggers thinks this frog is one of the several believed to have become extinct 1000 or more years ago.
With a new species described on Maud Island and good prospects that another has been rediscovered in the King Country, 1998 is shaping up to be a great leap forward for those who delight in frogs.