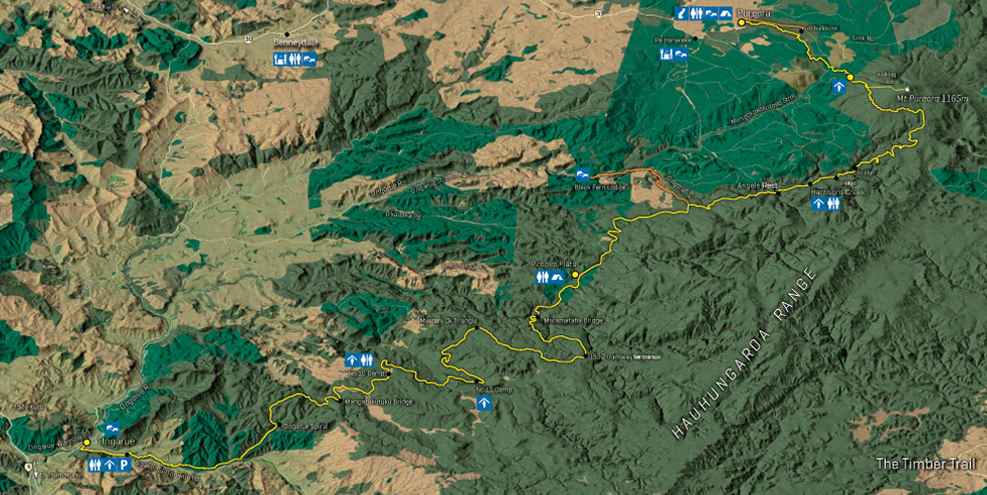 Jonathan Kennett
Since it was opened in March 2013, the Timber Trail has become the new favourite among those who love the outdoors, but typically shy away from the hardships associated with tramping or mountain biking. At last, here is a remote yet relatively easy ride, through stunning forests with a fascinating history. There is a lovely lodge to stay at halfway, and you can even arrange to have your bags transported and meals supplied.
From Pureora, 55 kilometres southeast of Te Kuiti, the trail heads south, weaving through tall rainforest where 800-year-old rimu and kahikatea tower 50–60 metres above the trail. Kererū (wood pigeon) and kākā can be seen swooping through the forest, and if you are lucky (and get up early) you might hear the haunting call of the rare kōkako, more commonly seen on the back of a New Zealand $50 note.
The trail climbs around the flanks of Mount Pureora, through cloud forest, with an optional two-hour side trip to the top and back. The views are magnificent on a fine day.
From the trail's high point near the 14-kilometre marker post, a fantastic, well-graded downhill leads to massive swing bridges and more beautiful forest before finally breaking out into an area of recently clear-felled pine plantation. The cutover area doesn't look so great right now, but is slowly reverting to native forest, and should be stunning again in a hundred or so years.
Near the halfway mark you can choose between staying at the Black Fern Lodge or camping at Piropiro Flats. Black Fern Lodge is famous for its excellent food and accommodation, and its whio (blue duck) recovery programme.
On the second day, the trail soon enters original forest again and crosses one of New Zealand's longest suspension bridges, which offers breathtaking views of the forest. From there, a three-kilometre hill provides a challenge for those who haven't done any cycling for a while, but it is followed by a long and easy downhill run on a historic bush tramway that was built almost a century ago. Interpretation panels describe the timber-milling industry that was prolific at this end of Pureora Forest and was based out of Ongarue, now just a small settlement at the end of this fantastic two-day cycle trail.