The Roaring Game
Curling requires perfect weather conditions for its national tournament, the bonspiel, to take place. For the first time in 84 years, the frosts aligned and New Zealand's gathering of curlers returned to the Central Otago town where it all began in 1879—Naseby.
On the eve of the bon­spiel, Jock Scott and his little dog, Jack, walked up and down Naseby's curling ponds at dusk with a fire hose, spreading a thin layer of water across the ice and picking up fallen pine needles that had frozen to the surface.
Scott slept in a La-Z-Boy in a cabin across the road, waking twice during the night to repeat the exercise. It was cold enough that water froze in hours, adding a fingernail's height to the pond each time. At daybreak, Scott and Jack made their last, and coldest, round with the hose. The pond was a sheet of glass.
Dawn is the most bone-chilling time in the Maniototo—and it was also a moment of stillness for Scott after the hubbub of the previous two days. Naseby, population 120, had had little more than 36 hours to ready itself for the arrival of 300-odd curlers from around the country—preparing lunches, stocking up on Scotch, getting the beef stew bubbling for the Curlers' Court.
"People down here don't get overly excited—they're fairly reserved southerners," says Adrian Hood, the publican of the town's Ancient Briton hotel. "But there was a bit of a frenzy."
The bonspiel is held only when there is enough ice on an outdoor rink to support a few hundred curlers. This requires a series of climatic coincidences—cold, clear nights that dip below -10ºC and a succession of frosts hard enough to freeze water in hours. This hasn't happened in Central Otago since 2012. Idaburn Dam, the usual location, has been cursed in recent years by a stiff nor'westerly, or too much snow, or mild weather—or, this year, rough ice.
Though more shel­tered, Naseby no longer had enough room on its ice to fit New Zealand's curling fraternity—until earlier this year, when Scott and a few locals reshaped the shallow ponds with an eye to cre­ating a backup bonspiel venue. Having two poten­tial rinks doubles the chances of a bonspiel, points out Curling New Zealand's chairman, Sam Inder. "It's a matter of first available ice," he says.
When you're a curler, you have to be ready to play at the drop of a hand-knitted tam o'shanter. Club secretaries eye weather fore­casts for a high arriving from the west, sig­nalling a run of clear weather. They need four days: two to prepare the ice and notify the clubs and two to play.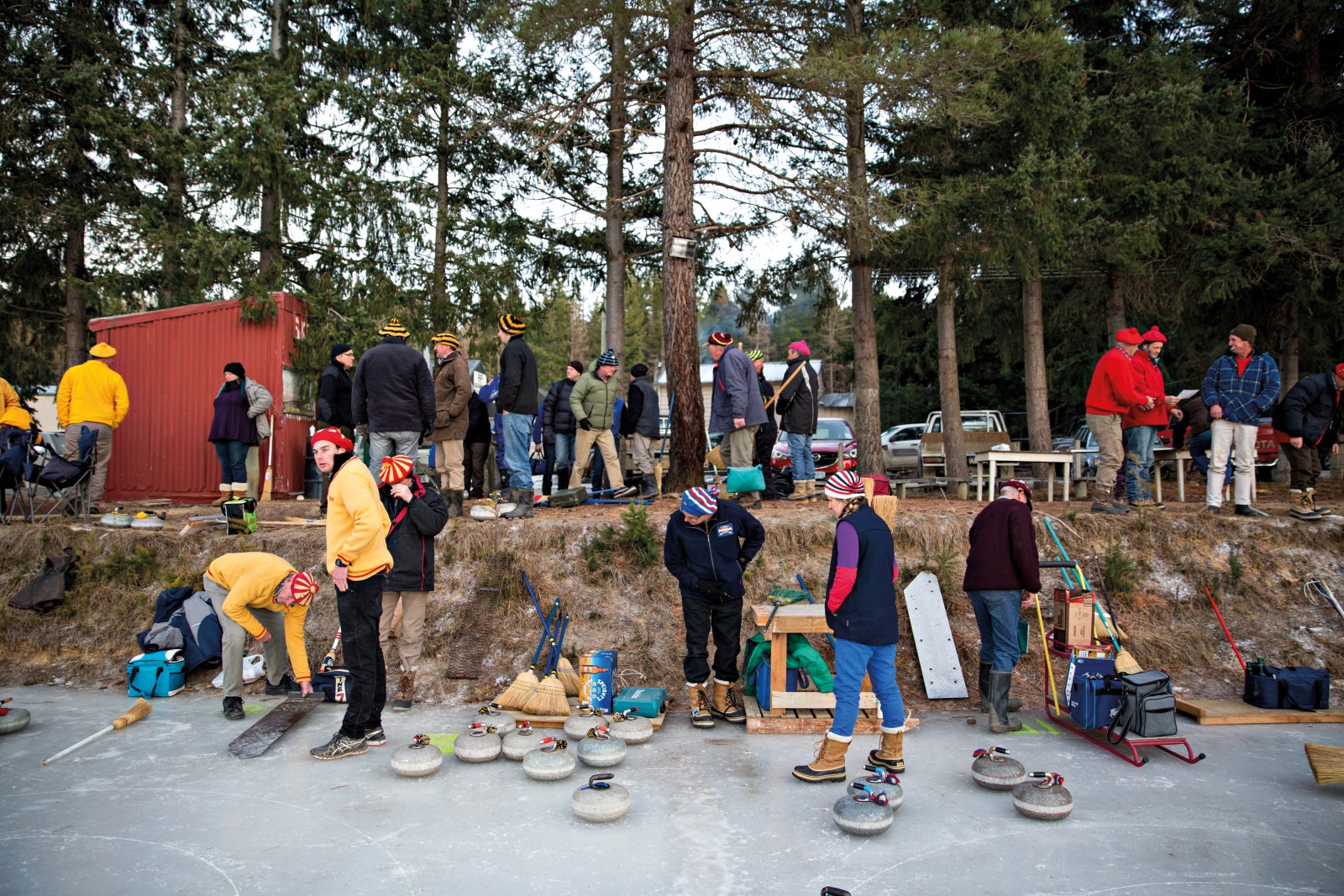 At 6pm on Saturday, July 11, the Naseby Curling Council's secretary telephoned the secretaries of New Zealand's 36 curling clubs, and the message flew between members. A bonspiel had been called—and at Naseby, where it hadn't been held since 1931. Curlers had little more than a day to excuse them­selves from work and make their way to the Centennial Ponds. One Otago Central player, Merv Jamieson, returned early from a holiday in Australia rather than miss the first bon­spiel in three years.
On Sunday night, while Scott was napping in his armchair, every room in the Ancient Briton was occupied, as were most of Naseby's spare bedrooms, and there had been a rare traffic jam on the narrow street. By the next morning, a sign swung in the window of the Naseby General Store: Closed for curling. Scott was marking out sheets on the ice, ready for play—long rectangles bisected by a back line and a hog line, with the 'pot lid' at one end, a series of target-like concentric circles.
By nine in the morning, players in club colours were scattered across the 32 sheets of the Centennial Ponds, dressed in brightly coloured woollen jumpers and caps festooned with other clubs' pins, swapped at previous matches. Not dressing in the spirit of the day, after all, attracts penalties from curl­ing's Brother M'Lord, who may impose fines for poor sportsmanship, such as arriving late, or swearing on the ice, or taking a swig of ginger wine when the skip—the team captain—hasn't granted permission.
Curling's traditions have changed little in the 150 years since it arrived with Otago's Scottish immigrants. The country's first bonspiel was held at Naseby in 1879, and has been called intermittently since, with gaps of up to nine years. New Zealand is one of the few remaining countries where bonspiels are held outdoors, and where the old-fash­ioned 'crampit' variety of the game is played. In this version, players launch their stones from a metal platform on the ice—the crampit—rather than the sliding start, or 'hack' curling, common at international tournaments such as the Winter Olympics.
Curling is handed down from generation to generation, and a glance across the sur­names of skips and secretaries reveals that Central Otago curling dynasties still hold strong. Blackstone Hill club player Stewart McKnight, 80, has competed at every bon­spiel since 1953; the main difference between then and now, he says, is that there are more players. "Now, with so many clubs, we have to have a wee bit more ice," he says. "With the number of teams, you have to have at least five inches to be safe."
His grandfather, James McKnight, was a founding member of the New Zealand Curling Association—the country's oldest national sporting organi­sation—as well as the Blackstone Hill club. Many players compete with their grandfathers' stones, a pair of 19-kilo­gram weights often fes­tooned with tassels or pom-poms.
Curling also requires its par ticipants to conform to a code of eti­quette that has more in common with Arthurian chivalry than modern sports. "Curlers play to win, but never to humble their opponents," instructs the World Curling Federation rulebook.
"A curler would prefer to lose rather than to win unfairly. The spirit of curling demands good sportsmanship, kindly feeling and honour­able conduct."
There's no umpire; curlers keep their own score and declare their own mistakes. "You can have an 80-year-old man encouraging the young people, and they'll give you so much advice they'll lose the game," says Hood.
Even so, Ben Aynsley, a 28-year-old West Coast club curler, says he and his friend Cole Stanton were nervous about attending their first bonspiel. "Etiquette is a big part of the game, what you should do or shouldn't do," says Aynsley. "We didn't want to put a foot out of place. But they made sure we did everything right, helped us through."
Not that the exacting traditions of curling are a downside. "That's one of the best parts," says Aynsley emphatically. "It gives it a bit of structure. You've got to respect how the game is played."
Aynsley, a Greymouth-based electrician, started curling because his father played. It isn't easy for the new West Coast club; their closest rink is two hours away at the Mt Cheeseman skifield, while Naseby is a nine-hour drive. Aynsley makes the trip once a year for a tournament with a Central Otago club, Hamiltons. "On the ice it's pretty magical—it's such a unique sport," he says.
"It's not something everyone can do. Everyone always shows heaps of interest when you say you've been down curling."
July marked Ayns-ley's first bonspiel, and he's hooked—on the camaraderie as much as the competition. "There's just heaps of energy, it's really loud, it's just a great sort of atmosphere," he says.
"The people down south, they make it great fun. You can get on and have a yarn with everyone. It's a real leveller, curling. You go down there and eve­ryone just feels like they're mates. I've made pretty great friends in Balclutha—three retired fellows, Dave, Jeff and Bushy. They came up this year; they made a three-hour journey so that we could curl together. That's awesome."
On the first day of the bonspiel, the sunny afternoon opened a crack in the ice, and by the end of play, curlers at one end of the pond were delivering stones into pools of water 15 centimetres deep. A roar as the stone crossed the ice, then a splash. But the frosts held: by night, the tempera­ture dropped, another round of Scott's ministrations built up the surface, and he marked out the sheets afresh on the second day, avoiding the rough ice beside the crack.
At the close of play, it wasn't entirely clear who would take home the Snuff Box trophy. Blackstone Hill and Ranfurly both had seven wins each, but their total points had yet to be calculated. "A lot don't know who won until you go to the dinner at night," says McKnight. "It's announced at the beef and greens."
At the close of the tournament, there's a meal attended by all, the ingredients of which haven't changed in more than a century—beef stew, mashed potatoes, boiled veges. It turned out that Blackstone Hill edged out Ranfurly by 11 points, delivering McKnight his fourth bonspiel win. "I knew we had a pretty good show," he says. He'd been keeping a running total of points all day.
After dinner, the Curlers' Court is held— the strictly secret annual meeting of the curling fraternity. There's no telling what happens within unless you've been admit­ted, and this year, Hood and Aynsley were two of 40 'young curlers' initiated. "You can't be put through the Curlers' Court unless you've been curling for a few years," says Hood. It's a way of assessing whether a player has the spirit of the game.
It might take a town to put on a bonspiel, but it was one man who kicked it into gear. "It wouldn't have happened without Jock's work, really," says McKnight. And the next bonspiel? "It's in the lap of the gods," he laughs.
Ben Aynsley returned to Naseby a couple of weeks later for the West Coast and Hamiltons tournament, but this time there was no figure in gumboots and overalls crouched by the ice, a small Jack Russell by his side. Jock Scott was overseas, playing the bagpipes in the Edinburgh Tattoo. It was an unsettling absence. "Naseby was a com­pletely different place without Jock there," reflects Aynsley. "You can tell something's missing."