The price of fish
Are there plenty more fish in the sea? Reports of falling hoki stocks off the West Coast and the near-disappearance of crayfish from the Hauraki Gulf suggest that our 'best in the world' fisheries management may not be living up to the hype. Three decades ago, the right to catch and sell fish became a property right, one that has now accumulated in the hands of a few. How has that worked out for people—and for fish?
The first of the 1800 fish hooks hits the inky water at 4.20am. The stars are masked by cloud, and the orange lights of the oil refinery at Marsden Point loop wildly as the 12-metre Carolyn Marie rides the swell.
"Not too bad for a screaming southeasterly," says the skipper, Adam Kellian, picking up a stack of square trays, each one laden with 50 baited hooks. "Here comes the balancing act." He carries the squid-fringed trays across the rolling deck to the crewman at the stern, Andy Aiken.
The nylon longline unspools into the darkness. Every two metres, Aiken clips on a hook with gloved hands. At intervals, he adds weights, floats, and buoys. A road cone drags a dancing row of fluoro orange ribbons out above the main line to scare off any early seabirds.
At 5.30am, first light reveals the twin crocodile silhouettes of Mt Manaia and the Hen against a mottled sky. There are still a dozen trays of hooks to go, and the line already stretches several kilometres across Bream Bay.
Kellian and Aiken are third-generation commercial fishermen. Their fathers and grandfathers fished out of Leigh, 26 nautical miles to the south. Kellian, 35, grew up flicking sprats out of Leigh Harbour with his bare hands. He was four or five when his father first took him to sea. As a teenager, he took months off school to go tuna-fishing with his dad. He's never wanted to do anything else.
At first, it was a great career. He was making good money crewing on tuna boats—enough to throw $100 notes down at the pub when he came ashore every few weeks. He loved it so much he got a bluefin tattooed on his bicep. By his early 20s, he had started a crayfish business and was his own boss. He had a boat, and he had the sea in his blood. What he didn't have was quota—and in this country, that makes all the difference.
When the Quota Management System (QMS) was introduced in 1986, it was revolutionary. New Zealand was one of the first countries to put a cap on how much food could be hauled from the sea. Three international studies published about a decade ago hailed it as the best fisheries management system in the world. In 2016, Prime Minister John Key gushed that it was "an overwhelming success".
But is that really true?
Over the past few years, a series of scandals has taken the shine off the system. In 2011, revelations of forced labour and abuse on foreign charter vessels in New Zealand waters led to a government crackdown. In 2018, details were leaked from investigations by the Ministry for Primary Industries (MPI), revealing widespread underreporting of catches and fish dumping some years earlier. Meanwhile, ever-decreasing crayfish numbers in the Hauraki Gulf raise questions about how well the system is keeping track of the species it was designed to protect.
After more than 30 years, is the quota system still the best way to maintain a thriving industry while protecting fish stocks for future generations? How are those stocks measured, and do we really know, with enough precision, how many fish are in the sea? Who is the system working for, and who does it penalise? And are we stuck with it—or is there a viable alternative?
[Chapter Break]
As the sun rises, Kellian and Aiken start hauling in the line, and the first fish comes zig-zagging up through the water. It's a snapper the length of a forearm, its blue speckles and luminous pink tail glowing in the low light. Kellian slides the hook from its flaring mouth with a flick of the wrist, then drives a spike through its brain, killing it instantly. This is a Japanese slaughter technique called ikejime, considered to be humane and to preserve the quality of the flesh. Aiken grabs the snapper by its red gills and throws it into an ice bin.
There's a snapper wriggling on the next hook, too, and the next. Every snapper over 25 centimetres must be landed, the undersized ones must be thrown back, and they all have to be accounted for.
Kellian works in the Snapper 1 fishery, which stretches from the east coast of Northland past the Hauraki Gulf to the Bay of Plenty. Last year, the amount of snapper that could be caught in Snapper 1 was 8050 tonnes. Of that, 3050 tonnes was set aside for recreational fishing, 50 for Māori customary take and 450 to account for fish killed by discarding or stolen by poachers. The remaining 4500 tonnes is the total commercial catch.
Owning quota means you own a proportion of those 4500 tonnes, depending on how many quota shares you have. Each year, you're allocated the right to catch a specific tonnage of fish—an Annual Catch Entitlement (ACE), which you can trade with others.
But Kellian has no quota. Before he even looks at a snapper, he has to lease the right to catch it from someone who does, and it's not cheap. He's currently signed up to lease ACE from Sanford, one of the country's largest fishing companies, which owns 22 per cent of all quota. He's obliged to sell his fish only to Sanford, and can unload them only on certain days of the week. Kellian is paid a flat rate of $4 a kilo for his snapper, which includes the ACE rental.
"So a big four-kilo fish you get $16 bucks for," says Kellian. "End a life for that! You can't think like that or you couldn't do it—I just think about someone enjoying it."
Sanford would also prefer Kellian to catch a mixture of species—not just snapper.
"This is the time of year I can go out the front of the harbour and pull up snapper, easily, right from beneath my feet, but they don't want snapper—they want pink maomao and hāpuku, because they've got quota to fill."
As anyone who's ever thrown a line into the water knows, you don't have total control over what takes your bait. I watch Kellian and Aiken land a contorted red cod, a conger eel, and a fat trevally, its skin glistening blue-silver-purple. Occasionally a cylindrical gurnard or spiky john dory comes swimming up out of the blue. The non-commercial species are cut loose—an eagle ray and a small hammerhead shark—but it's mostly snapper after snapper after snapper dangling from the line.
This is the reason Snapper 1 quota is so expensive: You can't put your line or net in the water in this part of New Zealand without catching mostly snapper.
So if you're trying to catch gurnard, you'll need snapper ACE as well to cover all the blue-flecked silver-pink fish you'll inevitably land at the same time. If you don't have the right to catch snapper, you'll be penalised: you'll have to pay the 'deemed value' of the fish, which ranges from $8 to $22 a kilo.
(It's possible that snapper seems superabundant only because humans have short memories. Snapper 1 is thought to have declined over the 1970s and 80s to a very low percentage of its original biomass, and while it is now recovering, a 2013 study found it was at 20 per cent of its unfished level. The aim is to reach 40 per cent, so quota is kept low.)
Gurnard 1 covers roughly the same part of the country as Snapper 1, but the fish are less abundant. Only about half the allocated commercial take of 2287 tonnes is caught every year—and that's been the case since 1986. In other words, there is no meaningful cap on the amount of gurnard that can be fished. This mystifies Kellian: "The QMS says all these fish need to be caught, but they're not there."
Gurnard is monitored based on fishing-industry data, and Fisheries New Zealand considers that the eastern part of the Gurnard 1 stock is probably fine—mainly because catches have remained roughly the same. Other bycatch species in this area, including leatherjacket, red cod, and red snapper, are also undercaught compared to their quotas, but unlike gurnard, they are not monitored at all. As is the case for many of the smaller fish stocks in the QMS, their status is unknown, because appropriate research has never been done.
[Chapter Break]
For dinner on board, Kellian cooks sweetcorn from his garden and homemade venison and pork sausages. He shot the deer, and Aiken made the sausages, adding meat from his pigs. It smells amazing. "We eat pretty well," says Kellian.
He loves this life. There's no commuter routine—every day is different. Thoughtful preparation gives way to the thrill of pulling up the line.
But these days, those joys are tempered by the stresses of the job.
Reduced income, uncertainty around accessing quota, and increasing costs and regulations are all screwing down the pressure on small-scale skippers, says Kellian. (If fishers are required to install cameras on boats, for instance, they'll have to pay for them.) Theft, poaching, and abuse from recreational fishers on social media don't help.
"I still feel absolutely lucky and privileged to do the job I do, but it's not all glitz and glamour. The weight on your shoulders to be a sustainable fisherman, to be seabird smart—you've got to tick a lot of boxes. You've got to be a businessman, a carpenter, a sparky, an engineer, a manager of crew. You work your bloody ass off, and you're married to your bloody boat."
Speaking of boats, the Carolyn Marie was built in 1977.
"If this was a good business I'd be replacing my boat every 10 to 15 years. But if my motor blew up tomorrow, that's the end of fishing for me. I'm not going to invest another $80,000 into an industry where I've got no stability, I've got no foothold."
If Kellian had quota of his own, this would be a different story, but he's a generation too late.
Over the past 30 years, quota ownership has consolidated in the hands of a few. At first, no entity could own more than 20 per cent of the quota in any fishery—but in 1996, that was lifted to 35 per cent (with a few exceptions). Once ACE trading was introduced, in 2001, companies could get around those limits by leasing more. Ten entities—corporates and iwi—now control 76 per cent of the annual quota by volume, and enjoy the advantages
of scale.
"If any quota ever came up for sale, the companies would pay twice what I could afford," says Kellian.
The QMS has shifted much of the profits of fishing from the skipper on the water to the company with the quota, says the Environmental Defence Society's policy director, Raewyn Peart, who interviewed 60 people connected to the fishing industry for her 2018 book, Voices from the Sea.
Many fishers, like Kellian, don't make enough to replace their boats, let alone to innovate or to invest in more environmentally friendly methods.
"That means we are not harnessing the technology to enable us to harvest fish more efficiently and with less damage to the environment," Peart told me.
Fishers interviewed by Peart and me spoke of their frustration that quota owners reap most of the profits without getting their hands wet. For multi-generational fishers, who have a family memory of how things were—when fishing was synonymous with freedom—it's especially hard to bear.
"The companies have complete control They set how much we can catch, and we can't sell it at the wharf, or directly to consumers, like I'd love to do," says Kellian. "They know they've got us—they know we just have to do what we love, what was bred into us with the salt air from the day we were born. We can't help ourselves."
If things don't improve, there won't be a fourth generation of Kellian fishermen. Kellian's son is three now, and though he longs to introduce him to life at sea, he won't be encouraging him to continue the family business.
[Chapter Break]
Leigh Cove is a cosy little harbour tucked in under Cape Rodney at the northern end of the Hauraki Gulf, with a wooden wharf and a clutch of ageing boats hanging off buoys. There's a row of tipped-up dinghies, a boat ramp, and a pair of footbridges crossing the outlets of two estuarine creeks.
This is the harbour where Adam Kellian fished for sprats as a boy—and it's my tūrangawaewae, too. My parents' home is a short walk up the hill, and in the 1990s I used to walk to school around the harbour's edge with my sisters and neighbours. One day, when I was seven or eight, we walked down to the wharf with our teachers to see a colossal leatherback turtle, dead in the back of a fishing truck—the kind of bycatch that might not be publicly displayed today.
On a fine winter day, I walk there again, this time with Barry Torkington, who has joined me reluctantly. He finds the wharf a depressing place: "For me it's a story of a tragedy," he says.
The Torkingtons were one of Leigh's first Pākehā families, and Barry lives at Ti Point on land his ancestors settled in the 1880s. He was a commercial fisher, then ran a fish-packing business, and became a director of Leigh Fisheries. Now he plays guitar in the Pipi Pickers, a local bluegrass band, and advises LegaSea, a recreational-fishing lobby group. He's a tinkerer, an innovator, the kind of person who's never satisfied, always looking for a way to make things better. To him, Leigh Wharf represents something that no longer exists: "The joy of the success that surrounded that vibrant small-scale fishery. This was once a thriving port with 20-odd boats fishing into here. You're lucky to find three now. The commercial area was humming—the garage was reconditioning engines, you couldn't get a seat in the pub on a Friday night. It was a thriving community, and it just withered and died until there was kikuyu growing through the pub windows and you couldn't find a tenant for the commercial buildings. That was a consequence of the QMS."
When Torkington was president of the local fishers' association in the early 1980s, there were rumours the Japanese were fishing off Tauranga and getting fantastic prices, so Torkington went to Tokyo to find out what Japanese consumers wanted. The Leigh fishers set about getting it, and became early pioneers of the Japanese export market in the process.
"We figured out how to double our income while taking half the number of fish. We changed our boats, put in slurry tanks that couldn't hold as much fish but kept it in much better condition, and we got far better money for it."
Meanwhile, fishing was exploding around New Zealand. The number of fishing boats more than doubled between the mid-1960s and mid-1970s, while technological advances were increasing catches. Concerned about overfishing, the Labour government came up with something that fitted right in with the ideology of the time: a market-based solution that would limit the harvest and create private property rights to fish, initially for 17 inshore species and nine offshore ones.
The idea was that more-efficient operators would buy out the less-efficient ones, and that the property right enshrined in quota would provide an incentive for quota holders to ensure the fishery was sustainable.
Quota was allocated to full-time, vessel-owning commercial fishers based on their average annual catch between 1981 and 1983. Back then, New Zealand's inshore fisheries were predominantly fished by Māori, but few Māori fishers ended up obtaining quota. According to a study by American researcher Hekia Bodwitch, this was because Māori didn't fish full-time (all part-time fishers were excluded), or because they had paused fishing to conserve an area, or they didn't know how to apply for quota, or hadn't been reporting their full catches to the government. (Not reporting catches was, writes Bodwitch, a way for Māori fishers to reject government control over fishing areas that had been formerly managed by Māori.)
"One guy told me he ended up in a hospital bed next to the Pākehā truck driver who used to pick up all the crayfish and paua from some of the Maori fishers out at Kaikōura, and the truck driver was now a millionaire because he had declared the catches as his own, got quota, and later sold it."
The Leigh fishers—mostly Pākehā—who had just reduced their catch also ended up with less quota "than those guys who had said, bugger all that flash marketing stuff, we'll just get more fish", says Torkington. "It rewarded them, and penalised innovation in perpetuity. We were caught in the wrong place at the wrong time."
What happened next was the nail in the coffin for many Leigh fishers.
Because snapper and some other popular species had been overfished, the initial allocation of quota added up to more fish than the new total catch. The government offered to buy back snapper quota from people looking to get out of fishing, but didn't recoup enough. So it cut everybody's snapper quota by about 40 per cent.
"Suddenly the local small-scale fishermen were faced with having uneconomic parcels of quota," says Torkington. "They just couldn't keep fishing the way they had."
At the wharf, we run into Adam Kellian's father, Dave. He's been out checking his fish trap. "Some bastard's gone and sabotaged it," he says. "It's to be expected—that's the world we live in."
Dave Kellian was affected by the snapper quota cut, and 30 years later, he's still bitter about it. His quota allocation was too small to be viable, and he couldn't afford more.
"We were forced to sell because we basically couldn't get finance," he says. "The guys sold their quota to the companies because it didn't add up."
Later, Kellian pioneered a couple of other fisheries—pilchards, swordfish—but by then, quota for new species entering the QMS was auctioned rather than awarded based on catch history, and it went to the highest bidder. (Still, Kellian kept fishing, and in October, won a national award for his work to prevent seabird bycatch.)
I'd been expecting to find the wharf quiet, but it's not. A row of recreational fishers have their lines over one side, and the other is taken up by a large commercial boat. Hand-sized pilchards are being unloaded into massive plastic bins, and trucks grumble back and forth. Torkington is unimpressed; this industrial-scale boat is an occasional visitor. In the old days, he says, "there would have been six boats hanging off the wharf, a couple of people on each, all part of the same community".
He believes that the QMS has benefited few at the expense of many, that it serves corporations over communities, and that it's stifled innovation: "Without innovation there's no value creation. The competition is for quota, not for fish. Once you've got your quota, you've got your choice of people you can direct to go and get it for you."
Pilchard bins are being stacked inside a truck. The guy loading them says most of it will be sold for bait, but a few bins are going straight to Leigh Fisheries, just up the road.
The next morning, I follow them there.
[Chapter Break]
Not much moves in Leigh on a winter's dawn, but beneath the neon Lee Fish sign, the car park is full, and the factory has been busy for hours.
Overnight, 529 blue plastic bins full of fish were trucked in from ports around Northland and the Bay of Plenty and unloaded in the wee hours. Now, at 7am, a dozen people in shiny white aprons, gumboots, gloves and hairnets are turning these fish from animal
into product.
Sam Birch used to do the morning shift. Born and bred in Leigh, he worked in the factory during his university holidays, the early start leaving him free to surf for the rest of the day. A decade on, he's the marketing manager. Over the hum of the ice chute and the squeaking of polystyrene boxes, he points out Shannon Torkington, the chief fish grader. He has been doing the job for 20 years, says Birch.
"To the untrained eye, a fish just has a tail and eyes—but Shannon can make a bunch of quick decisions based on colour, size, and how the fish was killed, and decide where each one will go."
Lee Fish was bought by Foodstuffs in August. Most of its fish are exported, but some are sold in supermarkets around the North Island, and each week, about 2000 kilograms of the best stuff ends up on the white tablecloths of fine-dining restaurants—including Auckland's Pasture, Cocoro, Apéro and Orphans Kitchen.
That's where those pilchards are going, says Birch. European trends have reached New Zealand and pilchards—also called sardines, and once considered bait—are now a delicacy: "They'll be on specials boards throughout Auckland tonight."
In a small side room, three men prepare fish the way each chef likes them. One scrapes scales off a huge snapper destined for Mudbrick on Waiheke Island, the toenail-sized discs flicking onto the floor like hailstones. Another slices skin-on fillets from smaller snapper with an intimidatingly sharp knife.
Lee Fish markets itself as a boutique producer, maximising the economic return of each fish: high quality, fresh rather than frozen, sustainably caught.
Chief executive Greg Bishop says he is mostly a fan of the quota system, but adds that it does have some perverse outcomes that need tweaking.
The company started with no quota, and has gradually bought it up over the years. Still, Bishop owns only 560 tonnes of the 1100 tonnes of snapper quota he needs, and leases the rest.
The high cost of snapper quota is part of the reason snapper fillets usually cost more at the fish shop than, say, gurnard—even though snapper is more abundant and easier to catch.
"I lease in 530 tonnes of Snapper 1 quota at around $7 a kilo, but the fishermen couldn't fish if I charged them $7. I charge them $3, so I'm subsiding them $4."
Gurnard 1 quota, on the other hand, costs $0.05 cents a kilo to lease.
"So I'm paying the fisherman $5 for getting it, and the consumer is getting it cheaper."
Bishop contracts around 30 independent fishers, but only six of them fish out of Leigh. Almost all use longlines rather than nets, and fish are killed with the ikejime method as they're hauled on board.
"No trawlers work for Lee, I won't have them," says Bishop. "I don't believe in dragging the bottom of the sea. It's too destructive."
Around 40 per cent of the commercial catch in the Hauraki Gulf is caught by bottom-trawling, which involves pulling a chain-edged net along the sea floor. This can damage or destroy the corals and sponges that act as fish nurseries. (A 2019 NIWA study found sea-mounts on the Chatham Rise hadn't recovered 15 years after being trawled.)
"If New Zealanders really care, they should ask where the fish comes from," says Bishop. "They should spend more money buying my fish and stop buying the trawl fish."
He would say that—and long-lining has its own issues, such as seabird bycatch—but a common criticism of the QMS is that it doesn't distinguish between fishing methods, regardless of their environmental impact.
[Chapter Break]
The infamous case of crayfish in northeast New Zealand highlights what can happen to a food web when a key species is depleted, and it raises questions about how well the QMS can respond to problems.
A kilometre down the road from Leigh Fisheries is the Goat Island Marine Reserve. It was established in 1975, the first such protected area in the southern hemisphere.
"We're tracking crayfish at the moment—there are about 60 of them out there with little acoustic tags on them," says Nick Shears, pointing offshore. Shears is a rocky reef ecologist at the University of Auckland's Marine Laboratory at Goat Island, and has been studying crayfish in three marine reserves—here, Tāwharanui and Hahei—for more than 20 years.
Based on the crayfish populations inside the reserves, biologists estimate that the number of adult female crayfish in the wider Hauraki Gulf is about three to six per cent of what it used to be.
Crayfish here are part of the Crayfish 2 fishery, which covers the Hauraki Gulf, the Coromandel Peninsula and the Bay of Plenty. Over the past decade, biologists, recreational fishers and the industry have been suggesting that Crayfish 2 was in trouble—but action wasn't taken on quota limits until 2018.
The total commercial catch stayed at 236 tonnes between 1997 and 2014, then was reduced to 200 tonnes. That same year, industry 'shelved' another 25 tonnes—meaning they agreed among themselves to catch only 175 tonnes. In 2016, the industry shelved 25 more. The government made no changes to the total commercial catch until April 2018, when the quota was cut to 80 tonnes, and the recreational allowance reduced from 140 to 34 tonnes.
"Crayfish numbers around here have been really low for a long time, but there were other areas that were propping it up," says Shears. "It wasn't until the whole thing was stuffed that they cut the quota in a meaningful way."
What happened? I call Darcy Webber, an independent fisheries scientist who prepared the most recent stock assessment of Crayfish 2. These assessments are the scientific bedrock beneath the QMS. They aren't conducted for every species, and their frequency depends on the importance of the fishery. In Crayfish 2, assessments usually take place every five years.
The delay was partly because the 2013 stock assessment didn't look too bad, says Webber. It had estimated the number of breeding animals was at 37 per cent of historical levels—within the target range, no reason to panic.
[sidebar-1]
For the 2017 assessment, Webber and his colleagues made some changes to the model, such as accounting for technology that helps fishers find crayfish more easily. Suddenly, Crayfish 2 didn't look in such great shape. The number of breeding animals was actually at 19 per cent of historical levels.
Fisheries modelling is improving, but stock assessments are inherently uncertain, says Webber: "The only way to know exactly how many crayfish there are in Crayfish 2 is to catch all of them."
Still, the estimates provided by stock assessments have worked well for crayfish in other parts of the country, he says. In Fiordland, Crayfish 8 is a QMS success story—it has been rebuilt from a low point in the 1990s to a highly productive, abundant fishery. On the South Island's east coast, Crayfish 5 and Crayfish 7 have recovered, too.
"There's always going to be huge uncertainty and we're always going to make mistakes," says Webber. "If you squint your eyes and look at it from a broad perspective, then the QMS is doing pretty well on a broad stage—but of course there are lots of places where it could be improved."
Webber hopes that once planned electronic reporting kicks in, scientists will be able to monitor catch rates in real time and respond more quickly to crises. (Currently, skippers record their catch data with pen and paper and send it in by post.)
The loss of crayfish from northern reefs has also affected the ecosystem around them. For more than 40 years, marine biologist Roger Grace counted crayfish at Tāwharanui by scuba-diving along ten 50-metre transects, five inside the reserve and five outside. His data, and studies by Shears and other University of Auckland scientists, has shown that the loss of crayfish and large snapper in northeastern New Zealand has led to an explosion in the population of their favourite prey—kina, or sea urchins. Oversized armies of kina graze the kelp forests that are an important habitat for other fish. I visited Grace shortly before his death in June 2019.
"When I was first diving in 1960, a place like Tiritiri Matangi was solid kelp forest, beautiful ecklonia, crayfish bristling out of every blimmin' crevice," he told me.
While the island's terrestrial forests are being lovingly restored, beneath the water it's a different story.
"Now, there's a little bit of kelp around the edge of the reef, and a little bit round about low tide, but in between it's just kina barrens."
These barrens aren't found everywhere that fishing occurs, says Shears, as other factors influence where they form—but removing predators increases the likelihood, the extent and the persistence of them.
Inside marine reserves, once predators are protected, kina numbers drop and kelp grows back. "It's actually pretty easy to restore a reef—you just have to stop fishing," says Shears.
Moreover, the Hauraki Gulf is a highly populated area. There have been some attempts to measure recreational takes, but the number of people fishing at any one time can fluctuate wildly, adding further uncertainty.
"I go fishing, and if there were more crayfish out there, I'd go and get one—and so would other people," says Shears. "It's a reactive fishery. So it's a very hard thing to manage, because as stocks go up, effort goes up. Just by setting bag limits you're not capping the fishery.
"In a lot of the gulf, fishing is the biggest impact on the environment. And it should be the easiest to manage, because you can turn it off just like that—it's just people. It's much harder to stop climate change or sediment impacts—we can fence waterways and replant and over a long time we could get changes. But we could stop fishing overnight."
Shears thinks it's time for a temporary ban on crayfishing in the area. Once the stock rebuilds, the fishery could be reopened.
"I think Crayfish 2 needs a break. Things are so bad. But I know quite a few cray fishermen, and that's my only hesitation, that's their livelihood, they've been doing it for a long time."
[Chapter Break]
In some ways, things are simpler in the deep-water fisheries. There's little recreational pressure, and few small-scale fishers—large companies and iwi now hold almost all the quota.
Aside from punishing illegal behaviour such as fish dumping, unreported bycatch, and labour issues, the main task for fisheries managers is to figure out how many fish are in the sea, and how many of them the industry should be allowed to catch.
Unfortunately, that's not as easy as it sounds.
"Managing fisheries is hard: it's like managing a forest, in which the trees are invisible and keep moving around," said British scientist John Shepherd in 1978, and though there have been innovations since then, counting fish is still a challenge.
Wellington is shrouded in grey the morning I board the Kaharoa, a research vessel belonging to NIWA. As we head into Cook Strait, close-fitting clouds cover the cobalt cliffs of Bering Head like a duvet, and Cape petrels with their paint-splashed wings skim over the slumping sea.
For humans, August isn't the ideal month for a voyage into some of New Zealand's roughest waters, but for hoki, it's party time. Deep in the undersea canyons criss-crossing the strait, hundreds of thousands of them are making their annual pilgrimage to spawn.
Every winter, most of the eastern population of hoki migrates from the Chatham Rise, off the east coast of the South Island, to their spawning grounds in Cook Strait. At the same time, the western population leaves the subantarctic to mate off Hokitika. When their eggs hatch, they float around for about a year, and then swim to the Chatham Rise, which functions as a kind of kindergarten for juvenile hoki from both populations. As adults, they separate into eastern and western groups.
Hoki ends up in fast-food burgers, supermarket freezers, and fish-and-chip shops around the country. It is New Zealand's largest and most valuable fishery, with a total allowable commercial catch of 115,000 tonnes in 2019-2020, and export revenues in excess of $200 million a year. It's also the most intensively monitored. NIWA is contracted by the government and the fishing industry to acoustically survey the hoki in Cook Strait, helping to determine where the quota is set.
"We're coming up to Nicholson Canyon—that's the depth dropping off now as we get to the edge," says NIWA fisheries scientist Richard O'Driscoll, pointing out a precipitous red line on a computer monitor in the Kaharoa's dry lab. The tiny room is crowded with helmets, steel-capped gumboots, and lifejackets, and its portholes alternately show sky and sea as the horizon lurches up and down.
A device called an acoustic transducer, mounted on the boat's hull, sends pulses of sound into the depths. Anything that gets in its way scatters the sound, and this is visualised on a monitor.
"We work out what we think is hoki, then we add up all the sound we think it's scattering, and then we divide it by the amount of sound that's scattered by one hoki, and that gives you the number of fish," says O'Driscoll. "It's simple maths—even a biologist like me can cope with it."
Over the next 24 hours, the Kaharoa will be on the move, bouncing sound off fish, following 28 randomised transects across the three main spawning canyons in the strait. This is its sixth and final trip of the winter.
Hoki aren't the only fish down there, but O'Driscoll can tell from long experience which of the pixelated blue speckles on the screen—what he calls "fluff"—represent hoki, swimming between 200 and 400 metres below us.
"The way that we distinguish between species is not just by how much sound they scatter but where they are in the water, and what the schools look like. That's the subjective bit, the bit where experience and checking yourself by doing fishing comes into play," he says. "We'll shoot up there now and do a tow on this fluff."
He suits up in full safety gear and heads out onto the deck with some of the crew, and when the captain gives the signal, they begin heaving 700 metres of trawl net into the sea behind the boat.
This is how scientists verify their acoustic data—by mid-water trawling in the spot where the monitor is showing hoki fluff.
Once the net has unspooled, two huge, rusting metal doors are dropped in with a clank and a splash. These will spread the net's mouth wide and sink it to 350 metres below the surface.
The survey can't measure the total number of hoki spawning in the canyon—they might not all be here yet, and it's impossible to count them all—but by conducting the same survey each time, scientists can get an idea about the relative abundance of hoki compared with other years.
And the hoki stock is in an "interesting situation", says O'Driscoll. The total allowable commercial catch has not been caught for the past three years. In September 2018, deepwater fishing companies agreed to shelve 20,000 tonnes of the 150,000-tonne quota.
"Overfished West Coast hoki fishery collapses," said Greenpeace.
"This was prudent fisheries management by a responsible industry putting long-term sustainability and guardianship ahead of short-term profit," said Seafood New Zealand. ("They couldn't catch it anyway, so it's no skin off their nose," says O'Driscoll.)
The real story is a bit more complicated. The stock assessment model says hoki stock should be stable or increasing, but hoki population estimates based on NIWA's surveys have been decreasing for the past five years.
The model includes a wide range of information, such as recruitment (NIWA also surveys juveniles on the Chatham Rise and the subantarctic hoki population every two years), the age structure of the population (which is sampled on commercial boats by the government), and a whole lot of assumptions about hoki biology and fishing behaviour.
"That age data is saying we're in quite a healthy position, because we're still catching quite a lot of old, large fish," says O'Driscoll.
The February 2018 Chatham Rise survey showed healthy numbers of juveniles.
"We've got this disconnect between our observations on the water and what the model says. I'm an observationalist. I'm always more inclined to believe what I see. The age data is saying the population should be here, but the surveys and more recently the fishing industry itself is saying, 'It's not that good.'"
The hoki fishery isn't collapsing, but it might be time to revisit the model, says O'Driscoll. He doesn't buy claims that illegal dumping or high-grading (throwing back smaller fish) is having a significant impact—there are observers on enough of the hoki boats, he says.
But if fish were being affected by disease, environmental change, or some new problem, the model wouldn't account for it. The decrease in population would only show up in surveys and catch sizes.
In 2019, the hoki stock assessment model was run twice. With the usual set of assumptions, it estimated the number of fish in the western part of the stock was at 56 per cent of historical levels. (The target range is 30 to 50 per cent). But when the modellers forced the calculations to fit the survey data better, the estimate was 29 per cent.
"You can spin that either way," says O'Driscoll. "Science is saying we're somewhere in this range and then people naturally gravitate, depending on their worldview to a point in that range that favours their particular argument."
In October 2019, Fisheries Minister Stuart Nash cut the hoki quota from 150,000 to 115,000 tonnes, which is close to the previous year's actual catch of 122,287 tonnes. Pamela Mace says this is exactly how the QMS is supposed to work—careful, frequent adjustments to quota that take uncertainty into account.
Fisheries New Zealand is now investigating the structure and assumptions of the model before next year's stock assessment, and whether environmental change could be affecting it.
O'Driscoll is paying attention, but he's not panicking. "We've still got 100,000 tonnes of catch. With the hoki fishery we're probably in the tweaking stage of the management—we're not at the 'sky is falling' stage."
[Chapter Break]
After 20 minutes of trawling, the team hauls up the net, and a gleaming mound of dead fish slithers out onto the deck. They're almost all hoki. O'Driscoll and the other NIWA scientist on board, Pablo Escobar-Flores, start throwing them into bins.
On close inspection, hoki are not an elegant fish. They have outsized eyes, a gaping black mouth, a tail that trails off like an eel's, and 'deciduous scales' that fall off when they rub up against each other in the net. But they're mohawk-spiked, and their spine glistens a peacock blue-green.
"I like them, I think they're quite punky-looking," says Escobar-Flores, giving me one to hold. At a metre or so long, it's quite a handful.
The two scientists take the bins to the 'wet lab' and start recording the catch. There are 78 hoki, one barracouta, one baby frostfish, a spiny dogfish, a miniature squid, a slender black dragonfish with a mouthful of terrible teeth and a bioluminescent lure, and a phosphorescent deepwater shark called a lucifer's dogfish. All but five kilos of the catch is hoki, which means O'Driscoll feels confident about the acoustic numbers: "We've been calling that hoki, so it's reassuring to catch almost all hoki out of it."
He and Escobar-Flores record the length and weight of each fish, pull out the gonads to check which spawning stage it's at, and extract the otoliths, tiny crystals of calcium carbonate that assist with balance and accrete rings every year like a tree, enabling scientists to determine a fish's age.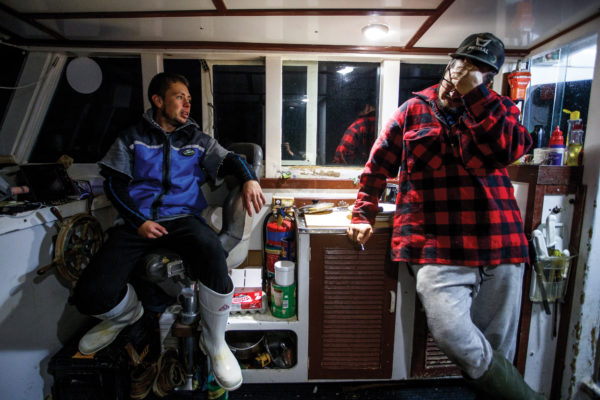 NIWA used to conduct these surveys every year, but in 2010, it was decided that we knew enough about hoki to do them half as often. That will have consequences, says O'Driscoll, if something goes wrong—it could take six years instead of three for action to kick in.
"Surveys have error, so it's not until you see something two or three times that people sit up and take notice."
Fisheries surveys are expensive. The total budget for fisheries research has remained at around $20 million since the QMS began—and that bought you a lot more in 1986. NIWA's main research vessel, the Tangaroa, did 300 days of fisheries research in 1991—now it does between 60 and 90 days.
Hoki research is paid for almost entirely by the fishing industry, under a part of the quota system called 'cost recovery', where the industry is consulted on the research to be carried out and then charged for it. It means research priorities are decided by the market as much as by science, and it's part of the reason most other fisheries don't get the kind of scientific attention that hoki does.
"For a lot of the inshore stocks, we couldn't afford to be out here on the Kaharoa doing this stuff," says O'Driscoll. "You couldn't spend $2 million doing research on a fishery worth $1 million."
Around 100 species are now in the QMS, divided into more than 600 stock areas. About 300 of those are 'nominal', making up a tiny proportion of the catch, while 169 stocks are scientifically evaluated, and Fisheries New Zealand says 142 of these, or 84 per cent, have no sustainability issues. But there are 219 more species, making up 32 per cent of the catch, that are not assessed at all.
[sidebar-2]
This can't be helped, says Mace: "Even if our budget was a lot higher than what it is, and we didn't have cost recovery, we would still allocate the research budget we have to the more abundant, the higher-value, and some of the more susceptible species. Biologically you expect the most important species in an ecosystem to be the most abundant."
Science is only one aspect of fisheries management. Decision-makers also look at the economic value of the fishery and environmental side effects, such as bycatch. All these values can be tricky to balance, says O'Driscoll.
"In the inshore you might be taking a perfectly sustainable catch of your target species but you might have a bigger impact on one of your bycatch species. How much of that do we put up with?"
The hoki and orange roughy fisheries end up catching deepwater sharks, like the one we hauled up. These are slow-breeding animals that have just a few live young, which makes them vulnerable to fishing pressure. NIWA is investigating whether their numbers are being affected.
"So far we're not detecting change, so that's reassuring," says O'Driscoll, "but what if we were seeing calamitous decline in one of those species?
Would you stop the hoki fishery because of the deepwater lantern dogfish that no-one's heard of, no-one eats, and no-one really cares about?
"If it was a charismatic animal that people like to watch, then you might have a different value judgement than if it's something black and oogly. It's not black and white—and unfortunately a lot of where we work is in these grey areas where it's all a bit hard.
"Our job is just to provide advice, and sometimes that advice is ignored—as it probably has to be. And sometimes there are pragmatic decisions about budgets to be made—and there probably has to be."
[Chapter Break]
On the stillest of spring mornings, when Riki Dawson drops his nets into Te Waihora/Lake Ellesmere, the water's surface is so mirror-like that the Southern Alps seem clearer in reflection than real life.
Dawson's ancestors revered Te Waihora as one of Tangaroa's baskets, a lake of plenty. The water quality is not what it was, but the brackish coastal lagoon and surrounding wetlands still support 167 species of birds, as well as flounder, yellow-eyed mullet, and short-finned and long-finned eels. Dawson describes the lake affectionately as "a giant puddle"—as big as nearby Christchurch, but just two metres deep.
Dawson is 35, with a red beard and tattooed forearms. He grew up making his own nets and fishing for eels on a customary basis with his Ngāi Tahu father, William Dawson. His dad had been a real hunter-gatherer—mutton-birding, hunting for deer and pigs, commercial eeling and fishing—but when the QMS came in, he didn't get around to applying for quota: "Just uneducated," says Riki.
In 2008, father and son managed to lease some eel quota from Ngāi Tahu—enough to start a commercial short-finned-eel operation in Te Waihora along with a couple of nephews.
They spent all their spare cash on a boat and equipment, made nets by hand, and for the first two summers ("The months with R in them are for fishing," says Dawson), they camped on the lakeshore in $50 tents they'd bought from The Warehouse. Business was good, and within a few years, they'd upgraded to a trio of baches, bought a second boat, and started fishing for flounder and yellow-eyed mullet.
Dawson built his own processing facility on the family farm in North Canterbury, and got certified as a 'licensed fish receiver' so that he could sell his own fish and start exporting flounder to Australia.
Dawson's one of the lucky ones. Three years ago, he secured a five-year contract with Ngāi Tahu to lease all their Te Waihora short-fin-eel quota. But what he decided to do with it is unorthodox: "I never caught a single eel after I signed that bit of paper."
He's concerned about the health of the fishery. It's taking more nets to catch fewer eels, and they're coming up skinny. He's not sure if it's because of overfishing or environmental impacts, but either way, he thinks the total commercial catch should be halved.
"I put the customary fishery before the commercial fishery. I'm not keen on commercially fishing just to make ends meet. I don't want to be catching the last fish, eh?"
There is no stock assessment for freshwater eels, and the population size is unknown. The Te Waihora eel stock was assessed using 'catch per unit effort' data in 2014. Fisheries New Zealand considers that it's very likely around target levels, and very unlikely to be overfished. Dawson's experience tells him differently, and he would prefer to
be cautious.
Flounder, too, are at a low ebb—though that fishery naturally fluctuates a lot, and Dawson's not worried about them. He's using his new fish factory to bottle honey, instead, and he's started an inshore charter-fishing operation out of Akaroa.
He's also involved with a local marae programme created by the late kaumatua Pere Tainui. Ōnuku Te Mahinga Kai is teaching young Māori the art of gathering kaimoana—how to weave a net, how to make an eel gaff to hook out a fat migrating eel, and how to gut it, salt it, and hang it up to dry in the wind in the traditional way.
Soon, Dawson will take his boat out and go customary fishing in Te Waihora—to catch eels for his whānau and to keep an eye on how things are going in this place he's come to love. "It's still a food basket," he says. "But it needs to be looked after."
[Chapter Break]
There's a cautionary tale about what can go terribly wrong when fisheries management fails, and when fish stocks are not properly looked after: the spectacular collapse of the Canadian cod fishery in the 1990s.
Atlantic cod had been fished for 1000 years, and the Grand Banks fishery off Newfoundland was one of the world's most productive. In 1968, the catch peaked at 800,000 tonnes—nearly twice New Zealand's total annual haul for all species. But after a few decades of over-exploitation by industrial trawlers, the population of spawning female cod crashed to one per cent of unfished levels.
Canada did have a quota system, and scientific management. It relied largely on companies' reported catch rates, and failed to account for the way technological advances allowed trawlers to maintain high rates even as the population dwindled. Scientists overestimated the abundance of the stock and underestimated discarding. The total allowable catch was too high. Small-scale inshore fishers complained to the government that something was wrong, but were ignored—until, in 1992, the government declared a total moratorium on cod fishing, putting 35,000 people out of work. The ban is still in place today.
In the early 2000s, Richard O'Driscoll conducted postdoctoral research in Newfoundland. Living there was visceral proof that the sea is not inexhaustible, and of why it's so important we get this right.
"You couldn't fish in the sea," he says. "You could not go down to the wharf and put a line in the water—that was illegal, except for one weekend a year. This is a place where they used to take half a million tonnes of cod out of the water in a year—and it went to nothing. There weren't enough fish in the ocean for a recreational catch to occur. We don't want to go there."
That requires stewardship—something the QMS was supposed to foster, by turning fishing rights into private property. The idea was that quota owners would want to protect what was theirs. But it hasn't entirely worked out that way, says Raewyn Peart.
Some quota owners say the introduction of annual-catch trading in 2001 undermined stewardship—that people who lease quota aren't invested in the long-term survival of the fishery, and may be more inclined to disregard environmental impacts.
[sidebar-3]
But many independent inshore fishers, even if they don't own quota, are deeply committed to the future of the industry, says Peart, through their investment in their boat, their business and their fishing heritage.
"What I found was that it's those long-term, multi-generational owner-operators who are the people that are most concerned about what's happening and want it to change," says Peart. "It's not what you'd think from economic theory—that you give people a long-term interest in an asset so you look after it. That doesn't necessarily occur."
Peart thinks the system's broken.
"For more than half our stocks we don't actually know what their state is, which is shocking in itself. There's evidence some stocks are really struggling, and the system clearly isn't maintaining a healthy marine environment. It's not working, and we need to fix it—and that's in the national interest as well as in the interest of everyone who fishes."
After 30 years, is the current system so rusted on, barnacle-like, that it's impossible to change? Or is there another approach to fisheries management that would do better than property rights?
Barry Torkington thinks there is. He and LegaSea have spent the past four years developing an alternative to the QMS. They want the government to buy back every last tonne of quota, then create an independent body investment with the authority to set catch limits and undertake research. Fishing permits would go up for auction, with the revenue split between the Crown and Māori, and the right to fish would no longer be tradeable capital. This would open the system to newcomers, and each fish caught would return revenue to the nation: "They're our fish," says Torkington.
The New Zealand Institute of Economic Research estimated it would cost up to $5.58 billion to buy the quota back, but that the sale of permits would generate a 5.2 per cent rate of return and the government would recoup the cost by 2037.
Dion Tuuta hasn't seen the plan, but says any idea that challenged the 1992 Fisheries Settlement would likely be opposed by Māori: "It's taken us 30-odd years to get here."
There's a reason the QMS is so hard to change, he says: "You do not want politicians messing around with a very important and strategic tool like this. It can be further strengthened, but it's fundamentally a fantastic, sound system for Aotearoa."
The question of how we govern fishing rights is so knotty in part because we can't agree on what a fish represents. If the fish in our waters truly do belong to all New Zealanders, they're worth more than export dollars, dividend streams or rural livelihoods.
Depending on your values, a wild fish can represent a resource, a source of healthy free-range protein, the possibility of fish and chips down at the local beach, or the right to drop a line in the water and catch a feed. It's the focal point of a long-held tradition, bringing us into relationship with Tangaroa—or it's simply a part of nature to observe and enjoy, like the birds in the forest.
Each of those end goals carries a different assumption about how many fish we should take from the sea. Perhaps fish don't belong to people at all, but to the mysterious, complex ecosystem of which they're an inextricable part, about which we still—despite our best efforts—know so little.
This story was supported by a grant from the Aotearoa New Zealand Science Journalism Fund.