The microscopic world of lichens
There is a slow war raging, under our noses.
How did I ever get caught in a trap like this? No way up and certainly no way to climb back down.
A wall of vertical granite fell away beneath my feet and gravity, so deftly defied until now, returned with uncompromising omnipotence. My hands were sweating, legs beginning to tremble. I was stuck, spread-eagled facing the wall, partway through a climbing move I could neither complete nor retreat from. Until now, I realised, I never really knew the meaning of panic.   
We were following a classic mountaineering route which snaked up the wall of a granite spire. Or rather, we did not follow it exactly because, from below, straightening the route and making it into a more direct and elegant line seemed like a sporting proposition. With modern climbing equipment we were doing a swift job of it too, cutting directly through most of the oxbows, delighting in our fitness and speed until, within sight of the easy ground above, I had made several irreversible moves and suddenly run out of both handholds and protection.
The rock face in front of me was smooth and blank but for a stubble of lichen. Worse still, a slight bulge was pushing me outward, adding to the sense of crucifixion. I had just moments before taxed muscles surrended their strength, sending me plummeting down towards some anchors I did not fully trust, and my climbing partner who could not yet know what was coming.
It was then that I noticed it. A line of black-green lichen, a thickening in the growth that covered the rock. Reaching out and balancing around that awful bulge, I ran my fingers over it and found it soft and yielding, like a sponge. There was something under it. A crack in the rock perhaps, a glimmer of hope.
With fingers like claws I began to dig at it. A fingernail tore and smears of bright blood blotted the lichen, but I didn't feel any pain. There was a crack there alright. Maybe only four centimetres deep but with sharp parallel edges.
I scraped out the lichen, then, from a harness gear loop, plucked a camming device known as a flexi-friend, which has spring-loaded jaws opening outwards when released. Just the friend I needed here.
I jammed it into the crack and felt the satisfying bite as serrated alloy jaws locked against the coarse grain of granite. I barely managed to thread a wrist through the friend's webbing loop when my right foot slipped and I felt myself pendulum around the bulge. Cramp burned in my leg. I had just enough strength left to pull up the rope, clip it into the new anchor and yell to my partner to take up the slack. Then, totally spent and puffing like a sprinter, I sagged on the rope, closed my eyes and leaned my head against the rock, the beak of the helmet scraping more of the velvet growth. My entire universe filled with the musky smell of the lichen that had just saved my life.
When the surge of emotions had passed, when I was able to breathe and think coherently again, I examined the lichen more closely. In this sterile and weather-beaten place the crack in the rock face was like a vertical irrigation ditch which the lichen had colonised and overgrown until the crack was no longer visible.
We finished our route—even got the briefest of mentions in the season's roundup of first ascents—and a quiet fondness for lichens stayed with me for years.
[Chapter Break]
Lichens are a world unto themselves, almost invisible, yet after you notice one, you see them everywhere. They grow on the summit rocks of Mt Cook and on river stones, on fences, walls of old houses and bark of trees and their leaves, on tarmac and pavements, even on glass, gravestones and old cars. There are more than 18,000 known species in the world (and researchers suggest there might be as many as 24,000) yet there is just one common word to describe this incredible diversity of life: lichen.
They are diverse in form and design. Rhizocarpon geographicum, for example, forms vivid patches whose beauty and complexity echo satellite images of the Earth. Graphis librata resembles hieroglyphic writing etched into tree bark, while the high-alpine Xanthoria elegans grows in colourful patterns which bring to mind Aboriginal paintings. Lichens are one of the planet's most successful colonisers but are unlike other forms of life on Earth.
They are not plants but composite structures, miniature ecosystems comprised of fungi and photosynthetic partners—usually algae or cyanobacteria, sometimes both. Traditionally, this arrangement has been considered symbiotic but some lichenologists suggest it is not true symbiosis—the algae can survive without the fungi but not vice versa. Fungi capture the algae with their web-like filaments and cultivate them as a farmer would a crop. The fungi do not pass any nutrients back to the algae, but in return for "milking" them of carbohydrates they produce, the fungi protect the algal cells from mechanical damage and excessive sunlight and keep them moist.
Whatever its definition, the fungi–algae arrangement has been so successful that nature has chosen this evolutionary path not just once, but several times independently. The partnership is stable and resilient and not only allows the fungi and algae to survive together where on their own they would surely perish, but makes it possible for lichens to flourish in environments we think of as hostile.
Lichens can be found at altitudes approaching the Himalayan death zone of 8000 m, they are the dominant flora of the polar regions, they thrive in the deserts where rocks are too hot to touch.
By lapsing into a metabolic suspension, they are able to tolerate periods of severe desiccation, during which they can withstand extremes of temperature, even radiation.
Laboratory tests have demonstrated that lichens can be dry-frozen to temperatures nearing absolute zero (minus 273ºC) and then warmed back up again without any ill-effects. They have also survived irradiation of 1000 rads per day for two years, and continued to grow, while a single exposure of 400 rads is fatal to a human.
Perhaps the most striking example of their ability to survive the extreme conditions was the experiment conducted by the European Space Agency. In May 2005, two species of lichen, the aforementioned R. geographicum and X. elegans, were sealed in a capsule and launched into space on the Russian rocket Soyuz. Once in orbit, the capsules were opened and the lichens were exposed to the vacuum of space, its near-absolute zero temperature and the complete spectrum of ultraviolet light and cosmic rays. After 15 days, the lichens were brought back to Earth. They were found to be in perfect health, with no discernible damage from their time in orbit.
"When it comes to lichens, the closer you look, the more curious things get," Allison Knight told me. As one of the country's most active and passionate lichenologists, and author of the forthcoming Field Guide to New Zealand Lichens, she proved to be just the guide I needed to enter the world of lichens. One wet and gloomy day in late spring, we set out to botanise among the lichens at the Orokonui Ecosanctuary high on the hill above Otago Harbour.
"I'm glad it's raining," said Knight as we set out along the Rimu Trail. "The rain always brings out the true colour and texture in lichens."
In strong sunlight, the surface of lichens often appears drab, matt and opaque, but that's just the fungi protecting their algal garden from excessive exposure to sunlight. When moistened by rain, dew or fog, the lichens' surfaces become translucent, allowing the sunlight through and turning on photosynthetic processes.
While lichens dry rather easily they wet quickly too.  When moisture and sunlight occur together they will photosynthesise within minutes. By contrast, trees, with vast reserves of water and an untold number of chlorophyll cells, can photosynthesise and grow all hours. The window of opportunity for optimal photosynthesis is as little as an hour or two a day for lichens, mainly in the morning, before the night's moisture evaporates. The rest of the time, they aestivate, shutting down their metabolism, and making good use of their protective fungal sunscreens.
"Because of all this, lichens exist on a timescale completely different from ours," Knight told me. "Some New Zealand lichens can grow as much as 1–2 cm a year, but there are others which manage only 0.02–2 mm of radial growth per year, and this makes them perhaps the slowest growing of all known organisms. When you consider the size of the largest known specimen, they could well be over 5000 years old, surely among the oldest living organisms on Earth."
Orokonui, only 20 minutes' drive from Dunedin, is an ecological island in time. Protected by a two-metre-high, 8.7 km-long pest-proof fence, fitted with electronic surveillance and patrolled daily by volunteers, the 307 ha reserve is a community effort to create a haven for native fauna, and a glimpse of what New Zealand was like before the arrival of humans. It's also the first and only place on the South Island where native birds, animals and insects can live a life safe from introduced predators.
Birds chatter in regenerating bush, and on the trunks of miro and matai trees you can see axe-like gashes where a kaka used its beak to get at the sap. Our visit coincided with the release of the first contingent of kiwi, the endangered Haast tokoeka, into the sanctuary.
The lichens are everywhere, though, as always, they are all but invisible beneath the grandeur of a forest. We had to change the lens of perception, get down on our knees and look closely with the aid of a 10x magnifying glass, because the beauty and complexity of an entire forest can be echoed in a mosaic pattern of lichen growth confined to a single rock.
Some lichens look like peeling paint, others like rust, a miniature coral reef or an aerial view of a field of lettuces. Lichens are divided into three distinct groups, according to their shape, Knight explained. There are foliose lichens, which resemble dried-up paper and leaves, often growing in a rosette form; fruticose, which are more like twigs, with stalks and branches; and crustose, which resemble crusts and paint splashes on rocks and bark.
Together they form complex and varied communities, though, like any community, their coexistence is far from peaceful.
"Lichens are not all that benign. When you look at them with enough magnification, they are like states at war with all their neighbours," Knight said, pointing to distinct outlines each lichen kept around its perimeter. "See, these zones are called prothalli; they're like chemical walls lichens build around themselves to protect their crops of algae. They deter invasions of other lichens with specifically formulated fungicides."
Scientists have extracted and described more than 700 substances produced by lichens. Many have applications as sunscreens and healing agents with anti-cancer properties, antibiotics and antifungal compounds—natural chemical weapons to inhibit the growth of competitors.
A few hours had passed, yet Knight and I had moved only 50 m along the trail at Orokonui. She was taking one sample after another, her knee pads leaving soft imprints at the base of rocks she was examining. But the field trip is only the beginning of the journey. The detailed work begins in a lab, through the lens of a microscope.
"For every day outdoors there is a month of work in the lab," Knight said as she unpacked the samples.
Through a microscope, even unremarkable-looking lichens—the drab peeling-paint variety—can surprise with intricate beauty. Stalks seem like tree trunks, hair-like rhizines a tangle of roots, spore bodies glisten like red and yellow sequins, pixie-cups resemble meteoric craters, and much of it is dusted with isidia and soredia, which are the lichens' propagules. Turning the focus knob gives an impression of moving through this labyrinthine forest. The illusion is so convincing I found myself wanting to duck under a branch which suddenly materialised in front of my eyes.
"I wish more people could see this," said Knight, looking up from the eyepiece. "Lichens have always been something of a forgotten flora, and even botanists tend to walk right past without seeing them. Yet New Zealand is exceptionally rich in lichens. We have some ten per cent of the world's known lichens here, and many more are not yet discovered, named or described."
As I left, Knight was still glued to her microscope, eyes wide-open in quiet fascination, wandering through the Lilliputian forests.      
[Chapter Break]
For all their microscopic beauty, lichens have long been part of human culture. Dolichousnea longissima, for example, also known as the long-beard lichen or Methuselah's beard, is often seen festooning spruce branches and is said to be the inspiration behind decorating Christmas trees with tinsel. The biblical manna that sustained the Israelites through the desert is thought to be a lichen too, Lecanora esculenta, a crustose type prone to explosive growth and borne by the wind in such quantities it can form hummocky wind-drifts in the valleys where it settles—veritable bread raining from heaven.
Many cultures, from Egyptians, to Tartars, to North American Indians, used lichens to make earth bread, and a species of Umbilicaria, commonly known as Rock Tripe, saved a few members of John Franklin's 1819–1822 Arctic expedition from sure starvation. At the point of discovering the edibility of the lichen, Franklin and his surviving team were resorting to boiling bits of leather equipment as a bouillon of sorts.
But culinary curiosities aside, it was in the dying of silk and wool that lichens found their most common use. The process of extraction was not easy. A lichen's colour gives no indication of the colour of the dye made from it and it could take up to a month to coax the hues out of the hardy weed by grinding it to powder, soaking, boiling, and treating with ammonia, potash and soda. But the results were so successful a booming industry was built around the humble lichen.
Around northern Europe, and in Scotland especially, entire families went out to scrape lichens off rocks, and the resulting dyes were used in high-end garments, from robes of religious dignitaries to homespun Harris tweeds. Apparently, wool dyed with lichens is not invaded by moths, which may account for the Harris fabric's famous durability. The industry peaked in the 19th century when a lichen known as the orchella weed (from the Roccellaceae family) was listed on the international exchange of commodities—alongside spices, gold, coffee and crude oil—reaching as much as £1000 per ton on the London market. Since then, the steady influx of synthetic dyes has replaced those obtained from lichens.
However, lichens have remained in heavy use in the perfume industry and, around the Mediterranean alone, some 8000–9000 tonnes are harvested every year. It is not that lichens have a seductive scent of their own, but the essential oil extracted from the Cyprus powder—a blend of lichens in the genera Cladonia, Parmelia and Dolichousnea—makes an ideal fixative which easily takes on other scents, then releases them slowly.
Closer to home, Maori traditionally used Dolichousnea lichens to make baby nappies and sanitary pads, knowing what modern science is now proving: that the usnic acid present in lichens has strong antiseptic properties and prevents skin irritations and rashes. The litmus paper you can buy in a health shop, and which is commonly used to quickly assess the body's acid-alkaline balance, is also based on a lichen dye.
In 1999, Nigel Perry, a Dunedin chemist working for the Plant Extracts Research Unit—now part of Plant & Food Research—examined 69 species of New Zealand lichens and found them rich in antibiotic, antiviral, cytotoxic and protective secondary compounds, but further research was hampered by the fact that lichens are so slow to grow.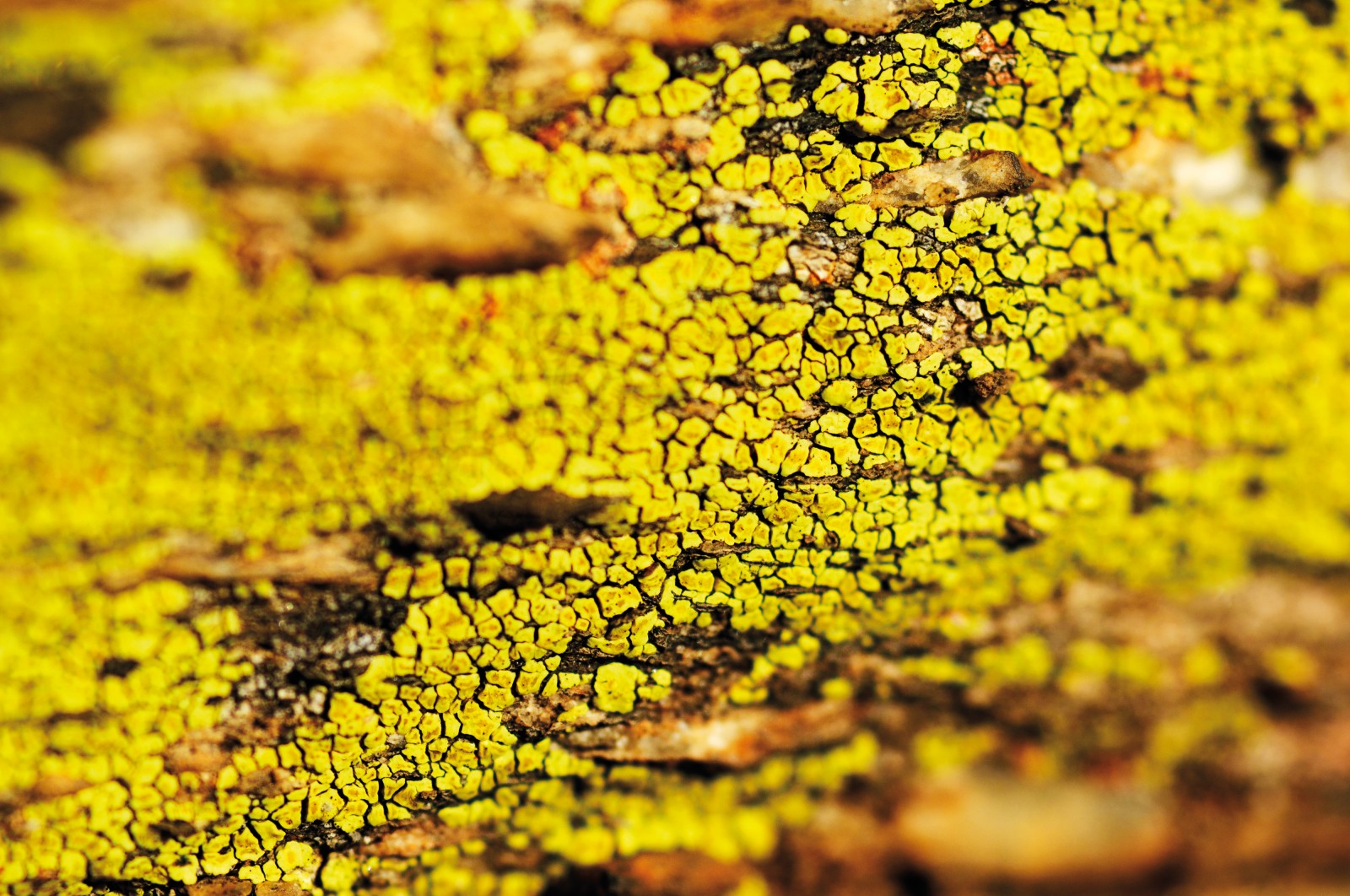 Recently, the work of David Galloway, New Zealand's pre-eminent lichenologist, has inspired a resurgence in interest in lichens. For 22 years, Galloway worked in the lichen department at the Natural History Museum in London, where he compiled the first Flora of New Zealand: Lichens, the definitive work on this country's lichens. Returning home in 1994, Galloway revised the hefty tome to include the newly discovered and described species, and this most recent edition now includes 1765 species in 366 taxonomic groups.
The two-volume lifetime work is no bedtime page-turner—the bibliography alone is more than 200 pages long. But for serious lichen enthusiasts, the books have become a bible to explore by and, as a doyen of the small but active community, Galloway gets to see most of the results and samples. He estimates that since the publication of the Flora's first edition, the level of activity in study of New Zealand lichens has increased tenfold.
Galloway suggested I visit Rangitoto Island in Auckland's Hauraki Gulf, which is a classic study of primary succession—how life first colonises new land. It begins, of course, with lichens.
He recommended I bring the best magnifying glass I could find, and cautioned me to walk slowly. "The lichen flora is so rich on
the island," he said, "we spent the whole day there once and we never got beyond earshot of the wharf."
The sombrero-shaped Rangitoto, the youngest, largest and least-modified cone in the Auckland Volcanic Field, came into being during a series of eruptions between 600 and 700 years ago. Despite appearing green from the distance, up-close it is still a harsh and raw-looking place, made up of sharp black basalt and lava stones called scoria. It is also exceptionally arid, as there are virtually no water catchments and lava fields are poor at retaining rainfall. In short, Rangitoto is an ideal habitat for lichens, so it's little surprise that some 194 species—one of the country's highest diversities of lichens—have been recorded here.
Walking the trails of Rangitoto is like watching the history of plant settlement in fast-forward. Barely did the lava begin to cool than the first wind-born spores of lichens arrived, anchoring into the porous new world. For many years, centuries perhaps, the rocks would not have looked much different—just tiny splodges of paint-like growth, velvet or crust here and there; green, black, white or vividly yellow where the eye-catching Xanthoria ligulata had colonised.
But spreading imperceptibly, growing, dying and decomposing, the lichens built the foundation for life, the first thin layer of soil. Into it, airborne dust and guano from seabirds added nutrients and depth and, with time, more complex lichens arrived, then mosses and ferns. Follow this ecological trajectory and, in the case of Rangitoto, a few hundred years later you have the largest stand of pohutukawa in the world, laced with ferns and orchids. All told, more than 200 species of trees and flowers stand in a place that was once barren and sterile rock.
And all thanks to the lowly lichen, rustici pauperrimi—the poor little peasants of nature—as Linnaeus called them in his 1753 book Species Plantarum. They not only become soil and humus, they actively create it. Their hair-like rhizines, despite their tiny size, can exert enormous pressure on the rock to which they anchor, and they don't just grow over rocks, they grow into them as well. In some species the rhizines can penetrate the rock to a depth of 6–8 mm, and the oxalic acid within them reacts with most metals and minerals until it is impossible to tell where the rock ends and the lichen begins. In this way lichens stabilise the soil on which they grow, binding pebbles and organic matter, preventing erosion by wind and water. Just about the only place where lichens do not grow well is on scree slopes which lack stability.
I took with me the lichen chapter in the Natural History of Rangitoto Island, but after a while even that proved overwhelming. The lichen growth is so lush and diverse here that it is often impossible to see the bedrock of the lava fields itself. I took pleasure in identifying some of the lichens: the unmistakable X. ligulata and the old friend R. geographicum; the high-tide marks of Lichina confinis and Verrucaria; the white patches of Poeltiaria turgescens with their rusty halos created by acids reacting with the volcanic basalt, and the coral-like Cladia and Cladonia hiding in among the boulders where hints of moisture persisted. 
But for the most part I settled for the aesthetics of the miniature forests, peering into them through my looking glass, walking not with feet but with my eyes.
However, I need not have come so far; the lichens of Rangitoto are particularly well represented in the collection at the Auckland Museum. Curiously enough, while most other natural history exhibits are dried or stuffed, reconstructed or pinned to display boards, the lichens are still very much alive. Given a good wetting and a dose of sunshine, they would most likely start growing again.
[Chapter Break]
Like the subjects of their study, lichenologists seem to inhabit a different dimension of time and space. They speak a language only they can understand and haunt places the rest of us usually avoid. When I finally met David Galloway, it was in Dunedin's Northern Cemetery.
"Cemeteries are places of great stability, and lichens do not like change," he explained as we walked among the headstones marking where notable pioneers such as William Larnach, Charles Speight and Thomas Bracken were laid to rest. But it was not the people, their past or achievements that interested Galloway. It was their headstones—solid slabs of marble or concrete, with names and dates of birth and death inscribed on them. All of it was covered with a patina of lichens, small and large, mostly circular, undisturbed in their natural radial growth.
The advantage of studying lichens in cemeteries is that they are conveniently dated, Galloway explained. Measuring the size of lichens and estimating their age is called lichenometry. The method is not infallible (since two or more lichens can grow into one another, fuse, and give a false estimate), but knowledge gleaned from cemeteries is valuable in the field as a quick and cost-effective way to date rock surfaces to determine, for instance, the retreat rate of glaciers.
I thought of R. geographicum, growing only 2–20 mm per century. The oldest specimen at the cemetery, nearly as old as the country, would have been the size of a 50c coin.
Although they have been described as "stains of time", lichens do much more than describe geological timescales.
"In ecosystems like Southern Hemisphere temperate rainforests, lichens are major contributors to the nitrogen budget," Galloway said. "From studies in New Zealand we know that this can be as much as 1–10 kg of nitrogen per hectare per year. It is even more significant in grassland environments, like the Otago high country, where this budget is much tighter."
For all their toughness in weathering  extremes, including those of deep space, lichens have one major weakness: a high sensitivity to atmospheric pollution. Because they have no roots, Galloway explained, they must take all their nutrition from the rain and air and therefore their health and speed of growth are determined by air quality. As such, they have been used as biomonitors of environmental health.
"Some years ago, I was called in to do a lichen survey around what was then the McKechnie Brothers aluminium foundry near New Plymouth," Galloway said. "Predictably, within the atmospheric fallout zone of the works there was a virtual lichen desert. The news was bad enough for the council to make the company clean up its act. It cost millions, but when they did it, their processing of aluminium was much more efficient, so in the end it saved them money. The lichens started coming back within two to three years."
Similarly in Auckland, scientist Indrapriya Kularatne is using three lichen species to understand the trends in air pollution, specifically the presence of metal contamination, sulphur dioxide, fluoride, ammonia and other toxins.
"Air pollution studies often rely on expensive instrument systems," Galloway told me, "so monitoring lichens offers a simple and cheap early-warning system of what's happening with the quality of air."
The method may seem simple but the results are unambiguous. When a similar study was conducted in Italy, the maps of the region—one showing the reduction in lichen communities, the other the incidence of lung cancer—were an almost perfect match.   
Linnaeus' rustici pauperrimi play a critical role in life on Earth. "In effect, lichens change an inorganic environment into an organic one," Galloway said, "and that, if you think about it, is a miracle of life in itself. But they don't stop there. They are also one of nature's best healing agents. Like raw honey we used to put on cuts and abrasions, lichens appear on wounds in the earth and seal them, until the skin of life grows over them again."
This skin of life—continually being sealed, reopened and healed again—is especially evident where the Franz Josef and Fox Glaciers tumble off high-alpine névés, through gorges, to run out of momentum and ice on the gravel riverbeds below.
We were coming down to Almer Hut from a day of ski touring on the upper glacier. Within sight of the hut, perched like an eyrie above the jumble of moving ice, we stopped for one last rest to take in the vistas below.
Out of my skis, I sat on a flat rock, and as I propped my hands behind me for balance, my fingers found a crustose growth of lichen, black and olive, and dry like papier-mâché.
In winter, the glacial névés are like a piece of Antarctica transplanted on our shores, cold and sterile, covered with metres of snow and ice and seemingly lifeless. Yet this lichen flourished here. It grew on an island of rock amid the torrent of ice.
There were others around it, colours and patterns bleeding into one another, thriving where other life would wither, and living proof that some miracles are so common we rarely notice them at all.