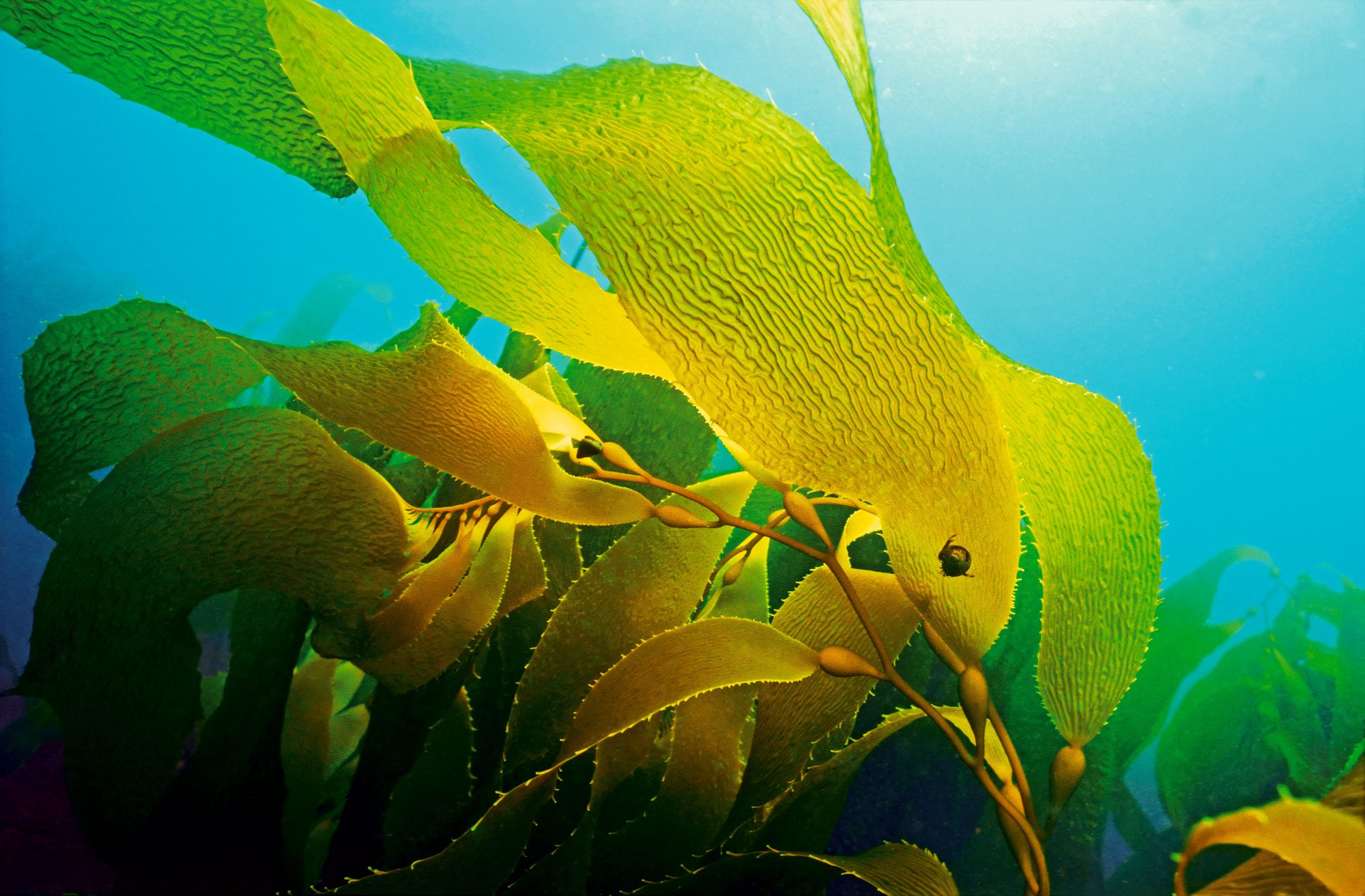 The floating world
Venturing away from the coral reefs of the tropics into cooler seas—like those around New Zealand—you enter the realm of kelp. Here meadows of swaying fronds and dense forests of seaweed abound with life.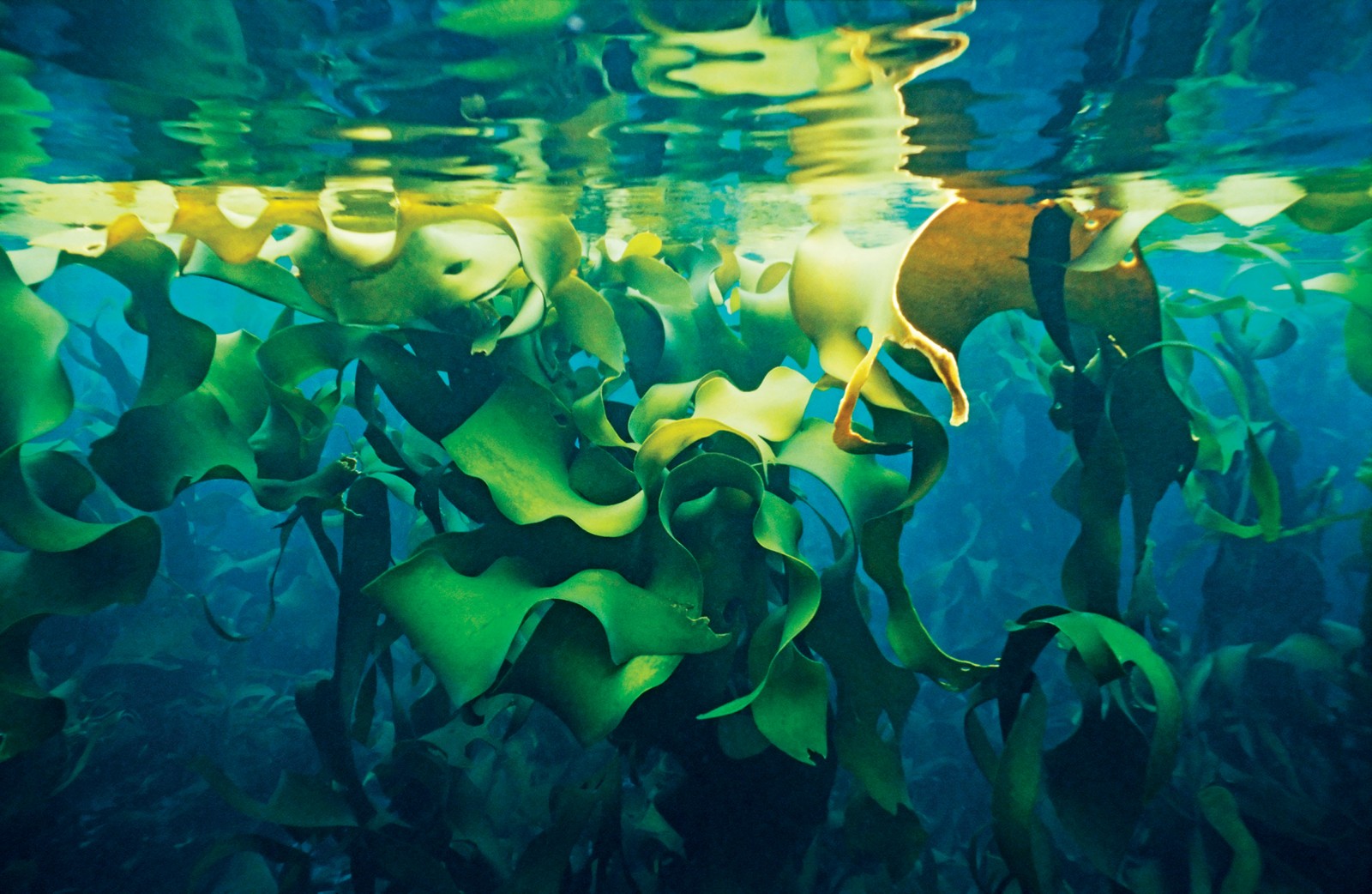 From the reef tops, the giant kelp reached up to the sunlit surface, 28 m above. Near its edges, this snaking forest tapered off to a gently undulating canopy a few metres below the surface.
Something darted in the shadows: a group of New Zealand sea lions, weaving in and out of the kelp, chasing each other, playing, gliding over to check me out and then heading back to the others or up to the surface. They moved in a graceful underwater ballet, sometimes sinuous dancers in freeform choreography, sometimes silver torpedoes.
In the cold and clear subantarctic water I couldn't quite see the surface from the seafloor. I ascended slowly through this silent underwater forest. The overall blueness faded and other colours slowly returned as I neared the surface. Large spider crabs, hermit crabs and small snails hung onto their kelp home, scavenging and grazing. A 3 m long jellyfish hung almost motionless in the still water, its long tentacles disturbed briefly by my passing. Just metres from the surface I marvelled at one of the most beautiful sights underwater—the golden growing tips of giant kelp, lifting up and down in the gentle surge, dancing in the almost-imperceptible current.
[Chapter Break]
Around the world, most giant kelp forests are in water less than 30 m deep, though in very clear water some have been found as deep as 65 m. A hundred or so species of kelp are distributed worldwide, growing on rocky reefs in waters between 5-22°C. Even Alaska has rich kelp forests growing in its cold waters.
The "trunk" of a giant kelp is not solid like a tree trunk, but a tough and flexible group of stems, each like a long upward-reaching piece of thin rope. This flexibility allows the plants to move with currents and waves. Though structurally quite different, the kelp blades act like the leaves of land plants, photosynthetically converting the sun's energy and carbon dioxide from seawater into food. This is then transported down through the stem to other parts of the plant.
By late summer, the canopy of  a giant kelp forest is often widespread and thick, letting little sunlight through into the shaded waters below. In the depths, light levels do not support kelp and, moving away from land, the forest thins and eventually disappears, giving way to sponges, hydroid trees, gorgonian fans and black corals.
Each year millions of tonnes of seaweed are harvested from the sea around the world: some farmed, some washed ashore after storms, some picked from the rocks.
Almost all seaweeds are edible and are rich in protein, minerals, and vitamins. The Chinese have been eating seaweeds for at least 2,500 years and were using them as medicines as early as 3000 B.C. Of the 500 or so species we eat, 150 are commercially important. Nori, a seaweed very similar to our own karengo, is used to wrap sushi and is a mainstay of Japanese cuisine.
But seaweed's usefulness does not end with food. Its extracts find their way into toothpaste, clothing, ice cream, even in the ink and paper of books and magazines. It is added to instant puddings, chocolate milk, cereals, bread, pickles, beer, custard powder, salad dressings, pie fillings, make-up, detergents, shampoos, paints and medicines.
This versatility is due to phycocolloids—large complex molecules found in the cell walls of many species. The three main ones are alginates from brown seaweeds, agar, and carrageenan, extracted from red seaweeds.
Phycocolloids keep breads soft and stop them from drying out, make dried noodles stronger and liquid foods smoother and thicker. They gel, stabilise, bind and prevent liquids from separating. Alginates stop ice crystals forming in ice cream, slow its melting, and make it smooth and creamy. Agar is indispensable in medical and other scientific research, and DNA fingerprinting uses seaweed extracts. Weed is a term reserved for unwanted plants—seaweed is anything but.
[Chapter Break]
I have dived in countless kelp forests, including at each of New Zealand's subantarctic islands. I would take them any time over coral reefs—how better to appreciate the amazing variety of life, than in the continual, hypnotic motion of swaying seaweeds?