The constant gardener
Kay Baxter on food for sustenance, and sustainable food.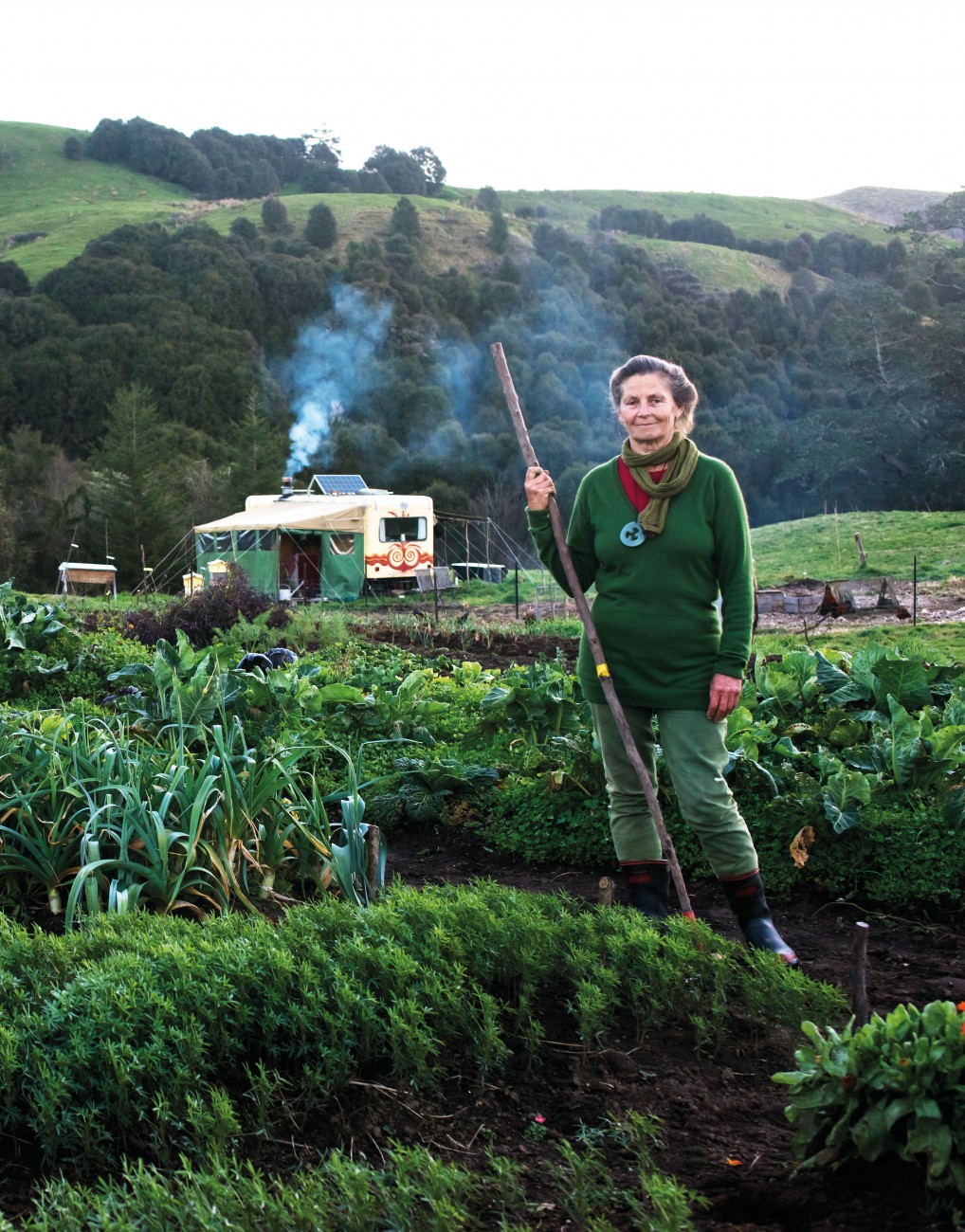 Brennan Thomas
Kay baxter hasn't bought food from supermarkets or sat in a doctor's office for decades. She hasn't needed to, she says, because she gains her nutrients from heir­loom vegetables such as Massey dwarf peas, Southland snow peas and pouto blackberries grown in a 'biointensive' garden. Her 200 sqm plot serves as both her life source and her inspiration for work as a seed-saver, gardening guru and environmental advocate.
"I've always had a garden. I feel as though I have learnt most of what I know from the garden," she says. "That's where my creative energy comes from, and that's where I make decisions, where I notice things and observe things. It's just a creative space."
Kay, an organic gardener for more than 30 years, began growing her own food as her family moved around the South Island­ wherever her schoolteacher father could find work. "We were pretty poor, and we lived out of the garden."
As an adult, Kay continued to garden during her time at Massey University, where she studied geology and sociology. The atmos­phere was ripe with indignant questioning, a growing politicisation of racial and gender issues and a discontent with capitalism. Kay was at the forefront of this movement, on the student executive, leading demonstrations, and ending her period at university as director of the student arts council.
We were actually able to effect changes. But I don't think [students] can any more. The industrial culture that we're living in is getting stronger and more resistant to change."
Kay, now 59, continues to advocate for the regeneration of the environment and a return to locally produced, nutrient-dense food grown in mineralised soil—some of the tenets of a sustainable agriculture ideology known as permaculture.
I met her at Koanga Institute, a seed-saving and education organisation near Wairoa in Hawkes Bay. She was adorned with accessories befitting her impression of an 'Earth mother'—rugged up in two layers of green wool, her greying hair and glasses stacked on top of her head, a pounamu pendant around her neck.
The institute is run from a rambling weath­erboard house on a heart-shaped section of farmland. It holds the country's largest collection of heritage vegetable seeds—800 varieties packed neatly into plastic containers and jars—and serves as a venue for perma­culture classes and discussions about soil, plant, animal and human health.
There is food everywhere—thumb­sized purple corn husks are piled to dry beside the front door, and bordering the house, 1000 sqm of gardens and paddocks supply eggs, milk, beef, lamb, chicken, fruit and vegetables to the community.
Kay founded the institute about 25 years ago, while raising a family on partner Bob Corker's family farm at Kaiwaka in Northland. She's been "non-stop" ever since, collecting and regenerating her heirloom fruit and vegetable collection.
"They are the seeds that hold the links to the past, the links to the future, and they contain the potential to nourish us," she says.
Kay and Bob have made their final move. Five years ago, the couple left the farm and eco-village they created at Kaiwaka, taking with them 1000 fruit trees and hundreds of seeds crammed into their house truck. After a stint in the South Island, and some time teaching gardening in the rohe of Te Wha¯nau a Apanui on the East Cape, they settled in Hawkes Bay.
"This is an important time for both of us. This is going to be our last shift. This is it," Kay says. "Bob's dream is to create a legal structure for our village that can become a model for all around the world. Mine is mainly to show people how we can maintain our health and our web of life through our soil and our nutrient-dense food.
"We've got some really nice land in a good place; we've got everything we wanted. It just took us a while to find it. It's not easy to find a place to create a village."
Four families are ready to live in the village with Kay and Bob, and have spent the past 15 months living in temporary abodes (a house bus, tent, caravans, a converted container, old shearers' quarters). Two more are on their way from Israel and Australia.
Two wooden laundry structures are the first signs of what will ultimately be a 30-family village living in low-energy buildings. There will be gardeners, cheesemakers, farmers, foresters, craftspeople, a naturopath and others, all living interdepend­ently.
The structure will provide an ideal for people returning to the countryside to settle in a sustainable way, Kay says, which will become necessary as the environment continues to deteriorate.
You can't go on forever ignoring the laws of nature, or the laws of the universe, and expect to survive"
It's been a struggle to replant and grow a supply of heirloom vegetables by hand, and to campaign against genetic engineering and commercial agriculture.
"I just do it because I feel as though it's what I'm here to do," she says. "I have a responsibility. We're the ancestors of the next generations, and I want to leave this place in as good a way as I can.