The black and the green
A proposal by Australian-based Bathurst Resources to strip-mine a swathe of conservation land inland of Westport, on the West Coast of the South Island, has once again sparked a clash of cultural priorities. Should the ecological and landscape values of the plateau—a dramatic combination of rock, wetland, subalpine forest and tussock—be jeopardised for the economic benefits of extracting the coal that lies beneath? And should a country that trades on its green image be in the business of mining the planet's most environmentally unfriendly fuel?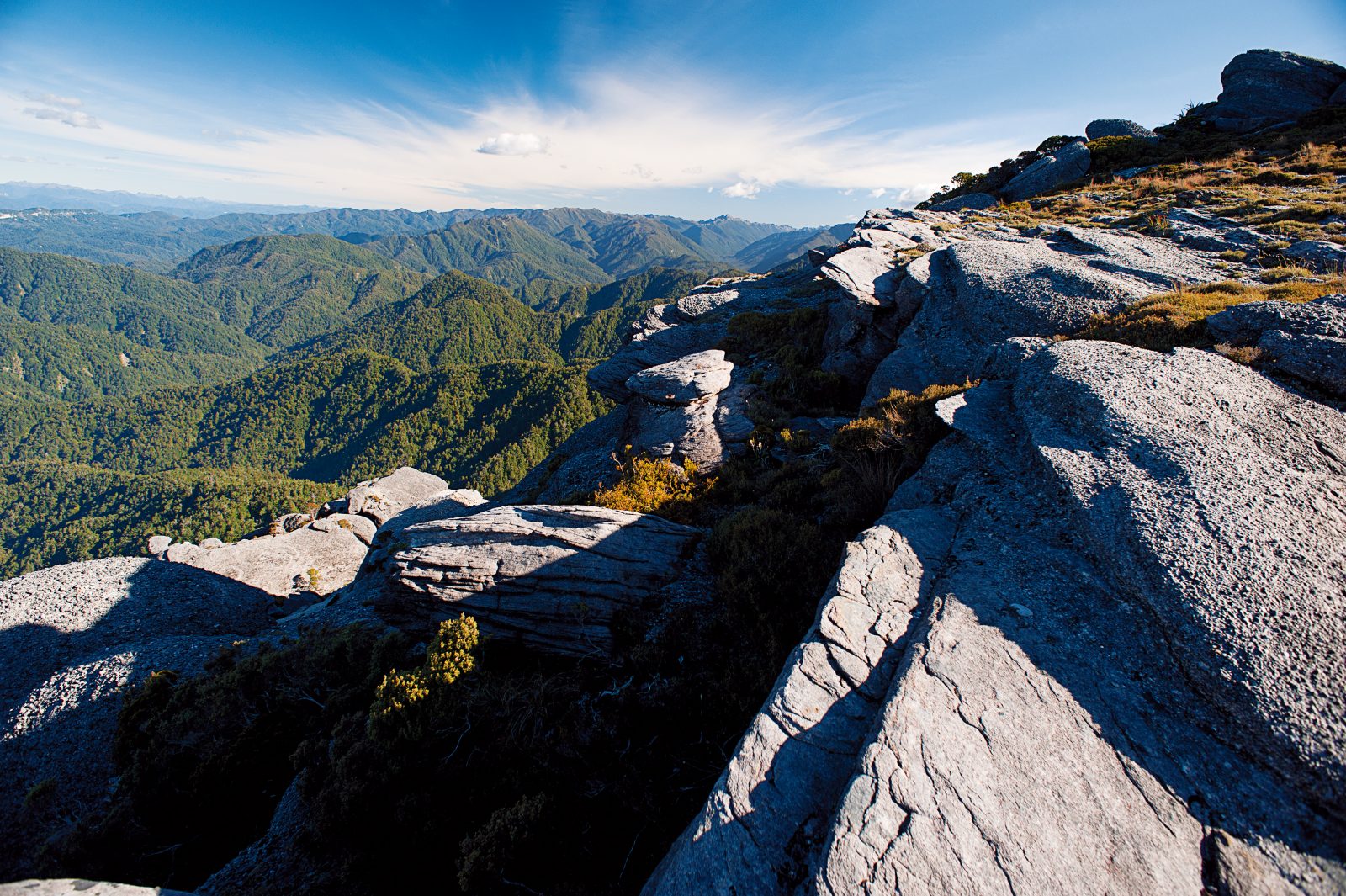 Around me is a forest that comes up barely to my knees, yet its trees may be hundreds of years old. Yellow-silver pines sprawl across bare sandstone slabs, their weathered trunks cracked and gouged and zigzagging like snakes. Stunted pink pine and prostrate manuka are a fraction of their normal height. Bushes of pygmy pine, the world's smallest conifer, carry the last of the season's translucent scarlet cones on the tips of their branches, like decorations on a doll's house Christmas tree. Yet no bonsai master was needed to cultivate these diminutive specimens. Wind and water are nature's pruning shears. Thin, cold, acidic soils and scant nutrients stunt growth. On the Denniston Plateau, life adopts a low profile.
You might expect such a place to have a pinched austerity about it—sour, waterlogged, battered by the elements, a po-faced bog. Yet the land surges with beauty. I walk across it and discover what the late poet Leicester Kyle, from Millerton, just north of here, called an "untrod field of singing flowers". Sprays of pink, insect-devouring sundews mingle with swards of tufting mosses. Each sprigleaf hair is tipped with a single droplet of dew. Crouching at ground level, I gaze across a field of sparkling globes.
In this hunkered-down world, nondescript plants hidden among the ground cover fling their flowers skyward, as if waving them on flagpoles. The star-shaped banner of the daisy Brachyglottis, dew-spangled and butter-yellow, quivers on the morning breeze. On a neighbouring stalk is the dry seed capsule of a sun orchid, awaiting the right moment to scatter. Comb ferns hoist their rake-like fronds on slender handles. Sky lily, mountain daisy and the frail white goblets of gentian peek above the parapet of battle-hardened shrubs. I kneel eye to eye with eyebright, whose dainty white petals are painted with eyelashes and dusted with yellow blush to attract insects. Its coquettish looks are deceptive: the plant is semi-parasitic, drawing some of its nutrients from carpet grass and other unsuspecting plants.
I am not the only Gulliver in this Lilliputian world. Two of New Zealand's outsize flightless birds—great spotted kiwi and western weka—stride across this landscape. Giant native earthworms, one species beetroot red and as thick as my middle finger, serve as subterranean tractors, mulching and cultivating the soil.
And there are other giants here. I slide my hand into the narrow gap between the branches of the bonsai pines and the cool, moist leaf litter beneath, and rummage. It is like following a secret corridor, invisible from above. My fingers touch something smooth and round and I pull out the empty shell of a giant land snail, Powelliphanta patrickensis, endemic to Denniston and the adjacent Stockton Plateau and, like many giant land snails, nationally endangered. In other moss catacombs I find two more shells, both intact and perfect. But no living snails. It is as if the animals have evaporated, the giants have gone walkabout.
The Denniston snail, it has to be said, is something of a dwarf giant. Unlike one of its Nelson relatives, a mammoth among molluscs with a shell almost 100 mm across—as broad as a legal-size scallop—and as heavy as a tui, a full-grown patrickensis is only about 35 mm in diameter. But it has features that make it as unique and special as any of its kind. It has a paper-thin shell composed almost entirely of protein, with only a thin smear of the calcium carbonate snails typically use to strengthen their shells. I hold one to the light and it glows the colour of kauri gum. Swirling radial bands of brown and black pattern its glossy surface, laid down over a life span that in some Powelliphanta measures 20 years.
Here's another feature: the Denniston snail exudes blue mucus. A bright, marine blue. Nobody knows why that should be so.
New Zealand is justly famed for its flightless birds, but zoologists say it is our invertebrate diversity—particularly the land snails—that makes us globally unique. Frank Climo, one of country's leading snail taxonomists, describes Powelliphanta as the "pinnacle of evolution" of a molluscan lineage that has its origins in ancient Gondwana. These giant carnivores, he writes, are "just as significant as the equivalent bizarre peak of ornithological development that is the kiwi".
Yet land snails, giant or otherwise—most of our 1500-odd species are the size of a pinhead—are far from being the public icons and conservation mascots that kiwi are. If they were held in higher regard, such status might weigh more heavily when land-use decisions are in the balance, as they are here. For a new Gulliver has come to the plateau.
Drill rigs have sprouted among the tall tussocks, and helicopters buzz the domain of kaka and falcon.
Perth-based public-listed company Bathurst Resources is seeking its fortune from Denniston coal. It owns licences covering 10,000 ha of the plateau and the wider Buller coalfield, and in 2011 it won resource consents for a 150 ha open-cast mine to be sited at the southern edge of the plateau along with coal-processing infrastructure intended to service a suite of subsequent pits.
The mine footprint is on conservation "stewardship" land. Opponents of the venture believe it is not good stewardship for a tenth of the plateau to be destroyed, that it is the ecological equivalent of blowing up a tenth of the Great Barrier Reef. Supporters say mining on the plateau is good stewardship: we can have our conservation cake and eat it, too. The government says we need more mining—that we must "unlock the mineral potential" of the conservation estate. The Buller district says it needs more mining to bolster its economy. And so a new front has opened in the cultural battle between exploitation and preservation. It is a clash of resources: the black and the green.
Rod Morris is one who has nailed his colours to the mast over Denniston. He made his name in nature photography and filmmaking, producing many of the highly acclaimed documentaries of the former Natural History Unit of Television New Zealand. When he was a filmmaker, his subjects were often large, usually charismatic, sometimes (like the Komodo dragon) frightening and bizarre. Now, he says, it's the little things that captivate him—especially the little things that live on the Denniston Plateau. Lately, he has been travelling around the country, showing photographs and telling stories about the "lifestyles of the small and insignificant", as he puts it. He wants people to see what's at stake on the Denniston. I have come here for the same reason.
We are standing on the southern escarpment, the highest point of the plateau. On a foggy day, one careless step here and you could fall 200 m and not hit anything on the way. I step onto a rock that juts into space and edge towards the precipice. At dusk, they say, you can hear moreporks calling, far below, where a sea of green forest rolls south to the Paparoa Range. Behind us, the plateau slopes gently northward, towards where the town of Denniston stood, with Stockton rising on the skyline.
Notches along the escarpment wall hold pockets of forest that have responded to shelter and grown tall and lush. I reach out and touch the moplike tops of mountain neinei, leaves tinged the colour of ripe eggplants, but the bases of their trunks are 10 m below, in canyons where surely no human has set foot.
Fifty million years ago, this plateau was swamp—a geological slew of sandstone, mudstone and conglomerate sediments interleaved with the organic detritus of eons of forest growth. A little over 40 million years ago, the land sank and the sea flooded the swamps. As marine sediments buried the terrestrial ones, the organic material was compressed into coal. Two million years ago, the tectonic rollercoaster lifted the entire block of rock and minerals and pushed it into the clouds. Under the onslaught of the West Coast's drenching rains, the younger marine sediments were steadily weathered away, exposing a hard sandstone cap.
The sandstone, too, is being fissured, fractured and sculpted by the harsh climate. The whole plateau is studded with sandstone slabs, some towering above the landscape as huge angular monoliths, others lying upon it, curvaceous as bodies in recline. Cracks in the slabs sprout a mini flora of ladder fern, cushion plant and kamahi, and little beaches of quartz sand testify to the grinding of the ages. It is, as Leicester Kyle put it, "a pavement moulded by the thumb of God".
It is a pavement about to be mangled by the hand of man. Where we are standing is part of the footprint of Bathurst's Escarpment Mine. The mine plan calls for stripping off the living surface and stockpiling it, then drilling and blasting through 50 m of rock which overlies the coal seam. This material, the overburden, is to be stockpiled, too, and progressively replaced as the coal is extracted. The surface will be reshaped to mimic the previous landform. "Then they will lay the environment back on top like Ready-Lawn," says Morris cynically.
Proponents and opponents of the project debate the ecological validity of what mining companies describe as rehabilitation of the landscape—the reshaping and the revivifying of the spoil. There is no question that mine sites can be revegetated. It is already happening on Denniston's doppelganger, the Stockton Plateau. There, Solid Energy, the country's state-owned (and largest) coal miner, prides itself on the revegetation of its open-cast sites.
Where parties differ is over the ecological merit of the rehabilitated landscape. No one pretends that the post-mining flora and fauna will exactly match the original. The questions are: How close is the resemblance, and does it matter? Bathurst's ecologists assert that a portion of the Denniston Plateau ecosystem—12.5 per cent—can be sacrificed without irreparably harming the whole. Opponents reject that position, saying that there is too little left of this habitat (generically known as Brunner coal measures), that it is too locally variable to be considered a single, uniform type, and that we should not be taking such risks with an ecosystem that is nationally and internationally unique. They also point out that 12.5 per cent is only the first slice of the cake; Bathurst has its eye on much more.
A key issue in rehabilitation is drainage. Because of its largely impermeable rock base, the plateau acts like a giant sponge, retaining moisture permanently in its peaty soils. But if the impervious stone underlay is blown to smithereens, as it will be during mining, how will soil saturation be restored? Even after hundreds of years, many of the species that make the plateau unique are likely to find the conditions inimitable to their survival.
Who are these denizens of Denniston, living 800 m above sea level on what feels like the edge of the world? Morris and I start turning over rocks, seeking them out. Under several boulders we find the finely spun silken retreats of spiders, glued to the rock, but no spiders in residence. Then we are rewarded with the animal itself: a vagrant spider guarding its egg sac. Its abdomen, fuzz-covered like a peach, is a speckle pattern of chestnut, orange and black. Two black dents on either side of a pale centre line look uncannily like eyes. The spider has the long bristly legs of an agile hunter. A pair of massive bristled mandibles, like two drooping moustaches, suggest the ease with which it might seize cockroaches and other ground-living prey. Arachnid specialists cannot classify this spider more precisely than to say it is in the family of wandering spiders, but its behaviour when threatened is unusual, possibly unique. It rears up on its hind legs, lifting its front legs like a lion rampant. Morris has never seen its like.
Under another rock, I find a small brick-red Peripatus with multiple blue-tipped legs, a creature that looks more like a stuffed toy than a venerable living fossil, believed to have made its first appearance on Earth half a billion years ago. Under another rock, a leaf-veined slug, glistening with mucus. When fully grown, this giant endemic mollusc will be the size of a small hen's egg. Morris has found these slugs sharing cavities in hollow trees with geckos and forest weta. Life gets mixed up in unusual ways in a place like this.
I turn a rock to find a shiny dollop of caramel. After several minutes, the blob begins to stretch out and glide under and over the shards of stone that litter the ground. A javelin-shaped head delicately negotiates obstacles, while a steadily lengthening body—20 cm at its fullest extent—follows behind. It is a flatworm, and it may look innocuous—or to some people simply gross, part of a pantheon of weird invertebrates that most humans find irrelevant—but its tribe has been one of the most successful on the planet.
[sidebar-1]
Ultra-minimalists, flatworms have no respiratory or circulatory organs, no skeleton and no anus. Stuff comes out the same way it goes in—through the mouth—but the mouth isn't at the front end where you'd expect it, it is midway along the body. Most flatworms are nocturnal, and emerge to hunt only when the humidity is high. Denniston, with six metres of annual rainfall, suits them down to the cold, acidic ground.
Flatworms eat almost anything, from bacteria, protozoans and invertebrates to juvenile fish and frogs. Powelliphanta patrickensis is even on their menu. Possibly the shells I found were flatworm leftovers. Some flatworms find their prey through chance encounters, but others can track the mucus trail of a snail or worm. When they overtake a snail, they either wrap themselves around it, like a snake, or flow over it, covering it like cling-film. Then they extend their feeding apparatus, the pharynx, though the shell aperture, inject digestive enzymes and begin sucking up prey tissues, like a vacuum cleaner from hell. Some jujitsu flatworms can attach one end of their body to a moving snail, anchor the other to the soil and flip the snail upside down. They then advance over the shell and pour digestive juicesoneinto the aperture to immobilise the animal.
With a repertoire of behaviour as bizarre as this, it seems unfortunate that the animals are lumbered with a boring, self-evident name like 'flatworm'. "Names should have some zing to them," says Morris. We start musing on the possibilities. What if we were to call this the Sandstone Anaconda? Or the Copperhead Hell Worm? What if we were to call Powelliphanta snails Powelephants—they are indisputably the pachyderms of terrestrial molluscs. Except, like Sandstone Anacondas, they are carnivorous. A large Powelliphanta can seize a 25 cm-long earthworm and swallow it like a noodle. Perhaps we should call it the Amber Lion. An Amber Lion with 2000 microscopic knives on its tongue-like radula.
The creature Morris is most desperate to find is one we have taken to calling the Moss Leopard. He shows me a photograph of it—a truly startling image. It looks like an egg of polished lapis lazuli lying on a bed of moss. Its skin is speckled with pale blue dots and splotches of pale lichen green. In the centre of its back is a glowing red patch, as if a diode had been implanted under the skin.
The animal was found during an ecological survey near Solid Energy's contentious Cypress Mine site, in an area to the north-east of Denniston known as Happy Valley. It is unlikely that it has ever been seen before or since. The photograph, procured under the Official Information Act from Solid Energy, is the only evidence of the creature's existence. If it were a mammal, the entire zoological world would be abuzz. But it is not a mammal, it is a flatworm, an invertebrate so basic that it is described as a tube with muscles. So its inconvenient existence is ignored.
The red light? That's thought to be an egg capsule lying near the surface of the Moss Leopard's skin. Flatworms can reproduce in two ways: find a mate, or simply split in half. If they mate, they produce egg capsules that are released either by a rupturing of the body wall (think of the film Alien) or when the adult self-dissolves at the end of its year-long life.
Everyone has his quest. One man looks for the elusive Fiordland moose, another for the Stockton Moss Leopard.
We search on, ecological prospectors of the last plateau. We fossick down-slope towards one of the streams that dissect the plateau. Many of the mudstone rocks here have been cleaved into wafer-thin sheets. They fan out like the charred pages of books rescued from a fire—hundreds of pages, grey and rust-coloured and brown. Some have rainbow stains on their surfaces, hydrocarbon residues expelled from the coal layers beneath.
At one site every mudstone slab is packed with leaf fossils. The fracture planes are so uniform and straight you can split the rocks open with your hands. Each face reveals the perfect imprints of long, spindle-shaped leaves, like those of tawa, and ovate ones, like pohutukawa. It is like walking into a library where some mad botanist has pressed a forest's worth of foliage into every volume.
It has been a dry autumn, and the stream has shrunk to a series of pools, leaving a dry boulder bed. The chemistry of sandstone is such that Denniston's streams are too acidic to support most fish life, but koura, the native freshwater crayfish, are common. I find one in a shallow pool. It is the size of my hand, and its pincers could easily fit around my thumb—something I don't intend to let happen. We look closely at its carapace, and Morris notices tiny cream dots moving on it. They are temnocephalids—commensal flatworms that look like miniature sea anemones. They use their tentacles to capture and eat creatures smaller than they are, but cause no harm to their host crustacean. Unlike most aquatic creatures, temnocephalids do not have a free-living phase in their life history, Morris tells me. Their partnership with koura must therefore pre-date the isolation of New Zealand from Gondwana. They are Cretaceous hitchhikers. Along with moa, tuatara, Powelliphanta and others, these tiny flecks—and their spiny hosts—are part of our original zoological cargo.
We lift dry rocks in the river bed. Morris's excitement level spikes when he finds a harvestman that he feels sure is a new species. Its body structure is like a daddy-longlegs spider (the common domestic spinner of webs in the corners of ceilings), but with thicker, banded limbs and a much larger body, chocolate brown with turquoise spots. It seems to stare up at us with a pair of glittering eyes on the top of its head. This is the find of the day—the sort of unexpected treasure that brings Morris and other naturalists back to Denniston time after time. "We just don't know what's up here," he says.
In March 2012, 150 scientists and volunteers spent two days conducting a rapid biological inventory on the plateau—a "bioblitz", as it was called. The tally of species came to more than 500. Among the highlights were a gecko never before seen on the New Zealand mainland, a new species of day-flying moth, a cicada of unknown provenance and eight species of primitive jaw moth—the most archaic of all Lepidoptera, which evolved before flowers possessed nectar and therefore have no tongues.
It is not just the prospect of undiscovered species that draws Morris here, but also the fact that the plateau is an ecological paradox. Here the forest gecko lives not in the forest but among the rocks and shrubbery. The green tree gecko burrows into the moss. The West Coast forest weta, another giant of its kind, lives not only in galleries in tree trunks but in burrows in the peaty soil. "A whole community goes about things in a different way," Morris says.
The invisibility fascinates him, too: "Go for a walk on any given day and you probably won't see them—the giant snails, the burrowing weta, the carnivorous flatworms—but they're here." And not dotted parsimoniously across the landscape. The biomass is surprisingly high. Morris says that in forested parts of the plateau he has found the entrances to weta galleries in almost every living mountain beech. "This is unheard of," he says. Taking into account the numbers and size of its fauna, Denniston almost approaches the character of an offshore island sanctuary—a lost world suspended between mountain peaks, largely above the predator tide.
One other feature of the plateau leads him to a striking analogy. "It's like a Persian carpet up here, with every thread neatly tied by tiny fingers," he says. Coal-measures vegetation is a mosaic of botanical swatches, and that diversity creates biological complexity. Botanists say that half of New Zealand's nationally threatened plant species are to be found in small, rare ecosystems, which collectively make up less than 0.5 per cent of the country's total land area. A third of our threatened butterflies and moths are found in the same small patches of biodiversity. We live in a country that is a patchwork of small, intrinsically unique ecosystems.
No one knows this better than Sir Alan Mark, emeritus professor of botany at the University of Otago. Morris calls him the Lorax, after Dr Seuss's cautionary fable about resource exploitation. "I speak for the trees, for the trees have no tongues," says the walrus-moustached Lorax to an upstart industrialist who cuts down Truffula Trees to make "Fine-Somethings-That-Everyone-Needs". Mark, who is himself well whiskered, has been speaking for the trees for half a century. His research and advocacy helped to galvanise public opposition to another environmentally destructive project—another "fine something" the country was told it needed—the raising of Lake Manapouri. I ask what has brought him out swinging over Denniston.
"Denniston is one of two major coal-measures habitats," he says. "Stockton, the other one, has been virtually annihilated, and Solid Energy continues to exploit it. For me, Denniston is the last stockade. I'll give it my best shot to defend it."
Tussock grasslands are Mark's speciality, and the fact that Denniston is the prime location of a rare species of tall tussock is, for him, a key reason to keep the plateau intact. But there are also pockets of other rare tussocks on the plateau, contributing to an ecological complexity that Mark is loath to see compromised. What about rehabilitation, I ask? He doesn't buy it; not in this case. "You can't recreate the Mona Lisa."
One aspect of the Denniston mosaic that has only recently come to light, and may be unique in Australasia, is the occurrence of bryophyte stalactites—aggregations of mosses and liverworts that hang like massive ice-cream cones from the walls of gullies incising the plateau, with up to 20 species in a single tutti-frutti scoop. As botanical wonders, they would give the hanging gardens of Babylon a run for their money. It is thought that some of the bryophytes—and, by association, some of the jaw-moth larvae and other creatures that feed on them—may exist in patches less than a square metre in extent.
Perhaps the best-known example of faunal patchiness on the coal measures comes from across the valley, on the Stockton Plateau. In 2004, Solid Energy's plans to mine Mt Augustus were halted when a new species of Powelliphanta was discovered there. And only there. Powelliphanta augusta was found to be confined to an area the size of eight rugby fields on the Mt Augustus ridge. It had evolved on that single mountain range and lived there for probably a million years.
[sidebar-2]
Between 2006 and 2007, more than 6000 Mt Augustus snails and 1100 eggs were collected and removed to a refrigerated storage facility near Hokitika, where they live in individual plastic boxes, awaiting eventual return if or when rehabilitation of the mine site provides them with a viable habitat. (The mountain has now been demolished, as has neighbouring Mt Frederick.) Some snails have since been released on Mt Rochfort, on the edge of the Denniston Plateau, although Mt Rochfort is already home to the patrickensis species.
If patchiness is a defining feature of New Zealand's biodiversity, then jettisoning patches such as Mt Augustus is like destroying heritage buildings or shredding historical documents. Kath Walker, the national expert on giant land snails, notes that there are dozens of distinctive, named, Powelliphanta subspecies, each one isolated on a mountain top or across a river and continuing the process of gradual speciation. Even if shifting threatened snails should prove successful in terms of snail survival, she says, it creates gaps in a pattern of biogeography that has not yet been mapped, let alone understood. We would be throwing away much of what is of greatest value in these creatures. Encoded in the distribution and genetics of these fragile, lumbering giants is the biological history of these islands.
Fifty years have elapsed since the Save Manapouri Campaign. Have we learned anything since then about how we value the natural environment, I ask Alan Mark. His reply is blunt: "The government's position on Denniston suggests that nothing has been learned."
[Chapter Break]
My own path to Denniston lies as much through coal as it does through ecology. In 2004, I wrote a story about the burgeoning international demand for New Zealand coal (issue 68). Earlier this year, I discovered that some of my own relatives were hewers of the black stuff. A passel of Warnes arrived on the West Coast during the 1860s gold rush and settled in Charleston. One of their children, my great-great-uncle, became a coal miner. He and his wife brought up eight children on the Hill.
I met one of them in Westport. Ron Warne, 93 this year, was the second youngest. He remembers helping his father carry a wooden cross to the Waimangaroa cemetery, on the coast, to mark his sister's grave. Twelve-year-old Annie died of bubonic plague, he said. Bubonic plague? I thought I must have misheard him. In fact, black death and plague were common names for the deadly flu pandemic that followed World War I. The bodies of many victims turned black when they died. Annie couldn't be buried on the Hill. No one could. The ground was too rocky to dig a grave. It was one of the many heartbreaks of living in that place.
Denniston was the pride of New Zealand coal mining, and at one time the country's largest producer of coal. The town's trademark was its incline, a railway from the clouds. It was powered by gravity. Loaded coal wagons coming down from the plateau pulled empty ones back up. Opened in 1879, the incline was described as the largest engineering feat in the Southern Hemisphere and the eighth wonder of the world.
Denniston coal was considered the best in the British Empire. Probably every child on the West Coast learned the story of HMS Calliope, a British man-of-war which escaped from Apia Harbour during a cyclone in 1889 while 12 other ships were wrecked. Denniston's high-calorific bituminous coal gave Calliope's engines the power to battle 20-metre waves surging through the harbour entrance. The same coal powered Scott's ships to the Antarctic.
Ron Warne's first job was trimming excess coal off the wagons before they hurtled down the incline. Other boys his age had the job of coupling coal bins to the ropeway that ran from the mines to the incline, or calling out the token numbers on the bins to the weighman. A check weighman confirmed the number, using an eclectic language that made him sound like a bingo caller at an all-day game. "Kelly's eye number one", "Army pills number nine", "Cut plug number 10" (a brand of tobacco), "Devil's own number 13" and "47 ginger-headed sailors" (an old Jack Hylton song). A boy dare not misread the number. Miners, who worked in pairs, two to a bin, were paid by the coal they hewed—two and fourpence a ton in the early 1900s—and the token represented their share of the river of black gold flowing off the Hill.
I asked my uncle to hold up his hands so I could see if he had all his fingers. Many a lad lost a joint when the chain connecting the bin to the ropeway suddenly tightened as the weight came on. Ron has a full complement. He was smart. He moved from the perishing cold of the incline to the roaring fire of the blacksmith's shop, operating a steam hammer. After that, he learned to drive buses, and drove them for the rest of his life, many a time creeping like a Powelliphanta around the hairpin bends on the Denniston road, peering through the fog.
Denniston fog was legendary. Figures loomed out of the mist, greeted each other, and were swallowed up once more. A ball kicked high in the air during a soccer game would disappear from sight, and players would listen for the thump to find where it had landed. In his book The Spirit of Denniston Hill, Dai Hayward reports a match held in thick fog between Denniston and nearby Millerton, which at its peak had one of the best soccer teams in New Zealand. "Millerton could make no headway against Denniston, whose players seemed to be everywhere. Then the fog suddenly cleared and revealed Denniston had 15 players on the field."
"Field" is a generous word for Denniston's recreation ground: there was not a blade of grass on it. The playing surface was flattened rock topped with a lick of sand. On Sunday afternoons, residents would dress up and promenade around it to the strains of music from wind-up gramophones. There was no tillable soil on the Hill, so if you wanted a bit of a garden you had to bring up the soil from the coast. One resident who gamely tried to grow vegetables recalled that carrots would grow down a certain distance, then spread sideways when they hit rock. In the 1920s, the miners made a bowling green from soil trucked up from below. It was the pride of the plateau for years.
Outside the Denniston museum is a plaque honouring the wives and mothers who "endured atrocious weather, hard work, economic hardship and isolation" on the Hill. Ron's wife, Florence—they met on the Hill; Florrie was Denniston's first post girl—told me that when her mother arrived in 1921, she was so shocked at the conditions that she cried for weeks. In England, she used to wear white gloves when she went shopping. In Denniston, by the time she had borne three children and "accepted the way things were", as Florrie put it, she wore the gloves when she cleaned the coal range.
[sidebar-3]
"Few women have been asked to do more," states the museum plaque. It is signed: "From the children." Some of those children had a precarious entry to the world. The hospital was located midway between Denniston and the neighbouring settlement of Burnetts Face. In the early years, when few families owned a car, getting to the hospital from either place was a challenge for a woman who had gone into labour—especially in rain, snow or fog so thick you couldn't see the hand at the end of your arm. One woman, Helen Brodie, took the most direct route—along the ropeway, with lines of coal bins rumbling past her just 15 cm on each side. Another woman managed to hold on until the milkman, Curly Fairlie, arrived and drove her to hospital in his milk truck. One husband decided the quickest method was to push his wife in a wheelbarrow. Ron's brother George half pushed, half dragged his wife through the snow to get her to the hospital in time.
Fortitude, camaraderie, solidarity—these, more than the privations, are the qualities people remember.
In a message to George Warne on his 90th birthday, Rona Coppersmith, writing as "one long ago mountain dweller to another", recalled a town where "every face was a friend's face, every house with an open door". There were even moments of fairytale enchantment. Sylvia James, one of a dozen souls who still live on the Hill, says there was a dam near Burnetts Face that used to freeze in winter. The owners of a nearby house would put candles around the edge of the dam and push their piano on to the porch so people could skate to the tinkling of the ivories.
(One woman, a hotelier with a reputation as a hard shot, had a less rosy-hued recollection. In her later years, when anyone mentioned the place she would retort: "Burnetts Face? I'd rather burn its arse.")
Much of this history is celebrated in a million-dollar visitor centre at the top of the incline. For $85 you can even take a tour into the old Banbury mine and shovel some coal. The old miners would shake their heads in amazement—people paying to go underground.
All this revived attention has been given a mighty boost by a popular trilogy of historical novels by Wellington author Jenny Pattrick. Denniston is back on the map, and for its work the Denniston Heritage Trust won a national community award in 2012. Yet impressive as the site is in showcasing social history, there is not a peep, not a squeak, not a weta's rasp about natural history—the bonsai forest and its sumo invertebrates, its moss-living geckos and flightless birds. For a place that has been designated a "priority site for biodiversity management" by the Department of Conservation, the silence about biodiversity is deafening.
The department's muted voice on Denniston and the lack of hard data about the ecology of the plateau were issues that vexed the commissioners charged with deciding whether to grant consents for open-cast mining under the Resource Management Act. It was like driving in Denniston fog.
[Chapter Break]
"Art, like morality, consists in drawing the line somewhere," wrote G. K. Chesterton. So does deciding a resource-consent application, and in their August 2011 decision the three commissioners admitted to experiencing "considerable reservations and anguish" in drawing lines over Denniston.
One line they agonised over was whether the plateau was an Outstanding Natural Landscape or the slightly less valuable Significant Natural Landscape. They came down on the side of the latter, but said it was a "close-run thing". Had they opted for "outstanding", the mine proposal might not have been approved.
Over the plateau's biodiversity, they lamented the paucity of information available to them to determine whether the cumulative loss of coal-measures vegetation on the Stockton and Denniston Plateaux had reached a level where protection outweighed further exploitation. Again, they drew the line narrowly on the exploitation side.
However, in a set of forthright remarks, the commissioners said they had come to accept that the biological inhabitants of the Denniston Plateau are "remarkable", and that they were "very concerned at the vulnerability of the Buller Coal Measures to further development and mining. We are alarmed that merely because the bulk of the landform is in the public estate and under DOC's care and protection, [that] will not necessarily save it from destruction."
They did not mince their words about what could lie ahead for Denniston: "From the evidence presented to us, it is abundantly clear that large-scale mining is poised to invade the entire Denniston Plateau coal reserves, which, if unchecked, will totally destroy the ecosystems which are present." Bathurst alone owns mining licences covering 10,000 ha of the Buller coalfield, and more than three-quarters of the Denniston Plateau is under licence to either Bathurst or Solid Energy.
The commissioners had strong words for the Department of Conservation (which, they noted, had not provided them with the benefit of its perspective during the hearings) over its protected-areas initiative. In the late 1980s, DOC launched the Protected Natural Areas Programme (PNAP), with the aim of protecting "intact, functioning examples of the natural ecological systems and landscape features that gave New Zealand its distinctive original character". The country was divided into 85 ecological regions, comprising 268 ecological districts, one of which is the Ngakawau district, including the Buller coal plateaux.
The idea was to make rapid ecological assessments of each district and come up with Recommended Areas for Protection (RAP). Seven RAPs were suggested for Ngakawau. One of them encircles Mt Rochfort, and is impinged on by a small part of the Escarpment Mine footprint. As things have turned out, the PNAP report for Ngakawau is hardly worth the paper it was written on. The three most important RAPs were never enshrined in law. Solid Energy's approved Cypress Mine, in Happy Valley, lies within one of them, and the former peaks of Mt Augustus and Mt Frederick lay within another. In both instances, coal trumped ecology. The Mt Rochfort RAP is similarly toothless in preserving its habitats from future mining.
"In our view," said the commissioners, "it is not sufficient to…produce a report on recommended areas of protection, and then 23 years later no further action taken to provide any meaningful (statutory) protection for those high-value ecological areas." They urged DOC to complete the work the PNAP began. This seems unlikely, given the niggardly funding the department is allocated.
The country seems destined to keep having these highly expensive, last-ditch, eleventh-hour battles-to-the-death over the exploitation of conservation land because the government is disinclined to fund strategic analysis of the lands in question.
Almost all stewardship land remains in the "statutory holding pen", as a former Minister of Conservation called it, into which it was placed a quarter of a century ago. As a result, businesses and investors lack clarity about where development is appropriate and where it is not, and it is left to environmental groups and individuals to fight for the preservation of commercially threatened land.
Concerning Bathurst's broader designs on the plateau, mining opponents could take some comfort from the commissioners' refusal to grant a 35-year extension for infrastructural elements such as the mine's processing plant and coal-transport structures. "We do not wish to provide any indication that future consents will be granted," they wrote. Given the lack of a definitive "whole of plateau" ecological study, the commissioners felt unable to determine "at what stage mining will irreversibly destroy the Denniston Plateau ecosystems".
They sent prospective applicants an unequivocal message: "In our view the time may well arrive when there is clear evidence a mining proposal would materially and fatally injure the great spotted kiwi and P. patrickensis as a species." When that time comes, they said, the economic benefits of mining "would not be sufficient and a consent would be refused".
The commissioners urged all parties to jointly undertake a comprehensive study, "with the very clear intention of identifying where the most important values are located, how these can be protected in perpetuity, and what areas can be mined without further irreversible cumulative loss of ecological values". At the moment, they said, decisions such as theirs were being made "on an ad hoc basis only, which is clearly unacceptable and fraught with difficulty".
For its part, Bathurst signalled its displeasure with the Resource Management Act process by lodging an application with the Environmental Protection Authority (EPA) in an effort to fast-track its resource consents and avoid the risk of appeals. The EPA was established to process applications for "major infrastructure projects of national significance". Bathurst will seek to show that its mining projects have greater national significance than the landscape itself. The company is testing the waters with some minor consents over its coal-washing plant and conveyor system. If these sail through the EPA system, it will lodge consent applications for additional mines with the authority as well. EPA decisions can be challenged only on a point of law.
Bathurst's chief operating officer said the company had decided to reveal its future plans for the plateau in order "to stop people accusing it of death by a thousand cuts"—an ironic metaphor for a coal miner, especially one involved in "cut and cover" mining.
Irony seems to swirl around the coal plateaux like clouds around the escarpment. At the recently convened RMA hearings into Solid Energy's proposal to mine a new 3000 ha block of Stockton Plateau, the chairman of the commissioners started proceedings by saying that he would follow the Environment Court's decision and exclude climate-change evidence. He believed that considering the downstream climate effects of any RMA decisions would be "opening up Pandora's box". In mythology, the opening of Pandora's box released an unstoppable evil that spread across the world. Acknowledge it or not, the box is open.
That point was made theatrically at the Bathurst RMA consent hearings in Westport by one of the 98 submitters, long-time Denniston resident Terry Sumner. He brought a large cut-out elephant made of corrugated plastic and propped it next to him while he read his submission. It was, self-evidently, the elephant in the room: climate change. But it is a strange kind of elephant: now you see it, now you don't. When considering applications under the Resource Management Act, councils must take into consideration the effects of climate change (such as possible sea-level rise when considering a coastal development proposal) but not the likely contribution to climate change of a proposal. Furthermore, councils are instructed to consider climate change if the proposal has a positive impact on lowering carbon emissions (such as a renewable energy project), but not if it has a negative impact, such as the export of coking coal to be burned in the smelting of steel.
Sumner urged the commissioners to weigh the climate implications of Bathurst's proposal, and told them that if, indeed, the law forbade them from doing so, "then plainly it is an ass". The commissioners were unmoved. In their decision, they wrote that "if coal mines are to be seen as encouraging climate change…it must be a political process to prevent them from being established and operated. We do not see the RMA as a vehicle to meet such political aspirations, well meaning as they may be."
They further commented that it would be "quixotic and meaningless" for them to refuse consent in the belief that such refusal would set a precedent that contributed to the end of global warming. They considered that the relative impact of emissions from Denniston coal on world climate was "trivial and [a] mere bagatelle".
The argument that minuscule contributions to a global problem are irrelevant does not stand up well to scrutiny, no matter how jauntily stated. In a decision over a proposed power station in Stratford in 1995, a national board of inquiry said that to accept this line of thinking would imply that, as the world's total carbon-dioxide output is composed of a great number of small emissions, "the effect of any one of them could be discounted. But if one, why not more, or many, or, indeed, all?"
In other words, why should New Zealand keep its coal in the ground if Canada exploits its tar sands—a fossil-fuel resource said to contain twice the amount of carbon dioxide emitted during the entire history of global oil use? Because, as the board pointed out, "a small proportion of a very large amount may still be large". The significance lies in the thing itself, not its comparative size.
And just what is the size of Bathurst's "mere bagatelle"?
The total tonnage of coal that Bathurst expects to extract from its Escarpment pit will produce emissions equivalent to those generated by all the dairy herds in New Zealand in a year—around 14 million tonnes.
Those emissions, however, were not considered when Bathurst's resource consents were on the table. Nor will similar emissions be considered in Solid Energy's hearing. In May 2012, the Environment Court reiterated that "regulatory activity on the important topic of climate change is taken firmly away from regional government". The ball is squarely and solely in the court of central government, which has shown little enthusiasm in putting it into play.
The Environment Court's decision was promptly appealed by the environmental groups Forest & Bird and the West Coast Environment Network, which have been the two chief opponents of renewed Denniston mining. Their consistent position has been that carbon dioxide is now everybody's business. We live in a global commons. One molecule rules us all.
[Chapter Break]
Climate wasn't the only topic Terry Sumner addressed the commissioners about in 2011. He spoke about his life on the Hill, where he has lived since 1979. He mentioned the night he woke his children to watch the aurora australis—"a mesmerising, pale, shifting curtain of pink, green and yellow"—and the kea that stole pink pegs from the washing line.
These are scenes I can well imagine. Rod Morris and I are staying in Sumner's house, in a part of Denniston locals used to call Pommytown. (This is fitting in Sumner's case—he's from Yorkshire, and says Denniston reminds him of the Yorkshire moors.) It's a place you can develop an instant affection for. Whistling frogs, shooting stars, the blaze of sunrise red on the flanks of Mt William, the weka that startled me from behind the compost bin.
Sumner is away picking fruit in Nelson, so we have the run of the place: carrots and kale from his garden, the warmth of his wood stove. The walls are covered with posters and clippings that speak of Sumner's long commitment to social and environmental justice. I jot down a quote: "To know and not to act is not to know."
Above the fridge is a poster from the 1997 forest occupation of nearby Charleston. It shows an anti-logging protester sitting in the canopy of an enormous rimu. The headline reads: E tu, e Tane. Stand up for the trees. The arguments of that era still resonate today: Stop the domination by outside interests. Stop letting the capital value of the region's resources end up in someone else's pocket. Stop pillaging the land for a quick buck. The trees on Denniston Plateau may be only knee-high, but they're still worth standing up for.
I walk out one evening, revelling in the crispness, sniffing the tang of smoke from the chimney. In the coal yard below the road, earthmovers stand motionless, like sleeping cattle. Across the valley, Stockton glows in the arc lights of its mine. Denniston will lose its black nights, too, if the Escarpment Mine happens. I stop in to see Sylvia James, who is knitting in front of the fire. She and her husband, Gary, are the only other residents in this part of the plateau. I ask her what she thinks about the prospect of a 24/7 mining operation three kilometres away. "My heart is heavy when I think of what will be done to the whenua," she says.
On a hillside near here is an outcrop known as Capstan Rock, where miners gathered on nights like this to make plans after their union was crushed in 1891. It was the only place they could be sure there were no snitches eavesdropping. The fierce loyalties of those days seem like a different world. "We were taught the class struggle—the working class against the capitalist class," Millerton miner Bobby Closs recalled in an interview. "The old man used to tell us, 'You don't scab, you don't crawl, and you don't steal another man's job.' That's the way we were brought up."
In the mines, it was said that a man worked like a horse and a horse worked like a tractor. Economic survival was never a sure thing, and the Coast is still a hard place to make a living.
In the 2006 census, the median income in Westport was 25 per cent below the national average. A fifth of Buller's employment comes from mining. For a district smarting from Meridian Energy's decision in May 2012 to shelve its plans for a large hydro scheme on the Mokihinui River, the projected benefits of Bathurst's mine—400 jobs and $40 million a year in salaries and wages—would be a godsend. The RMA commissioners said it was the economic benefits of the proposed mine that finally tipped the balance, leading them to approve the application.
I came to Denniston to see what lies on both sides of the balance, the black and the green. And I came to explore the personal connection. Some of my people are lying in the cemeteries at Waimangaroa and Westport. They were miners, and miners' wives, and miners' children. I want to honour that history. But I want to honour the jaw moth and the giant snail too. The coal companies have a voice, a loud one. And they have the eager ear of government. The moth has no voice. For some of the creatures of Denniston Plateau, the fanfare of Bathurst's plan is the sound of an awful silence.
On my last day at Denniston, I return to the escarpment. The place has a strange drawing power. Leicester Kyle must have felt it too, standing here, as he put it, on the "world's bright edge". For him, it was a crossroads that invited a person to examine old ideas and consider new ones. He wrote:
As soon as you stand here
you know you know it
All roads end here
and somewhere else begins.