Te Pahi's medal
The rise, fall, and resurrection of a pioneering rangatira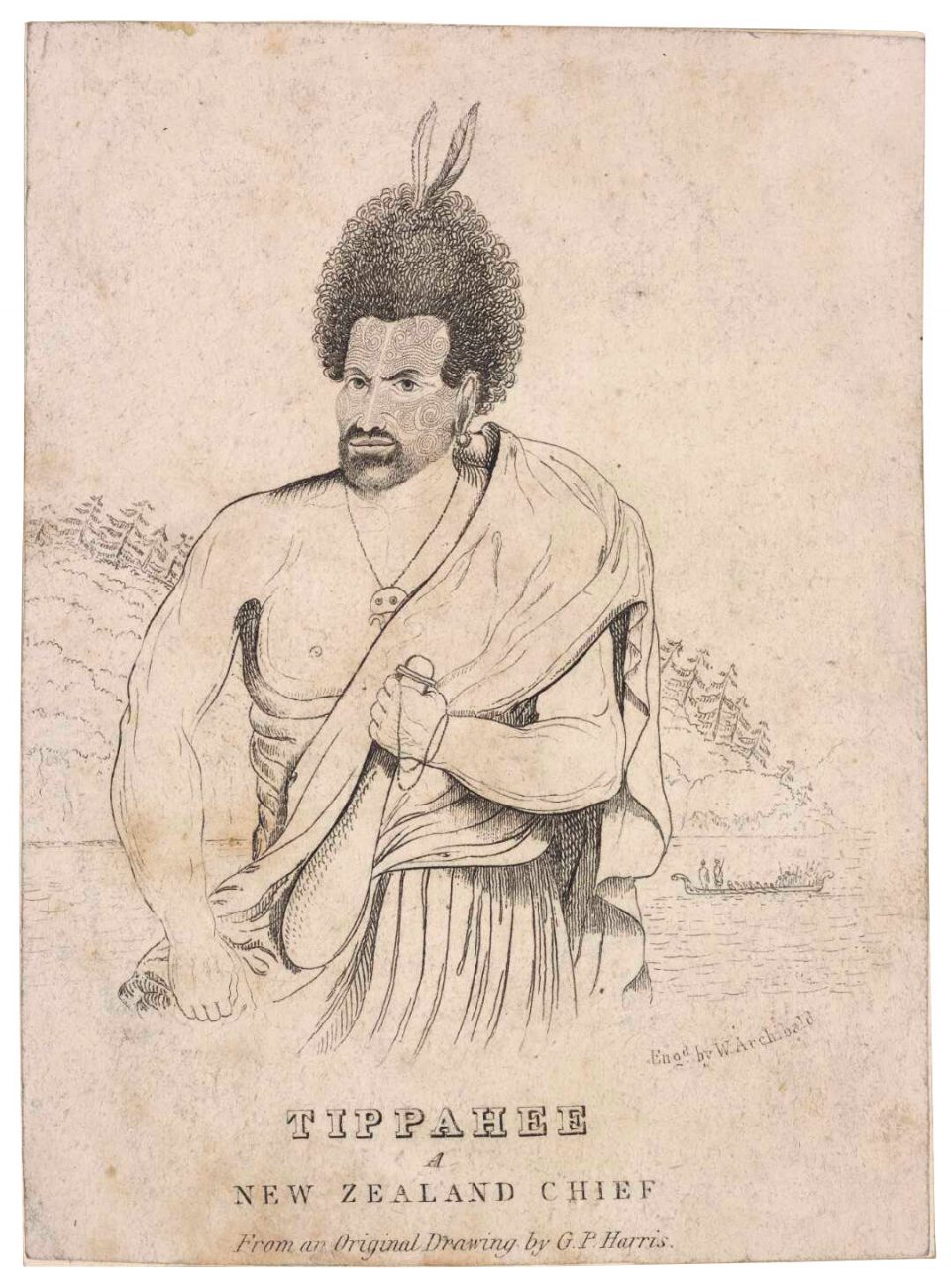 Alexander Turnbull Library
In the early morning of 6 December, 2014, a pōwhiri began on the forecourt of the Auckland War Memorial Museum to mark the return to Aotearoa of an unusual taonga: ­a silver medal, inscribed on both sides in beautiful copperplate lettering. The medal had been presented to Ngāpuhi chief Te Pahi in early 1806 by the Governor of the Colony of New South Wales, Philip Gidley King. Three years later, it went missing, and remained lost for more than 200 years.
Likely made by Irish artisan John Austin and his former partner in banknote forgery Ferdinand Meurant—seemingly from two pocket-watch cases—the medal is a fine example of early colonial silversmithing. More importantly, it was the first British award given to a recognised sovereign Māori leader, and a token of friendship between two statesmen who saw great value in strengthening trans-Tasman ties. The medal reflects Te Pahi's high status: his name, rendered as "Tippahee", appears in capital letters, as does that of the British king.
King first met Te Pahi when the Ngāpuhi chief visited Sydney to thank the governor for his hospitality to his son, Matara, the previous year. King had sent Matara away laden with metal tools and a sizeable number of pigs and goats. After his own visit, in which the two men exchanged gifts, Te Pahi himself returned home with fruit trees, more tools, what was to become New Zealand's first prefabricated house, and, suspended from his neck by a silver chain, the glinting medal.
Te Pahi was one of the most powerful chiefs in the Bay of Islands. He evidently had a clear grasp of how relations with the newly-arrived Europeans could be cultivated to benefit his people.
For his part, King undoubtedly saw the desirability of fostering a workable trading alliance with a chief who was already offering protection to British and American whalers.
Statecraft aside, it appears that King's affection for Te Pahi was genuine. The governor admired what he called Te Pahi's "high relish for civilisation" and was struck by his thoughts on the existence of God. When Te Pahi sailed for home, King told Sir Joseph Banks: "He will return to his own country the greatest monarch that ever left it."
All such hopes were soon dashed. In December 1809, the transport ship Boyd arrived in Whangaroa Harbour, north of Te Pahi's Bay of Islands home. Historian Anne Salmond details how friendly trading relationships between Māori and Europeans in the region had become fraught with mistrust over deaths from introduced disease, inter-hapū rivalries, and visiting captains abusing local chiefs. When it emerged that Boyd was carrying a Whangaroa rangatira's son who had been flogged and denied food while aboard, these tensions exploded. The crew were massacred and the ship looted. Though there is no evidence that Te Pahi was personally involved—and every indication that he would have been shocked at what happened—he was made a scapegoat. Revenge attacks by colonists and whalers on Te Pahi's island saw around 60 people massacred and the settlement in ruins. Exactly how Te Pahi died is unclear, but it seems that the friendship medal was taken when his prefabricated house was ransacked.
Scratched and scuffed, it came to light again when Sotheby's Australia offered it for sale in March 2014. Pressure from Te Pahi's descendants grew to have the taonga returned, and in an unprecedented move, Auckland Museum and Te Papa jointly bought the medal and are now kaitiaki (guardians) on behalf of Ngāpuhi.
Professor Deidre Brown (Ngāpuhi, Ngāti Kahu), who specialises in Māori art history and architecture at the University of Auckland, is a descendant of Te Pahi. She says the medal's return has allowed whānau to shift the conversation from his unjust association with Boyd to celebrating the sovereignty he exercised as a pioneer of trans-Tasman trade.