Talking books
These recent books will be little read but much listened to. Recordings of readings will be distributed by the Royal New Zealand Foundation of the Blind's talking book service among the 5600 people throughout the country whose eyesight no longer allows them to enjoy a book in the normal way.
Aileen Carrington loves to read. Having started by "reading the advertisements on the Weet-Bix box" at age five, she devours about 10 books a week, plus several magazines. But, like many elderly people, Aileen, now 80, has lost much of her sight, and for the last 11 years her reading matter has been talking books, supplied by the Royal New Zealand Foundation of the Blind's (RNZFB) Library and In­formation Services.
On a chilly winter's day on Auckland's North Shore, Aileen is warmly wrapped in an Arran car­digan as she collects her latest shipment of talking books from her letterbox. She is also wearing a cheer­ful print apron, specially made for her by a friend. In the apron's pockets she stores the essentials she might otherwise mislay as she moves around her home: the cordless phone, and her hearing aid when she's not wearing it.
Settling into her comfortable armchair, Aileen runs her fingers over the Braille labels on the teeter­ing yellow pile of talking-book containers stacked on the shelf beside her. There seem to be piles of talking books everywhere in her otherwise tidy home.
Having steadily read her way through the library since 1996, Aileen poses a challenge to the talk­ing-book librarians, who, she says, are constantly "scratching round" for new titles to send her. Only five per cent of all published print material is avail­able in formats that are accessible to people who are blind, deafblind or vision-impaired. Even so, Aileen has "never been anything less than amazed" at the diversity of books she receives from the library.
"I can get such a wide range of reading," says this former teacher, who mentions The Histories by Hero­dotus, books about mathematics, the Dead Sea Scrolls, Shakespeare, Christian theology and the life of the Waugh family in the course of a two-hour conversa­tion. The librarians even sent to America for a par­ticular book she requested (The History of Christian Thought). And if she rings the library with an SOS because she "hasn't a thing to read", they'll send out a box of 20 talking books by courier to tide her over.
"They're used to me," she says cheerfully. "There isn't a book I won't read." However, she has been known to threaten the librarians, "Don't you dare send me a Mills and Boon or you'll be in trouble!"
New Zealand Geographic editor Warren Judd says that his mother was also reliant on the talking-book service for reading during the last 15 years of her life. He recalls: "She would be very lost when an occa­sional hiccup occurred and she didn't have a book on hand over a long weekend." He says that she probably read much more widely once she had lost her sight than when she could see and choose books directly.
Having found the book she wants, Aileen opens the plastic container, which resembles a video­cassette case. Inside are four audio cassettes. Thanks to a special recording process these contain the text of an entire book in some 15–24 hours of recorded speech. Aileen selects tape one (cassettes are always placed in their box in the same order) and slots it into her talk­ing-book player.
With large, brightly coloured control but­tons this device resembles a child's toy tape re­corder. But the buttons are designed to be vis­ible to a partially sighted person and are large enough for stiff, arthritic hands to operate. Raised symbols on each button can be "read", Braille-fashion, with the fingertips. The player is supplied and maintained free of charge by the talking-books service.
Since she now also has age-related hearing problems, Aileen finds male narrators easier to listen to, their deeper voices being pitched at the best resonance for her residual hearing. Many talking books are sourced from overseas, partic­ularly from Australia and the UK, and she feels that some of the overseas narrators are not up to the high standard of New Zealand narrators, who themselves "have improved out of sight" in recent years.
She locates and presses the green "play" but­ton, and the engaging voice of Michael Keir­Morrissey, one of her favourite talking-book narrators, fills the room.
Like many of the narrators, Keir-Morrissey also works as an actor and voice-over artist. His is the voice of the Telecom call minder. How­ever, he regards being a talking-book narrator as much more than a job.
"It's a great thrill to be able to serve those people," he enthuses. "It's a wonderful feeling. I love books, and these people need me to trans­late the written word for them."
In addition to the talking books purchased from overseas, about 120 are recorded each year in the three studios at Awhina House, the RNZFB's headquarters in Parnell, Auck­land. These include New Zealand titles, some popular books not available from overseas, and magazines.
Narrators usually go in to the studios once or twice a week for a recording session. Sustained reading at a high level of accuracy is tiring, and three hours is the maximum time a narrator can maintain the requisite bright, interesting voice tone. Since each hour of tape requires at least two hours of recording time, it takes several weeks to record a full-length book. During this time, the narrator must remain healthy and in good voice. If someone has a cold, or is hoarse, they can't work.
Narrators study a new book beforehand to rehearse difficult passages and research unfamiliar names: a gardening book may contain the Latin names of plants, a travel book tricky place names. Sometimes a talking book's producer, who controls the recording side of things, becomes in­volved in this process. With a recent book on the Incas, the question was whether to pronounce the place names in the Spanish way or to use the old Inca language, Qhechua, which producer, Christine Hewton, researched on the internet. (They went with the Spanish.) With a novel, nar­rator and producer must also decide what accents to give the various characters. As narrator Wendy Karstens points out, it's no good giving a Cockney accent to a character only to read later in the book that the person is Scottish.
The ability to use multiple voices when reading a conversa­tion is one of the many skills a narrator must possess. Merv Smith, the well-known broadcaster, has recently recorded White Thorn, a novel set in South Africa, which required him to master both Afrikaaner and English South African ac­cents. Merv particularly enjoys reading a good yarn that gives him the chance "to take the bull by the horns and go for it". Their animation and use of plenty of expression is what talking-book users appreciate most about New Zealand narrators.
"These are the voices that 'our' books are recorded in," says user Peter Hoskin, fa­vourably contrasting Merv's "bouncy style" with some Eng­lish narrators, who "are a bit too dry for me".
Merv recorded his first talk­ing book 38 years ago, in 1969, when he was still with radio sta­tion Newstalk 1ZB. This makes him, along with actress Eliza­beth McRae, the longest-serving of the current group of 36 narrators. He recalls being surprised at the difficulty of the audition (which remains fiendishly difficult today).
"It's a very odd talent," he says. "Good narrators are patently hard to find. You must have the ability not to make too many mistakes while telling the tale as well as you can and injecting as much colour as possible." Care must be taken, he goes on, because "the narrator is the interme­diary between the writer and the listener".ing of the current group of 36 narrators. He recalls being surprised at the difficulty of the audition (which remains fiendishly difficult today).
Narrators are sometimes called on to read material they may disagree with or find ob­jectionable, but, like newsreaders, they regard this as just part of their job. Another hurdle for some is reading a steamy sex scene in a novel. Wendy Karstens and Christine Hewton both remember one such recording session. Wendy got through the purple prose all right, but then, glancing up, discovered that a group of seniors was being shown through the studios. They had been watching her through the win­dows of the booth and were hanging on her every word.
Wendy has been a narrator for some 14 years and regularly records both books and maga­zines. She is the current holder of the Talking Book Narrator of the Year Award, whose winner is selected by listeners themselves. Her voice is light and warm, and though she speaks rapidly, she enunciates each word beautifully. This is thanks to her mother, who sent her to elocution lessons in an attempt to modify her "gabbling".
Merv's warm, comfortable voice has twice won him the narrator's award, while veteran actor George Henare, with his smooth, velvety tones, is another double winner. The trophy, an elegant old microphone, is presented at a func­tion attended by both RNZFB staff and foun­dation members. It's an event that provides an opportunity for members to meet their favourite narrators, who in turn enjoy getting feedback from appreciative listeners.
There is no one correct talking-book voice. As narrators come and go at the studios, one hears deep, sonorous voices, light, bright tones, a slow measured pace, and rapid, tripping speech. In fact, the range of available narrators' voices is kept deliberately wide, both to provide variety for listeners and to match a voice with the type of book being recorded: a novel in which the main character is female will generally be nar­rated by a woman, while an American novel may require a narrator with an American accent. But one thing remains constant: every narrator has immaculate diction, and every voice is a pleasure to listen to. In addition, the voices have a certain quality, an edge, which engages the listener and holds their attention. Nevertheless, Aileen Car­rington, who likes to take her talking-book ma­chine to bed, comments mischievously that she could go to sleep with Michael Keir-Morrissey reading to her any night.
[sidebar-1]
In April 2007 a dinner was held in Parnell to celebrate the 70th birthday of talking books in New Zealand. It was attended by 135 dig­nitaries including the prime minister, various other VIPs and everyone involved with talking books, including narrators, producers, technical people and, of course, talking-book users. Each person was asked to say a few words, including their name and their reason for being there, all of which was recorded for the archives. Those present joked that it was easy to tell who were the narrators because of their distinctive voices.
While much attention is paid to getting the right voices for talking books, similar value is placed on the best recording methods. Audio producer Helen Mahoney is conscious of the need to obtain the clearest recording possible, particularly for elderly listeners. The well-equipped studios use Shure SM7 microphones, which, Helen explains, have "a particularly good frequency response, and give us the clear, crisp sound we're looking for". Almost no audio processing is used in the recordings because the producers are aiming for as natural a sound as possible. "We use very little in the way of audio compression, preferring to limit just the peaks, as high-volume peaks can distort. We also use a de-esser to reduce any sibilance."
[Chapter Break]
When she has finished listening to a book, Aileen rewinds each cas­sette and replaces it in the case. If a cassette is faulty, she places a rubber band round it to warn the library staff that it needs repairing. Regrettably, faults are increasingly common, as many of the founda­tion's tapes are getting old. There can surely be nothing more frustrating than getting halfway through a good book only to have to abandon it because of a faulty tape.
Reversing the postal label on the outside of the case so it is now addressed to the blind foun­dation, Aileen places it in a basket on the bottom shelf of her bookcase, where it will sit until one of her helpers can drop it into a post box. De­livery, both outward and return, is free, but the time lag before books are returned to the library is one of the drawbacks and costs of the present delivery system.
Each week New Zealand Post delivers 7000 talking books and magazines free to over 5600 registered users of the talking-book service, an arrangement with the government which saves the foundation $800,000 a year. It costs the foundation approximately $22 million every year to provide services to its 11,700 members, and just one third of this comes from government sources; the remainder comes from donations, bequests, sponsorship and investments.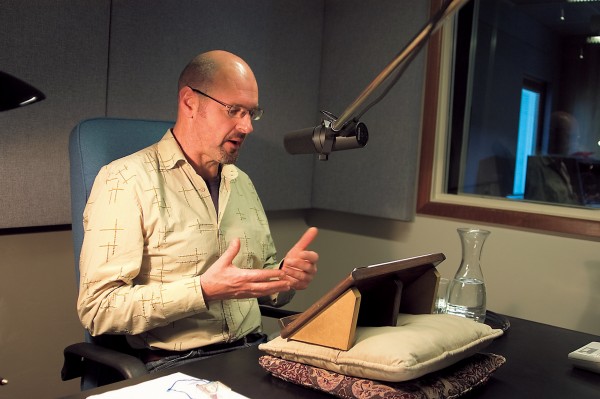 Through its library service the foundation aims to provide the same range of reading mat­ter as is available to sighted readers: classics, romances, thrillers, children's books and a wide range of non-fiction. There is also an array of magazines.
Solicitor Peter Hoskin has used the talking-book service for 36 years. He still recalls his first talking book, Oliver Twist, which he listened to at the age of 12. He is very appreciative of the talking-book service in general, but was particu­larly pleased when magazines became available.
Magazines were first recorded in 1984, an initiative which was begun by the New Zealand Association of the Blind and Partially Blind but passed to the RNZFB's library service three years later. Nowadays, 22 magazine titles are available from the library, including New Zea­land Gardener, the New Zealand Listener, Readers' Digest, New Zealand Woman's Weekly, the Nation­al Business Review and Grapevine. Until recently members could receive up to 20 magazine titles free of charge, but now they are limited to five free titles and must pay if they want more.
Peter Hoskin, who also likes to read in bed, gets New Zealand Geographic, National Geographic and Time. "You get used to certain things," says Peter. "I can't imagine anyone else reading Time magazine apart from Ken Porter."
The rich, "fruity" voice (his own description) of re­tired librarian Ken Porter is constantly heard around Awhina House, because his is the voice of the talking lift. Those who work at the foundation are ac­customed to Ken greeting them as they enter the lift: "Ground floor, door opening…door closing. Going up." When Awhina House had just opened, in 1996, the lift sometimes jammed. The doors would open and shut, with Ken's voice driving everyone mad as it endlessly in­toned, "Going up. Going down," with a suitable upward inflection on the word "up" and a down­ward inflection on the "down".
Other adaptations for blind users of this large, impressive building, just downhill from the Auckland War Memorial Museum, are the emergency-procedure signs in Braille, raised male and female silhouettes on the toilet doors, and Braille labels outside offices. The wide cor­ridors are conspicuously uncluttered, making it safer for the many blind people who work there to move around easily.
An enclosed pen outside the building is pro­vided for guide dogs to take a toilet break; and on the footpaths and driveways, a pattern of raised tactile markers in the pavement alerts blind pe­destrians to the fact that they are about to cross a road or that there is a pedestrian crossing nearby.
One of the most visible aspects of the RNZFB is its annual guide-dog appeal, now called Red Puppy, and one of the pleasures of working at Awhina House is the impeccably behaved guide dogs one meets there.
Odette, a sleek yellow Labrador, lies patiently in her basket in the office of magazine producer Marcel Oats while he works. Four-year-old Odette has been with Marcel since 2004. She is his second guide dog—the working life of a guide dog is normally only 8–10 years, and Mar­cel's first dog, Hope, is now retired and living with another family.
Marcel has been a magazine producer for 18 years. During a recording, his acutely accurate hearing picks up every unwanted click and back­ground noise.
Each issue of a magazine is recorded shortly after it arrives in the studio. Narrators who record magazines have to be excellent sight-readers, because each issue is recorded without preparation; the narrator simply opens the magazine and starts reading. This is surprisingly easy with well-written prose, but the process rapidly falls apart if a piece is poorly written. You might like to try reading aloud for yourself, particularly something tricky such as the busi­ness pages of a newspaper or a recipe.
If the narrator makes a mistake, the producer stops the recording and goes back to the last pause, usually at the end of a sentence. The nar­rator listens to his or her voice reading up to that point, takes a normal breath and continues the narration as smoothly as possible.
Narrators must have a wide general knowledge so they can read obscure place names, foreign words, scientific terms and the names of people currently in the news correctly and smoothly. They know from experience that, though they may manage to read a difficult phrase correctly, they are very likely to stumble over the next simple word. This usually means they must go back and record the difficult phrase again—and sometimes again and again. Producer Christine Hewton recalls when the word "anemone" proved such a stumbling block that one narrator took about 20 goes to get it right.
Whereas books are recorded unabridged, only selections are recorded from a maga­zine—enough to fill a 90-minute tape. This is something Peter Hoskin regrets; he would like to receive whole magazines. The process takes about three exacting hours of recording time. The producer then prepares a master tape, from which high-speed copying machines make 10 copies at a time. With popular magazines such as Time or New Zealand Woman's Weekly, 800 copies are made each week. The tapes are duplicated and sent out to listeners as swiftly as possible. When the tapes are returned to the studio, they are wiped and reused for the next week's magazines.
Multiple tapes are also made of popular books; for example, 30 copies of the latest Harry Potter book are currently in circulation. When demand dies down, 20 of these tapes will be wiped and reused. The precious master tapes are stored in a climate-controlled vault at Awhina House. New Zealand has been lucky in that the RNZFB's master tapes have never suffered from "sticky shed", a dread affliction in which the glue holding the magnetised iron filings to the backing tape loses its stickiness and the filings end up in a pile on the floor.
[Chapter Break]
The first talking books were imported into New Zealand in the mid-1930s. They were actually the first long-playing records in the world. Made of Bakelite, they were heavy, cumbersome and easily broken, but they represented the beginning of something magnificent for the blind community.
One powerful personality permeates the early history of talking books in New Zealand: Cyril White. He was a piano tuner and had come up through the education system of the RNZFB from the age of five. This hadn't been a happy experience, as the foundation was run on strict institutional lines in its early years.
After the war, it was proving difficult to obtain the machines to play the talking books from overseas, so, in 1949, White constructed a prototype player from local materials and pack­ing cases. The prototype was so successful that he was contracted by the foundation to make several hundred players in his Parnell workshop. Some people still remember using, and strug­gling to transport, the boxed sets of up to six heavy records, which comprised those first talk­ing books.
By 1959 White was touring the world on be­half of the foundation and the Dominion Asso­ciation for the Blind, as it then was. He reported, among other things, on the new magnetic-tape talking book developed in Britain. These Clark and Smith cassettes, with their own player, were first used in New Zealand in 1961.
The foundation opened its own talking-book studios in 1966, at 2 Titoki Street in Parnell, enabling New Zealand titles to be recorded for the first time. The National Braille and Talking Book Library was located in the same building. Cyril White's sister, Gladys, who was also blind, was the librarian, a position she held for 48 years.
White continued to work for the foundation until his death in 1984; Merv Smith remembers him from his own early days of recording talk­ing books.
In 1986 the foundation changed to the cur­rent Library of Congress four-track format, allowing six hours of recording on one small, light, 90-minute cassette. Though this analogue method has served the foundation well for 20 years, its days are numbered: the duplicating machines, and the current stock of taped talking books, are ageing and will not be replaced. The talking-book players are also "getting dodgy", as Aileen Carrington puts it. Talking books recorded on cassette are no longer readily avail­able from overseas. The move to digital talking books is inevitable. (Sighted people already lis­ten to digital talking books on CDs or download them to MP3 players.)
The foundation has joined a consortium with overseas associations of the blind to develop the Digital Accessible Information System (DAISY). In fact, talking books in New Zealand have been recorded in the DAISY format since 2002. But though the foundation has been recording in a digital format (i.e. on computer) for five years, the books are still distributed to the users in an analogue format (on tape). Some time in the next few years the process will be completed, with the inevitable and welcome switch to dig­ital distribution.
This cannot come soon enough for many users, who are frustrated at the slow pace of progress. "Yes, but when?" asks journalist Camille Guy, complaining that the decision has been deferred year to year. As a younger person who lost her sight only recently, Camille is more techno-savvy than many of the founda­tion's members. Finding the talking-book play­ers cumbersome and books on tape annoying, she prefers to buy talking books on CD or to download them directly from the internet. She plays them on an MP3 player whose small size she finds convenient to take on public transport, where, she points out, blind people "are more bored than most because they can't see the view outside". Some of these books are in a recorded human voice, others in a digital voice produced by a computer.
Will digital speech ever take over from recorded? The New Zealand Herald is already available each day to foundation members in digitised speech via the Telephone Information Service (TIS). Digital speech is much cheaper to produce, and its use is likely to increase. In general, with its staccato, metallic-sounding quality, it is used more for work, especially as it can be sped up (until almost incomprehensible), than for leisure, for which the human voice is preferred.
A major advantage of digital recording is that the listener can jump ahead, chapter by chapter or even page by page. The ability to navigate around a book, perhaps to skip the boring bits of a long­winded novel, or to refer to the index or jump to another chapter in a non-fiction book, is one of the things that blind people have missed most with talking books on tape.
In preparation for the change to digital dis­tribution, many of the foundation's existing collection of 8200 talking-book titles on cassette are being converted to digital. This will provide the basis for a digital library. (The library also has 8000 Braille titles.)
Some 600 New Zealand narrators have recorded talk­ing books since the service began. With the conversion to digital, Mary Schnackenberg, a divisional manager at the RNZFB, is anxious to contact as many of the early narrators as possible, because if digital talking books are ever sold commercially, some narrators may become eligible to receive royalties.
Aileen Carrington's vision and hearing loss, and the arthritis in her hands, are frustrating signs of ageing typical of many senior citizens. Two-thirds of New Zealand's talking-book us­ers are senior citizens, and 52 per cent are over 80. While there are some whose only disability is blindness, many others have multiple disabilities or other health problems. Mary says this must be taken into account when deciding how to deliver talking books and what type of player to provide.
Of course, many of those registered with the RNZFB do have some vision, but since "low-vi­sion" people differ in both the degree and the nature of their impairment, so their needs also differ. A useful measure, says Mary, is whether someone can see well enough to drive.
Concerned that its elderly members would not be able to cope with using a computer to play talking books, last year
the RNZFB conducted the first trial in the world of internet delivery of talking books using a specially designed
player for seniors.
Prototype digital players were made by HumanWare, a New Zealand–Canadian company, and fitted with a wireless modem for internet connection. Forty triallists were selected from foundation members who were not compu­ter-literate (Aileen Carrington was among them). Interestingly, it proved dif­ficult to find enough suitable candidates for the trial, which prompts Mary to wonder how much the next generation of blind New Zealanders will need the services of talking books as we know them today.play talking books, last year the RNZFB conducted the first trial in the world of inter-net delivery of talking books using a specially designed player for seniors.
A limited number of books and magazines could be downloaded wirelessly to the prototype machine. These were played in much the same way as standard talking books, but with the dual advantage of the listener being able to navigate backwards and forwards through the text and a far superior sound quality, since not only had the books and magazines been digitally recorded but they were also played digitally.
The trial was a resounding success, the only hiccups being those that were to be expected with people using an unfamiliar machine.
Accordingly, the RNZFB board has approved internet delivery of talking books subject to an external check and review of the whole plan. It is hoped that the government will pay for the digital talking-book players, and also that the present funding assistance with postage can be transferred to the costs of internet delivery.
Although the exact delivery method has not yet been finalised, many of the advantages of a digital system are obvious. First, it will be much cheaper: digital recordings are cheaper to make or to buy from overseas, there are no postage costs, and storage space is not needed in the li­brary as it is for tapes. Second, there will be no waiting lists: delivery of a book is instantaneous, and there is no limit to the number of people who can download a particular book at the same time. Third, the number of available titles will sky­rocket, since many more overseas titles are available in digital format.
Foundation members who are computer-literate may be able to download talking books onto a PC or other digital device, while the library-supplied digital players will provide the same quality of sound and ease of use to others.
Audio producer Helen Mahoney comments: "If our members think the quality is good at present, they will be delighted when we are distributing in the digital format. I am very proud of what we have achieved thus far in our studios and look forward to the day when RNZFB-library users can experience and fully appreciate our quality recordings."