Stick Insects
The skinny world of stick insects

When I began researching this article, I didn't realise what a difficult assignment I had set myself. Stick insects are the largest insects in New Zealand—surely they weren't going to be too difficult to find? In my travels photographing birds I'd come across the odd one; from time to time I'd even found them in our garden. Green or brown specimens would occasionally appear in summer on a Lawson cypress hanging over the fence from a neighbouring property, or in our kauri or rimu trees. A friend at nearby Tanners Point in Tauranga Harbour, Iris Waghorn, used to find them in some numbers on her property, Acanthoxyla on a gold Italian cypress and in a Cryptomeria hedge, and Clitarchus on manuka, kanuka and mikimiki bushes.
I managed to buy a copy of the long out-of-print The Stick Insects of New Zealand by John Salmon, the only comprehensive book on the creatures to have been published. I wrote letters to the local newspaper asking readers to contact me if they found any stick insects. From those who replied I was able to obtain a number of specimens of the two genera mentioned above. Unfortunately, it became obvious from these that Salmon's book wasn't going to be of enormous use.
According to Salmon, Clitarchus is a genus of two species: the common stick insect, C. hookeri, and the rough-skinned stick insect, C. tuberculatus. Salmon never found males of C. tuberculatus, but found C. hookeri males to be quite abundant and widespread. Clitarchus was common at Tanners Point in the summer of 2003–04, but Iris and I were finding numerous specimens that fitted the description of C. tuberculatus females, carrying males on their backs. There was considerable variation in the colouring of these insects. Both males and females came in various shades of green and brown, and some had additional markings that gave them the appearance of grey lichen.
Acanthoxyla was just as confusing. Salmon described numerous varieties of A. prasina, and around Katikati (where I live) I came across a bewildering range of forms and colours with no clear-cut distinctions. Some specimens were perfectly smooth, like the two Clitarchus species, while others were covered in spines, and every variation in between was also represented. Colours were all shades of brown and green, and one specimen was yellowish.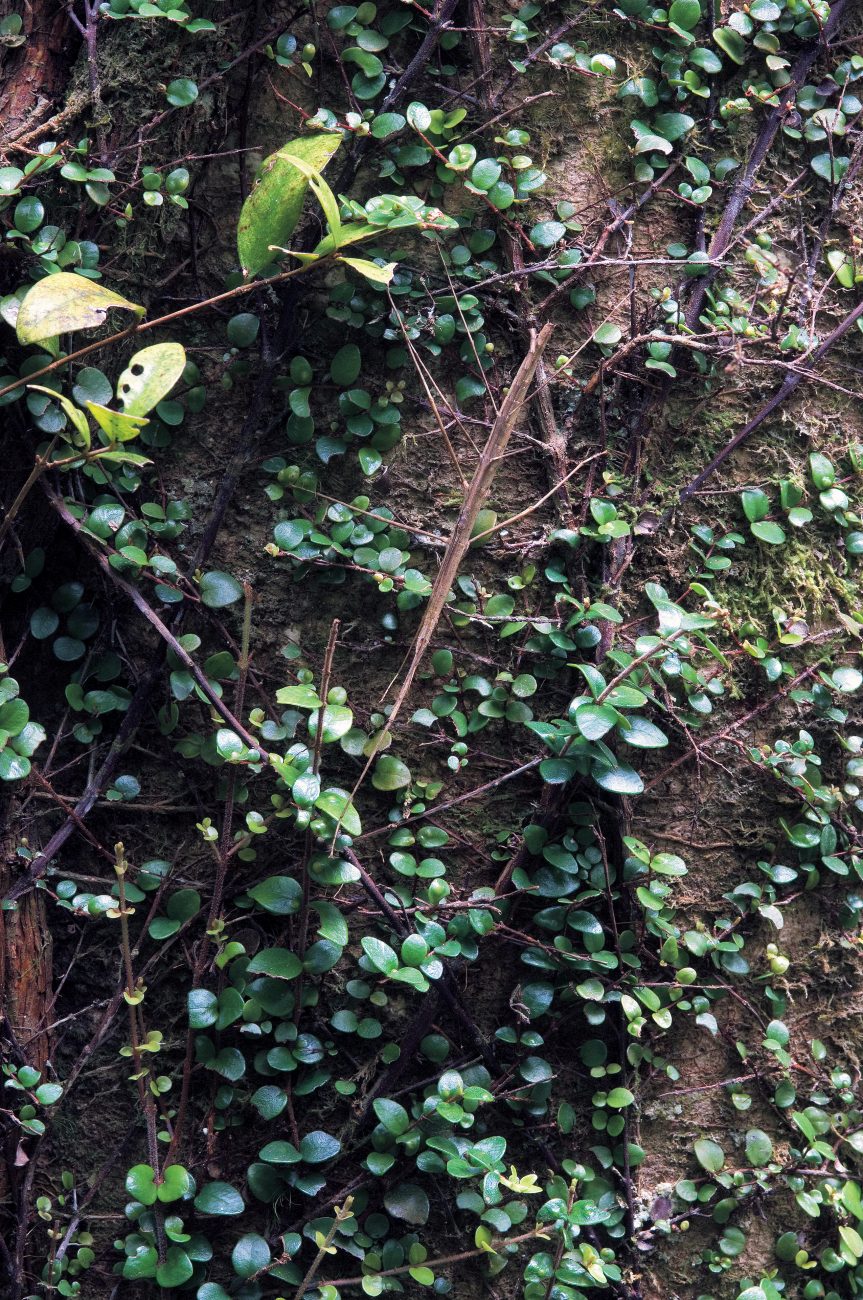 Many species of stick insect are parthenogenic; that is, females can lay fertile eggs without mating with a male. Salmon raised varieties of Acanthoxyla through a half dozen generations and found they bred true to the mother in form and colour. Anticipating similar results, I didn't separate eggs from my variably coloured Acanthoxyla, but, to my surprise, the second generation did not yield a single brown adult. The only oddball colouring came from the yellowish specimen which produced a number of identical progeny. It has also been claimed that the colour of the environment in which stick insects mature determines their colour as adults. Next year I hope to get more definitive results by careful separation of eggs and young.
Two summers passed and I was making little progress in finding specimens of other species—more than 20 have been identified in New Zealand. In spite of the great size of some—Argosarchus horridus can attain a body length of 15 cm, while members of both Acanthoxyla and Clitarchus are 8–10 cm long when mature—they remained steadfastly invisible. Steve Trewick of Massey University sent me a pair of the tiny Micrarchus hystriculeus, 5 cm long, which I kept through one summer, but I had no luck in my attempts to raise more from eggs the following spring. Steve told me this species was quite common in some areas.
While exploring stick-insect information on the internet I came across Thomas Buckley, who, like Steve, is doing research on the lanky critters. Thomas works at Landcare Research in Auckland, and when I contacted him he was generous with his knowledge and agreeable to my photographing specimens of various species he was keeping. Best of all, he told me there were other species in the Kaimai Range, close to Katikati, and how to find them.
A few days later, my wife Cushla and I began exploring various tracks in the nearby hills. It was well into May, the weather was becoming quite cold and we were experiencing the odd light frost.
The Acanthoxyla and Clitarchus specimens I'd been collecting in rural areas would mature from New Year, then produce copious numbers of eggs until cold weather killed them all off in May or June. A new generation would start hatching in September. Up in the hills, therefore, Cushla and I were amazed to find stick insects of four different species, many of them quite small juveniles, in biting-cold conditions in late May and June. These juveniles would have to survive the coldest weather of the year and probably wouldn't mature till the following spring. Already, morning frosts lingered well into the day in shaded hollows just 100 m from where we were finding live, but lethargic, stick insects in a cold, damp hollow beside a stream.
Finding stick insects in the wild proved challenging. They are incredibly cryptic. Even at 10 cm long they can be extremely difficult to spot. They are usually active only at night. During the day they generally leave the foliage where they've been feeding and move onto twigs and branches, where they adopt an extended pose, the front pair of legs held together straight ahead of the body. Even when newly hatched they adopt this pose, clutching to the underside of leaves, where they look just like leaf veins. Searching in the deep shade of the forest is a real test of concentration. We found a couple of hours was our limit, but our efforts were rewarded. While the now familiar Clitarchus and Acanthoxyla were well-represented, we found two species of another genus that were very unusual.
Asteliaphasma jucunda, both adults and juveniles, was common along every track we searched. What was surprising was that half the specimens were males, which have rarely been seen. Structures towards the posterior of the abdomen allow males and females to be distinguished.
The best find of all, however, was Cushla's discovery of what might well yet prove to be the long-lost Asteliaphasma naomi. Salmon's wife discovered this species at Lake Waikaremoana many years ago, and there has been no confirmed sighting of it since, although Thomas Buckley has recently found likely specimens at a couple of sites, one in Northland, the other at Waikaremoana.
The insect we found is quite remarkable. Just 5 cm long and very thin, it has unique glassy-white, flap-like appendages on its legs where many other stick insects have spines. We don't know if it is mature yet and intend keeping it in captivity in the hope it will eventually lay eggs. Despite further intensive searches of the area where we found this rarity, no more specimens have come to light.
[Chapter Break]
New Zealand's stick insects belong to the order Phasmatodea, comprising almost 3000 species of largely tropical and subtropical insects. The name phasmatid (or, sometimes, phasmid) means phantom, a reference to the way stick insects tend to disappear into their surroundings. All New Zealand species are flightless and completely lack wings. Elsewhere, some species have wings, though few can actually fly. In some species, just the males fly.
In fact, stick insects and their wings have caused something of a rethink of evolutionary dogma. It used to be thought that ancient stick insects had wings, and that some species subsequently lost them; furthermore, it was believed that once a structure had been lost through evolution, it couldn't be regained. However, it now appears that this is not true. Recent studies have revealed that the oldest fossil phasmids, from 300 million years ago, lacked wings, and it was only later that winged species arose, to be followed by yet more wingless ones. Indeed, among the 19 phasmid sub-families, wings seem to have evolved at least four times.
As for size, Argosarchus horridus, New Zealand's longest insect species, is a dwarf compared with stick insects found in some other countries. Australia has around 150 species, the longest of which, Acrophylla titan, can reach 25 cm in length. Even this giant is small compared with two species from the Malay Peninsula, both of which have been measured at around 35 cm long. Some stick insects grow as thick as a finger. A species found on New Guinea is popularly called the policeman's truncheon, and it is an apt name. Such monsters clearly have a stronger claim than giant weta to being the world's largest insects.
Despite their size and sometimes fearsome appearance, none of these insects can inflict a painful bite or sting, although one American species can emit a chemical spray from special glands where its front pair of legs join the thorax, which may cause temporary blindness and considerable pain. Many other species possess similar glands, but their spray is less noxious. Presumably this defence system is effective at warding off predators. Stick insects have no ears and can't make any sound, but they have reasonable eyesight, for they quite often leap away when you reach out to catch them. The wings of some species mimic leaves, down to the pattern of veins. Other species have the bright colours and appearance of wasps.
New Zealand stick insects, like all phasmatids, are foliage feeders, though none has become a pest—unlike in Australia, where some species have at times reached plague numbers and done considerable damage to extensive areas of forest. Many New Zealand stick insects have restricted food requirements, feeding on just a few plant species. For instance, the two Clitarchus species rarely feed on anything other than manuka and kanuka. Stick insects often wander away from food foliage to rest during the day, sometimes turning up on the walls of houses or outbuildings, where they are much more conspicuous than on vegetation.
I once saw a pair of Clitarchus on a flax bush at Omokoroa, where, I was told, they regularly rested during the day. On another property I saw two pairs on strawberries growing in a pot. These had moved from a Kermadec Island pohutukawa growing some distance away. Both Clitarchus species can adapt to feed on the foliage of pohutukawa, and this tree had quite a number feeding on its leaves that year. New Zealand Geographic editor Warren Judd found numbers of Clitarchus on certain species of eucalypt tree he was pruning in the summer of 2003–04, a food source I hadn't heard of previously.
Acanthoxyla spp. consume the widest range of food plants of any local stick insects, not just natives trees and shrubs either. I've seen them on roses, cypress trees, Cryptomeria and pines, as well as a host of native trees and shrubs. Others, such as Asteliaphasma spp., are more specialised. Contrary to their name, I've found these only on climbing rata, never on Astelia, though both plants are abundant in native forest near my home. Argosarchus spp. feed on a wide range of plants, including Lophomyrtus, lawyer vine, Muehlenbeckia australis, lacebark, ribbonwood and blackberry. Climbing rata seems to be a popular food for a number of species from several genera, and Salmon claims most species can be fed successfully on its cousin, pohutukawa, though some adult insects that have habitually fed on a specific plant cannot adapt to a new food plant.
Spotting stick insects is often a matter of training your brain and eyes to distinguish their shape. Legs jutting out at unusual angles compared to twigs is often what gives them away. With practice, discerning them becomes easier. Iris found many for me on her property on a variety of plants; she could spy at least three or four for every one I spotted. Even with an expert eye, though, it's easy to miss them. On one occasion Iris told me she'd found one on a stem of manuka she'd picked; then she said, no, there were two. But as I looked carefully I found there were actually three, plus an African praying mantis.
Stick insects can be kept and bred successfully in captivity but need some care. They require good ventilation and a regular, light, fine spray of water, particularly when young. Salmon had considerable trouble photographing stick insects moulting, as they frequently weren't able to shed their old skin. This was probably because he kept his insects in an air-conditioned apartment, in which the air was far too dry. I've found that with regular spraying, failure to emerge from the old skin is extremely rare. By the same token, though, keeping the insects too moist encourages fungus, which can kill them.
It is also important to replace the insects' food regularly, before it begins to dry up. I keep sprigs from an appropriate tree or bush in water in a jar or bottle with a very narrow neck, so a feeding insect cannot fall in and drown and to prevent eggs from dropping into the water also. To spray, I remove the food jar plus feeding insect from the living quarters, rather than spraying inside the container, so as to minimise the risk of fungus. I also regularly clean out the container and collect any eggs.
[Chapter Break]
Reproduction varies between species. Acanthoxyla has no males so always reproduces parthenogenically. Other genera, such as Clitarchus and Argosarchus, can reproduce with or without males. In some populations males have never been found, while in others males are as common as females. Generally only females hatch from eggs that haven't been fertilised by a male, although overseas it has been found that exposing such eggs to certain temperature cycles may produce males, albeit infertile ones. Yet other species can reproduce sexually only.
In most species the male is much smaller than the female. She needs a larger body in which to manufacture eggs and a larger mouth for feeding it. Mating pairs are a common sight, the small male hitching a ride on his larger mate, the end of his abdomen twisted round and plugged into the underside of hers. Copulation typically lasts days, even weeks, though it may be briefly interrupted periodically while the female lays an egg. Both insects continue to feed while mating, but the male, unable to leave his perch, must be content with what he can reach from the female's back. In captivity, males will try to mate with females of other species, and even of other genera.
Unlike many other female insects, most female stick insects usually drop their eggs wherever they happen to be, with no attempt to place them deliberately. My captive Acanthoxyla and Clitarchus specimens began laying in January and continued till they died, in May or June. Acanthoxyla females in healthy condition would lay three to six eggs daily—singly, any time of day or night—for about four months. Hatching always took place at night, even when the eggs were in a near-opaque container.
In the wild, females drop their eggs to the ground, where they are exposed to the vagaries of the weather and hatch as temperatures begin to warm in spring. The tiny green hatchlings have to make their way to the nearest food plant and climb to the foliage, eluding any predators they might encounter on the way.
Stick-insect eggs are relatively large and resemble seeds or stick-insect droppings. They are oval or cylindrical in shape, with a hard outer shell. At one end is a flattened operculum, or lid, with a stem-like knob projecting from it; the lid folds back like a trapdoor to allow the hatchling to escape from within. On one side is an elongated scar-like area called the micropylar plate, which contains a pore through which sperm (if required) enter the egg for fertilisation. Eggs differ from species to species, but within a species are much more consistent in appearance than the animals that lay them, which makes them useful for identification.
Hatchlings emerge as nymphs—miniatures similar to adults—barely 10 mm long. As they grow they need to moult, since their cuticle is hard and has almost no stretch to accommodate an increase in size. Moulting usually takes place at night, the insect hanging inverted and its skin splitting down the back. As the insect emerges, it expands in size and turns head uppermost to dry off; then it frequently consumes the old skin. It goes through this process five or six times in the (roughly) half-year it takes to grow to adulthood. Most species have a life span of 12–24 months.
Stick insects frequently lose legs. If this happens in early life, a new leg will grow. It will always be shorter than the original, but how much shorter depends on when the loss occurs. The new leg will grow only when its owner moults. A leg lost after the first moult will end up only a little shorter than the others, but one lost after the fourth moult will be drastically shorter. A leg lost in adulthood cannot be replaced.
I've heard it said that stick insects can change colour, but this isn't true of adults, though they will darken and dull with age as they near the end of their life span.
There's little doubt that stick insects are not as common in New Zealand as they were 50 years ago. Around where I live they are subject to a multitude of predators. Introduced birds must take large numbers of them; I have photographs of both chaffinches and yellowhammers feeding stick insects to nestlings, and blackbirds, thrushes, silvereyes and house sparrows, all of which feed abundantly on insects, both on the ground and among the foliage of trees and bushes, must take their share. Moreporks, too, surely seize many stick insects when, like themselves, the leggy phantoms are out feeding at night. Then there are the numerous introduced mammalian predators—possums, rats, mice and mustelids—all of which devour insects.
Stick insects need all the camouflage they can muster!