Spring in Haast
While all of Westland tends to be damp, southern Westland is moister than elsewhere. Haast receives a healthy 3500 mm of rain a year, but it is more than local precipitation that makes this area wet. A series of major rivers, their headwaters draining the Main Divide from Mt Cook down to west of Mt Aspiring, converge here to empty into the Pacific along only 50 km of coast. Over the last 6000 years, the debris they have carried has built the country's largest wetland plain. Lake Moeraki provides a foretaste of the area to those arriving from the north.

It was the biggest down from and north-west of Haast Pass, emerging from the tunnel of beech forest, I turn my camper into a clearing rimmed with rust-coloured rocks. I stop to fill up my water container, to stretch, to adjust to the new climate and the change in landscape. It never fails to amaze me that after only an hour's drive from Wanaka, where I live, and where the land is hard, straw-yellow and leather-brown, you can find yourself inside this wet, lush sponge of a rainforest, its air steamy and already tanged with sea salt, its contours soft, muffled in moss and beech leaves. The journey takes place at timelapse speed, the land ahead unfolding, metamorphosing, blossoming—and that's but a teaser of wilder things to come.
The soon-to-be-formidable Haast River is but a trickle here, and, if I bounced off a mid-stream boulder, I could leap across it in two strides. It has yet to meet its allies—the Wills and Burke, the Thomas and the host of creeks cascading down from Mount Aspiring National Park, and above all the mighty Landsborough, whose headwaters reach deep into the glaciers of Mount Cook. By the time the Haast reaches the coast only 60 km downstream, it will require a 737 m-long bridge to span it. Its braided gravel bed, torn as if by giant bulldozers and palisaded with uprooted trees, will bear testimony to its frequent rages.
The water swirling into my jerry can is as clear as kirsch, ice-cold but soft to taste. It has filtered down from the snowfields of Mount Brewster. It's good water. Trout water. Tonic for the soul, and I drink it as such. For I'm here on a quest, a search for something I value and seem to have lost. When asked before my departure what it was I was looking for, I was beaten to an answer by a friend, who barrelled in, "He's looking for a plot. He's lost the plot!" Perhaps I have. But there is another way of putting it, too. I'd describe it as a severe case of existential doubt.
For the past few years I've been working as a fly-fishing guide, spending a good many days in the company of usually affluent clients from around the world. I've done a good job, or so I've been told, and my clients have almost invariably been agreeable and friendly people. They've arrived decked head-to-toe in the most expensive attire you could find, clutching the finest equipment, hyped up on brochures and magazine advertorials about New Zealand's plentiful trophy fish. So far so good. But when you turn your passion into a business, begin peddling the very thing you love, it's like sending your partner into a ring for a prize fight—they're bound to take a few hits. They might lose, even get knocked out. Mine is currently decked, groggily listening to the KO countdown.
The punches have often hit as soon as we've got to a river. My optimistic clients have rarely had the skills and the stamina to pursue their desires (think of a hunter who cannot shoot); worse, many have considered trout not the beautiful, wild and free creature I hold so precious, but a mere plaything to be toyed with, a commodity to be acquired.
Many of these would-be fishermen (with a few notable exceptions) have been so far removed from the natural world it's as if they consider fishing, once an act of procuring food, a swipe-your-credit-card-to-begin virtual-reality game. Often they haven't been fit enough to walk along the stony river-bank, yet their expectations have been huge, as has their impatience to fulfil them. To me they seem to have lost their footing on earth and to be drifting in the phantasmagoria of cyberspace, the dreamland of sound bites, digitalised reality and instant gratification. Well, fly-fishing isn't like that; it's not the same as buying a Gucci bag in downtown Manhattan. You need to be a hunter, not a shopper. You have to go humbly and quietly, crawl on your knees if need be, respect your quarry. For many, coming down to such earth-bound reality was often a crash landing, and I was the ambulance man helping them back onto their feet.
If I had more patience and took it all less seriously, if there was a drive-in river full of farmed trophy fish, I'd be a rich man. As it was, frustration has become the plat du jour, served all day, often several days in a row. Life has become jaded, my passion for trout has grown cold. One day not long ago, however, a client presented me with a book, the memoir of an American fishing guide, Dave Ames, entitled A Good Life Wasted. That was it. If ever I needed a clearer message. I took the hint and shut up shop.
I take another long sip of Haast water. God, it's cold! A shock treatment, like a snow bath. But that's what I'm here for, driving to the Coast, to Haast, hoping for some sort of ablution, a fresh start perhaps. I also intend to try my hand and rod at the salmon-sized sea-run brown trout which reputedly frequent the estuaries at this time of year. This will be my way to rekindle the old passion, to remember what it's all about.
I used to think of Haast—named after Julius von Haast, German geologist, explorer and founder of the Canterbury Museum—as the place between Mosquito Hill and the Burmeister Morass, but I also knew it to be frequented by people with feet on the ground and their sleeves rolled up. Capable, stoic, real people, who always had time for everything. They knew the ways of nature, and they praised their roads, bridges and power lines because they remembered times when these had been severed by storms and floods. They knew the land, they were prepared for contingencies. For them, "multi-tasking" had a totally different meaning from that most of us entertain: a whitebait stand here, a little gold claim there, a rifle, a few cray pots and a fishing boat, a vegetable patch under a salt-stained plastic tent. This closeness to nature, the daily exposure to all its moods and powers, has made them tough and resilient, if a little eccentric. To survive they've had to nurture their pioneering spirit the way one tends a life-giving camp fire. Its flame has attracted me here. I long to feel its warmth.
[Chapter Break]
Geographically, you could define Haast as the area between Knights Point to the north and Jackson Bay to the south—flat, swampy lowland between the western side of the Southern Alps and the Tasman Sea. It is in fact the most extensive wetland in the country, created from sediments carried from the mountains by the area's westward-flowing rivers. Geologists estimate some 50 million tonnes of sediment per year are washed this way, and that in the last 6000 years, its accumulation has pushed the coastline some 10 km out to sea.
Apart from the Haast itself, two of New Zealand's wildest rivers—the Arawhata and the Waiatoto—flow through here, having cataracted their way down from the massifs of Mount Aspiring, Mount Edward and Ark. The slopes above where they emerge into the lowlands are the last remaining habitat of the least-known species of kiwi, the extremely rare Haast tokoeka, a tempestuous mountain bird with a coat as fluffy as that of a husky (see New Zealand Geographic, Issue 45).
It's early September now, and spring has already set in. Spring on the Coast is a special time, a period unto itself—the season of whitebaiting. At Haast Junction, I turn south towards Jackson Bay and drive until I see the first whitebaiting stands where the Turnbull and Okuru Rivers join before eroding their way out to sea through a barricade-like sandbar. Because of the northerly current which sweeps up the coast carrying sand and gravel, all of the rivers here have such bars. It is as if the current continually tries to close off the river-mouths, shuttering them with miniature Farewell Spits, and the rivers respond by snaking around the ever-lengthening obstacles.
Where the combined outflow of the two rivers meets the sea, the water is confused and dangerous, but behind the bar and upstream, a lagoon calm often prevails. Here the whitebait shoal before continuing their migration upriver, under the banks where the water flow is weakest. They are met by another migration, a mass human convergence on the coast, which results in a suburbia of caravans, campers and portable huts sprouting along every river-bank, home to a tribe of excited people with big scoop nets for whom the arrival of translucent finger-sized fish is akin to an annual gold rush.
At Okuru I meet Colin Hahn, a weathered man in blue overalls who is studying the river intently from the elevation of his whitebaiting stand. His elbows rest on the railing, his palms shield a pair of Polaroid glasses into the shape of binoculars. The stands, Colin tells me—gangplanks on stilts extending out into the river—are the Haast's prime real estate. They are meticulously surveyed and regulated: exactly 40 m apart and extending no more than a third of the way across the river. Each can fetch $10,000–60,000, if, of course, it ever comes up for sale. One of the whitebaiting regulations is that the stands are dismantled after every season, a challenge many owners solve by making their contraptions into drawbridges which can be lowered or raised at will.
Now most of the bridges are down in expectation of a catch, even though the take so far has been poor. Unseasonable warm winter weather—no winter at all, really—has caused the whitebait to run up the rivers in huge numbers before the start of the season on September 1, Colin says. In any case, it appears that whitebaiting is a volatile business, following patterns not unlike the bull-to-bear-and-back trends of the stock market.
"When a lot of bait's running everyone's catching it and so the price drops dramatically," Colin says. "Then there's a dead spell, and as demand keeps up, the price hits the roof."
"This is when you want to show up at the buyer's with a big catch, like the fellow at the Arawhata who got 30 kg in one scoop," Colin's neighbour chips in. "Sell that at the top price and you can knock off early that day."
No one, it seems, will be knocking off early today, but Colin for one doesn't mind at all. He's comfortably ensconced here. His stand continues as a two-plank boardwalk over the marshy river-bank to a deck in front of a tiny corrugatediron shack. Inside, there is a meticulously hand-written tide chart for the entire season and the few essentials a bloke may need for the duration: a chair, a small table, a gas cooker, a chilly bin, and a small library of hunting books. Across the road is Colin's bach, which he calls Seldom Inn. The boat Seldom Out completes his current circle of existence.
He had a contracting business in Ahaura, Colin says, but he's managed to farm it out to his sons. Now he can devote himself to what the Coast is all about. "I love it here," he says with contentment, sipping a gumboot brew which he's made by way of welcome. The Coast has all you could ever want: whitebait and crays, sea fish and trout, and deer—lots of deer now that commercial heli-hunting has petered out thanks to venison oversupply. "It's a good life, and you get to read a lot," he says, referring obliquely to the impetuous weather which can keep you hut-bound for days on end.
We watch the other stands. Not much happens, and time itself appears to have slowed down. The baiters stand patiently on their platforms, poised like sea birds, staring at the river-bed where white reflective highway markers have been laid out as spotter boards against which to see the elusive creatures.
"Quality time of peace and quiet." Colin nods in approval. "All hundred days of it."
Most of the whitebaiting migrants, as I soon find out, don't live on this coast. They come from as far afield as Blenheim and Oamaru. Yet for a few days or weeks, even for the entire season, they all become Coasters at heart. Depending on their means and level of commitment, they either work stands or set up box-shaped nets known as pots. The most active prowl the river-mouth right out to the surf zone, working it with their long-poled scoops. Then, as the tide begins to ebb, the river-banks empty out. The bait cannot swim against the combined flow of outgoing tide and river current, so there's no point in fishing. The whitebaiters retreat to their shelters, and by evening you can see camp-fires on every beach.
This first night, I turn off into one of many rough driveways leading to the beach and park the truck in the lee of the dunes. In both directions the sand is heaped with driftwood. I, too, make a small fire, and when there are enough red coals I get out my cast-iron pan. Earlier in the day, at the Okuru buy-and-sell agency—a kind of whitebait bank—I bought a zip-lock bag full of the little fish, and it came with a proper recipe. "Don't use whole eggs," the seller told me. "You have to separate the whites from the yolk, whip them up and fold the whitebait into it. Only then will you taste the delicate flavour of bait." There's nothing quite like it, she added.
She was right. A whitebait soufflé on an empty beach, bread and wine to mop up the pan. The night is perfectly clear, and over the sea Venus blazes like the headlight of a helicopter, so bright it throws a streak of quicksilver across the water. At the southern end of the beach I can see the Jackson Bay lighthouse flashing its regular double wink out to sea and at the string of camp-fires dotting the shore. Hardly a car passes, and the silence is absolute but for the rasping of sea-washed gravel. It all feels cosy and tribal, pagan and serene. There is no virtual reality in sight.
[Chapter Break]
I wake up to the sound of a gale buffeting the camper as the grey slab of a storm quickly advances towards the coast. Welcome to the real Haast. After all, it isn't the beachfront idyll that has made the Coasters who they are. The inhabitants of Haast still cling to the old nickname Far Downers, as if to stress that in the search for their own promised land they went as far and as down as was possible.
I hear their story—the tale of the Jackson Bay Special Settlement—from Neroli Nolan, a fourth-generation Far Downer who, having left the Coast many years ago to see all that there was to see, has returned to her roots and built a luxury lodge near the mouth of the Okuru. As the storm finally hits with full force, Neroli stacks up the fire, then transports me back to a time when Haast was the Wretched Coast, and its settlers, cheated and misled by a bureaucratic scandal, had to find their strength and forge their bush skills or die trying.
Once the Hokitika gold-fields had been worked through in the late 1860s, thousands of people on the Coast found themselves with no or little employment. The local government, however, soon came up with an ingenious solution—or so it seemed.
In 1874 the Lands and Surveys Department in Hokitika produced a brochure about the supposedly promising land available further south. Any man over 16 could take up a 10-acre section and a 50-acre block, and after seven years of working them he'd be granted ownership. Cottages were to be readied for families and a road was to be built, construction of which was to provide interim part-time employment for the would-be farmers. Two settlements were proposed, Jackson Bay and Arawhata, in a grandiose scheme that would put an end to West Coast poverty and overcrowding.
The brochure further promised that the land had fertile soil six feet deep, "black chocolate soil that'd produce almost anything", and that gold nuggets littered the beaches like shells. What's more, a free passage to Jackson Bay was available on the twin-screw steamer Waipara to all those who dared to be rich.
In January 1875, the first 16 families sailed from Hokitika to take up residence in their new land of milk and honey. Another 81 people, including 46 children, arrived two weeks later. Others followed, so that eventually the population totalled some 600 people.
What they found in Jackson Bay was more like a land of sweat, tears and despair. The free tickets on Waipara turned out to be a one-way deal. "You can say that the only people who stayed on," Neroli said, "were those who couldn't afford to leave."
They were a motley crowd: English, Scots, Irish, Germans, Canadians, Scandinavians and Italians, even a few Poles. They often didn't get along, and, as Alice McKenzie of Martins Bay recorded, ethnic quarrels sometimes broke out in schoolrooms, were carried on by mothers on the beach, then taken up by men whose favoured weapons were knives and stockings filled with stones. And even though the West Coast never quite turned into a lawless Wild West, from those outbursts of anger and violence we can guess the state of stress and despair the settlers found themselves in.
To begin with, they had arrived too early: there was no road, no jetty, no cottages, and, thanks to an administrative bungle, their land wasn't yet ready for taking up. In any case, there was no chocolate-rich soil as promised, but a swamp infested with sandflies and mosquitoes, lashed by biblical rains and bordered by a sea of uncommon severity. In 1878, for example, there were 259 rainy days, all crops were lost, and severe floods wreaked havoc across the lowlands.
At that time some 367 people lived south of Haast. They camped in tents and ponga huts, made children's clothing out of flour sacks, and existed on potatoes and corned beef. Because deliveries by ship were extremely unreliable in the hazardous seas, supplies were cripplingly expensive, and soon every family was in debt.
John Heveldt recalled how his mother, Dorothea, could carry a 25 kg bag of flour for 10 miles (16 km) to bring it home from the store.
"Every woman had to learn to bake bread," Alice McKenzie wrote in her memoir. "Water had to be carried from a well or along a stony beach or a bush track from the nearest creek. Any woman who had a barrel to catch the rain-water from the roof was considered by her neighbours to be living in luxury."
The settlers had no ploughs, so worked the land with hand grubbers, axes, shovels and wheelbarrows. Stock animals were individually handled: to be got to market, a sheep had to be caught, have its legs bound with flax, and be carried to a boat, which, when full, was rowed out through the breakers to a ship, where each animal was hoisted on board at the end of a rope. Historical photographs show enormous bulls being lowered by ship's crane into the sea, where men in rowboats wait with visible trepidation to usher the beasts ashore, an undertaking that makes the Spanish corrida, supposedly the supreme test of courage, look like kindergarten play.
Despite the settlers' best efforts, the early history of the lower end of the West Coast reads like a string of failures. Sawmilling, an obvious industry considering the area's vast lowland forests, didn't take root. There being no wharf, a barge could take months to load and demurrage fees ate all the profits the timber earned. Fishing and butter-and cheese-making ventures all failed, again through want of transport. Apart from the sea, the only connection to the outside world was a bridle track leading north, wide for a traveller on foot or horseback but too narrow for any kind of cart or wagon. There was a ferry on every river, but the journey out of, and back into, the Haast region took several days' hard travelling. A telling example of Haast's isolation is the fact that Neroli's uncle, Bill Nolan, saw his first motorcar when he went to Dunedin in 1925, aged 10.
The lack of medical care, particularly in emergencies, which, considering the nature of the environment, were perhaps more common than elsewhere, was painfully acute. Appendectomies took place on kitchen tables, and births, for those mothers who didn't make it to the Hokitika hospital—a journey of two weeks—in the bush. Ruby Eggeling recalled how at the age of 10 she was one of several children to have all their teeth extracted in Haast by a visiting dentist. A Wanaka dentist once stopped in the township for a day and removed 96 teeth as people flocked in from the coast.
Ann Mackey (née Nolan) recalled: "If anyone got sick… hey had to build a stretcher…out of two poles of wood with four handles and a bit of canvas or old wheat-sack…tacked or sown onto it. They organised men folk; they had relays. I think it was twelve horses and twelve men, and four of the men were carrying."
She also had all her teeth removed, at the age of 14. Paddy Nolan, struck with a severe toothache while mustering up the Arawhata, took a bottle of whisky and a knife into the bush, where he cut the tooth out by himself.
From the very beginning of the ill-conceived Jackson Bay Special Settlement, people trickled out of the district by any means possible. Some bought their way out; others, such as the Cuttance family, simply walked off their land, unable to make it support them. (In a pioneering cavalcade, the Cuttance clan, carrying all their possessions and driving their stock, walked to Otago to take up a farm on the Taieri, a journey that took them three months.)
Records for 1927 show that between Paringa and Makarora, and including Jackson Bay, the permanent population amounted to nine families and four single men. There can be no doubt that those who stayed on—the Nolans, Crons, Eggelings and Buchanans—were the hardest of the hard, the most resilient and innovative. And slowly, too, as if finally giving in to their perseverance and spirit, the land began to relent.
In 1920, the Nolans set up a successful whitebaiting cannery, hammering out their first tins by hand, and in 1947 hit a record run of bait, producing 90 tonnes of canned goods. The sandflies were apparently so thick the people in the factory often worked at night, by candlelight, to avoid the pestilential bloodsuckers. But the whitebait was equally prolific, so much so that those who crossed rivers on horseback reported their steeds' hooves throwing little fish up onto the bank. A jetty, the lack of which had crippled the settlement for so long, was finally completed in the sheltered waters of Jackson Bay in 1949. Meanwhile, something else happened that changed forever the nature of living in Haast.
On September 11, 1928, Australian pilot Charles Kingsford-Smith made his pioneering trans-Tasman flight, landing at Wigram, shrinking the world and ending New Zealand's Pacific isolation. In January 1931, his compatriot, Guy Menzies, completed an equally spectacular crossing of the Tasman, plopping his single-engine Avro Avian into a swampy paddock at Harihari, thereby introducing Coasters to both the joys and the perils of aviation.
The locals were quick on the uptake. On September 28, 1932, an open-cockpit Spartan biplane, otherwise referred to as the Flying Brick, delivered the Far Downers' first air mail, and a year later Alan Cron and Bert Mercer made the first flight to Haast township, landing on the river-bed, before carrying on to Okuru. Instantly, the locals were out with grubbers and shovels, levelling their paddocks into landing strips. Mercer, until then an aviation mechanic and pilot at Christchurch Aero Club, went on to raise £300 to buy a new four-passenger Fox Moth. Several of the Haast families became shareholders in his enterprise, and in November 1934 he began regular flights between Hokitika, Haast and Jackson Bay, the first scheduled air service in New Zealand.
Now, suddenly, there were mail, newspapers and fresh bread, and, in an emergency, it was only an hour's trip to hospital instead of several days'. The inspiration was in the air. In 1947, in the DIY fashion that the Far Downers came to exemplify, 26-year-old Des Nolan went to Christchurch, where, after 14 lessons totalling four hours and 40 minutes of flying tuition, he bought a Tiger Moth for £60 and flew it to Okuru. For the next 18 years he flew fresh whitebait from Cascade River to Hokitika whenever "the coast was clear". Flying was the obvious saviour of the Haast coast. Of all the Nolan siblings, Neroli was the only one who didn't become a pilot.
At the same time, small but determined road crews were hacking their ways along the coast and inland through Haast Pass. Before the completion of the pass road in 1960, the south-bound coastal thoroughfare ended in Fox Glacier, with a rough track continuing to Paringa. By 1965, the three sections from Jackson Bay to Haast, Paringa to Haast and Haast to Wanaka finally met, and Haast's isolation was ended. Even today, however, Neroli and her neighbours still do their shopping in Wanaka, the closest big town, only two hours' drive away.
[Chapter Break]
My day in Haast begin to blend one into another. I camp on beaches covered with driftwood, fish for sea-run trout with an almost lifelike imitation of a galaxiid made from clear silicon, mingle with the whitebaiters. They're always guarded at first, delightfully secretive and mistrustful of a newcomer, telling me how so far there have been almost no whitebait, their catches have been so poor they're all wasting their time here. Terrible season, they go on, the worst in years, if not in a century—all the while using double-bottomed buckets so no one can see their haul.
And, at every such complaint, I explain that I'm not after whitebait but the big sea-run trout which chase the tiny fish and which the baiters consider a marauding pest. At this they are at first incredulous, wondering why anyone would run around with a fly rod when there was "white gold" to be sieved out and sold at a profitable $80/kg. But then they accept the harmless eccentric, who clearly isn't a threat to their share of the catch but a misguided soul who needs help. Sure there are sea-run trout around. They're happy to show me where.
As I stay on the coast, it becomes apparent that the once-wretched hellhole of Haast is now a desirable destination for an alternative, back-to-nature lifestyle, a place where you can still live off the land and the sea—if you have the knowhow, the grit, the dream.
One day I turn my camper into a small clearing on the bank of the Waiatoto River, only to find it already occupied by a house-truck with a maimai camouflage net as part house extension, part veranda. I start to apologise for invading the occupants' privacy, but Jason Searle won't hear any of that. There's coffee, and shelter from sandflies, and within minutes we're talking like long-lost buddies.
Jason's pioneering flame burns bright and eager. Once a radiographer X-raying pipe welds on the Taranaki offshore rigs, then a pro-circuit surfer with major victories to his credit, he's now a self-proclaimed bushman, leading the nomadic life of a hunter-gatherer, together with his partner, Brenda, and her son, Travis. They whitebait and fish, and tend a few cray pots in a low-budget but high-performance zap-around surf boat, a cross between a Zodiac raft and a Stabi-Craft. In the nearby forest, Jason hunts for deer with his crossbow; he also works as a builder whenever there's a job going.
"It's not easy to be a tradesman here," he tells me, "because the locals only get you to do what they can't do themselves. You always end up with the most difficult and complex jobs." Still, that's enough for simple and unpretentious living; enough if your heart's in the bush, not your pocket.
I'm fascinated by Jason's crossbow, a high-tech tool fitted with a scope and which fires aluminium arrows with tips like butcher's knives. Seeing my interest, Jason launches into an impromptu archery lesson.
"Anyone can go into the bush and shoot a deer with a rifle," he says matter-of-factly. You'd be surprised, I think, but say nothing. Hunting with a bow, on the other hand, Jason continues, now there's a higher challenge. "You have to get so much closer to the deer, understand and anticipate its movements," he says. "Your senses sharpen, they become like those of a predator. You have to go humbly and quietly. Patiently. It's more like one animal hunting another.
This is how we once were, before the supermarket freezers and drive-thru takeaways." This is like the call of the wild to my ears and soul. I pick up the crossbow while Jason explains its workings. The arrows cost up to $20 apiece so it's important to make every shot count, he says. We'll use a defunct chest freezer quietly rusting in the bush as a target. Its double walls should stop the arrows from going all the way through. If they do that, it'll ruin their flights.
I mention that I'm no Robin Hood and may put the arrow through the nearby shed. "You'll be surprised how accurate this thing is," Jason reassures me.
We walk some 20 paces away from the freezer and he directs me to aim at a hole in its centre made by a previous shot. I look through the scope, touch the hole with the cross hairs and pull the trigger. There's a faint twang and almost no recoil, and I see that the arrow has struck deeply, a few centimetres above the hole, with no sideways drift at all.
"If that was a deer, it would be yours," Jason says approvingly. "Of course, I don't like your chances of ever getting so close to one."
That evening we feast on fresh fish which has been cooked in coconut milk, and scones from the house-truck's oven. Then they won't let me leave without accepting a bag of kahawai fillets.
"No need to go hungry in Haast," says Jason, throwing venison bones to his surprisingly well-mannered Jack Russell. The dog's name is Coaster, and he's earned his share by helping in the hunt.
My tribe, I think, turning back on to the main Haast road. Definitely my tribe.
[Chapter Break]
So it is that sometimes you find your tribe. Other times the tribe finds you. I mean this metaphorically, of course, for the tribe needn't be a formal denomination. As another Haast resident, Daryl Munro, has found out, it can be a collective of kindred spirits, one that reaches out to you from afar.
You can't miss Daryl's place in Okuru, fronted as it is by a megalithic Stonehenge-like structure, a circle of immense boulders whose combined weight exceeds 70 tonnes. The house itself looks as if a glacier has just retreated through it, leaving moraines of scattered rocks all over the kitchen table, windowsills and shelves, around the fi replaces and on the floor. All the stone, including the megaliths, is pounamu (greenstone or jade), both rough and polished, raw material and work in progress—trophies and mementos from Daryl's 30-year fascination with pounamu.
Even as a child he collected gemstones, he tells me, but his first job out of school was culling deer in Fiordland, a bush-craft apprenticeship that set the course for his later life. He spent a decade with the New Zealand Wildlife Service, working alongside such people as Don Merton and Rod Morris, taking part in several rescues of endangered species. Then he was stationed in Haast, and when the job came to an end he stayed on, doing anything from meat-shooting and possuming to harvesting sphagnum moss and running a portable sawmill. All the while he pursued his passion for gemstones, which by now was focused exclusively on pounamu, for Haast is in the middle of Te Wahipounamu, the place of greenstone (since 1990, the South-west New Zealand World Heritage Area, incorporating Aoraki/Mount Cook, Westland/Tai Poutini, Fiordland and Mount Aspiring National Parks).
During one of his exploratory outings south of Jackson Bay, Daryl found a "nest"—a cluster of pounamu boulders, some the size of a family car. As he explains: "Pounamu is concentrated between the cliffs and the sea the same way gold accumulates in the troughs of a panning dish, only in Haast it was the toing and froing of the ocean and the ancient glaciers that did the panning. Different time scale but essentially the same process."
To an untrained eye, the nest was nothing but a jumble of big rocks. Unless pounamu is polished by water, which reveals its unmistakeable colour and structure, it can look rather ordinary, not unlike concrete. Indeed, even a mining company that years before had bulldozed a prospecting track towards the Hollyford valley had gone straight past the nest without realising what was there. But Daryl knew he had made the discovery of a lifetime. A licence took years to secure but finally he was able to work the pounamu of his own finding.
Then, as his licence was about to expire and the Ngai Tahu (Pounamu Vesting) Act 1997 was looming, Daryl embarked on a mission to bring back what pounamu he could before the double deadline put it beyond his reach. (As part of the Ngai Tahu Claims Settlement, the Act handed back the ownership of all naturally occurring pounamu within the Ngai Tahu rohe, or territory, to the runanga, or council, of that tribe.) He hired an ex-Russian Mil-8 helicopter, normally used for logging operations, at a cost of two dollars per second of airtime. For several days he worked as if his life depended on it—and thus did his Stonehenge come to be.
It was at about the same time, or slightly before, that his tribe found him. Already the country's leading authority on pounamu, Daryl read Song of Waitaha: The Histories of a Nation, a book that changed his life. It was dictated to archaeologist and chronicler of pounamu lore Barry Brailsford by elders of the so-called Nation of Waitaha, who claim that their ancestors, from Easter Island, settled New Zealand long before the arrival of Polynesians in the 13th century.
The central message of the Waitaha nation's creed is that you cannot fight for peace or wage war on terror because violence only begets more violence, and thus the circle of war and inhumanity continues. To have peace you make peace, first with yourself, then with those around you. When eventually faced with Polynesian aggression, so their story goes, the Waitaha chose not to fight back and consequently were decimated and conquered; yet their spirit, lineage and teachings have endured, and today they see themselves not as "once were warriors" but as "always the peacemakers".
When Song of Waitaha appeared in 1994, it caused waves of both dismissive ridicule and cult-like enthusiasm. For some, it was little more than a feel-good tale for New Agers. For others, it was a myth that mischievously conferred on those professing Waitaha affiliations prior rights to resources claimed against the Crown by Maori; or a version of history that suited those opposed to compensating Maori for the effects of colonisation, for if Maori had conquered Waitaha, on what grounds could they complain about being conquered in turn by Pakeha? For yet others, however, it offered a sensible philosophy for alternative minds. Daryl found himself among the latter.
"It's not like I've become a born-again Waitaha and tout their stuff on the street," he said. "I've been admitted into their circle and they respect my knowledge of the stone, but I don't claim any bloodlines or tribal affiliations. It is the lore of the Waitaha that has struck a resonant chord within me, a resonance of beliefs and philosophy, like something you always knew to be true but never quite managed to put into your own words."
Since his spiritual turnaround, Daryl has focused even more on his pounamu, and his next project is to create a centre for pounamu, a place where visitors can come and learn about the stone and how to work with it.
"What we're accustomed to seeing is pounamu weapons—war clubs, adzes and spear tips—but what most people don't realise is that originally pounamu was the ultimate weapon, the weapon to end war," he says. "When two tribes, groups of people or individuals exchanged pieces of pounamu, if they accepted each others' gifts of the stone, it meant the end to all hostilities. In its original meaning the offering of pounamu was the gift of peace, which is why, even today, we know that preferably the stone should be given rather than sold. And if you look at the world today, look at all the conflicts and violence, wouldn't you agree that we just can't give away too much pounamu?"
[Chapter Break]
With the incoming tide, my own tribe is back on the river-banks, working the current. On the Arawhata gravel bar, shaped like a crooked index finger, there are campers, house-trucks and trailers with tarpaulin extensions. Dozens of people spread out along the estuary. I met some of them last night—clustered around a camp stove fashioned out of a trimmed 44-gallon drum—and as usual I had to break the ice of initial mistrust. No whitebait here, mate. I know, terrible, isn't it? But how about the trout? Trout? Oh yes, they got an eight-pounder tangled up in a flounder net the previous morning. They also saw a few big fish slashing across the lagoon.
To appease them further I volunteered news from up the coast, then, for some light relief, threw in a story about a man who fell off his whitebaiting stand two days ago.
"Did he know it's illegal to dive for whitebait," asked a jovial Maori woman in a Lion Red cap, holding back a giggle.
"He looked like he was snorkelling," I replied.
"Oh, that's all right then," she said, and the entire coterie exploded with laughter.
Next, as always, I asked about the etiquette: where could I fish so as not to get in their way or send "their" bait swimming up the opposite bank of the river.
"Don't worry," the Maori woman said, "the first time you'll get warned politely, the second time you'll get wet."
More laughter. Without further ado, I could now get out my camping chair and join the circle.
At the river-mouth, out beyond the whitebaiting stands, the fishing is free for all if you have the muscles and the patience. Merv Sutton of Kurow, wrapped snugly in his woollens against the southerly chill, has just finished trolling his scoop net right up to the surf line and is examining the inside of it.
"I've caught the scout," he announces, releasing the single fish into his white bucket, where several others are swimming in circles. He regards them for a moment. "Plenty if you want to start an aquarium but nowhere near enough for a feed."
Merv, Bill, Joy, Duncan and Roger are a group of friends who have been coming to fish here for years. They're relaxed, at ease with themselves, the place and the task at hand. They know the way of this land, they've all clocked up respectable mileage in its back country, they've paid their dues. Bill recalls his first hunting trip in Haast many years ago:
"The locals told me the best spot for deer, a secret place, they said, guaranteed to get one." He grinned. "Well, I spent all day wading through a swamp, never even saw an animal. Good lesson, that was."
Merv leans against the bonnet of a Land Cruiser, nestling into it as if it's his favourite armchair, and Joy roars away on her quad bike to return with a cut lunch and flasks of tea in the front tray. You might wonder how it is these grown-up people—businessmen, farmers, contractors—could go gaga over little translucent fish that look like squirts of silicon window-sealer, how they can spend weeks in rain and sunshine in their pursuit. But there, on the bank of the Arawhata, neither question nor answers, nor any words, seem important. We eat in silence, in unstated contentment, Crumpy's bunch in Crumpy's country, quietly waiting for the whitebait to thicken up.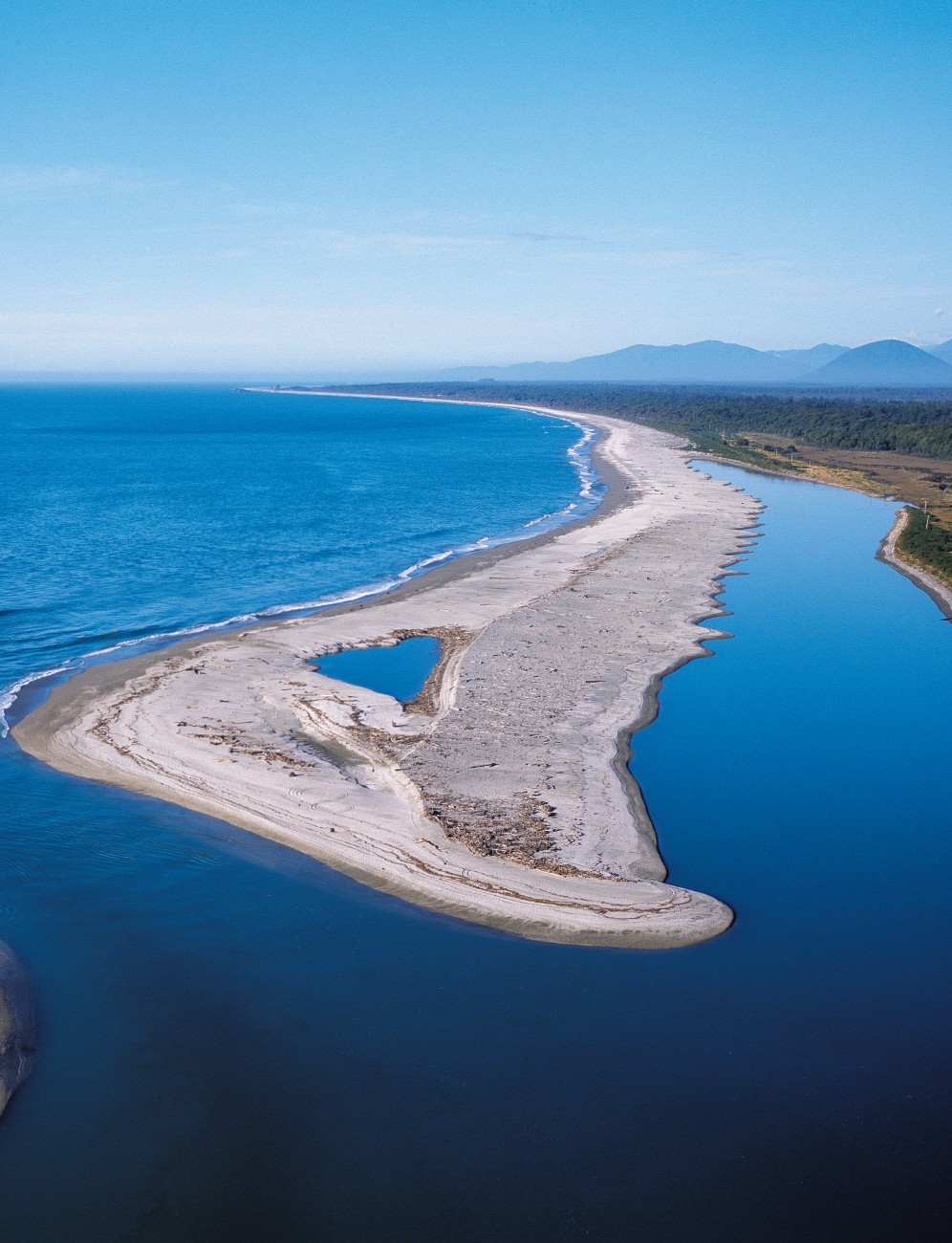 Presently, a shiny 4WD materialises and, trailing an equally dazzling boat, drives right up to the tip of the bar. Many heads turn to follow it. The truck stops, all doors open and a family pours out, two small children already brandishing toy whitebaiting nets. The father is all business, quickly pulling on his neoprene waders and assembling his scoop net under the watchful but emotionless gaze of the old-timers.
I recognise his type: a brisk, goal-oriented achiever, a shopper aware of his purchasing power. He could be one of my old fly-fishing clients. He's already walking the bank, trolling his net against the current. But he's walking too quickly, too impatiently; the pace of a hunter is irritatingly slow for him.
"In a bit of a hurry, isn't he?" Bill observes. But he says nothing to the man. We all know that the only result of his hurry will be to spook every single fish anywhere near him. When the one and only scoop yields nothing, the man packs up his gear and his family and drives off. Heads turn, watching them go.
Slowly twisting the long handle, letting the sock-like net unwrap from the hoop, then holding it high in the air so that it flaps like a long flag, Bill prepares for his turn.
"I'll go and have a quiet scoop," he says.
He dips the net in the river and begins walking towards the sea, slowly, like a stalking heron. A character in a Mainland cheese ad. Good things take time. No "Bait 2 Go" here.
In the end, patience is rewarded, for the whitebaiting season turns out to be the best in two decades. I catch some sea-run trout, and see a few giant ones besides that make my heartbeat switch briefly to double-time; but the real trophies of my spring in Haast are of an entirely different kind. Sometimes, it seems, to find out who you are you must first know who you are not, and this discovery can come as both a revelation and a relief.
I don't guide anymore; the dream job of running Hemingwayesque safaris is up for grabs. I've given myself a piece of Daryl Munro's pounamu, and, having accepted the gift, have declared a ceasefire in all my internal conflicts. If they ever flare up again, I have a solution: a pilgrimage to Haast, a retreat into that place's earthy reality, a return to the tribe. To be once again, if only for a few days, a Coaster at heart, and a Far Downer at that.