Small-town city
Dunedin is surrounded by a collection of small townships, each with its own identity and unique community.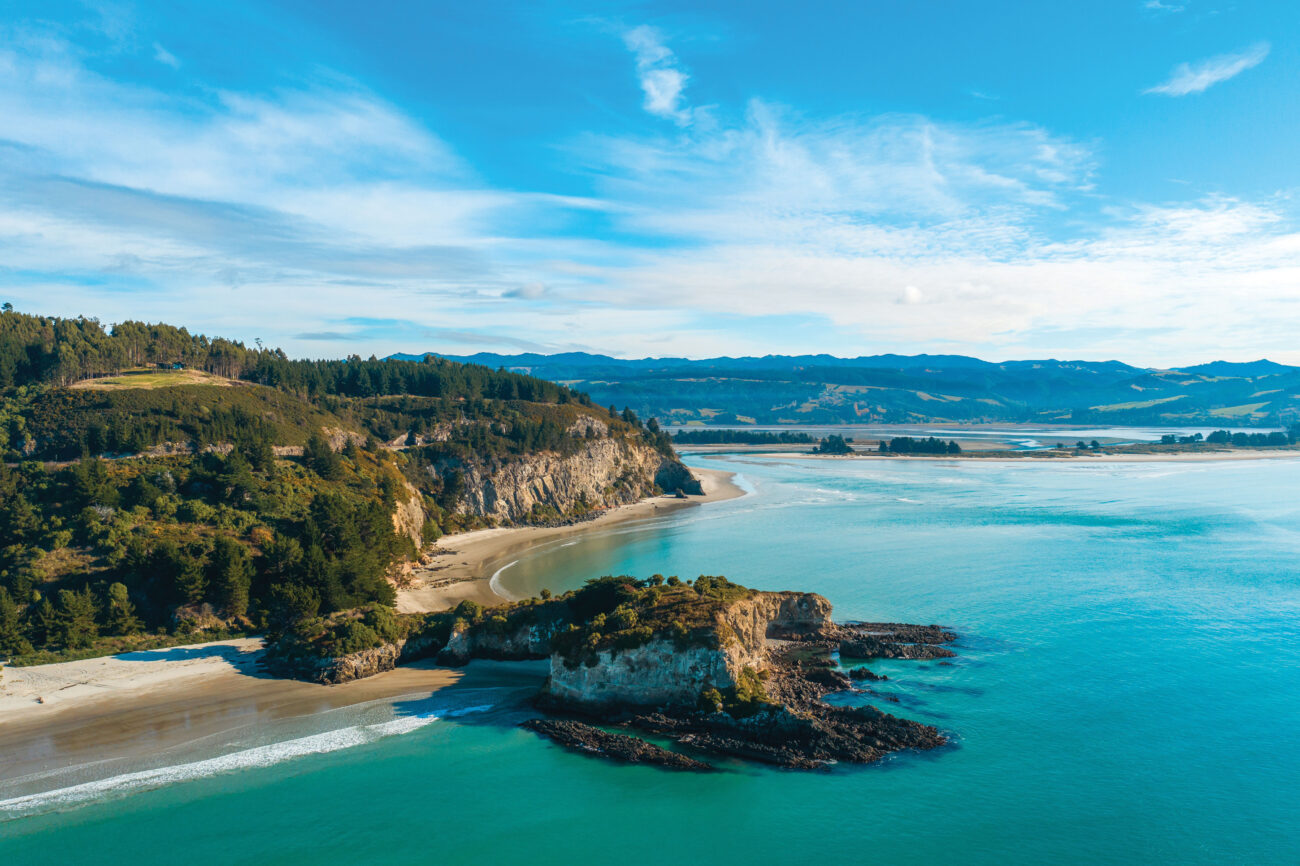 If you climb through the forest to Mihiwaka, a crag overlooking Careys Bay, the region surrounding Dunedin unfolds around you: bays and inlets and lagoons along the coast, the Silver Peaks range behind you, the layers of mountains beyond. Birdsong drifts up from the forest—tūī, kākā, korimako. You could be in some remote wilderness. In reality, you're only 20 minutes north of Dunedin itself.
Here, life moves at a gentle pace, reflecting the ebb and flow of the tide, in the settlements of Blueskin Bay, Pūrākaunui Inlet and Hawksbury Lagoon. Blueskin Bay was named after Kahuti, a local Māori man whom Pākehā settlers nicknamed Blueskin for the tā moko on his body, and in some weather, the bay becomes a mirror of glassy blue-grey.
Overlooking the bay is Orokonui Ecosanctuary, a 307-hectare forest retreat for some of New Zealand's most endangered species. It's also a nursery for a West Coast kiwi species, Haast tokoeka.
Ten minutes' drive north of the ecosanctuary, the village of Waitati attracts people who seek more-sustainable ways of living and a collective approach to life.
"I love the community energy," says resident Antony Deaker. "During lockdown, villagers stood by their own letterbox each day for a street boogie. We've also got Dunedin's predator-reducing Halo Project trapping around Blueskin Bay to Doctors Point, protecting the little blue penguins. Between that and the ecosanctuary, the bird numbers are going off."
Some of Waitati's more colourful residents include the members of the Waitati Militia, a pacifist group that regularly stages fake battles, much to the bewilderment of visitors.
The area's growing population has given rise to new businesses such as artisan grocer Harvey Street Merchant and family-owned brewery Arc Brewing Co.
The Doctors Point mentioned earlier is a popular coastal spot for weekender walkers, with its dramatic rock arches and low-tide access to gleaming beaches. Its dunes and sea caves are home to kororā/little blue penguins.
Inland, across the Silver Peaks Scenic Reserve, is a different kind of vista—rugged, windswept, remote—and Middlemarch, a village with a population of about 150 people. From here, thousands of cyclists set off each year on the Otago Central Rail Trail, a multi-day ride that follows the folded mountain ranges of the Strath Taieri Valley and Maniototo Plain.
Middlemarch's attractions include the Kissing Gate Cafe's legendary scones, and the Middlemarch Museum, which is run by a dedicated group of long-time residents. Here, the exhibits range from items left by Māori gathering kai in the valley to farming tools and a bellows-pumped vacuum cleaner. The museum's centrepiece is like something out of a Jules Verne novel—the submarine Platypus, built in 1873 to mine Otago gold from river beds.
Close by lies the moonscape of New Zealand's only salty inland body of water, Sutton Salt Lake. There's an easy 3.5-kilometre loop walk to the lake, which has a dramatic backdrop: it's surrounded by rocky tor ridges and overlooked by the brooding bulk of the Rock and Pillar Range.
Southwest of Dunedin, the coastline extends to Brighton and Taieri Mouth.
"Brighton still feels like a town full of cribs, and full of all the joys of 1980s summer holidays, with ice-creams, barbecues and sand in the carpet," says long-time resident Robyn MacLeod. "There are some newer expensive houses as well as little weatherboard two-bedroom cribs. I really like that mix.
"When friends come, I take them to wander on the beach, or on the Millennium Track along the river from Taieri Mouth. I've seen whales from my lounge window, and when my kids were younger, we'd hurtle down to the beach every Saturday to boogie-board, and sometimes sea lions would be playing in the waves next to us."
Port Chalmers, Portobello, Aramoana, Mosgiel, Outram, Warrington, Karitane, and Waikouaiti are other settlements around Dunedin—a mosaic of people and places that make the region unique.