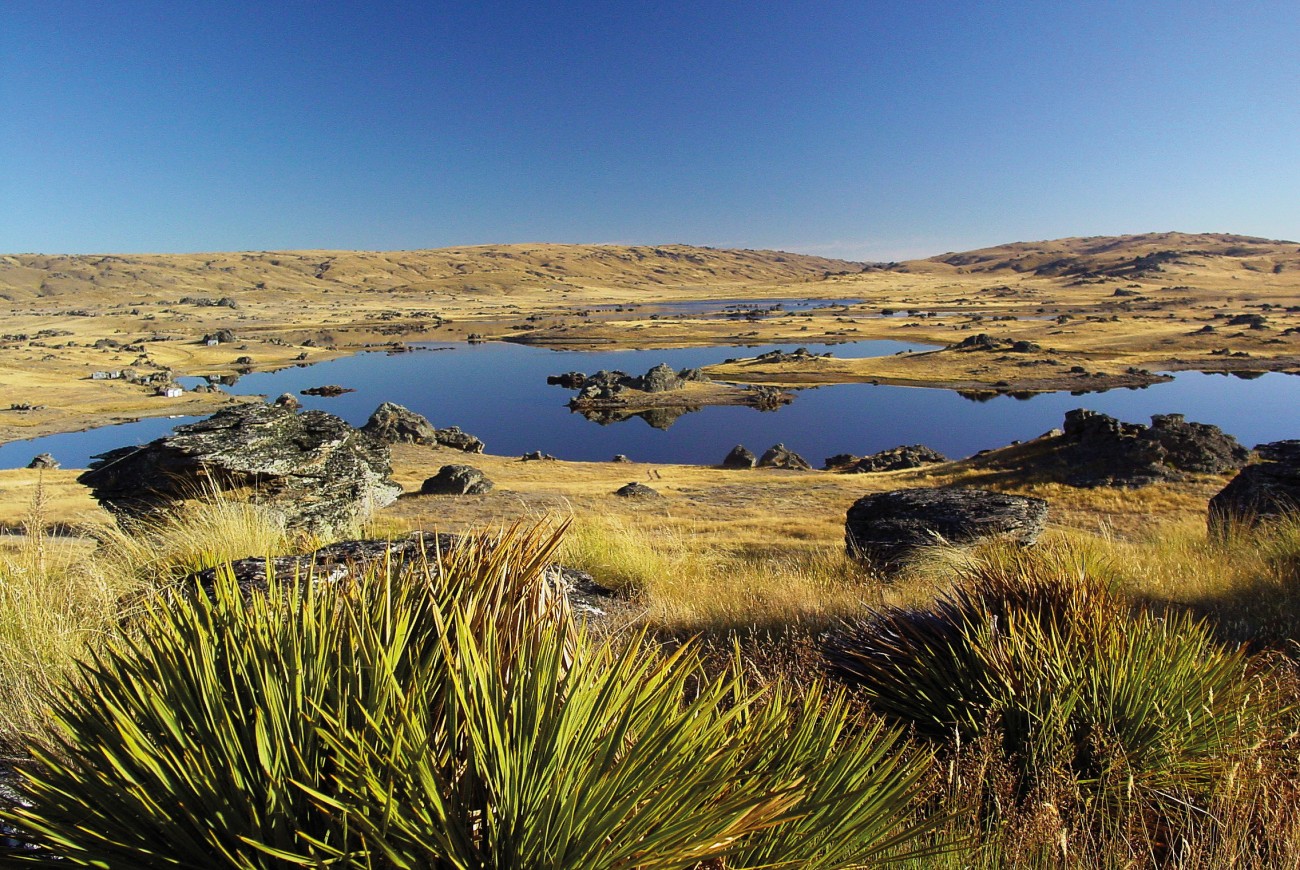 Barrie Wills
The Maniototo was first explored in 1857 by pioneer surveyor John Turnbull Thompson, who gave the area its distinctive English/Scot­tish border dialect farm-animal place names. Like many isolated rural areas, the Maniototo has suffered from a continued population decline. However the advent of the Otago Central Rail Trail and the popularity of places like Naseby, driven by increasingly unaffordable property prices in Queenstown and Wanaka, have revitalised the region.
Track Notes
From the Old Dunstan Rd, the walk follows the legal road line south along the crest of Rough Ridge for about six kilometres to a private hut beside the road. The road enters the signposted Serpentine Scenic Reserve three kilometres past the hut. It is worth making a short detour to Trig H, the high point of Rough Ridge (1174 m above sea level). There is a great viewpoint here over the surrounding vast tussock uplands, with both the Poolburn and Upper Manorburn reservoirs visible.
One kilometre past the trig is the turnoff down to the Long Gully Mine and battery. Follow a 4WD track west for about 200 m to a group of stone hut remains beside a large rock with a butcher's hook drilled into it.
Directly down-slope of these huts is the mine site, which is marked by a mullock heap and a tipping bench at the mouth of a tunnel, which is knee-deep in water. From the tunnel an old, level, sledge track leads north for several hundred metres to the top of an inclined rail track. Follow this incline directly down to the battery site beside Long Valley Creek.
Retrace your steps back up to the 4WD track on the crest of Rough Ridge. The Old Serpentine Church is a further two kilometres along the main 4WD track of Long Valley Ridge Rd.
Points of Interest
The Old Serpentine Church is a symbol of Otago's goldfields heritage. There are few more evocative memorials to the hardiness and enterprise of the pioneer miners than this lonely stone building in its desolate surroundings.
There are scattered alluvial workings, including water races and holding dams, all over the reserve. Small-scale alluvial mining commenced in 1863 and was largely aban­doned by the late 1880s.
The quartz–bearing reefs were discovered in the 1870s. The Long Valley stamper was erected on the top of the ridge in 1882 and moved to its current site in 1890, but was abandoned in 1891. Its current good state of preservation owes much to its isolation.