Sep 2: 3D Owl Art
Make some 3D owl art, read about rising seas…

Below are some talking points and activities to pass the time, all relating to today's story.
Talking points
Discuss the ideas presented in the story with your family—at home or over video conferencing. Find ways to involve as many people as possible, especially those who you know are isolated by the lock-down.
Looking through the photos in this article, which of them do you find interesting or surprising? Would you be ok to live in the houses that are pictured? This week West Auckland experienced flooding – have you seen any of the photos of the West Auckland floods in the news? Have you been surprised by the extent of the flooding? Why might it have occurred?
The article features a couple in Mokau who have a beachfront property because the sea washed away the road and the property that used to be in front of theirs. Earlier this year "a tennis-court-sized slab of land" was "gulped by the sea overnight." Can you imagine waking up to see that kind of change? How do you think it's possible for the sea to "gulp" so much land – how might that happen?
The spit where Bev and Ray Christiansen live "should never have been developed" – the government pushed ahead with a subdivision in 1956 despite being warned by geologists that it would be likely to erode. What do you think might be reasons that governments and councils allow developments to go ahead despite this kind of advice? Do you think it still happens today?
Sixty-five percent of New Zealand's communities and infrastructure live within five kilometres of the sea. Why do so many New Zealanders live on or near the coast? Do you think we should continue to build houses in the same way or should we make some different choices? What ideas do you have about how we could build in a way that would work around sea-rise?
Can you explain how we could expand our approach to looking after our coasts by adopting the Māori concept of "ki uta ki tai" – mountains to sea?
Activity: 3D Art Owl

Create this stunning night-time inspired wall art with some stones, twigs and canvases.
You will need:
2 artist canvases (sturdy cardboard, shoebox lids or wooden offcuts would also work)
Your choice of paint
Paint brushes
Stones
Twigs
String
Scissors
Scrap cardboard
Bamboo skewer
Step One: Start by painting the two canvases in your choice of colour.
Step Two: Position the twigs on the canvases, trim them as needed and glue them in place using a hot glue gun.
Step Three: Cut a short length of twig and use string to make a swing. Glue this in place with the hot glue.
Step Four: Glue the stones in place.
Step Five: Cut some small triangles out of scrap cardboard and glue these in place for beaks. Use a dark colour to paint on the eyes. You can use the blunt end of a bamboo skewer to get the small dots for eyes. Paint on the legs and feet. Try using the sharp end of the bamboo skewer to paint on the thick lines.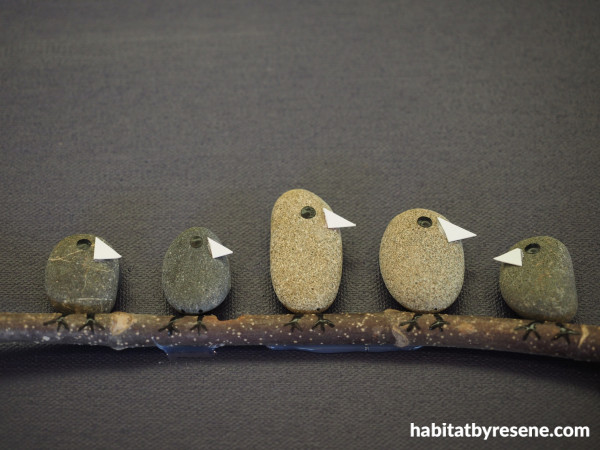 Step Six: For the gold and stars, paint some spare cardboard and once dry, use scissors to cut out in the shape of small stars. Glue these to the canvases with hot glue.