Scrutiny of the Bounties
No leaf or twig greens the harsh surface of the islets that these birds call home. The only abundance here is rock, seabird, ocean and sky. Fur seals once numbered in the tens of thousands, but were almost exterminated by sealers nearly 200 years ago, and have not yet fully recovered. Now DOC extends high protection to these bleak islands and their untamed inhabitants, allowing perhaps one or two landings a decade.
An eerie clam  seemed to fall upon us as the fog descended and the breeze dropped to a zeph­yr—not remotely what we'd expected sailing south-east from Cook Strait three days ago. After all, we were deep into the famed Roaring Forties, the storm-ridden latitudes so feared by early mariners. Remarkably, for the last 60 hours the wind had held to a steady north­east 15-20 knots, Mahalia furrowing her way with ease through the gently lapping wavelets in the company of innumerable petrels, albatross, dolphins, fur seals and even a basking shark. Clipping along at an average speed of 7.5 knots, or very nearly her maximum hull speed, our proud little sailing vessel had travelled an easy 450 nautical miles on a single tack, placing us roughly 220 miles east of Dunedin. Indeed, should she miss her target, there would be no further landfall before reaching the shores of Antarctica over 1500 miles distant, or if she veered slightly eastward, the South American continent more than 4000 miles away.
Groping ahead through a cool, damp cotton-wool world, the possibility of finding land seemed incred­ible, as indeed it must have been for Lieutenant William Bligh—captain of HMS Bounty of mutineering renown—who, en route from Tasmania to Tahiti, sighted "a cluster of small rocky islands" on September 19, 1788. His description expresses bafflement: "We had seen no birds, or anything to express the near­ness of land… The weather was too thick to see distinctly: their extent was only 3 miles from east to west, and about half a league from north to south: their number, including the smaller ones, was thirteen. I have named them after the ship, the Bounty Isles." He sailed on by, undoubtedly glad that he had not fallen upon them in the dark of night, and 16 more years would pass before they would be sighted again, though still never landed on.
[Chapter Break]
On 14 November,2004—215 years, one month and 26 days after Bligh's first sighting—we made our final approach by radar and depth sounder, a privilege many ships before us had not enjoyed. Less than two dozen landings have been recorded here in the last 80 years. Suddenly land loomed ahead. Dark and solid and quite close, yet so unsubstantial in comparison to the vast, wild ocean, my first impression of the Bounty Islands was that they were an anachronism, a feeling that would only grow in the 10 extraordinary days we were about to spend there.
Never before had I felt farther removed from what we call terra firma, so isolated as we approached an almost forgotten world barely emerging from the hostile sea—a cluster of barren, plantless, wave-washed rocks, 135 ha all up. The backbone of an undersea ridge that was last connected to Gondwana some 80 million years ago, they could easily be a sort of Atlantis-in-waiting, the last of a great landmass where life clings ferociously, adapting, evolving and competing for ever shrinking space and harsh habitat. Some odd scientific discoveries of recent years seem to support the notion of relict islands. The coarse, ancient granite they are hewn from goes back 180 million years, with closer affinities to Antarctica than New Zealand, while a few hardy spiders and insects have relatives in distant South America and Australia.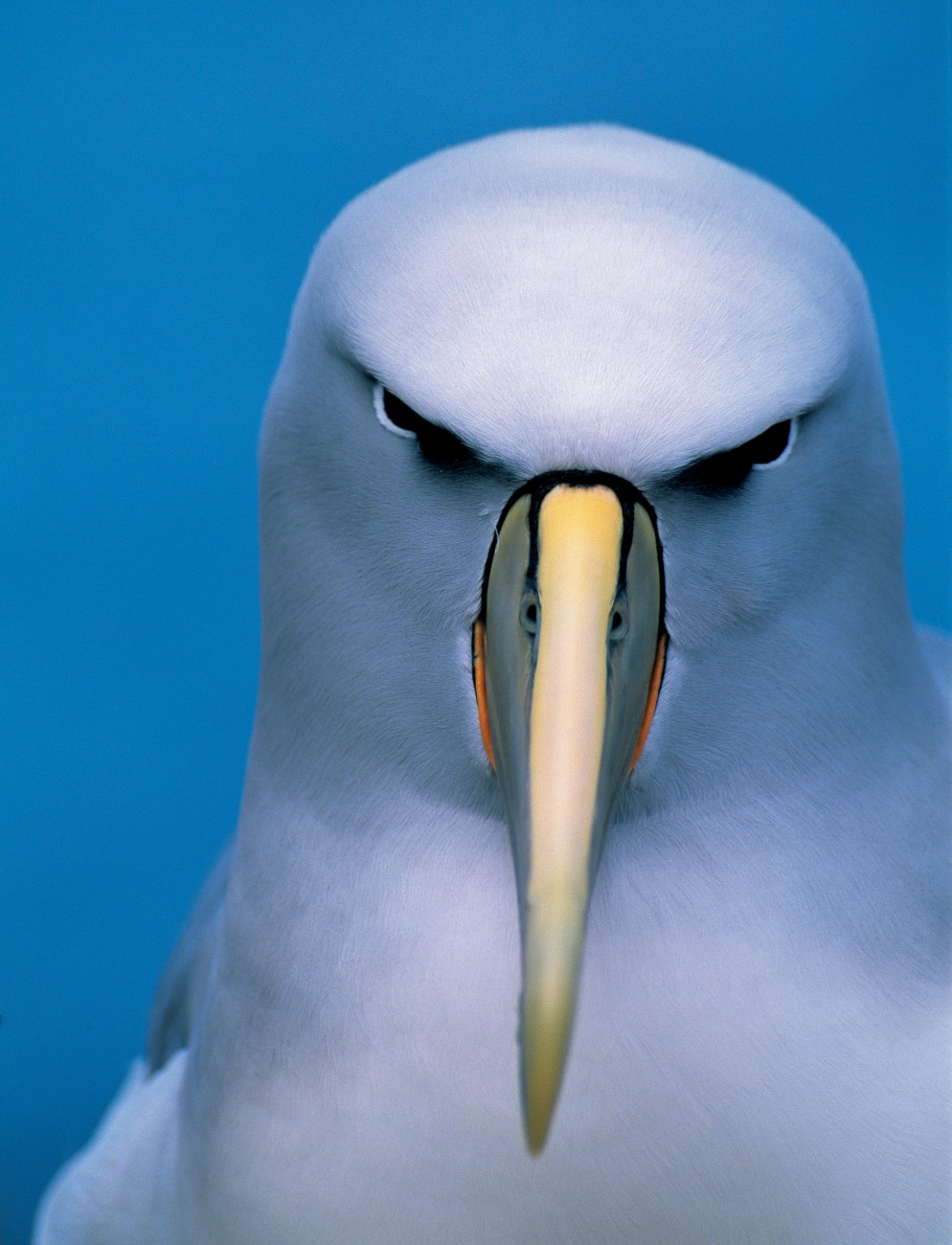 But already it is the seabirds that grab my attention. Carousels of albatross reel overhead through the mist, rafts of penguins make the sea surface boil and Bounty Island shags—the islands' very own endemic species—can be seen here and there commuting between nesting ledges and bountiful wavewash below.
Probing the sea-floor by sonar, Mahalia pulls up close under the dark columnar cliffs, but the bottom remains shy, well over 30 m deep within an arm's reach of the wall. A flurry of activity spreads among the crew: such calm is almost too good to be true in a place where good landing conditions are rare. There are five of us on board and we have come here on a combined science-photography expedition. Since the last sealing gang worked here for three months in 1881, we will be only the third party to have lived ashore.
Without sponsorship for the expedition, our small team is held together by a symbiotic sense of explo­ration and discovery. My partner Mark Jones and I have outfitted our own 13 m steel sloop specifically for voyaging in the subantarctic, while Jacinda Amey of Otago University is with us to conduct a battery of science projects with the help of two enthusiastic volunteers, medical student and yachtsman Carl Harm­er and Grant Redvers, an Antarctic scientist and experienced sailor with, like Mark, an international yachtmaster's ticket. We are all deeply aware of both the responsibility and privilege vested in us by the Department of Conservation (DOC), who afford the islands the most stringent protection as an inviolate Nature Reserve. There are precious few places left on this planet as completely unaltered by the effects of man as these islets.
[Chapter Break]
The air is alive with the bellows and shrieks of seals and seabirds as Mahalia finds a snug if wave‑washed anchorage between the snarling granite brows of Ruatara and Depot Islands. Only later will I discover the significance of these names, but for now I am completely absorbed in the excite­ment of our first landing. Plastic pails of provisions, waterproof bags of camping gear, jars of fresh wa­ter and cases of cameras, computer and collecting gear are piled helter-skelter into our little inflatable dinghy. These were all meticulously inspected, disinfected, packed and sealed before we left the port of Nelson to ensure that absolutely no living organisms, no matter how minute, should hitch a ride ashore and invade this pristine place. We shoot through a narrow cleft separating Depot and Tunnel Islands and scramble ashore on Proclamation Island with all our goods, which Mark brings over in several shuttle runs.
Wide-eyed fur seals scamper out of the way of this odd invasion—it is now seven years since the last time they've seen humans here. Jacinda was one of them, so she takes the lead. Seemingly turbo-charged after several days languishing under the effect of sea motion, she scrambles up the cliffs, remembering every handhold and foothold and ferrying giant loads in her eagerness to get established while the weath­er holds. Every ledge or furrow in the granite is occupied by a resolute looking erect-crested penguin hunkering down on a single egg, roguish golden crest bristling and flippers flailing, squawking indignant­ly at our passage. By contrast, the other residents of the island maintain their poise and dignity. Salvin's albatross, or mollymawks as they are often called, stare down their drooping bills with dark, pensive eyes accentuated by ashy white brows and a brush of charcoal eye shadow. In contrast with the penguins squat­ting on the guano-splattered ground, each albatross sits on a cup-shaped nest made of carefully compacted dry "mud" consisting of raw organic debris—spilt food, excreta, bones, and moulted feathers and fur seal hair—cemented into a perfectly symmetrical pedestal. In the total absence of vascular plants there is no soil here at all.
Thirty metres above sea level, voila, a vaguely flat platform of awkwardly sloping, uneven granite, roughly 3 m wide and 8 m long, will be home. Too smooth to accommodate more than three albatross and six penguin nests, there is just enough space to erect our two small mountain tents without displacing any birds, making sure we run our guylines over and around them.
We soon settle in, having established a truce with our bird hosts only a beak length away from our tent door. With the billy perched on a roaring camping stove and seabirds enveloping us on all sides, life takes on that perfect, raw, basic tempo that can only ever be found in places truly untrodden and untamed­ and in that the Bounties take some beating. As I look around, I become aware that our orange plastic pails and purple and blue Macpac tents are the only colours standing out in an otherwise almost monochro­matic landscape.
By morning the whole world has changed around us. An angry north-easterly is tearing into camp, which offers no shelter whatsoever. Huge waves have turned the cove where we landed into a maelstrom, spume and driving rain buffeting our flapping tents, whose zippers have to be lashed down to prevent them opening spontaneously. A dubious greenish-brown slime oozes down the slope through camp and under the tent floors. Yet the birds around us are serene, leaning into the wind and letting the water run off their beaks and feathers. Mahalia is surrounded in white water but relatively sheltered on the south side of Depot Island. Had we arrived 12 hours later no landing would have been possible for two or three days. Quickly we realise that this is life as usual on the Bounty Islands. If the weather in your face becomes too much, you turn your back to it. There is utter peace in such wildness.
[Chapter Break]
As fascinating as the ever-changing scene is, we are not here simply to enjoy ourselves. DOC is very careful to keep all human influence well away from the islands unless balanced by a very clear need for research material to counteract the potential risks. With no less than eight distinct research projects wrapped into our permit, Jacinda launches into the work with gusto. Unstoppable, she juggles every daylight hour to best advantage. A major cen­sus of all albatross and penguins requires linking into so­phisticated satellite-activated GPS survey equipment. There is blood sampling of endemic shags for DNA analysis at Otago University and stable isotope studies by NIWA to reflect the diets of the different seabirds. Feather lice are going to Te Papa museum to shed light on their hosts' origins, whereas terrestrial invertebrate collections from the substrate will be headed for Lincoln University, and limpets to the University of Canterbury. Carl and Grant take turns assist­ing with the field research and helping Mark look after Mahalia. On calm days Mark circumnavigates all islands and rocks to count the shag population, coming up with a total of 618 birds. I dedicate myself to photography whenever the lighting conditions permit. When they do not, I spend hours digging through slimy ground litter, discovering a whole new world of tiny organisms thriving in this most unlikely habi­tat. From minute beetles to flightless moths, pinhead-sized wasps to a peculiar hunchback giant weta, almost everything here is endemic, living mainly off detritus in the absence of plants. Only the thinnest coating of dark green algae covers the more sheltered rock faces, while the tops of boulders and rock slabs are polished smooth with a porcelain-like veneer of calcareous guano residue, which shines in the sun and was mistaken for snow by Captain Bligh on his first sighting of the islands.
In amongst the ubiquitous penguins and albatross, the island is also peppered with small, powder-blue fulmar prions. They sit everywhere in little groups of twos, threes and fours, chortling and crooning, ducking into fissures to nest. The cliffs likewise are occupied not only by the resident shags, but also chattering cape pigeons and fluttering Antarctic terns, all intent on raising families of their own in the brief southern summer.
Day by day we learn the moods of the island. Northerly winds bring rain and mist, southerlies lash the island with scuttling squalls, whereas westerlies are mostly clear. Change is always in the air and a glori­ous sunset adds the final touch to a busy day. With the island only 300 m or so across, I soon get to know  every last boulder and ridge. I also come to know individuals among the seething masses. Many have ac­cepted our presence and are no longer nervous when we pass between them, but others, particularly one penguin incubating in a narrow passage near the summit ridge, remain defiant. This one squawks with deafening vehemence each time she sees us.
Whether courting or defending their turf, both albatross and penguin here have far louder voices than any of their brethren I've heard elsewhere, perhaps to counter the roar of wind and wave. Walking through the colony is such a high decibel experience it leaves one's eardrums throbbing. Competition for space is also the most intense I have ever witnessed, and fights almost constant. Single albatross try to secure a nesting space, locked in vicious battles as they tumble amongst the penguins, who respond with volleys of jabs and flipper beatings. Fur seals trying to reach favoured sleeping spots run a gaunt­let of jabbing beaks, yet on a promontory a young bull grabs an unwary albatross and tosses him clean over the cliff edge.
Yet there are tender scenes aplenty. A pair of albatross fusses intently over a crushed egg, appar­ently unwilling to admit failure for the season. Some chicks have already hatched, tiny helpless fluff balls with oversized drooping beaks and beady black eyes, over which parents dote as if in disbelief that such a wonder could hatch out of an egg they have stead­fastly taken turn sitting on for over two months.
One pair particularly intrigues me. Caring for a young chick on the summit ridge, they are both wearing metal bands, numbers O-14211 and O­14217. Only later do I track down their history from the DOC banding record centre in Wellington: They were both banded as chicks by a science team in 1985, and O-14217 had not been seen since. Now 20 years old, it seems extraordinary that they should have chosen one another as mates among the teeming mass of unbanded birds.
[Chapter Break]
Information about the Bounty wildlife remains scant. No one knows how and where the albatross feed, and whether they are falling victim to the long-line fishing industry that is decimating so many other species in the Southern Ocean. This makes Jacinda's numbers, when compared to her census results of seven years ago, crucial information for DOC to manage the species and the islands. She divides the island into eight parcels, or blocks, then two people canvass the areas dabbing the ground with a dot of temporary stock-marking paint near each nest, blue for penguins, orange for albatross. Astoundingly, her total penguin count of 2788 is a mere 14 nests out from 1997. Such remarkable stability is wonder­ful news for a species confined to just these rocks and Antipodes Island, 120 miles to the south. Colonies there appear to have shrunk in recent years, while their smaller relative the rockhopper penguin (not present here at the Bounties) has dwindled to a tiny fraction of its historic numbers.
The albatross count is less conclusive. With 2634 nests the figure falls 412 short of the previous census, a nearly 14 per cent drop. Could this be a sign that all is not well, or is it simply a reflection of the increas­ing numbers of fur seals, still recovering from near-extinction during the sealing era, and occupying in­creasing amounts of precious space in the colony?
The fur seals are getting ready to pup and rotund cows are being guarded jealously by huffing, growl­ing bulls in fine form, sitting masterfully on prime landmarks to proclaim their breeding rights. They are nervous and the younger ones easily startled, unlike all the other wild inhabitants of the island, as if they somehow remember the terrible raids that befell their species two centuries ago. It is indeed strange to think that, while the islands today have regained their pristine status thanks to DOC's hands-off manage­ment, they were once the scene of repeated trampling and slaughter.
It was in fact the abundant presence of New Zealand fur seals that first brought man in contact with the Bounty Islands. Back in Nelson I meet biologist Rowley Taylor, now retired, who as part of the Wild life Service took part in several expeditions to the Bounties in the 70s and 80s. The islands clearly took a hold of him, and he has devoted himself to reconstructing their history—along with that of Antipodes Island—in a fascinatingly detailed manuscript to be published later this year. Every shred of evidence surrounding the often strange and harrowing stories that took place here have been recorded in vivid ac­counts, from their discovery to the year 2000.
The craze for furs in the early 1800s was driving ever more adventurous sailing vessels southward when the sealer Brothers made the first landing on the Bounties. Wielding spears and clubs, the gang that stormed these wild shores must have been elated to find them seething with seals, and the carnage that ensued can only be imagined, yielding no less than 38,000 skins. So effective was their kill that few seals remained when the next ship, the Santa Ana, dropped a gang of 14 hardy sealers, including two Maori and two Tahitians, who became the longest-staying party ever, marooned on the islands when their ship was delayed by storm damage on her resupply run back to New Zealand. The men eked a living as best they could through the bitter winter, depending on rain for drinking water. By the time the Santa Ana finally re­turned after nine months three of the party had died from hardship, while the survivors had managed to stockpile only 8000 skins.
Huddled in our snug tent in the evening, with Jacinda busily entering data into her laptop computer, I found it hard to imagine that anyone could survive long here with nothing more than the rough implements of the sealing trade. Yet more parties raided the islands in those early days, turning to feathers and even penguin skins as the seals dwindled. A hut was even erected with albatross wings used as roofing shingles. Com­piling the port records, Rowley estimates that 56,700 fur seal skins were brought back from the Bounties before hunting was finally banned in 1891.
But the obsession with exploitation did not wane easily, as evidenced by the bizarre advertisement of a "pastoral lease" for the Bounty Islands in 1895—apparently the good bureaucrats in power ignored a prior report that dismissed the islands as "a mere cluster of rocks". Unsurprisingly, there were no bidders.
The prevalence of ships being wrecked in the subantarctic islands also brought pe­riodic government steamers searching for castaways, but no wrecks were ever recorded here. Whether this is because vessels managed to avoid the islands or simply because no one ever lived to tell the tale will never be known. In 1886 a small wooden hut stocked with provisions was built on the largest island to succour potential survivors, but a year later it had vanished, apparently swept away by the fierce weather.
The islands remained so forlorn in everyone's minds that by 1870, when a guano mining company expressed interest, the somewhat embarrassed colonial government admitted they had never been formally claimed. This was promptly put to rights when the warship HMS Rosario was dispatched to "take possession of the Bounty Islands for the British Empire". But with the seas too stormy for a landing, captain George Palmer had no option but to read his solemn declaration on July 9 that year from the deck of the vessel. Not even penguin and albatross could bear witness to the event.
Fast-forward to 1978, when the Wildlife Service mounted a major scientific explora­tion of several subantarctic islands, including Bounty. Rowley was part of the expedition and describes how Captain Ian Bradley of HMNZS Waikato, dressed in full historical naval garb, re-read Captain Palmer's declaration of 1870, but this time firmly stand­ing on the island that was soon to become known as Proclamation. Over a century had spanned these two solemn acts, placing the final touch on New Zealand's undisputed territorial claim.
The same expedition also dropped three researchers on Proclamation Island for 13 days to study the wildlife in detail. In Rowley's words, "they were the first to spend more than a day at the island since the Whitney South Seas Expedition of 1926, and the first to camp on the island since sealers from the Anna stayed there three months in 1881."
The landing having sealed the official proclamation of sovereignty, the islands and rocks still had never been individually named, so the party took to redressing that oversight as well. Rowley quotes the recol­lections of one of the team: "One evening we sat on an abandoned mollymawk nest with a map on our laps. After examining possible names, we decided on one and had a toast to the newly named islet with overproof rum that the New Zealand navy gave us… Needless to say, by the time we named all the islets, we were feeling pretty good indeed."
[Chapter Break]
It is thanks to these three men's fertile imagination less than 30 years ago that we now have Ruatara Island, named after the Maori chief who was part of the sealing gang marooned here in 1808, Ranfurly for the Governor of New Zealand who collected the first shag (which also bears his name) in 1901, Depot as the site of the vanished castaway hut, Funnel because of the way large waves were channelled through a cleft piercing the cliff, and Tunnel for the cave that runs through it. Con Island resembles a submarine conning tower and Molly Cap, one of the highest and steepest, bears a neat topknot of alba­tross nesting on its summit plateau. The Bounties had slipped from history into modern times with al­most no fuss and precious little attention.
In fact, the footprint of man was far greater here one hundred years ago than it is today. The early sealing raids were followed by a string of passenger visits around the turn of last century, paying their way on government vessels carrying out regular castaway inspections, until the programme was discon­tinued in 1927. Scientists and would-be naturalists also came along, frequently bringing back extensive collections of specimens and live birds for zoos and private collections.
As I sit in the waning light of sunset, watching flocks of penguins troop up the slippery slope, albatross parents tucking delicate new chicks between their oversize feet, and young bull fur seals once again jousting for space after their very near brush with extinction, I feel deeply thankful that at the hands of DOC, the Bounties are once again secure from abuse, so long as offshore fisheries can be kept in check.
With the passing days a sense of familiarity sets in, and I become more aware of developments in the island's biological clock. On the fourth day, a tremendous influx of non-breeding albatross begins to descend on the island, arriving from the high seas like a mesmeris­ing aerial river of birds flowing in from the east. Competition for space soon increases dramatically, and so does the deafening noise level.
The "camp albatross" whose nest sits at the centre of our daily activities hatches an innocent-looking fluff ball of a chick. Mum has become totally accustomed to our presence, tapping me gently on the shoulder one evening when I inadvertently sit eating my dinner with my back in her face. But the next day dad comes back to swap duties with her and we find out to our detriment that he has very different ideas about personal space, bloodying our fingers if we reach too close.
Near the end of our stay, the four penguin nests that virtually surround the head of our tent begin a monotonous nightly serenade of persistent braying. Baffled at first, we soon discover that this pre­cedes their own hatchings, probably to imprint the parents' voices on their chicks within the eggs. Indeed, the day before we leave little black beaks are starting to crack their way out of the white shells.
Mark spends all but a couple of hours keeping watch over Ma­halia, checking his radar position and depth sounder at all hours of the night as angry waves lash the rocks surrounding his precarious anchorage. He switches from one side of the islands to the other de­pending on the wind direction. A couple of calm days are dedicated to landings on Depot and Funnel Islands for further bird counts.
Jacinda's energetic work pace makes rapid inroads in the exten­sive science programme, bringing it to completion in record time. On the tenth day we strike camp in soggy conditions, making for an interesting slither back down to the shore with the gear. We carry away innumerable vials of insects, feathers, blood, limpets and reams of field notes and raw data that should help guide future management decisions. The most exciting contribution of the trip, however, is the discovery of the first vascular plant recorded on these shores. While I spot a lush green clump growing high on a ledge of steep Molly Cap, the westernmost of the group, Jacinda finds a colony of 13 more plants on a crag atop Funnel Island. Sections of a small specimen, later identi­fied as Cook's scurvy grass, Lepidium oleraceum, will eventually be lodged in both the Otago herbarium and the national herbarium at Landcare, Lincoln.
Our run home seems almost too good to be true—and it is. Just one day out of Dunedin, plodding steadily in what appears a not very dramatic storm, a rogue wave strikes us broadside without warning. In the span of 20 seconds Mahalia suffers her first knockdown, mast underwater. She springs back just as quickly but, unconcerned as we'd been, our hatch—designed to batten down easily for just such a cir­cumstance—was wide open. Seawater pours in everywhere, knocking out all of our electronics and much of the electrical system. On deck things aren't much better. The dinghy is ripped off its cradle and the mainsail is in tatters. Thankfully the mast still stands, a credit to Mahalia's extra heavy rigging.
Humbled though not beaten, we motor the rest of the way. The experience is summed up in a friend's words: "A reminder that mother nature is still in charge, but not always motherly." As for the Bounties, mother nature—with a little help from DOC—is still very much in charge, renewing my faith that it is still possible for some corners of our planet to remain utterly wild.