Alexander Turnbull Library
Why wasn't I told?
This year, for the first time in the 150-year saga of Parihaka, the government is preparing to apologise for one of New Zealand history's most deplorable acts: the invasion and sacking of a Māori pacifist community and the imprisonment without trial of its leaders, Te Whiti o Rongomai and Tohu Kākahi. Yet for many New Zealanders, the word "Parihaka" still draws a blank. On hearing the story for the first time, they ask: why wasn't I told?
He watches me from the wall of the study where I write. I stuck a postcard print of him there in 2000, when the original painting, by Tony Fomison, was shown in an exhibition called 'Parihaka: The Art of Passive Resistance'. His bearded face fills the frame. His skin glows as if lit from within. His right hand is raised in prayer. Behind him is the mountain, Taranaki, from whose summit rises a strange cloud, like a puff of smoke.
The painting is an impression, not a likeness. Te Whiti did not allow himself to be photographed or even sketched. It had nothing to do with his soul being stolen, that old cliché about superstitious natives. Rather, he had seen how images can be used to reinforce racial stereotypes, and he wanted no part of that. Many Pākehā disregarded his wishes. One sketched him secretly on his shirt cuff while Te Whiti spoke at a meeting. Another sneaked a photograph while he was under house arrest in Nelson.
I stand up from my desk and look Te Whiti o Rongomai in the eye. His gaze is placid, beatific. He seems to be asking, "Who do you say that I am?"
Until 1983, I would have had no answer to that question. His name meant nothing to me. In those days, just before seven o'clock on weekday mornings, the National Programme broadcast a short "Morning Comment" read by an invited guest. On May 22, it was the turn of Elizabeth Murchie, a human rights commissioner and campaigner for Māori women's health.
"I've just seen Gandhi," she began. She meant the movie, just released in New Zealand, with its by turns harrowing and heroic scenes of the clash between coloniser and colonised. "Gandhi belongs not only to India but to all of us," Murchie said, then added, "Such is the slant of our teaching of history in this country that few New Zealanders know that last century there was a Māori who can be likened to Gandhi." Then she spoke his name.
This was my "Why wasn't I told?" moment. Imagine: a Māori Gandhi. I wrote to Radio New Zealand to ask if I could be sent a copy of her talk. They passed the request to Murchie, who sent me the transcript with a covering letter. She encouraged me to read Dick Scott's influential book Ask That Mountain, at that time the definitive account of Te Whiti and Parihaka, and I did.
"History says that Te Whiti was defeated," Murchie said at the end of her allotted two minutes on air, "but the moral victory was with he who turned the other cheek."
It is inconceivable that an Indian child growing up today would not know about Gandhi, just as it is impossible to imagine a child in the United States not knowing about Martin Luther King Jr, or a South African child Nelson Mandela. Yet generations of New Zealand children have grown up in ignorance of a man whose message and practice of peace and nonviolent protest preceded theirs by decades.
In the Waitangi Tribunal's 1996 Taranaki report—the most scathing it has ever written—the tribunal wrote that Māori children "were schooled to believe that those of their forebears whose images they should have carved with pride were simply rebels, savages, or fanatics".
That was if they heard about them at all. The government suppressed the shameful history of its actions in Parihaka and hid the criminality of its own policies, the tribunal wrote. "New Zealanders were not to know that forced removals, pass laws, and other suspensions of civil liberties, so often criticised of governments elsewhere, had been applied here. We were not to know, when paying tribute to Gandhi and King, that their policies and practices had first been enunciated by Māori."
Even less well known was that Te Whiti did not act alone. His relative and fellow spiritual leader Tohu Kākahi was his equal in taking a nonviolent stand against colonial aggression and seeking autonomy for Māori. The two men founded and led the community at Parihaka, and both eventually died and were buried there. Because Te Whiti was recognised for his oratory and political leadership, he became the voice of Parihaka, and only in recent times has Tohu been more widely acknowledged. But for their followers, Tohu and Te Whiti have always been the "two birds of knowledge" linked to an ancient prophecy, calling out from the mists of a sacred mountain, leading their people to a Promised Land of security and peace—and to their promised lands.
Promised Land and promised lands—the two are inseparable, and Parihaka cannot be understood without knowing something of the long saga of confiscation, dispossession, sale and foreign settlement of Taranaki's verdant acres.
It is a troubling story. So disturbed was the tribunal by the evidence it heard from Taranaki iwi that it described what happened to them as a holocaust and a tragedy without end. "If war is the absence of peace," it wrote, "the war has never ended in Taranaki, because that essential prerequisite for peace among peoples, that each should be able to live with dignity on their own lands, is still absent and the protest over land rights continues to be made."
Now, two decades after the tribunal published its report, a deed of settlement of the Taranaki claims is working its way through Parliament. The settlement offers the opportunity for a reset in relations between iwi and Crown—closing the door on past trauma, opening the door to a future of co-operation and respect.
The restoration of shattered trust will be no easy thing. For the people of Parihaka, history's battering blows have been relentless, and the more you know about that story, the tougher it is to tell. It is like swallowing broken glass and trying to sing.
[Chapter Break]
In Taranaki, the mountain dominates all. As you drive the rim of the coast, the inland roads are angled towards it: maunga hauhunga, the lofty mountain of snow and ice, maunga titohea, the barren mountain whose mana gives life to the land. On this day, the hidden mountain, an invisible presence under a korowai of cloud.
I'm coming from the north, so I stop at Waitara, where all the trouble began, and still hasn't ended. A land purchase from someone without the authority to sell it, a survey commissioned in defiance of a ra-ngatira's ban, followed by a declaration of war by the governor when the surveyors were opposed—Waitara was the touchpaper that ignited Taranaki in war. It was "a blunder worse than a crime", wrote parliamentarian and author William Pember Reeves. "The words 'insanity' and 'imbecility' rise to the lips," added the Southern Cross newspaper.
I drive some of the streets, named almost to a one after colonial politicians and military men. Colonisation had been "programmed for Taranaki" from before the Treaty of Waitangi was signed, wrote the tribunal. But it was deeply opposed by Taranaki iwi. They had suffered heavy losses in earlier invasions by northern tribes—driven off their homelands, taken into slavery. Now that they had returned, they wanted only to re-establish and rebuild, and were in no mood to part with what they had just reclaimed.
But the force of settler demand was like the surf that pounds the Taranaki coast: it would not be denied. And the government, which could have sought an accommodation between settler and native interests, chose not to. In justifying his dubious purchase, Governor Thomas Gore Browne claimed that Taranaki Māori had lost their customary rights to land through conquest by Waikato tribes. But a previous governor had already rejected that argument: Taranaki iwi's rights to land had not been extinguished. And now the tribes had returned from exile to rekindle their hearthfires on land that was rightfully theirs.
For the governor, though, the contested land sale at Waitara was only partially about property; it was also about power. If he had not gone ahead with the purchase, he said, he would have been acknowledging the "virtual sovereignty" of Wiremu Kingi, the rangatira who had vetoed the sale. That he would never do. It was his duty to "repel this assumption of authority". Māori autonomy had to be destroyed, and Māori pretensions to sovereignty crushed. This was colonialism stripped to its bigoted essence: my culture is better than yours, therefore my will must prevail. Let's call it for what it was: white supremacy.
The Waitangi Tribunal saw this clearly, and condemned it utterly. Autonomy—so clearly articulated in the Māori text of the Treaty as tino rangatiratanga—"disappeared at the colonial frontier", wrote the tribunal, "and the colonial government contemplated no other option than that of domination and control".
As would be the case with Rua Kenana 35 years later, Te Whiti and Tohu represented an alternative authority, and were thus, writes historian Hazel Riseborough, "a reproach to Victorian notions of racial and cultural superiority".
The tragedy of the post-Treaty period is that the humanitarian intentions of imperial Britain were not matched in colonial New Zealand. Promised sovereign autonomy and "undisturbed possession" by the British Crown, Māori instead found themselves on the receiving end of subjugation and dispossession. As imperial obligation morphed into colonial expediency, Treaty promises evaporated like mist on a Taranaki morning.
And so began the longest of the New Zealand wars—nine years of intermittent conflict, with an aftermath that extends to today. The year 1860 came to be known as "the year of Waitara, when the fire extended to the whole land, to the whole earth".
[Chapter Break]
Spits of rain spatter the windscreen as I drive the coast road south to Warea. I stand on a bridge over the Warea River, swollen and running the colour of tea, then follow the river to the coast. Te Whiti and Tohu were living here when war broke out. They managed a flour mill, and Te Whiti worked as foreman on a nearby farm and taught reading, arithmetic and the Christian scriptures in his whare at night.
I look across the boulder beach and out to sea, where in 1860 the warship Niger, stationed just offshore, bombarded the settlement of Warea. Troops arrived in their hundreds soon after, smashing the flour mill cog by cog, sacking other buildings and taking anything valuable as booty.
The Warea community had already moved inland to escape the assault, but their new settlement was attacked, too, so they moved once more. Again and again their homes were razed, and each time they retreated deeper into the hinterland. Eventually, Te Whiti and Tohu came to Parihaka, then little more than a clearing in thick forest. As the war dragged on, they began their experiment in peace.
It starts to rain heavily and the idea of pitching a tent on the coast loses its appeal. I drive up to Parihaka and am immediately welcomed by a family who have gathered to remember their koro on the first anniversary of his death. We share kai, blow out candles on a chocolate cake and sing waiata from Tainui, where the family are based. "He piko he taniwha, he piko he taniwha."
Later in the evening, Ruakere Hond, one of the trustees of Parihaka papakāinga, joins us and we talk late into the night. He speaks of the principles on which Te Whiti and Tohu founded Parihaka, and which remain the pillars of the community today: nonviolence, empowerment of people who are disempowered by society, working together as a community, self-sufficiency, equality.
It wasn't a spiritual cult, as the settler government tried to make out at the time, Hond says. "People came here from around the country with a lot of different backgrounds and beliefs, and Tohu and Te Whiti never expected them to conform to their own views. The only thing they insisted on is that you have to renounce all violence and status divisions—you can't have rangatira over here and lowly slaves over there."
The insistence on equality was radical for those times. "In traditional thinking, if you became a slave you had no mana," Hond says. "Te Whiti and Tohu said no, there's none of that here. So in Parihaka you didn't have a high-born person calling the shots. Everyone worked in the gardens. Everyone worked in the kitchens. No exceptions. Because the reality is that so many Taranaki people have slavery in their whakapapa. I'm one of them.
"We still struggle with the issue of equality," Hond admits. Even nonviolence, the foundation of Parihaka's fame, is no easy road. "Nonviolence sounds easy," says Hond. "You could say, 'I'm nonviolent. I don't go around punching people.' But violence can also be psychological. It shows up in verbal abuse, and that's against what Tohu and Te Whiti stood for. You shouldn't abuse people, but that's a hard thing to do when you've been abused yourself."
A good deal of what Parihaka struggles with is what all Taranaki iwi face: historical trauma. And the cause of much of that trauma was the Crown's confiscation of land. If nine years of war was bad, the 150-year legacy of confiscation, or muru, has been worse. If you imagine biting off the entire western tip of the North Island, that's how much land was confiscated from Taranaki Māori.
"A simple, cunning plan" is how historian Danny Keenan describes the confiscation policy in his recent biography of Te Whiti. It was based on the idea that Māori who fought against the Crown had thereby forfeited their property rights. Confiscating the land of such "rebel natives" fulfilled the dual purpose of punishing them and making their land available for settlement. In addition, the sale of the confiscated land to Pākehā settlers provided revenue to the Crown, essentially paying for the war that allowed Pākehā to claim the land in the first place.
So-called "loyal" natives—those who didn't take up arms against government forces—were promised that their land would not be touched, and that they would have "full benefit and enjoyment" of it. Te Whiti and Tohu were in this latter category.
Clever in concept, the policy was disastrous in execution. Loyal and rebel Māori often came from the same kinship groups, and had overlapping land rights. How could one group be punished and the other rewarded in such circumstances? The government's method was to confiscate first and compensate later, when loyal Māori came forward to present their case. But the compensation was slow, inaccurate and never as much as the recipients were entitled to—if it even came at all.
At the same time (in fact, from the earliest years of European settlement), the government had promised Māori "ample" native reserves—areas set aside in perpetuity for Māori occupation. Repeatedly promised, virtually none were ever defined on the ground, or even marked on a map.
No surer way of poisoning Māori trust in government and amity towards settlers could be imagined than these two actions, writes Riseborough in Days of Darkness, her history of Parihaka. "The government, in taking land from loyal and rebel alike and failing to provide the long promised reserves… built for Parihaka the very following they came to mistrust and fear."
[Chapter Break]
That night, I sleep in the wharenui under the eyes of a hundred or more ancestors whose photographs cram the walls. They and their tūpuna came to Parihaka because the path of the prophets seemed to offer hope in a time when hope had been trampled. In short order, Parihaka grew to number 1500 souls, the largest Māori community in the country. At the prophets' monthly meetings, held on the 17th of each month, up to 2000 might attend. For a decade, the settlement flourished, expanding its cultivations on the surrounding land, all of which was within the confiscation zone. For a decade, the people weren't opposed.
Then, in 1878, the slumbering government awoke, prodded into action by settlers clamouring for land. Surveyors crossed the Waingongoro River and began laying out roads and sections on the Waimate Plains, breaking a promise made six years earlier by Native Minister Donald McLean that land north of the Waingongoro would not be settled until reserves had been set aside for the local people. Those reserves had not eventuated.
For several months, Te Whiti allowed the survey to proceed, pending discussion of the situation with the government. But the government showed no inclination to discuss, so in 1879, Te Whiti and Tohu began to resist. They had the surveyors and their tools physically shifted back across the Waingongoro. When the surveyors returned, they had their pegs uprooted and chopped into pieces. Then Te Whiti and Tohu played their trump card. They sent out Parihaka men to plough settler land.
It was a genius move on their part in choosing the settlers' tool to make a political protest against settlement. By using a contemporary farming implement, and not, say, the traditional Māori kō, they asserted their right to participate in the modern economy on land taken in contravention of the government's own word—that those who had not lifted their hands against the Queen would not be punished.
They would also have been keenly aware of the religious symbolism. Māori were constantly being exhorted by missionaries to "turn their swords into ploughshares"—to abandon their "savage ways" and embrace peace. The Parihaka prophets—practitioners, rather than mere preachers, of peace—turned the missionaries' words back on them. 'Peace is what you taught us. Why, then, do you come against us with the sword?' Each furrow would have condemned that hypocrisy.
Only men of mana were sent out to plough. These acts of trespass were not trivial. They required both courage and restraint. The ploughmen, if opposed, were not to resist. When asked what should be done in the face of violence, Tohu answered: "Gather up the earth on which the blood is spilt and bring it to Parihaka."
Ploughmen understood they were on sacred business. When one, Mahoki, was arrested and asked to sign the statement he had made, he replied, "I do not understand writing now; there is a spirit within me which hinders me from writing."
I sensed that spirit when I stood in front of a Parihaka plough in Puke Ariki, the New Plymouth museum. It was long and narrow and pitted with rust. I imagined setting my hand to this plough, guiding its curved blade across contested land, following Te Whiti's injunction to "plough the belly of the government".
The government got the message and responded swiftly. Ploughmen were arrested, fined exorbitant sums they had no hope of paying, deported, imprisoned. Under the cloak of a national emergency, the government suspended the right to a trial and passed the first of a series of draconian acts that became progressively more desperate and unjust as time went by. Native Minister John Sheehan advised Armed Constabulary officers not to worry about the legality of their arrests, telling them, "You take the men and the government will find the law."
Take them they did. More than 400 ploughmen were sent to prisons, first in Wellington and then in Hokitika and Dunedin, where they languished for up to two years. Putting distance between the prisoners and their loved ones was deliberate—a tactical move to weaken the community.
One way the Parihaka community has preserved memory is to give children names that recall historical events. One is Totoia, which means dragging, from the way a ploughman was tied to a horse by his arresters and dragged around a paddock. Another is Te Iwi Herehere, meaning imprisoned people, another Ngarukeruke, a discarded body. Memory is inseparable from pain in the Parihaka story.
With the ploughmen literally out of the way, the surveyors pushed northwards. When they needed to traverse areas of Māori cultivation, they casually broke down the fences, allowing roaming livestock to enter and damage the crops. A cat-and-mouse game ensued in which Parihaka fencers restored by night what the surveyors destroyed by day. A new round of arrests began, until as many as 216 fencers had been removed to South Island prisons—again without trial.
Of this period, the Waitangi Tribunal would write bitterly, "Parihaka provides a damning indictment of a government so freed of constitutional constraints as to be able to ignore with impunity the rule of law, make war on its own people, and turn its back on the principles on which the government of the country had been agreed."
Were the prophets justified in opposing the survey? In the settlers' eyes, no—the land was still officially confiscated, and thus the government's to dispose of as it chose. In Parihaka's eyes, yes, in that the land in question had been wrongly taken from loyal Māori in the first place, nine years had elapsed since the confiscation in which the government had done nothing with the land, and, crucially, McLean had advised Taranaki Māori to "return to the land" and cultivate the soil. They had done just that, and the government had not objected or interfered. Te Whiti saw this as tacit approval to occupy and reclaim.
Now surveyors were advancing on Parihaka itself, through an area that Alexander Mackay, the Commissioner of Native Reserves, had recommended be set aside as an inalienable reserve. Te Whiti told Mackay, "I do not admit your right to survey it. My blanket is mine… You want to cut my blanket in two. It will be too small for me then… It seems to me… by the way the surveys have been conducted, you wish to take the whole of the blanket and leave me naked."
Prescient words. Nakedness was indeed the outcome. Years later, Te Whiti challenged Prime Minister Richard Seddon to tell him "which one of the kings of the world will carry out this deed—to give dignity to the orphan, to the dispossessed and the bereaved? Which one leader will fulfil these three demands in our time?"
Many Māori are still waiting for an answer to that question.
[Chapter Break]
In the morning—the air damp and still after the rain—I climb Purepo, Cannon Hill, at the entrance to Parihaka. It has just been cleared of old-man gorse with trunks as thick as arms. A slasher lies where it was left behind on the summit. Below me, some two dozen homes and marae buildings lie to each side of a driveway that winds through the hummocky landscape. Maunga Taranaki still hides its face in the distance. From this hill a six-pound Armstrong gun was aimed at the village on the morning of November 5, 1881.
If people know anything of the Parihaka story, they know this part. The 2500-strong community sitting together on the marae through the night of November 4, not knowing when the troops would arrive. The 1500 Armed Constabulary soldiers and volunteers, weighed down with ammunition, encircling the village, expecting violence but greeted instead by singing, skipping children and women who had baked 500 loaves of bread to feed their visitors. Swashbuckling John Bryce, the Native Minister, astride his white charger; Bryce, the hard man of government, recalled to Parliament specifically "to destroy that headquarters of fanaticism and disaffection". And yes, the cannon on the hill where I stand, and the curious story of a dog which cocked its leg against the gun and was later believed to have doused the gunpowder with its urine. (To this day, if a dog wanders into the wharenui during a meeting, it is not chased out, in deference to that defiant animal.)
We would know very little about this day, te ra o te pahua, the day of plunder, were it not for a pair of journalists who defied a news blackout imposed by Bryce on pain of instant arrest. Taking a circuitous route through thick forest, they entered the pā from the rear, and were hidden by sympathetic residents in a cookhouse from where they could view the action.
One wrote: "The whole spectacle was saddening in the extreme; it was an industrious, law-abiding, moral and hospitable community, calmly awaiting the approach of the men sent to rob them of everything dear to them."
These pressmen and the papers they worked for were the scant few who dissented from the almost universal vilification of the prophets and what they stood for. It is one of the most depressing aspects of historical research in this period: the bilious outpouring of bigotry in the country's newspapers, more often than not led from the top, the editors.
"Within the rebel districts no mercy should be shown," declared one editorial in the Wellington Independent in July 1868. "Let a price be put upon the head of every rebel, and let them be slain without scruple wherever the opportunity is afforded. We must smite and spare not. Kindness, conciliation, bribes and threats have alike failed. We have tried to civilise these people; we have given them Magistrates and schools; we have filled their bellies with flour and sugar; we have clothed their backs with blankets. They accept our kindness and murder the donors. They are determined to fight, and we, in self protection, must treat them as a species of savage beasts which must be exterminated to render the colonisation of New Zealand possible."
This editorial appears under the newspaper's motto: "Nothing extenuate; nor set down aught in malice". No malice? Mockery, meanness and malice were the hallmarks of newspaper coverage of "native troubles" at this time—though, to be fair, the Independent's editorial was written during the war years. Justifiably bellicose, you might say.
What, then, of the Patea Mail's editorials 11 years later, after a decade of peace? Had prejudice abated? Not a bit. The Mail, a persistent spout of racist rhetoric, offered the opinion that, all things considered, the Parihaka "difficulty" might prove to be one of the "greatest blessings" New Zealand ever experienced, "for without doubt it will be a war of extermination… justice demands these bloodthirsty fanatics should be returned to the dust… The time has come, in our minds, when New Zealand must strike for freedom, and this means the death-blow to the Māori race."
Such a result was hardly to be regretted, noted another editorial, for "the loss that means annihilation to a waning race that is numbered by thousands is nothing to the multiplying race that is numbered by millions".
The Mail's companion in intolerance, the Taranaki Herald, looked abroad for support, and commented that "if the Americans had our troublesome Maoris to deal with they would soon make short work of the native difficulty by simply rubbing out the natives".
One of the few newspapers that took a less virulent view was the Lyttelton Times. Its special correspondent, Samuel Crombie Brown, who visited Parihaka several times and was one of the two journalists inside the pā on the morning of November 5, didn't mince words over what he saw to be the central issue. "The reason for all the commotion of tongues and gathering of arms is earth hunger," he wrote. "It has pleased a Colonial Treasurer to say that he shall put money in his purse; and it pleases a section of the public to say that he shall do so by converting native lands of doubtful ownership into current coin of the realm. Covetousness has spoken, and blood guiltiness is to second the cry."
If the mainstream press was screamingly racist, the tone of the country's parliamentary debates was scarcely an improvement, the anti-Māori sentiment only slightly more restrained. These debates are "a mine of derogatory terms", writes Riseborough. "Te Whiti was described as a monomaniac, a fanatic, a madman… a man with such dreams of unbounded power he had caused an intense 'mental epidemic' amongst his followers."
It was easier to deride the prophets than to recognise their political authority; easier to brand them lunatics and a menace to society than confront their legitimate grievances. "Officials refused to accept that Te Whiti's power was a benevolent force that he used in the interests of his people," writes Riseborough. Te Whiti was seen to be rejecting British civilisation—to Pākehā eyes, certain proof of madness.
Views expressed publicly and privately could differ markedly. In 1861, the Speaker of the House, David Monro, urged members to act justly: "Not only the Treaty of Waitangi, but all obligations which the Crown and local Government have contracted towards the Natives, must be faithfully and religiously observed and acted on… Let us be just to all—to settler as well as to Natives." His private views were less admirable. In a letter to Donald McLean, Monro confided, "One thing is very clear: that the Maories have wanted a good licking for some time… which unfortunately they have never yet had… The Maories are a confounded nuisance: and will never be brought to reason until they get an uncommonly good thrashing." In 1863, he supplemented this view with the comment: "Equal political rights in every respect may be conferred upon them and us: but no legislation will ever make a white man regard a coloured man as his equal."
Such views were the visible part of an iceberg that floated deep in the national psyche, and which has still not melted away.
[Chapter Break]
How could the country's leaders sink to such a state as to invade a pacifist community, an action the Waitangi Tribunal said "must rank with the most heinous of any government, in any country, in the last century"?
The government's logic was roughly this: If Te Whiti is ignored, Parihaka will continue to grow in size and influence. Settlers will become agitated, and there could be bloodshed. If full-scale war breaks out again, Māori will be annihilated. Ergo, for everybody's sake, make a tactical strike to remove the prophets.
The government looked for a pretext to crush Parihaka. In the half-yearly community meeting, on September 17, 1881, it thought it found one. Te Whiti's message to his followers that day seemed, to the ears of government translators in attendance, to be advocating a violent uprising. "Pakanga, pakanga, pakanga," Te Whiti said. "All our talk today is of fighting, and nothing is now left but to fight."
Was this, in fact, a call to armed revolt? When he spoke of weapons, did he mean literal guns (Parihaka had precious few of them, as the invaders would discover subsequently) or was he being scriptural—"The weapons of our warfare are not the weapons of the world, but are divinely powerful to demolish strongholds"? The New Zealand Herald thought the latter. There would be no fighting, it reckoned, only fencing, planting and talking. The New Zealand Times, on the other hand, interpreted Te Whiti as urging his followers to "fight and kill; don't save anyone; destroy all before you".
Who was correct? And what of this word "pakanga", interpreted by some Europeans at the meeting to mean war? I put the question to Hond, a former Māori language commissioner who works, amidst his myriad Parihaka duties, as a researcher on language revitalisation.
"When you look at how 'pakanga' is used in formal oratory—which tends to be more poetic and metaphorical than everyday use—it's about a clash of world views or concepts," he told me. "That's how Te Whiti and Tohu would have been using it. They understood well that what the government was doing through legislation, and what society was doing through newspapers, was using words to create and reinforce an ideology that would be in conflict with what Te Whiti and Tohu were seeking to achieve. So they were engaged in a battle of words, thought, concept, ideology, world view—not a physical battle as was interpreted by the government men. Tohu and Te Whiti saw where the real battle lay."
Te Whiti's communication style—highly figurative rhetoric in his formal speeches to mixed audiences during the day, followed by detailed explanations and interpretations to his followers at night—may seem strange to modern ears (and was to Pākehā observers at the time) but was typical of Maori orators. Hond explained that when a culture relies more heavily on oral communication than written methods, metaphor is vitally important. "You can't hold the attention of your audience without vibrant visual language and symbols that the audience can connect to."
Daytime meetings were for maintaining morale and supporting debate, he said. "The evening discussions were the whare rūnanga for serious minds."
This was the Māori way—but Te Whiti recognised its limitations. Not long after his provocative September 17 speech, he remarked to the son of his former missionary friend Johann Riemenschneider that maybe reporters should stay away from his meetings, since they seemed persistently to misrepresent his words. The pakanga he spoke of was not a literal fight, he told Riemenschneider, but a dispute with his only weapon, the tongue, over his ancestral land.
Later, in conversation with William Rolleston, whose resignation as native minister allowed the pugnacious Bryce back into Cabinet, Te Whiti said, "As to fighting, it is absurd. You ought to know me better… Is it likely, after all these years of peace, that we should again take up arms?"
Government ministers thought so, and their opportunity to act came sooner than expected, when the governor, Sir Arthur Gordon—who would not have countenanced their plan—was overseas in Fiji.
A proclamation, hastily produced in Wellington, was read in Parihaka on October 22. It gave Te Whiti 14 days to accept the reserves the government intended for his people "and submit to the law of the Queen", or they would lose their chance to legitimately possess property.
This was rich. Te Whiti and Tohu had been asking for years to have the long-promised reserves marked out and delivered. In essence, the government was saying, "We'll show you where they are when you accept our terms."
"It was not a question of the government's recognising Te Whiti's right to reserves but of Te Whiti's recognising the government's right to grant or withhold them," writes Riseborough in Days of Darkness. The prophets were being asked to grovel. Sixteen years after an unjust confiscation, they were now being given 14 days in which to agree to the government's ultimatum or face further confiscation.
The icing on the cake of government domination was that a map was attached to the proclamation showing the reserves, "so that [Te Whiti] may not pretend ignorance". That would be the map Te Whiti had been waiting for for 16 years. "He had continually asked what reserves he was to have and continually believed he would get none, since none was ever shown to him and the land all about him was being surveyed and sold," notes Riseborough. "As a final act of intimidation, the government would now define the reserves in an ultimatum which they did not expect would be accepted and which, 'for humanity's sake', would be backed 'with such a display of force as will convince these poor infatuated people of the utter hopelessness of resistance and so avert a collision'."
The proclamation reeked of the sanctimonious wording typical of government communication to Māori. It accused the people of "making themselves poor by contributing to useless expenditure upon feasts", of neglecting their cultivations (patently untrue—they had large areas in melons, potatoes, kumara, corn and more), of unsettling the settlers and, worst of all, listening to Te Whiti, whose voice had "unsettled" their minds.
The proclamation invited those what wanted to take up the government's offer to "leave Te Whiti", while threatening those who were "so infatuated as to disregard this warning" that they would suffer. "If this warning is neglected," the text concluded, "who can distinguish between those who desire peace and those whose work leads to disaster?"
Indeed—that is the question. Who is violent? Who is peace-loving? To settlers and their government, Te Whiti the peace-talking prophet was an insurgent in disguise. Bryce, the cutlass-swinging cavalry man, a man who considered the Magna Carta "a mere legal technicality", was the true peacekeeper.
History has decided differently: Te Whiti, the seditious rebel, is hailed today as the man of peace, the Māori Gandhi. Bryce, the settlers' hero, is condemned.
[Chapter Break]
I wonder if, on the morning of the assault, Bryce's mind flashed back to the incident in November 1868 at farmer William Handley's woolshed on the Nukumaru Flats, west of Whanganui, where he had failed to control his men. His cavalry contingent had surprised a group of Māori, and rushed towards them to attack. But the enemy turned out to be only unarmed children chasing pigs and geese. As the children fled in terror, the mounted volunteers cut them down with sabres, killing two and wounding others.
Parihaka could have turned bloody, too. There were doubtless plenty among the 945 volunteers and 644 constabulary men with itchy trigger fingers, ginned up by newspapers that urged their readers to "teach the insulting barbarian what his place in the universe is". A single raised axe blade or patu might have been enough to spark a violent retaliation. But it didn't happen.
The rifles and cannon remained silent. One of the Armed Constabulary officers, Captain William Messenger (who has a Taranaki mountain named after him), remarked on the people's "extraordinary attitude of passive resistance and patient obedience to Te Whiti"—even the children. When his company confronted the singing children, they "sat there unmoving… and even when a mounted officer galloped up and pulled his horse up so short that the dirt from its forefeet spattered the children, they still went on chanting, perfectly oblivious, apparently, to the pakeha".
On the Parihaka side, Te Whiti's and Tohu's authority prevailed. "Even if the bayonet comes to your breast, do not resist," the prophets had told the people that morning. On the Pākehā side, discipline also held—at least for the duration of the arrest—and Bryce made sure to praise his officers afterwards, assuring them that although they had gained a bloodless victory, it was "no less a victory on that account".
The arrest itself was an anticlimax. The Riot Act was read—a mockery, since the act was designed for "preventing tumults and riotous assemblies", and the people of Parihaka were sitting silent, immobile, utterly impassive—and when the hour required by law after its reading had passed, Te Whiti, Tohu and a fugitive named Hiroki were called out, arrested and taken away. There was no opposition, no outburst of emotion. Te Whiti's parting words to the people were to "be of good heart", while Tohu urged them to "keep to peaceful works".
It is what happened in the following three weeks that has produced a legacy of dismay. Not content with capturing the two birds of knowledge, Bryce was determined to scatter the chicks and destroy the nest.
Houses were ransacked and the people's possessions dumped in piles outside. Treasured carvings, pounamu and cloaks were stolen. Livestock was killed and crop lands ruined.
Dwellings near the marae were pulled down in such a way that they would fall into the marae precincts, and thus deprive the ground of "its sacred character, and break the magic spell", as Bryce put it.
Although descendants are reluctant to speak of it, sexual assaults and rapes occurred during these weeks of destruction. A footnote in the Waitangi Tribunal report quotes from a 1926 royal commission of inquiry into confiscated lands: "Before us, witnesses contended that there were several children born of soldiers and they spoke of the prejudice from other Maori that they and their descendants endured. We were also advised of a rock in a fast-flowing stream that, according to local tradition, was clung to by the women to cleanse and purify their bodies."
More than 1500 men, women and children were forcibly removed, transported to their original tribal areas and abandoned without food or support. "It was just like drafting sheep," a constabulary officer remarked—albeit sheep that refused to make things easy for their drafters. None of the residents would say a word about who they were or where they were from. Officers resorted to trickery, parading male prisoners in front of the seated women and children in the hope that they would come out and speak to them. The Lyttelton Times correspondent reported that constabulary men said in private they were "thoroughly disgusted with the work they are called upon to perform".
By November 18, wrote the correspondent, "a large portion of the village has been torn down, without the slightest regard as to whether the owners had committed any offence, and homeless Maoris may be seen searching among the ruins for such of their household goods as have not been ruthlessly destroyed or stolen".
As had happened with the ploughmen and fencers, special legislation was passed so that Te Whiti and Tohu could be detained indefinitely without trial. The so-called "West Coast Peace Preservation Act" was passed despite the spirited protest of such members of Parliament as Thomas Bracken. Bracken—who gave us the words to our national anthem, "God Defend New Zealand"—declared it "a monstrous thing" to incarcerate the chiefs without trial. "Are we living in a free British colony, or under some petty local despot?" he demanded. His colleague, Cecil de Lautour, cautioned the House: "Step by step in this quagmire of wrong-doing we are getting deeper and deeper, and now think by incarcerating two people in a gaol at Christchurch that we can appease these people without cost, and wait till they die out, and so, in our greed for land, can obtain these lands ourselves… I say, sir, that as the Legislature of this country we shall suffer shame, and stain our history, if we do any such thing without the fullest inquiry."
The majority were unswayed, and Te Whiti and Tohu were soon sent to Christchurch and placed under house arrest. But it was a curious type of detention, one that included a sightseeing tour of the South Island. The idea was to so impress the prophets with European advancements that they would become converts to the Pākehā world.
While in Christchurch, they were taken to the Great Exhibition, the cathedral, the museum, a boot factory and the Kaiapoi woollen mills. In Dunedin, they visited a newspaper printing works, had visiting cards printed for them, spoke on a telephone, watched a steam-powered ditch digger and inspected the frozen meat hold of a ship bound for the "home market". At Arrowtown they were given gold nuggets. They even took an excursion by steamer to Fiordland, landing at Kisbee Bay, one of the most remote locations in the country.
Were they impressed? Not hugely. Asked how he liked Christchurch, Te Whiti replied that the best thing he had seen was the River Avon. "How is that?" his questioner remonstrated. "Remember the many fine public buildings here, and the railways, tramway, etc, which must have struck you as being very wonderful."
"All those things you mention are very grand, no doubt, and very useful," Te Whiti replied, "but they are the work of man's hand, and will perish. The river is God's work, and will last long after the things you mention… will have passed away."
The exiles longed for Parihaka and their beloved mountain, but it would be 16 months before they saw their loved ones or the maunga again.
Meanwhile, the reserves that had been the sticking point were granted, but that belated and begrudging allocation turned into ashes in the mouths of its recipients. The government decreed that the reserves would be managed by the Public Trustee and compulsorily leased to Pākehā farmers "for the benefit of Māori and in the interests of settlement". Māori were denied control of their own reserves and received paltry rentals of just 4 per cent of market value for rural land and 5 per cent for urban land. (Farmers, on the other hand, could on-lease the land at market rates.)
The supposed beneficiaries didn't even receive the rent. "Effectively, they had not land but an annuity," wrote the Waitangi Tribunal, "and, owing to the new tenure of individual entitlements, not one penny passed as of right to a common hapū pool. As the individuals grew in number, fragmented, and dispersed for a living, the money, fragmenting in proportion to their growth, followed after them…. Māori land was made meaningless as a tribal asset, and as a tribal asset, it is largely meaningless to this day."
Furthermore, the leases were made perpetual, ensuring that the pain of dispossession would also be perpetual, felt by every generation to the present.
[Chapter Break]
Relief for that sorrow is imminent, with Parliament debating the Taranaki deed of settlement this year. The deed contains a solemn 400-word apology from the Crown. It's a real apology—a full-throated admission of wrongdoing, not an evasive expression of "regret". The Crown admits its failure to respect the mana and sovereignty of the Taranaki iwi. It admits that its actions led to the outbreak of war, and that its prosecution of the war—shelling Māori settlements and using scorched-earth tactics to crush Māori opposition—was unjust.
The apology speaks of the "immense prejudice" of land confiscation. "The raupatu was indiscriminate, unjust, and unconscionable," the Crown admits. As for suspending the course of law and imprisoning Taranaki Māori (including Te Whiti and Tohu), the Crown apologises to those prisoners and to their families "who grieved and struggled to survive in the absence of their loved ones".
The apology singles out Parihaka for special mention, and speaks directly to its people about the "immense and enduring harm" caused by the Crown, which has "undermined your leadership and your communities… and your ability to maintain your cultural and spiritual heritage, your language, and your Taranakitanga".
It is an intense confession. And there is more to come. Government officials and Parihaka leaders are working towards a "deed of reconciliation" that Ruakere Hond hopes will be a catalyst in healing the trauma that has inhibited Parihaka's recovery.
"With this reconciliation, both sides pledge to put aside animosity towards each other," Hond says. "The key is mutual recognition. For the Crown, that means formally acknowledging the mana of Parihaka and not continuing to work against its interests."
While closing a door on a century and a half of antagonism is essential, it is the future that interests Hond. He tells me that the "worst possible mistake" in thinking about Parihaka is that it belongs to the past.
"We're not curators of a museum piece," he tells me.
Many in the community are thinking about how to fulfil the legacy of Tohu and Te Whiti in the 21st century. Some would like to see Parihaka become an international centre for peace studies. Others are keen to make sustainability a focus; renewable energy options and a waste-management system are already under investigation. But for these visions to come to fruition, Crown support will be needed, says Hond, especially for the purchase of land. The papakāinga is only 20 hectares in extent, and that includes swamps, urupā and other land unavailable for building on.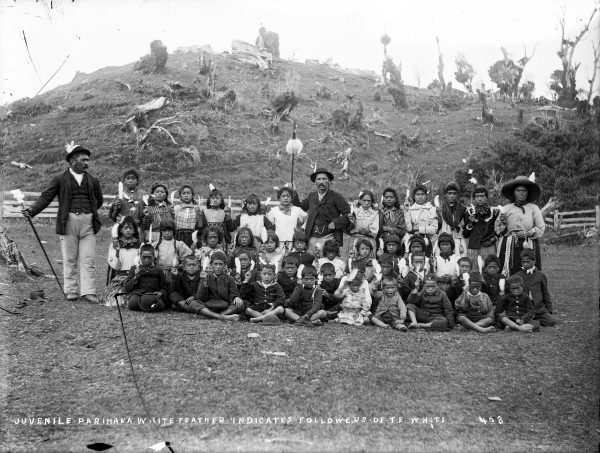 Hond's vision for the community reminds me how wrong the predictions of Parihaka's demise were when both prophets died in 1907. A newspaper death notice for Te Whiti announced portentously that Parihaka's influence was thus ended and, as a result, a "brighter day dawns for the Māori". Why brighter? Because "in his demise [his followers] see the indubitable augury of the downfall of the communal system".
On both counts the newspaper was mistaken. Parihaka's influence has never ended, and neither has its commitment to community. As the Waitangi Tribunal noted, "Te Whiti and Tohu live in the people's hearts and minds. Those who set out to destroy them, if their names can be found at all, are recorded on archival shelves."
Parihaka today may be only a fraction of its former size—70-odd people compared with 2000—but its pulse is strong. I watch children taking part in the monthly community meetings (held on the 18th and 19th of each month) and think of the tatarakihi—the singing cicadas, as they were affectionately known—who confounded the invading troops with their dances and songs.
In the wharenui is a group portrait of these children, taken in the late 1800s. Small boys in coats and shorts sit cross-legged on the ground. Older girls behind them wear fine frocks over which some have added flax piupiu. They have probably been practising waiata, because poi hang from their wrists or waists. One child yawns. Another scowls. None smile. All hold feathers, or have them in their hair. The white albatross feather—the raukura—the symbol of Parihaka, the symbol of peace.
The children are staunch. They are stunning. My heart goes out to them. Looking at their faces—a sullen boy in the front row, a kneeling girl with paint on her cheeks, a defiant young woman standing behind her—I have to believe, and I do believe, that just as I heard a fleeting radio comment 33 years ago, some child today will read something, hear something, see something and awaken to the knowledge of Parihaka.
And in that moment, Te Whiti will be vindicated. "The future is mine," he said, "and little children will answer when questioned as to the author of peace; they will say, 'Te Whiti', and I will bless them."