Moving day
Photographers Chris Hoopmann and Johannes van Kan showcase the meticulously organised chaos of moving a 155-year-old museum.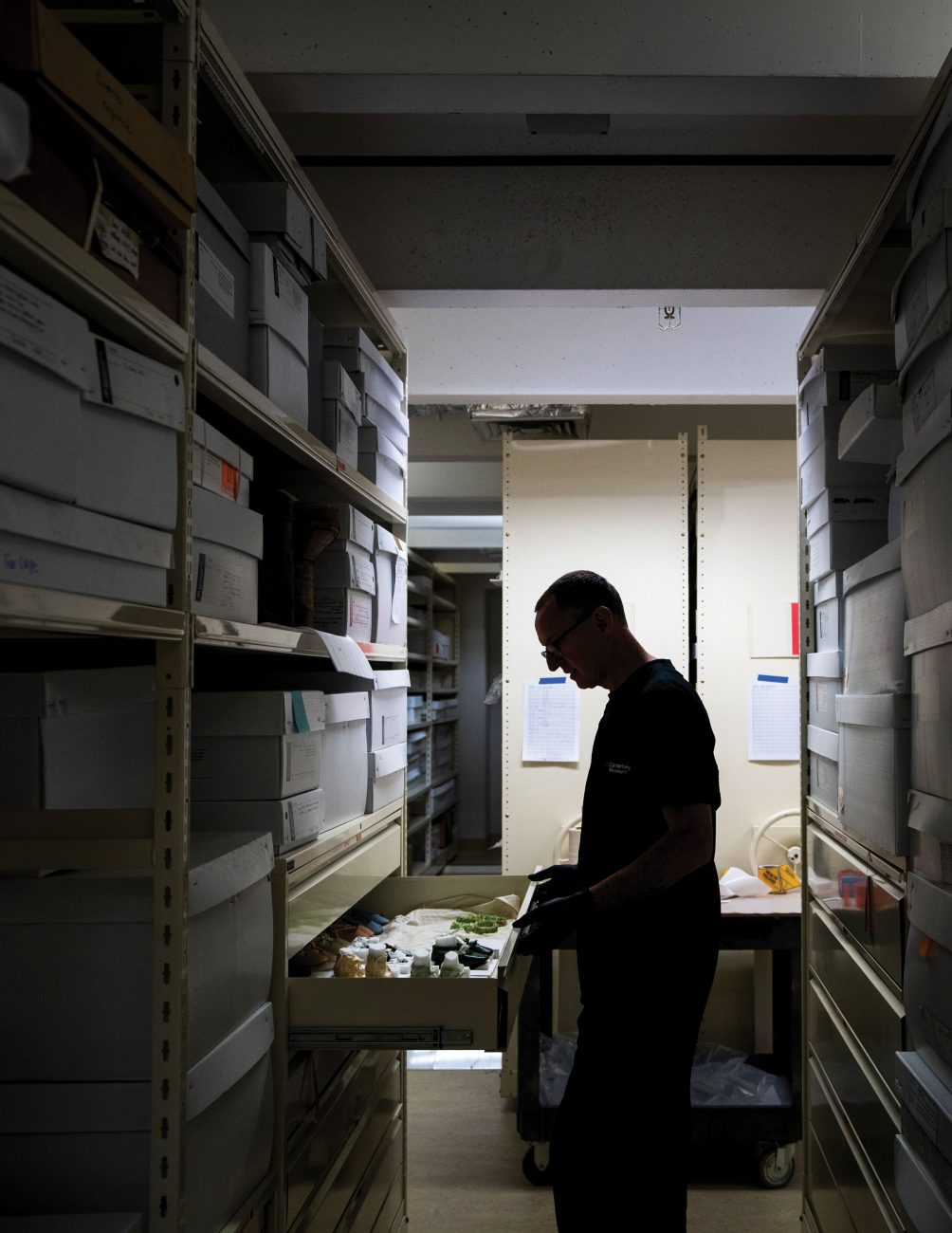 Johannes van kan
It's time to renovate. But first, you've got to move your stuff out. And you've got a lot. You haven't had a wardrobe clear-out in—centuries. Your rock collection weighs tonnes; many specimens are beautiful, some are radioactive. You've got a lot of taxidermised animals, plus the insects, all of the insects, which are desiccated, fragile, and/or extinct. A fortune in pounamu. Three hundred guns. Sea creatures floating in nightmare chemicals. Edmund Hillary's sleeping bag and Kate Sheppard's silk dress (the one on the $10 note). All the baggage of 19th-century imperialism. Hundreds of koiwi tāngata, human remains. Oh, and a blue whale.
Welcome to the emptying of the Canterbury Museum. Since its founding in 1867, the institution has amassed 2.3 million precious objects, stored in 29 separate cramped, inaccessible stores. The rooms leak. Sewerage pipes run through storerooms full of taonga. Few spaces have climate control. Up in the galleries they're desperately short of space, though some exhibitions haven't changed in a generation—including racist dioramas showing early Māori as Neanderthals, not even speaking or looking at each other.
A long-overdue renovation is now underway. Twentieth-century buildings will be replaced, heritage ones strengthened and restored, and the whole redeveloped in partnership with Ngāi Tahu hapū. "If you go back to Te Papa, it was internationally ground-breaking," says the museum's director Anthony Wright. "They took a national museum and turned it to take notice of indigenous people. Twenty years on, we can go to the next level knowing what we know now." First, though: the move.
Robyn Richards runs a consultancy that shifts large, complex organisations. She once coordinated the moving of three hospitals into one—Greenlane, Auckland and National Women's—complete with operating theatres and neonatal babies. But she rates this as the most difficult she's done. "As I was going through these spaces, my jaw was just dropping and I was thinking, 'How on earth do we do this?'"
Each collection has radically different storage systems and packing requirements. The museum has one elevator, shared between staff and the public, and one driveway for getting trucks in and out. Under such conditions, shifting two million taonga resembles an enormous 4D game of Tetris.
To move, say, the museum's 129 blown-glass sea creatures, made by Bohemian artists Leopold and Rudolf Blaschka in the 1880s, you must remove the cases of wildly fragile urchins, tubeworms and jellyfish from their drawers, drive each across town on a staff member's lap, store them temporarily—then shift the drawers they came from (timing your access to the lift and driveway), and put all the cases back in. One hundred and twenty-nine items down, 2,299,871 to go. But as the saying goes: "How do you eat an elephant? One bite at a time."
First, though, you must cut the elephant up. During earthquake strengthening work in the 90s, the museum's taxidermised Asian elephant was hoisted into an attic via a huge hole in the floor, which was then sealed. It had to exit through human-sized doors. First, a local vet carted in an x-ray machine to locate the elephant's internal bracing. Technicians in hazmat gear then carefully sawed the pachyderm into pallet-sized chunks. It will eventually be put back together and restored.
One of the hardest things for an institution to shift is its internal culture.
Up until relatively recently in the museum's history, 600 koiwi tāngata, human remains, were stored in a corridor next to the lift. When Wright started in 1996, a delegation of 50 Ngāi Tahu and other local Māori leaders read him the riot act. Ōhākī o Ngā Tīpuna, an iwi liaison and Māori advisory group, was born.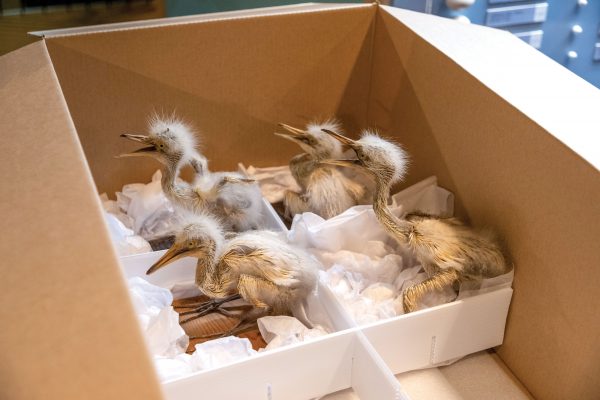 Since then, progress has slowly been made. The koiwi were first relocated to an improvised wāhi tapu at the highest point of the museum, facing west. One in five of those ancestors has now been returned home, here and around the world. Those that remain were shifted with careful ceremony and tikanga during the big move. Ōhākī o Ngā Tīpuna and mana whenua Ngāi Tūāhuriri led the process, with those present—including senior staff, who took hands-on roles—addressing the koiwi as people, as kaitiaki of the museum. "I was proud of how the museum team gave absolute respect to those ancestors," says Puamiria Parata-Goodall, chair of Ōhākī o Ngā Tīpuna. "It was so significant, and humbling, to finally address these tīpuna not as objects but as someone's grandmother, grandfather, daughter, wife."
The hated early-Māori dioramas were also finally destroyed. The way is clear to tell new stories.
The final phase of the move began in late 2022: SHIFT, a takeover of the museum by street artists. At Wright's invitation, local curator Reuben Woods (who has a PhD in street art) brought together nearly 100 local and international artists to transform 4000 square metres of galleries, staircases, bathrooms, offices and stores. The rabbit-warren buildings echoed with the rattle and hiss of spray cans, the roar of dozens of extractor fans, the stench of paint. It was an intense time, says Woods, "a really short, sharp jolt of an opportunity" to respond to the site and its history through murals, installations, video and more.
Museums embody permanence. Street art's power comes from ephemerality. While the moving teams painstakingly protected collection items, the artists knew their work would be demolished along with some of the buildings after the 73-day show.
Irish artist Aches' technicolour portrait of Riki-Ani Maraeroa took pride of place in the early settlers gallery. Maraeroa, a technician who works with human history collections, is one of the new generation of Canterbury Museum staff: two years ago, acknowledging that only four per cent of their staff was Māori, the museum began proactively hiring a more representative team. Aches painted Maraeroa with her moko kauae, a manifestation of her ancestors and her wairua. "You couldn't swing a wrecking ball through that," Woods says. Afterwards, Maraeroa and her whānau spent time with the portrait, then painted it out.
Seeing exquisite work wiped clean comes with the territory—the team planned sensitive ends for other pieces, too—but was still emotional for Woods. "Watching it all come down, I wasn't quite ready for that." But, given Ōtautahi's perpetual rebirth after the earthquakes, it's fitting that the region's museum should celebrate transformation and change.