Mind the gap
Mark Barber documents the construction of two multibillion-dollar railway tunnels.
Beneath Auckland, a giant machine longer than a rugby field is chewing through the substrate day and night, attended at all times by 12 people. It deposits spoil on the surface to be trucked away, and lines the walls of the cavern it's forming with concrete. Because tunnel boring machines are traditionally named after women, this one was dubbed Dame Whina Cooper.
Dame Whina is so big that the machine arrived in parts and was assembled on the spot at the start of the route it was commissioned to bore: two tunnels, side by side, describing a long curving line underneath the busiest part of the city, north to south.
A subway system for Auckland has been proposed in various forms since the 1920s, but never made it beyond the present-day scribble of above-ground rail lines which all terminate at one downtown station, Britomart. Having a dead end for a rail hub limits the number of trains that can run across the entire network, as any train arriving downtown must reverse out in order to make room for the next one. If this sounds silly, it is, and has limited the city's public transport growth to such an extent that it will cost $4.4 billion to fix.
In fact, the City Rail Link is the largest infrastructure project ever to take place in New Zealand. When complete, the tunnels will connect the dead-end Britomart station to the Western Line, changing the terminus into a thoroughfare.
Photographer Mark Barber has been documenting City Rail Link construction since 2019—long before the arrival of Dame Whina. He had to take a mining tunnel induction course to get the identification card that he hangs on a hook every time he goes underground. He picks it up again when he's back at the surface: "It's really old-school," he says, and puts it down to mining culture. There's also a GPS system to keep track of everybody.
Suited up in his safety gear, Barber might start his day by descending a narrow scaffolding staircase for seven or eight floors, trying to get around corners with his bright-orange camera backpack and a bulky emergency rebreather unit bumping at his waist.
He spends two days a month underground, and the rate of change between visits, he says, is immense. "A lot of the really big things are starting to look a little more like they're finished. They don't look like a giant cave any more—they've had floors put in, and major work… It just happens so quickly. I feel I want to be there all the time."
Infrastructure projects make good photographic subjects. Barber remembers being shown photographs of the Auckland Harbour Bridge under construction as a kid by his mother and grandmother—"they're burned into my mind." Overseas, pictures of skyscrapers under construction in the United States showcase a time before safety measures, while German photographer Andreas Gursky's large-format pictures of structures such as power plants, supermarkets or Amazon fulfillment warehouses are sold as artworks. (Gursky has twice set records for selling the world's most expensive photograph.)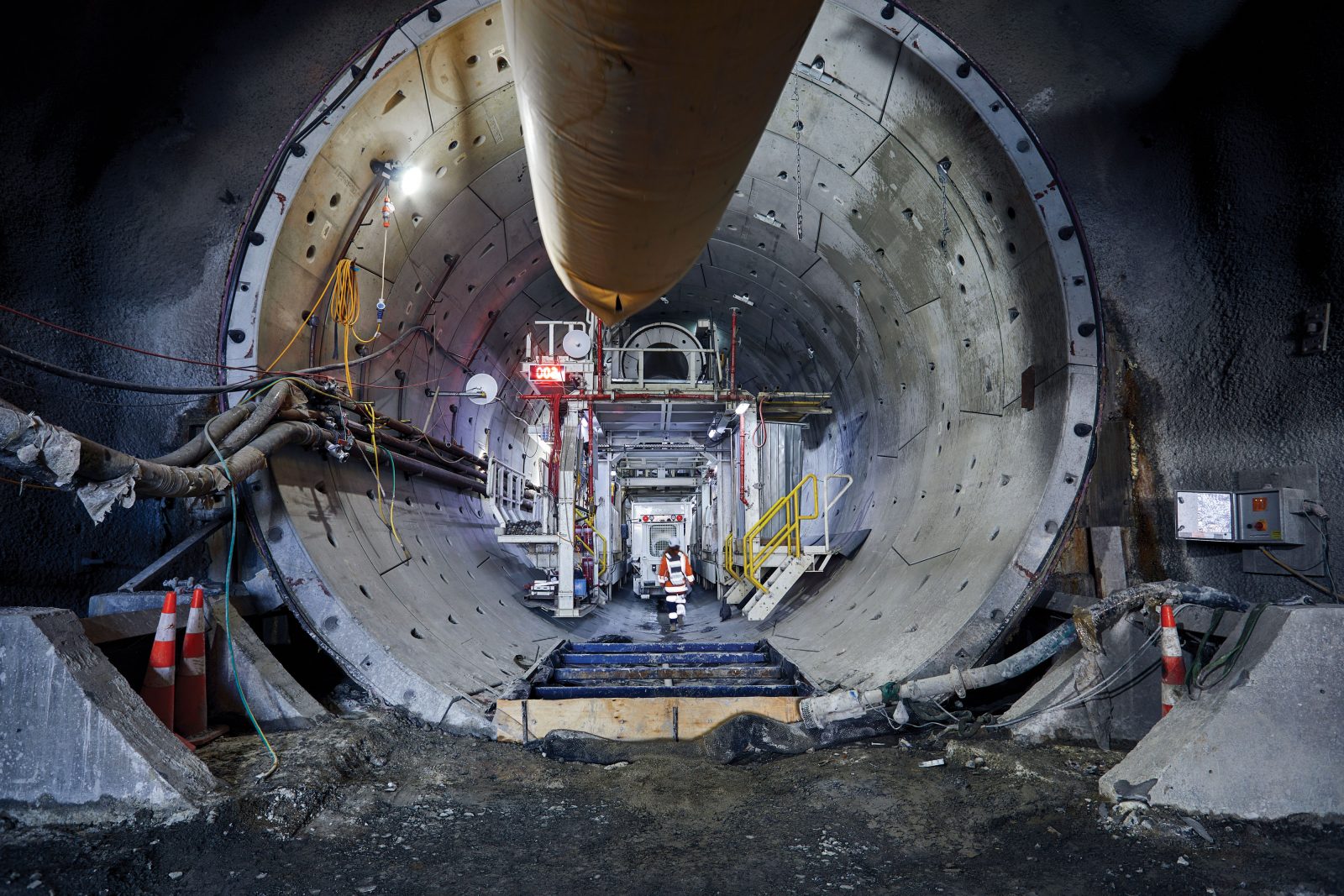 In Auckland, though, people just want their city to function a little better. For locals, the project has been all pain, no gain. Realising how much public frustration was being levelled at workers, Barber created a portrait series focusing on the men and women building the City Rail Link. "I feel like they're as much a part of the project as the project itself. They're the ones doing the work."
Barber's seen the loss alongside the progress—businesses shuttered along Albert Street, where road closures dragged on through COVID lockdowns, the demolition of local institutions such as Mercury Plaza. But he's also excited about what comes next.
"I've got a seven-and-a-half-year-old daughter and I hope that when she goes to leave home… I don't know whether the kids will do flatting, but I'm hoping they can go to their city, get a good-quality apartment to rent, and have that inner-city vibe that a lot of other cities have. It'd be super cool to see that."
It's not dramatic to suggest that the City Rail Link will transform Auckland. It will cut commutes to the extent that far-flung suburbs will suddenly be close at hand. Apartment buildings, shops, cafes, services will spring up around inner-city train stations. Public transport on the isthmus will likely become efficient enough for more residents to do away with their vehicles, changing the way that roads are used and prioritised.
All of those possibilities lie dormant until the public opening of the two new stations Barber has been documenting, and until the faster, bigger electric trains start running on the rail network. "I like to think that once those stations are finished," he says, "maybe we'll see a bit more life."