Milk – more than a drink
Milk has long been a favourite with Kiwi kids and their parents. But it represents more than just good health and strong bones. The dairy industry in the country's largest, accounting for 20 per cent of export income, and New Zealand dairy products make up almost a third of the global dairy trade. Whereas butterfat was once the most valuable component of milk with the skim milk going to the pigs, now the emphasis is on milk proteins. Using ever more sophisticated methods, dairy processors seek to extract every last drop of value from the nation's cows.
Although I have come upon it many times, I still find the birth of a calf too harrow­ing to watch. The mother-to-be paces uncomfortably, straining against an invisible burden, sometimes for hours. It's always a relief when a snout and front hooves appear be­neath her tail. You pray that before long more of the body emerges, but birth may still be an agonising half-hour or more away. I've had a calf jammed by its hips in the birth canal bellow in my ear for an hour as I've struggled to free it. Even when the slippery bundle finally plops out onto the ground, limp as seaweed, the drama is still far from finished. If the tough, plasticky amniotic membranes are still smothering the head, will the mother clear them in time for the calf's breathing to start?
Then there is the blundering search on wobbly legs for a teat. Calves are born with the notion that something projects from the dirigible that is mum and should be sucked, but they have few clues as to where it lies. The teats on a cow that has just given birth are likely to be hanging from a bursting udder and to be close to the ground, whereas the calf is invariably looking for some­thing higher up. It may take hours before the calf latches on. Occasionally, calves fail to find their mothers' teats and perish.
For a newborn animal, the first draught of milk is life. It is warmth in the belly, energy to move and protection from disease all in one. In a time window extending for some six hours after birth, the digestive tract of a calf or lamb (but not that of a human baby) can absorb intact antibodies from the mother's colostrum—the rich first secretions of the mammary glands following birth—and appropriate them for its own defence during the hazard­ous first weeks of life.
The birth of a calf is the dairy farmer's only route to the milk that is his livelihood. In 2002, the 3.3 million lactating cows on New Zealand's 13,900 dairy farms pro­duced over 13 billion litres of milk—an average of about 4000 litres each (sufficient for 40 baths if you are inclined to follow Cleopatra's beauty plan). Although 4000 litres, or four tonnes, is a lot—close to 10 times a cow's body weight—our girls are poor producers compared with northern-hemisphere cows, which may yield 10,000 litres or more during a typical 10-month lactation.
The difference lies in the fodder, not the cows. Grass, though cheap to grow, is low in energy. If New Zealand cows were put on a high-energy diet such as the grain fed to cattle in Europe and the US, they would produce vastly more milk—but at vastly greater cost.
Although on an international scale New Zealand's milk production is tiny (2.5 per cent of the world total), we are responsible for some 30 per cent of the world's dairy trade. That apparent paradox comes about because most countries—but not New Zealand, Australia and Denmark—consume all the milk they produce. Indeed, international trade in dairy products is a meagre five per cent of global production. Against this, 95 per cent of New Zealand's production is exported, and it earns a whopping 20 per cent of national export income, making the dairy business our biggest single industry.
Since our cows eat grass outside year-round—albeit as hay and silage in winter—we are also the world's most cost-effective producer of milk, although low labour costs and more fertile soils could see eastern Europe and parts of South America bump us off that perch. To stay at the head of the herd, our dairy industry is looking into genetic modification (GM) of dairy cows as a way of boosting milk yields.
[Chapter break]
At 4 P.M. on a bleak winter's day, rain drizzling from a leaden sky, GM is a long way from John Scott's mind as he starts the afternoon milking on his Wainui farm, 50 km north of Auckland.
A hundred or so cows are in the yard, jaws working pa­tiently as if on big wads of chewing gum. They amble into the old 14-a-side herringbone shed at their own stately pace, sometimes pausing for a few moments as if captured by an urgent thought.
John gives a shout to get the laggards moving, and a dog emerges from its hideaway and makes a brief, half­hearted effort to jolly them along. Just as I'm beginning to admire the animal for having determined the absolute minimum it can get away with, John comments, "Dog's not too good today. Ate some rat poison, I think."
I watch the cows' faces as John moves along the line washing udders and attaching cups. Most of them stop chewing for a few seconds as the water hits them and the rubber-lined metal cups suck on. A few give a twitch of a rear leg, but you sense it is merely a gesture rather than a sign of real resistance.
As for the milking itself, the cows seem unfazed. They stand in their stalls stolidly masticating, neither enjoyment nor displeasure discernible in their dark eyes. After milking—six or seven minutes of gently pulsing suction—the teats are sprayed with disinfectant and the cows meander out and back up the race in the rain.
The udders on some of the cows still look large at the end of their spell in the cups. I ask John about it. "They calved a week ago, and the udders are still swollen."
For the first four days after calving a cow's milk is set aside, as it contains diminishing amounts of colostrum. Farmers usually feed the custardy liquid to calves, and it keeps for many days at room temperature, being rich in antibodies. Of another cow with a firm udder John says, "This one isn't letting down her milk. They're not too happy at present. It's been very wet lately, and the cows don't like that."
When I admire the size of one cow, John tells me it is no good. "It has only produced two calves in five years, so it's off to the works. That one over there milks OK for a few months, but then she runs out, so her days are numbered, too. But this cow," he says, patting a small brown shorthorn, "produced 500 kg of milk solids last year—probably 25 or more litres a day."
I'm impressed that he knows the details of every one of his cows and can instantly tell them apart. "Oh, you have to be able to do that," he says, giving me a look that says this is so basic it goes without saying. But then he adds, "Sometimes I wonder how they get on in these big operations with a thousand cows."
Cows are normally milked for 10 months a year, but they sometimes have more than two months' respite. If dry conditions in summer or autumn arrest grass growth, they may be cut back to once-a-day milking or "dried off" altogether. Milking with inadequate feed is a recipe for emaciated cows and health problems the following season.
Across the road, John's brother and father run another farm with a newer rotary shed, but in a sense the whole family is trapped by rising land prices. "Land around here is getting subdivided into expensive small blocks, so we can't buy more land to expand. And shifting to more affordable land would mean selling this block, which has been farmed by our family since the 1850s."
Although John's shed is old and dingy, he tells me that when it was converted from a walk-through to a her­ringbone in 1966, it was one of the biggest and smartest around, and they were then dairying on a larger scale than most farmers. His herd is now considerably smaller than the national average, which has increased steadily to 251 cows.
John's father, Alan—celebrating his 84th birthday on the day I visit him—still gets up for the early milking. His handshake all but crushes my fingers. "I did a bit of milking when I was a youngster, in about 1925," he tells me, "and regularly used to wash the cows before I went to school. But I only started milking properly in 1945, after the war. That summer there was quite a drought, and North Shore Milk Producers came looking for milk. I got a winter milk quota the next year and have had one right up till now."
Most farmers plan calving for July and August (eu­phemistically called spring calving) to take advantage of spring grass growth, which starts in September and usually peaks in late October or November. But milk is required for domestic use year-round, so some farmers have parts of their herds calving at different times of year to ensure supply through May and June, when most herds are not milking. Because it is harder to feed cows over winter, when grass growth is poor, winter milk attracts a premium.
"Back in the '40s and '50s, I'd get up at 3.30 for milk­ing," says Alan. "We had to be finished early so the milk could make a particular ferry. I guess it had to be pasteurised and bottled for home distribution that afternoon. I'd take the milk down to the road in 12­ gallon cans by wheelbarrow. Getting tanker pick-ups in the mid-'50s made things a lot easier.
"We were paid one-and-sixpence a gallon. Back then the farmer got a good deal, but the consumer did, too. Now the farmer gets about 20 cents a litre, but milk costs close to a dollar fifty a litre to buy. I don't know who gets the rest."
[Chapter Break]
Although consumers buy milk by the litre from vendors or supermarkets, farmers are not paid by volume. In earlier times, when butter and cheese were the main products made from milk, milk fat was the basis of the payout from dairy factory to farmer. Now, with fat something of a four-letter word, milk solids (MS) are what bring in the dollars. At least, some of them do.
Solids make up about 13 per cent of milk, and the rest is water. The solids comprise the sugar lactose (4.2 to 5 per cent), milk fat (3.7 to 6 per cent) and protein (3.2 to 4.5 per cent). Farmers are not paid for the lactose, so it isn't included in their MS figures, and protein is worth close to two-and-a-half times as much as fat.
In the 2001/2002 season the payout was a record $5.30 per kg MS, but in 2003 Fonterra's payout is projected to drop to $3.60, much to the dismay of farmers. Average milk-solids production per cow in 2001/2002 was 310 kg, earning $1643 (plus the value of a calf, perhaps $150). Top cows, yielding 500 kg MS, earned a very respectable $2600 for their milk.
"Unfortunately, milk and milk solids are just com­modities," Neville Martin, communications manager of the former New Zealand Dairy Board, told me, "and the general price trend of all commodities is downwards, de­spite price spikes like we had last year. This fact of life is what drives change in our dairy industry. We are always having to become more efficient."
The most recent manifestation of this push for effi­ciency was the 2001 "megamerger" between the industry heavyweight dairy companies Kiwi, based in Hawera, and the New Zealand Dairy Group, of Hamilton, to produce Fonterra Cooperative Group, New Zealand's largest company. Fonterra now processes 97 per cent of the country's milk and has also swallowed the New Zea­land Dairy Board.
The previous arrangement was that dairy companies made milk products but only the Dairy Board (an asset owned by all the country's dairy farmers) was permitted to sell those products overseas. Now the way has been legally opened for other companies to export milk products from New Zealand—although Fonterra controls most of the milk supply.
Fonterra is the culmination of a rationalising trend that has been going on for generations. Before refrigera­tion, spoilage of milk and its products kept dairying to a minor role in New Zealand farming. After the advent of refrigerated shipping in 1882, dairying for export became a growth industry. Dairy farming took off, and tiny dairy factories sprang up within horse-and-cart distance of every dairy farm in the country.
Often these early factories did little more than remove the cream from milk and churn it into butter. Farmers took their skim milk back home to feed the pigs. A little later, cheese factories—which used a greater proportion of the milk—began to appear. The number of factories rose until 1918, when there were 562, most of them coop­eratives owned by small groups of local dairy farmers.
Most of these farmers had their origins in the English working class, and they did not easily forget the way industrialists had exploited their forebears. Cooperative ownership appealed to them: it was a means of keeping the industrial side of their business under their own control. Even giant Fonterra remains a farmer-owned cooperative, to the chagrin of some businessmen, who would love to get their hands on it.
Milk trucks, which could haul milk cans further and faster than horses could, appeared in the 1920s, and the many little factories gave way to fewer, larger plants. Since the mid-1930s the number of processing plants has steadily fallen. Today there are fewer than 30, most of them huge, some drawing milk from thousands of square kilometres. For instance, between Auckland and Cape Reinga there are now just two dairy factories: one at Maungaturoto, near Dargaville, and one at Kauri, north of Whangarei. Most of the South Island's milk also passes through just two plants: Clandeboye, south of Timaru, and Edendale, in Southland.
The push for efficiency has led to rationalisation of farming, too. The number of dairy farms rose from 15,500 in 1906 to peak at 72,000 in 1936, but has since declined steadily to 13,900. Average herd size has increased cor­respondingly, from 26 cows in 1916 to 251 today—and it is still increasing. Farms milking more than 500 cows are now common, and average farm size has grown from un­der 50 ha to almost 100 ha in the past 50 years. Improved grasses, better management, richer fertilisers, superior animal remedies and more machinery have all lifted the number of cows the land can carry from fewer than 2 per ha to 2.7 per ha, a rise of 40 per cent.
But the real kicker is how much milk each cow pro­duces. In 1920, the average cow produced 154 kg MS­ half of today's yield. So not only are there more cows to the hectare but each is producing twice as much as 80 years ago. Widespread use of superior bulls—those whose daughters give more MS—through artificial breeding (AB) has been the key to this progress.
[Chapter Break]
Artificial breeding WAS first used in the dairy industry in the late 1940s, and was widely adopted between 1960 and 1970. Now some 85 per cent of the national herd is artificially inseminated.
Artificial insemination—a 60-second procedure often carried out after morning milking—is the culmination of a very elaborate operation mounted by the Livestock Im­provement Corporation (LIC). The LIC was a subsidiary of the Dairy Board, but is now funded from dairy-farmer levies.
The corporation's database holds details of each of the country's 3.5 million dairy cows. Each animal's parent­age, date of birth, milk production, weight, matings­ data personal enough to bring a blush to the Wanganui computer—is known. The attributes are weighted and scored to produce a total genetic ranking called breeding worth (BW).
Each year the top 3000 cows in the country are identified by their BW, then winnowed down to 400 by inspection. The "warrant-of-fitness" includes an assess­ment of how well the udder is slung, udder capacity and teat placement, along with the condition of the cow's feet (trudging to the milking shed and back alone may entail three hours' walking a day), teeth, and so on.
Two hundred and fifty promising young heifers—cows too young to have extensive records—are then added to the list. All are inseminated using semen from top bulls, and the corporation purchases all the resulting bull calves that pass inspection at three months.
For a year these young bulls—usually 300 or so—are grown on, and then semen is taken from them and used to inseminate cows in 700 specially chosen herds with a wide geographic spread. The 22,000-odd daughters of these inseminations are mated at a year old and become milking cows at age two. All sorts of information about them is collected—MS production, how easily they calve and become pregnant in the first place (a tendency to conceive readily is a plus in an adolescent cow), jaw posi­tion, udder details and much more.
All this data gets sheeted back to those 300 sires (each of whom now has 70-plus daughters). Astonishingly, only the 5–20 best are finally selected, and they become part of LIC's Premier Sires team of bulls.
The whole process takes a long time. For the 650 cows in the corporation's 2002 cohort, data on the bull calves they spawn will not become available until mid-2008. And every year a new cohort is started.
Individual dairy farmers who choose Premier Sires se­men for their AB requirements are supplied with semen from a different elite bull each time they need it, without any further decisions required.
Alternatively, farmers can choose semen from specific New Zealand sires (some from outside the LIC) or over­seas bulls. Three out of every four dairy cows in New Zealand are now mated to Premier Sires, and since the programme began 40 years ago it is estimated to have contributed $16 billion to the dairy industry and the New Zealand economy.
Like everything else in modern dairying, obtaining the precious premier sperm is an efficient, if not especially high-tech, business. Not long after 6 A.M. on a frosty Oc­tober day I join Lance Pettigrew and half a dozen other LIC staff as they lead 10 bulls into a large indoor arena behind the corporation's headquarters near Hamilton.
"No reason to get excited," blares a Radio Hauraki song from a weathered radio—not quite the desired mes­sage given the business in hand.
"We need 10,000 doses of Jersey today, and 14,000 of Friesian," Pettigrew tells me. "That's Hugo, our top Frie­sian sire," he continues, pointing out a large black-and­white bull being led around by a nose ring.
"He'll reach a million inseminations next month and have about 250,000 daughters." Not bad for a guy who has never seen a gal.
Despite its size, each bull produces only 2–10 ml of ejaculate. The sperm are checked for vigour, then the fluid is enormously diluted in a special solution (invented by the LIC) which keeps them viable for up to four days at room temperature.
Each dose of fresh semen contains 1.5 million sperm, and every spring day the LIC ships tens of thousands of doses to technicians throughout the country.
[Chapter Break]
Sheree heatley is sluicing out the cowshed on a dairy farm at Tapora, on the Kaipara Har­bour. Behind a few smears of cow manure, she has the flawless skin and healthy glow of one of Edward Jenner's milkmaids.
Jenner, widely held to be the father of immunology, was a rural English doctor in the 1790s. He was intrigued by the clear complexions of milkmaids in an era when so many people bore the disfiguring blemishes of smallpox. The girls told him that they contracted cowpox—a mild disease—when milking, and that that protected them from smallpox, which at that time killed 20 per cent of the population and marred most of the rest. Jenner put the girls' explanation to the test by inoculating a small boy with cowpox and then with smallpox. The lad didn't come down with smallpox, and immunology was born. The term vaccination comes from the Latin vacca, a cow, in recognition of Jenner's experiment.
I have just watched the afternoon milking of 350 cows. It took about an hour in a rotary shed that has more in common with the Sydney Opera House than with John Scott's old herringbone shed. Built along the lines of a half-round barn (so that no internal supports are needed), it has an arched roof 15 m high. One at a time, the cows boarded a huge, slow merry-go-round capable of holding 66 animals and stood side by side like slides in a carousel, heads facing the centre.
One of the farm workers, Rawson White, slapped on sets of cups while the cows licked greedily at molasses contained in a pipe beneath their snouts—a treat for the animals and a source of extra winter calories. A few metres away, Danny Woodcock, the sharemilker, removed cups from the cows as the carousel completed its circuit. With the exception of a few new cows, which required a bit of manhandling, all the animals knew how to get on and off and seemed eager to cooperate.
It being July, many tails bore bands of coloured tape, signifying to the milkers when their owners had calved and whether their milk should be held separate from the main collection. Most animals also sported dabs of paint at the base of the tail. These become smeared when cows are ridden by other cows, Danny told me—an indication they are on heat and so candidates for insemination.
The shed, three years old, cost $400,000 to build, and the rest of the 300 ha farm is equally impressive. Fences have hefty posts and three electrified wires—generous for a dairy farm. The land is flat to gently rolling, and, although it is midwinter, the grass is growing at an aston­ishing pace—the result of heavy applications of fertiliser and the sowing of new pasture.
The property is owned by a businessman and is a re­cent amalgamation and makeover of several older farms. Although it has cost in excess of $3 million, gross income last year was about $1.5 million from 700-plus cows. Danny and his wife, Heather, who keeps the accounts, own the cows, and, with three other workers, run the operation. The scale of the enterprise gives me a new perspective on sharemilkers. Danny is really the manager of a considerable business. But unlike most executives he has a pair of overalls for a suit and hands that are gener­ally dirty.
This morning I sat with Danny and several hundred other dairy farmers in the chilly assembly hall of a Wellsford school for one of the Dexcel Winter Seminars, entitled "Profitable Farming at Four Dollars." Dexcel, an arm of Fonterra, links a nationwide network of farm ad­visers with dairy researchers. It is concerned with helping farmers achieve maximum profitability and productivity and carrying out research to assist towards those goals.
Among the speakers was Fonterra deputy chairman Greg Gent, who spoke about the global milk picture. "The commodity price for milk is falling by about two per cent a year," he stated, "which means we have to be­come more efficient as farmers. But since world demand is growing by two per cent a year and supply by only one per cent we think the long-term outlook is reasonable. While as farmers we may like strong returns, they are not all good news. High milk prices encourage buyers to opt for alternative fat sources such as palm oil, or take a punt on buying lower-quality local milk, which is often available in less-developed countries. When prices for our milk fall, they may not switch back."
The audience was an interesting mix of people. They were casually dressed, 20 per cent female, and aged from 18 to 80. Most represented were men in their 30s. It was a different group from the one I see at saleyards for beef cattle, where men aged 55 to 70 predominate. They were attentive and asked intelligent questions. I got the sense of an informed and determined industry.
Successful farming requires a wider range of expertise than any other occupation I can think of. A dairy farmer needs to: understand the vagaries of weather; have some cognisance of future exchange rates, international-commodity price trends and local interest rates; run a good effluent-disposal system; have an intimate know­ledge of animal health and be able to carry out procedures as varied as cow obstetrics and bloat control; repair farm machinery; decide which of dozens of fertilisers is most cost effective for the farm; choose among scores of grass and forage-crop cultivars; handle toxic herbicides; make or acquire supplementary feed; manage staff; rear calves; prepare accounts; be willing to work around the clock.
Many of today's farmers have graduated from agricultural courses at Massey or Lincoln Universities, or undertaken local part-time courses. Financial rewards are potentially high. I spoke to one man at the seminar in his early twenties who was milking and doing general farm work and was on a salary of $45,000, with an essentially free house and other perks on top of that. He spoke of managers of large herds earning $120,000-plus and (with a gleam in his eye) not having to do much of the drudge work of milking and shed cleaning.
[Chapter Break]
Tell that to Helen Williams, I thought. Helen has been a zookeeper, DJ, forestry worker, nanny, horticultural labourer, deliverer of cars across the US, au pair and kibbutz volunteer. She is Welsh, petite, and four days before my November visit was unexpectedly made manager of a large dairy farm (470 ha, 1350 cows) south-east of Taupo, where over the past two years she has worked her way up from casual milker to assistant manager.
She looks tired, and her hands are still grimy from the day's work when I arrive after dark. Amidst the clutter on the table in her lounge sits a toy Friesian cow. She sets it going and it gyrates with increasing speed, emitting moos which grow increasingly high-pitched and frenetic. New Zealand's first mad cow, I wonder?
"People keep giving me cow things," she complains with bemused exasperation. She says that of her many occupations working on the kibbutz was her favourite, and that she would like to be an aid worker in Africa. Yet she seems to be putting down modest roots in New Zealand almost in spite of herself. "This the first place I've ever owned anything I couldn't fit in a pack," she says, nodding at a large TV.
Before 4.30 the following morning, a light flicks on in the hall and Helen is off to get the cows in. When I arrive at the milking shed 45 minutes later the temperature is barely above freezing and a fierce southerly wind puts the chill factor way below zero. Three slim Filipinos stamp around in wet-weather gear awaiting the arrival of the cows and indicate to me in broken English that it doesn't get this cold where they come from. I tell them it doesn't get this cold where I come from either.
The trio are on one-year contracts, making $10 an hour milking five-and-a-half days a week, 8–10 hours a day. Lacking cars, they are pretty much stuck here, 45 km from Taupo. When I ask them if it is a good job, hesitant smiles are the only reply.
Two of them attach cups as the cows board the 80­ place rotary while the third removes them once the cows have completed their slow revolution. Helen is perched on an exposed corner, drafting out lame cows and those on heat. Periodically she sticks a gumboot in a bucket of hot water to warm her feet. "In winter we have to melt the ice in the cups before we can start milking," she tells me.
After most of the herd—650 cows in all—has been milked, another similar-sized herd materialises. Then there is a small, fiddly third herd—35 cows with infected feet or udders. Milk from those on antibiotics is discarded. The whole process takes more than three hours—a freezing, tedious parade of bovine backsides.
[sidebar-1]
Helen leaves to shut the herds back in their paddocks and put the cows to be inseminated out on grass close by, before helping wash down the shed. Since the AB techni­cian is due at 11, she has only 25 minutes to grab some food and a hot drink. Next, a couple of pumps in the shed have to be fixed, and then, at 1.15, it will be time to start getting the cows in for the afternoon milking.
Later, paddocks will have to be checked for grass qual­ity to figure out where to put the cows over the coming week. And the shed will have to be washed down again and paperwork fitted in, probably at night.
Helen seems happy in her work, but she is uncertain how long she will stick with the long hours and arduous routine which remain the dairy farmer's lot.
[Chapter Break]
If milking is tedious and labour-intensive, milk processing is just the opposite: fast and mechanised. Today's large dairy factories are jungles of shiny stainless-steel vats, pipes and valves, and are largely devoid of people.
At Te Rapa, Fonterra's largest dairy factory in the Waikato, milk can spend as little as four hours on the premises as it is turned into butter, cream cheese and milk powder.
Making milk powder is all about removing the nearly 90 per cent water content from milk. Heat and vacuum applied to thin films of milk in evaporators take off much of the water, increasing the solids to around 50 per cent, in which state the liquid resembles condensed milk.
This slurry is then pumped under pressure into the top of one of sev­eral driers, which it enters as a fine spray. The driers are huge. Imagine a Steve Fossett balloon snipped off around the waist—a vast, inverted cone of stainless steel 60 m high.
Air heated to 200°C and blasted through the driers reduces the mois­ture of the milk droplets to about 6 per cent during the 30 seconds they take to fall to the bottom.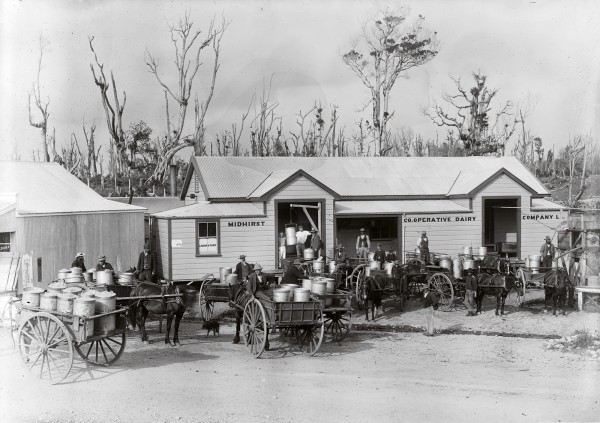 More hot air is then fed through what is now a powder, reducing the moisture content to about 3 per cent, and coatings to improve solubility or other properties may be added. Then it is bagged and despatched.
The milk-collection side of the dairy-factory operation shows a more human face than the metallic world of the factory floor. In the Te Rapa lunchroom, I see half a dozen tanker drivers stretch­ing their legs and sipping quick cups of tea between trips. On the wall is a montage of 1:50,000-scale maps peppered with the numbers of the 1800 dairy farms from which Te Rapa's 48 tankers collect.
"We go up to Manukau South Head, Clevedon, Mi­randa, down the western side of the Hauraki Plains and back across to Raglan," driving instructor Darrin Rhodes content, total milk solids, volume, temperature, yield per hectare and more—determined from earlier samples and collections. As the truck drives off the property, the driver is already radioing back to base how much milk it has picked up.
Te Rapa is the centre from which all the northern North Island's tanker pick-ups are arranged. Collecting milk may seem a pretty straightforward operation, but in spring, when production skyrockets on the back of vigor­ous grass growth, it gets complicated. Schedulers have to balance each factory's requirements for a milk flow matched to the products they make with the farmers' need to empty their vats regularly. Nor should milk spend too long in the tankers, which are not refrigerated. To be efficient, each tanker needs to be close to 97 per cent full before returning to base, and kilometres travelled should, of course, be minimised.
At Te Rapa, several schedulers sit at computer con­soles, calculating the most efficient routes based on the production details of each individual farm. Fonterra plans to shift its second team of schedulers from Hawera to Te Rapa in 2004. "Two teams of six will be able to arrange all milk collections for the whole country," Garry Webber, general manager of milk supply for New Zealand Milk Products, tells me. "We could easily do all of Australia as well," he adds with a sly grin.
[Chapter Break]
Each dairy factory specialises in different products, and at Fonterra's Hautapu plant, near Cambridge, the daily intake of up to four million litres of milk is turned into cheese, casein, a variety of protein fractions and lactose. How the various products are extracted is something of a biochemistry lesson, but it shows how far the industry has come from the days when all that mat­tered was butter and cheese.
The first step is to remove the cream from the incom­ing milk. Apart from a little that is added back for cheese manufacture, the cream is shipped elsewhere to be made into butter.
Cheese-making at Hautapu consumes 1.2 million litres of milk and yields 140 tonnes of cheese. Includ­ing wash water, the process produces 1.3 million litres of whey.
The rest of the skim milk (milk from which cream has been removed) has most of its protein—casein­ precipitated by either lactic acid or rennet (a curdling agent containing the enzyme rennin), and this process also leaves whey.
Lactic casein is made only in spring, when the factory is struggling to handle the flood of milk. It is produced by adding bacteria to milk which convert lactose to lactic acid, so lowering the pH and precipitating the casein. The whey left over from this process is fed to animals or used as fertiliser.
Rennet casein is much more important, and the whey produced—up to 90,000 litres an hour—is passed through an ultrafiltration process to separate the proteins (made up of large molecules) from the lactose (small mol­ecules) and water. The protein slurry is spray-dried to give 12 tonnes of valuable protein powder a day.
Some skim milk is also ultrafiltered to make a product high in protein but low in fat and lactose. Lactose is later recovered from the remaining "permeate"—the liquid that has passed through the ultrafilters.
Once the milk has been stripped of its solids, all that is left is water, which is used to clean the plant and then sprayed onto the pastures of nearby farms owned by the factory. Like the pork butcher who claimed to use "every­thing but the squeal," a modern dairy factory does not waste much.
What are casein, protein powder and lactose used for? Kerry Bovey, a longtime technician at Hautapu, tells me that the 7000 tonnes of rennet casein the factory produces
goes into imitation cheese, fashion buttons, plastics and various foods, while the lactic casein is used in pharma­ceuticals, food, plastics, paper coatings, paints and glues.
Protein powder is used as a binder in meat products and in baking—instead of egg white, for instance—as a whipping agent in some foods, as an ingredient in infant formulas, and in diet and health foods. Lactose is used as a filler in pharmaceutical tablets and as a carrier for food flavourings.
Purifying lactose is a relatively recent development. Though it isn't counted (or paid for) among the farmer's milk solids, it has been utilised since 1980, when the New Zealand Dairy Group started processing the whey from casein manufacture. By adding a special yeast, the 4 to 5 per cent lactose in whey is converted to ethanol (alcohol), which is recovered by distillation.
Today there are three ethanol plants—at Edgecumbe, Reporoa and Tirau—producing 20 million litres of etha­nol annually. Laurie Brockliss, manager of the operation (which is now part of Fonterra), tells me that only three other operations in the world make alcohol from lactose. About half of local production goes into beverages, and the rest is used industrially—in printing inks, sterilis­ing solutions, deodorants, vinegar manufacture, even the extraction of mozuku (used in Japanese cuisine) from seaweed in Tonga.
I ask Laurie about the beverage use. "Local manu­facturers of gin and vodka often import concentrates to which they add extra alcohol, and in New Zealand—al­though not in most countries—it is legal to add alcohol not derived from grapes to wine. Some locally made vodka has even been exported to Russia. The new alcopop drinks also have alcohol added to them."
Alcohol from milk. It's a strange notion. Although milk and spirits are both drinks, they are about as far apart in ordinary perception as it's possible to get. One is associ­ated with the growth and health of children, the other with conviviality, not to mention addiction and cirrhosis of the liver, in adults.
I pondered the matter as I waited for a long string of cows to cross a back road west of Netherton, on the Hauraki Plains. No people were in sight, and the cows­ Jerseys—while basically shuffling in the direction of a distant cowshed, had in typical bovine fashion spread out along the verge of the road for 100 metres, grabbing a few extra mouthfuls while the chance was on offer.
It was a regular crossing point—you can pick such places because droppings seem to corrode the asphalt. The herd was large, stretching along a kilometre of farm race as well as spilling out onto the road. The Hauraki Plains are probably the most intensive dairying area in the country—not a sheep for miles and none of the Waikato's horse-breeding, either. Given high milk prices and the scale of dairy operations, I had expected signs of prosper­ity, but the homes were modest and elderly. The average dairy farmer would sooner buy more land or put in a new cowshed than indulge in a new house.
The cows were in no hurry, so I eventually eased my car through them, heading north towards the consuming masses in Auckland.
[Chapter-break]
While the country's human population is steadily shifting to the northern North Island, its dairy cows are heading south. The past decade has seen tens of thousands of cows trucked across Cook Strait each winter and a lot of land in Canterbury and Southland converted to dairying from sheep farming. Cheap land has driven the move.
In 1992, Alan and Jeanette Topham sold their 40 ha near Matamata, and with the proceeds purchased 120 ha near Tuatapere. "Land was only $2500 a hectare when we shifted here," Alan said.
Just two-and-a-half years ago, Chris and Claire Welch moved from Taupiri, in the northern Waikato, to Riversdale, north of Gore. They were able to double the size of their operation for the same money.
No longer, though. Dairying land has now risen to $20,000 per hectare in the Tophams' area, and although it is still maybe 20 per cent cheaper than in Taranaki or the Waikato, the stream of migrating farmers is slowing.
How have the migrants found dairying in Southland? "It isn't as cold as we expected," Alan Topham said, "but we have been surprised by the amount of overcast. There are no droughts, it never gets too hot, there is no stem weevil, clover flea or facial eczema, and the cows produce much more than we ever expected. That may be due to the very long daylight hours in summer."
Where the Welches are it can get a bit dry in sum­mer, but Chris finds that there is a better spread of grass growth than in Taupiri. "Up there every day was a strug­gle. The summers were too dry and we got almost no growth, and winters were too wet and muddy. Here there is good topsoil over gravel, it's very free-draining and we can get fantastic growth."
There are now about 600 dairy farmers in Southland, with an average herd size of 450 and rising, and dairying covers perhaps 15 to 20 per cent of farmland.
South and central Canterbury have also seen a big increase in dairying in recent years, again driven by the availability of cheap land. But here there is a snag: water. Canterbury's low rainfall is insufficient to grow enough grass, though the land contour and soil fertility are good. Irrigation has been the key to the new boom.
Doug Turner, who milks 3100 cows on 1550 ha with 23 staff on Rakaia Island, says bluntly, "Without irrigation we wouldn't be here." Even though he is close to the coast on an island in the Rakaia River, with the water table only two metres down, there is a hard layer of pan beneath the topsoil and the grass roots can't reach the water.
Mark and Devon Slee, farming beside the Rangitata River at Ealing, south of Ashburton, also depend on ir­rigation to water the 400 ha they milk off. Both farms use border-dyke and spray irrigation systems, and both experience water restrictions in summer, when river flows decline. Bores provide the water for huge rotating sprinklers. During summer, the use of border dykes on the Slees' property causes the water table to rise, enabling them to use relatively shallow bores and essentially reuse their irrigation water.
Dairying is bringing a lot of extra money into Canter­bury, and because milking is labour intensive it is also in­creasing the rural population base. This is seen as a good thing for the region. And there is still plenty of land that could be converted to dairying—if water were available.
It requires something like 70 litres of water to produce a litre of milk in Canterbury. Local leaders and farmers are keen for additional irrigation schemes that would draw more water from the large rivers that run through the area. On the other hand, environmental groups, Fish and Game and Environment Canterbury say that aquatic life (including trout and salmon) is harmed by low flows in major rivers and oppose new water-abstraction schemes. Not only have several schemes mooted for the Rangitata been quashed, but Environment Canterbury is interested in getting the existing minimum flow raised, which could create water shortages for farmers such as the Slees as early as Christmas each year.
Water in Canterbury—and increasingly in other parts of the country—is precious, and there is mounting concern at possible contamination of waterways, lakes and shallow aquifers by dairying effluent. Dairy cows produce a lot of droppings (14 times as much as humans), and hosing down milking sheds and yards twice a day to meet hygiene requirements generates thousands of litres of effluent. If it leaks into streams and rivers, water qual­ity plummets.
While many farms have effective effluent control systems for cowshed wastes, it is harder to prevent run­off from paddocks getting into streams. Fencing off all waterways is a possible, but expensive, solution. Fonterra, the Ministry for the Environment, MAF and regional councils are working on environmental guidelines for dairy farms, elements of which could become manda­tory—although such a move would rouse the ire of many dairy farmers.
A few fortunate farmers in Canterbury get by without irrigation. Charles Whitehead milks 800 cows under the shadow of Mount Hutt, where rainfall is between one and two metres annually. His problem is not rain, but snow. "We get snow a few times a year," he said when I spoke to him in early November, "and we are likely to lose power—sometimes for days. That means we can't milk or refrigerate our vats. In fact, last night we had snow on the ground and we considered taking the cows out of the pad­docks because of the damage they can do. In snow they become very disorientated and tramp around in mobs looking for grass. We've put in a 140 m by 40 m concrete pad where we can hold and feed the herd."
Supplementary feed is especially important in cold areas where there is little grass growth during winter. Charles makes 50 ha of silage and buys in another 50 ha (this cost him $125,000 in 2002), and also buys 400 tonnes of barley at $265 a tonne. He also feeds his cattle barley straw. "Grain is high-energy food and takes a long time to digest—as does straw—and that's good in the cold."
The Whiteheads have not always had to deal with snow. They came to Methven in 1997 from Te Puke, converting a 282 ha sheep and beef farm to dairying. The land used to support one family; now, as a dairy unit pro­ducing 330,000 kg MS, it supports five families working on the farm and more producing the feed the Whiteheads buy in.
Apart from water, the biggest problem faced by Can­terbury's dairy farmers—and often those elsewhere in the country—is finding adequate farm labour. I was told that Canterbury Employment had brought in Ukrainians to ease the labour shortage.
[Chapter Break]
A solution to the labour shortage, and re­lief from the drudgery of slapping cups on teats, may be around the corner in the form of the robotic milker, a $250,000 1.7-tonne replacement for the milker and cowshed.
"When we got this robot a couple of years ago, it was regarded as a joke. Now it's Dexcel's biggest project, and well funded," scientist Murray Woolford tells me. "In Eu­rope about 1000 herds use these things, but they are all housed herds. This is the first time anyone has tried it on an outdoor grass-fed herd."
I'd seen the monster at the Mystery Creek farm show 18 months earlier, and been among those who had con­sidered it a joke. How could such a costly behemoth ever challenge a deft human milker with modern equipment? Murray explains: "Labour shortages on dairy farms are driving this. Milking is boring work. There aren't enough people wanting to do it."
But the robotic milker, a contraption the size of four large refrigerators, doesn't merely change milking. It changes the whole face of dairying. For starters, the farm in which it has been installed has few fences in the normal sense. "We have tumblewheels with hot wires which we move daily. That is the main work on the farm, and takes 2.7 hours a day," Murray says.
The robotic milker is set up permanently in one place on the farm, and the cows come to it to be milked in their own time. What makes them come, I ask?
"It's done through the water system," Murray replies as we walk over to a little knot of pipe railings and concrete in the middle of the farm. "All the cows wear electronic tags on their ankles, and the water troughs are centralised here. When a cow comes to drink it is identified, and au­tomated gates open and close in such a way that it has to go through the milker to exit if it hasn't been milked for a while. Often it will exit onto fresh pasture, which it likes, and it can access a little meal while being milked, so that helps too. But the cows quickly come to enjoy it anyway. Some are comfortable with it in a day. Others take a few days. They become very relaxed and unafraid of hu­mans—you can walk up to a cow and scratch it, something you can't normally do. I guess there are no people, dogs, or big mobs of animals pushing and jostling.
"The milking process itself is quiet and completely predictable. The cows come to be milked when they wish, and one of the more popular times turns out to be around midnight. They form a queue and wait their turn if several come at once. We are wondering whether the lack of stress accounts for the exceptionally low incidence of mastitis in the herd."
I watch as a cow strolls into the milker. A metal arm bearing four milking cups swings beneath the cow, locates the teats with a laser, and, with a bit of to-ing and fro-ing, pushes the cups up on to the teats. The cow stands there quite unconcerned by the mechanical bulk of the thing. Milk passes along a clear plastic tube from each teat, and the machine gives a read-out of the volume of milk col­lected: from this cow, 16.6 litres.
"It takes nine minutes for a cow to go through the process, so six milkings an hour, or 150 a day, is the maximum," says Murray. "Milking every 18 hours is adequate—less often and production will decline—so that means the ma­chine can handle 115 cows. We've been milking 50 cows since July last year with very few problems, and are now scaling up to 85 cows. Later we'll try 115."
The robotic milker is most efficient with high-yielding cows, and good udder conformation is more important than in regular milking. In the event of mechanical or cow-handling problems, the milker sends an alert to a cellphone. So far, the longest period it has run without problems is three weeks; at other times there have been a couple of call-outs a day.
Although the machines are far from cheap and the average dairy farm would need a pair of them, they certainly remove most of the drudgery from dairying. What they might make of the odd bull that will inevitably wander in with the cows remains to be seen.
[Chapter Break]
What does the future hold for New Zea­land's milk? Will most of it continue to end up as powder, butter and cheddar? Fonterra has formed several cooperative ventures, among them Lactopharma, boviQuest and ViaLactia Biosciences, with an eye to extracting more high-tech products from milk, but Chris Mallett, director of corporate research and development, says commercial sensitivity prevents him telling me any­thing about the research being undertaken. However, it requires little imagination to guess that Fonterra is seek­ing to emulate the success of its small neighbour, Tatua.
Tatua Co-operative Dairy Company was founded in 1914 at Tatuanui, a hamlet east of Morrinsville. It and Westland Milk Products, in the South Island, were the only dairy companies to remain outside the merger that formed Fonterra.
Although a minnow compared with Fonterra, Tatua has attracted much attention because last season it paid its farmer-shareholders $6.77 per kg MS, some $1.40 above Fonterra's payout. In consequence, it has been besieged by farmers wanting to send it their milk. A group of Canterbury farmers begged Tatua to set up a branch in the South Island, and milk was even offered from Tasmania.
Tatua's path to prosperity has been an unusual one. "Back in the late 1970s we were a small company and could see that we would be forced to close or amalgamate like everybody else unless we could come up with new ways of doing things," Mike Matthews, Tatua's CEO, told me. "We started to produce an aerosol whipping cream, something that was common overseas but un­known here. It proved a success, and we have since gone on to make a range of consumer, catering and ingredient products based around UHT ultra-high temperature] milk and cream."
I asked how UHT treatment differed from pasteuri­sation. "Pasteurisation heats milk to 72 degrees for 15 seconds and kills most spoilage bacteria, but UHT heats it to 142 degrees for less than a second and kills all the spore-forming microbes as well, making the milk sterile. Overseas they are experimenting with killing microbes just by subjecting milk to very high pressure."
The other way in which Tatua has added value to its milk is through what it calls its nutritionals and nutraceu­ticals. Nutritionals are protein powders derived from milk: caseinates (soluble salts of casein), whey-protein concentrates (WPCs) and hydrolysates of the two.
Hydrolysates are created when enzymes are added to casein or whey to break down the constituent proteins (by hydrolysis) into peptides and amino acids—a process which mimics normal digestion. The enzymes also break down certain proteins which occasionally cause allergies in children. Tatua routinely produces hydrolysates of ca­sein and WPCs, and has also made experimental batches of soy and wheat proteins.
While skim milk powder currently fetches $US1400 a tonne, caseinate sells for $US4000 a tonne, WPC for $US4000–6000 and hydrolysates for even more. These products are used in health foods, infant formulas, sports drinks and liquid foods for use in hospital infusions.
Nutraceuticals are purified proteins which have some sort of useful biological activity in addition to their food value. Best known is lactoferrin, an iron-binding protein with antibacterial properties which has been approved for use on meat as a means of reducing bacterial spoilage.
All 107 million litres of milk received by Tatua from its 132 farmer-shareholders in the 2001/2002 season had its milk fat removed (most of which was sold to Fonterra) and its lactoferrin extracted. From 10,000 tonnes (10 mil­lion litres) of milk, just one tonne of lactoferrin is recov­ered, but it is worth $1 million.
[sidebar-2]
Last year Tatua produced 20 tonnes of the salmon-coloured powder and had no trouble selling it—in fact, the company is the world's leading producer. But the real beauty of lactoferrin, Mike told me enthusiastically, is that removing it from milk has no effect on milk quality or properties. It is a very minor protein, and without it milk is still fit for any other use, including the extraction of the caseinates and hydrolysates in which the company also specialises.
Tatua's nutritionals and nutraceuticals bring in some­thing over $75 million a year, compared with $25 million from its "foods" arm. And the company is busy looking for more products to extract. "We are cooperating with AgResearch to find other proteins or peptides in milk that could be biologically active," development manager Rex Humphrey told me. "For example, among the two or three hundred milk proteins might be some that stimulate calcium uptake or bone growth."
While there is no chance that cheese, milk powder and liquid milk are going to disappear from the New Zealand dairy scene, expect increasing amounts of milk to be di­verted into higher-value products, and milk components to turn up in an ever-increasing range of foods and pharmaceuticals. And that is all without tapping the potential of GM cows to secrete exotic proteins from other species into their milk—depending on your position, the next dairying frontier or a Frankensteinian disaster.
[Chapter Break]
It is late November, and I decide to pay another visit to Danny Woodcock at Tapora. In less than two hours, 710 cows swing through the shed. They are looking good, not at all bony and pinched like some of the milking cows I've seen around the country.
"We're on track for 245,000 kg MS, 10,000 kg ahead of last year," says Danny. "Sorry, I've got to run—we're doing silage today."
Sheree Heatley is putting on the cups, Rawson White removing them. Every so often a Hereford bull appears at the head of a bunch of cows, ready to step on the turn­table, if a bit perplexed as to what it's all about. Sheree stops the turntable, vaults through the bars and shep­herds the interloper into a holding pen.
They have finished with AB for the season, but only half the cows will be in calf to LIC's sires. Cows are on heat for half a day every three weeks, and often their window of fertility has closed by the time the AB techni­cian arrives. As on most dairy farms, bulls are used to complete the job of getting all the cows in calf. It's a vital task. After all, no calves equals no milk next season, and then we'd all be in trouble.