Every clear night, and in Mackenzie country this means about 70 per cent of the time, astronomers and stargazing enthusiasts flock to the summit of Mt John, a rock promontory above Lake Tekapo. They come to watch the greatest show on Earth, the revolution of celestial bodies across the night sky. On top of the mountain, shaped and scoured but unmoved by the ancient glaciers, the white domes of six telescopes protrude from the tawny tussock like giant puffballs. The sliding doors of the domes are open just enough to allow the glass eye of each telescope to be trained on a tiny fragment of the sky; the rings of Saturn, the Eta Carinae nebula, or one of the Pointers—Alpha Centauri, the closest star system to Earth, and Omega Centauri, a globular cluster 17,000 light years away.
The nightlife on Mt John, high above the Mackenzie plains, is as quiet as it is brilliant. The only sounds are the squeaks of rotating domes and an occasional gasp of astonishment from a first-time stargazer. This is the site of University of Canterbury's observatory, a Southern hemisphere astronomy hot-spot. Here, in the lee of the mountains that make up Mt Cook National Park, the sun-dried land, altitude and the presence of a large body of water (Lake Tekapo) combine to create the clearest skies in the country, a window on the mysteries of the night sky.
One winter years ago, while working on a story about a century of mountaineering on Mt Cook, I climbed toward the Ball Pass to photograph a sunrise on the notorious Caroline Face. I bivouacked tête-à-tête with the mountain and the outing had all the usual elements of a moderate climb—exposure, silence, solitude. But what I remember most was lying in the cocoon of my down bag unable to sleep due to the brightness of starlight, watching the heavens rotate above, staring at the Milky Way which looked like a splash of glitter paint stretching from one horizon to the other. The stars were so numerous, clear and sharp they seemed almost fake, like a background for a George Lucas movie. Oddly enough, none of the stars seemed to twinkle, quashing my simplistic theory of what distinguishes stars, which apparently blinked, from planets, which apparently didn't.
"The stars don't twinkle much because the skies over the Mackenzie are uncommonly stable and clear, the best we have for astronomy and stargazing," Grant Bisset tells me at Mt John while, in the late afternoon, he trains one of the telescopes on Sirius. Through his lens, the star is visible in broad daylight, an odd sight against the bright blue sky
Bisset is an aviator, entrepreneur and keen amateur astronomer, and now also a consultant to Tekapo venture Earth & Sky, which organises guided tours of Mt John Observatory as well as stargazing at both Mt John and Mt Cook National Park.
And now one of Earth & Sky's founders, the mercurial businessman Graeme Murray, is driving a proposal to protect one of the Mackenzie's most valuable assets, darkness. It has never been done anywhere in the world and instantly captured the imagination of UNESCO and its World Heritage Committee. If Murray has his way, Lake Tekapo will become the pilot study for a brand-new World Heritage category, the Earth's first Starlight Reserve, a World Heritage Park in the sky, to be established by 2009, the International Year of Astronomy.
"When we consider pollution, we think of air and water and industrial waste, maybe noise, but who'd think of light?" Bisset says. "Yet you only need to drive toward a distant city at night to see how much glow it puts out into the sky." The same way a full moon blots out most of the stars with its brightness, our haphazard lighting makes the stars disappear from view. "Kids grow up without ever knowing what the Southern Cross looks like and where to find it," he adds. "Without seeing the stars, how can we know our time and place in the Universe?"
Mackenzie District Council has long had in place strict guidelines for prudent and efficient use of lighting: all street and domestic lights have to be shielded from above, trained exactly on to areas they should illuminate and no more. But Mackenzie country these days has become the country's new Wanaka—a homeowner and holiday-makers' dream, a developers' bonanza. Capitalising on its vistas of the alps and lakes, its spaciousness, sunshine and trout streams, the entire district has boomed and the growth of its main centres like Tekapo and Twizel has been nothing short of astronomical.
All this has been a welcome boost to the economies of what until recently were considered bus-stop towns, but it has also had a cost, dramatically increasing the output of ambient light into the dark skies above the Mackenzie. Murray watched the stars disappearing from view, and came up with a unique vision to solve the problem.
"The World Heritage List includes 851 locations which are of such outstanding universal value they are considered the heritage of all humankind," he explains in his Tekapo home. "Some of them are natural wonders, places like the Great Barrier Reef, Kakadu and Uluru National Parks, Serengeti and Pantanal. Others are centres of the highest cultural, religious and architectural significance: the pyramids of Giza, the Great Wall of China, Versailles, Acropolis, Taj Mahal and Vatican City. In New Zealand we have three such sites: Te Wahipounamu, Tongariro and the sub-Antarctic islands. Now we want to add a fourth one: the sky above the Mackenzie Country."
[Chapter Break]
It is more than likely that James Mackenzie, after whom the district is named, also had a keen appreciation for the dark skies. Mackenzie was a skilled sheep rustler and in the mid-1850s he made his considerable disrepute by leading off large flocks of Otago sheep and disappearing with them into the then unknown interior. His contemporaries described him as a "raw-boned Highlander, as rough as you make them, a regular barbarian", who travelled with a pack bullock and an inseparable dog, Friday, "a low-set black slut, with tanned muzzle and feet".
His luck ran out one day in March 1855 when he was caught red-handed with a mob of 1000 sheep freshly stolen from the Two Levels Station. There was a fight from which the station manager John Sidebottom, the chief pursuer, emerged the winner. Mackenzie was tethered and led away a prisoner but the following day he slipped his captors and vanished into his country. Dog Friday, his best friend and accomplice, was less fortunate and presumably kept prisoner.
Accounts of how and when Mackenzie was recaptured vary, but on the relatively small island, with his name everywhere and hefty rewards offered, he never had much of a chance. He was arrested and placed before the court in Lyttelton and it was this trial that turned Mackenzie's public image as a serious offender into that of a lovable rogue.
A court reporter recorded: "I fell right into the Mackenzie trial. It was a peepshow for the province: the tiny Lyttelton Courthouse was like a sardine tin. In front was Jock Mackenzie, stolid as a brick and dumb as an oyster. The judge called on him to plead and…one by one the witnesses rounded off the whole story of the stolen mob and Mackenzie's flight."
The accused remained silent and refused to plead until his dog Friday was brought into the court. Recognising her master, she tried to whine and claw her way to him. At this point Mackenzie's tough-man demeanour disintegrated.
"Eh, lassie! Poor lassie. They've got you too!" he cried.
The reporter went on: "Well, I felt smaller than matchwood that minute. There, on the one hand, was all civilisation with its thumb turned down; on the other, this neolithic survival of a man and his soft-eyed dog bearing it all."
"That is enough; remove the dog," the judge ordered.
"Leave the dog to me," Mackenzie implored. "She was mine, bought with my own money; she was doing no harm to nobody, and she was a good friend to me that has no other. Leave me the poor beastie! I'll make your roads; I'll break your stone; I'll call myself thief; but let her stay. She'll work for me, will never lift sheep more, only let me keep her."
But the judge was unmoved. Mackenzie got five years in Lyttelton Gaol and he escaped three more times before being pardoned on condition that he left the country once and for all. He departed for Australia and for all we know he never saw his dog again.
Samuel Butler in A First Year in the Canterbury Settlement described him as "a man of great physical strength…no common character…(whose) boldness and skill had won him sympathy and admiration." Indeed, the settlers were quick to profit from Mackenzie's illicit roamings. In 1857 the entire 704,000 ha basin of new land he discovered was divided among run-holders and stocked with merino sheep, and from then on the "barbarian Highlander" was seen more as an explorer than a thief. Butler even suggested that such a man should be honoured, not expatriated, but in the same breath he added that there was not "a more daring and dangerous rascal going".
As for Friday, her legend also grew. One L. Langlands from Burke Pass wrote in the 8 June 1897 issue of Otago Witness: "I saw Mackenzie's dog in Christchurch when it was in the possession of Inspector Pender, who kept it for a time and then gave it to a run-holder. Of course she was accustomed to being worked in Gaelic, and several tried her on sheep in that language, but whether their Gaelic smacked too much of the tussock and not sufficiently of the heather for her taste, or whether the work was too honest, I can't say, but she would work for no one."
Her offspring however became much sought-after working dogs and so her bloodline and spirit lived on to an understated appreciation of high-country farmers and shepherds who knew that their fortunes were only as good as their dogs. In 1968, the Mackenzie run-holders finally paid a tribute to the humble canine, not just to Friday but to all the other farm dogs. Near the Church of the Good Shepherd they erected a bronze statue of a border collie which, gazing over the turquoise waters of Lake Tekapo, has become one of the most photographed monuments in New Zealand. Without these dogs, the simple plaque admits, the grazing of this country would have been impossible.
[Chapter Break]
The Mackenzie district is a harsh land of glacial outwash and river gravels, a plain sloping down from the Southern Alps—the Mt Cook and Godley valleys—toward the Waitaki River. The water that sculpted and smoothed the land has long been harnessed in the largest hydro scheme in New Zealand and all three of its lakes—Tekapo, Pukaki and Ohau—have been dammed, controlled and siphoned through a network of canals.
The building of the eight dams, canals and power stations of the Waitaki hydro scheme between 1928 and the mid-1980s has also shaped the district. Both Twizel and Tekapo were originally company towns, workers' camps to be bulldozed once the construction was completed. But when the time came, many of the now-redundant workers chose to stay on. The properties were cheap, excellent amenities already in place, and what's better than to wake up to the sight of sunrise on the flanks of Mt Cook? The locals softened the desert landscape with trees—250,000 of them were planted around Twizel alone—then, if not already retired, they set out to make a living out of passing tourist traffic.
Still, as populations go, the Mackenzie District remained tiny. According to the 2001 census it had only 3717 residents and rated as the country's third smallest, after Kaikoura and the Chatham Islands. In the same way as flowing water generates electricity, the steadily increasing stream of tourists now powers much of the local economy, but the heart and soul of the district are still in farming. Think of a quintessential New Zealand high-country station and chances are you'd imagine something out of the Mackenzie. I found one such place on the eastern side of Lake Pukaki.
Last year Julia and Hamish Mackenzie (no relation to the old rogue James) took over Braemar Station, a 27,000 ha piece of postcard-pretty land, from Hamish's parents, Duncan and Caroline, who had farmed it since 1967.
"We wanted a good big challenge and that's exactly what we got," Julia says with mock regret, though it is clear neither of them would have it any other way. Both Julia and Hamish grew up on high-country farms; Hamish here, Julia in the Rakaia Gorge. They want to farm in the same tradition their parents did, and hope their kids will farm after them.
"The hardest thing about farming here is that the value of the land is so much out of kilter with what you can earn working it," Julia says. "No one could buy a station like this and make it work as a farm, yet here we are, sitting on this land worth millions—God only knows how many millions—thinking how can we make it work, how can we hang on to it."
To hang on to this land—not to hoard but to take care of it, Julia is quick to point out—they have diversified into non-farming activities, while staying true to their values. They've established an innovative golf course, and run a homestay in rustic shearers' quarters and shepherds' cottages. "People love it for what it is, a slice of old New Zealand, the high-country tradition, and they come back to experience it again," Julia says.
Hamish, who looks like one of those blokes you see carrying out a trophy stag or boar on covers of hunting magazines, puts it this way: "A lot of outfits are going for this exclusivity thing, the top end of the market. Do it small and charge as much as you can. We could also set up a game estate here like everyone else, have rich people shoot stags that can't get out of the paddocks, go on marketing trips to Reno, and generally make the place into a circus. But that's not the kind of people we are."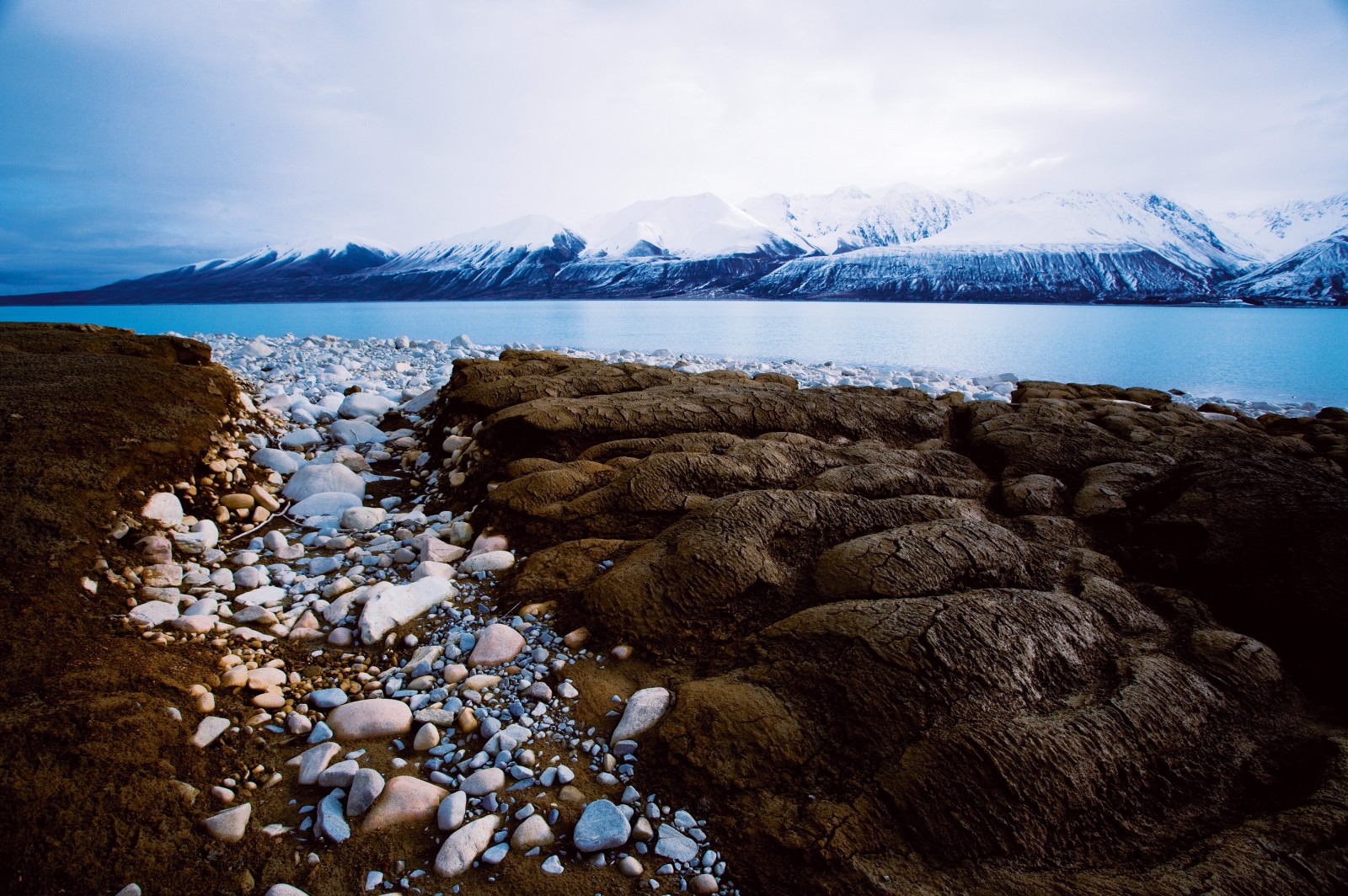 Braemar Station offers a clear and unobstructed view of the entire Mt Cook range and among the rolling paddocks above Lake Pukaki the Mackenzies have set up what must be one of the most scenic golf courses in the world. But it is golf as you may not have seen it before—golf gone wild, three-dimensional, and cross-country. And it all started when, one sunny South Island day, a man named Burton Silver pulled a brassie out of his golf bag, thoughtfully eyed his target, then took a hefty swing and teed off with a ball the shape of an egg.
You may recall Silver from his other incarnations. He is the best-selling author of books like Why Cats Paint: A Theory of Feline Aesthetics, and What Bird Did That: A Driver's Guide to Some Common Birds of North America. More than a million copies of his books have been printed. Silver is a self-professed curator of the Museum of Non-Primate Art and the brain behind the International Fringe Games which, inaugurated during the build-up to the Sydney Olympics, featured such innovative contests as backwards running, synchronized cycling, and assisted high jump, where competitors help each other jump over obstacles in pairs—a discipline, someone observed, that could become instantly popular with prisoners.
Then Silver directed his attentions toward golf, or more accurately, a burlesque take on golf and rugby. The result, now known as golfcross, surprised even him. A new discipline was born, golf played without holes but with goals made with two uprights and bird-netting stretched between them. The clubs—baffies and mashie-niblicks—and the technique are the same, but the game is played without greens and putting. And the ball, well, it looks like an egg, though it does show some highly original aerodynamic properties.
I once met Silver on another golfcross field in Wanaka and he explained how the rugby-shaped golf ball opened a whole new field of opportunities and challenges for the players. The ellipsoid is aerodynamically superior to a round ball, it is more stable in flight and its trajectory can be designed and controlled. It is teed off a specially designed tee cup, a suction egg holder that allows positioning of the ball, for the position will determine the shape and character of its flight path. Curving hooks around obstacles becomes possible, and so do snake shots—with the ball curving one way through the air, then rebounding off the ground and turning in the other direction—allowing the players to stylishly negotiate treed fairways and tight dog-legs.
But the hyperbolic tee-offs and slalom shots are only part of the game's appeal. Around the world, Silver told me, golf is becoming so popular that there are simply not enough courses. And no matter how much we love their perfect parklands feeling, the existing greens are also exorbitantly labour-intensive and pricey to keep. They require rigorous fertilisation and watering, and there is now a growing concern and a global movement to minimise the fertiliser run-off to reduce the land and water pollution caused by golf courses.
Golfcross terrain, on the other hand, requires no manicured grass, and little maintenance. The oval ball allows for controlled backspin out of the rough which means that fairways need only to be mowed to a level where the ball is visible. The ball doesn't roll downhill either, so no flattening earthworks are necessary. In fact, golfcross is all about playing with the land, not altering it. A course has a minimal impact on the environment, Silver told me, and it can be set up just about anywhere. A hard, dry, scenic place like the Mackenzie is an ideal location.
Hamish McKenzie admits, deadpan, that he doesn't really get into the new sport. "Burton is a hard case but overall the golfcross has been good for the farm."
[Chapter Break]
Golfcross may not have taken the world by storm, but one Mackenzie invention did, and it was born in the workshops of a farm almost neighbouring Braemar, at Irishman Creek Station.
The jet-boat is possibly the most widely-known invention ever to come out of this country. Its inventor, Charles William (Bill) Hamilton was born in 1899 at Ashwick Station near Fairlie, on the eastern edge of the Mackenzie district, and by the time he reached his early 20s he too wanted a "good big challenge". In 1921 he bought the 10,000 ha Irishman Creek Station and promptly began building a two-hectare dam and a hydro-electric plant to power the homestead and the workshop. He went about it the hard way, designing and making his own tools as need arose. First there was an improved scoop for the excavator, then a succession of dozers, loaders, scrapers, pumps and other hydraulic machinery.
Hamilton was a self-taught engineer and forever doodling in his notebooks, improving existing designs, dreaming up new concepts. During the Depression he contracted himself and his machines out, and while WWII raged, the Irishman Creek workshop became an engineering training ground and a plant producing ammunition and more earthmoving equipment.
All the while Hamilton continued to invent and construct new machinery: a water sprinkler, a hay lift, an air compressor and an air-conditioning plant. In 1947 he helped to design and build the first rope ski tow in New Zealand.
By 1948 the station workshops were becoming too small and Hamilton moved his engineering business to Christchurch. This left him free to pursue his long-time dream of building a boat which, like a spawning salmon, could race upstream, against the current of fast-flowing mountain rivers, through their braids, rapids and shallows.
The experiments with retractable propellers proved unsatisfactory and inspiration led him towards water-jet propulsion. He tested his first jetboats, those with distinctly fishy names—Quinnat, Chinook and Rainbow—on the station's dam and the water race, then more adventurously on the Tekapo and Waitaki rivers. By 1954 he was confident of the design and performance and set out to show the world just what a jetboat could do. Over the next two decades the Hamilton jets blitzed up the Sun Kosi river in Nepal, the Sepik in Papua New Guinea, the Zaire, the Ganges and the Amazon. The biggest show of all was the first ever journey up the Colorado River through the Grand Canyon. After such stunts, interest in water-jet engines soared and they came to power everything from fishermens' get-abouts to large ferries.
Bill Hamilton died in 1978, four years after being knighted for his services to manufacturing. In 1990 he was inducted into the New Zealand Sports Hall of Fame, then into the Business Hall of Fame as well. At Irishman Creek Station the remains of his workshops still stand, and despite all the accolades and fame, the image of Hamilton that endures most is that of a quintessential Kiwi bloke in his shed, a dreamer with a knack for making things work.
[Chapter Break]
I have been coming to the Mackenzie for many years—to climb and ski around Mt Cook, to tramp in Ben Ohau Range, to camp and fish for trout along the Tekapo River which, though cut off from its outflow by a dam, gathers itself again from underground sources and smaller tributaries to become a vibrant and twisting vein of life flowing south through the barren plains.
For most of the year the land is parched brown by the sun and the hot nor'westerly winds that sweep down from the mountains, the grass so desiccated it crunches underfoot.
But in spring and early summer, flowering lupins add splotches of white, purple and blue, and an explosion of Californian poppies covers the grey river gravels like orange confetti.
This stark but beautiful land is not without its champions and as I was writing this there came news of the sudden and untimely demise of one of them. In the remote hut on his beloved Godley Glacier, Gottlieb Braun-Elwert, one of the country's most experienced and respected mountain guides, suffered a heart attack and died on August 14th this year.
Braun-Elwert, who lived in Tekapo, was a man of Teutonic bearing who trained most of our best mountain guides and pioneered many climbs and ski traverses, including his signature Symphony on Skis, New Zealand's own Haute Route, from Godley Glacier to Fox and Franz Josef. His "mountain man" demeanour aside, he also had a softer side, taking delight in photographing tiny alpine wildflowers.
The last time I met him was in the tiny Mt Cook airport. We were both waiting to fly up the glaciers for our respective ski expeditions; my party to the Murchison, Braun-Elwert and his client to the top of the Tasman. The client, fussing about the piles of mountaineering equipment being loaded into a four-seater ski-plane, was none other than Prime Minister Helen Clark.
Ms Clark regularly hired Braun-Elwert, perhaps to find respite from politics under the vast skies of the Mackenzie and the silence of its glaciers, and she was again with Gottlieb the day his heart gave up.
He was her only companion at the airport. There were no armed bodyguards in sight, no SWAT team snipers staking out the airport roofs. Surely there are few other countries where you could bump into your prime minister like this, and ski with her if you chose to? In a world where even a nail file is considered an offensive weapon, New Zealand is still a sane place to be.
[Chapter Break]
On my most recent visit to the Mackenzie Country, despite all the other temptations, I've found myself gravitating back to Mt John, to the telescopes, and an unusually magnificent night sky that cannot be taken for granted.
This was where, one clear night in early April 2006, Paul Tristram was gazing through a 1.8 m telescope into the centre of our galaxy following a barely discernable but promising anomaly in the constellation of Sagittarius, an event that later gained fame as OGLE-2006-BLG-109. In the time-lapse sequence of photographs that the telescope's 84-megapixel camera takes every night, one of the stars grew increasingly brighter, peaked, and began to dim again. But just before it returned to its usual magnitude, there was a sudden burst of brightness, a hiccup of starlight. It was that hiccup—and its precise timing and intensity—that made Tristram and 68 other astronomers around the world most excited.
When, from the perspective of an observer, one star passes precisely in front of another, the invisible gravitational field of the nearer star acts as a giant lens, magnifying the light of the more distant star. Such brief and near-perfect alignments, known as microlensing events, are relatively rare. But they are also all the rage in contemporary astronomy, particularly if the straight up-and-down change of the star's brightness is accompanied by that sudden hiccup. The hiccup, you see, signifies an impurity in the otherwise smooth optical lens created by the gravity of the nearer star. It signifies a planet, and in the case of OGLE-2006-BLG-109, an entire solar system, the most similar to our own of all the 400 extra-solar bodies discovered so far.
Earth & Sky's founders, Graeme Murray and Hide Ozawa, believed that science projects could become an original tourist attraction. The resulting astro-tourism made the Microlensing Observations in Astrophysics (MOA) project feasible, a collaboration of Nagoya and four New Zealand universities providing ground clearance and support for a $14 million telescope.
Now Murray is negotiating to bring a 12-tonne Brasher telescope to New Zealand, and to set up an astronomy centre at the bottom of Mt John. He is also investigating audio equipment that would allow stargazers to simultaneously hear the sounds from outer space, the music of the spheres.
[Chapter Break]
On a later visit to Mt John, Bisset and I sit on one of the terraces and watch the sky at night, without telescopes. I tell him about the time I was looking for the great spotted kiwi with a pair of ex-military night-vision binoculars, and pointed the glasses at the darkest portion of the sky only to be overwhelmed by the sheer numbers of stars. With 100,000-times amplification there seemed to be no black spaces in the sky, only stars and galaxies.
"Yes, we're quick to talk in light-years and parsecs but the scale of what's out there does not really get through to our senses," Bisset says. "I explain it to my kids like this: there are about one million grains of salt in a one kilo bag. Empty 200,000 of those bags and heap all the salt together, then separate the grains so that each is about ten kilometres apart from another. Then think of each grain of salt as a star and you get a rough idea of how big our galaxy is."
He pauses, then nods towards the Magellanic Clouds. "Then, of course, there are about as many galaxies again as there are stars in our Milky Way."
Sitting on top of Mt John, on a clear Mackenzie night, it seems that we can see them all. Is the UNESCO Starlight Reserve likely? Would Graeme Murray really have his way?
"We're pushing hard but there is a fair amount of opposition to the idea," says Bisset. "Most of it, I think, from not fully understanding what we're proposing to do. The developers say we're anti-development, farmers complain that they won't be able to drive their tractors at night. But we're not asking for wartime blackouts and curfews. Only that all the lighting is focused and controlled, that it doesn't spill into the sky. Why would you want to light the sky anyway? It's more fun to keep it dark."